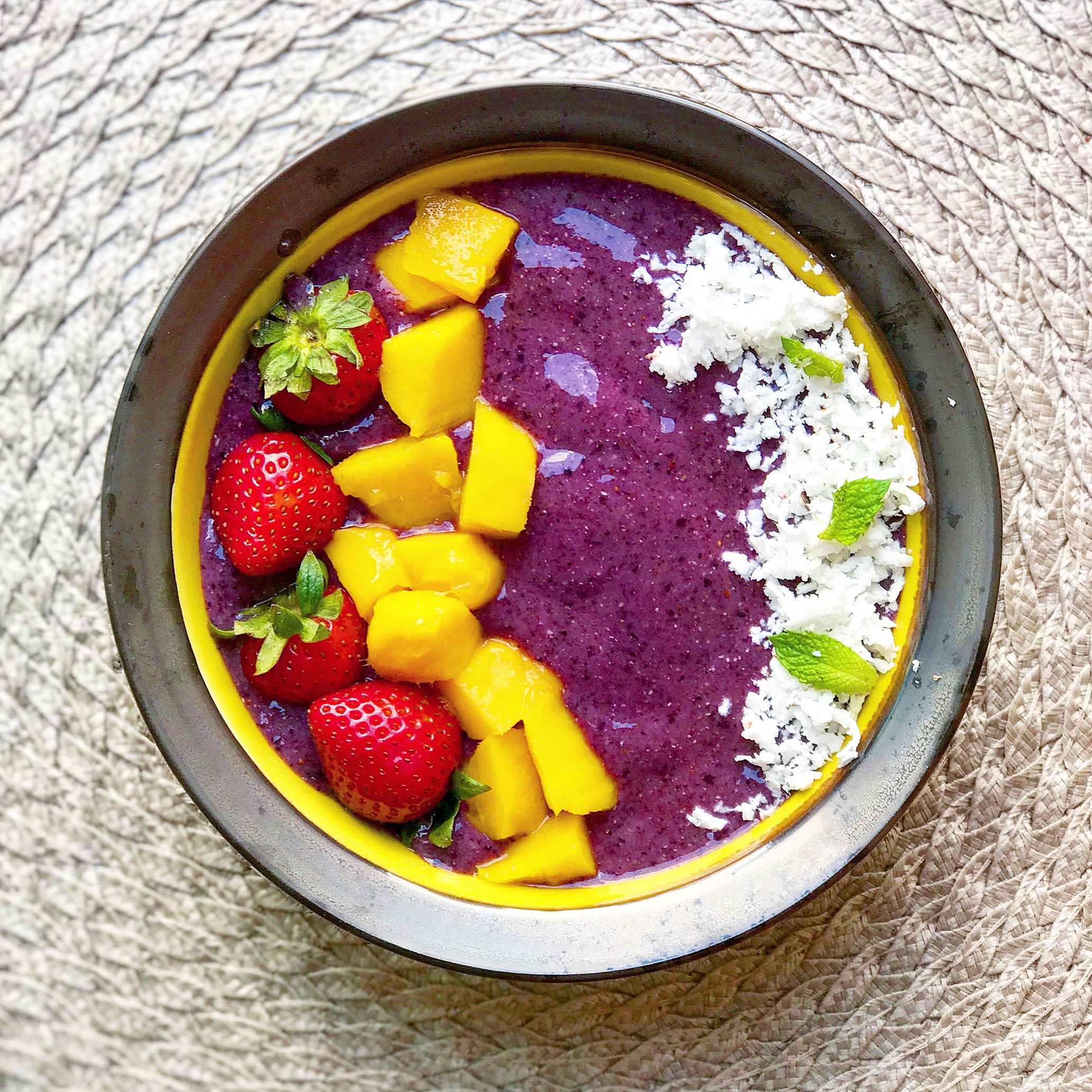 A lot of recipe are good enough for 2 people, but sometimes I take the selfish route and make a one person serving. Like when I'm hangry…but want something healthy…but not willing to make TOO many compromises. Wait, that sounds like me everyday, ha! I recently felt like this – shocker – so I decided to whip something that was high in fiber, calcium, super filling, and 100% delicious. My Blueberry Coconut Chia Bowl. You likely have all these ingredients handy, if not, there are substitutes.
Blueberry Coconut Chia Bowl:
3 tbsp chia seeds
about 6 oz water – room temperature
3/4 cup frozen blueberries
2-3 frozen strawberries
1/2 cup coconut milk
1 tsp agave – optional
strawberries, chopped mango, grated coconut – for garnish
1. Mix 2 tbsp chia seeds with the water and let sit for about 15 minutes – allowing to bloom. Chia seeds to swell up and be squishy at the touch.
2. In a blender, place all of the ingredients (except for the ingredients for garnish) into the blender. Scoop out about 2 tbsp worth of the chia seeds from the water (there shouldn't be that much residual water, as the seeds should absorb everything) and place in the blender.
3. Blend on high until smooth and all the fruits are broken up and blended. In a bowl, add the remaining chia seeds on the bottom spreading in a thin layer. Pour the blueberry mixture on top. Garnish with strawberries, mango, and grated coconut. I added some mint leaves too!
Enjoy your ONE person breakfast/lunch 😉