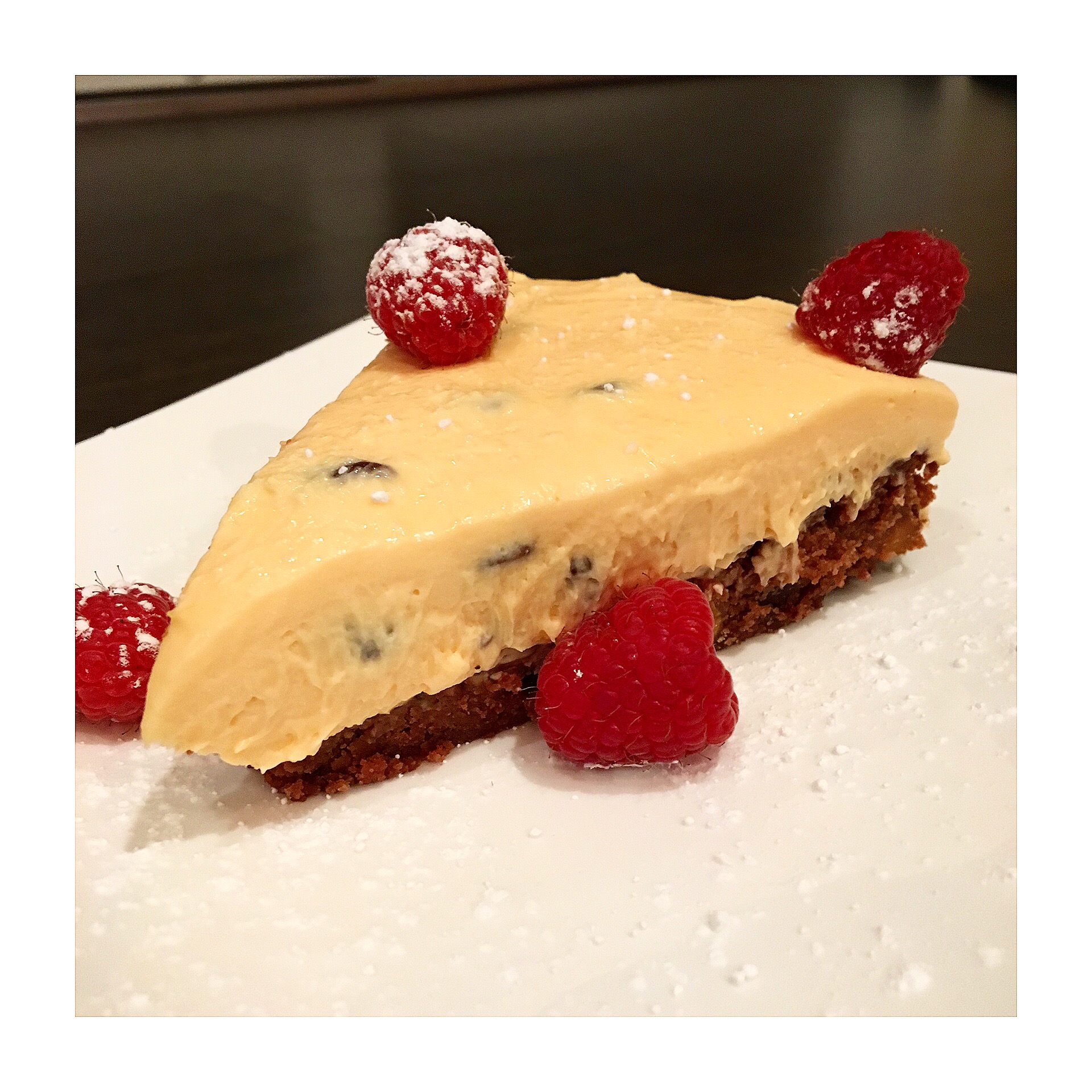 Have you seen TASTY by Buzzfeed? I usually stumble upon the videos via Facebook and they have these amazing short clips that demonstrate how to make an entire dish, dessert, etc. I saw this clip for a layered Brownie Cheesecake, and I was pretty inspired! Diwali is coming up this week, and as most of you know, this is the most auspicious and festive time for Hindus. I usually like to create an eggless dessert around this time, so we can add some variety to our array of Indian dishes and desserts – which my mom tirelessly works on. Everything is super amazing and I can't wait! Any who, because I was inspired by this TASTY dish, I decided to create my own version – Eggless Chocolate Peanut Butter Brownie Layered with Eggless Orange-Chocolate Cheesecake. It actually turned out really good! And it's super easy to make. Check it out…
Eggless Chocolate Chip Peanut Butter Brownie:
3oz chopped bittersweet chocolate – I used 56% cacao
1 stick unsalted butter – room temperature
1 cup sugar
pinch salt
1/2 cup greek yogurt
3/4 cups sifted all purpose flour
1 tsp baking powder
1 tsp vanilla
1/4 + 1/8 cup chocolate chips
1/4 + 1/8 cup peanut butter chips
Eggless Chocolate Chip Orange Cheesecake:
2 8oz packages reduced fat cream cheese – softened
1 cup sugar
1 tsp vanilla
1 cup heavy cream
1/2 cup chocolate chips
12 drops yellow food coloring, 4 drops red food coloring (optional)
Preheat oven 350 degrees. Spray and line an 8-9 in spring-foam pan with parchment paper. Set aside.
In a medium sized steel pot, melt 3oz chocolate and stick butter over low heat, continuously whisking until smooth and shiny. Remove from heat and add in 1 cup sugar and salt. Whisk – mixture will be thick and gritty. Add in vanilla and yogurt. Make sure its well incorporated. Add in sifted flour and baking powder mix in. Add in chocolate and peanut butter chips. Mix. Pour batter into prepared pan and bake for 25-30 minutes or until inserted toothpick comes out clean. Remove and let cool completely.
In a clean and cool medium-sized bowl, pour in heavy cream, and beat on high until stiff peaks form (whipped cream). In a separate medium-sized bowl, add in softened cream cheese and sugar. Beat on medium-high until smooth. Add in vanilla and beat. Add in whipped cream, and fold using a spatula. Fold until its all incorporated – do not stir. Add in food coloring if using. Fold until a light orange color emerges. Add in chocolate chips, fold. Pour over cooled brownie. Spread evenly. Wrap tightly in plastic wrap and place in fridge for 4-6 hours, or until set.
Serve with fresh fruit! Yum!