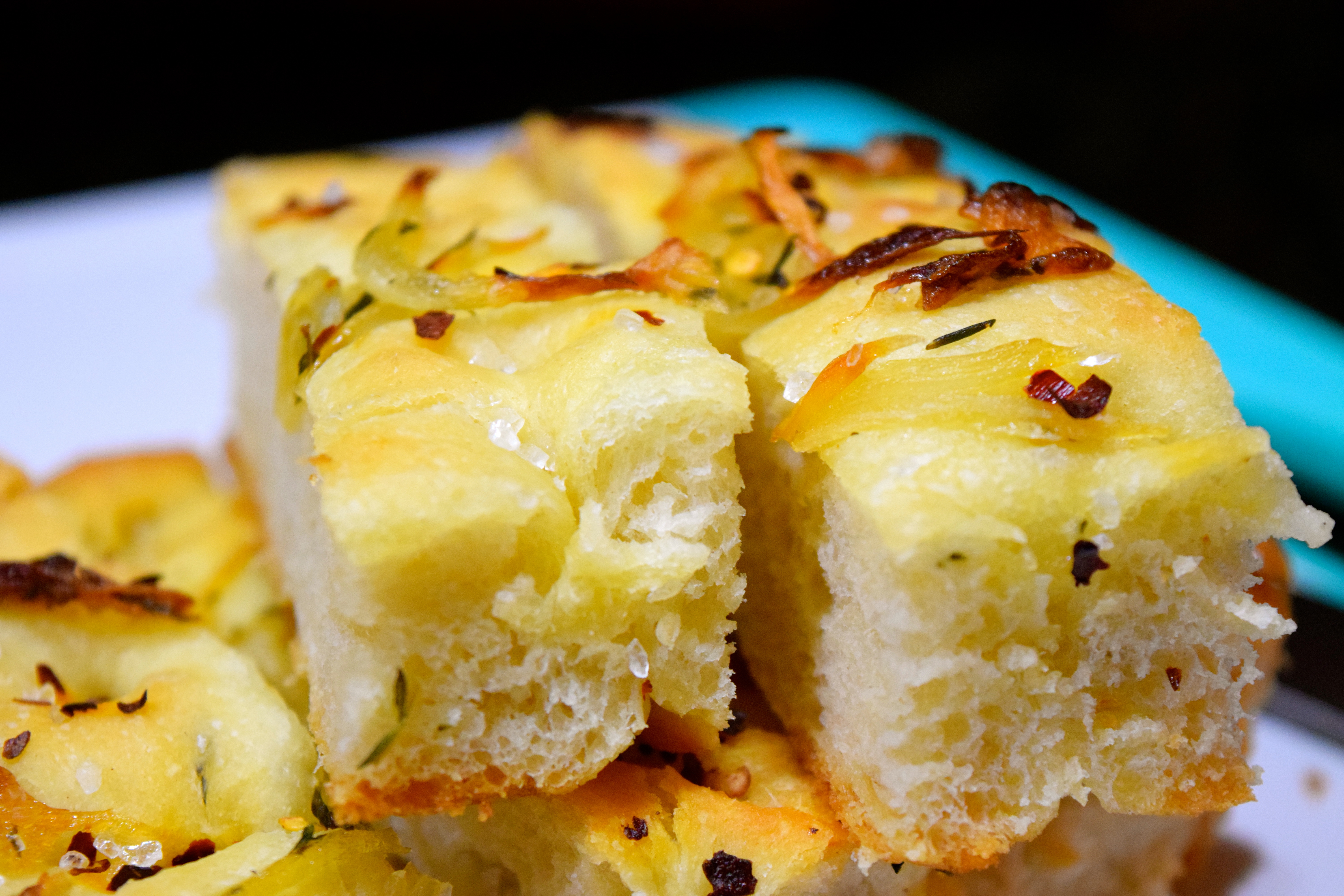 I was surprised at myself when I realized that I had never made foccacia bread before! A couple of weeks ago we had out final 'Bread-Off' at VivaKi. It was our third and final 'Bread-Off,' as I left VivaKi just on Friday (yes, I'm very sad). We decided to do something easy, but still traditional in the sense of using yeast and allowing the dough to rise. That's why we decided on foccacia. I had an idea on how it's made, but after looking at a bunch of different recipes online, I ultimately created my own.
The base of this recipe only involves a few ingredients that I guarantee you already have in your pantry, so if you want to whip up a fresh batch tonight you most certainly can!
Oh, did I mention that I won the 'Bread-Off'?! Duh! 1st place and we had an additional competitor! Went out with a bang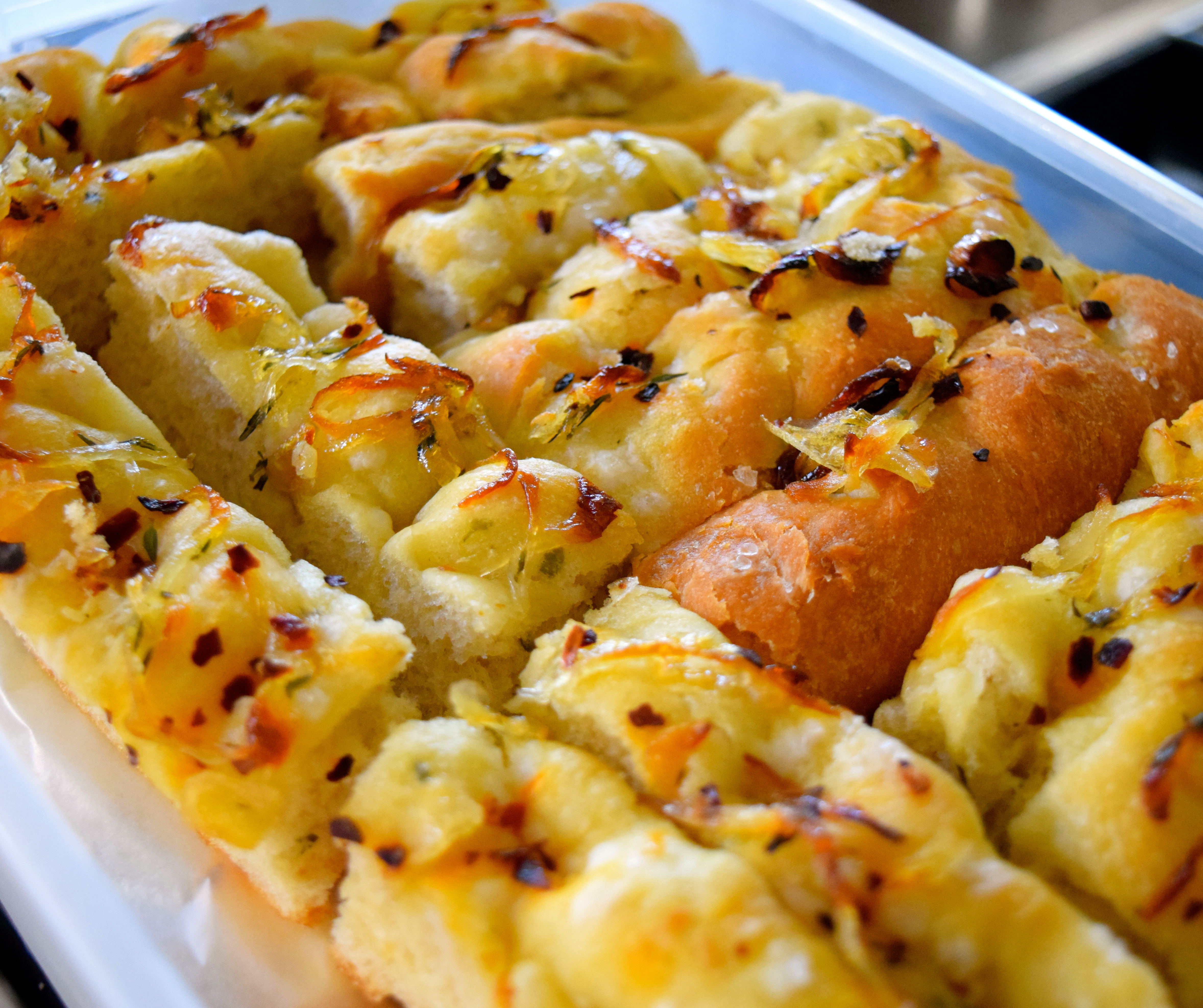 Caramelized Onion-Thyme Foccacia:
5 cups all purpose flour
1/2 cup extra virgin olive oil
1 tbsp salt
about 1 tbsp fresh thyme – pulled from the stems and roughly chopped
1 package active dry yeast
1 tbsp sugar
1 3/4 cups warm water
1 large white onion- thinly sliced
1 tsp fresh thyme – pulled from the stems and roughly chopped
1 tbsp unsalted butter
coarse sea salt
red crushed pepper
1 tsp sugar
coarse black pepper
a lot of reserved extra virgin olive oil
Prepare the dough:
1. In a small bowl, combine the warm water, packet of dry yeast, and 1 tbsp sugar. Whisk until combined and set aside or about 15-20 until it activates and rises (you'll smell it. I think it smells gross).
2. In a mixer with the dough-hook attachment, add the all purpose flour, 1/2 cup olive oil, salt, thyme, and bloomed yeast. Turn on the mixer and stir until a smooth andlarge ball of dough forms – about 3-4 minutes. Remove and place on a floured surface. Knead a few times until its all one form – sprinkle a little more flour on it so it's not sticking to the counter, In a large bowl (I found the largest steal bowl I had), drizzle with a generous amount of olive oil, plop the dough into the bowl, turn around to thoroughly coat with the oil. Wrap the bowl tightly with plastic wrap and place in a warm place to rise. Let it sit and rise for about an hour. It should double in size.
While the dough is rising…
3. In a medium skillet, drizzle in olive oil to lightly coat the pan and add in the 1 tbsp of butter. Place over medium-low heat, and as the butter starts melting, add in the sliced onions and saute. Sprinkle in the thyme, red crushed pepper, 1 tsp sugar, black pepper and a little salt. Reduce heat to low, and saute for about 15 minutes until the onions are caramelized and lightly browned. Remove from the heat to cool.
3. Take a large cookie sheet, and pour a generous amount of olive oil into the pan, to coat the entire pan (about 1/2 cup). Place the risen dough into the oil pan. Stretch the dough out so it covers the entirety of the pan. Using your fingers, dent the foccacia all throughout – this gives it the texture and grooves that you normally see on foccacia, and also helps it rise. Once you've dented the dough, place in warm area to rise again for about an hour.
After 1 hour…
4. Preheat the oven to 425 degrees. Now that the dough has risen, we can top it with our caramelized onions. I used my hands to place the onions throughout the dough. Place in the oven and bake about 2-25 minutes, until golden brown and looks crusty on the edges. Remove, and while it's still hot, sprinkle a generous amount of course sea salt all over the foccacia.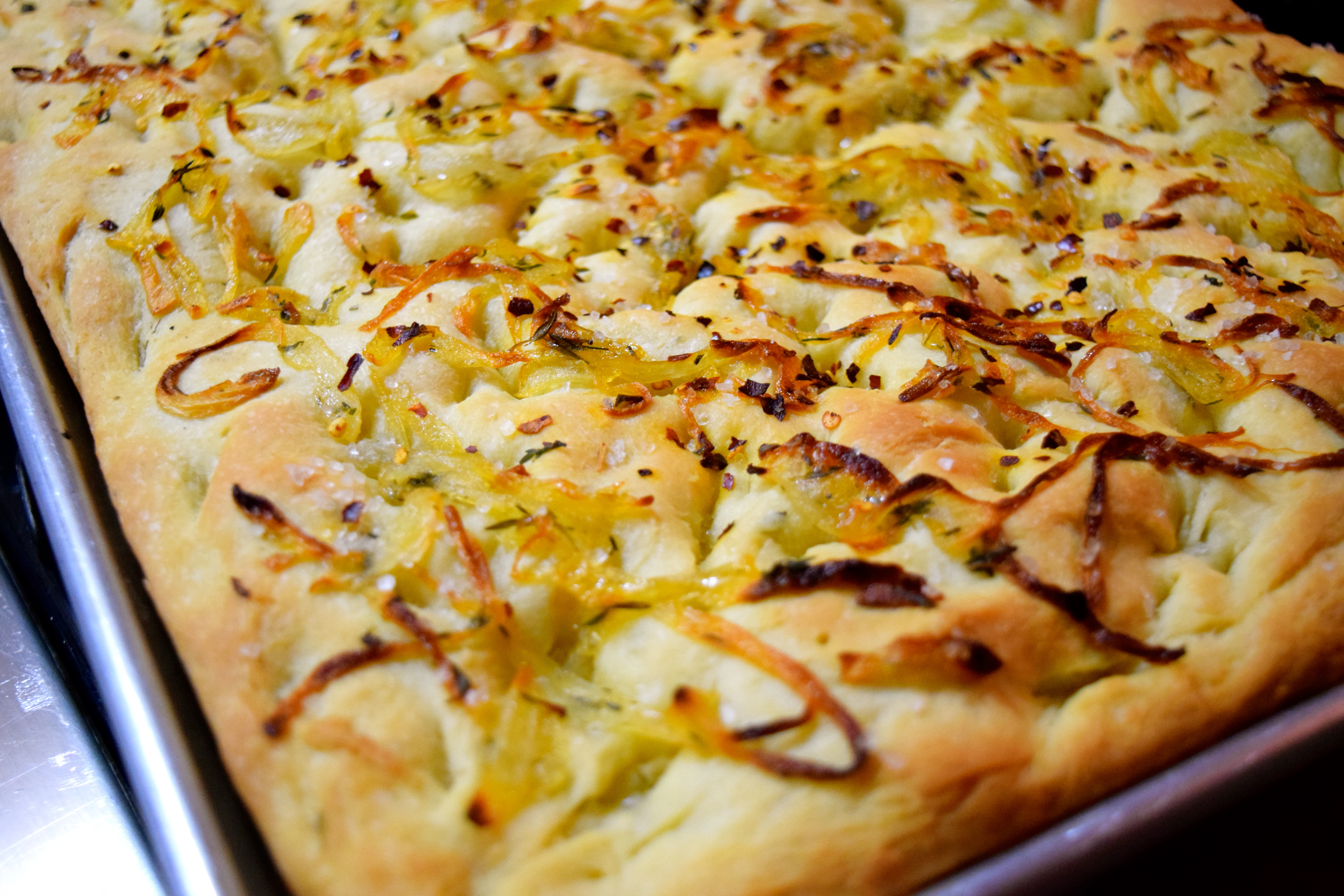 5. Once the bread has cooled (after about 15-20 minutes), use a serrated knife and cut breadstick style pieces and serve immediately, or store in an air-tight container.
Delicious!