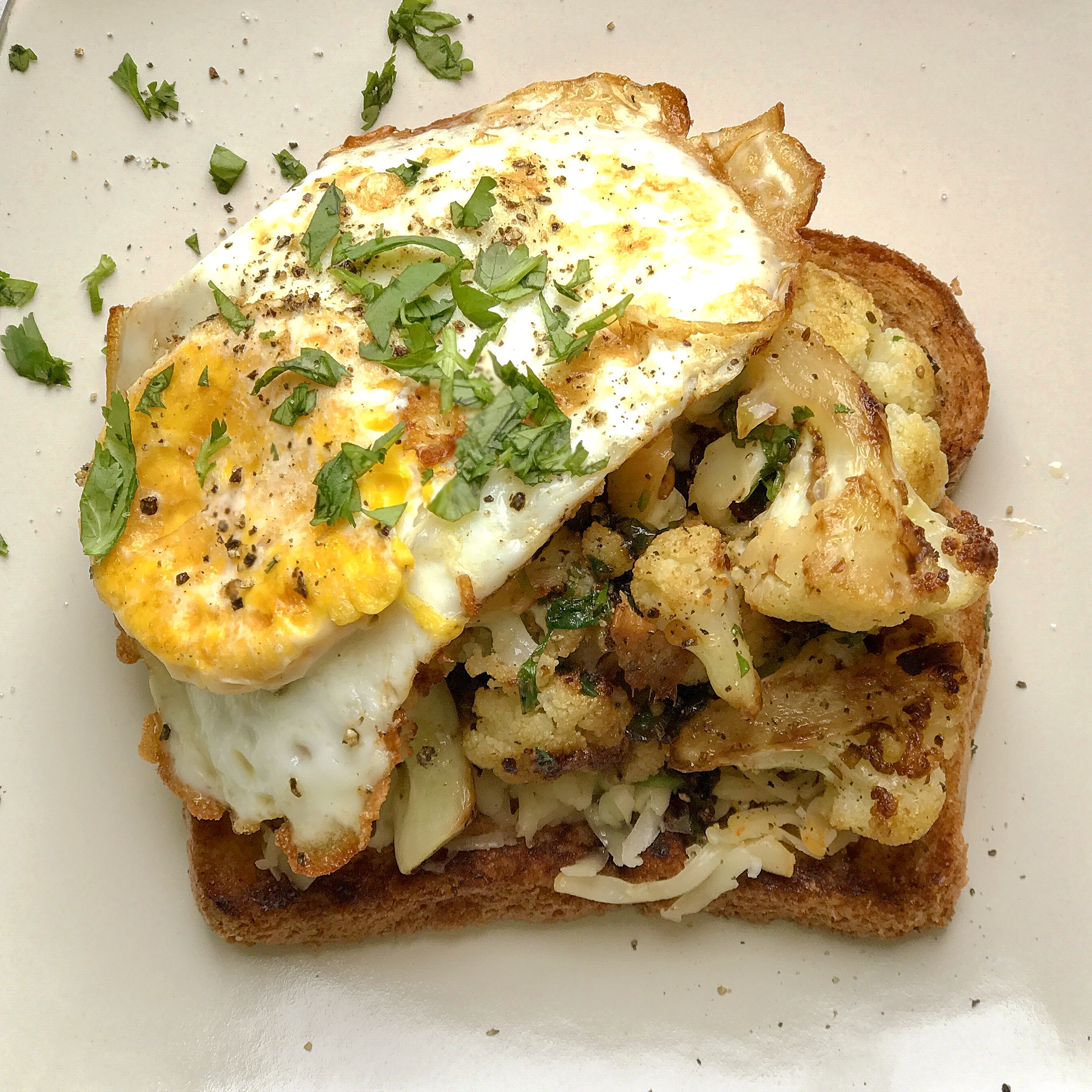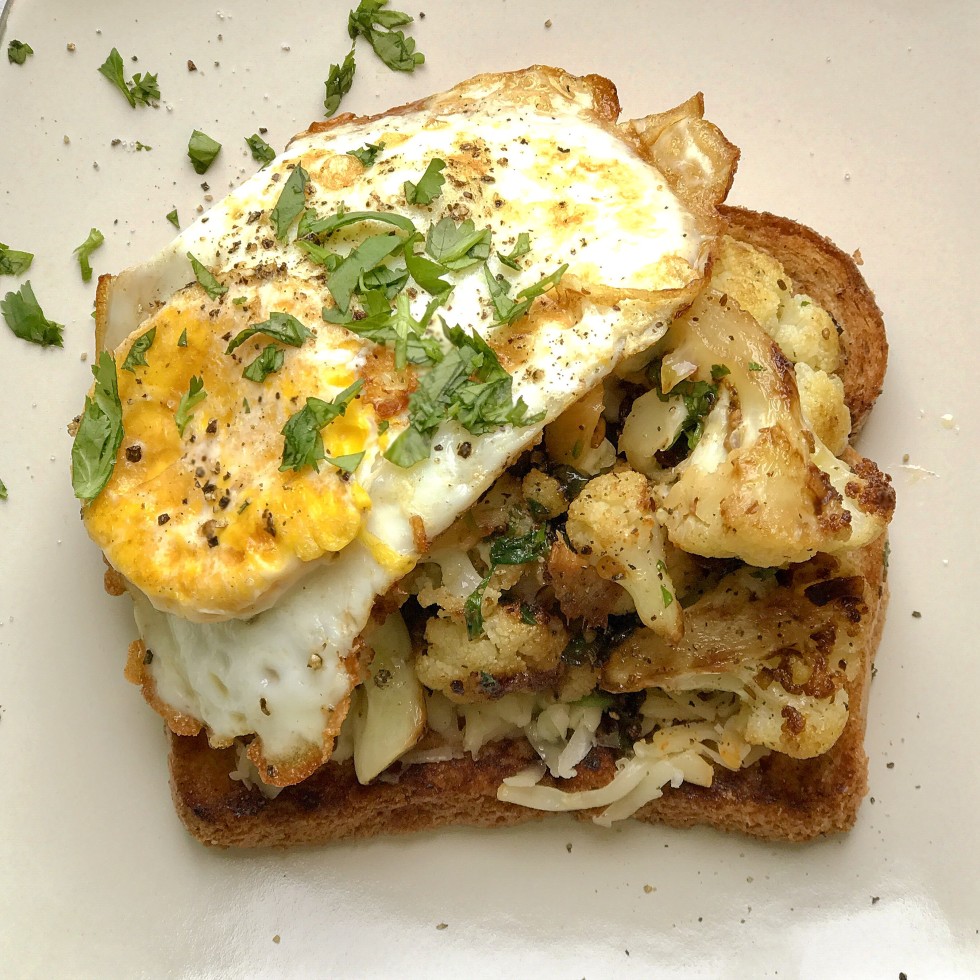 Bread to me is like a blank canvas. There's more to bread than just grilled cheese, toast, and croutons. I know avocado toasts are all the rage, but I seriously cannot justify spending $15+ at a time for one piece of bread and half an avocado. I grew up eating bread in very unique ways – yes we did make grilled cheeses, and egg sandwiches – but we also used bread for Indian bread omlettes, Bread Usli/Upma, among many other things. So going back to my start, because I view bread as a blank canvas, I decided to combine some of my favorites – bread, cauliflower, eggs and created a Cauliflower Egg Toast.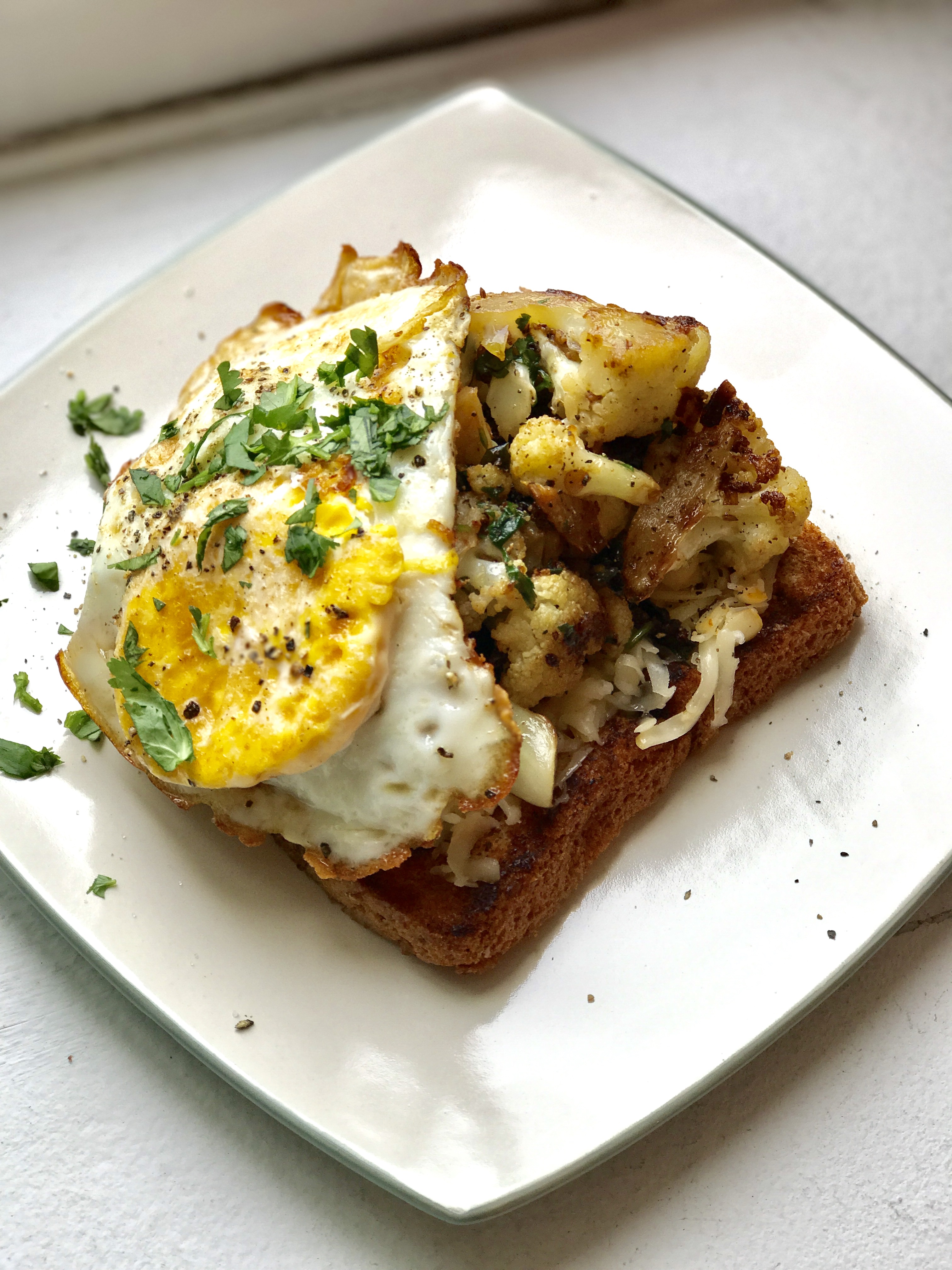 Cauliflower Topping:
1/2 head of cauliflower – cleaned and broken into small florets
1 clove garlic
1 serrano chili – minced
1 tsp black pepper corns
1 tsp coriander seeds
1 tsp cumin seeds
salt
1/4 lemon wedge
handful fresh coriander – finely chopped
vegetable oil
Assembly Ingredients:
2 pieces of whole-wheat bread
2 eggs
salt
pepper
1. In a large non-stick skillet, add vegetable oil to coat the bottom and set over medium-high flame. Add in garlic and chili and allow to infuse oil for about 30 seconds. Add in cauliflower and sauté. While the cauliflower is cooking, grind the peppercorns, coriander seeds, and cumin seeds in a mortar and pestle until ground up, but still slightly course. After about 5 minutes, add in spice mixture and continue sautéing until cauliflower starts charring. One the cauliflower is fork tender, add in the salt and lemon juice and mix. Remove from the heat and add in about half of the chopped coriander.
2. While the cauliflower is cooking, toast the bread and set aside.
3. In a non-stick skillet, spray with cooking spray or add in vegetable oil and fry each egg until cooked through – leave yolk as runny or cooked as desired. Sprinkle with salt and pepper.
4. Place the toasts on a serving dish and top each with a generous amount of cauliflower. Top each one with an egg and sprinkle with coriander. Squeeze some fresh lemon juice if desired. Serve!