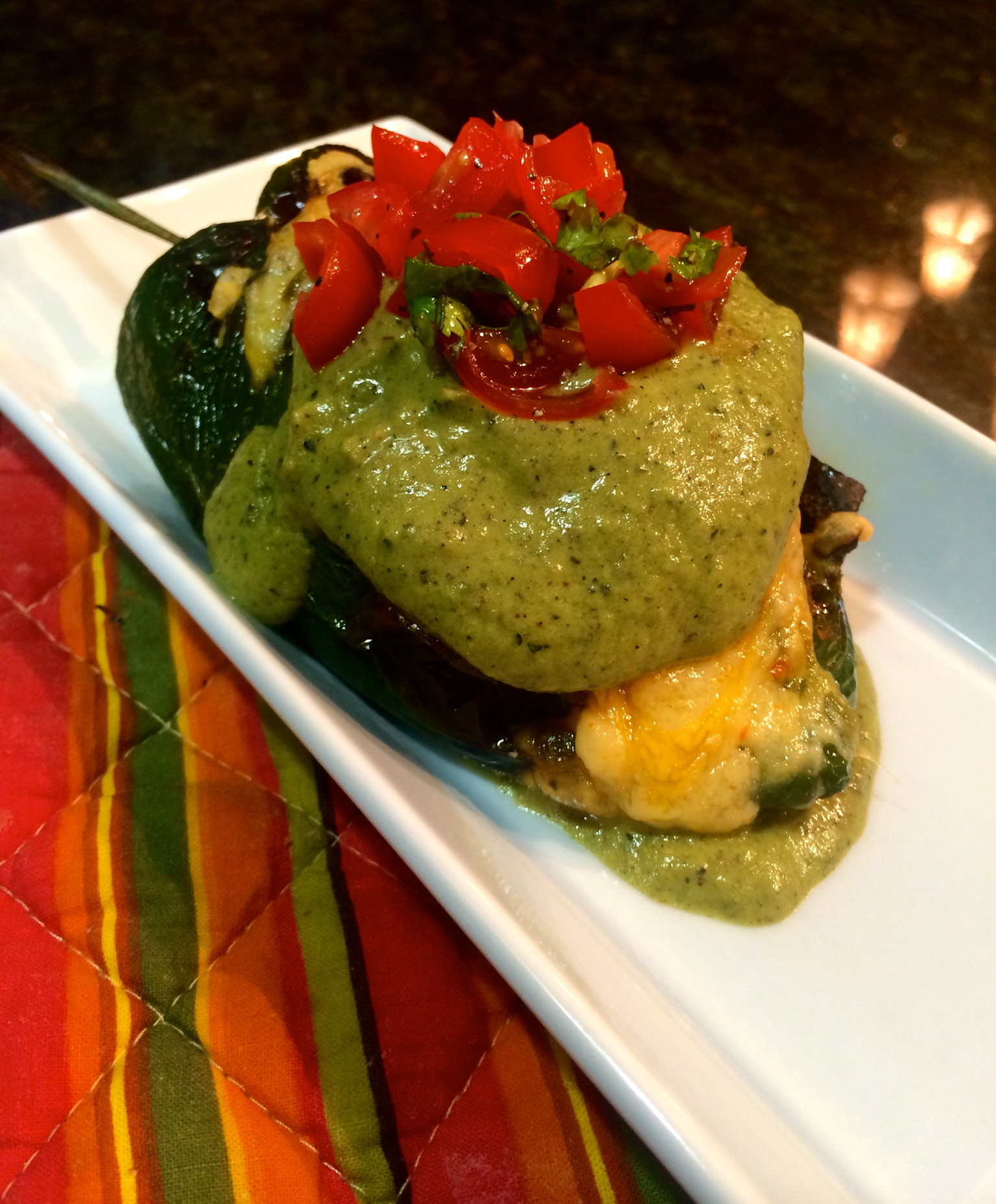 A lot of what I make is based on what's good in the grocery store that day. Earlier this weekend, I went to the grocery store just to get 2 items. But of course, I cam out with 5 bags full of unnecessary (but very necessary) items. I found some beautiful fresh Poblanos and instantly thought – Stuffed Chili Rellenos. But, I wanted to make them healthy – althought the cheese stuffed, deep-fried restaurant version is great, I can't be eating like that when I have to expose myself in a bathing suit next month. So, I whipped up a low-carb, low-fat Roasted Chili Relleno dish. It came out very good! See below…
(please excuse the iPhone 5 pics, ugh)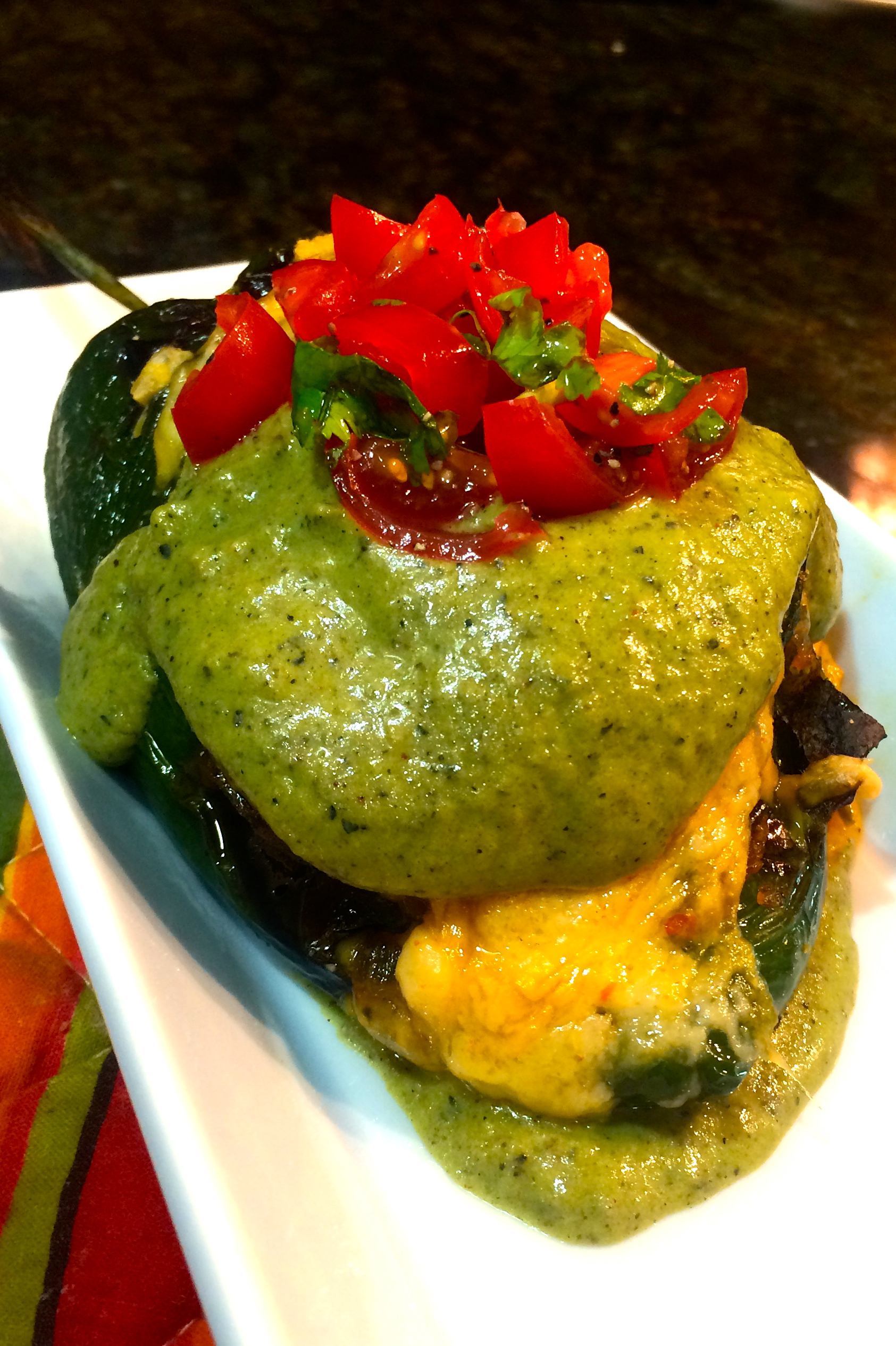 Roasted Chili Relleno:
4 poblano peppers
1 yam/sweet potato – boiled until for tender then diced
1 medium white onion – diced
1-2 jalapeños – diced
1 yellow (or any color) bell pepper – diced
2 cups spinach
1 tbsp unsalted taco seasoning
1 tsp chili powder
1 tsp cumin seeds
2 cloves garlic – smashed and minced
salt
black pepper
1 tsp dried oregano
1 lime
3-4 tbsp water
3 tbsp reduced fat sour cream
1 tsp cumin powder
1 tsp chili powder
1/4 cup shredded reduced fat cheddar – if vegan, use vegan cheddar
couple of slices of Cabot Habanero Cheddar – omit if vegan
handful fresh cilantro – chopped
1/4 cup grape tomatoes – diced
olive oil
PAM
1. Char 2 of the poblanos directly on the flame on the stovetop until very soft and completely charred all around. Remove and let cool.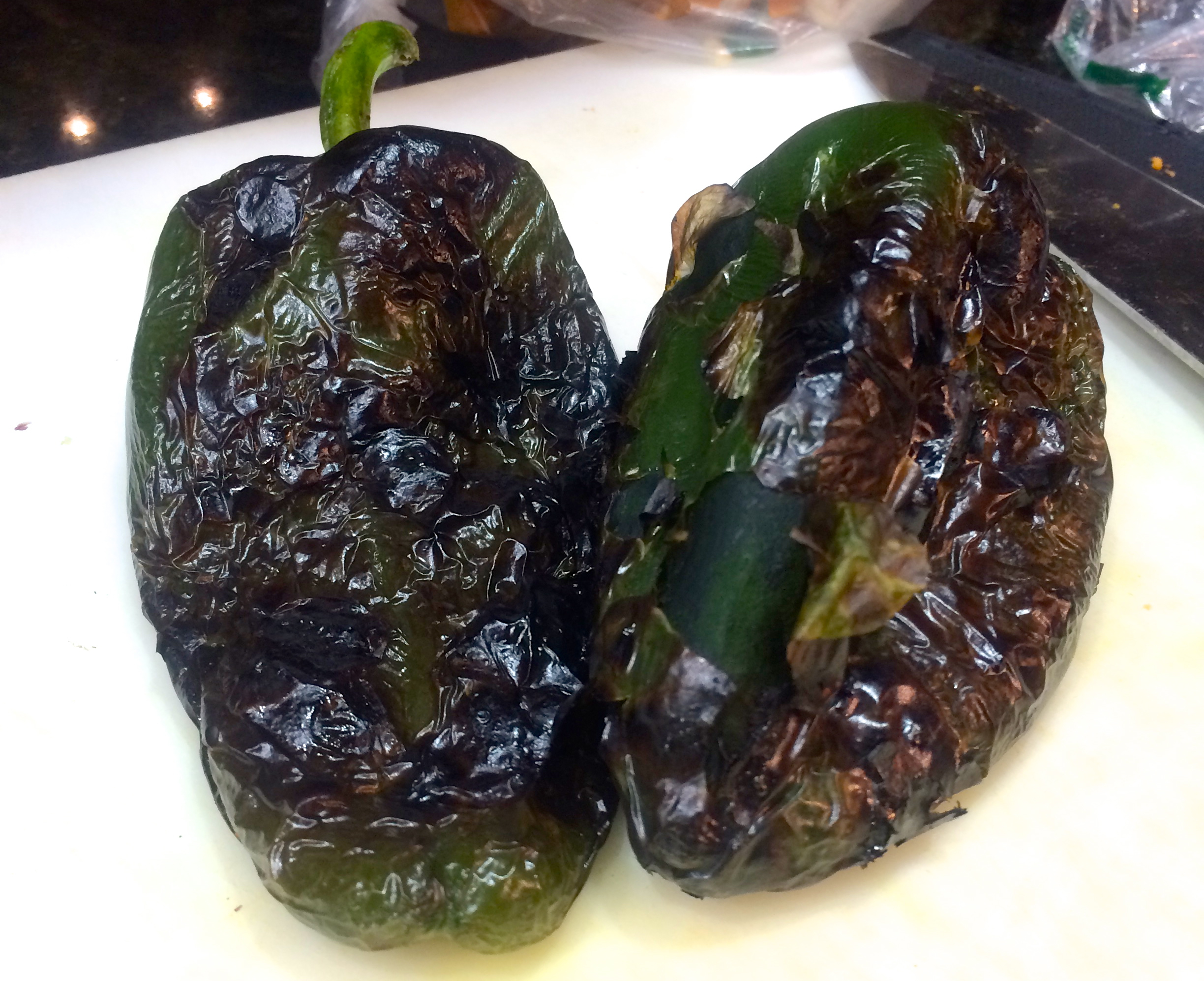 Next char the remaining 2 poblanos on the flame but not as much – you want them to be slightly charred all around and JUST fork tender. Remove and let cool.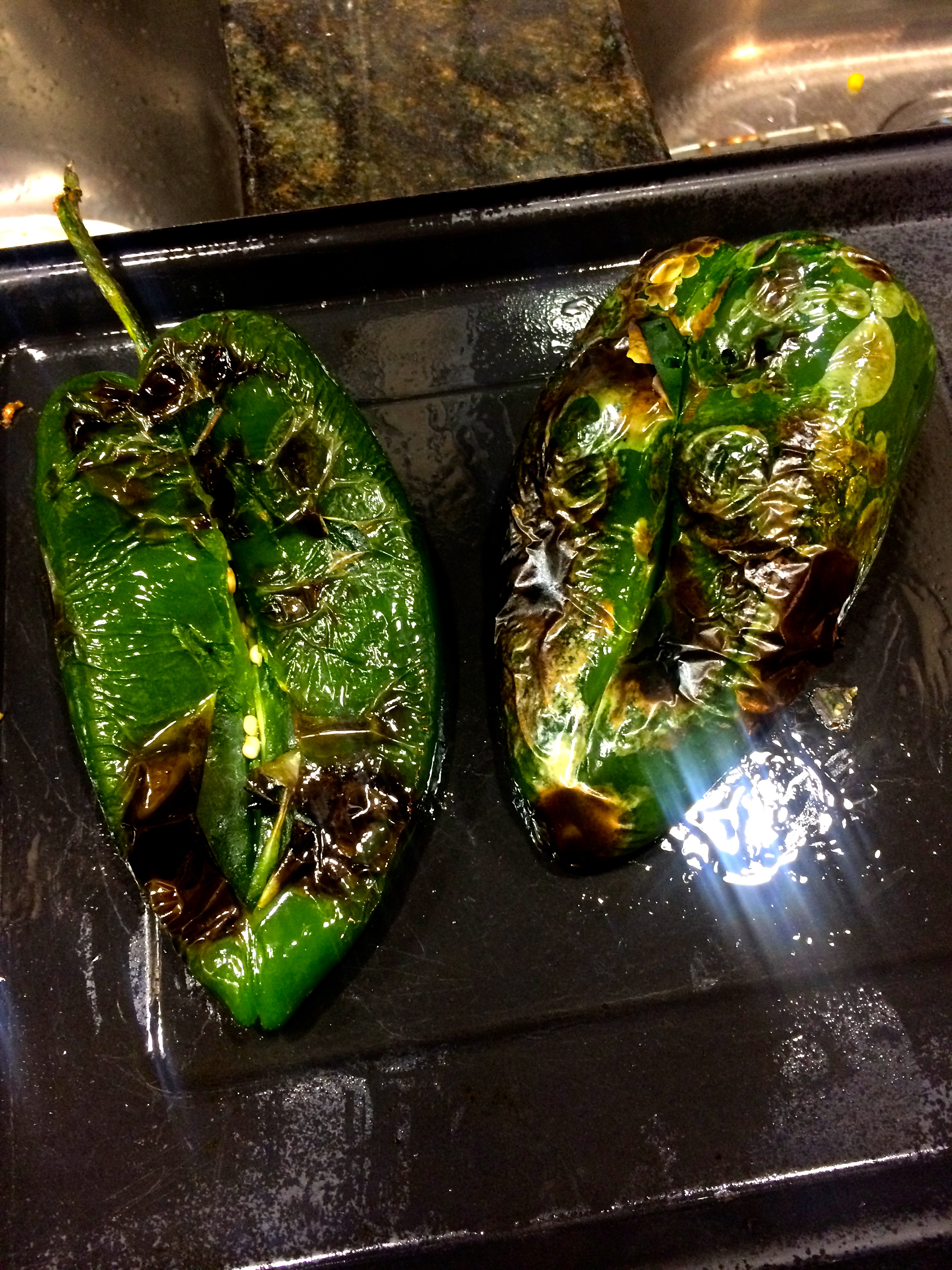 2. Meanwhile in a large skillet spray with Pam and heat about 1-2 tbsp of olive oil. Add the cumin seeds and let them become fragrant about 30 seconds. Then add the onions, bell pepper, garlic, jalapeños, and diced yams and sauté. Add the taco seasoning, sprinkle of salt and pepper and the 1 tsp of oregano and continue sautéing. Add the spinach and mix in. Sprinkle in some water in the mixture. You want to cook this for about 10-15 minutes until all the veggies (especially the yams) are cooked through. Taste for salt and seasoning. At the last moment right after you shut off the flame, mix in a couple tbsp of the chopped cilantro. Set aside.
3. To make the sauce: Take the 2 very charred poblanos and remove from the stem and seed pods. Add to a blender with the sour cream, about 3 tbsp water, 1 tsp cumin powder, 1 tsp chili powder, juice from 1/4 of the lime, and 1-2 tbsp of the chopped cilantro. Blend on high until very smooth – you may need to add a little more water. Set aside.
4. Quick Pico de Gallo: Mix together the chopped tomato, 1 tbsp of the chopped cilantro, lime juice from 1/4 lime, pinch of salt and set aside.
5. Assembly: Make a slit in the middle of the remaining 2 slightly charred poblanos. Place on a baking sheet. Remove some of the seeds of the poblano and discard. Stuffed generously with the vegetable stuffing all the way to the top. Top with the cheeses and broil for a few minutes until cheese is melted and bubbly. Remove. Place each one on a serving dish and top with a generous amount of the sauce and the pico de gallo. Serve!
Serves 2