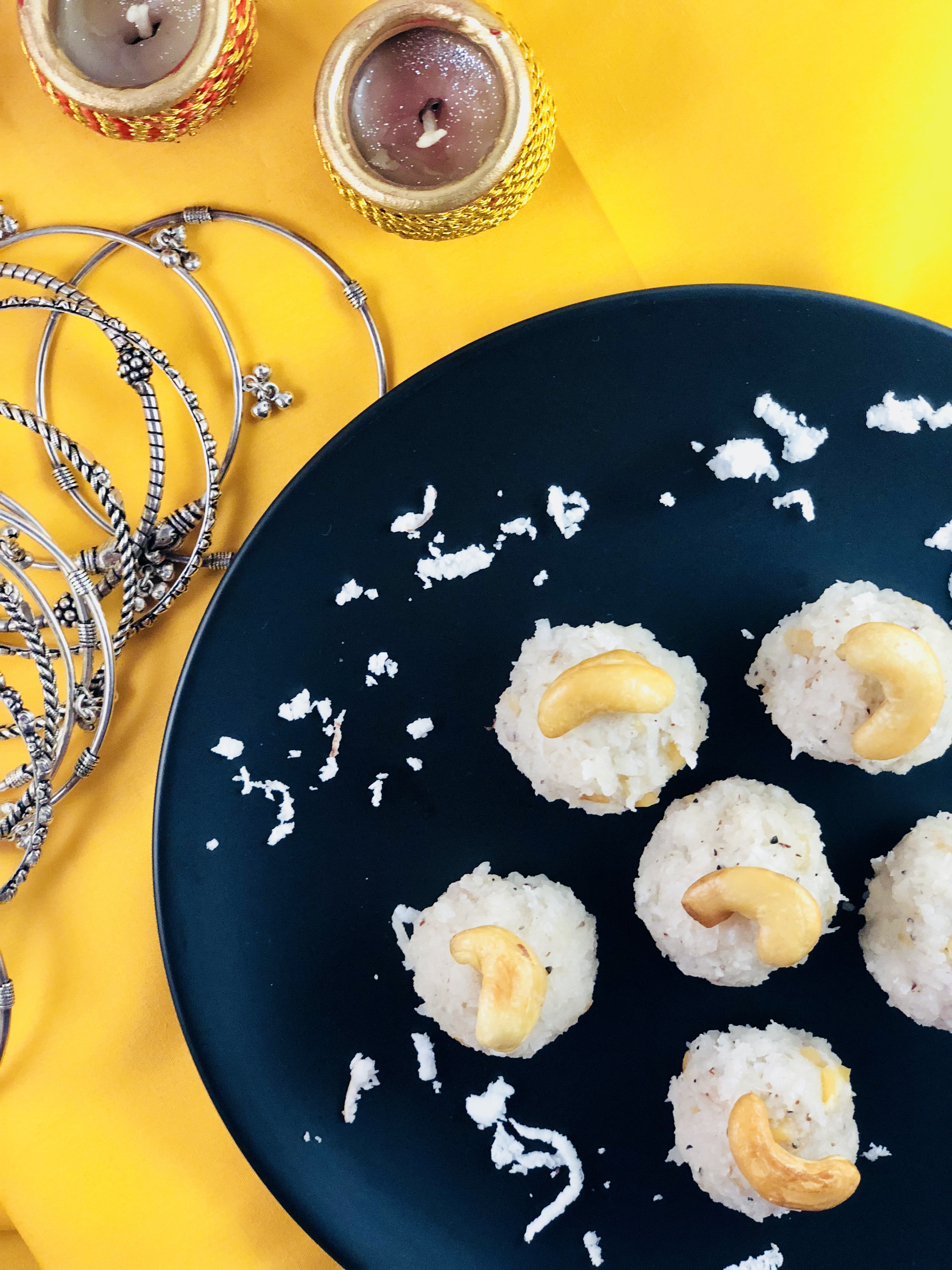 I'm coo coo for coconuts! Pretty sure I've said that in several other posts, but if I haven't then let the world know – I am definitely coo coo for coconuts! I can't stress enough how creative Indian people are with food. By that I mean, the way in which ingredients are used. Indians have a clever way of using ingredients in sweet, savory, and all of the in between. I've shared a bunch of recipes using coconut in savory ways, so I was in the mood for something sweet! Coconut Ladoos – or how we call them in Kannada – Coconut Oondies are the BEST. Sweet, round balls of coconut goodness with a touch of cardamom. I recreated this traditional sweet with Forager's creamy cashew milk and made them vegan! World rejoice! Yummy!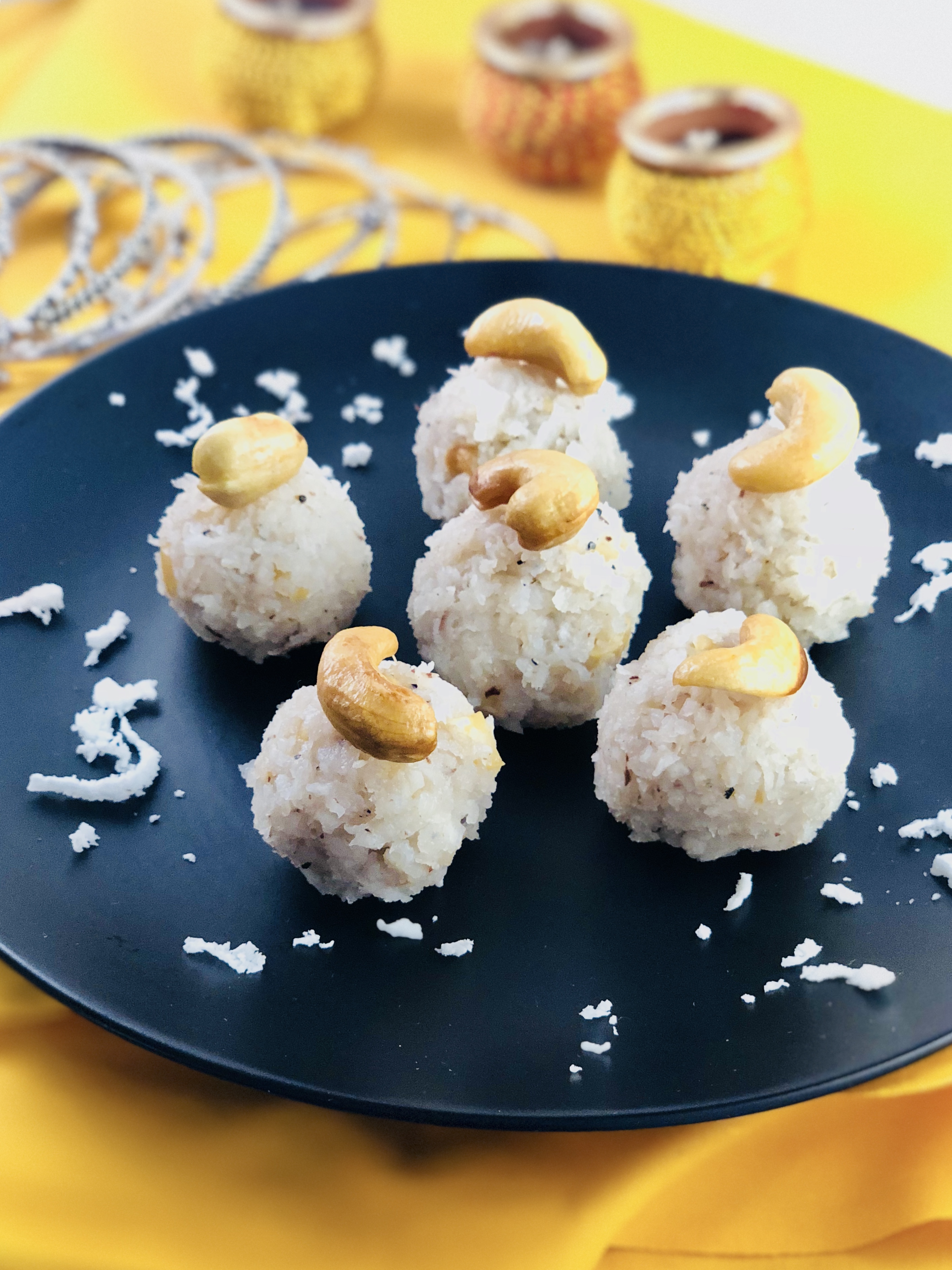 Coconut Ladoos
1 cup fresh shredded coconut – I used frozen shredded coconut
1/2 cup unsweetened cashew milk – I used Forager's Project
1/4 cane sugar
1 tbsp unsalted cashews
1/8 tsp ground cardamom
1 tsp coconut oil or spread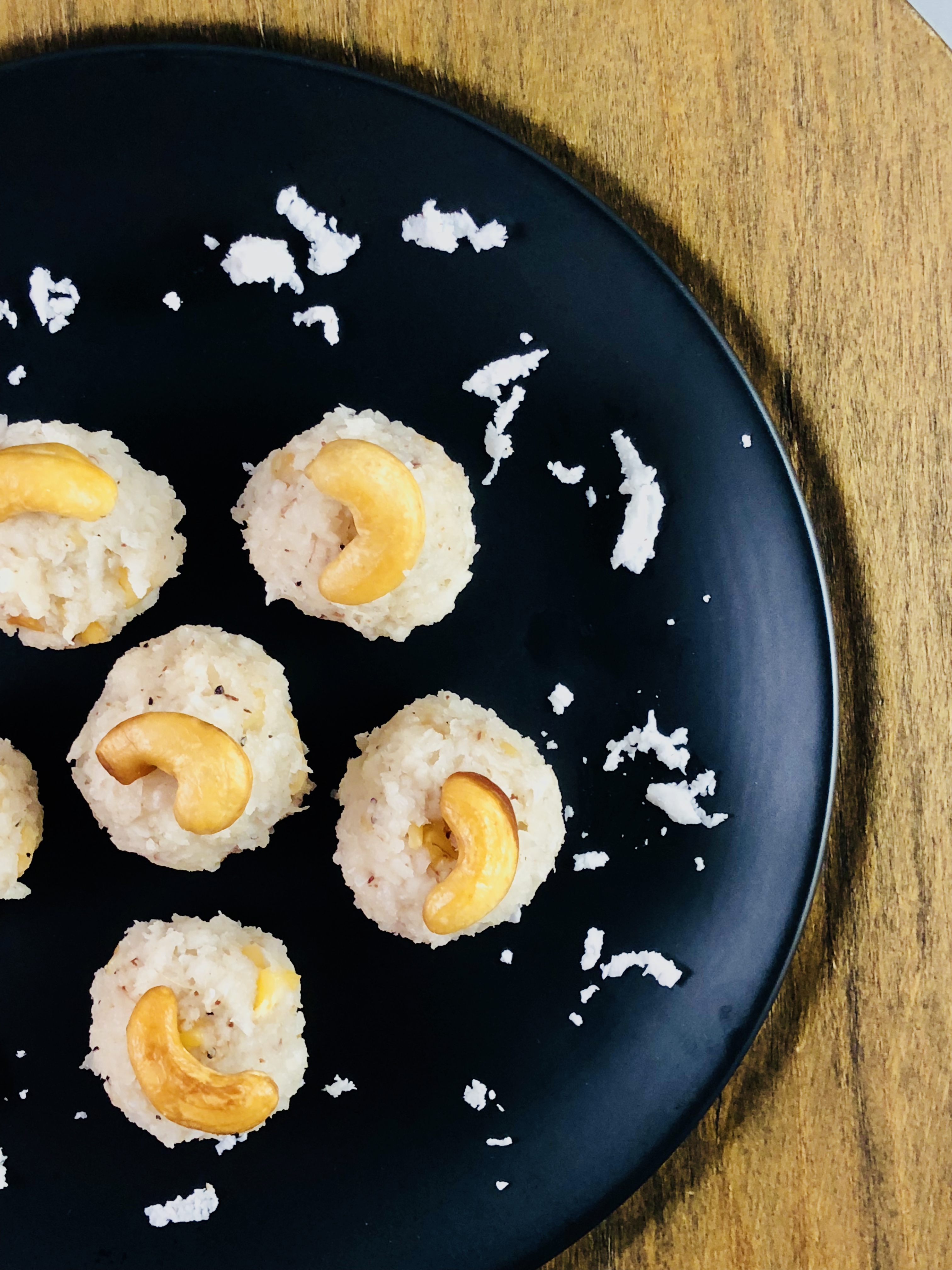 1. Place a medium sized non-stick skillet over medium-low flame. Add the tsp of coconut spread to the pan. Once melted, add in the tbsp of cashews. Roast for about 3-4 mins or until slightly golden brown. Remove from the pan and place the pan back on the stove. Allow to cool and chop up about half of the cashews – leave the others whole for garnishing.
2. Add the coconut, milk, and sugar to the pan and maintain flame on medium-low. Mix together until incorporated and cook. Reduce flame accordingly – mixture should only slightly simmer, not boil and burn out. Cook for about 15-20 mins, until coconut is softened and milk evaporates almost 3/4 the amount it was. Add in the chopped cashews and cardamom. Mix and I used a masher at the end to mash together the mixture to reduce the size of the coconut shreds and incorporate together. Remove from heat and allow to cool.
3. Once cooled, using clean hands, roll about a tbsp worth of coconut mixture into a ball and place on a parchment lined plate. Repeat until you have about 8-10 ladoos. Press a cashew into each ladoo and place in the fridge to set until ready to serve.
Enjoy!