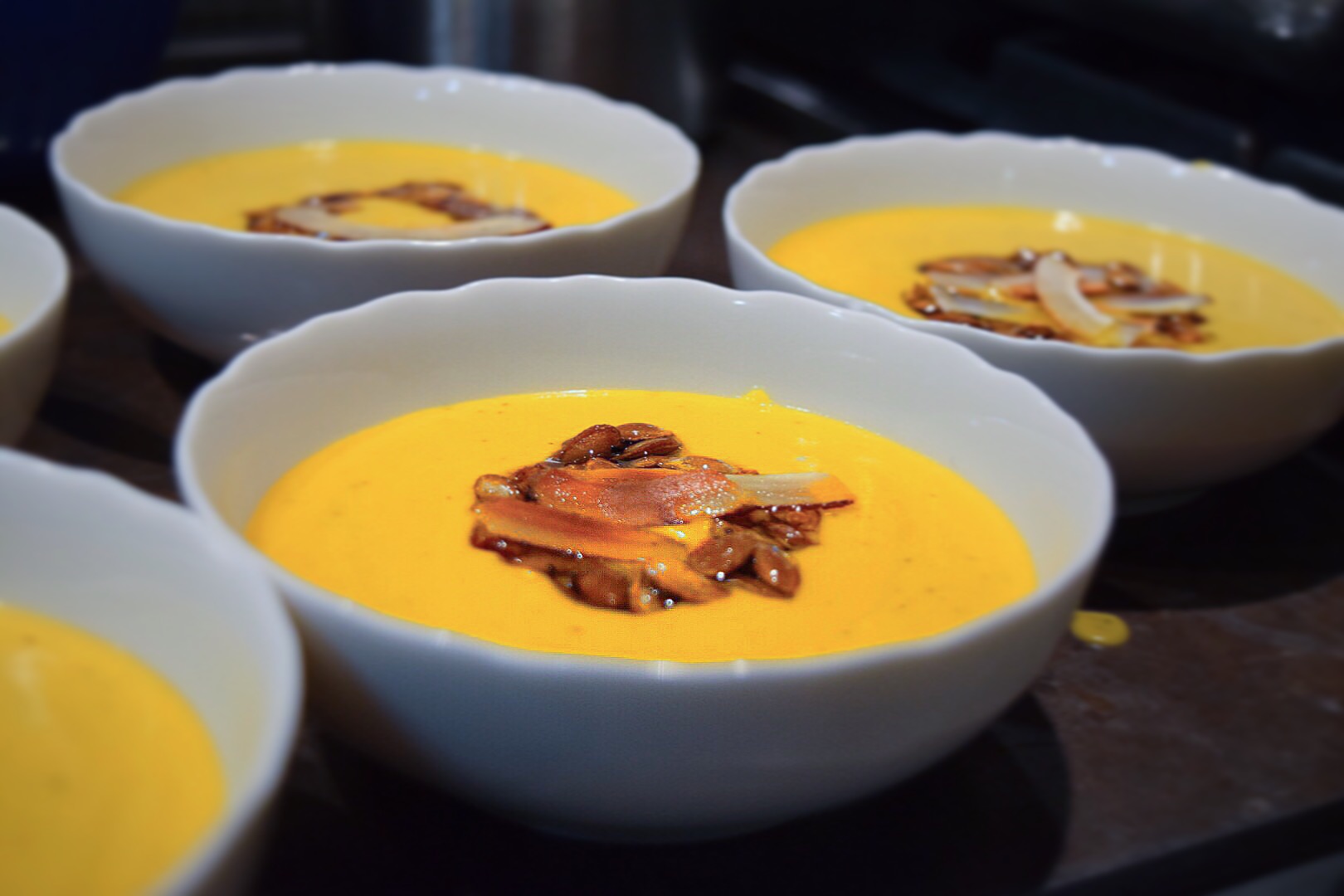 How many butternut squash soups do you encounter on the internet? 5? 10? 100's? Yeah, there's a lot. I even used butternut squash on Food Network's Cooks vs Cons as my winning recipe! I'm not a huge soup fan – I actually don't like things that are super hot and require me to cool down to eat. BUT when its winter time, I love me a good creamy soup. There is something definitely comforting about having a bowl of warm (not warm, not hot) soup with your fam on a cold evening. And that's exactly what I did. One of my appetizers for our vegetarian Thanksgiving feast was a Creamy Butternut Squash Soup – totally vegan and can be made any evening, not just for Thanksgiving. I recommend making this on a Sunday evening and eating it throughout the week for lunch!
I love the combination of chili, butternut squash, and coconut – makes for a perfect, sweet, salty, and spicy. Yum!!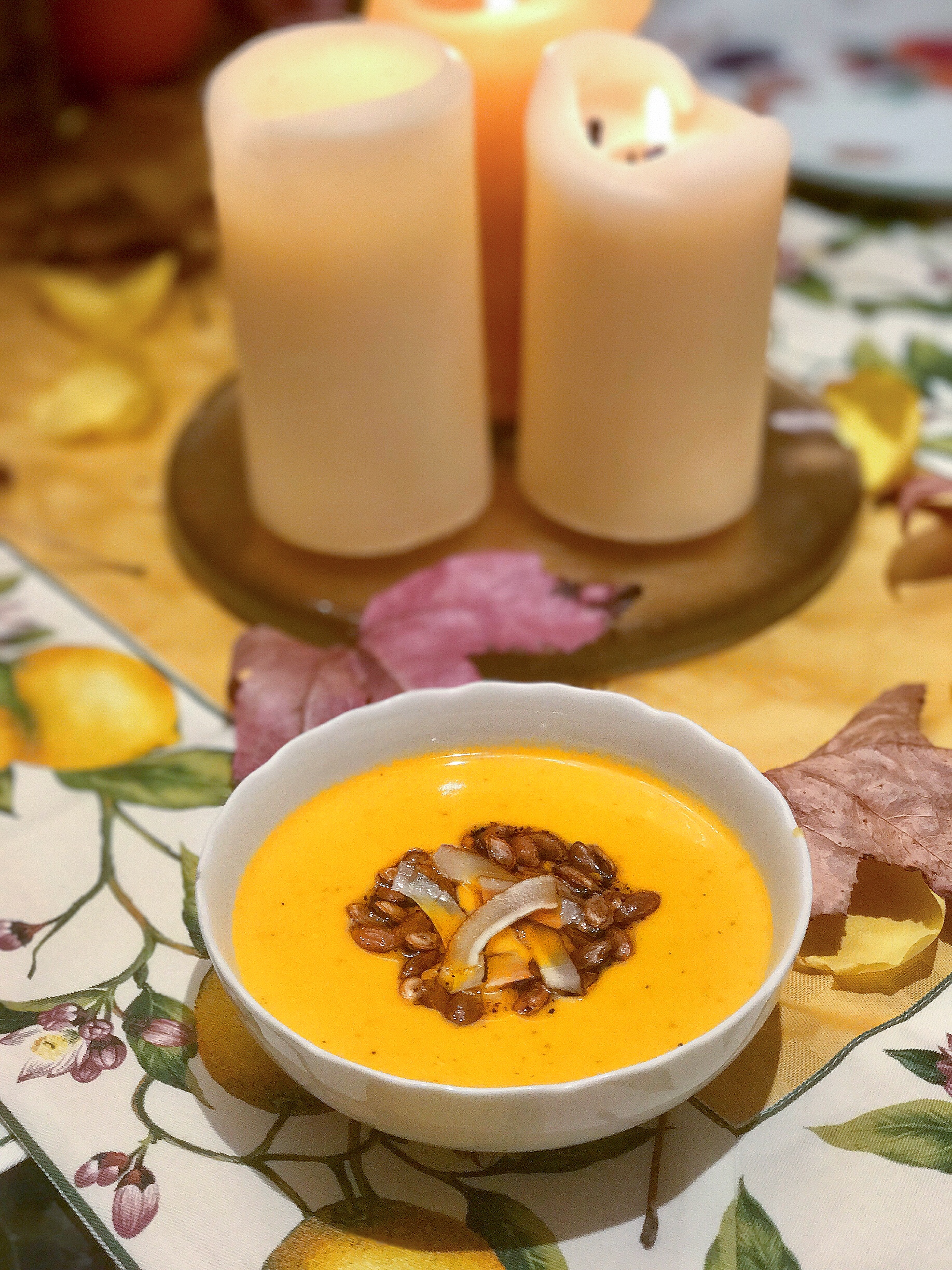 Creamy Butternut Squash Soup
1 butternut squash – halves, deseeded, skin left on
1 large white onion – peeled and quartered
6 cloves of garlic – still in the skin
1 jalapeno – halved
salt
black pepper
3-4 tbsp extra virgin olive oil
2 13.5 oz cans coconut milk
1 bay leaf
1 dried red cayenne chile
1 sprig of fresh sage
salt
1 cup boiled water
1/4 tsp freshly grated nutmeg
unsweetened coconut slices – lightly toasted
olive oil – for garnishing
Arugula – optional for garnishing
1. Preheat oven 375 degrees. Place squash, onion, garlic, and jalapeno in a baking sheet, drizzle with olive oil, salt and pepper. Mix to coat. Place the garlic cloves with the skins on in the holes of the squash, and place squashes flesh down on the sheet. Bake for about 30-40 minutes until caramelized and completed cooked and soft. Remove and allow to cool a bit before handling.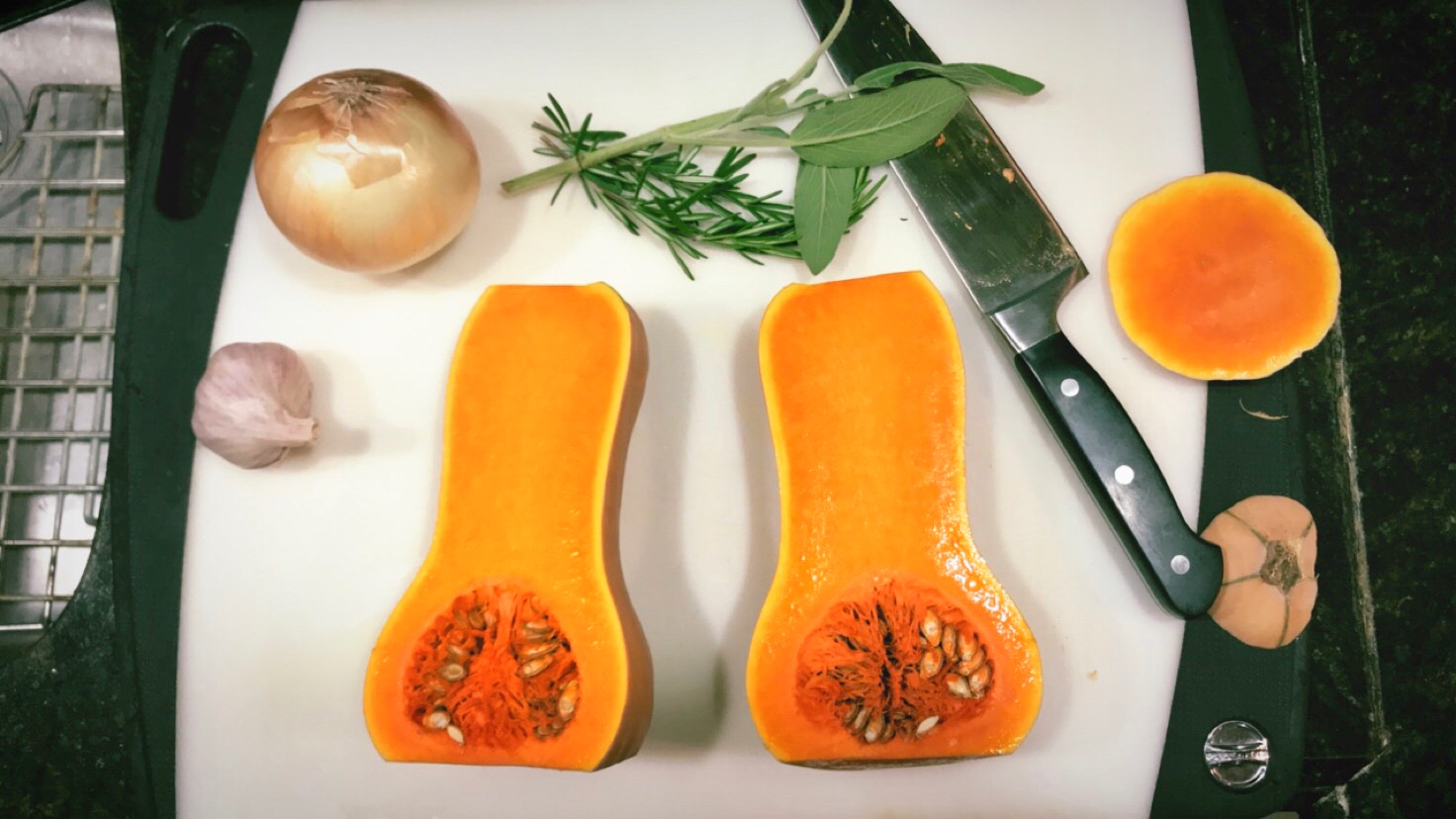 2. While the vegetables are roasting, place the coconut milk in a heavy bottom large pot and place over medium-low flame. Add in the sage, chili, bay leaf, and a sprinkle of salt. When it comes to a slide boil, reduce the heat to low to just slightly simmer. Stir occasionally. You want the sage, bay leaf and chili to just steep in the milk.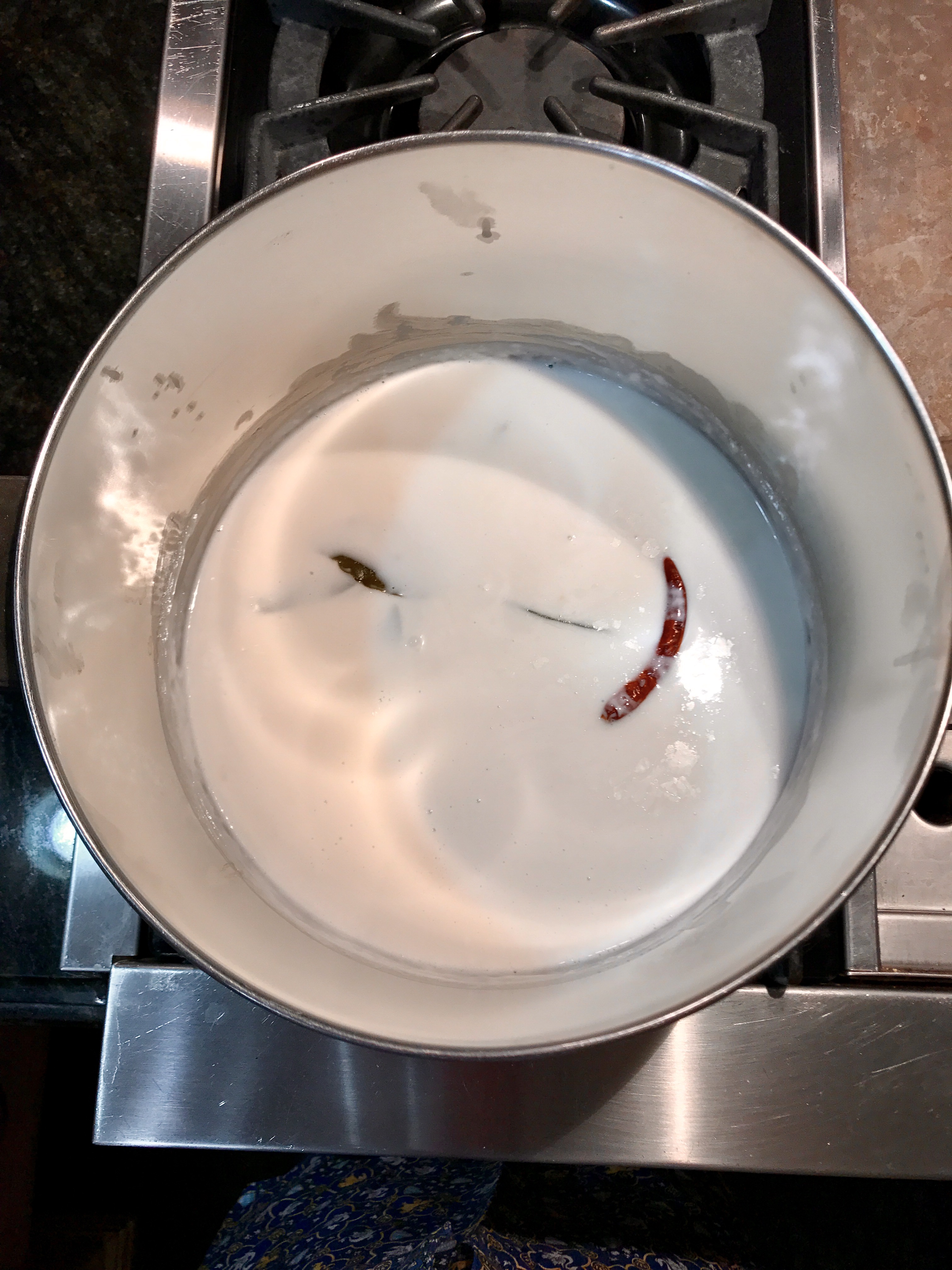 3. Place the water over a low simmer on the stove. Remove the bay leaf, chili and sage from the coconut milk. Once the vegetables are cool enough to touch, scrape out the squash from the skin and add all vegetables to the simmering coconut milk and stir. Add in the hot water and stir. Either transfer the mixture to a blender or use a hand blender to blend up the soup until creamy and smooth. Add in the nutmeg and more salt to taste. At this point, add in some more water if it is too thick – soup should be creamy and have a bisque-like texture. Turn off the heat and set aside until ready to serve.
4. In a small non-stick skillet, toast the coconut slices until lightly brown. Serve the soup in individual bowl, drizzle with a bit of olive oil and top with slices of coconut chips.