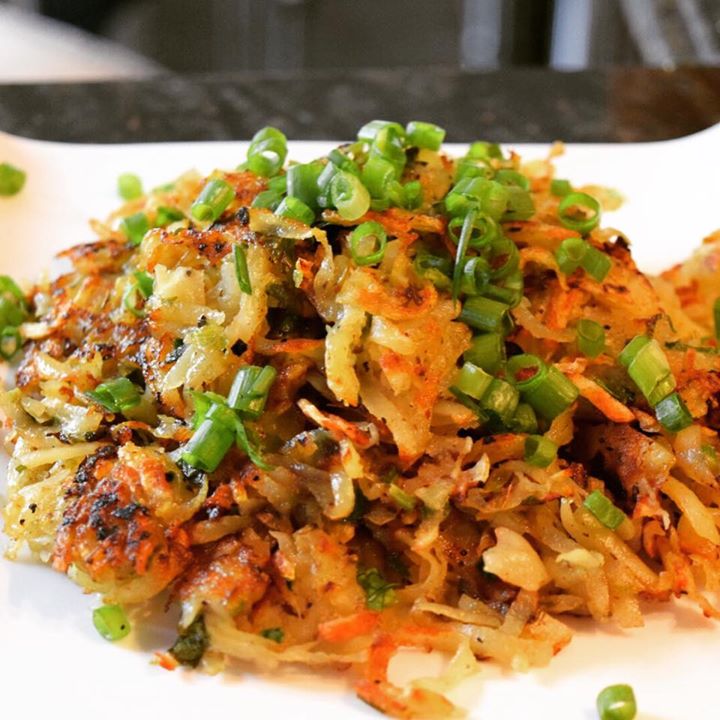 Crispy Mexican Hashbrowns:
5 Idaho potatoes – cleaned, peeled, dried
1 serrano pepper – minced
2 stalks scallions – minced
1-2 tsp no salt/low sodium Mexican seasoning
1 tsp dried Oregano
1 tsp garlic powder
1 tsp chili powder
pinch of cumin powder
salt
black pepper
2 tbsp heavy cream
PAM Original Flavor
1. Grate the potato into a cheese cloth, and once all the potato is grated, tie tight and squeeze out the excess water. Place into a medium bowl. Toss in the minced serrano and scallions. You want to mix in the remaining ingredients 5 minutes before cooking.
2. Spray a large non-stick skillet with PAM and place over medium-high flame. Add the potato mixture, making sure to spread it out evenly all over the pan – you want it to be a thin layer so it crisps up. Cook on 1 side for about 5 minutes, or until golden brown. Then try and flip to the other side (or flip over in sections) and cook for a few minutes until browned. Remove and place on a serving dish. Garnich with a generous amount of chopped scallions. Serve!
Serves 2-4