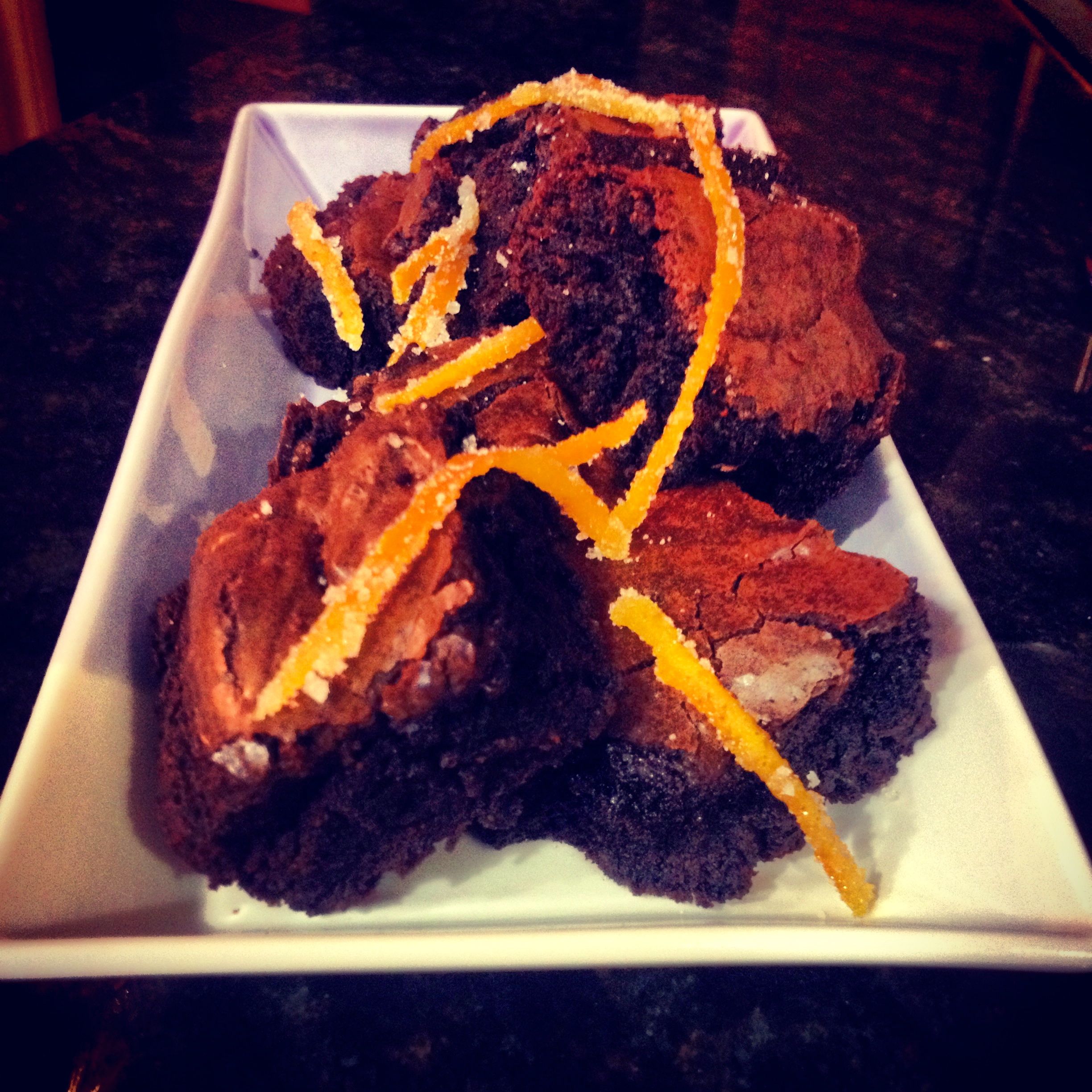 Do you ever have those nights (or days) when you're just craving something decadent and indulgent, but don't wanna put in the time to make something intense? Well that's exactly the kinda night I was having recently. I was craving something chocolatey and chewy…that spells brownies to me! I found a box of Duncan Hines Chewy Fudge Brownies in my pantry, and I figured I can make something creative with this. I figured the addition of something fruity would be a nice addition and would brighten up the brownies. I actually had some beautiful oranges, so decided to make orange zest infused brownies accompanies by fresh candied orange peel – you know when you pass by a chocolate (aka Godiva) and see those delicious sugary peels of orange dipped in chocolate? Well, that's exactly what I wanted to make just without the chocolate!
Double Chocolate Brownies:
1 box double chocolate brownie mix (I used Duncan Hines)
1 egg
1/3 cup water
1/3 cup vegetable oil
1 tbsp fresh orange zest
1/4 cup chunked dark chocolate cubes (I used 70% cacao dark chocolate block)
PAM Baking Flavor
Fresh Candied Orange Peel:
1 large orange
3/4 sugar
1/2 cup water
extra sugar
ice cubes
For the brownies:
1. Preheat the oven 325 degrees (I used a dark pan). Grease a square baking pan and set aside.
2. In a large bowl mix together all of the ingredients with a large spoon. Mix until everything is blended well. Dough will be very thick. Pour into the greased baking pan and bake for about 30 minutes or until an inserted toothpick comes out clean. Set aside to cool before cutting into squares.
For Candied Orange Peel:
1. Using the thick side of a fruit zester, peel thick strips of the orange until you can't peel anymore of the skin.
2. Bring water (not the 1/2 cup of water) in a small saucepan to a boil. Add the peels and cook for about a minute, then remove and place in an ice bath. Remove and repeat the cooking process one more time. Pour out the water from the sauce pan and rinse.
3. Pour in the 1/2 cup water and 3/4 cup sugar in the saucepan and place over medium-high heat until the sugar dissolves. Add the orange peels and turn the heat down to low just until the water is slightly simmering. Steep the peels for about 10-15 minutes until tender.
4. In a small bowl add some sugar. When the peels are tender, remove and add to the sugar. Gently shake over the peels until completely coated. Place on parchment paper to dry.
To serve: Cut the brownies into squares and place on a serving dish. Garnish with candied orange peel, and eat!!
Makes about 10 large brownies
Like Chocolate? Check out these recipes!