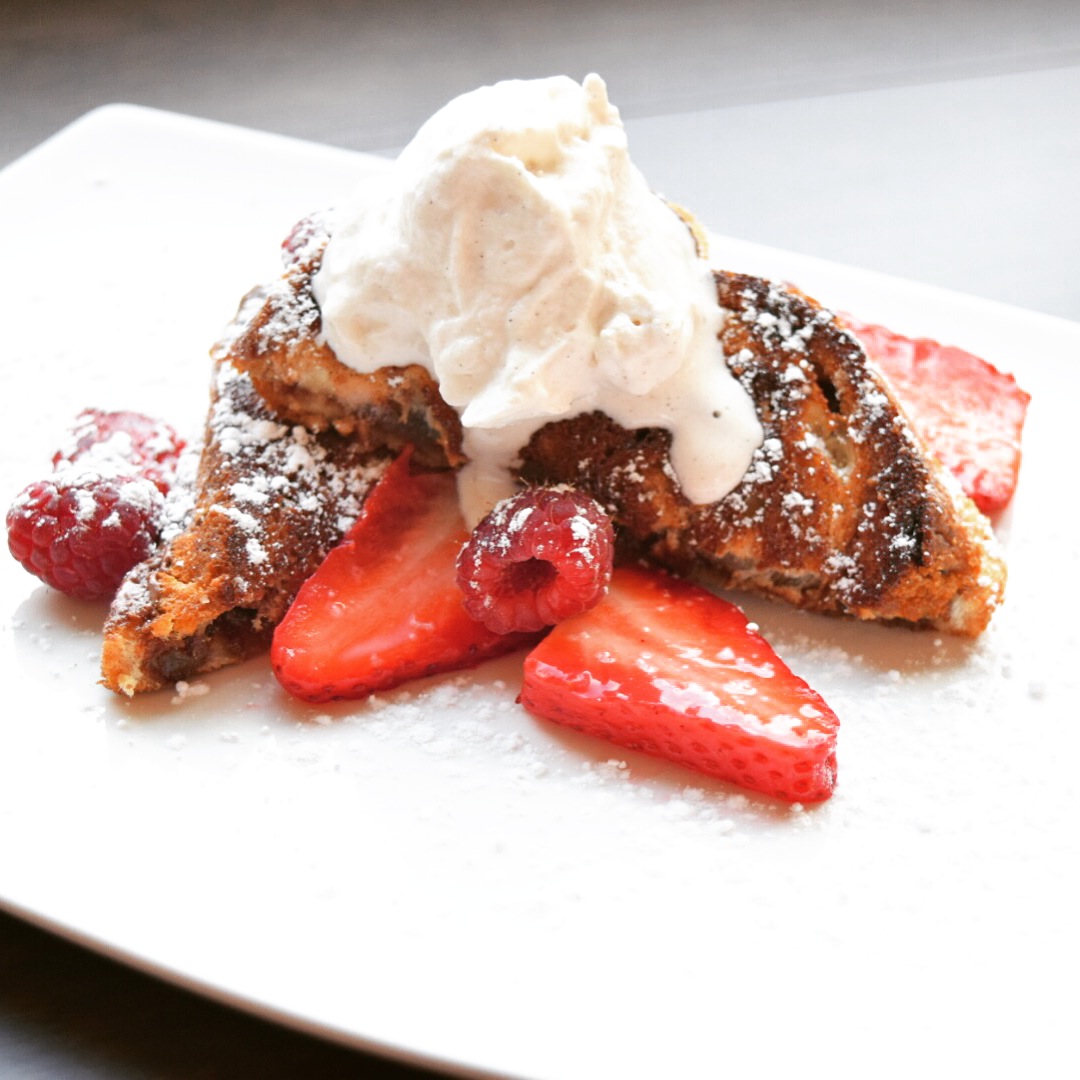 Last weekend a legend passed away: Michele Ferrero the owner of Nutella (not to mention the richest man in Italy) died on Valentine's Day (of all days!!!). In his honor, I had to use Nutella this past weekend (let's be honest, it was just another excuse for me to use Nutella). Recently my mom made me a delicious stuffed french toast, so I used the same concept and added a few delicious things.
When you hear French Toast, you probably think of something decadent and unhealthy. Don't get me wrong, this is very decadent, but definitely not super unhealthy. Its a simple and satisfying item to make for brunch and it's sure to please your friends and family!
Eggless Nutella French Toast:
4 slices cinnamon-swirl bread
3-4 tbsp Nutella
1/2 cup fat-free half & half
1/2 tsp vanilla extract
1/4 cup cinnamon-sugar mix
PAM Butter Flavor
sliced strawberries
raspberries
cinnamon whipped cream (recipe below)
Cinnamon Whipped Cream:
1/2 cup heavy cream – chilled
1 tsp cinnamon
1 tsp sugar
1. Spread about 1 tbsp of Nutella on each of the 2 slices of cinnamon-swirl bread. Top with the other non-Nutella sides to create a sandwich. In a shallow and wide plate pour in fat-free half & half and add in vanilla extract, mix. In another shallow and wide plate, add in the cinnamon-sugar mix. Lightly dip each side of the Nutella sandwich into the milk mixture, and shake off access. Dip each of the wet sides into the cinnamon sugar mix. Repeat for the second Nutella sandwich.
2. Spray a on-stick skillet with PAM and place over medium-low heat. Once the pan is hot, place in the french toast one at a time. Grill on each side for about 2 minutes. Remove, and cut in half on the diagonal. Top with fresh berries, whipped cream and powder sugar (optional).
Cinnamon Whipper Cream:
1. In a clean and chilled bowl, pour in heavy cream and using a hand mixer beat on medium speed until it becomes frothy then slowly sprinkle in the cinnamon and sugar. Continue to beat on high until stiff peaks. Wrap bowl in plastic wrap and place in fridge until ready to serve.