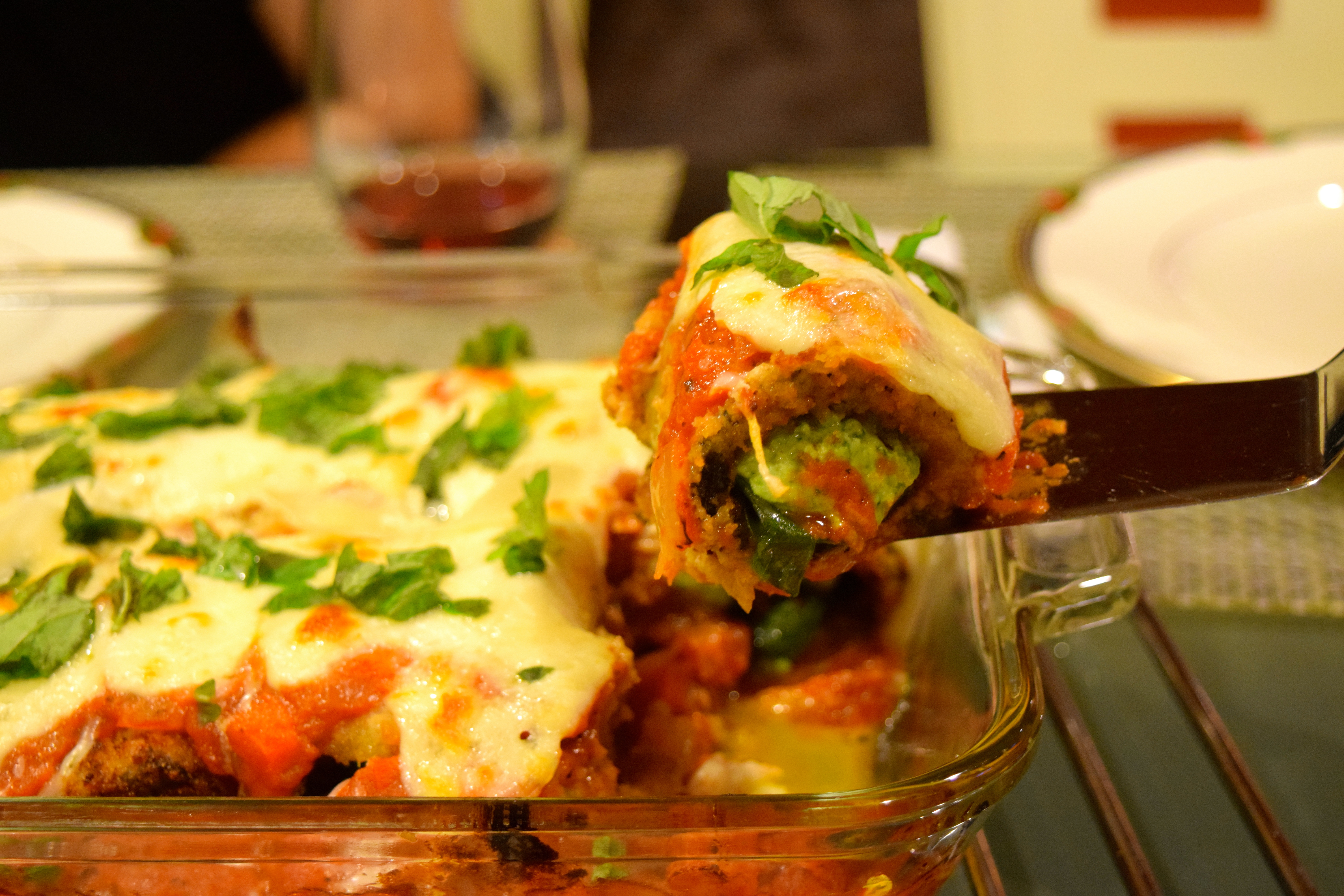 This past Christmas we decided to relax at home and I cooked up a vegetarian Italian feast! I decided to make Eggplant Rollatini as the main dish, but of course with a twist. I first made a homemade marinara sauce using San Marzano crushed tomatoes the night before. I spiced up the traditional ricotta filling with a homemade spinach pesto and pine nuts. It was delicious and fairly simple to put together.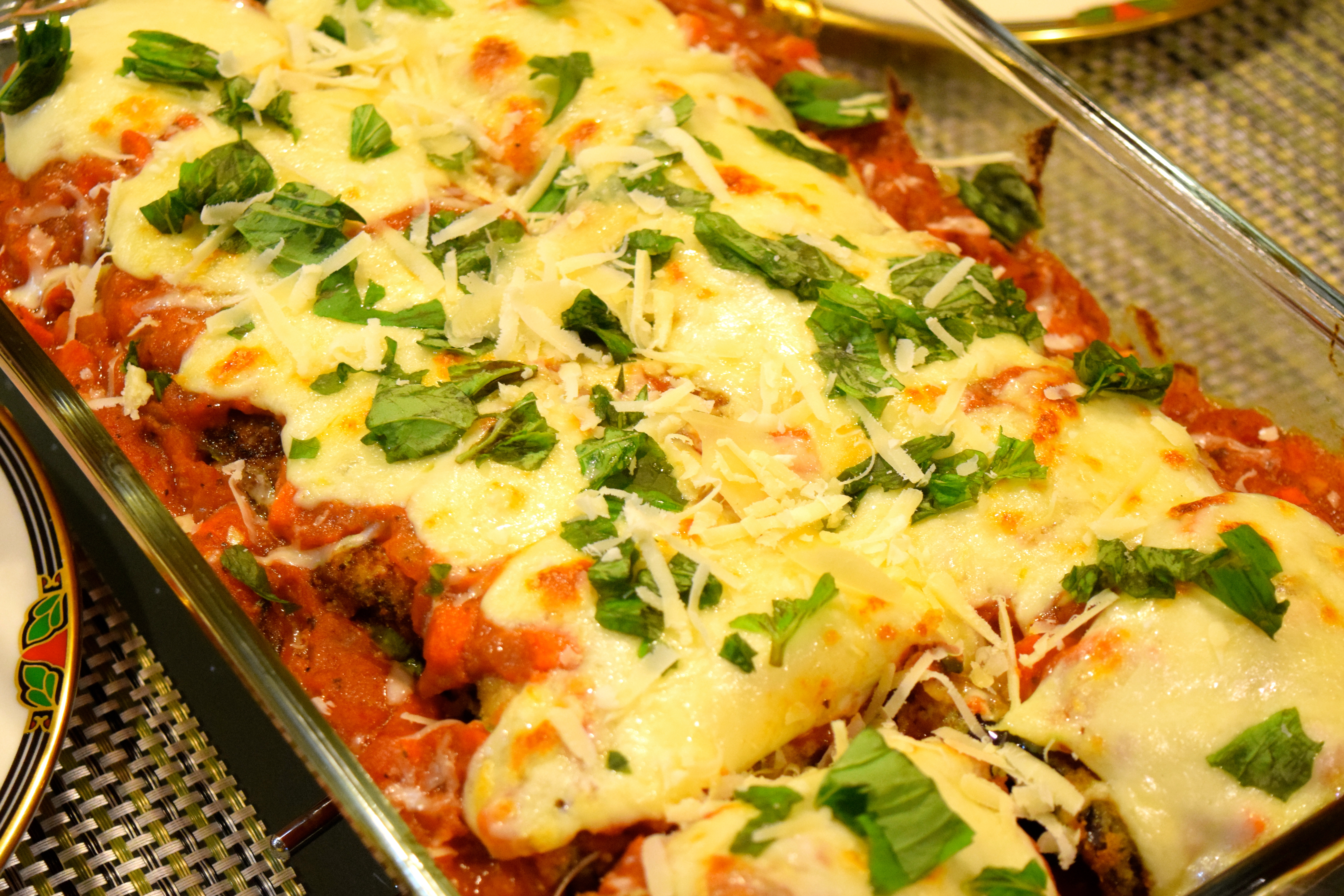 Eggplant Rollatini:
2 large Italian eggplants – cut into 1/8 thick long slices
salt
1 cup plain breadcrumbs
1 tbsp dried basil
1 tsp cayenne pepper
1 tsp black pepper
1 cup lowfat buttermilk
1. Place the eggplant slices on a slotted cookie sheet/large colander. Sprinkle generously with salt on both sides. Let sit (I placed them in the sink), so all the moisture drains out – for about 15-20 minutes. Rinse thoroughly and pat dry with paper towels.
2. Place a large skillet over medium-low flame. Pour in olive oil to coat the bottom of the pan, and fill about 1/8 of the way up. Meanwhile, place the buttermilk in a large shallow plate. Sprinkle in the cayenne pepper and black pepper. Stir. In another shallow dish, add the breadcrumbs and basil – stir. Carefully dip each eggplant slice into the buttermilk, coat well on both sides, and then dip in the breadcrumb mixture. Press the breadcrumbs into each side, gently shake off excess crumbs. Place slice into the hot skillet. Place about 2-3 slices at a time – you do not want to overcrowd the pan, so adjust this based on how big your pan is. Cook about 3-4 minutes on each side until browned and crisp. Remove and lay on a play that's lined with foil and paper towels to drain excess oil.
Spinach Pesto – Ricotta Filling:
about 1 cup baby spinach
1 clove garlic
red crushed pepper
black pepper
salt
about 2 tbsp roasted garlic olive oil/extra virgin olive oil
1 12 oz lowfat ricotta cheese – drained in a cheese cloth to remove excess liquid
2 tbsp pine nuts – toasted
1 tbsp grated pecorino
1. Place spinach, garlic, red crushed pepper, salt, and black pepper in a food processor. Pulse until relatively chopped. Turn to low and drizzle in olive oil and continue grinding until its a thick paste. Mix in the toasted pine nuts and grated pecorino, set aside.
 Assembly: 
1 bunch of basil leaves (enough so each eggplant gets 1 leaf), plus some more for garnishing
1 cup shredded part-skim mozzarella
1 jar homemade/favorite store-bought marinara sauce
1-2 balls fresh mozzarella – sliced into 1/4 inch thick slices
1. In a large oven-safe casserole dish, place about 1/4 of the homemade sauce on the bottom of the dish, and spread evenly to cover the entire surface.
2. Once the fried eggplants have cooled and drained, place each one gently on a clean surface/cutting board. Place about 2 tbsp of ricotta filling at the fat end, and gently roll making sure the filling is not squeezing out. Repeat with the rest of the breaded eggplant slides and then carefully place each roll in the saucy casserole dish close to one another until the dish is covered completely,
3. Pour the remainder of the sauce all over the eggplants, making sure to cover everything. Place a slice of fresh mozzarella on each rollatini. Top the entire dish with shredded mozzarella.
4. Cover with tin foil and bake at 350 degrees for about 10-15 mins, or until bubbling. Remove foil, and switch oven to maxi broil, and bake for a few minutes, until cheese its melted and slightly brown. Carefully remove, and let rest for 2 minutes before serving. Take the reserved fresh basil leaves, and tear over the top before serving.
Enjoy!