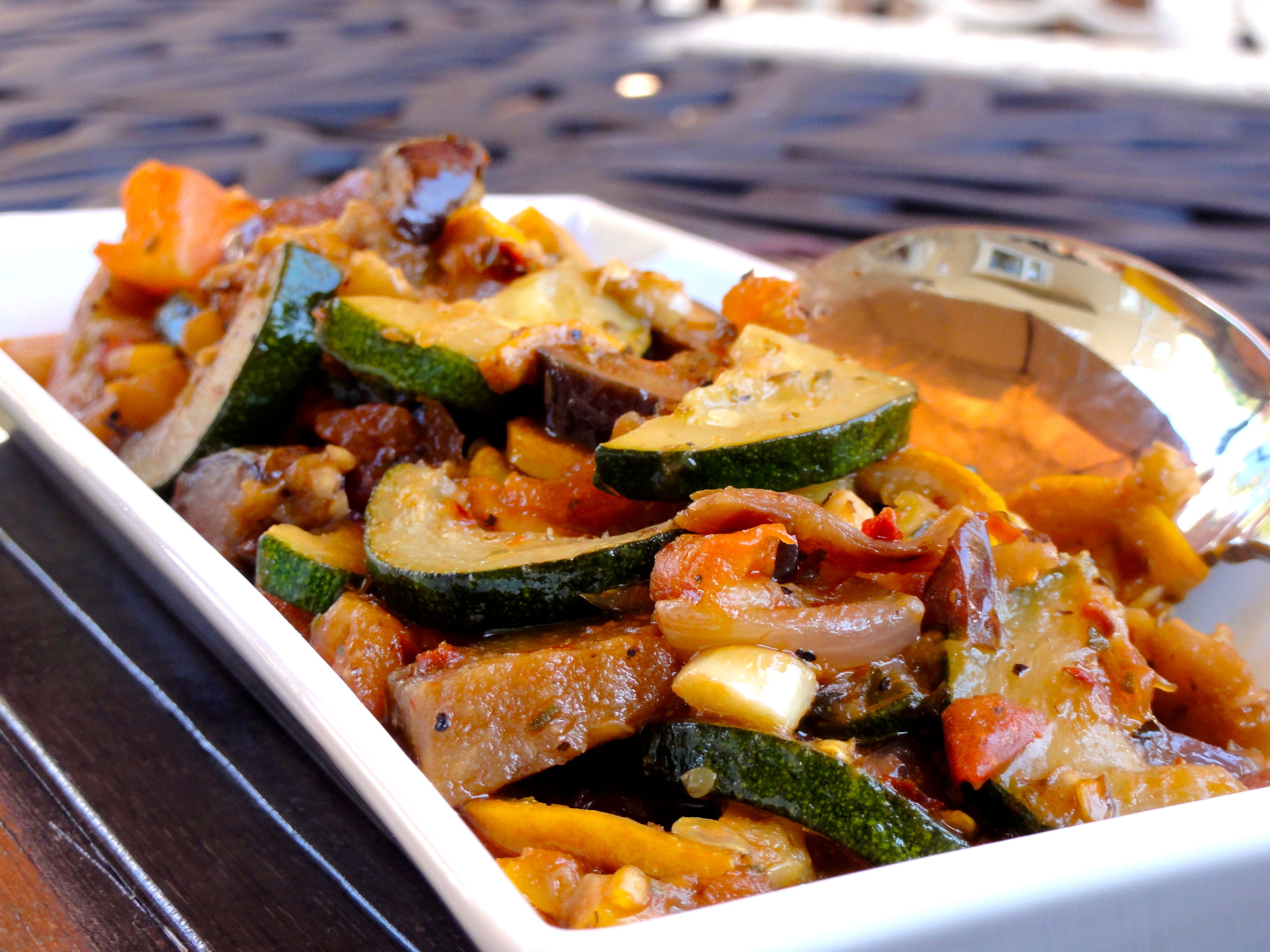 Growing up in Staten Island, has allowed me to become accustomed to delicious Italian food. When you go to an Italian restaurant, you're not only guaranteed bread here, but in most cases your bread is accompanied by a delicious eggplant caponata. It's a medley of fresh eggplant slowly cooked down with capers, olives, onions and tomatoes. It is traditionally eaten scooped in top of toasted Italian bread or even as a cold salad.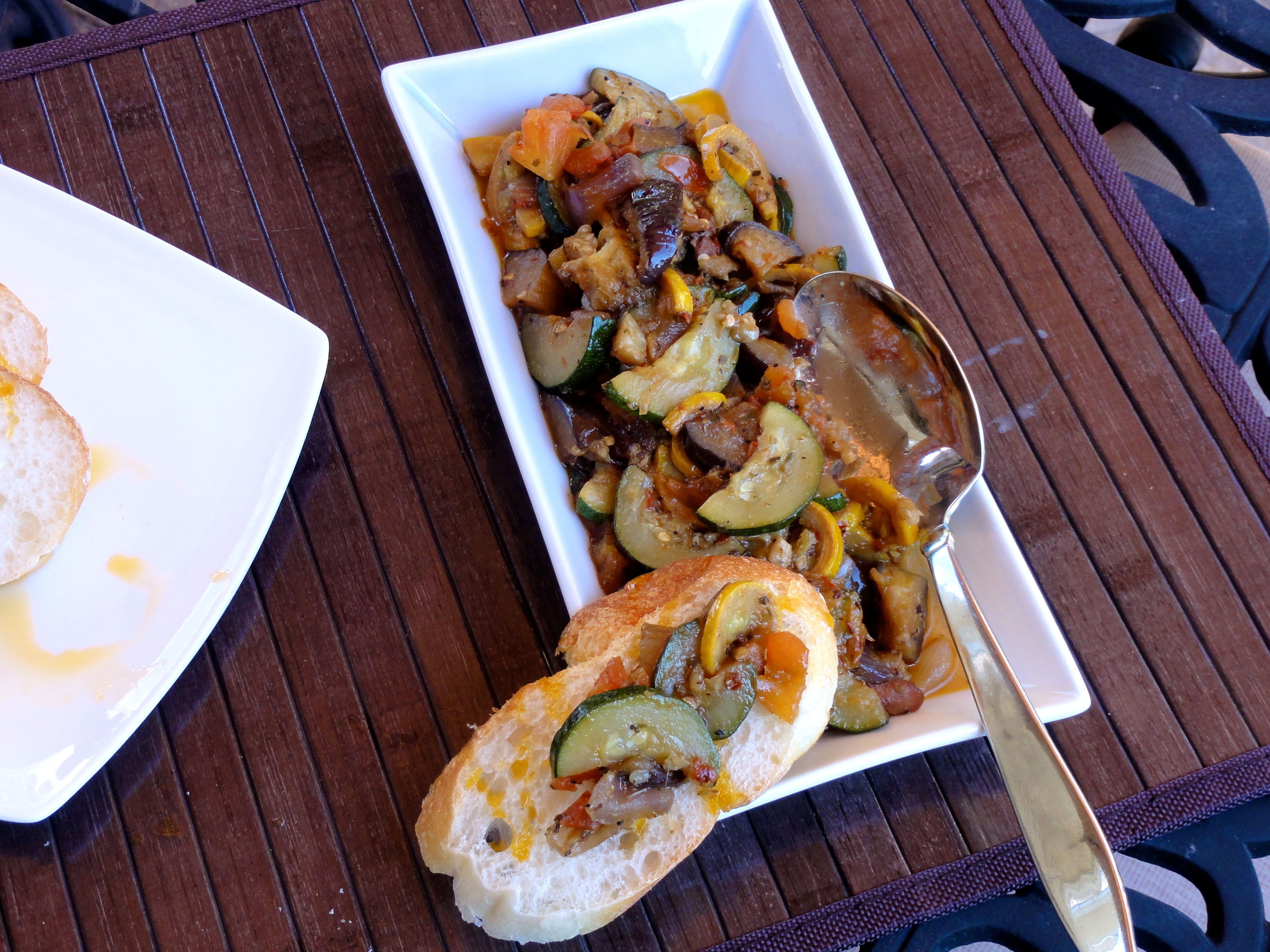 Earlier this month I stumbled upon a farmers market in midtown (NYC), and bought all these delicious vegetables. I first made a Baby Heirloom Tomato and White Plum Arugula Salad with my ingredients, and next I made this delicious Eggplant & Zucchini Caponata. I love combine eggplant and zucchini – I think they compliment each other really well, especially in Italian cuisine. This is super easy to make and has a pretty good shelf life.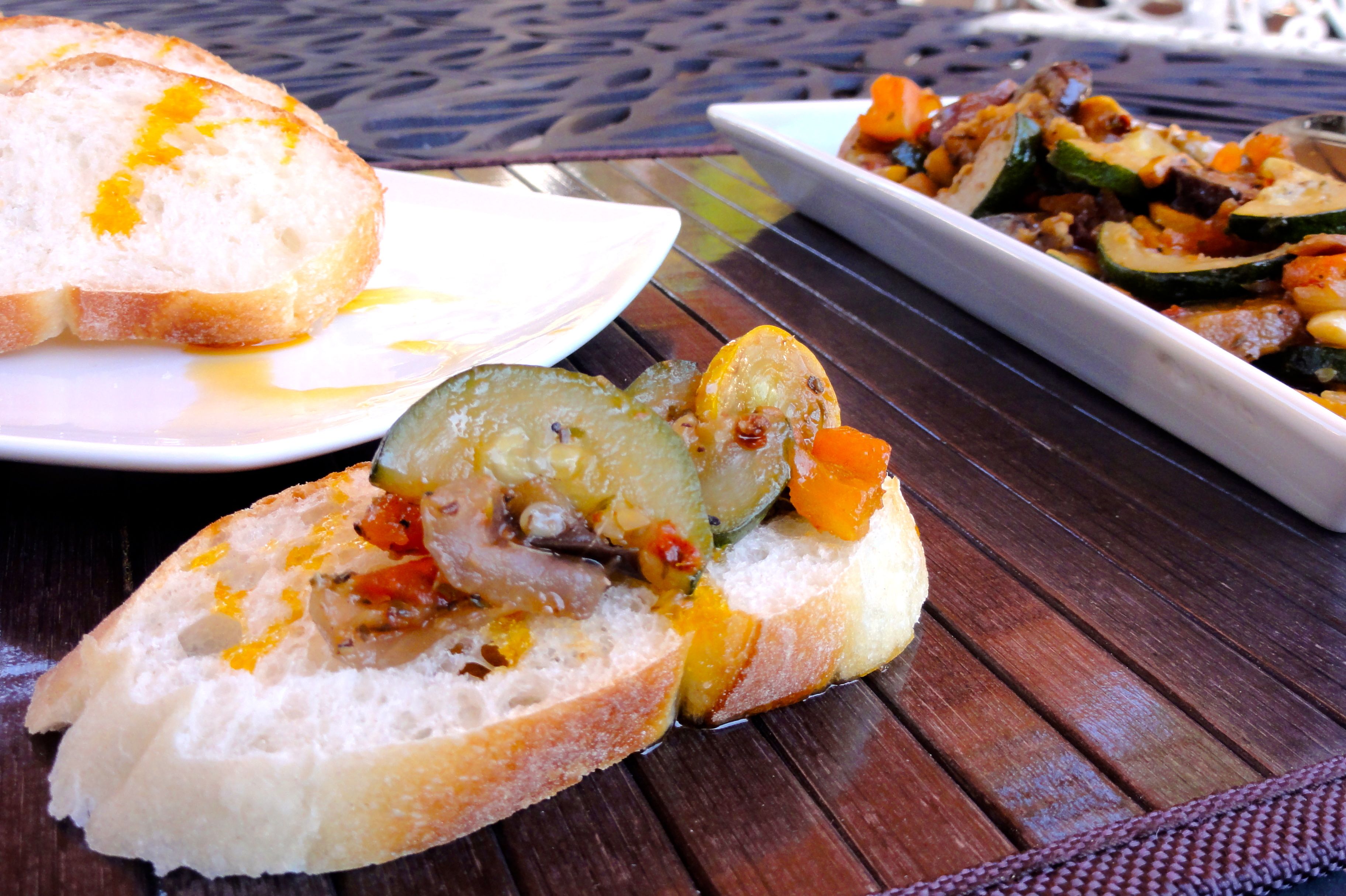 Eggplant & Zucchini Caponata:
1 yellow and 1 green zucchini – diced into thin quarters
1 medium sized Italian eggplant – quartered and diced
1/2 large red onion – diced
4 cloves of garlic – smashed and minced
handful of kalamata olives – pitted and diced
1 large beefsteak tomato – diced
1 tbsp dried oregano
1/2 tbsp dried thyme
1 tbsp red crushed pepper
salt
coarse black pepper
extra virgin olive oil
chili oil
1 loaf of Italian bread or ciabatta bread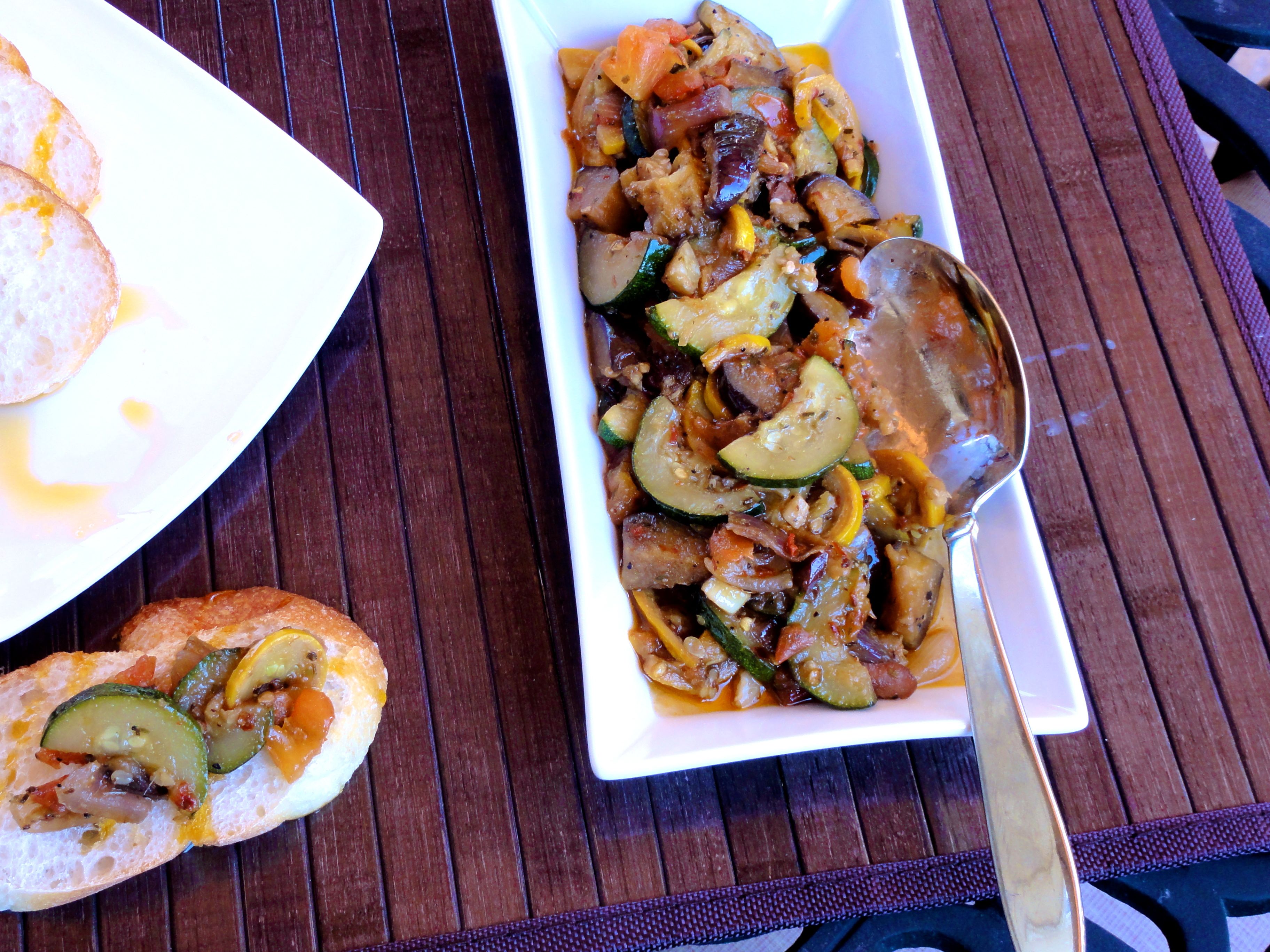 1. In a large and heavy pan set over medium-low heat, add about 1 tbsp of chili oil and 1 tbsp of olive oil. Add the onions and garlic. Saute for about 3-4 minutes, then add in the zucchini and eggplant. Sprinkle with oregano, thyme, red crushed pepper, salt and pepper. Saute over medium-low heat for about 6-8 minutes until soft. Then add the shopped tomatoes and kalamata olives, stir, and cover with a lid. Cook with the lid on for about 6-8 minutes until everything is softened and slightly moist – it will look like all the veggies are falling apart, but that's exactly what we want!
2. While the caponata is finishing up cooking, slice the bread on a diagonal and toast on a non-stick skillet drizzled with chili oil. Toast until golden-brown and crisp. Remove and place on a serving platter.
3. Uncover the caponata and taste for salt and pepper. It should be very soft moist and salty with a little kick. Place on the serving platter next to the toasted bread. Serve!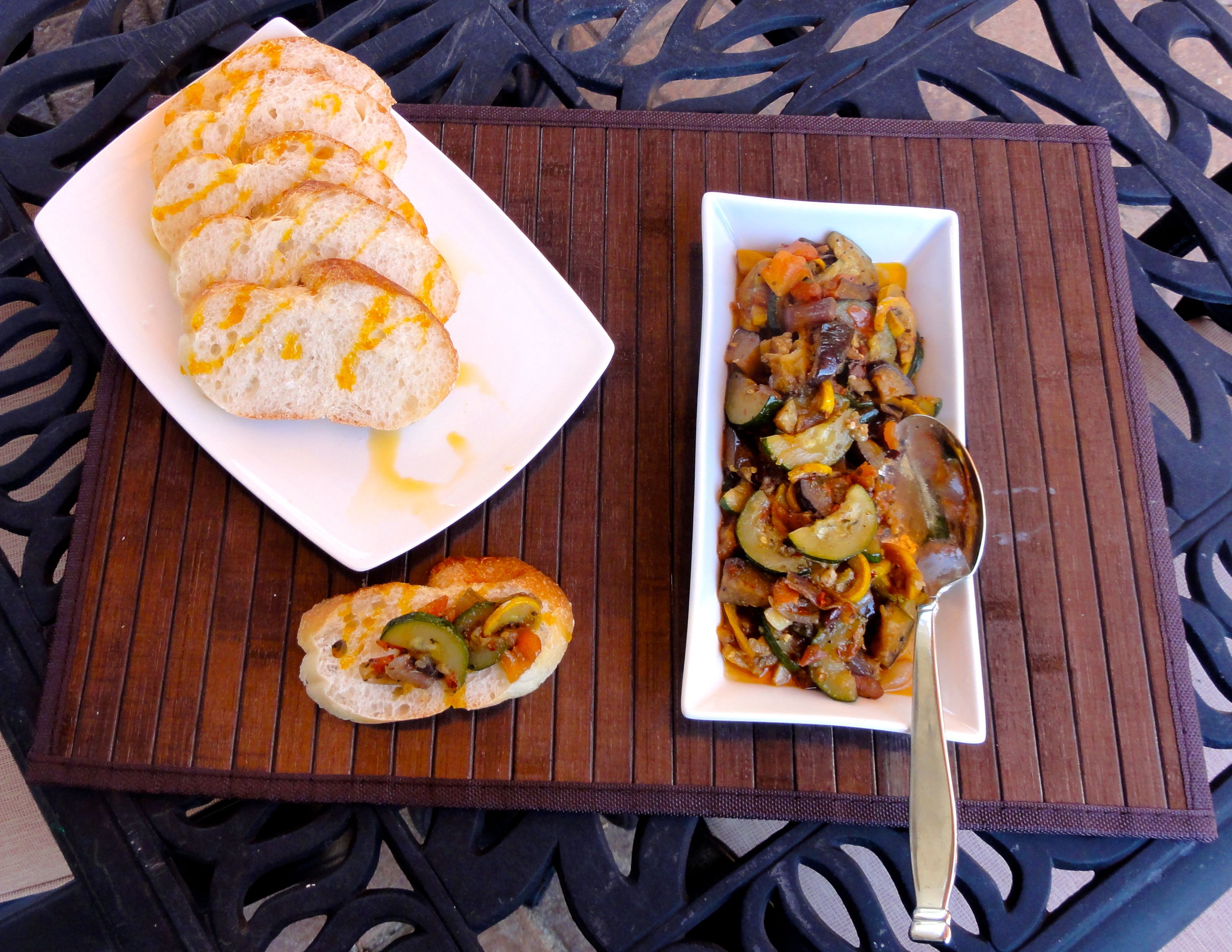 Serves about 4 people 
Like what you see? Check out these vegan recipes!