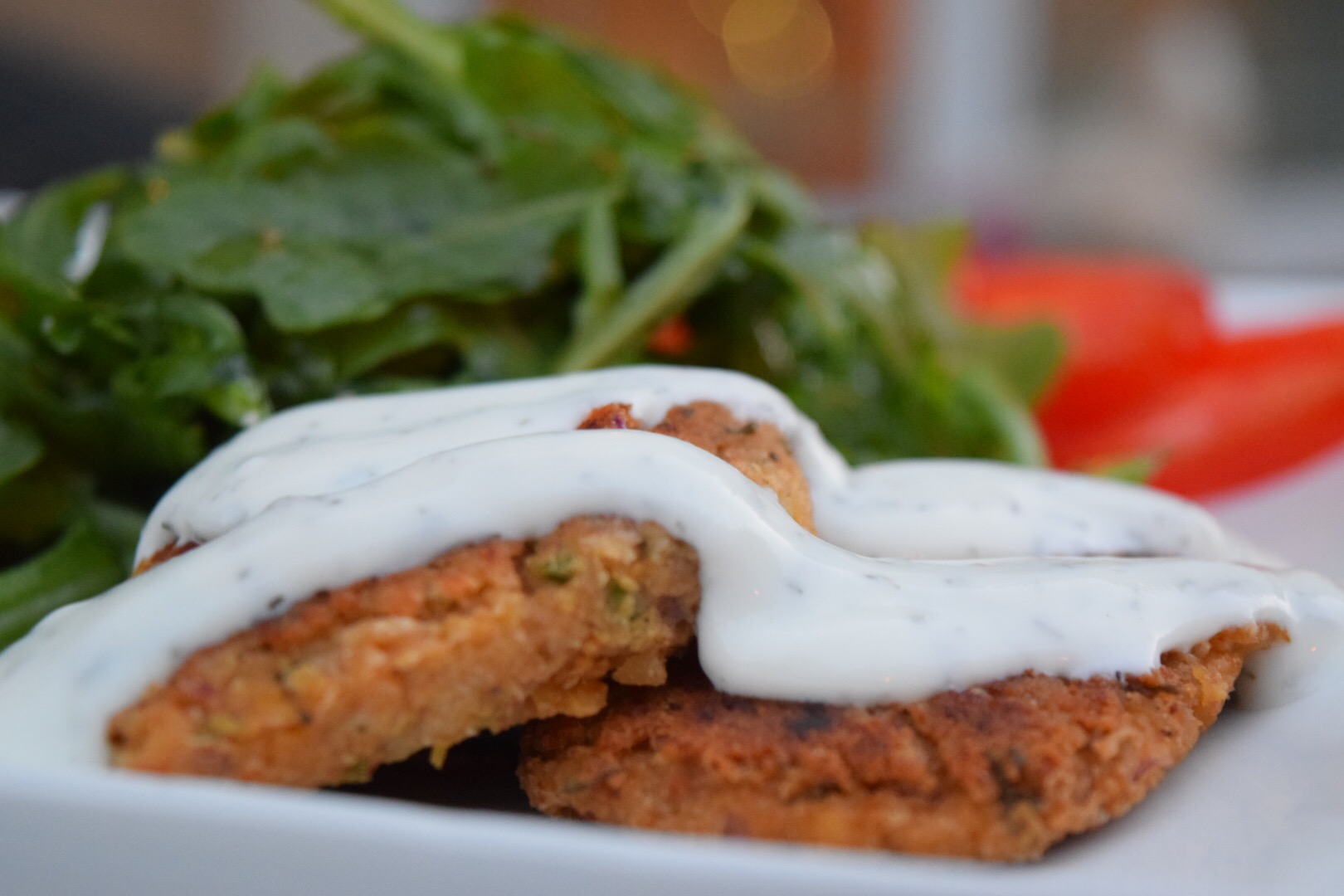 I really like falafels, but I don't like that they're fried and tend to be greasy and then I feel guilty for eating them. Who wants to feel guilty when you're stuffing your face?! Wait.. that's an oxymoron. Oh well. I wanted falafel one evening so I whipped up a healthier "burger" version that is pan-seared and packed with all the Greek falafel flavors. And best of all, this recipe can be totally vegan!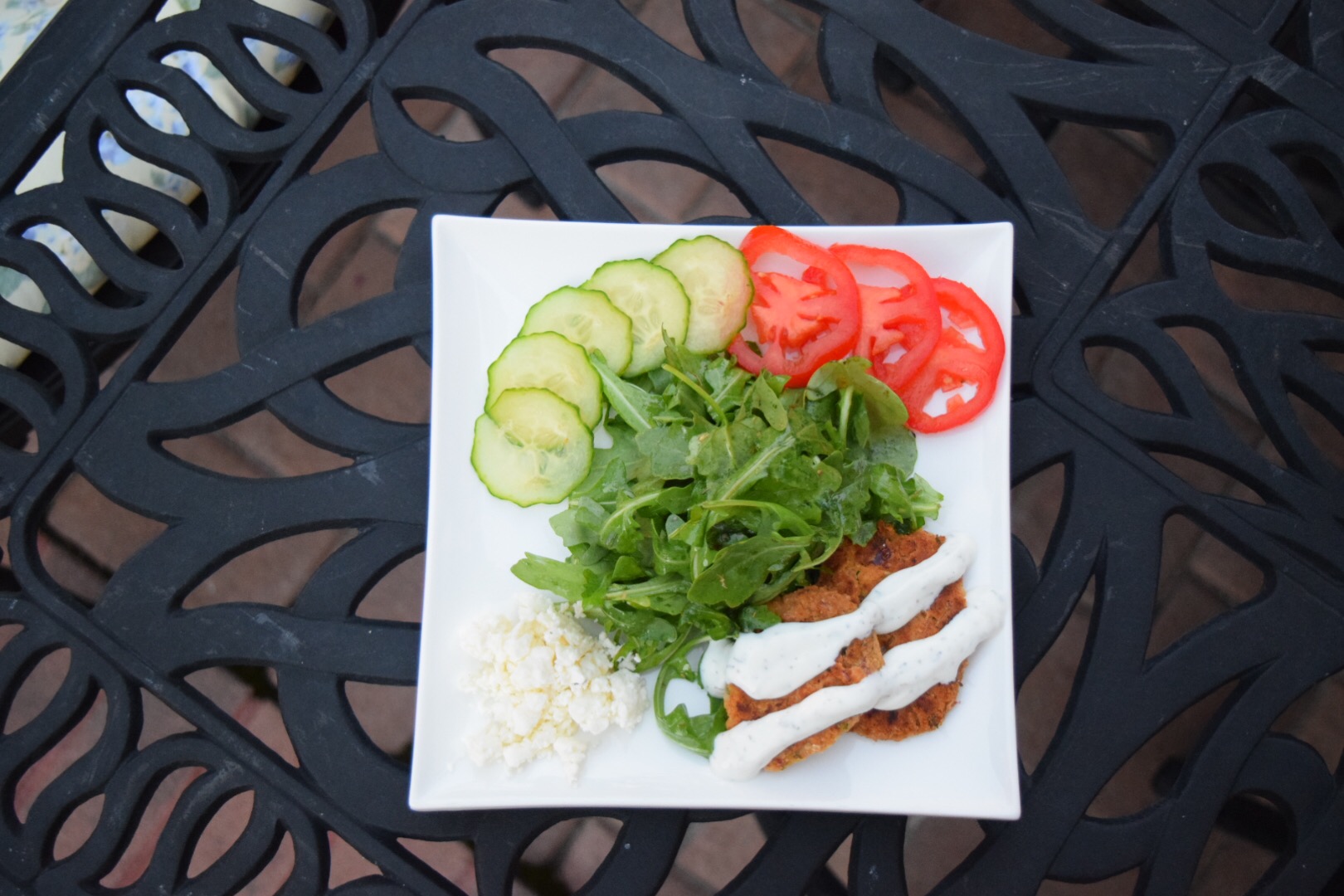 'Falafel' Chickpea Burger: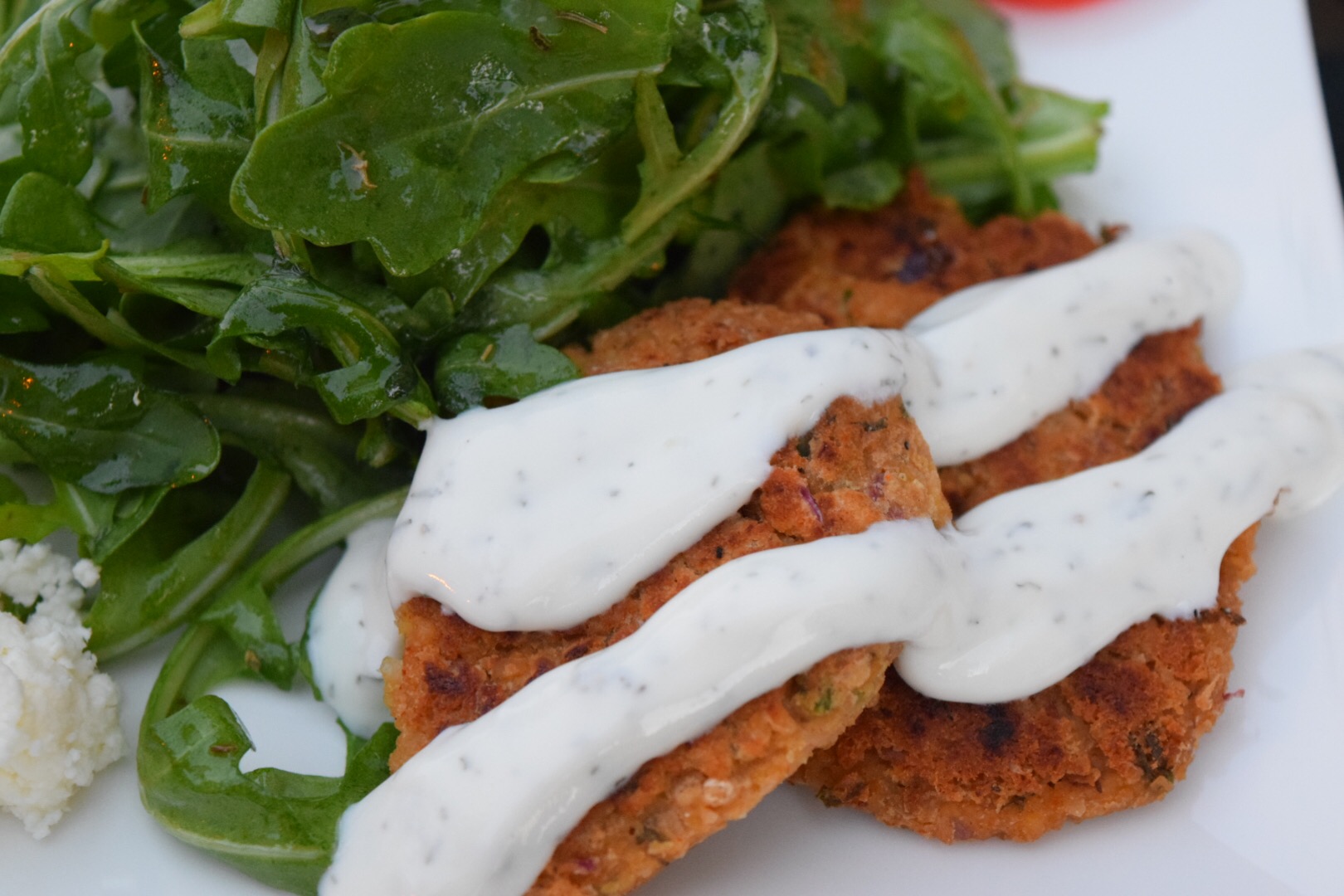 1 can chickpeas – drained and rinsed, patted dry
1 medium red onion – finely chopped
1-2 jalapenos/serranos – minced
1 tsp cumin powder
1 tsp fried oregano
1 tsp fresh lemon juice
1 tbsp fresh flat leaf parsley or dried parsley
1 clove garlic – minced
salt
black pepper
1 tbsp cornstarch
PAM Cooking Spray
1. Add all ingredients (except for the cornstarch) to a food processor and pulse until blended, but not totally smooth. Take out into a mixing bowl, and sprinkle in the cornstarch and mix by hand until incorporated. Make into Patties – should make 4-5 thick patties. Pat dry with a paper towel, as access moisture will slow the cooking process.
2. In a medium non-stick skillet over medium-high flame, spray with PAM and add 2-3 patties at a time. Sear 5 minutes on each side, or until dark brown and cooked through. Remove to cool.
Tzatziki: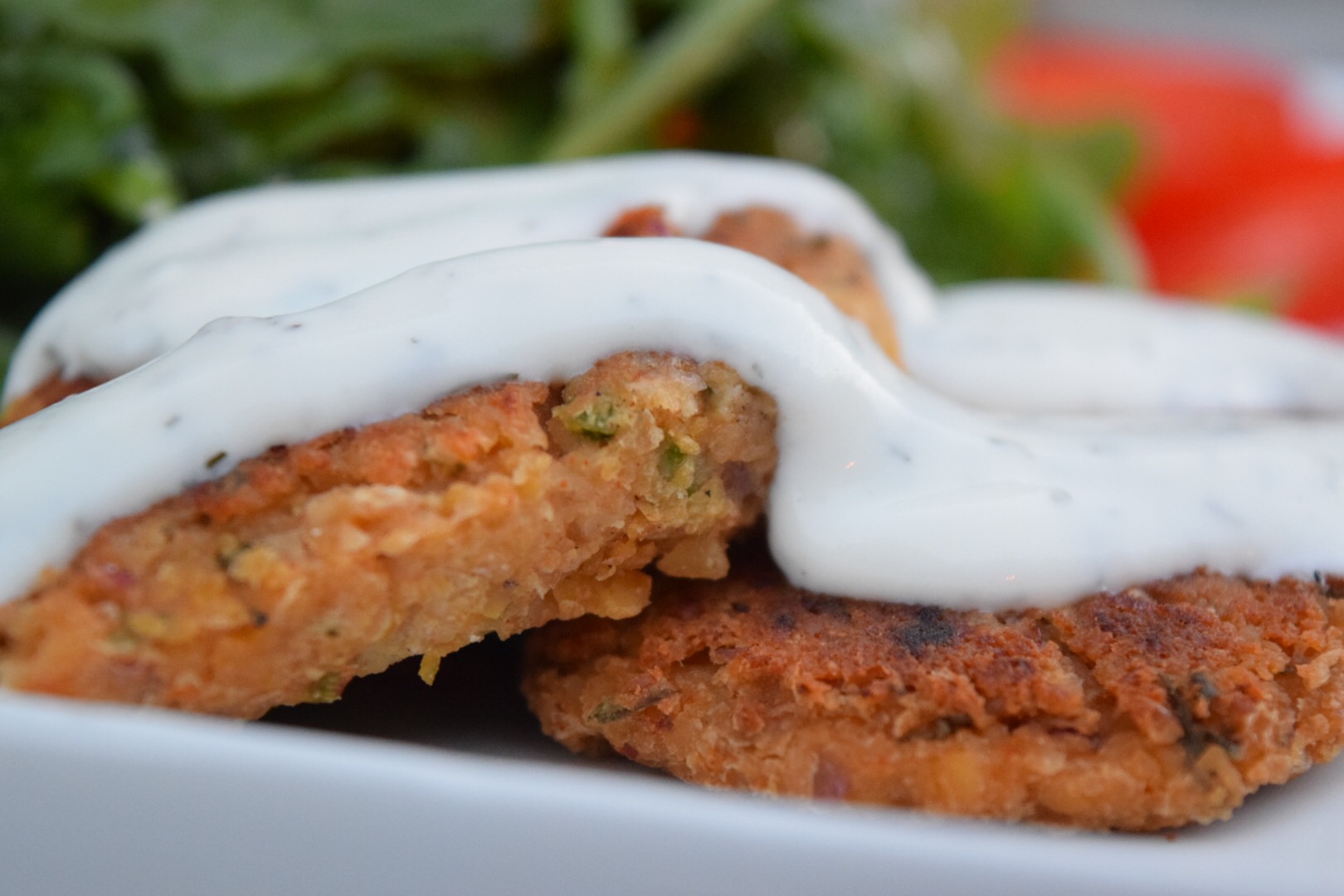 1/4 lowfat yogurt/vegan yogurt
2-3 tbsp reduced-fat sour cream
1-2 tbsp fresh chopped dill or 1 tsp dried dill
1 clove garlic – minced
salt
black pepper
1. Mix all ingredients and set aside.
Arugula Salad: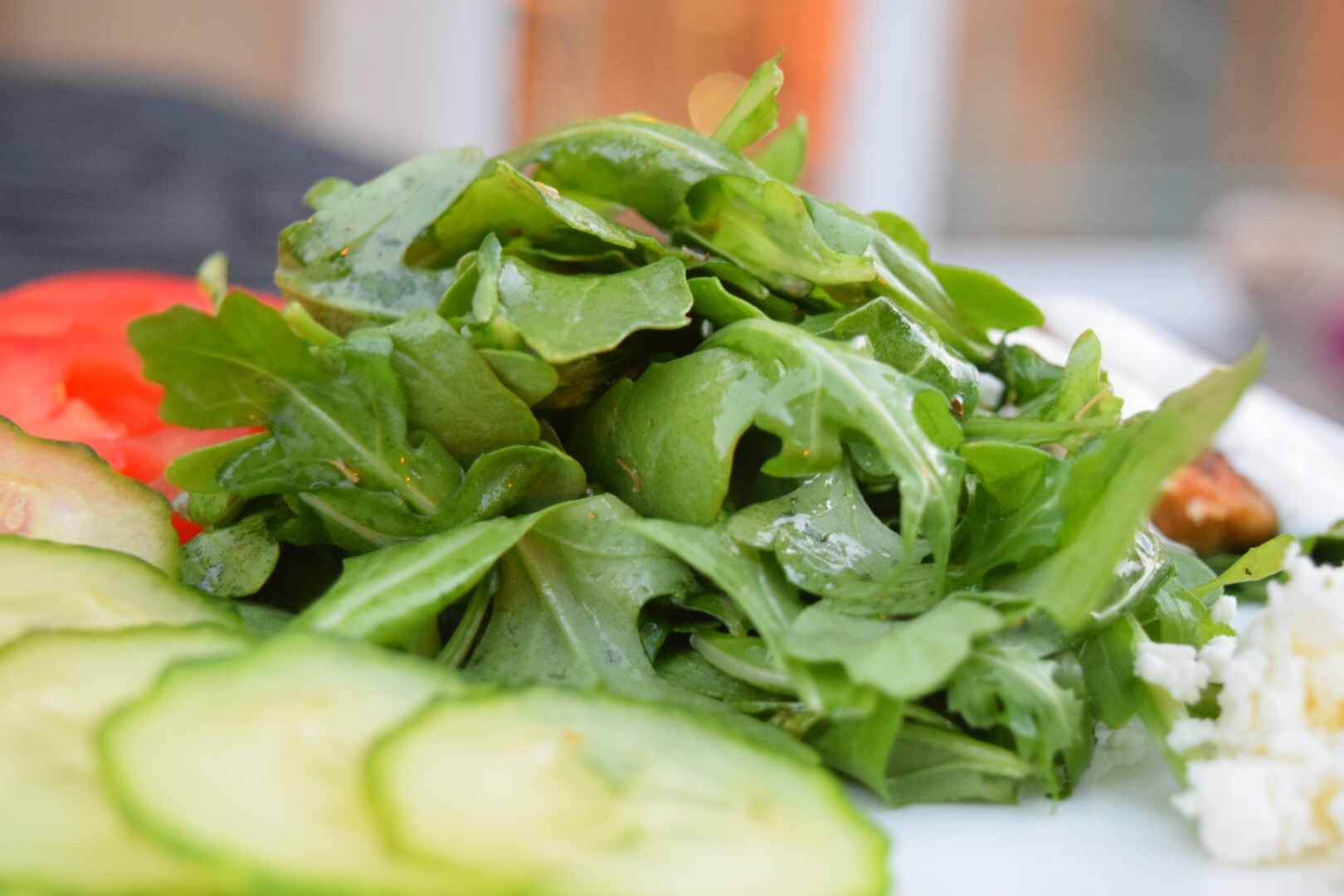 1 bag/package arugula
1 clove garlic – minced
1 tsp dried oregano
1 tbsp fresh lemon juice
couple tbsp extra virgin olive oil
pinch of salt
pinch of black pepper
1. In a large bowl, add in all ingredients except for the oil and arugula. Drizzle in the olive oil until the dressing emulsifies. Add in the arugula and lightly toss until coated.
Assembly ingredients:
crumbled feta
sliced roma tomatoes
sliced English cucumber
1. On a serving plate, add 1-2 patties, pile high with arugula salad, sliced tomato, sliced cucumber, and feta. Drizzle with Tzatziki and serve more on the side. Enjoy!