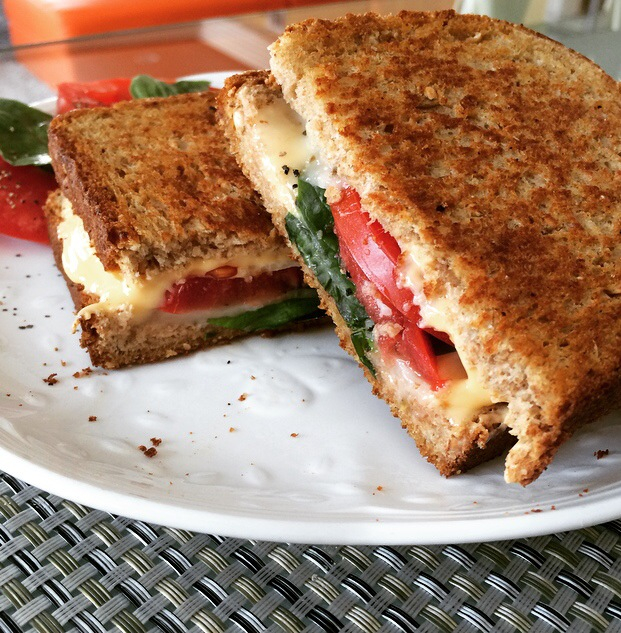 Do you ever get a craving for a simple grilled cheese sandwich? Something gooey and delicious and full of carbs and cheesy goodness? Yah, I get these cravings all the time, but if I ate what I craved all the time, I'd probably be a beluga whale. But I do like to reasonably indulge from time-to-time. I was craving a grilled cheese the other day, but I wanted something tasty and not too fatty. Thus, the "Fancy" Grilled Cheese was born.
"Fancy" Grilled Cheese:
2 slices multigrain/whole wheat bread (I used Pepperidge Farm Brand)
2 slices part-skim American Cheese (I used good ole' Kraft)
1 slice reduced-fat Pepper Jack Cheese (I used Sargento)
2-3 slices beefsteak tomato
3-4 slices fresh basil
Black Pepper
PAM Olive Oil Flavor
Pesto Aioli:
2 tbsp reduced-fat mayo
1 tsp basil pesto
sprinkle of red crushed pepper
1. Layer the ingredients evenly between the 2 slices of bread. Spray both sides of the outside of sandwich with PAM.
2. Pesto Aioli- stir all ingredients and set aside.
3. Heat a non-stick skillet over medium-low heat and spray with PAM. Grill both sides of the sandwich for about 4-5 minutes until golden brown and the cheese is melted. Remove from the skillet, and slice in half. Serve with Pesto Aioli.