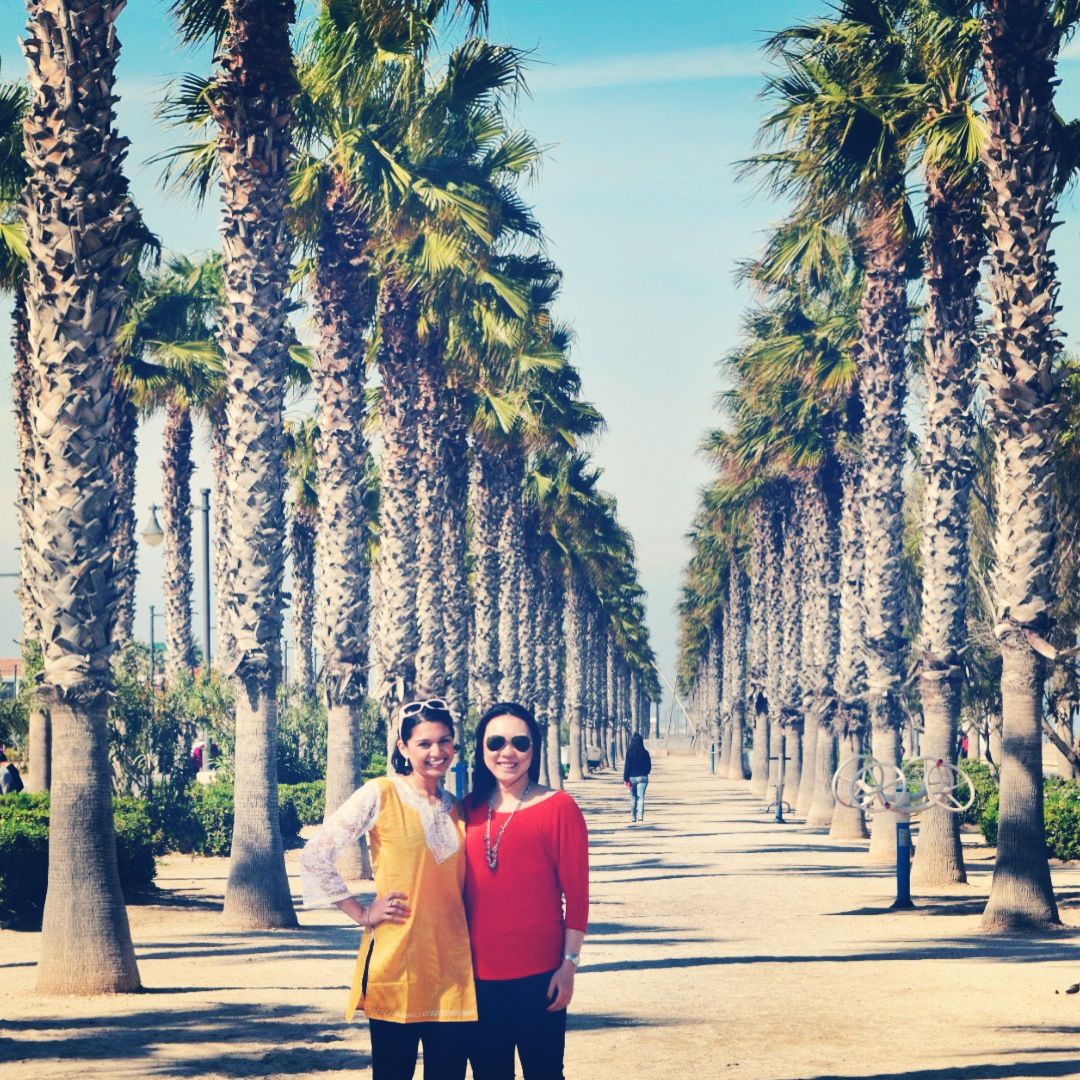 My next installment on my Spain review stops in Valencia – a beautiful Southern coast city named after the abundant Valencia orange trees (which by the way are originally from Valencia, California). This city is like a palm tree lovers HEAVEN, i.e., MY HEAVEN. We traveled on a train from Madrid to Valencia, and the ride was beautiful. We passed tons of farms, mountains, and greenery. I saw a lot of olive tree farms and cute Spanish homes along the way. Not to mention, the train station in Madrid is beautiful:
We arrived in Valencia around 2:30pm and took a cab to our hotel. We checked in and decided to walk around the city and explore. We were quite far was the beach area and were told that it is an hour walk. We then took a cab to the beach and were dropped off at the beautiful boardwalk area. There were tons of palm trees and the beach area was huge. After we hung out on the beach, we worked up an appetite – clearly laying around and doing nothing makes you hungry! We ended up eating a restaurant on the boardwalk – all the restaurants were pretty much the same – offering the same kind of food for similar prices. We just sat at the one with the best music and most amount of people – we figured these were two good signs! Turns out music and amount of people are no good indicators, as I ended up eating only bread, cheese, and tomato (surprise surprise), and my friends paella's were not very good at all. It was quite the disappointment.
The next day we asked our concierge where we can get some good and authentic paella – we heard that Valencia actually has some of the best paella in Spain, so we were determined to find it. We were told by the concierge the a restaurant nearby makes great paella, and Spaniards traditionally eat paella for lunch and then take a long siesta after and just have a light tapas dinner. We decided to go to Navarro based on the hotel's recommendation and made a 2pm reservation.
Navarro: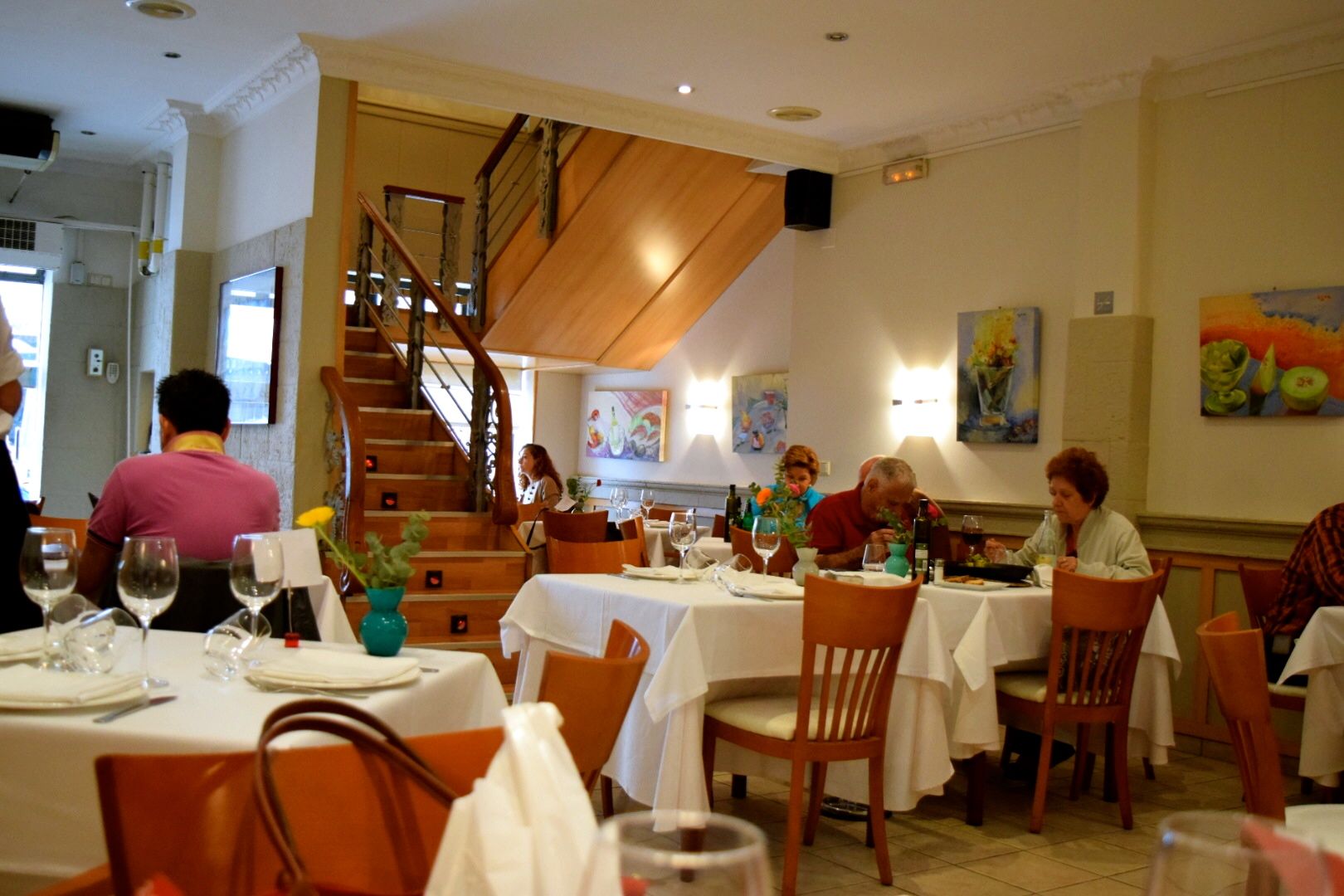 Before we get into the detailed review, let's look at some Quick Rates: 
Quick Rates (1-10, 10 being the best):
Food: 8

Beverages: 8

Service: 7

Ambiance: 7

Price: 7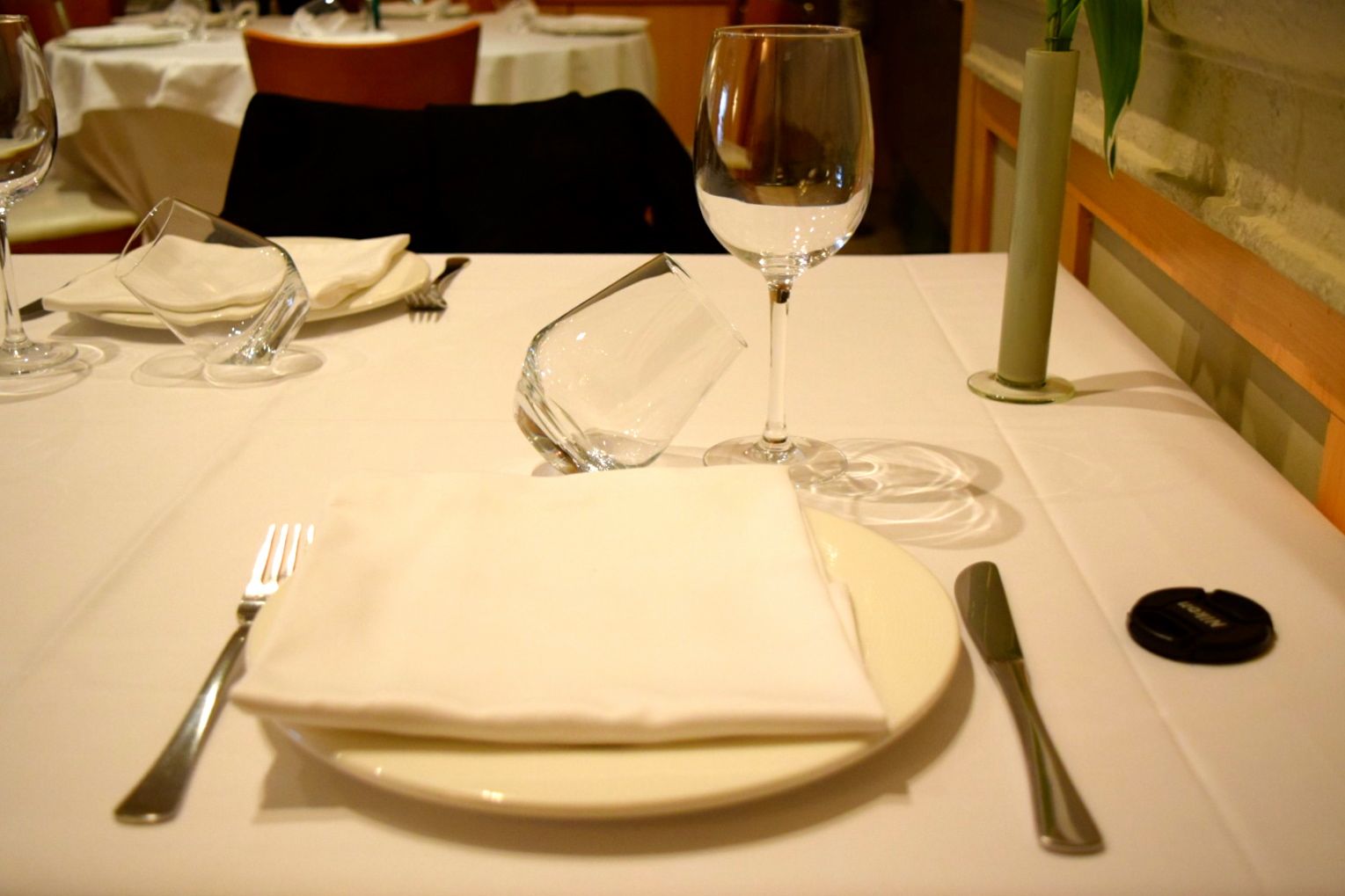 I ordered a sangria – who am I kidding, I ordered sangria everywhere I went in Spain. But this time, I was pleasantly surprised. The sangrias I had been drinking thus far were either too bitter, too sweet, or too bubbly. I ordered one glass, and it came in a wide wine glass filled with delicious oranges, limes, grapes, strawberries and mint. I loved the addition of mint – it added a nice freshness and lightness to the drink. It was perfectly sweet without being too bubbly and had a delicious combination of fruits. It was also not overly iced – over icing sangria causes it to dilute and taste pretty gross.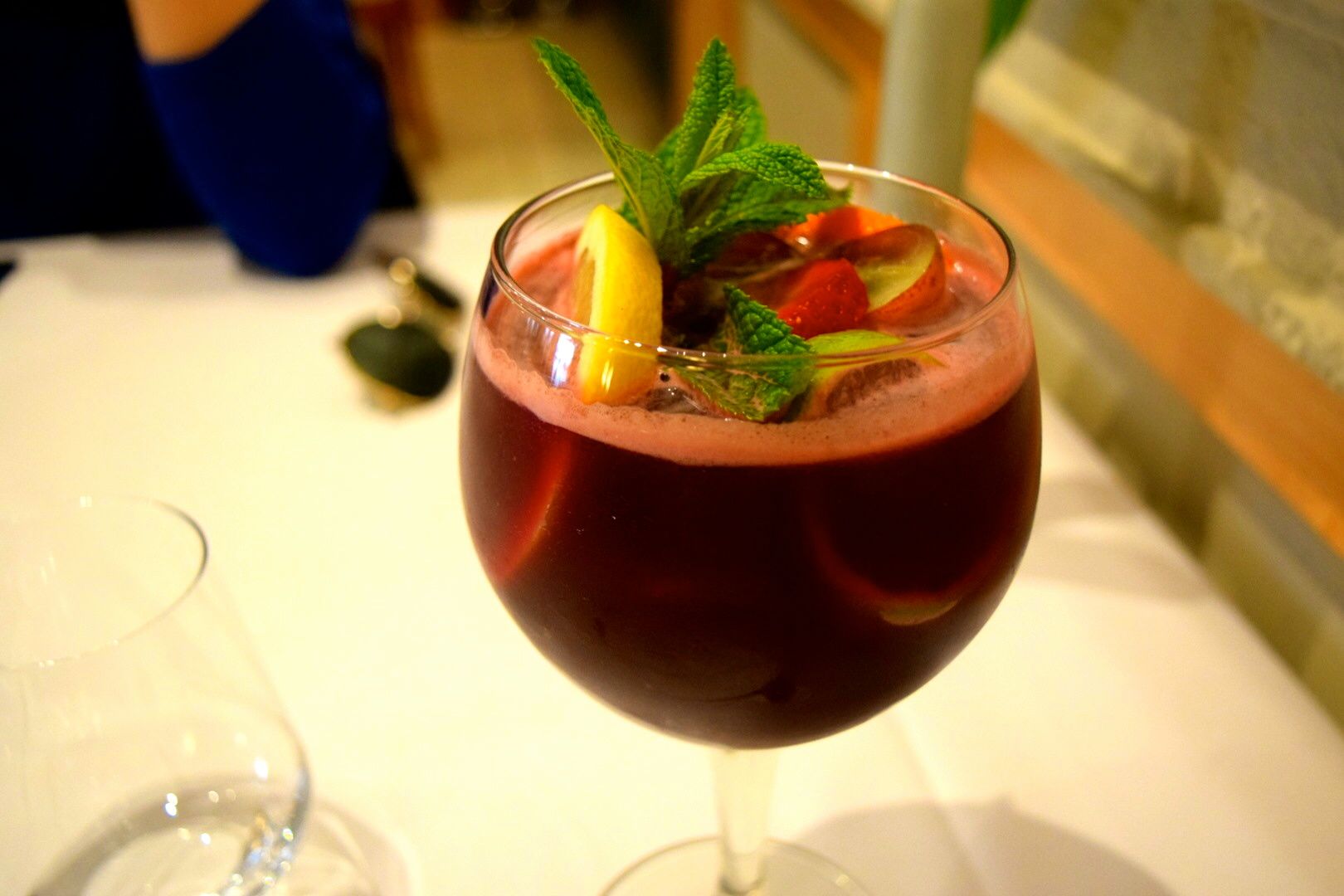 We ordered a couple of appetizers because.. well… we were starving and being fatties. As mentioned in my previous post on Madrid, Spanish restaurants don't serve bread unless you order it and pay for it. So we ordered a salad with various cheeses and nuts, pan with 3 condiments, and a special – layered eggplant and zucchini melanzanne (kind of like a parmigiana).
The salad was delicious – mixed mesclun greens lightly dressed in just olive oil, mixed with walnuts, thinly shaved fresh beets, almonds, walnuts, and pine nuts. Throughout the salad were various cheeses – brie, manchego, and shaved parmigiana.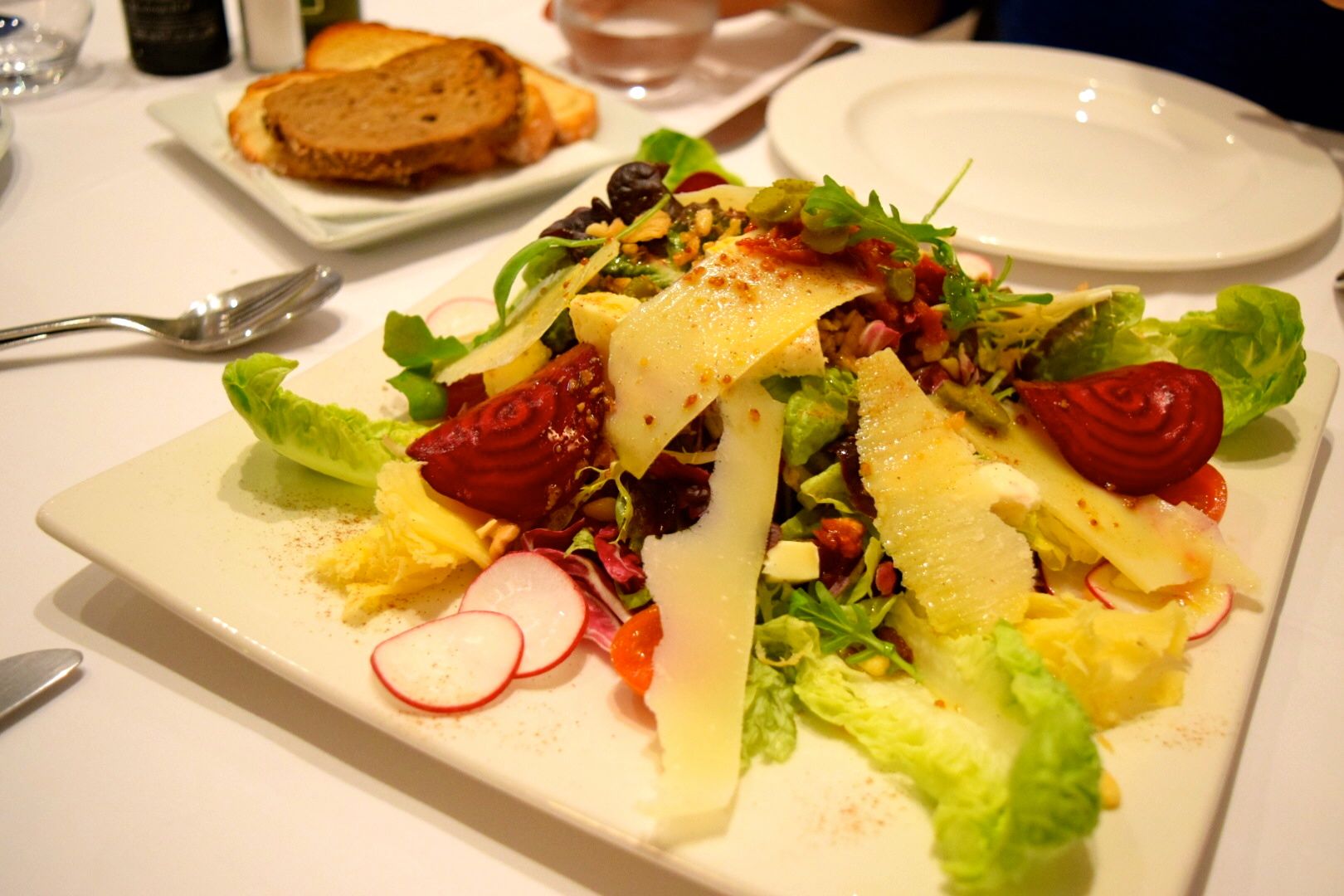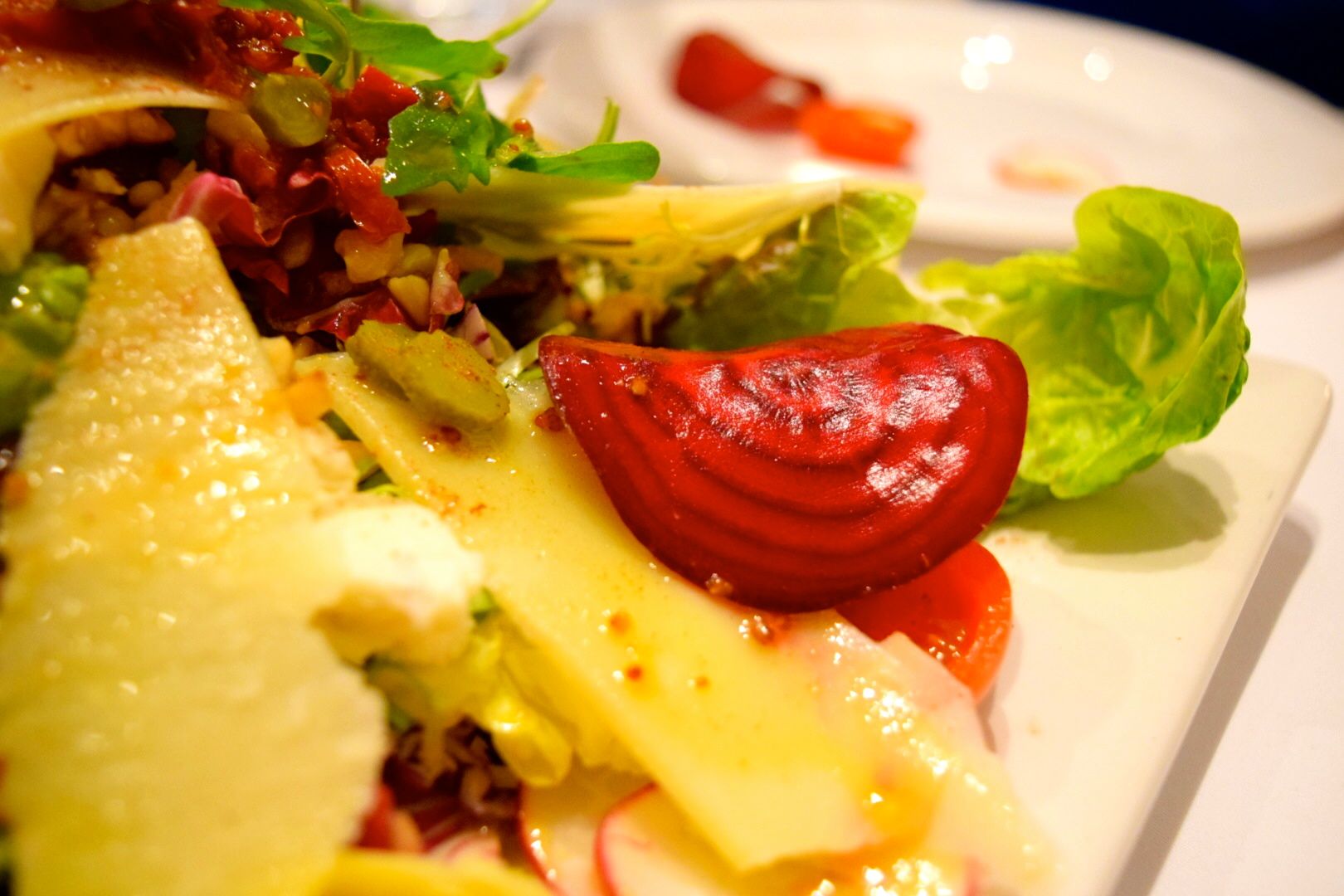 The bread was nothing special – sliced baguette served with 3 small ramekins of marinated kalamata olives, pureed tomato with garlic and oregano, and garlic aioli.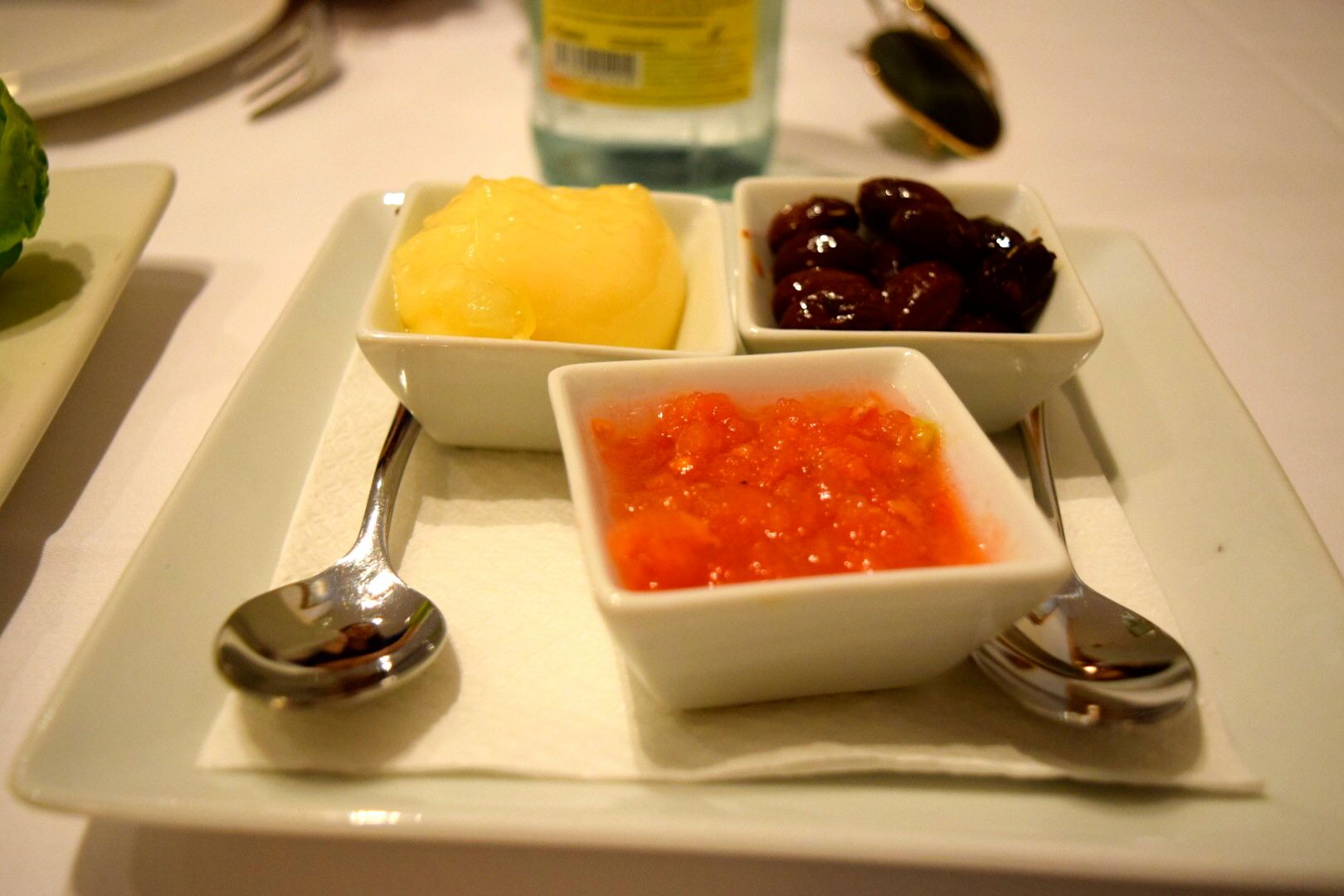 The best appetizer though was the special Eggplant and Zucchini Melanzanne – super thinly sliced eggplant and zucchini, layered with a fresh tomato sauce, bread crumbs and parmigiana cheese. It was so delicate and flavorful, and there were tons of layers. It just melted in our mouths.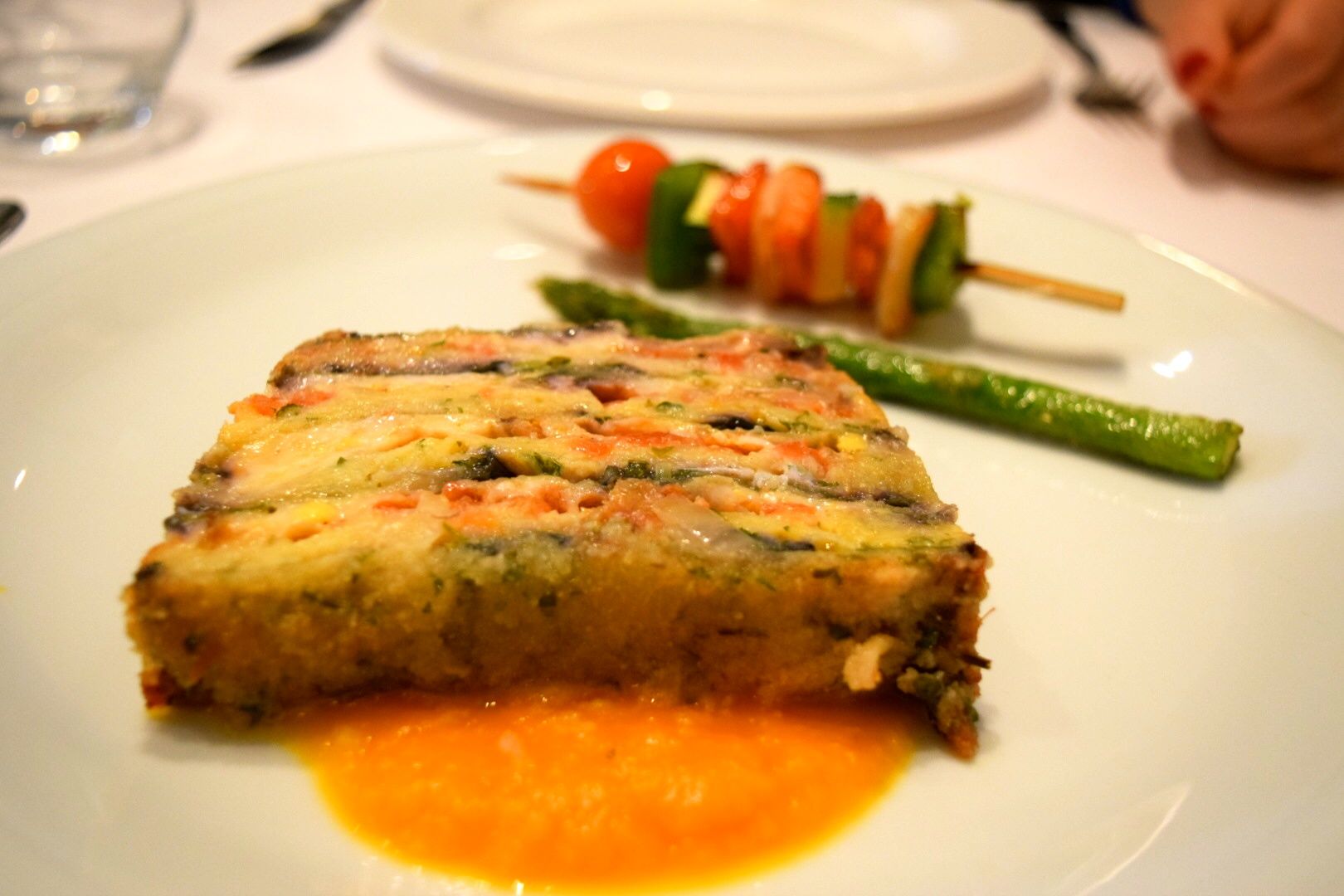 Entree – they were kind enough to make me a vegetarian paella from scratch, without any meat, seafood or meat/seafood stock. The presentation was beautiful: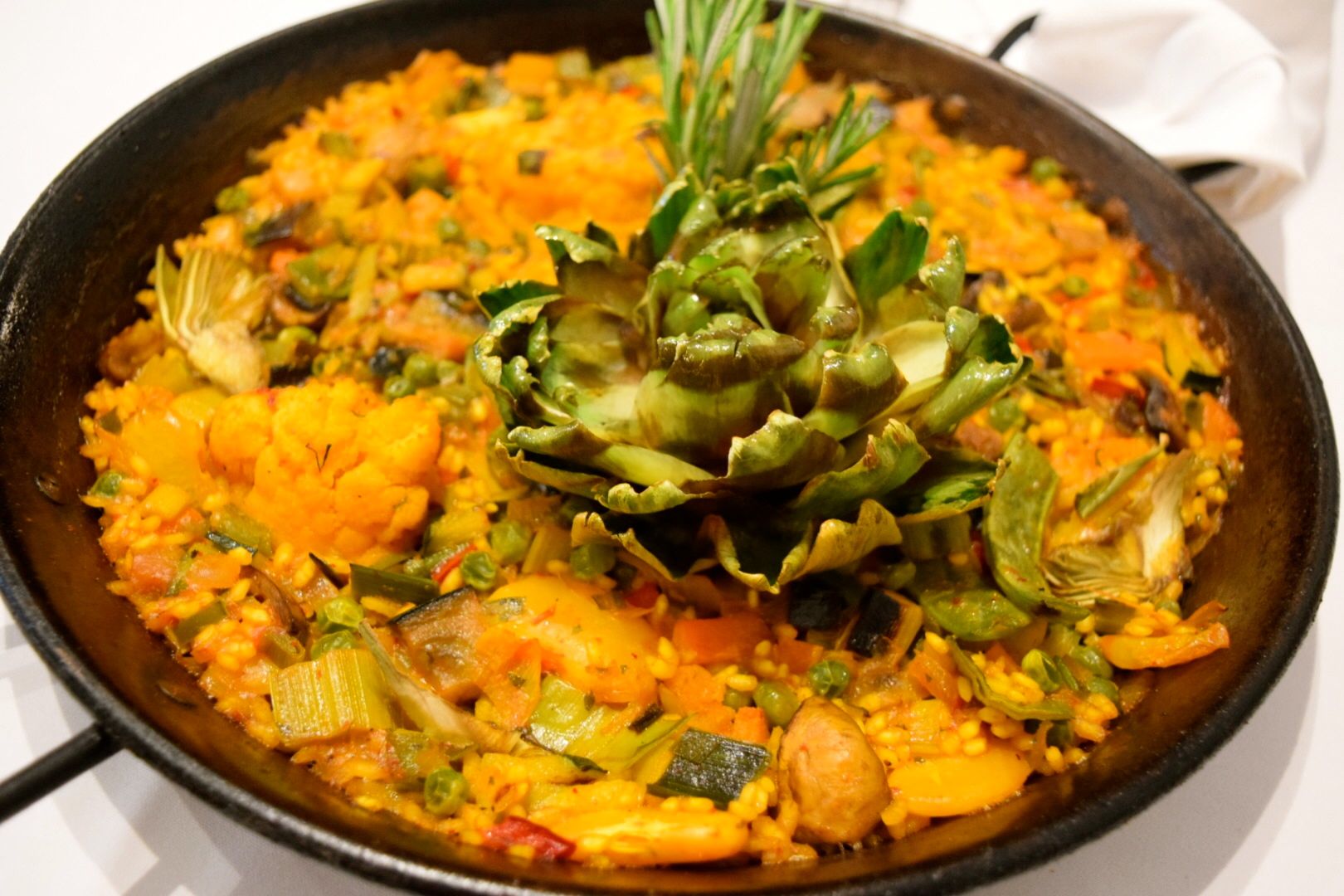 The rice was a beautiful yellow color – from the saffron, and was topped with a whole grilled artichoke. The paella was filled with different kinds of fresh vegetables – cauliflower, artichokes, lima beans, eggplant, asparagus, etc. I loved the taste – it was over seasoned or overly salty, it was just right. It was definitely the best paella I've had. The portion was enormous though – 4 people could've eaten out of this pan!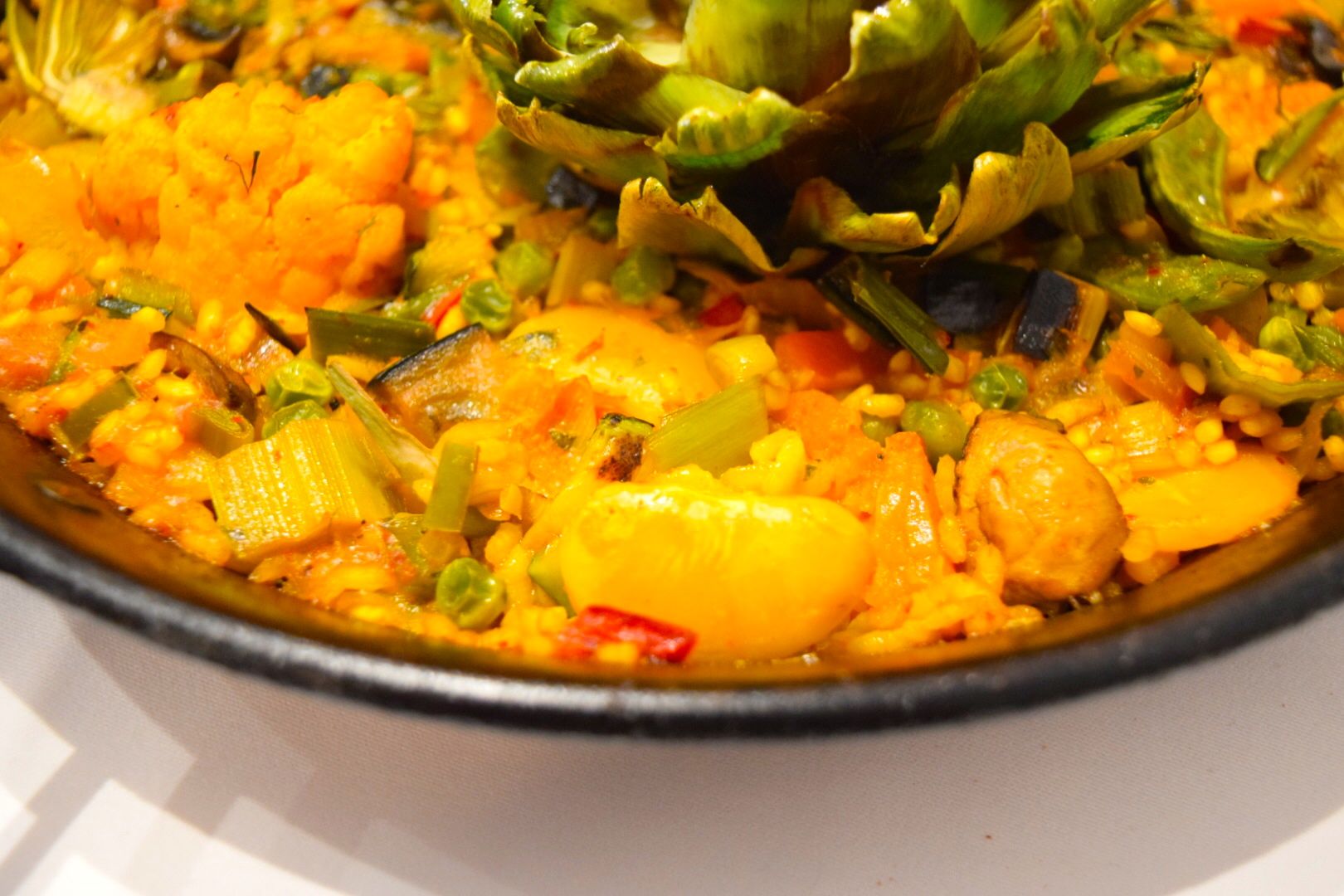 The restaurant was so nice, at the end of our meal they gave us 3 complimentary flutes of sweet muscato wine!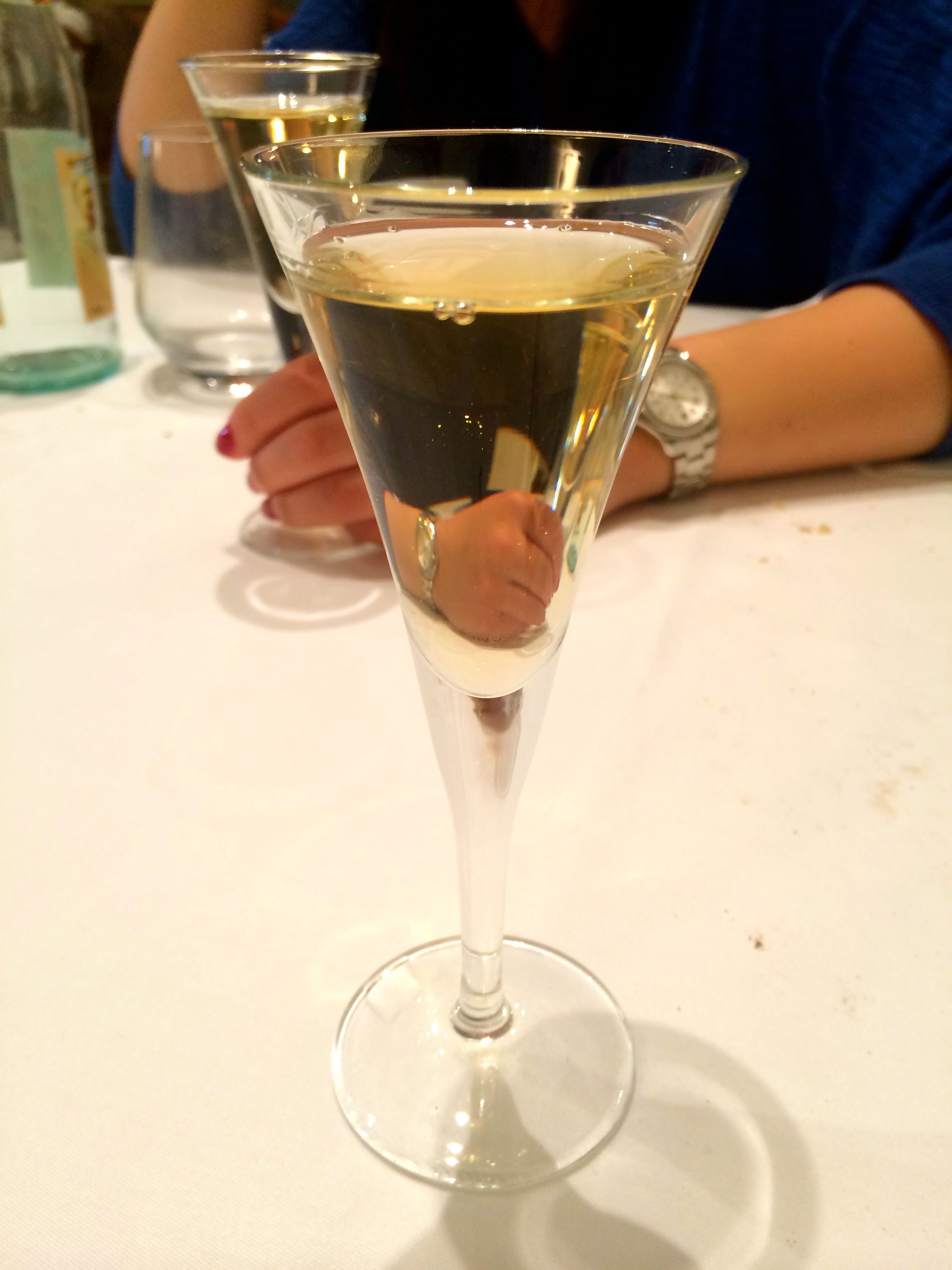 Valencia has some really cute and interesting cafes. There was one thing that was unique to the city, and that was Don Rosco – http://www.donrosco.com/.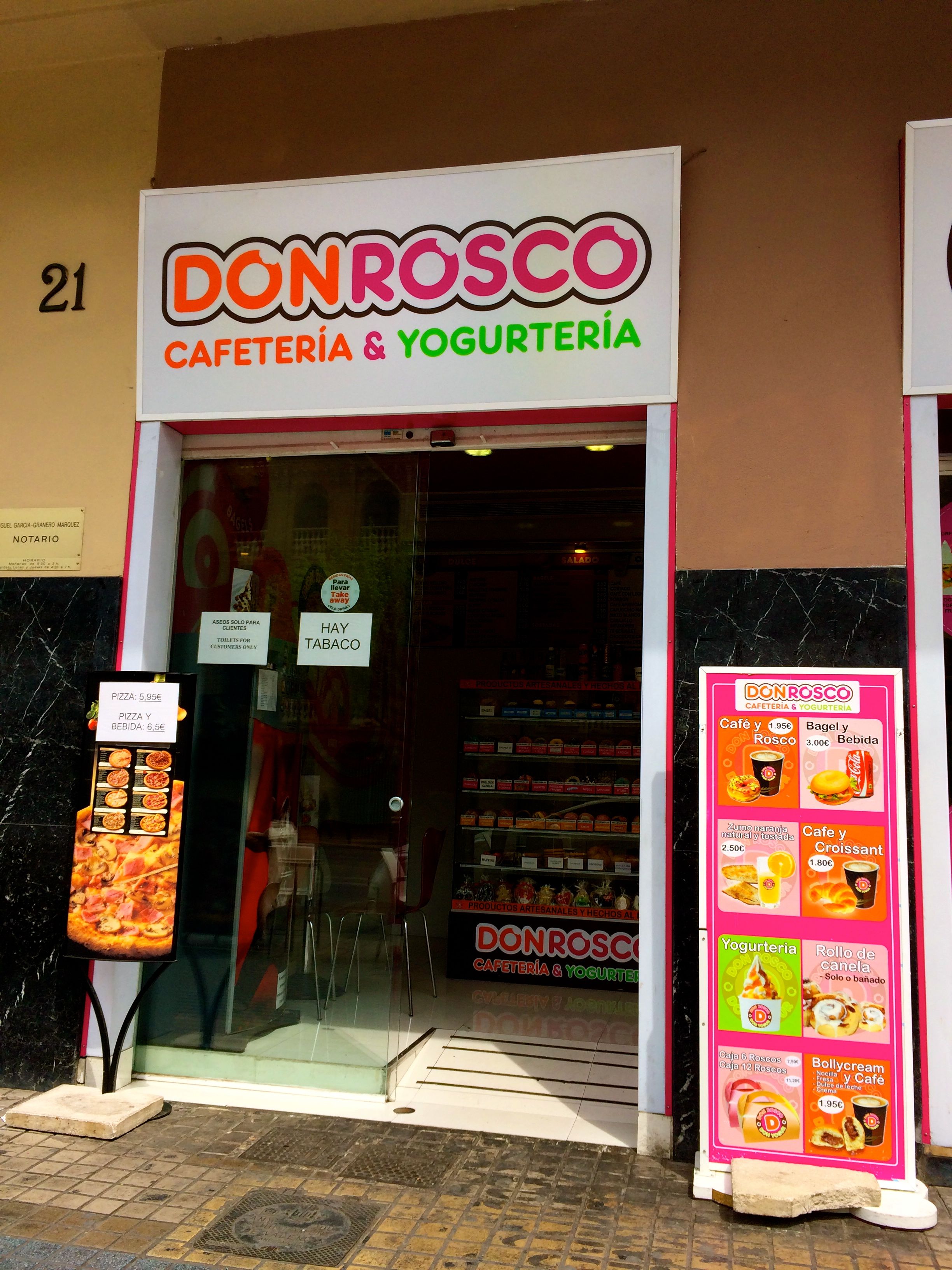 It's basically a frozen yogurt cafe, BUT with all different varieties of donuts that you can accompany your froyo with. So this is how it works – you pick a donut, you top it with froyo, then you can add an additional topping, such as hot fudge, nuts, fruits, etc. It's awesome!! I got a Dulce de Leche donut, plain froyo, and dark chocolate drizzle. It was so good! However, I think they should have warmed up the donut before serving it – it would've been easier to eat that way.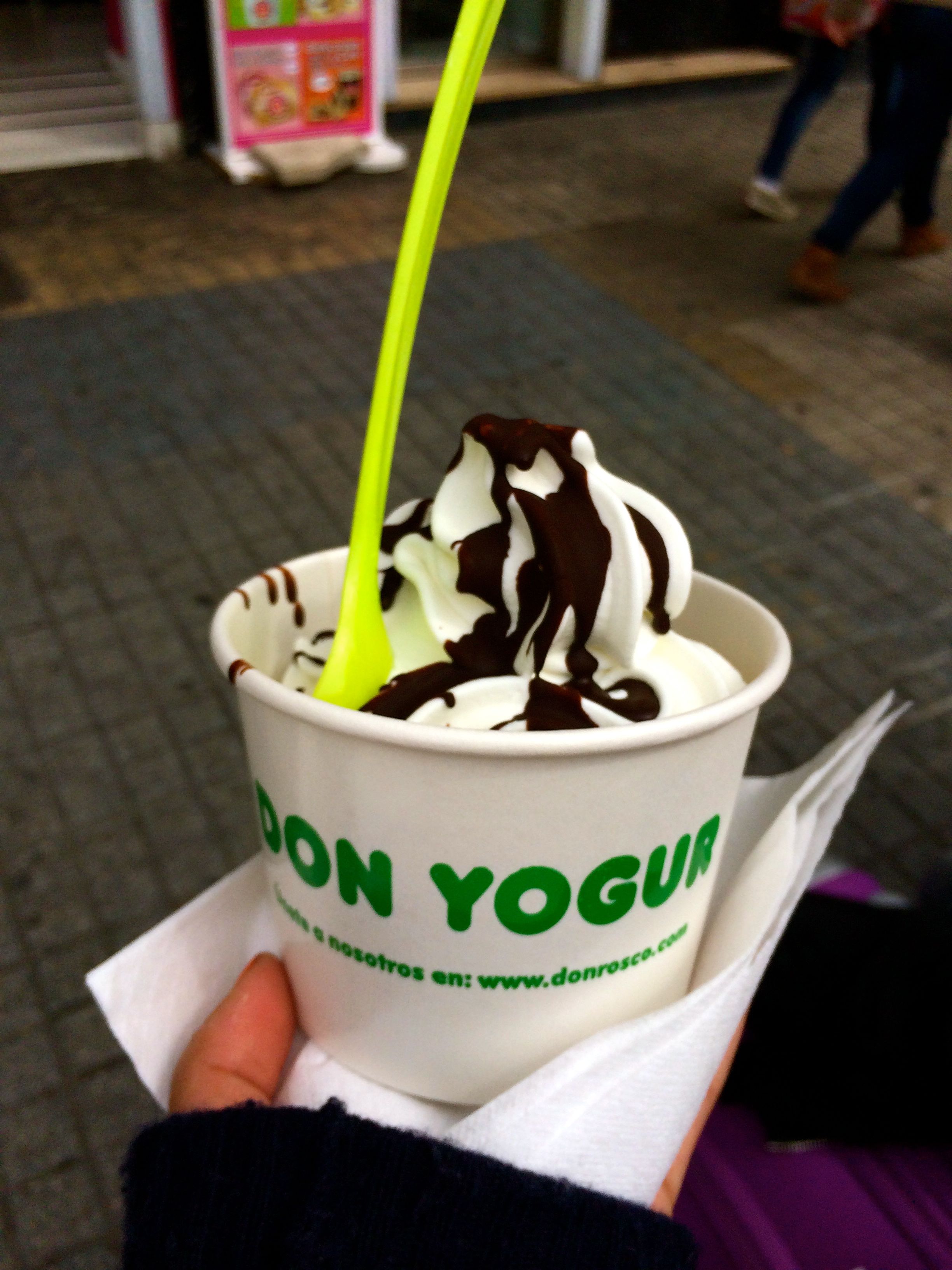 Thus ends the chapter of Valencia. Next installment is – Barcelona! My favorite city in Spain