There is a classic street-food in India called the Bombay Sandwich. Its pretty much the vegetarians sub, filled with yummy refreshing ingredients, such as cool cucumbers, juicy tomatoes, potato, Indian spices and spicy coriander-chili chutney. I really like this sandwich and find it to be healthy, hearty, and filling.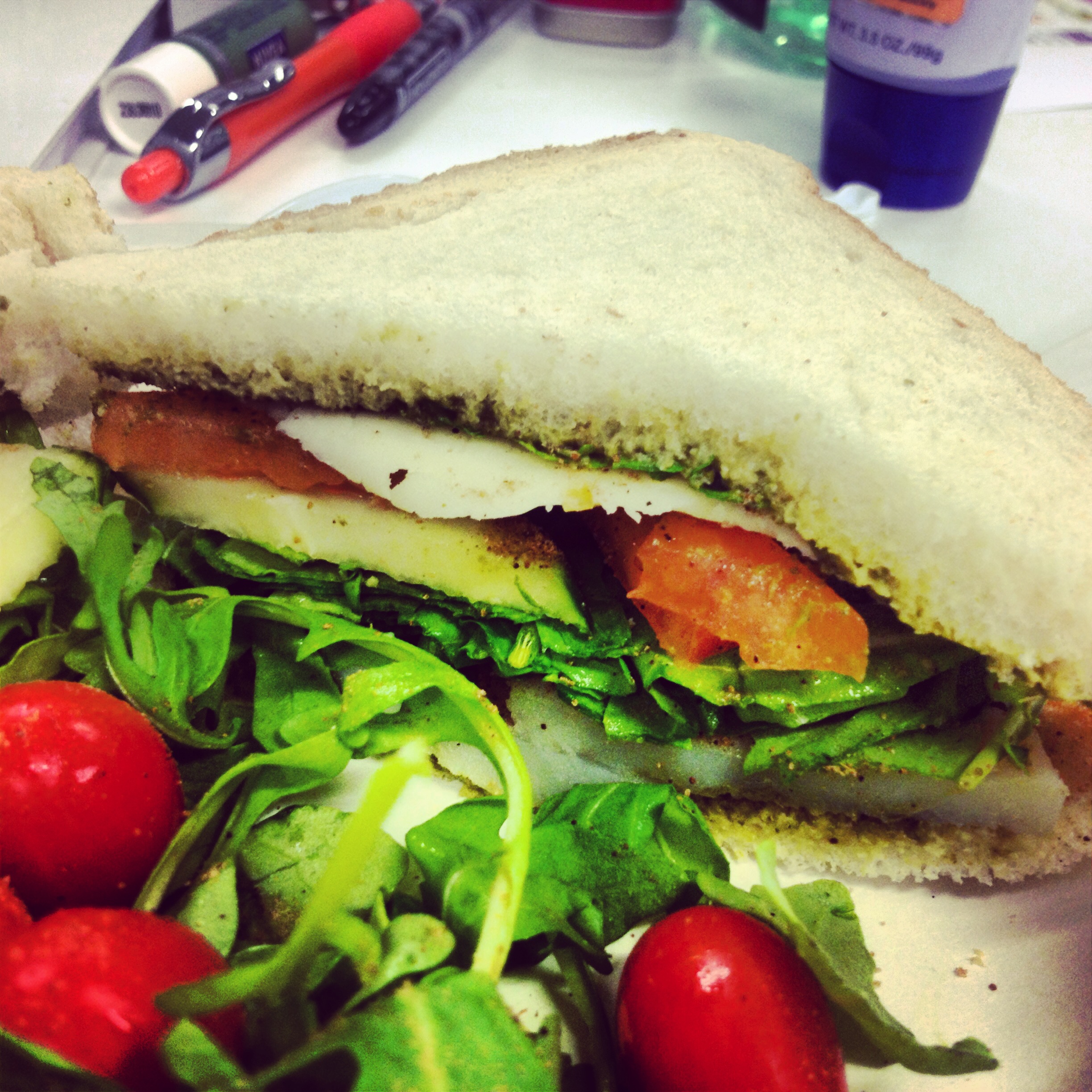 I decided to recreate this sandwich, but with a few twists- the "Priyanka Twists." I generally get very hungry at work, so decided to bring all of the ingredients to build the sandwich at work. It's a lot easier than you may think, and extremely satisfying! This sandwich can also be made vegan – just omit the cheese and you're set!
2 slices of white bread
1 medium potato – boiled and sliced
1/2 beefsteak tomato- sliced
1/4(or 1/8) seedless English cucumber – sliced
handful of arugula
habanero cheddar cheese – 2 thin slices
few tbsp of coriander-chili chutney – can be homemade or store-bought
chat masala (optional)
salt
coarse ground pepper
1. Lay the 2 slices of bread on a plate. Spread both sides evenly with the chutney. On one slice of the bread, lay down the potatoes and sprinkle directly with salt, pepper, and chat masala. Next layer the cucumbers and tomatoes, and sprinkle with more chat masala. Add the arugula and on the other slice of bread layer on the cheese. Sprinkle with a little more masala, salt and pepper. Close the sandwich and slice diagonally in half. Serve with baked potato chips or a simple salad of cherry tomatoes, arugula, tossed with green chutney.
2. EAT!
Make one sandwich