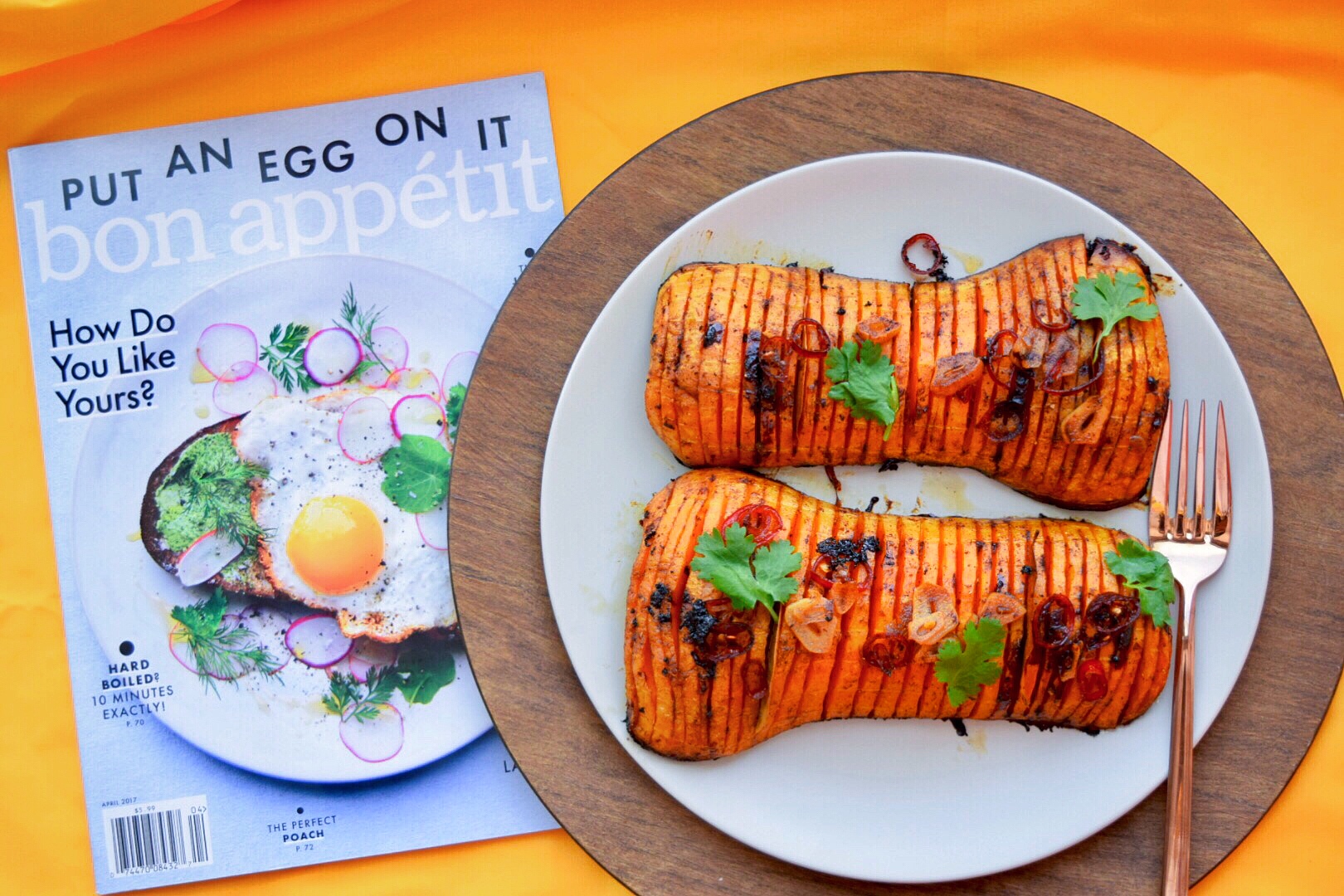 I work at Condé Nast – I think most of you knew that by now. When I started here, a lot of friends assumed that I snagged a role at Bon Appétit and Epicurious, but no! I'm still a dork working in Data Science & Business Strategy in corporate. That being said, I am a HUGE fan of Bon App, EPI, and Bon App's new brands – Healthy-ish and Basically. I spend many hours during my work day watching Bon App videos — we will pretend that I didn't say that, ha! No but really, some of the videos are really cool! I was inspired by this video in November by Bon App senior editor – Carla Lalli – showing how to make the Hasselback Squash. I of course HAD to make it, but with the Chef Priyanka twist. I made it completely vegan and with an Indian twist! I brought it to my friends holiday party and it was a HIT! The presentation is impressive and the taste is even better – who would think a plain old squash can be so fancy?! Make this for your next dinner party, holiday party, for yourself – just make it!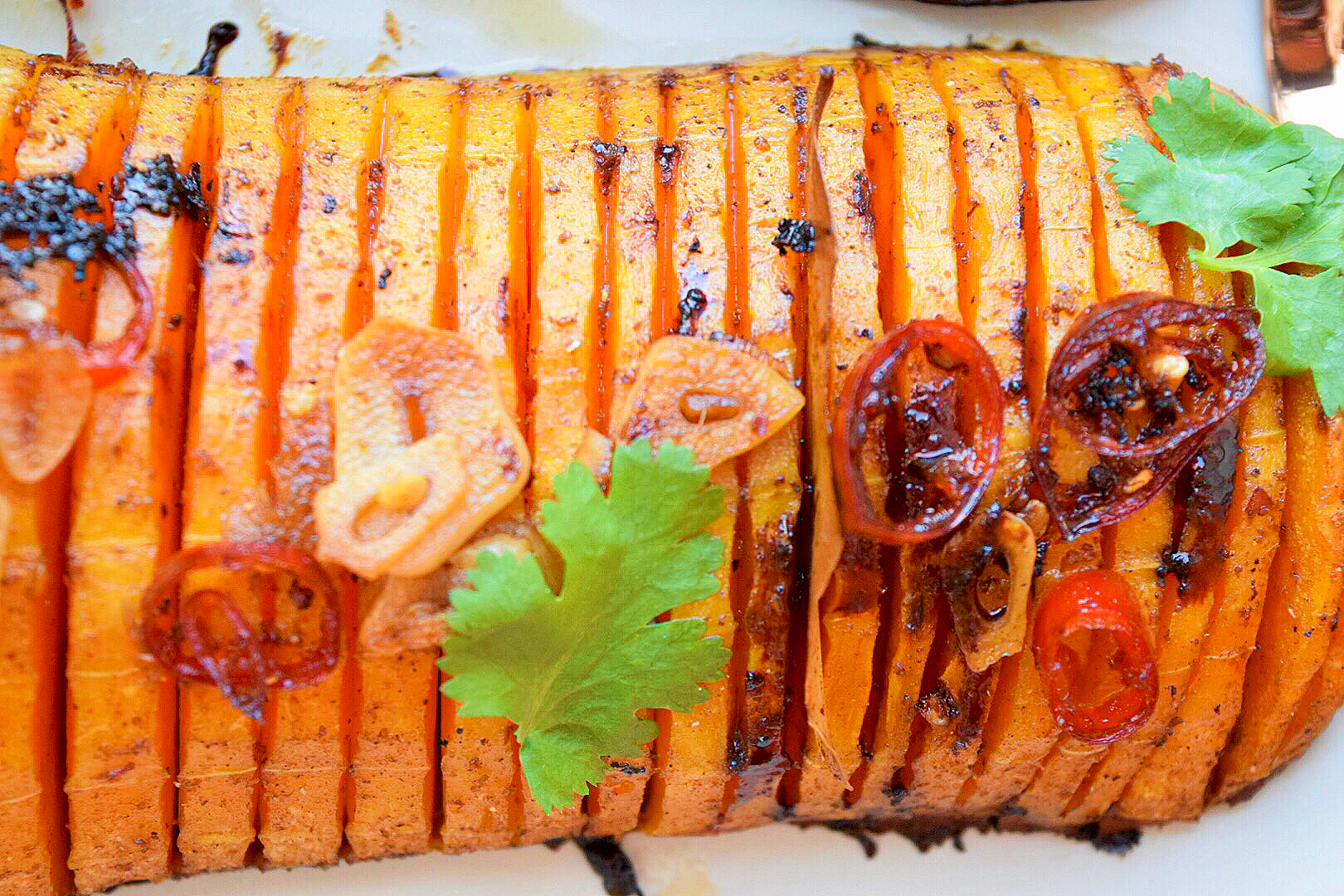 Indian Hasselback Squash with Toasted French Bread:
1 large hasselback squash – cut in half, deseeded, and peeled of all skin
2 tbsp garam masala – I used Laxmi Brand
1 tsp salt
1/2 tsp freshly ground black pepper
1/8 tsp red chili powder
1/4 cup olive oil
1 fresno chili – thinly sliced
2 garlic cloves – peeled and thinly sliced
2 tbsp of reserved marinade oil
2 tsp apple cider vinegar
2 tbsp jaggery (Indian raw cane sugar) or Light Agave
2 tsp light agave
salt
1/4-1/2 cup water
4 bay leaves
Cooking Spray
1 french baguette
Handful of fresh cilantro – roughly chopped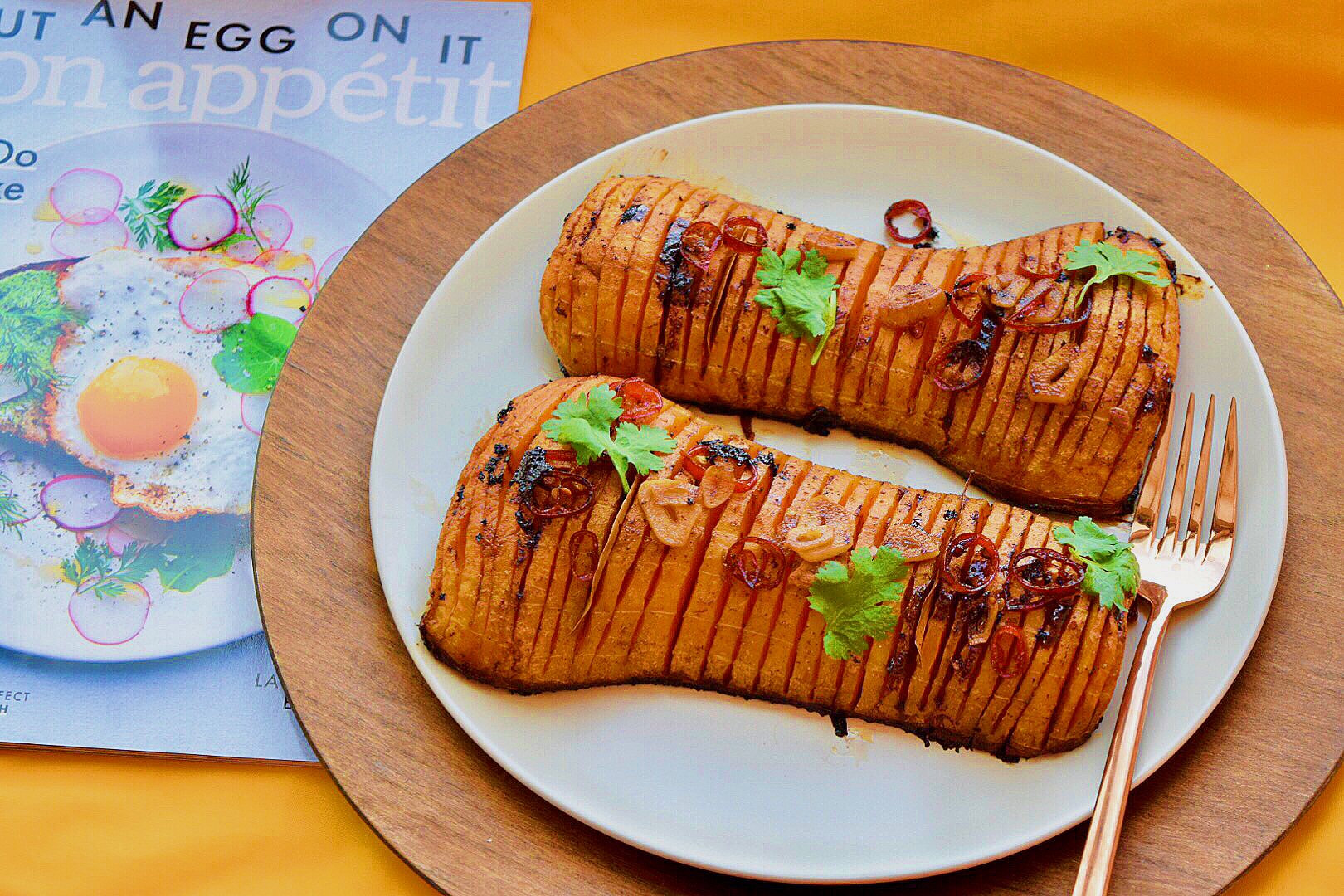 1. Preheat oven 425 degrees.
2. You can keep the stem on the squash, but I removed mine (easier to cut that way). In a deep square shaped baking dish, add in garam masala, salt, pepper, chili powder, and olive oil. Whisk until combined. Place the squash halves into the dish and coat generously – rubbing it into the squash. Pour excess marinade into a bowl and set aside. Bake squash in middle rack of the oven for about 18-20 minutes – until tender to touch (I checked with a fork). Remove and allow to cool a bit before handling.
3. While the squash is baking, combine the reserved marinade, garlic, sliced chili, vinegar, jaggery, agave, salt and water. Set over medium-high flame and allow to come to a boil. Once its at a boil, reduce heat to low and allow mixture to simmer. This should cook for about 20 minutes – until reduced by about an 1/8 and slightly thickened. Remove from the heat.
4. Once the squash is cool enough to touch, using a small knife (paring knife), make slits throughout the top of the squash, being sure not to cut all the way through. Place 2 bay leaves in each squash between the slits. Place on a greased (I used cooking spray) sheet and drizzle each squash with about 1 tbsp of the sauce – making sure to get it in all the crevices, mmmm. Place in the middle of the oven and bake for about 1 hour – drizzling squashes periodically – reserve about 2 tbsp of the liquid for our bread. You want the squash to soften and slightly brown on the edges – residual liquid will be bubbling in the pan, and I also coated the squashes periodically with that. Once the squash is tender (and nearly separating) remove and let cool. Garnish the squashes with a generous amount of cilantro and transfer to a serving platter.
5. Slice the baguette lengthwise, drizzle with olive oil and remaining sauce we made. Place in the oven and toast for about 5 minutes – until slightly browned. Remove and cut into smaller pieces. Garnish with some of the cilantro. Place bread next to the squashes.
6. How to eat – you can eat the slices of squash on its own, or my favorite is to take a piece of the warm toasted bread, top it with a heaping few slices of squash and some more cilantro. YUM!!!