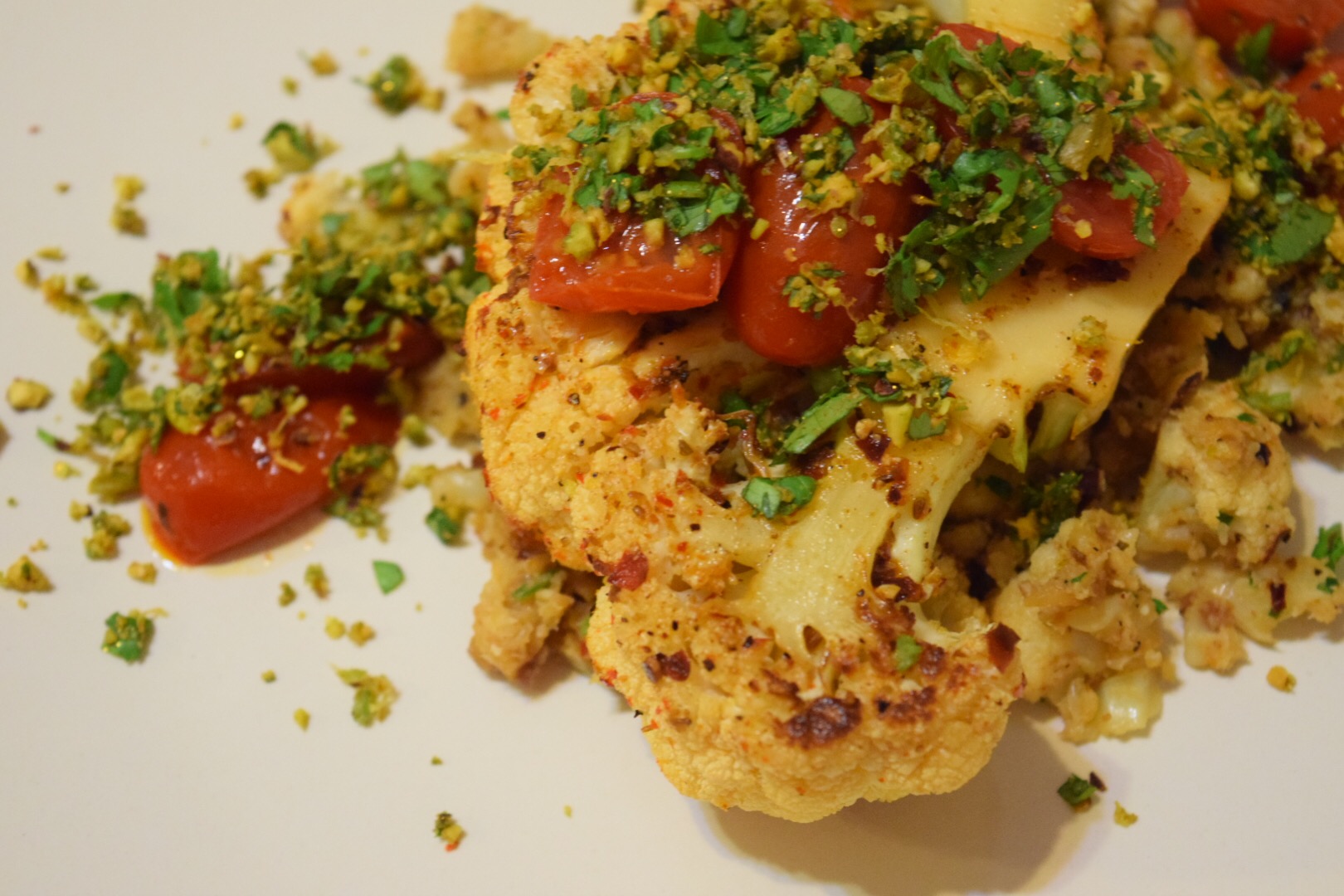 Cauliflower "steaks" have been popping up everywhere and I'm lovin' it. Cauliflower is hearty and when sliced in half, reminds me of bio class back in high-school. But enough of that. Let's talk steak. A nice juicy, spicy, satisfying cauliflower steak. Ha, gotcha. This is a great way to eat cauliflower. It's visually appealing, hearty, and great for dinner parties! Check out my Indian version, nomz!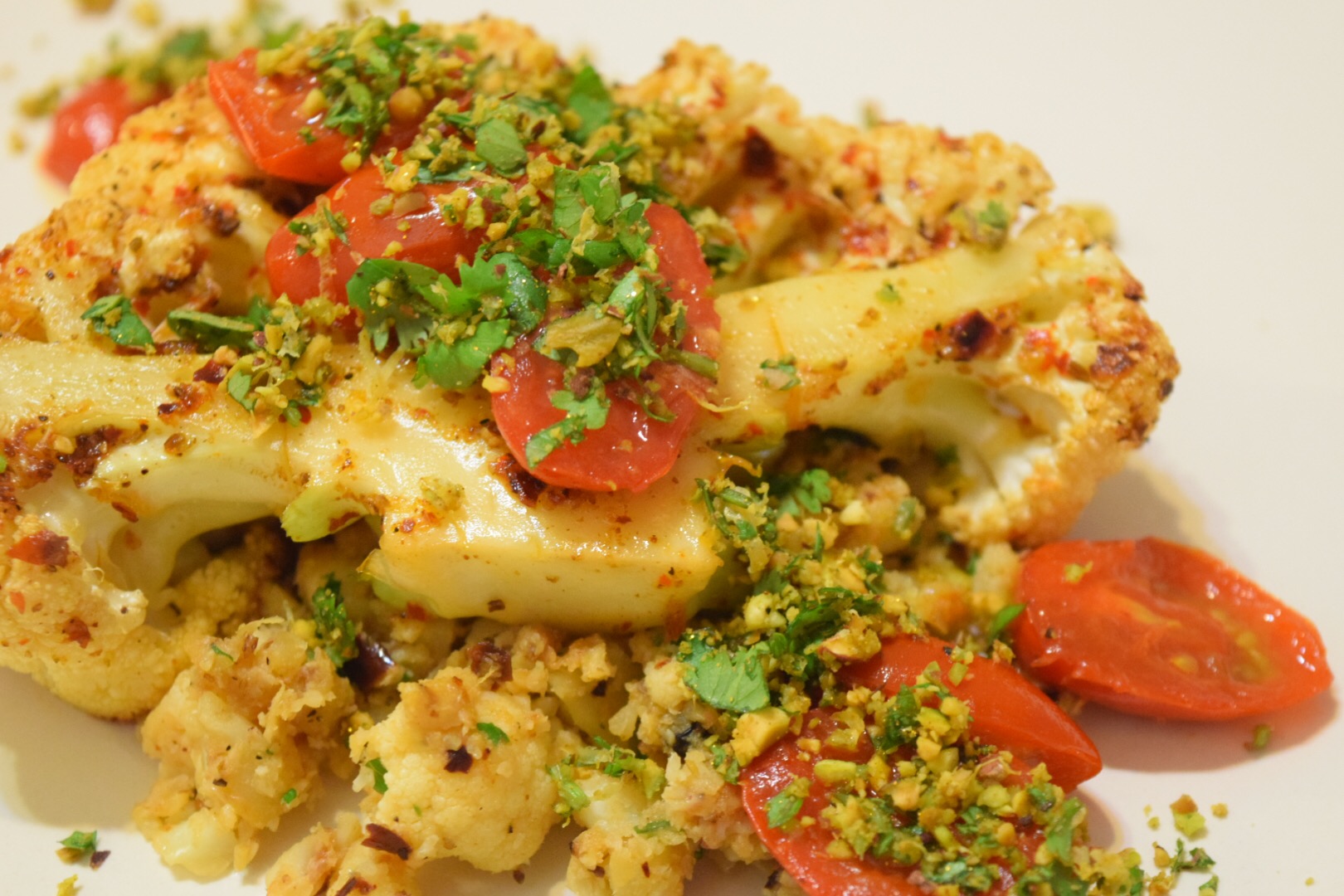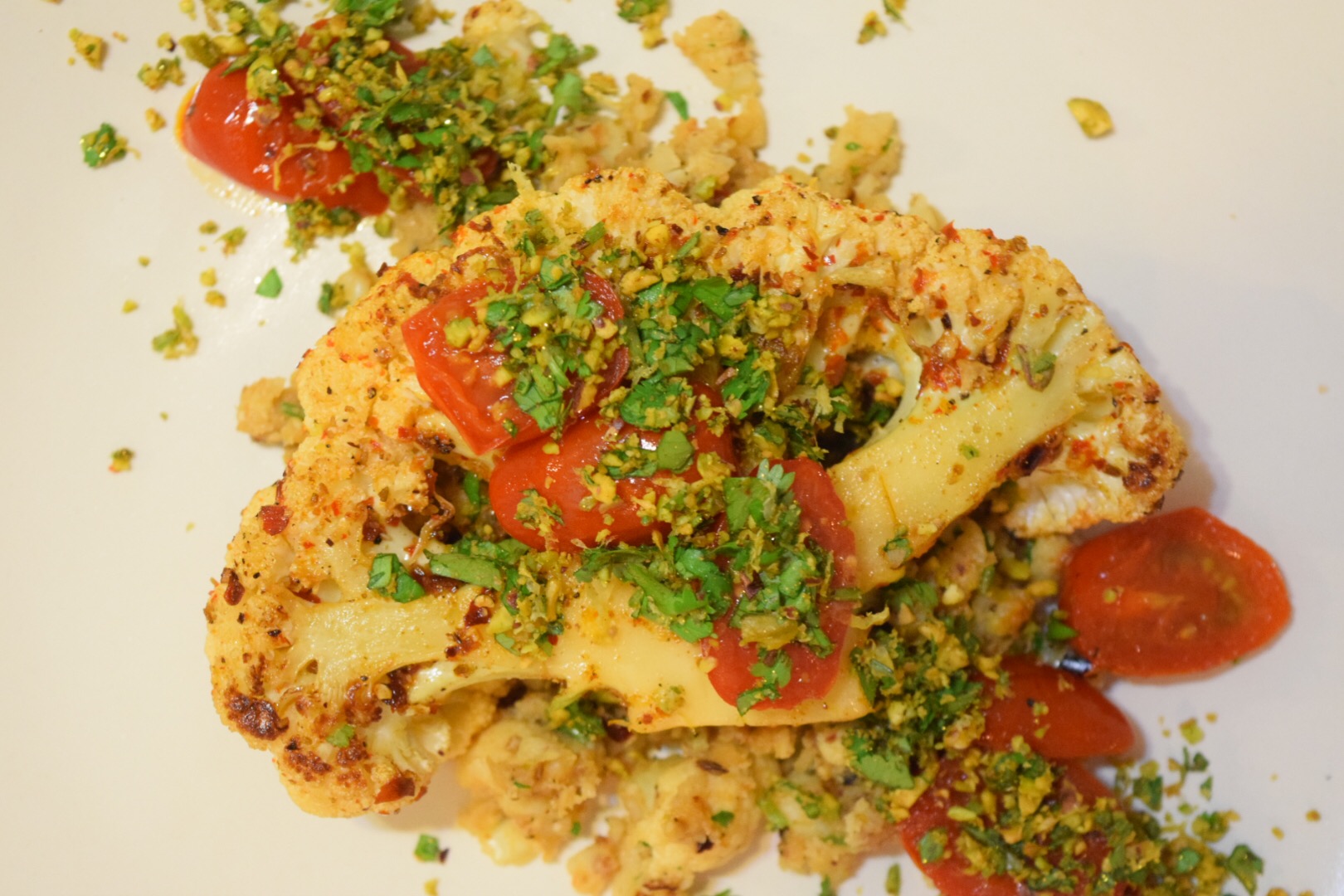 Indian Spice-Rubbed Cauliflower Steaks: 
1 head of cauliflower
2-3 cloves garlic – minced
1 tbsp worth of fresh minced ginger
2 dried red cayenne chilies
1 tsp cumin seeds
1 tsp black peppercorns
salt
1/8 cup salted pistachios – crushed
handful fresh cilantro – chopped
1 tsp fresh lemon zest
1/2 grape/cherry tomatoes – sliced in half
PAM Original Spray
Vegetable Oil
1. Slice the cauliflower head carefully into 4 thick slices – each slice should be about 1/2 inch thick. You will have a lot of pieces break off. Spray steaks with PAM on both sides and set aside. Take the remaining florets and mince until it looks like broken tiny florets. Set aside.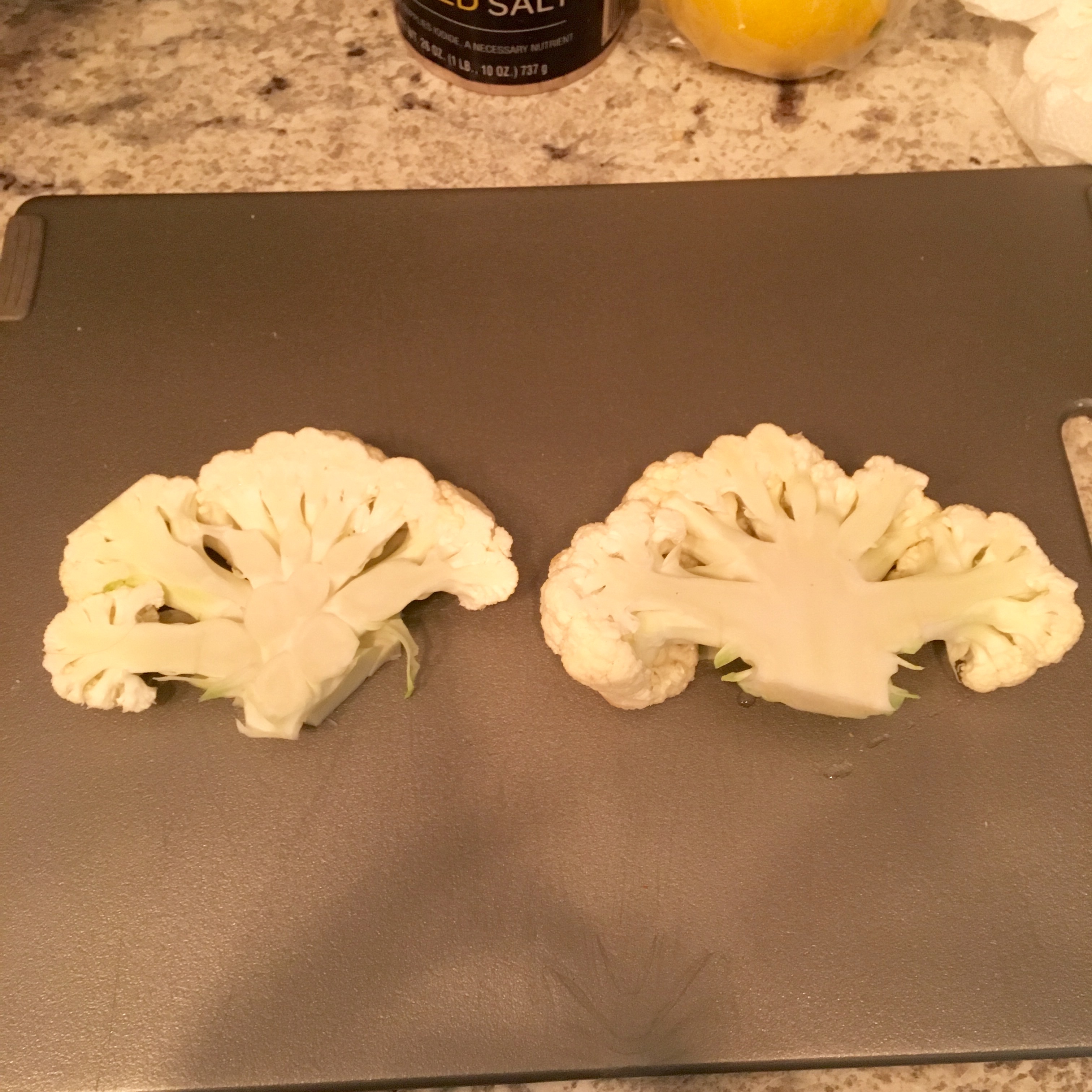 2. In a spice grinder, grind up the red chilies, black peppercorns, cumin seeds, and salt. Take about half the mixture and rub into the cauliflower steaks. Getting both sides and rubbing into the grooves.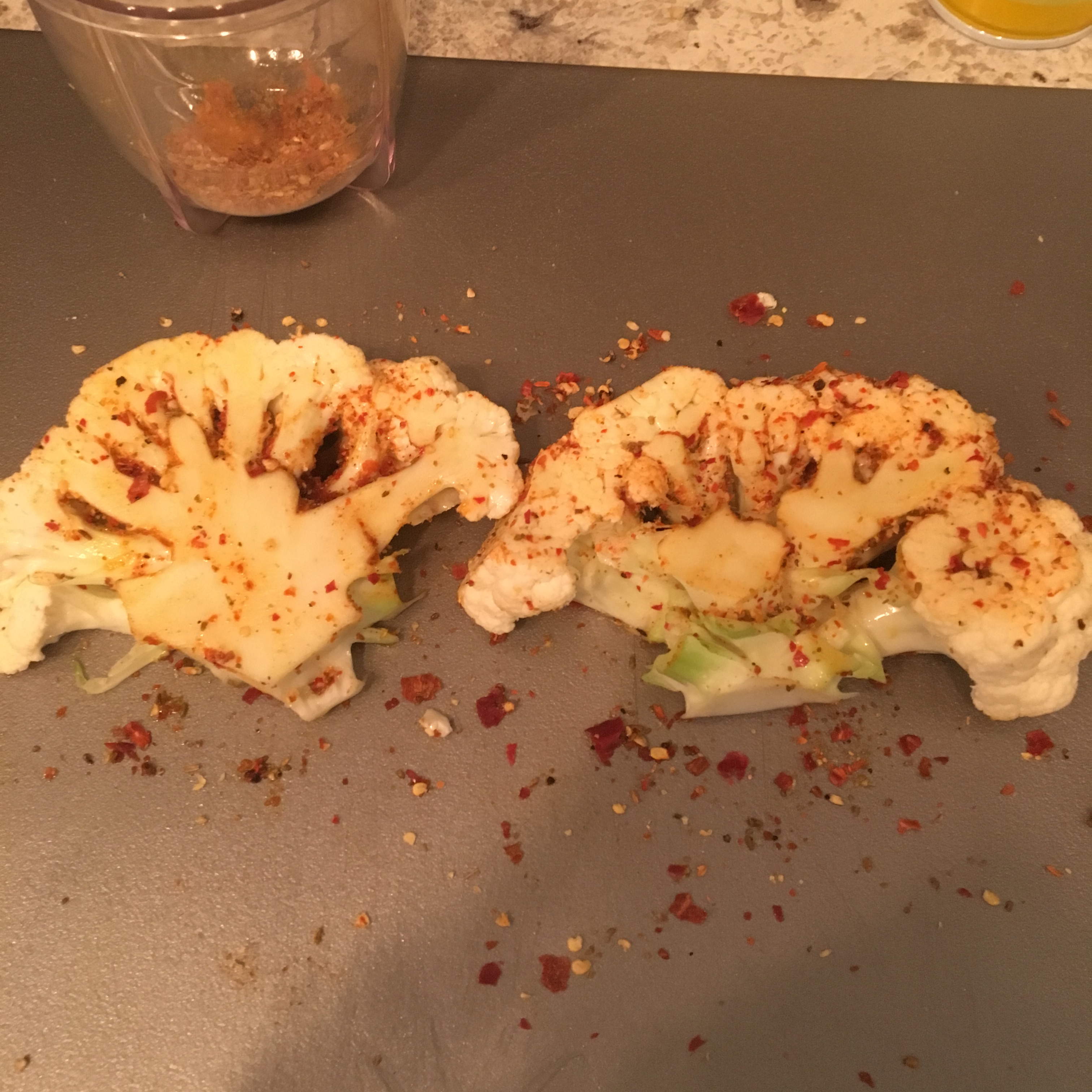 3. Heat a non-stick skillet over medium high flame. Spray with PAM and add in about 1 tbsp of vegetable oil. At the same time pre-heat the oven 375 degrees. In the hot pan put in minced garlic and ginger. Saute for 30 seconds. Add in 1-2 steaks at a time (depending on how large your pan is) and cook on each side for about 5 minutes. Transfer steaks to a greased cookie sheet and continue cooking until the core of the cauliflower is fork tender. About another 10-15 minutes, depending on the size of the cauliflower steak.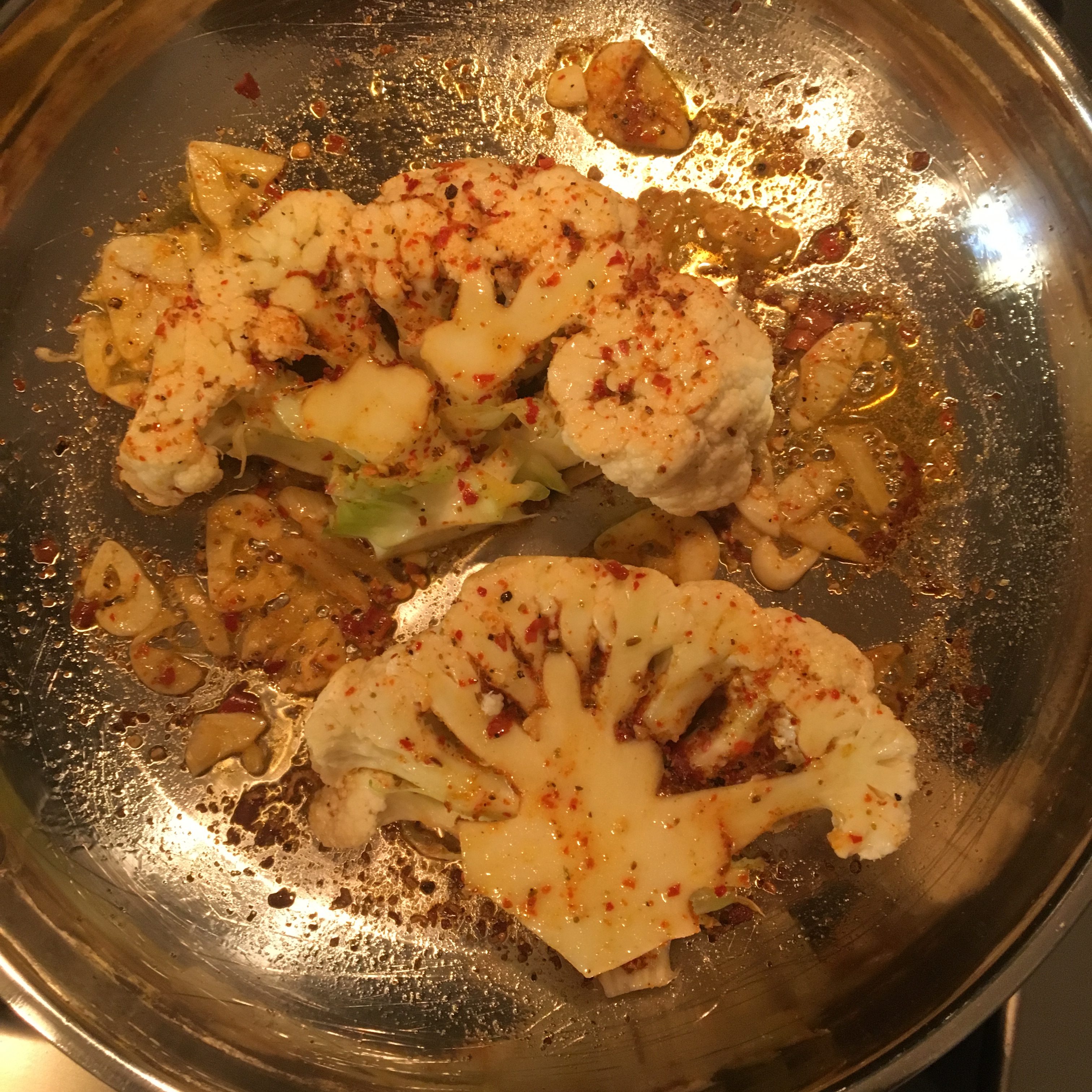 4. While the steaks are roasting, keep the pan on the stove with the garlic, ginger and spices. Add in the remaining minced cauliflower florets and saute for about 10 minutes until cooked through and flavored. Remove. In the same pan, spray with a little more PAM and add in the halved tomatoes. Saute until skin becomes blistered. Sprinkle with a little salt and pepper. Turn off heat and just let the tomatoes sit in the pan.
5. In a small bowl combine the pistachios, lemon zest, and minced cilantro.
6. To serve: Place a bit of the sauteed minced cauliflower mixture on the bottom of your serving dish. Top with the roasted cauliflower steak. Garnish with blistered tomatoes and pistachio gremolata. Dig in!
Serves 2-3