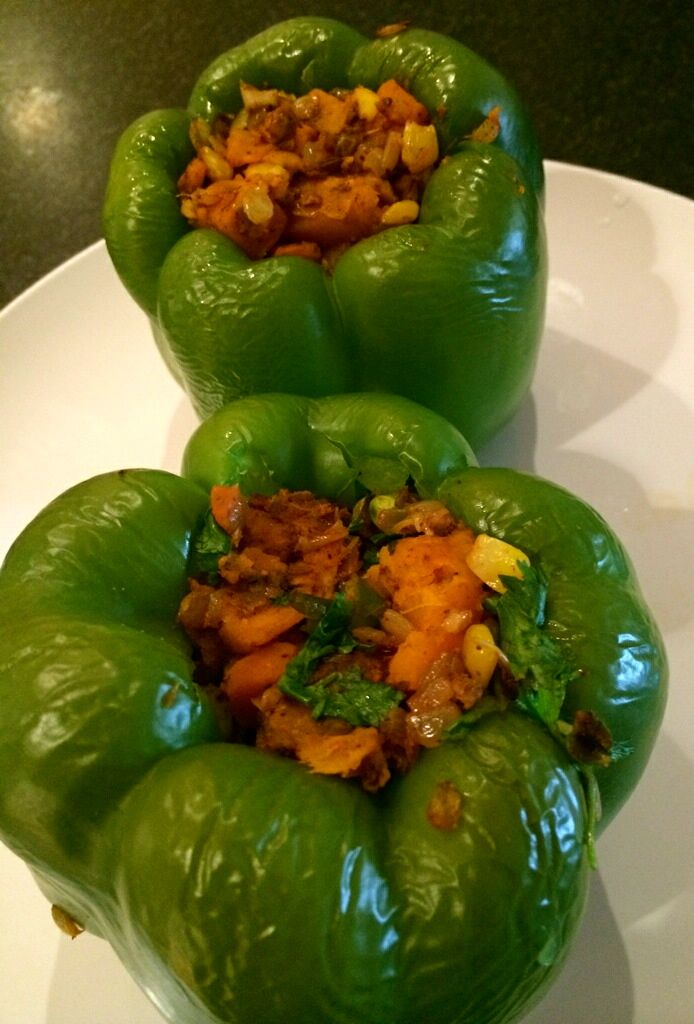 My friend recently asked me for a 'Stuffed Pepper' recipe, and I actually haven't made Stuffed Peppers in a while. I asked him what kind he prefers – Indian? Mexican? Italian? Mediterranean? and of course the answer was as I suspected – Indian. There is a classic recipe for Indian Stuffed Capsicums that you'll see at select Indian restaurants and probably online. They're usually whole green bell peppers that are gutted and filled with a potato and paneer masala mixture, then covered in a tomato-based cream sauce and baked. Are you salivating yet? I thought of a simple recipe that I felt that he or anyone can make using ingredients that are readily available.
This was the first time I wrote up a recipe and didn't vet it before distributing it to a friend! Please note – these are not my pictures, but the pictures that my friend took of the process and finished product! 
Indian Masala Stuffing: 
2 bell peppers
1 small white onion – chopped
1 potato – boiled until fork tender, peeled, and cut into small cubes
1 clove garlic – smashed and minced
1 small piece of fresh ginger, peeled and minced
1/4 cup of frozen veg mix – defrosted and make sure the veggies are drained and not too watery
salt
black pepper
1-1 1/2 tsp garam masala
2 green chilies – chopped. If you don't have green chilies, use chili powder. Put as much as you like.
1 tsp cumin seeds
1/8 cup crumbled tofu or paneer (optional)
sprinkle of raisins and cashewnuts (optional)
Vegetable oil or PAM Original flavor spray
Gravy recipe is below.
1. Preheat the oven 350 degrees. Trim off the top of the bell pepper and thinly slice off the bottom of the pepper, so it can stand up.  Take out all the seeds and membranes and toss in the garbage. Thoroughly spray/oil your peppers. You have 2 options here now:
– you can either roast the peppers in the oven for about 5-8 minutes until slightly tender OR
– you can saute them on the stovetop for about 5-10 mins until slightly tender.
Once you've done that, remove and set aside in an ovenproof dish. Stand them up straight.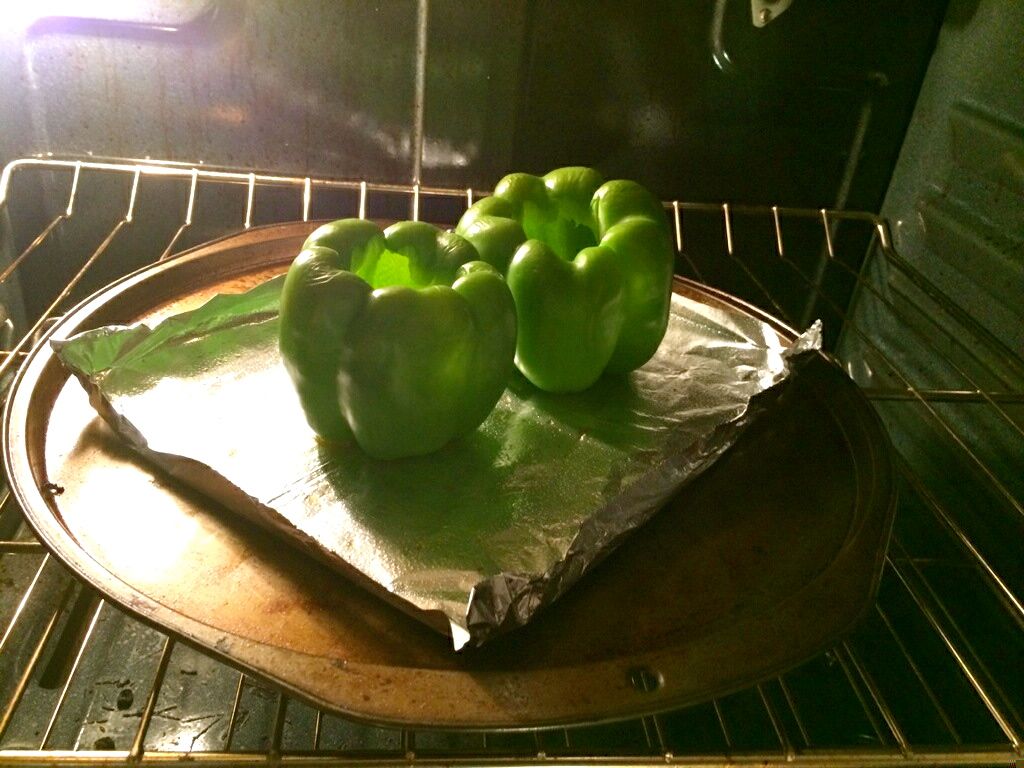 2. In a medium-sized skillet, set over medium high heat, pour the oil (or spray before you set it over the heat) add the cumin seeds. Once they start popping, add the onions, green chilies (if using), garlic, ginger, raisins and cashews (if using) and saute until onions are translucent – just a few minutes. Then add the potatoes and veggie mixture – toss until everything is coated. If you are using tofu/paneer you can add it in now as well. Sprinkle in the garam masala, salt and pepper. Cook until all the veggies are cooked through and coated well with the spices. You might want to add in a couple of tbsp of water here so the filling remains moist. Once the veggies are tender, taste to make sure it's salted well and has enough seasoning. At the very end, add in 1/2 of the chopped cilantro and toss.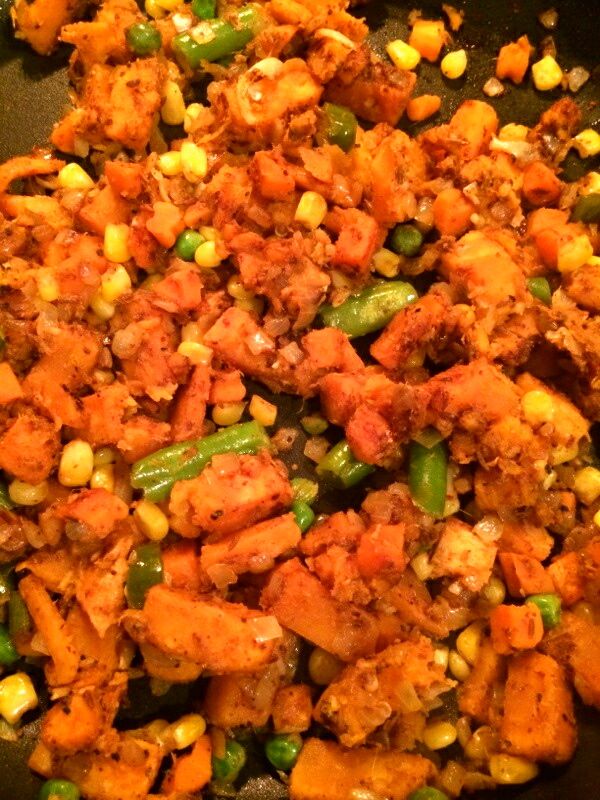 3. Fill the cavities of the pre-roasted bell pepper with the filling – pile high until you've used up all the filling.
4. If using gravy, pour all around peppers.
5. Bake at 350 degrees for about 10 mintes, or until sauce is bubbling (if not using sauce, bake until tops are slightly crispy). Remove, top with remaining chopped cilantro and let cool for a few mins before eating.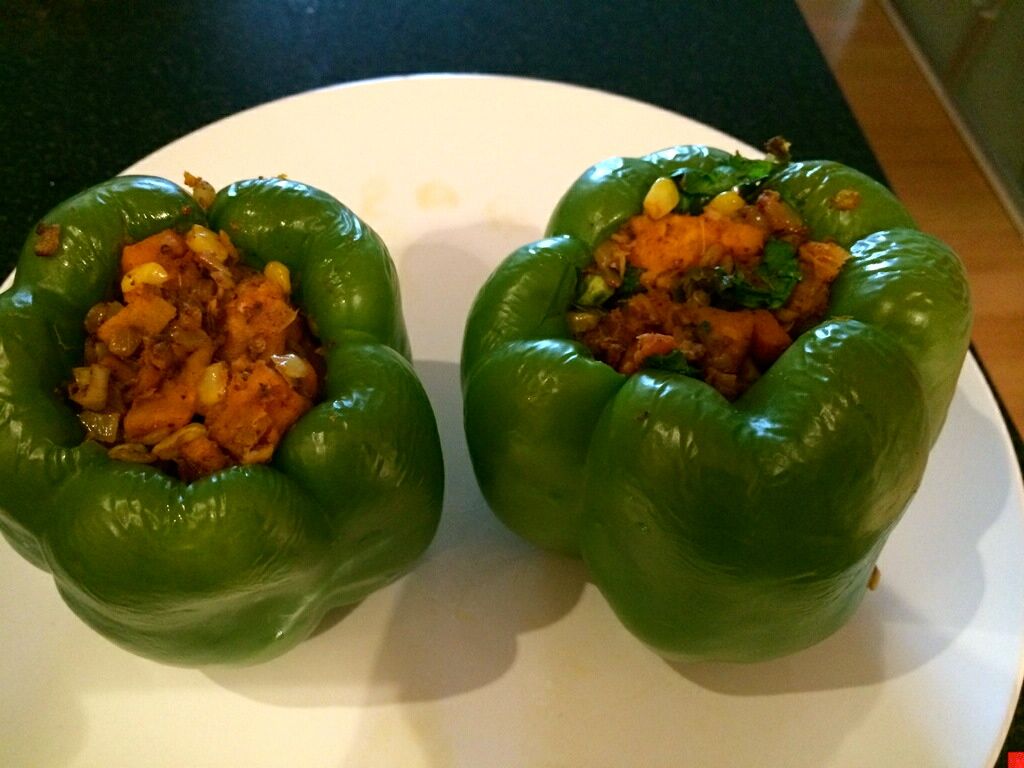 Gravy:
1 tomato chopped
1 clove garlic – minced
1 small piece ginger – peeled and minced
1 small onion – chopped
1 green chili – chopped
1/2 tsp garam masala
1/2 tsp turmeric
1/4 tsp coriander powder
1/4 tsp chili powder
1/4 tsp cumin seeds
salt
pepper
pinch of sugar (to balance out the acidity of the tomatoes)
1 tbsp milk
Vegetable Oil or PAM Original flavor spray
1. In a medium pan over medium heat, add the oil/spray and once its hot, add the cumin seeds. Once they stop popping, add the onions, ginger, garlic, and chilies. Saute until cooked and translucent. Add the tomatoes, garam masala, coriander powder, turmeric, chili powder, salt and pepper. Cook until it starts forming into a gravy- you may need to add some water here.
2. Once its thickened, add in the milk and pinch of sugar. Taste for salt and pepper. If you'd like (totally not necessary), you can blend this if you like a smooth gravy.