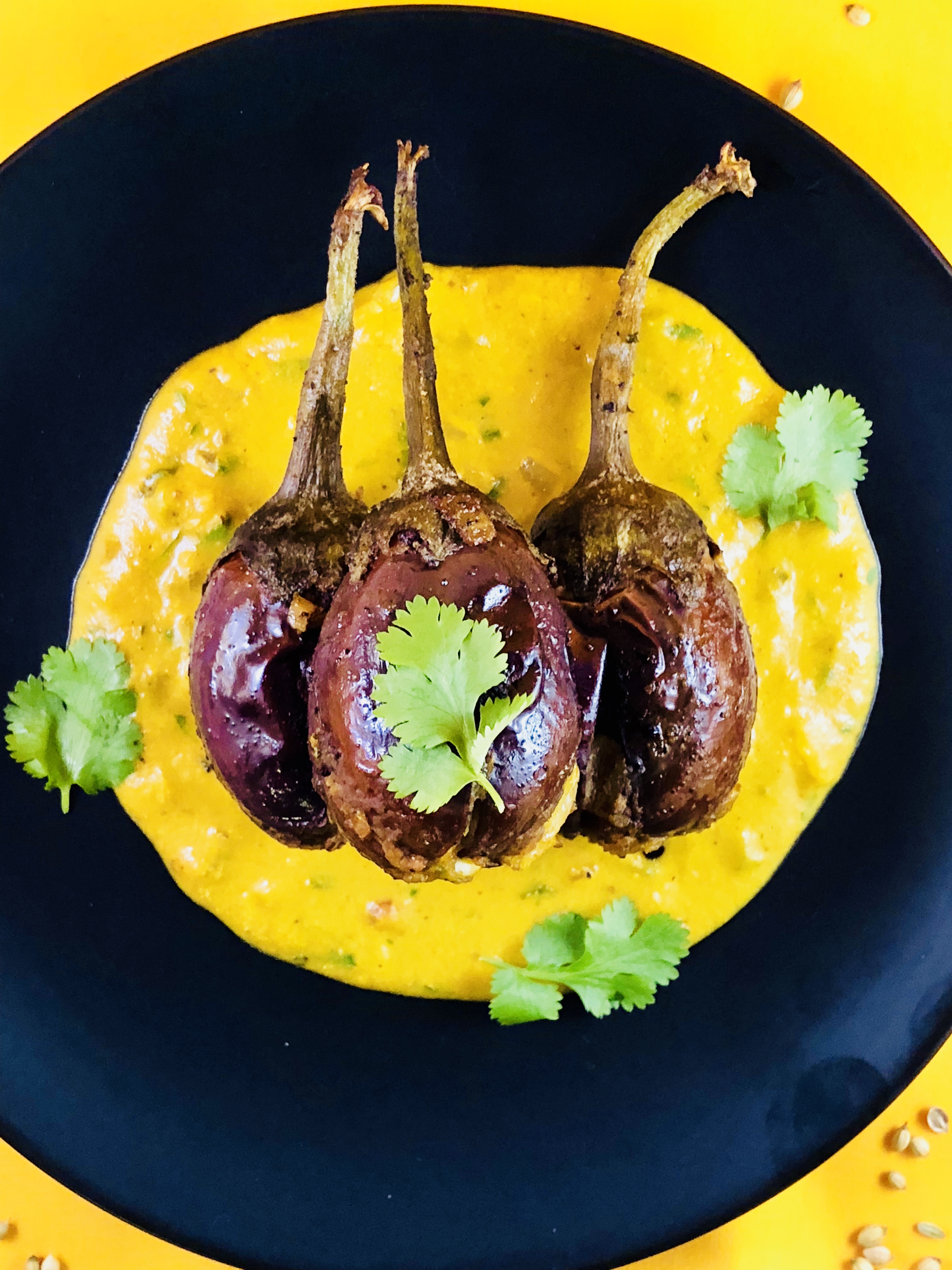 Indian Stuffed Eggplants or Bharwan Baigan is a household staple in most South Indian homes. Each family has their own recipe. I am obviously partial to my moms delicious Indian Stuffed Eggplants – wait did I mention they're BABY eggplants?! Yup, super cute baby eggplants are stuffed with a spicy onion and garlic mixture, pan seared and soaked in a spicy grave made of curry leaves, mustard seeds, garlic, peanuts and all sorts of good stuff. Now, as much as I LOVE my home cooking, it's not feasible for the masses. So I recreated my mommy's delicious dish in a Chef Pri way – heavier on the peanut, and incorporated some different spices like fennel. And FYI – all of these ingredients are readily available in your grocery store! Did I mention that today January 24th, 2018 is National Peanut Butter Day?! What better way to celebrate than with Indian Stuffed Eggplants with a spicy peanut gravy?! You know what else is great – this dish can be made and served in 1 pan! FYI TOTALLY vegan !!! WOOO!!!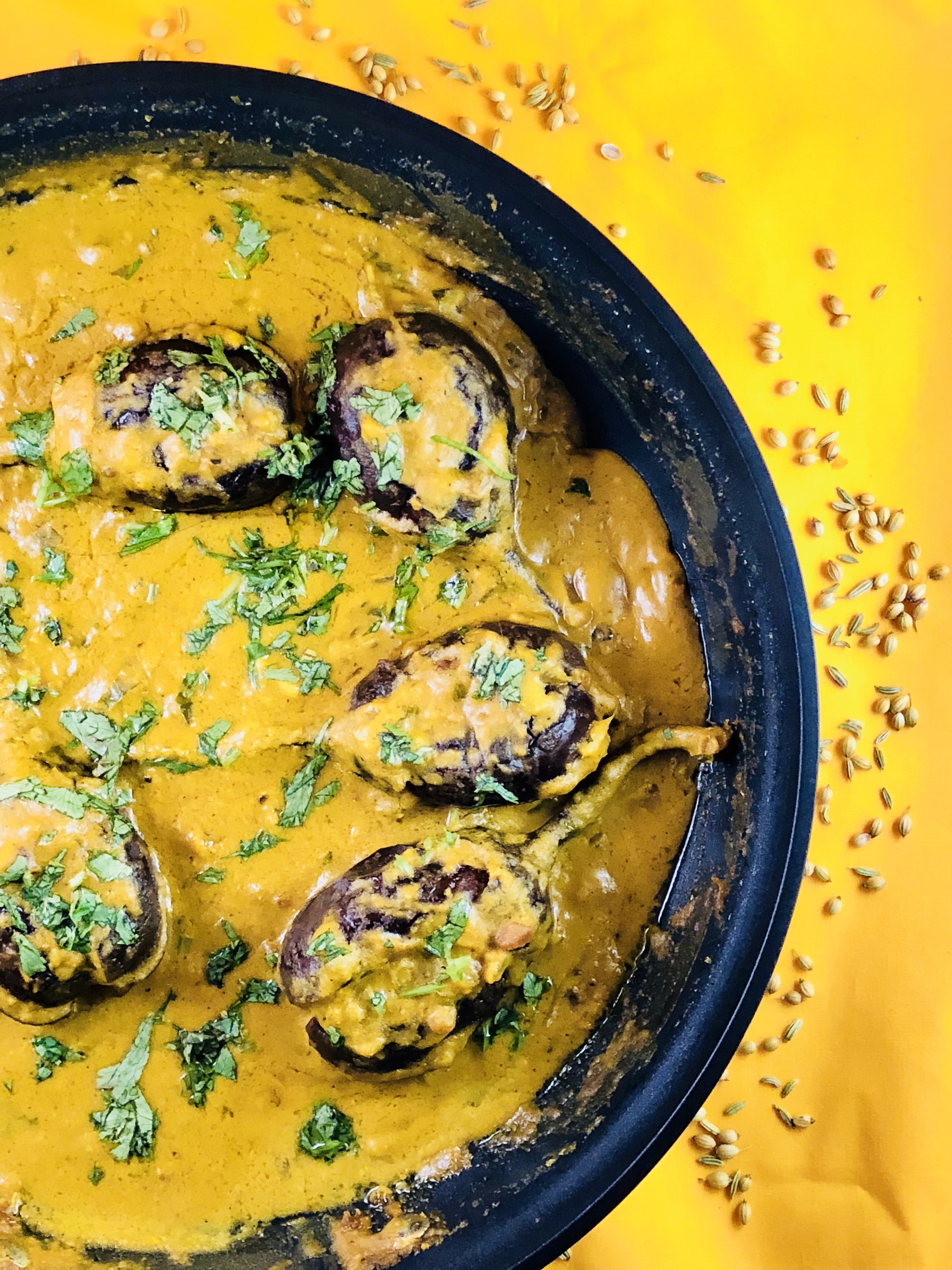 Indian Stuffed Eggplants 
Stuffing & Eggplants: 
6-8 baby eggplants
1/2 large white onion – finely diced
1 jalapeno or 2 small green chilies – minced
1 inch piece of fresh ginger – minced
2 cloves of garlic – minced
1/4 tsp fennel seeds
1/4 tsp coriander seeds
1/2 tsp turmeric powder
1/4 cup peanut powder – I used Crazy Richards
2-4 tbsp water
salt
ground black pepper
vegetable oil
Sauce:
1/4 tsp fennel seeds
1/4 tsp coriander seeds
1/2 crunchy peanut butter – I used Crazy Richards
1/2 tsp turmeric powder
1/4 tsp spicy red chili powder
1 tsp jaggery or agave
1/4 lemon wedge
1/2 – 1 cup water
salt
ground black pepper
handful of fresh cilantro – roughly chopped
vegetable oil
Make the filling:
1. Place a large non-stick skillet on medium high flame and pour in about 2 tsp oil. While the oil heats, grind the fennel and coriander seeds in a mortar and pestle until roughly ground. Add in the coriander and fennel seeds. Saute for about 30 seconds until fragrant and they start popping in the oil. Add in the onion, chili, garlic, and ginger. Continue sauteing. Once the onions start becoming translucent, add in the turmeric, salt, and black pepper. Continue cooking. Once the onions are soft but not browned – after about 5 minutes – add in the peanut powder. Mix to coat all the onion mixture. It will be thick. At this point add the water in 1 tbsp increments – the mixture should be thick and almost like a paste, not super runny. Adjust your water accordingly. Remember this is meant to be a stuffing, so it should be on the thicker side. Cook for another 2-4 minutes until very soft. Taste for salt. Remove and allow to cool in a bowl. While the filling cools, using a sharp paring knife, make for slits at the butts of the eggplants creating a slight opening. Once the filling is cool enough to touch, gently stuff each eggplant with the filling, making sure to get as much in there but not breaking the eggplants. Continue until all the eggplants are stuffed. You should have about half the filling leftover.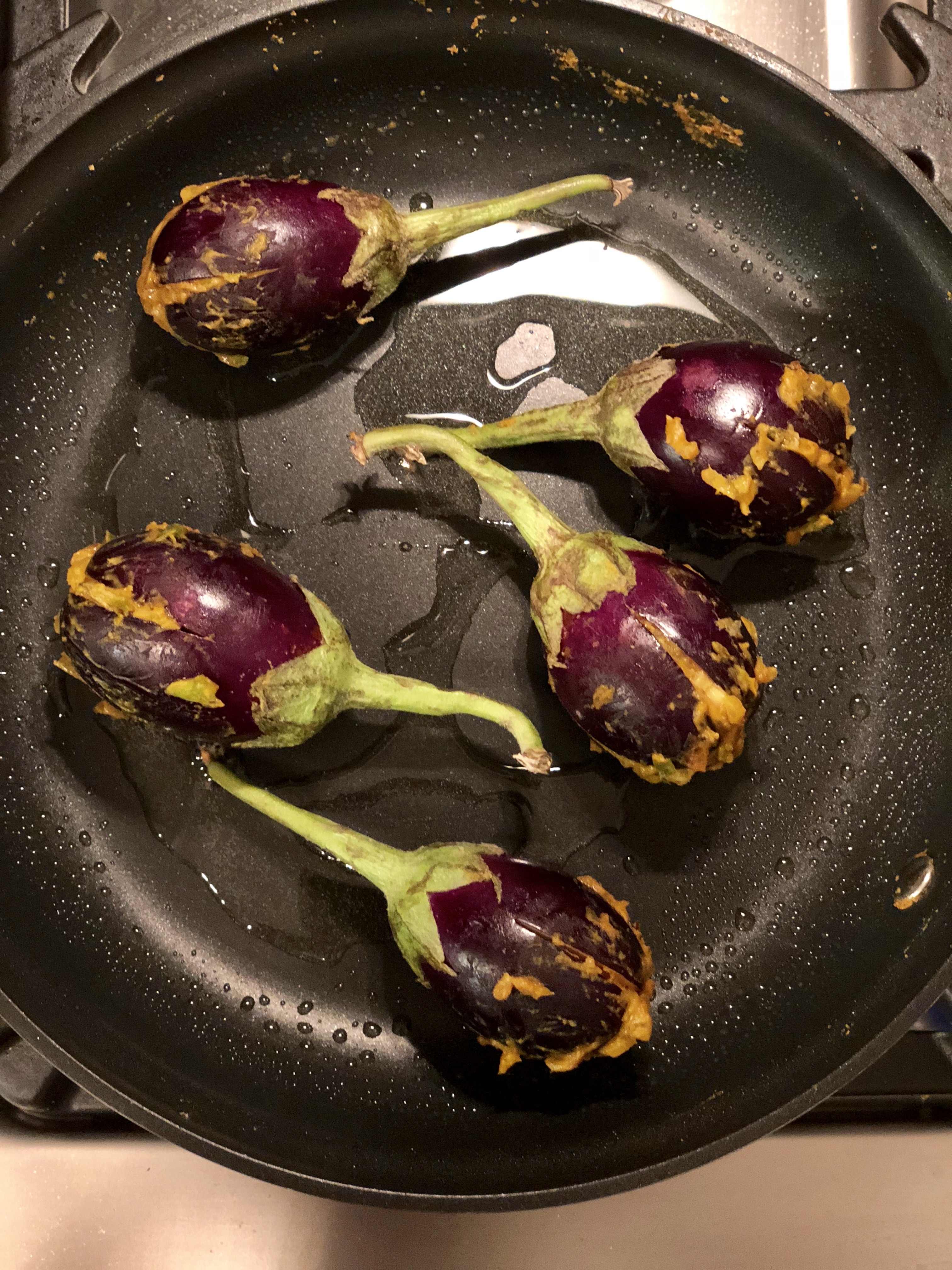 Saute Eggplants:
2. Using the same pan – clean out with a moistened towel, place over high flame and add another 1-2 tsp of oil. Once the oil is hot, add in the stuffed eggplants and sear on each side until darkened and blistered. About 5-7 minutes on each side. It should be soft enough for a paring knife to easily go through without pushback. You don't want the eggplants to be mushy. Remove to a plate.
Make the sauce: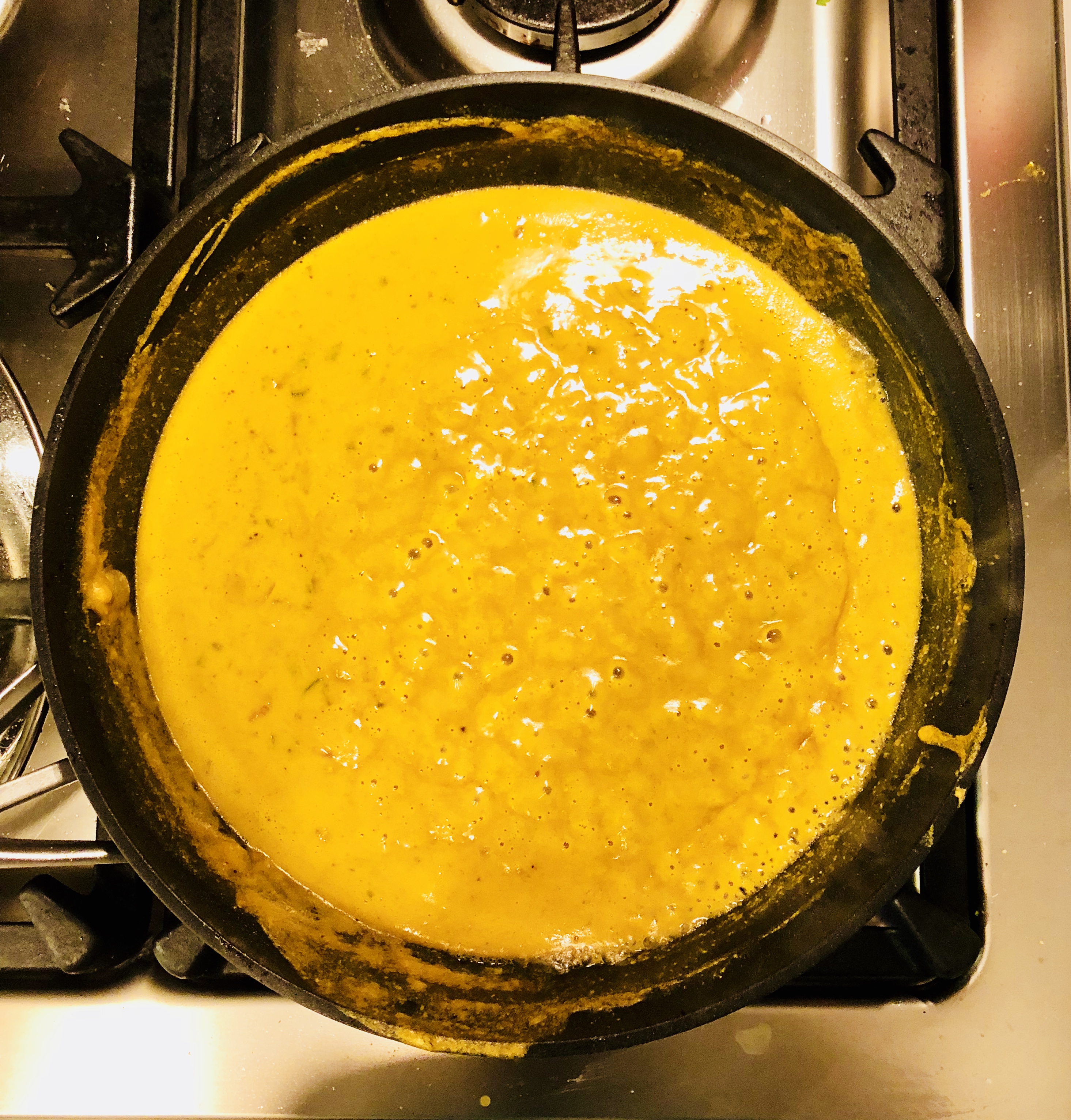 3. Using the same pan, pour in a bit more oil and once hot add in the fennel and coriander seeds whole. Saute 30 seconds or so and add in the remaining filling. Saute for about 2 minutes and add in the crunchy peanut butter, turmeric, and chili powder. Combine mixture and after about another minute, add in 1/2 cup of water to get the sauce going. Add in the jaggery and allow to dissolve. At this point add in salt and pepper. Reduce flame to low and simmer. Continue adding water as mixture will thicken up and and you want a gravy like consistency. Either using a hand blender or regular blender, you want to blend HALF the mixture until super smooth and pour it back into the sauce. The consistency should be smooth with some texture, that's why we don't want to blend the whole thing. Once blended, add in some more water, taste for salt, and add in the lemon juice. Once thick and cooked through, add in chopped fresh cilantro and the eggplants. Cover with a lid and allow the eggplants to cook through with the steam. Eggplants should be fork tender after about 10 minutes. Serve with basmati rice or naan!!