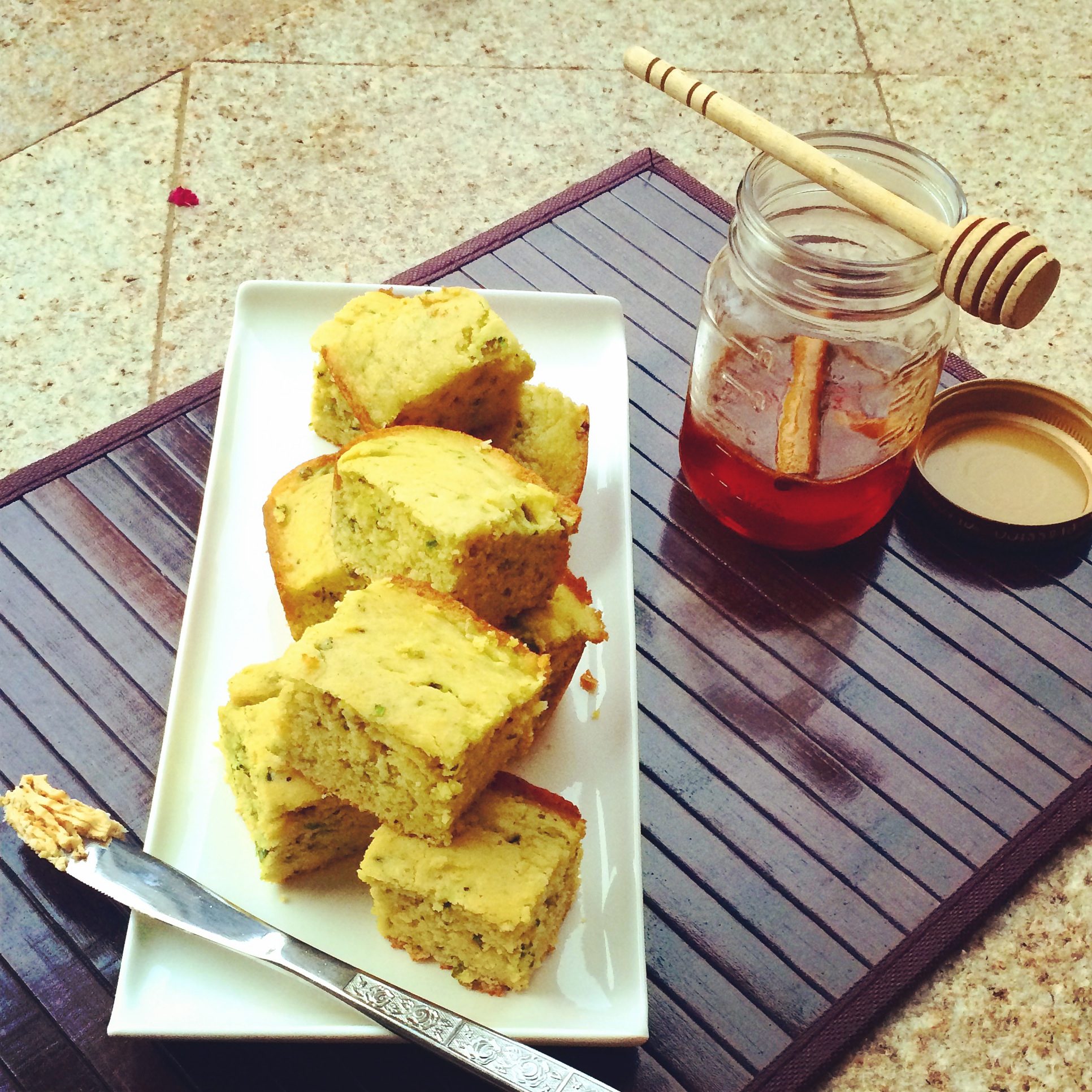 It all started at work. A fellow colleague – who shall remain anonymous – of mine began to grow his own yeast and bring in fresh baked loaves of sour dough bread. Long story short, I challenged him to a bread bake-off, or what we like to call a 'Bread-Off.' The first week started off by baking your favorite loaf of bread and having our office mates assess each one and vote. We had a variety of accompaniments, including soft and hard cheeses from Murray's Cheese and my own infused olive oil – Rosemary, Red Crushed Pepper, Sea Salt, Black Pepper, and Fresh Garlic. My anonymous colleague baked his usual – a crusty loaf of sourdough and I baked a Rosemary & Cracked Black Pepper Brioche. Alas, the crowd spoke, and my anonymous colleague won the battle. SAD FACE.
I felt defeated and I do not cope well with defeat. For our next 'Bread-Off' I decided that it was only fair to decide on a type of bread, because our initial 'Bread-Off' was judged on a dissimilar scale – one was a traditional loaf and another was a richer and more dynamically flavored bread. This time around we agreed to each make a corn bread with at least one accompaniment. I figured it's easy enough to make during a work week – no need to use yeast and wait for your dough to rise and I know that everyone loves corn bread (if you don't, you're a weirdo, or you've never tried it before).
Here were the contenders: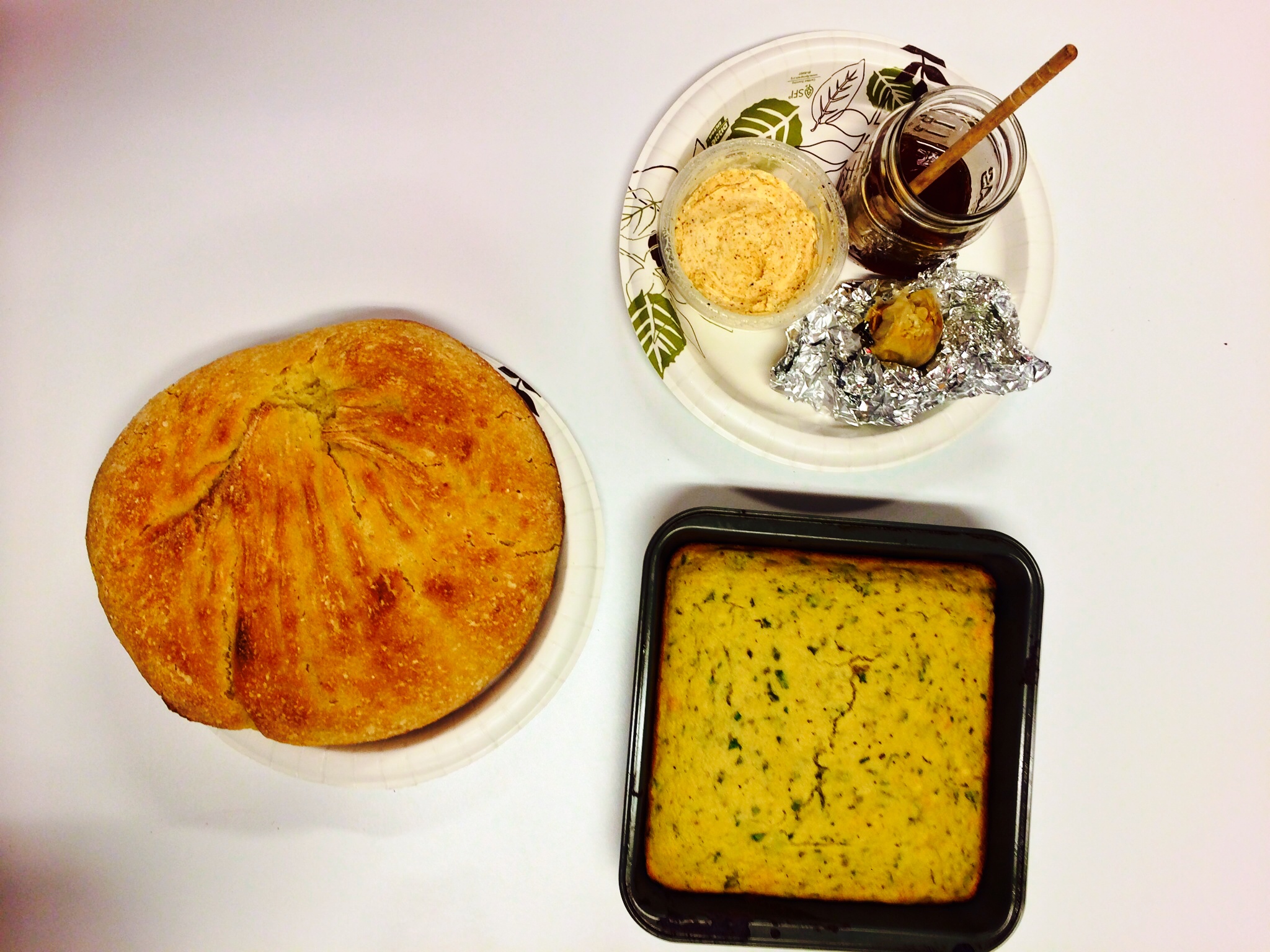 Drum roll…..
Here's is the winning recipe for the Corn 'Bread-Off'!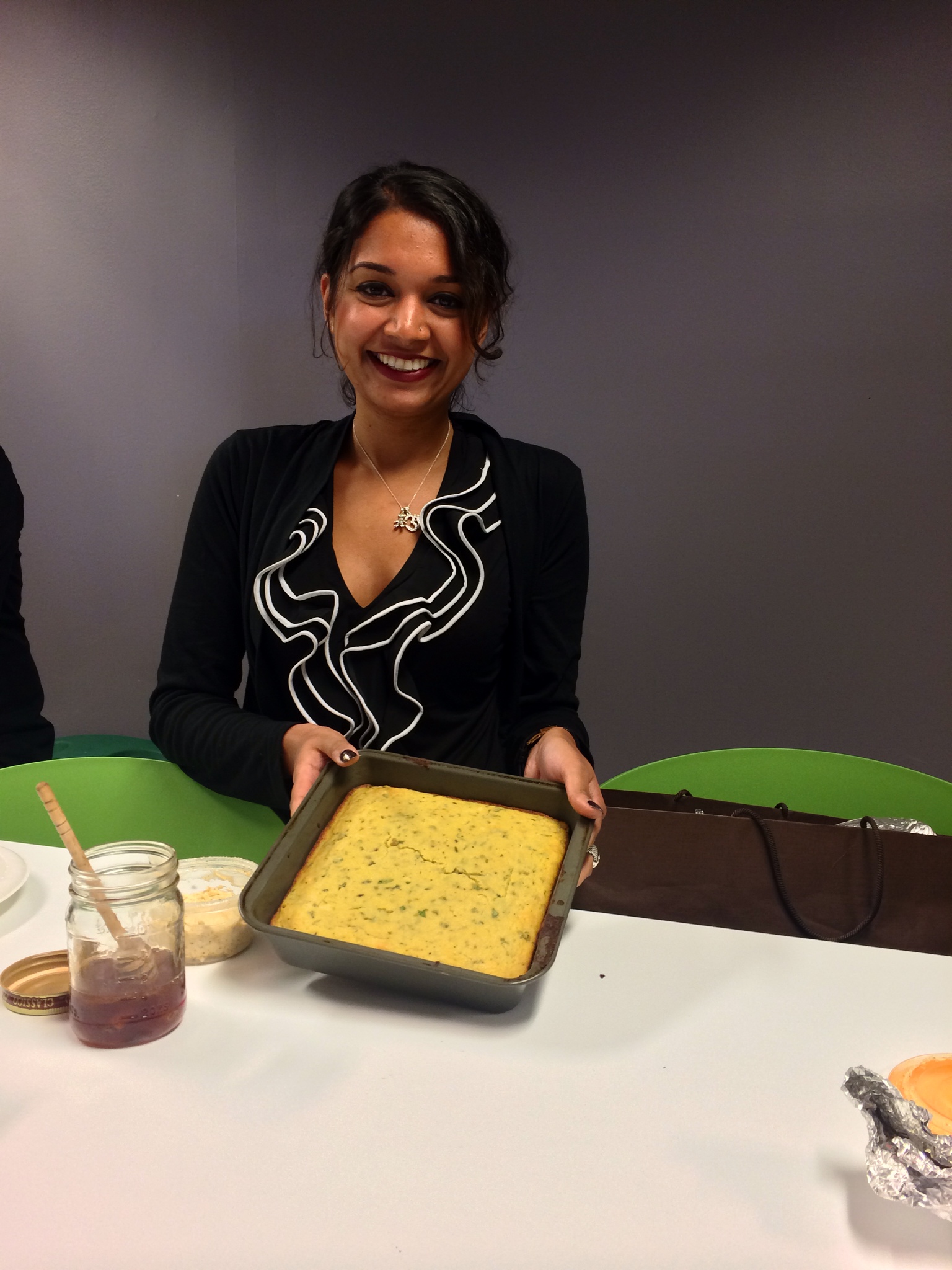 Jalapeño Corn Bread with Cilantro:
1 cup corn meal
3/4 all purpose flour
1 tbsp sugar
1/4 tsp salt
1 1/2 tsp baking powder
1/2 tsp baking soda
2 large eggs – room temperature, lightly beaten
1 1/2 cups buttermilk – room temperature
6 tbsp unsalted butter – melted
handful of cilantro – thoroughly washed, dried, and finely chopped
2 shallots – minced
2 jalapeños – minced
1 tbsp extra virgin olive oil
PAM Cooking Spray
1. Preheat oven to 425 degrees. Grease a 8 inch square baking pan with some butter and PAM spray. Set aside.
2. In a small skillet, add olive oil and place over medium flame. Add in the minced jalapeños and shallots. Sprinkle in a pinch of coarse sea salt and coarse black pepper. Saute for about 5 minutes, until softened and slightly caramelized. Remove and let cool.
3. In a large bowl, mix together the dry ingredients – corn meal, flour, sugar, salt, baking powder, and baking soda. In a separate bowl mix together the wet ingredients – eggs, buttermilk, and melted butter. Do not over mix.
4. Slowly pour the wet ingredients into the dry ingredients, stir light to combine, but before everything is incorporated, add in the cilantro and jalapeno-shallot mixture. Stir until everything is just combined – do not over mix. Dough will be thick. Pour into greased pan and bake for about 20-25 minutes, or until golden brown around the edges and a toothpick comes out clean. Remove and let cool for about 10 minutes before serving. Cut into squares and serve with butter and honey (see below).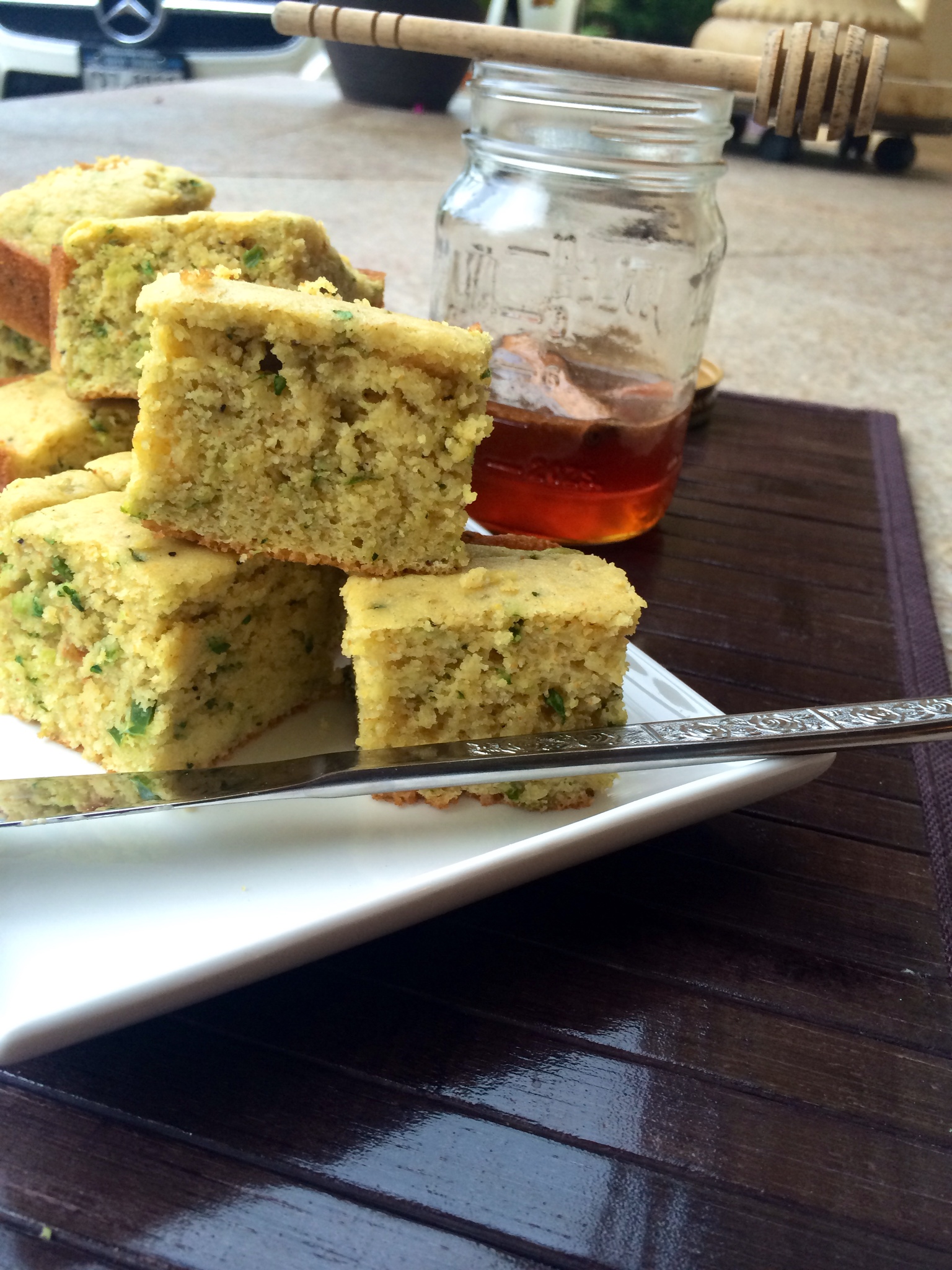 Roasted Garlic Butter:
1 stick of unsalted butter – at room temperature
1 head of garlic – top trimmed off
2 heaping tsp of coarse sea salt
1 tsp coarse black pepper
pinch of chili powder
few sprigs of fresh cilantro
1. Preheat oven to 400 degrees. Place whole head of garlic in foil and drizzle with olive oil and close the foil around it to create a packet. Place in the oven and bake for about 20-25 minutes until completely tender and the garlic can be squeezed out. Set aside to cool.
2. In a blender/food processor, add all of the ingredients – squeeze half of the head of garlic into the blender, making sure not to get any of the garlic skins into the blender. Blend until smooth and taste.
3. Place in a container and wrap with plastic and place in the fridge until ready to serve.
Cinnamon-Clove Honey:
1/2 cup good quality honey
2 sticks of cinnamon
2-3 whole cloves
pinch of ground cinnamon
1 clean and dry mason jar
1. In a small pan, toast the cinnamon and cloves until fragrant (about 1-2 minutes). Place in the mason jar. While the spices are still warm, pour in the honey and sprinkle in the ground cinnamon. Mix until blended well, and cover with the lid. Place in a cool dry place.