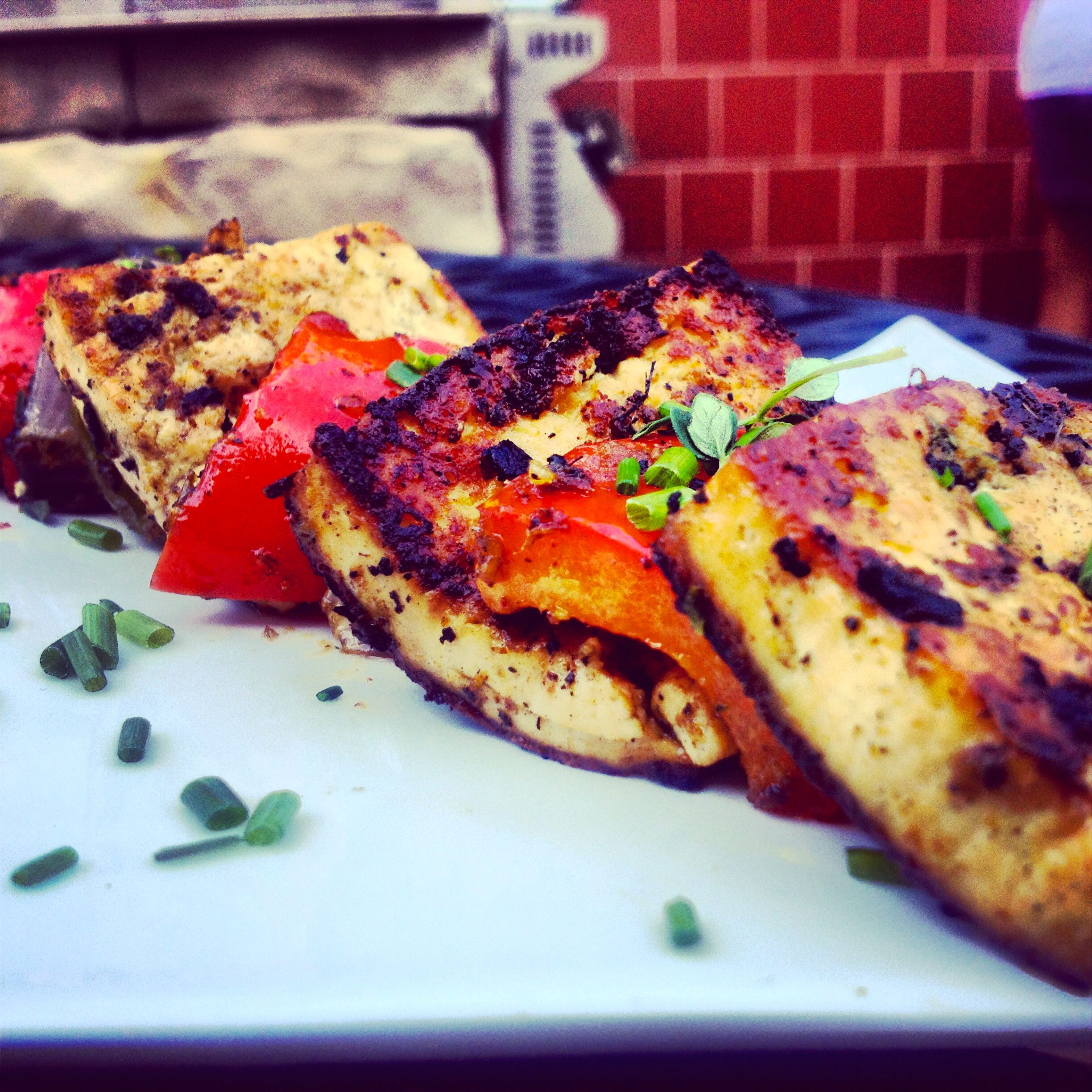 As seen on PETA!
If you keep up with my blog, then you'll know that I went to Jamaica recently. This was my second time there and my second time falling in love with delicious jerk-spiced food. Although this time around I did not eat meat (I originally went to Jamaica in 2008 prior to my vegetarian conversion), I smothered all my veggie sides with the delicious Jamaican jerk sauce.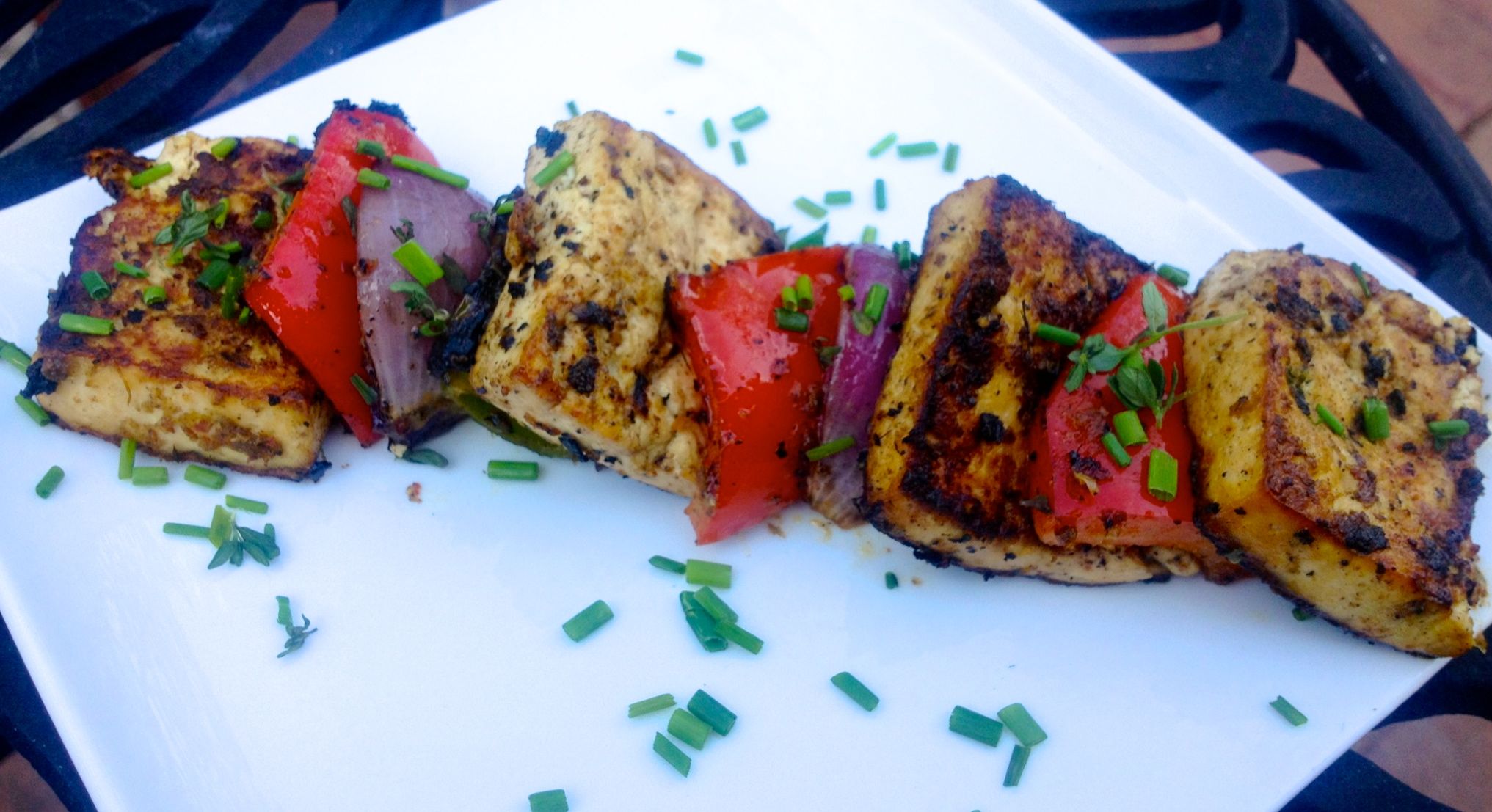 This Memorial Day Weekend I wanted to recreate that deliciousness but with tofu. While in Jamaica I picked up a packet of traditional Jamaican jerk seasoning, so I decided to use that.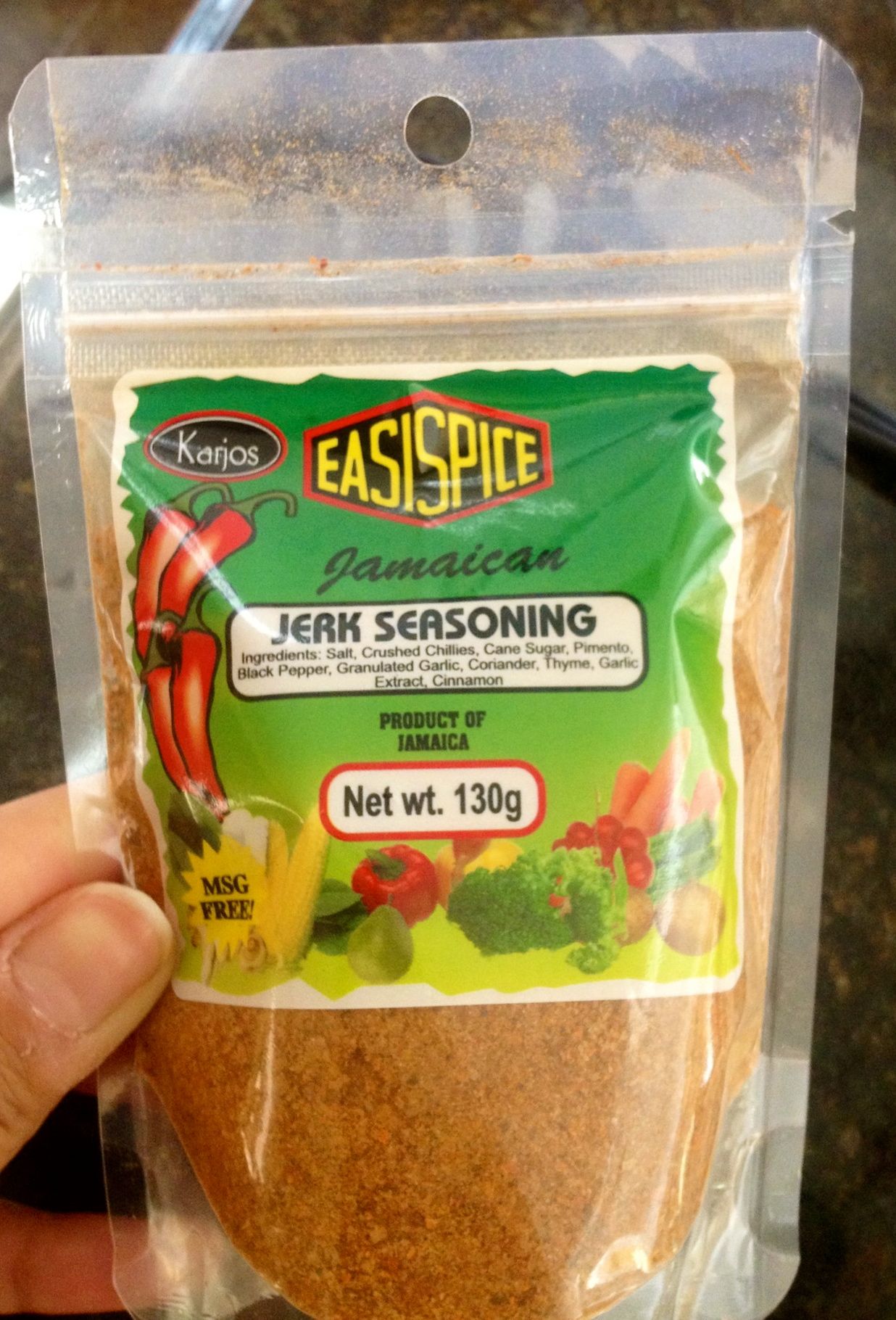 If you like spicy, sweet and bold delicious flavors, then you're going to love this recipe. Plus the tofu came out so moist and flavorful, you won't ever miss the chicken! One of our family friends who strongly dislike vegetarian food tried the Jerk Tofu and instantly fell in love – he finished the whole plate (no lies here!).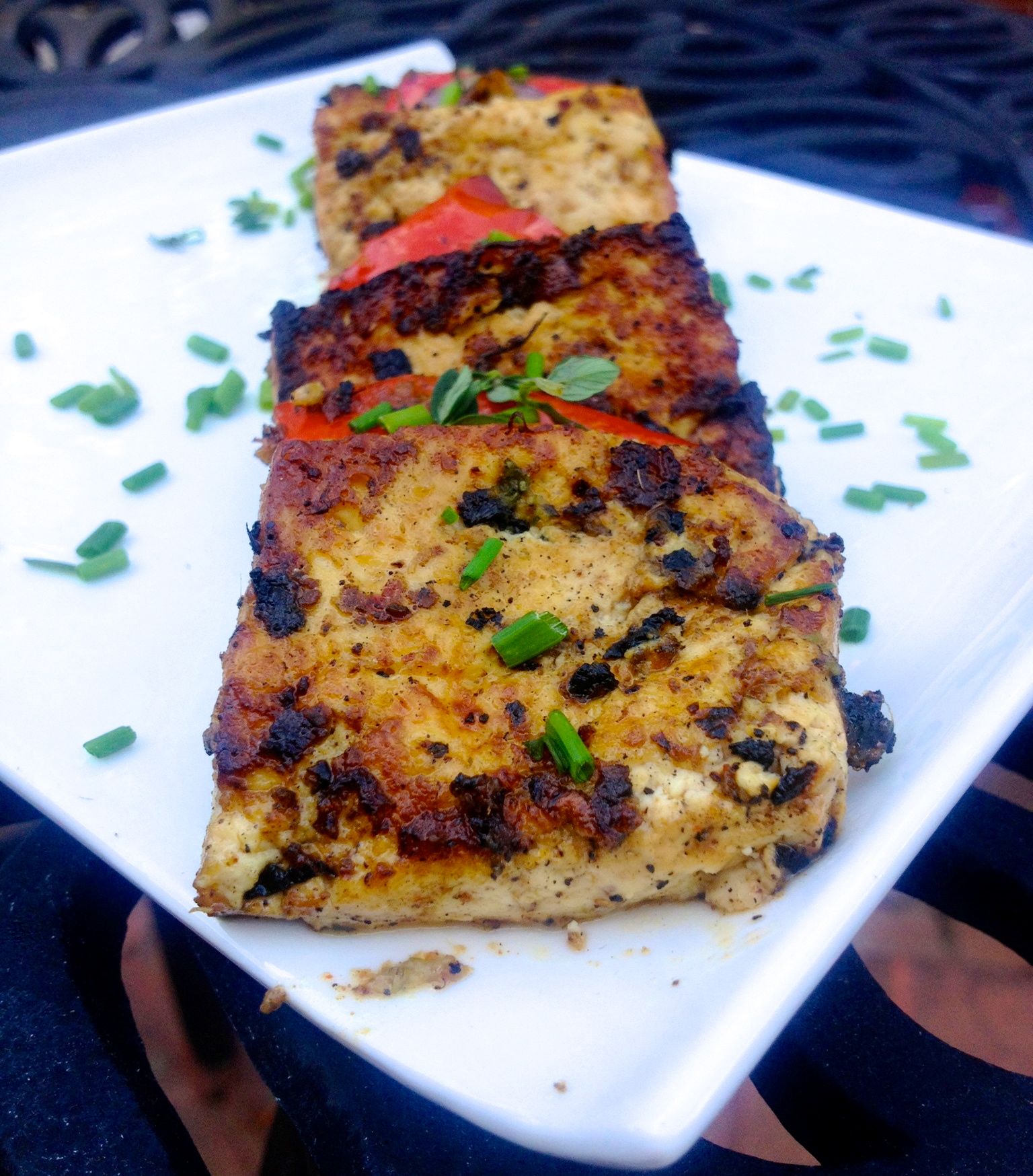 Jerk Spiced Tofu Kebobs: 
1 box super-firm tofu- thoroughly drained and pat dry (until no moisture is released when pressed) and cut into 1 inch cubes
1 red pepper – chopped into 1 inch cubes
2 medium sized red onions- chopped into 1 inch cubes
3-4 tbsp Jamaican jerk Spice (please see below for recipe if you haven't had a chance to travel to Jamaica recently :-p)
6 cloves garlic – peeled
1 inch piece of fresh ginger
1 whole habanero pepper
1 bunch scallions- chopped
2 heaping tbsp brown sugar (light or brown is fine)
sprinkle of fresh nutmeg
1/2 extra virgin olive oil
fresh lime juice from 1 lime
splash of low sodium soy sauce
4-5 sprigs of fresh thyme- leaves taken off the stems
1. Place all of the ingredients in the blender and blend until smooth and almost a consistency of a thick liquid. Place the tofu, red pepper and onions in a large foil tray and pour the marinade over- reserve about 1/2 on the side for basting and a dipping sauce.
2. For best results, marinate the tofu and veggie for about 3-4 hours.
3. Spray a metal BBQ tray with grilling cooking spray and place over a hot BBQ. Once the tray is hot, place the marinated tofu and veggie on the tray. Close the BBQ lid and grill for about 5 minutes. Flip once, and grill for another 5-7 minutes or until tender and slightly charred. Place on a serving platter and while its hot, sprinkle with chopped chives/scallions. Serve with the reserved jerk sauce.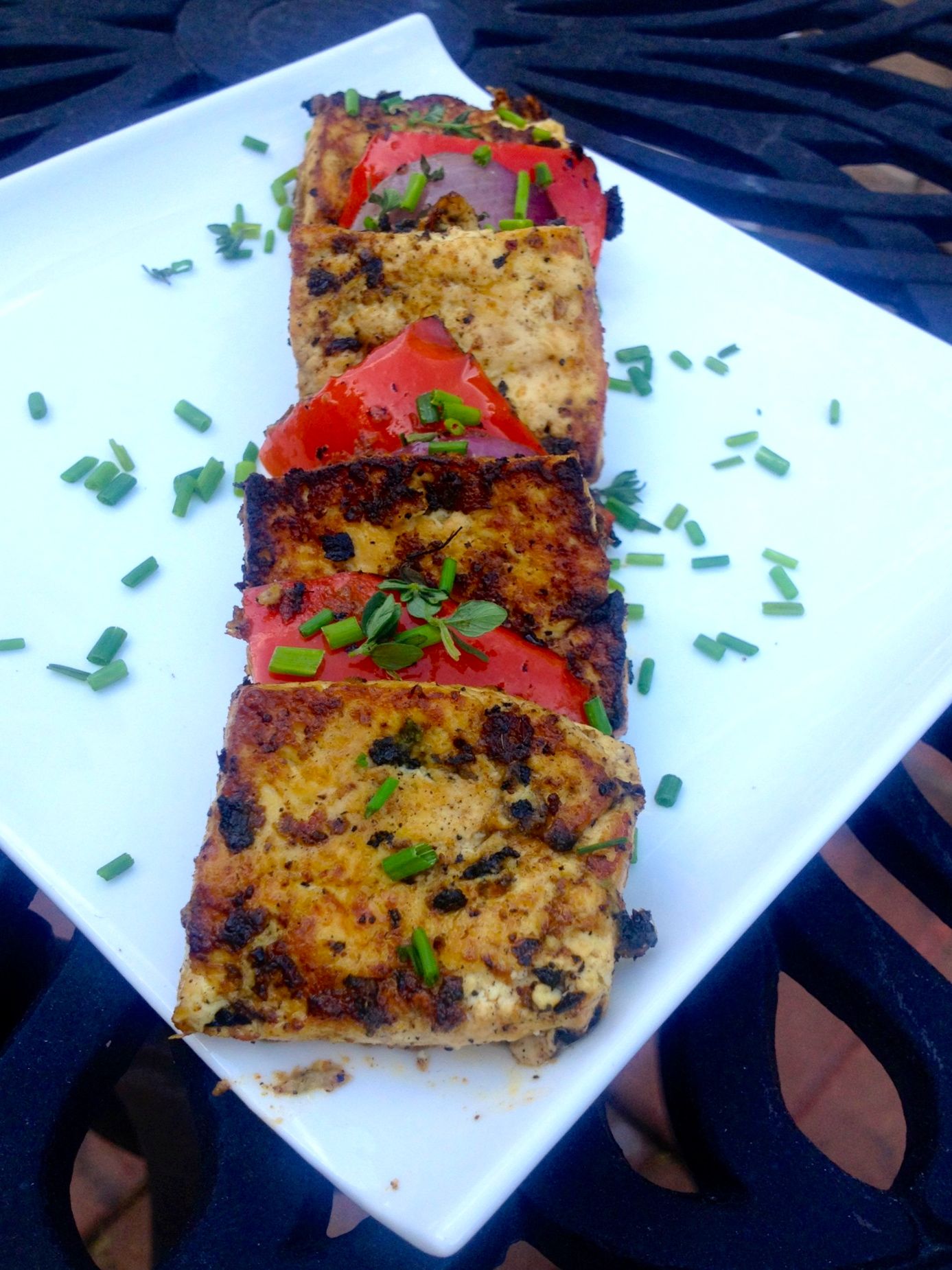 For homemade Jamaica Seasoning:
1 tbsp crushed chilli powder
1 tbsp salt
1 tsp granulated sugar
1 tsp fresh nutmeg
1 tsp freshly ground black pepper
1 tsp garlic powder
1 tsp dry thyme
1 tsp dry coriander powder
1/2 tsp cinnamon
1. Mix all the ingredients together and set aside for marinade.
Like Tofu? Try these other delicious recipes!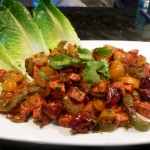 Tandoori Tofu Masala "Salad"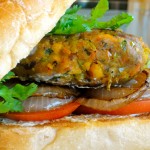 Masala Tofu Burgers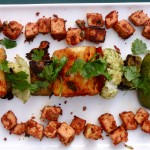 Tandoori Paneer and Tofu Kebobs