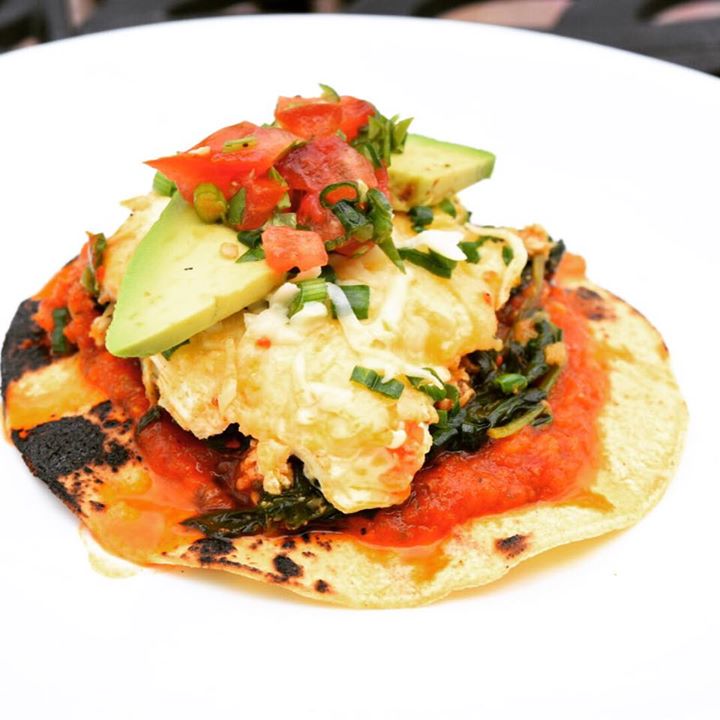 Do you ever go out for weekend brunches and order those delicious "baked egg" dishes that come in a little cast iron skillet bubbling away in a savory sauce and gooey with cheese? Yeah, I'm salivating just thinking about it. I wanted to re-create that at home, but without all the oil and general fat. So (as I usually do), I made up a recipe using some of my favorite flavors, and it came out so good! I made this dish for a big group, so I just baked it in one large oven-proof casserole, but it can be easily turned into individual egg dishes.
Serves 4-6
Sauteed Veggie Mix:
3 cups baby spinach
2 jalapenos – sliced
1 medium white onion – thinly sliced
1 clove garlic – chopped
salt
black pepper
1 tsp cumin seeds
squeeze of lemon/lime juice
PAM olive oil flavor
1. In a medium non-stick skillet spray with PAM and set over medium flame. Add cumin seeds and roast for about 20-30 seconds until fragrant. Add onions and garlic and saute for about 2 minutes until slightly softened. Add in the spinach – little at a time to wilt so all of it can fit in the pan. Sprinkle with salt and pepper. Saute for a good 5 minutes until completely soft, but not mushy. Squeeze in the lemon juice. mix. Taste. Set aside.
Roasted Red-Pepper and Tomato Garlic Sauce:
1/2 cup good quality roasted pepper – drained and chopped
1 medium beefsteak tomato – chopped
1 tsp dried oregano
1 handful fresh cilantro – chopped
2 cloves garlic – chopped
1/2 small white onion – chopped
1 tbsp chili powder
salt
black pepper
1 tsp cumin powder
lemon juice – squeeze from about 1/4 lemon
1 tsp no salt/low sodium taco seasoning
PAM Olive Oil flavor
1. In a medium sauce pan spray with PAM, set over medium flame and add onions and garlic. Saute for a minute then add roasted peppers and tomatoes, cumin powder, chili powder, oregano, salt and pepper. Stir and reduce flame to medium-low/low. Continue cooking until tomatoes start breaking down. You may need to add 3-4 tbsp of regular water to loosen the mixture. Once the peppers and tomatoes break down -after about 8 minutes or so, taste for salt and seasoning. Add more accordingly. Once the sauce is broken down and incorporated together, add in the cilantro and lemon juice. Using a hand blender, blend until smooth. Taste again for salt and pepper. Set aside.
Spicy Cumin Salt:
1 tbsp coarse sea salt
1 tsp cumin powder
1/2 tsp garlic powder
1. Mix ingredients together. Set aside.
Pico de Gallo:
2 beefsteak tomatoes – chopped
handful cilantro – chopped
2 scallion stalked – chopped
squeeze of lemon juice from half a lemon
salt
black pepper
1 jalapeno – chopped
1. Mix all ingredients together, set aside.
Assembly Ingredients:
8 eggs – separated. I used only the whites
8-12 corn tortillas
2 ripe avocados – sliced
1-2 cups (depending on how cheesy you like it) reduced fat shredded sharp cheddar/mexican cheese blend
handful fresh cilantro – roughly chopped
PAM Olive Oil flavor
1. Preheat the oven 350 degrees. Spray a medium oven-proof casserole dish with PAM. Pour about 3/4 of the sauce at the bottom of the dish. Spread out evenly. Then top evenly with the sauteed veggie mix. Make about 8 holes to fit the eggs. Drop 1 eggwhite (or if using the yolk then 1 egg)  in each of the holes. Top generously with the shredded cheesy. Then sprinkle about 1-2 tbsp worth of cumin salt all over the top of the eggs.
2. Place in the oven uncovered for about 25 minutes, or until the eggs are completely cooked through and cheese is melted. Remove and let cool slightly.
3. While the eggs are in the oven, toast the tortillas directly on the flame over a stove until slightly charred on the edges. Set aside.
4. On a serving plate, place 1-2 tortillas, spread with about 2 tbsp of reserved sauce, scoop out 1 eggs worth of the baked eggs onto the tortilla, top with 2-3 sliced avocado, pico de gallo. Serve!