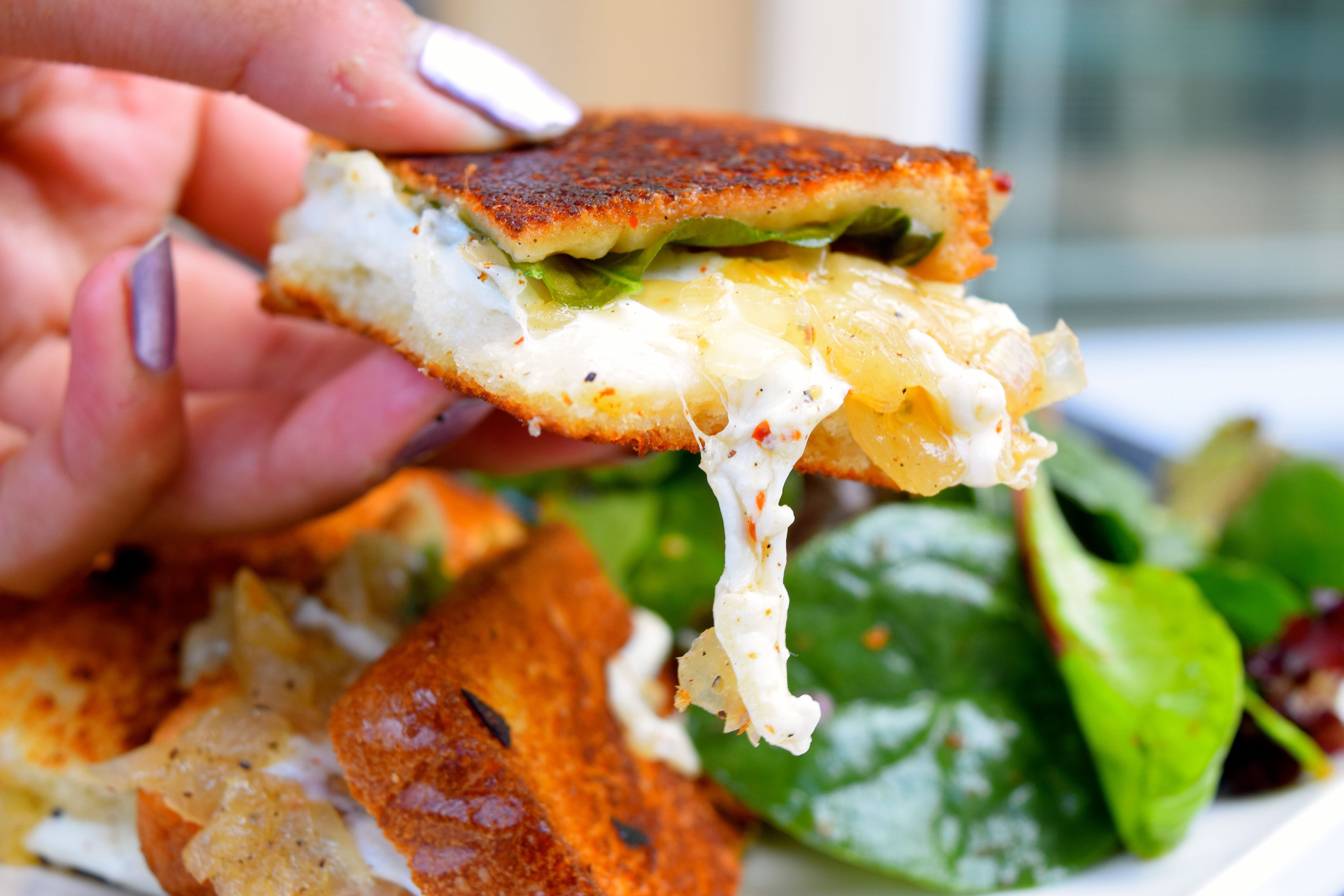 Grilled cheese is usually thought of as a something one used to eat as a kid. But more and more I'm seeing this gourmet grilled cheeses – trucks, shops, etc. Melt Shop and Murrays Cheese Bar are a few popular places. I feel that these places are good, but honestly quite mediocre for that they charge – upwards of $7-$8?! I know that I can make a better sandwich, and that is exactly what I did! Behold – the deliciously creamy and gourmet Mini Italian Grilled Cheese, NOMZ.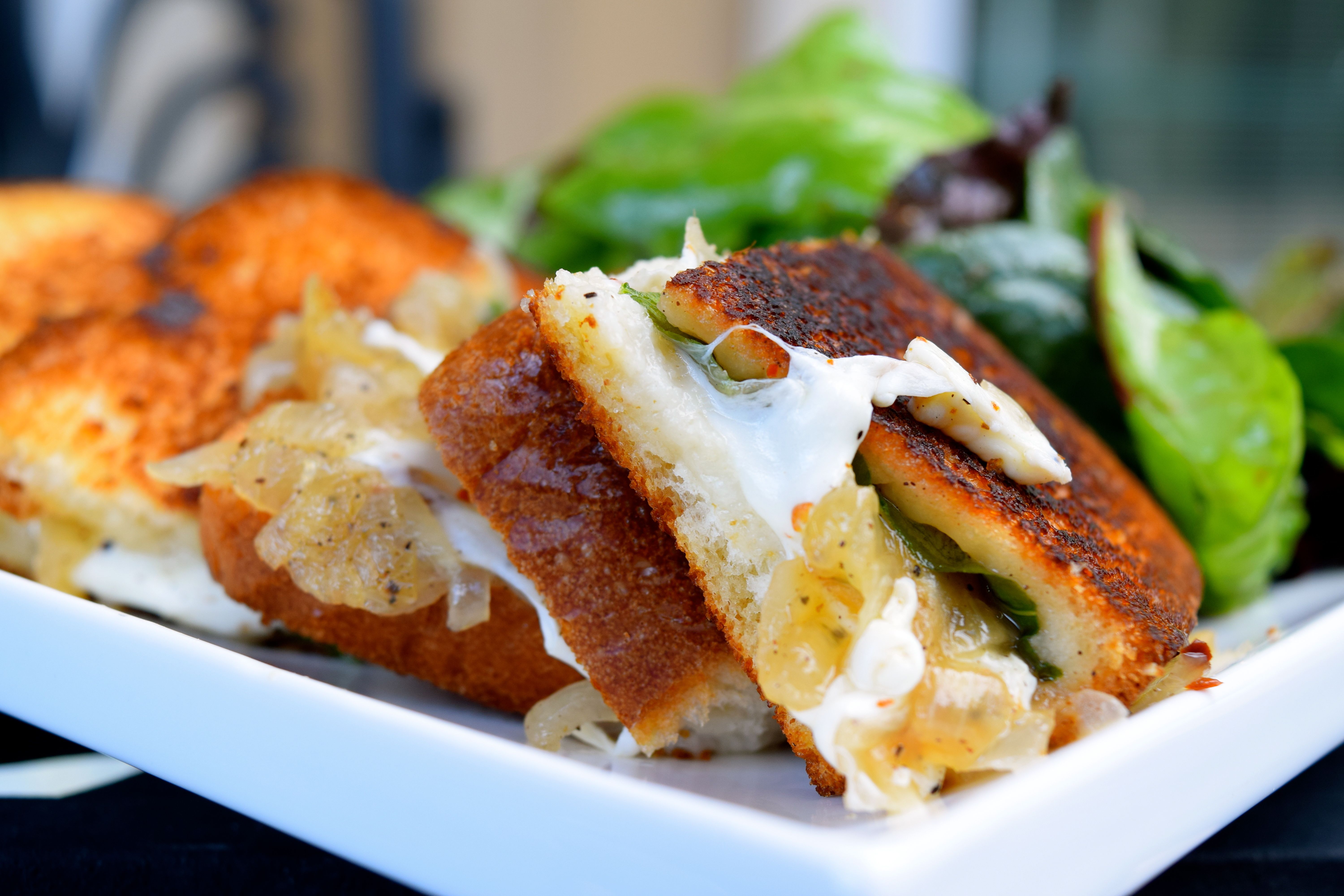 Mini Italian Grilled Cheeses: 
4 slices white bread – I used Pepperidge farm country white bread
5-6 slices fresh mozzarella
6-7 basil leaves
1 large white onion – finely chopped
1 tbsp red crushed pepper
salt
black pepper
olive oil
2-3 tbsp unsalted butter (I know, I know)
PAM original flavor
Summer Salad:
2 cups mixed greens
1 tsp lemon juice
1 tsp dry basil leaves
pinch of salt
pinch of black pepper
pinch of red crushed pepper
2-3 tbsp olive oil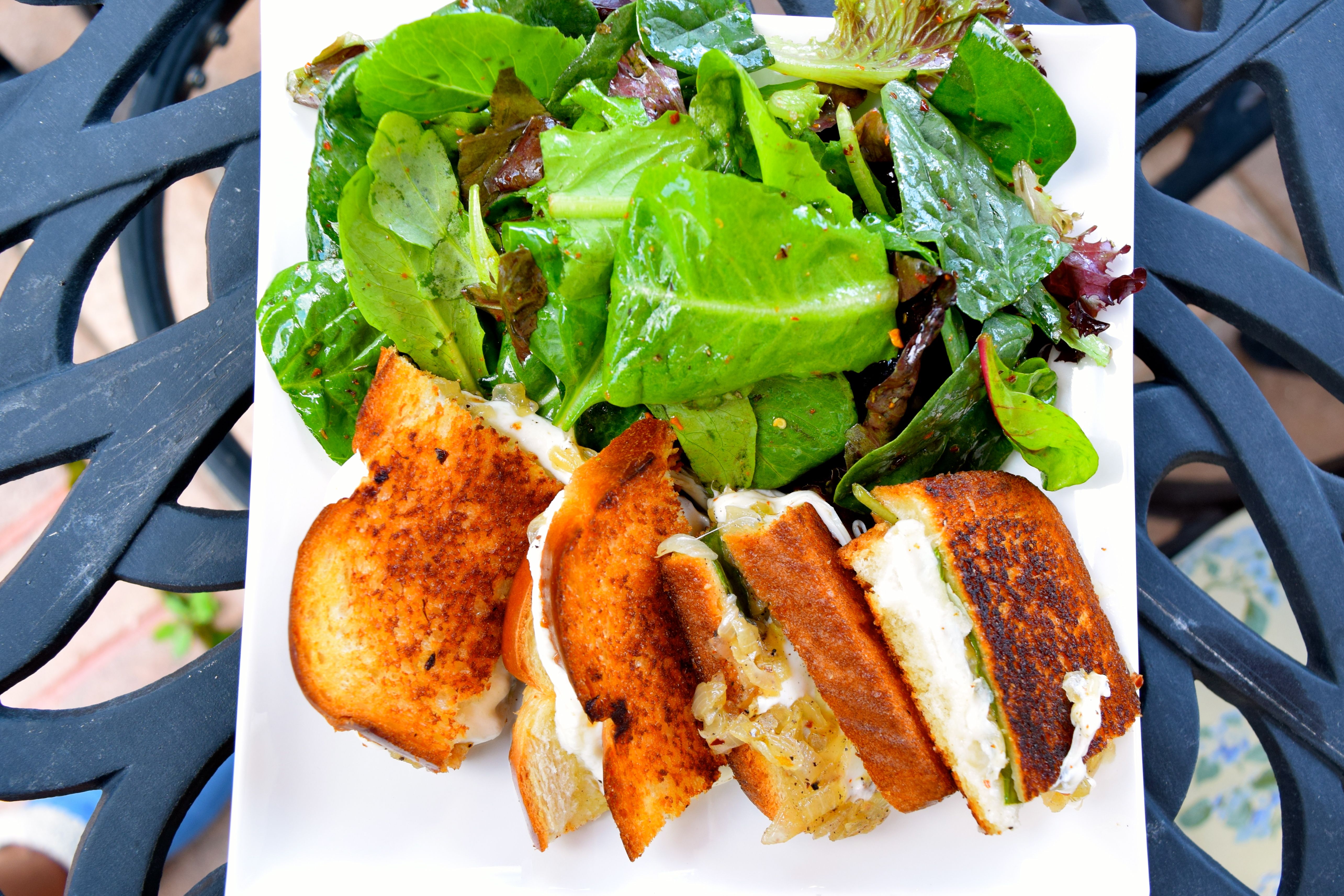 1. In a large bowl add all ingredients except for salad and oil. While whisking, drizzle in olive oil until dressing emulsifies. Toss in mixed greens, and set aside until ready to serve.
1. In a medium non-stick skillet, place over medium-low flame, and heat 1 tbsp of olive oil. Add in 1 tbsp butter and swirl around in olive oil until it starts bubbling. Add in the chopped onion. Saute for 1-2 minutes. Sprinkle with a hefty pinch of salt and black pepper. Reduce flame to low, and saute for about 10-15 minutes. Onions should become lightly golden brown and caramelized looking. Remove from heat and let cool.
2. Place 2 slices of bread on the cutting board. Spray or butter one side then flip over. Using the same pan that you cooked the onions in, place over medium-low flame. Add one of the butter sides down in the pan (no need to add oil or spray, as there is residual grease from the onions). Place down 2 1/2 slices of fresh mozzarella, 1 hefty tbsp of caramelized onions, sprinkle of red crushed pepper and black pepper, and 3-4 basil leaves (depending on size). Add the other bread slide, with the butter side facing up. Flip after about 2-3 minutes, or until golden brown. Cook on the other side for 2-3 minutes until golden brown and cheese is melted. Remove and cut into 4 quarters. Repeat with the additional 2 slices of bread.
3. Serve with salad.
ENJOY your cheesey goodness!