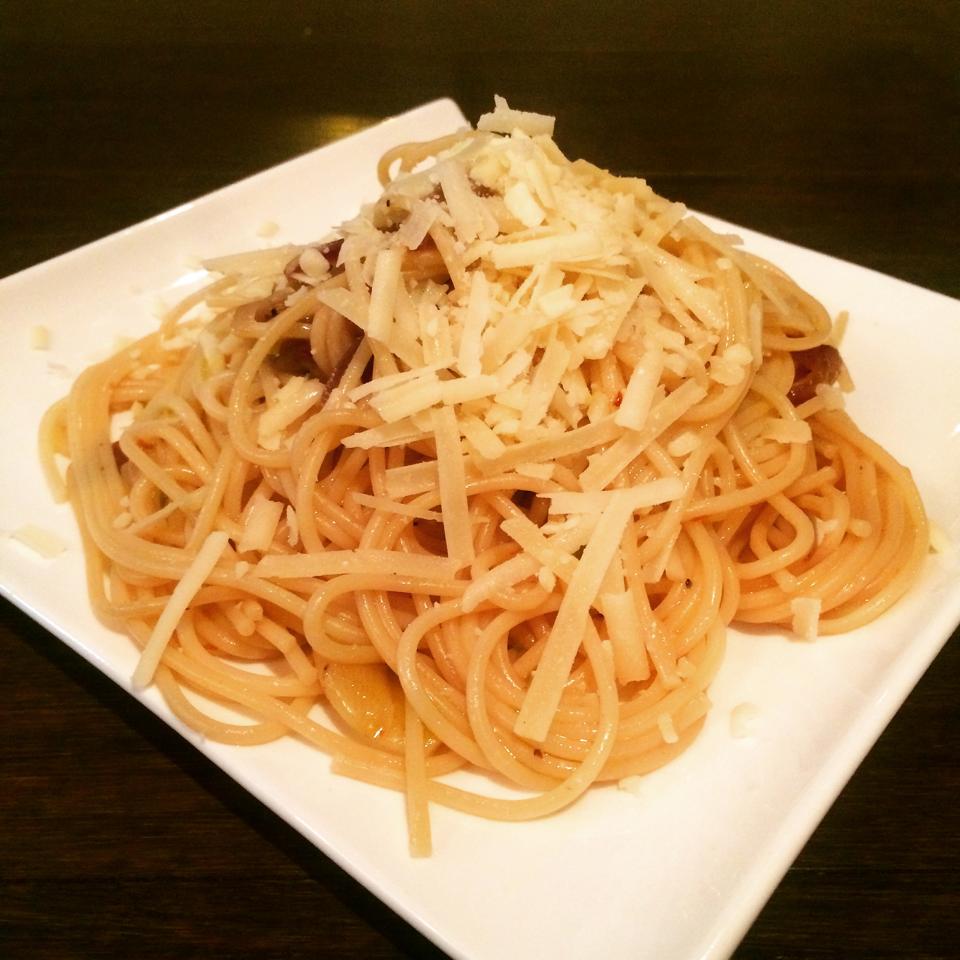 I think if someone asked me what my favorite simple pasta dish was I'd probably say Oil n' Garlic (or vodka or pesto or pink sauce, etc etc..EVERYTHING). No, but really – I love Oil n'Garlic pasta. It's garlicky, and smooth and when topped with parmigiana cheese -adds just the right amount of salt. One night my mom and I were craving some, so I whipped up this simple dish with the addition of caramelized onions.
Oil n' Garlic Spaghetti with Caramelized Onions:
1 large white onion – thinly sliced
2 tbsp olive oil
1 tsp sugar
sprinkle of salt
couple tbsp olive oil – good quality
4-5 cloves garlic – lightly smashed
red crushed pepper
1/4 box of Thin Spaghetti
1/4 cup shredded parmigiana cheese
good extra virgin olive oil
1. In a medium non-stick skillet, heat the olive oil over medium-low flame. Add the sliced onions and saute. Once the onions start turning translucent, reduce the heat to slightly above low and continue to cook. Sprinkle in a pinch of salt and the 1 tsp of sugar. You want to cook these onions for about 10-15 minutes until super soft and golden in color like caramel. Remove  from the skillet and set aside.
2. In a large pot bring water to a boil – sprinkle with a generous amount of salt and add a tsp of olive oil. Boil until al dente, then strain, but reserve the starchy water. Set aside.
3. In the same medium skillet, add a touch more olive oil and set over medium-low flame. Add in the garlic cloves and red crushed pepper. Saute for a 1-2 minutes until fragrant. Add in the cooked pasta and a couple of tbsp of the reserved pasta water. Toss and add in a little more reserved pasta water if it seems to be getting dry. I added about 1/4 cup of the water in total. Toss in the reserved caramelized onions and the parmigiana cheese. Toss and place in a serving dish and top with more cheese. Serve!
Serves 2-3 (or 1 depending on how hungry/hangry you are)