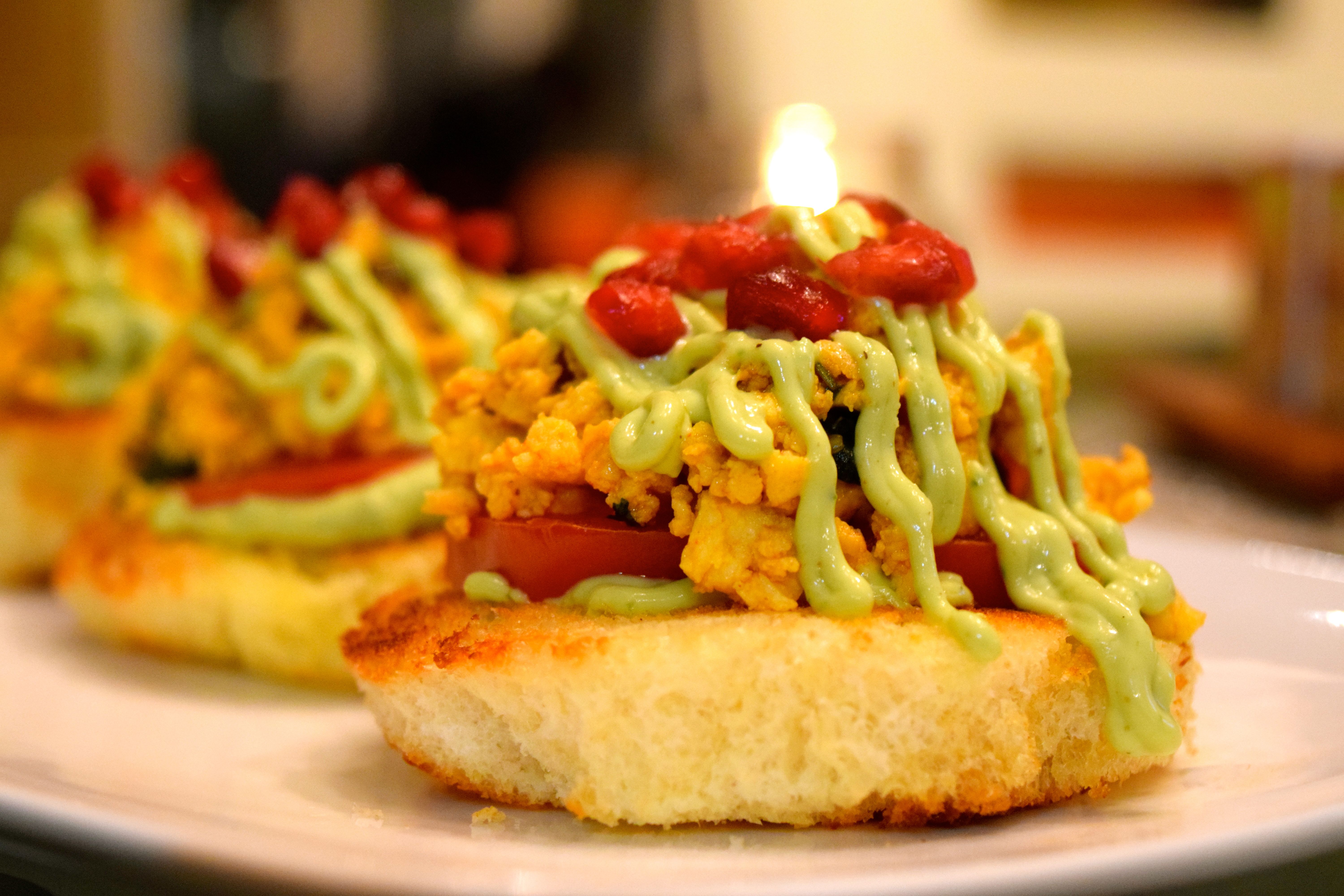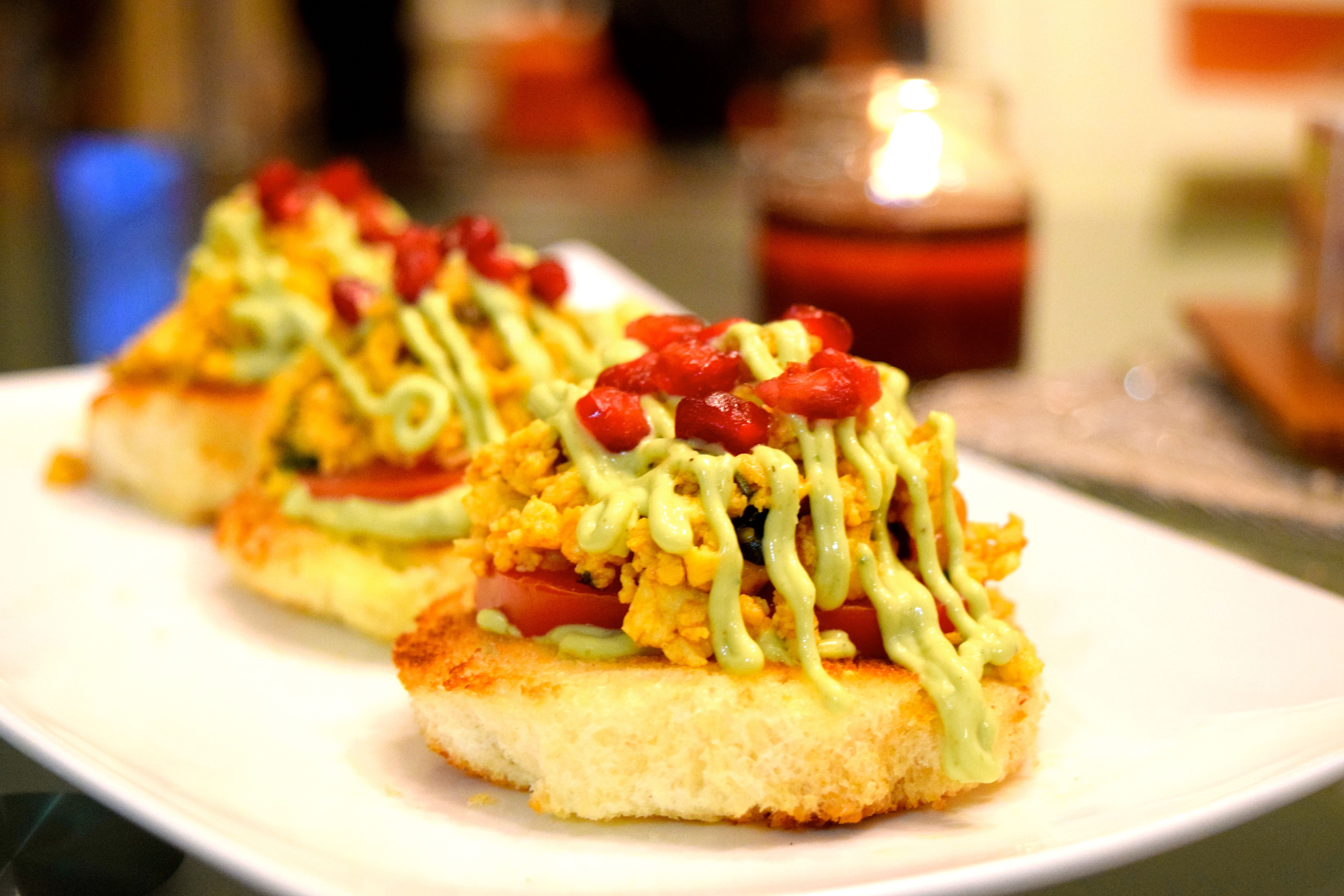 We had a little family gathering this weekend, and instead of making the usual appetizers, I decided to create something with food/ingredients that we already had in the house. The day before my mom had made an Indo-Chinese paneer manchurian, and we had tons of leftover. I also noticed that we had  pau or Indian buns, pomegranate, and avocados. I wanted to combine these ingredients, so I kind of just threw all this stuff together, and it came out great! I think this recipe is great as an appetizer, lunch, or snack! You can also make different variations, like sub in mint instead of coriander, or use tamarind chutney instead of the avocado cream. Enjoy!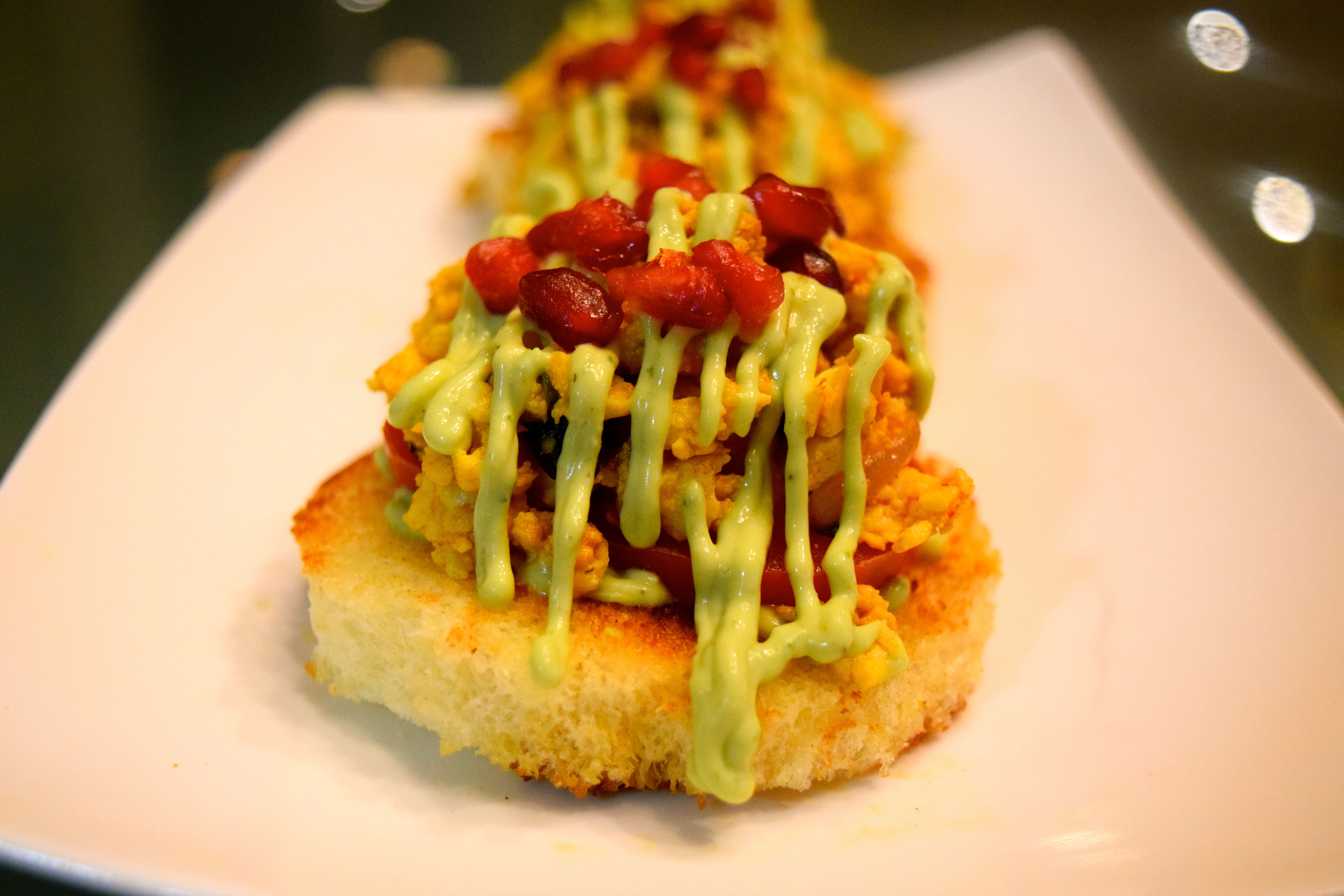 Indo-Chinese Paneer:
1/2 package paneer – crumbled
1/2 white onion – finely diced
handful fresh coriander – chopped
red chili paste
vegetable oil
1 tsp turmeric
salt
pepper
1 tsp fresh grated ginger
2 loves garlic – minced
2 dried red cayenne chilies
Avocado Cream:
1 avocado
2 tbsp reduced-fat sour cream
1/4 cup lowfat buttermilk
1 tsp ground cumin
salt
pepper
1 tsp lemon juice
pinch of lemon zest
1 jalapeno
1 tbsp fresh chopped coriander
2 tbsp vegetable oil
Open Faced Paneer Sandwich:
1 package Indian Pau Bread or 8 slices of white bread
1/4 cup pomegranate arils
1 Roma tomato – sliced into 8 relatively thin slices
1 tsp chat masala (optional)
PAM Spray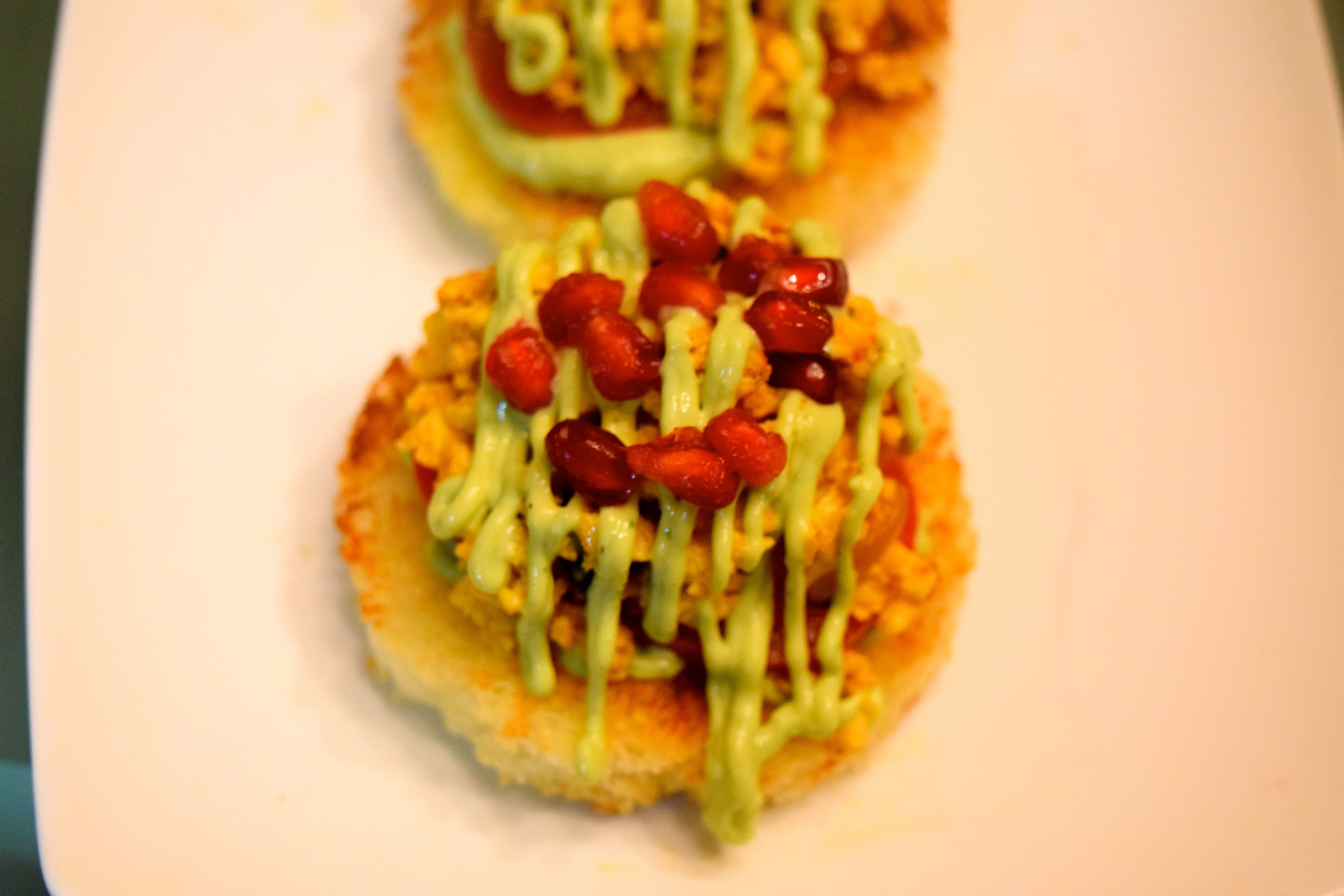 The Paneer:
1. In a medium saute pan, add in vegetable oil (about 1 tbsp), add the onions, garlic, ginger, and chilies. After about 2 minutes, add the paneer, red chili paste, turmeric, salt, and pepper. Saute for about 5-8 minutes, until paneer is softened and coated completely with masala. Taste for salt and seasonings. Remove from the heat, and add the fresh chopped coriander.
The Avocado Cream:
1. In a blender, add all of the ingredients, and blend until completely smooth. Place in an air tight container and in the fridge until ready to serve.
Open Face Sandwich Assembly:
1. Take the pau (or slices of bread), and using a small bowl or a 4 inch cookie cutter, cut out 8 circles – if using pau, cut each circle in half to create 1/2 inch thick circle pieces.
2. In a large pan, spray with PAM and place the circular pieces of bread in the pan and toast both sides until golden brown. When you take them out of the pan, immediately sprinkle with chat masala.
3. Dollop about 1 tbsp of avocado cream on each slice, top with a slice of tomato, then carefully top with a generous amount of paneer. Drizzle with more avocado cream and sprinkle with pomegranate arils. Serve immediately.