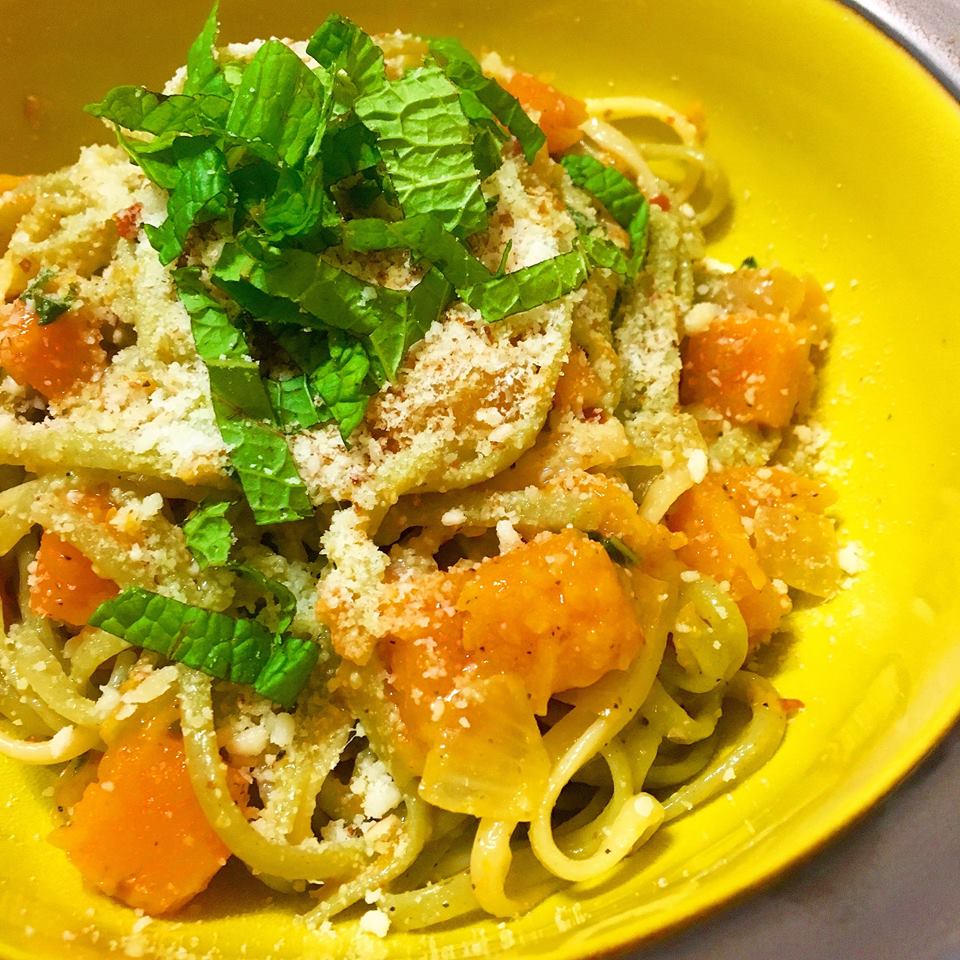 Pumpkin Linguine:
1 1/2 cups cubed fresh pumpkin – peel taken off, cubes should be 1/2 inch big
2 cloves garlic – minced
1 medium white onion – diced
red crushed pepper – to taste
salt
black pepper
handful fresh mint – roughly chopped
1/4 cup natural, unsalted almonds – processed until the consistency of parmigiana
2 cups Spinach/Regular Linguine
Olive Oil
PAM Cooking Spray
1. Set a large pot of water over high flame, drizzle with a little olive oil, sprinkle with salt and bring to a boil.
2. In a large saute pan, spray with PAM and drizzle a tsp of olive oil. Place over medium flame. Add in garlic and red crushed pepper. Saute for 30 seconds, then add in the diced onion. Saute for about 2 minutes until the onions begin to sweat (release their sweet juices). Then add in the cubed pumpkin. Continue sauteing.
3. While the pumpkin is sauteing, drop the linguine and boil as directed on package. Make sure to continuously mix around the pumpkin – you want to make sure all pieces are cooked evenly. Once the pumpkin is cooked (fork tender) and pasta is cooked, add the pasta from the boiling water directly into the saute pan with the pumpkin. At this point you should add in about 1/4 cup of the pasta water. This will create a sauce. Keep gently mixing around until the pasta is generously coated. You may have to add some more water – I added about 3/4 cup in total.
4. Once the pasta has reached your desired consistency, add in 3/4 of the chopped mint and stir well. Serve in individual bowls – should serve up to 3. Top with almond parmigiana and reserved chopped mint.
Enjoy!