This is not one of my traditional Restaurant Review posts, because I've actually never been here! Bantam Bagels – have you heard of it? I've eaten their food enough to know exactly how I feel about it, thus this review is warranted. My company so kindly provides us with breakfast 1-2 times a week, and it usually consists of bagels, cream cheese, egg sandwiches, etc. But one day I walked in to find these small balls, oozing with something that looked delicious. Each had a little description as to what flavor each one was. After reading the descriptions I realized they were bagel balls stuffed with cream cheese, and I was immediately excited! There were clear boxes nicely lined with parchment and these bagel balls sat in neat rows. I first decided to try the Everything Bagel filled with veggie cream cheese, cause who can go wrong with an everything bagel?! Let's just say I was in heaven.
Let me preface this review by saying that I don't have too many picture unfortunately, because one of two things happened; (1) they were so delicious that I ate them so quickly before even having a chance to take out my camera; (2) please refer to number 1.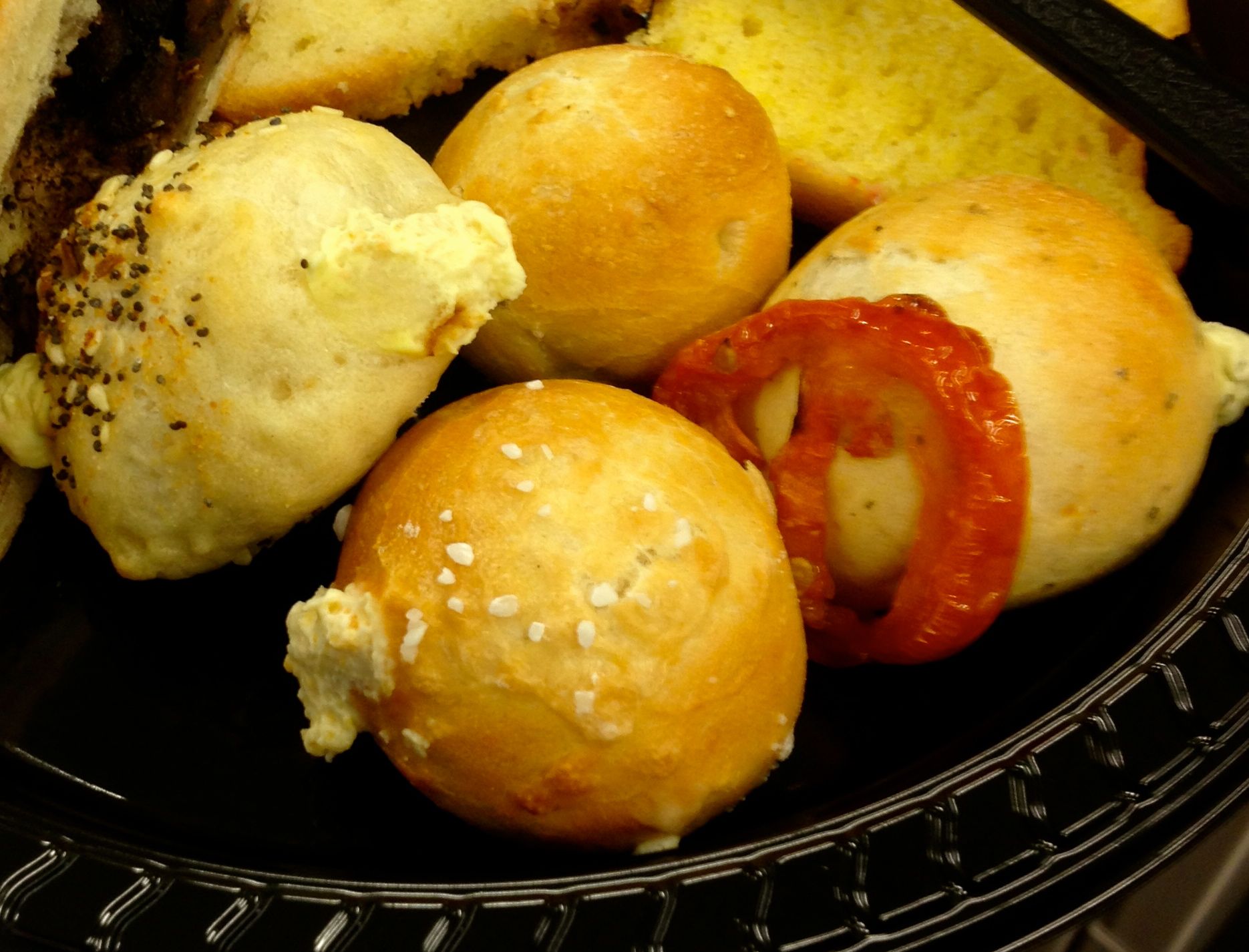 Here are some Quick Rates: 
Quick Rates (1-10, 10 being the best):
Food: 9
Beverages: –
Service: –
Ambiance: –
Price: 8
The only thing I can really rate is the food, because I have not been to Bantam Bagel, nor have I paid for it! But I've looked at some of the prices online, and it seems fairly reasonable to me!
I've tried a few flavors: Everything Bagel with Veggie Cream Cheese, French Toast, Italian Bagel with Basil Cream Cheese, Box Lunch, and Hot Pretzel.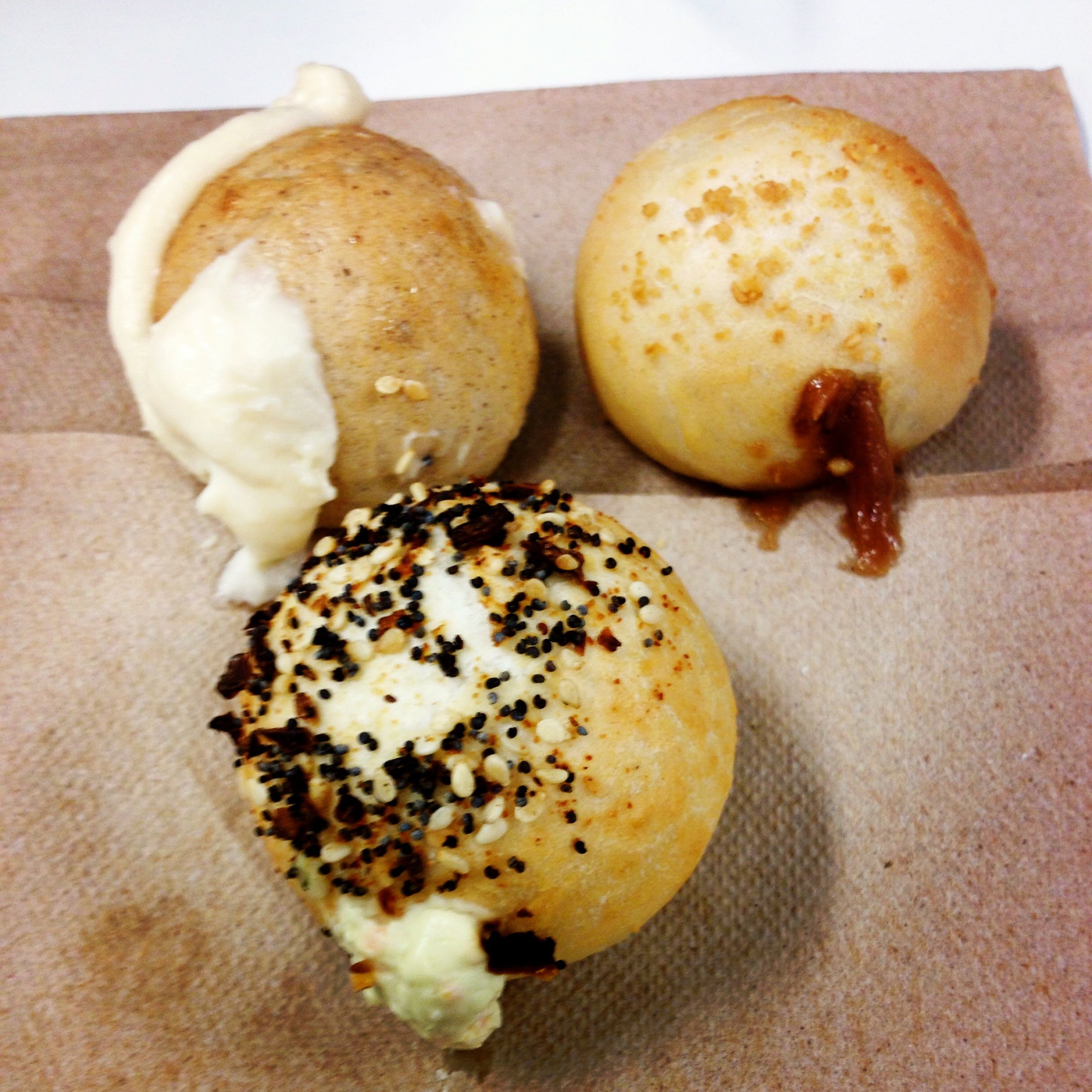 Among these my favorite was definitely the Italian Bagel –  the baked thin slice of roma tomato on top was delicious and the basil cream cheese was incredibly flavorful. I loved it – so much so that I requested work to order more of those the next time they order from Bantam Bagels!
So the question is – why do I liked Bantam Bagels so much? Well bagels have always traditionally been round, sliced open, toasted and slathered with cream cheese. And being born and brought up in NYC, I never imagined that there would anything different! But alas, I was wrong – Bantam Bagels is changing the way we eat and think about a NYC staple. They're fun, cute, easy to eat (that's obvious), and have endless possibilities in terms of flavors and fillings! I especially like the fact that they carry a vegan bagel, and I'm dying to try it!
I equally love the fact that the creator of Bantam Bagels used to be in finance! Ok, I totally figured this out through instagram, because there was a picture of her delivering Bagel Balls to Morgan Stanley labeled as "the old stomping grounds." Am I being creepy for doing that?! Anyways, I think that's really cool and inspirational for someone like me who's been working as a consultant/analyst for almost 3 years now, but my real passion is cooking.
If you haven't already tried these delicious balls of goodness, I strongly suggest make a trip out to Bleeker Street, and grabbing a few bagel balls at Bantam Bagels.
Maybe there's an Indian-inspired Bagel Ball in the works? That would be amazing and I'd love to collaborate 😉
Like this Review? Check out my other Restaurant Reviews!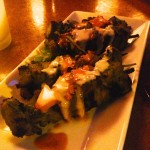 Restaurant Review: Candle 79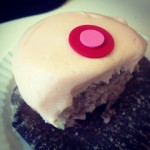 Restaurant Review: Sprinkles Cupcakes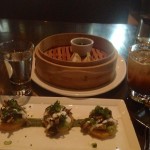 Restaurant Review: Zengo