Have you ever wanted to spend a weekend just eating and lounging? Heck, that sounds like every weekend for me, but I'm usually the one cooking and cleaning. It's nice to get out and have someone do the cooking and cleaning for me, and it's even better when they make me feel right at home – only thing missing were some pajamas and slippers!
I had this experience recently at a UES staple – it was a lazy Saturday, and my friend and I stumbled upon Infirmary. At a first glance, it was welcoming – large open windows, subtle jazz music, smiling staff, and not crowded. I think these are some things we take for granted when looking for a good brunch place in NYC. Seems as though every other place is large, loud, and drunk. Although that's fun from time to time, it's definitely not how I want to spend every weekend.  Before we get into details, here are my Quick Rates:
Quick Rates (1-10, 10 being the best):
Food: 8
Beverages: 9
Service: 9
Ambiance: 9
Price: 6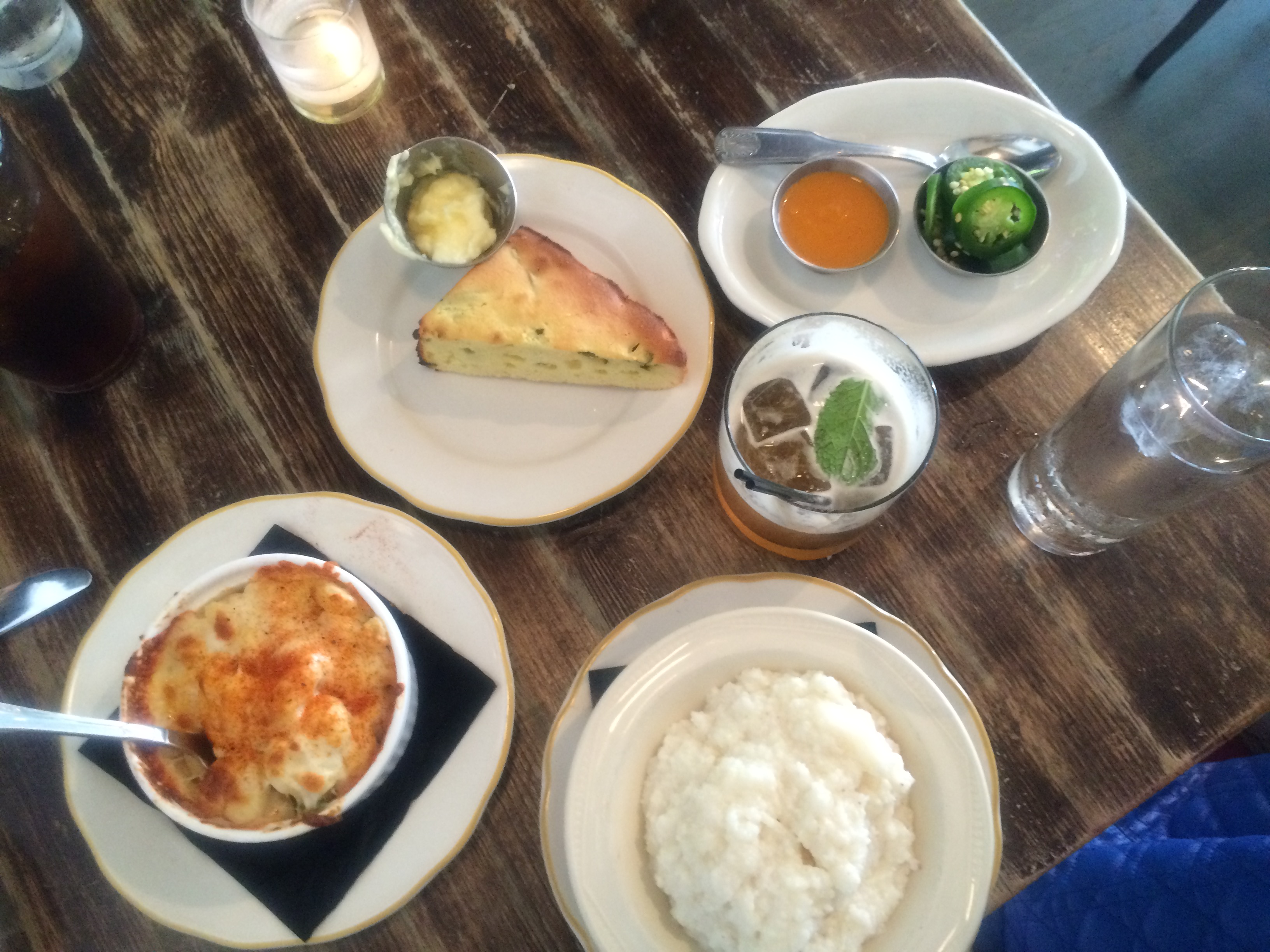 Ready to take a trip down to New Orleans?
Ambiance: I simply loved it – open space, worn wooden floor, lavish bar, and best of all – a live jazz band! One thing I will say, there was some super cheesy color-changing tube lighting around the bar – this can easily be removed to maintain the Southern/French flair. I also loved that the back portion of the restaurant was dimly lit and romantic, whereas the front was more open and playful.
Service: one word – fabulous! I must say, I am probably a restaurant's worst nightmare. Why? I'm generally always asking to tweak existing recipes, asking for chilies and spices, and even more annoying, complaining about the temperature. Every one of my demands was met with a smile – literally! I was cold, so they turned down the A/C; asked for spicy, so they gave me their homemade habanero sauce – yum! My friend and I spend hours there and the staff didn't make us feel uncomfortable for a second!
Beverages: Infirmary has a full service mocktail and cocktail menu! You can get any drink custom made, sans liquor! I wasn't in the mood for a boozy brunch (we may or may not have to blame that on the previous night' activities, hehe), so I custom made sweet tea with mint and lavender. Served in a cocktail glass, with a single cocktail ice cube, shaken to perfection, and made me feel super fancy! Loved this concept – now no one has to feel left out!
Food: Getting to the good stuff! Let's start of by saying that there is a wonderful selection of vegetarian dishes – so it made it that much harder! Tons of traditional Cajun and creole dishes – I wanted it all!
Baked Mac & Cheese – Four Cheese, Béchamel
When I think of Mac & Cheese, I picture a crusty top encasing a creamy heaven of macaroni, cheese, and all things delicious. I must say that's exactly what this was. Crusty and slightly spicy top and inside oozing with a creamy center. Loved the béchamel – adds flavor and texture and keeps macaroni moist. Also liked the presentation – small cast iron pot.
Aged White Cheddar Smoked Grits
Flavors in this were great – you can really taste the aged cheddar, but the texture was a bit too thick, to a point where if you didn't eat it right away, it became difficult to eat. I would have whisked in a bit more milk when making the grits, to maintain a creamier texture.
Jalapeno Cornbread
Portion on this was great – a huge wedge of thick cornbread. It was good, but a little too dry and I was disappointed that they used pickled jalapenos instead of fresh. I think fresh jalapenos would've added a brighter color and fresher taste. I liked that it was served with fresh whipped butter – just as how you should be eating cornbread!
Beignets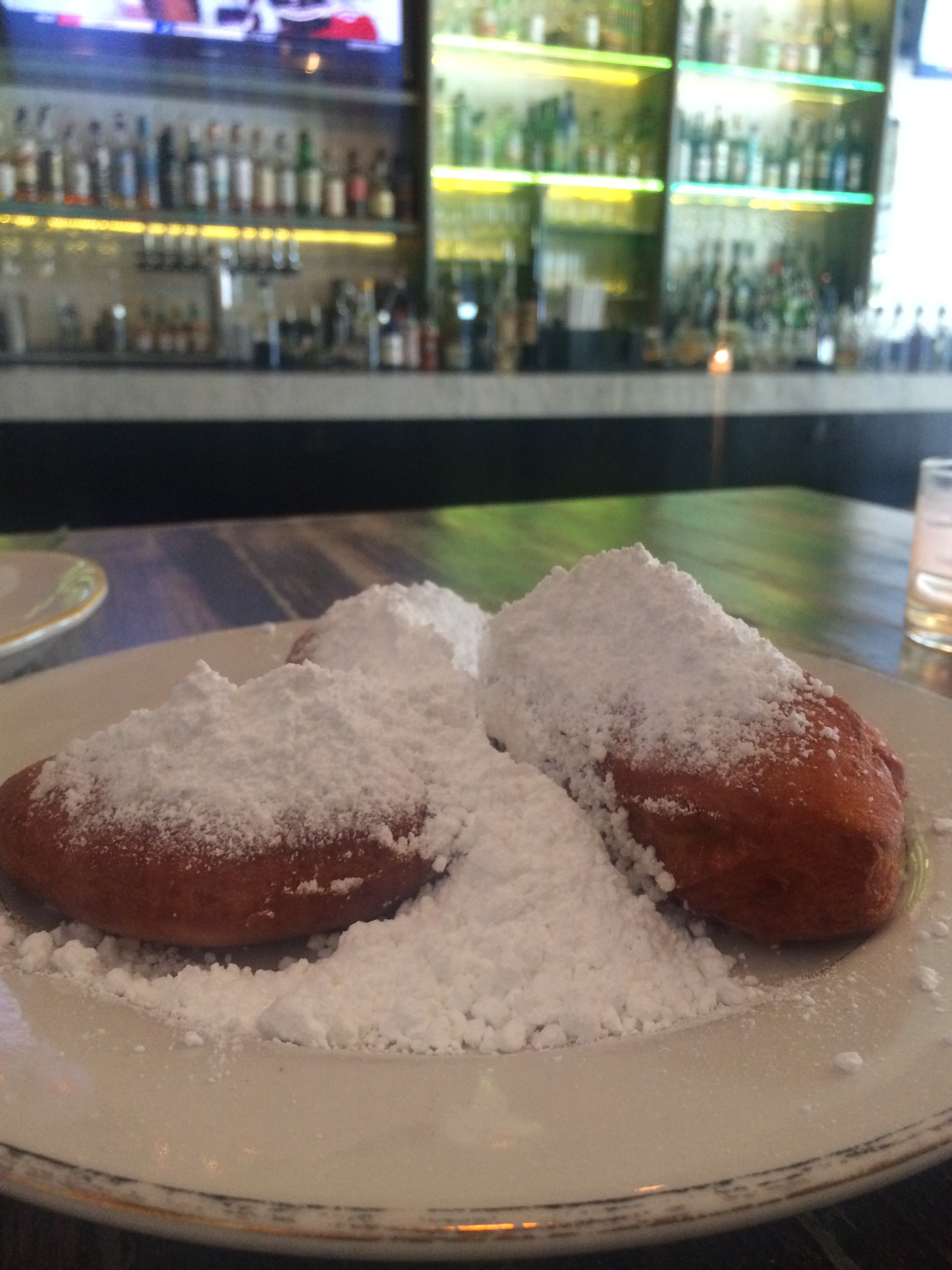 Okay, how could I come here and NOT get beignets?! Three delicately fried beignets, topped high with powdered sugar. Can we say sugar high?! I will admit, I have not eaten beignets from New Orleans, but I'm guessing these are the closest you can get to it. Crisp outside, fluffy and warm inside, rolled in all that delicious snowy sugar, was a delicious end to a fabulous meal.