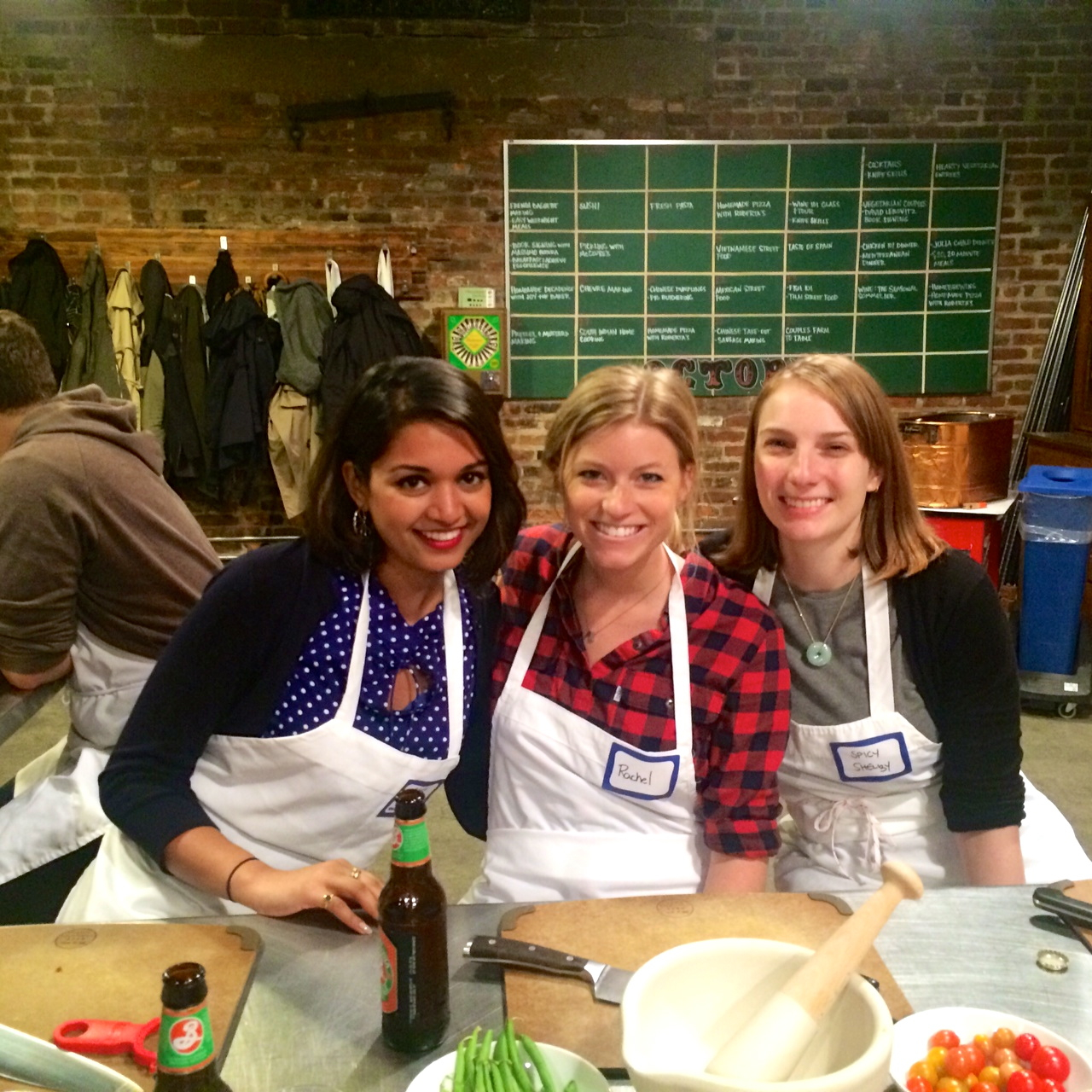 I recently left my job at VivaKi for a new opportunity. As I've mentioned in tons of other posts, I've become very close to my colleagues here and they are now my really good friends. As part of my several parting gifts, some of my friends surprised me with an awesome going away gift – a Thai Street Food Cooking Class at The Brooklyn Kitchen Labs in Williamsburg! I really wasn't expecting anything, as they all treated me to a super fun going away party, so this was truly the icing on the cake.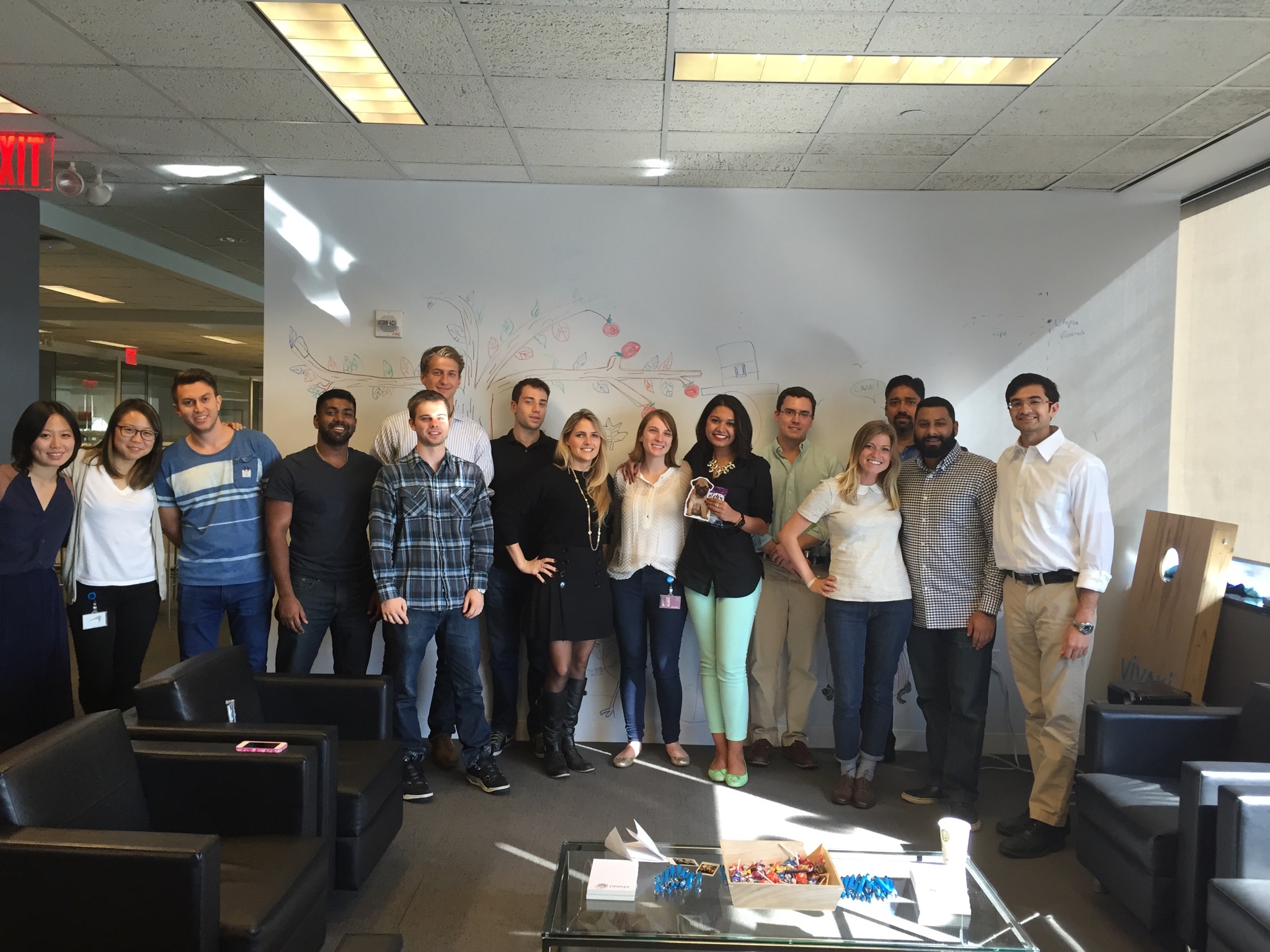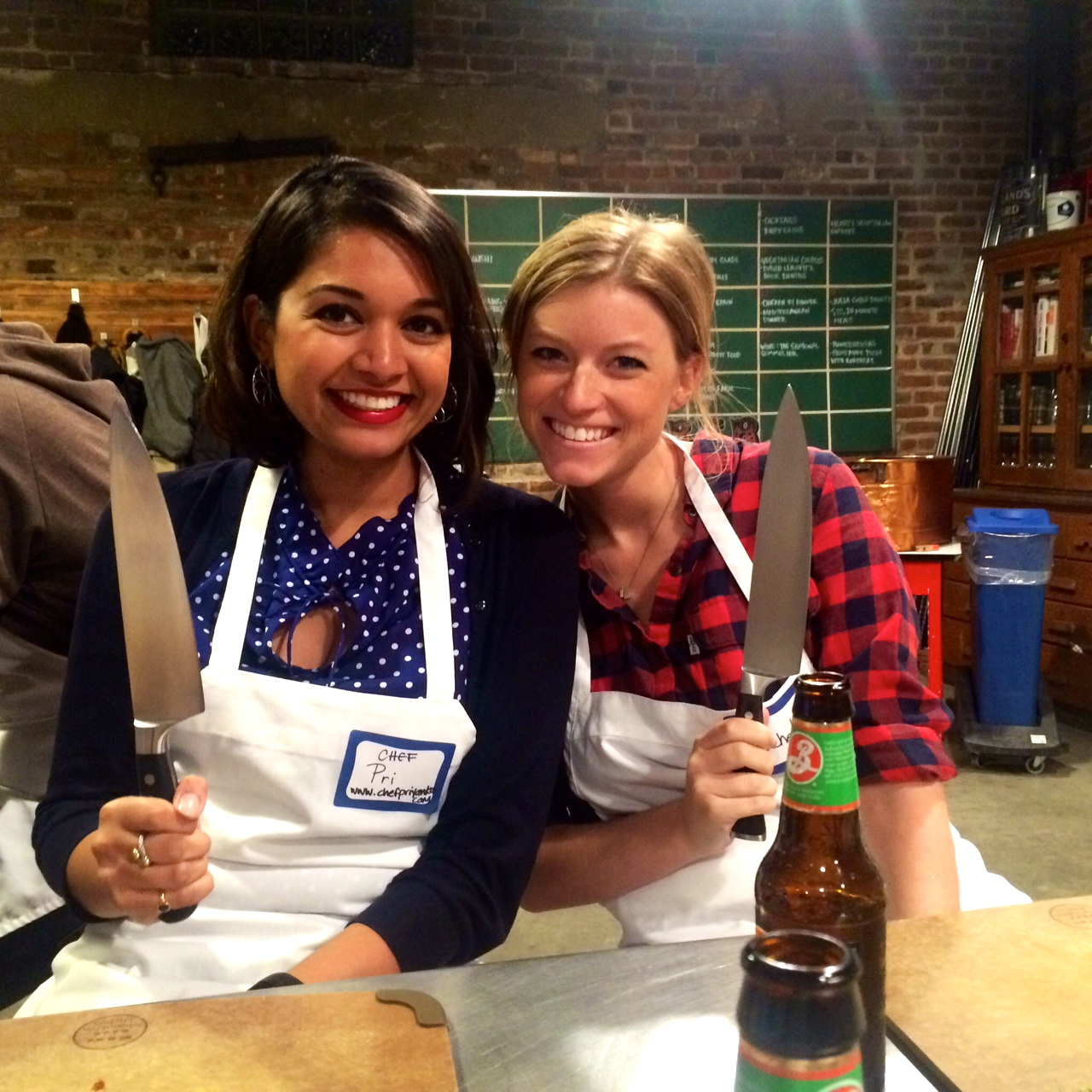 The class was scheduled during the last week of October, and actually happened to fall on the day of Diwali! Before I get into the details, here are some Quick Rates:
Quick Rates (1-10, 10 being the best):
Food: 7
Beverages: –
Chef: 6
Ambiance: 8
Price: -*
*This was a gift, so I cannot rate the price
The setting/ambiance was pretty cool. The Brooklyn Kitchen Labs is set within the Brooklyn Kitchen supermarket in Williamsburg. In the back, they have a full service kitchen, complete with individual work stations and beer. I loved the look – it was industrial, but still had some traditional elements, especially in the kitchen area. One thing I didn't like was the stove – it was electric. How can you have a cooking demonstration on an electric stove?! Must be a safety regulation, ugh.
We each had our own little work stations: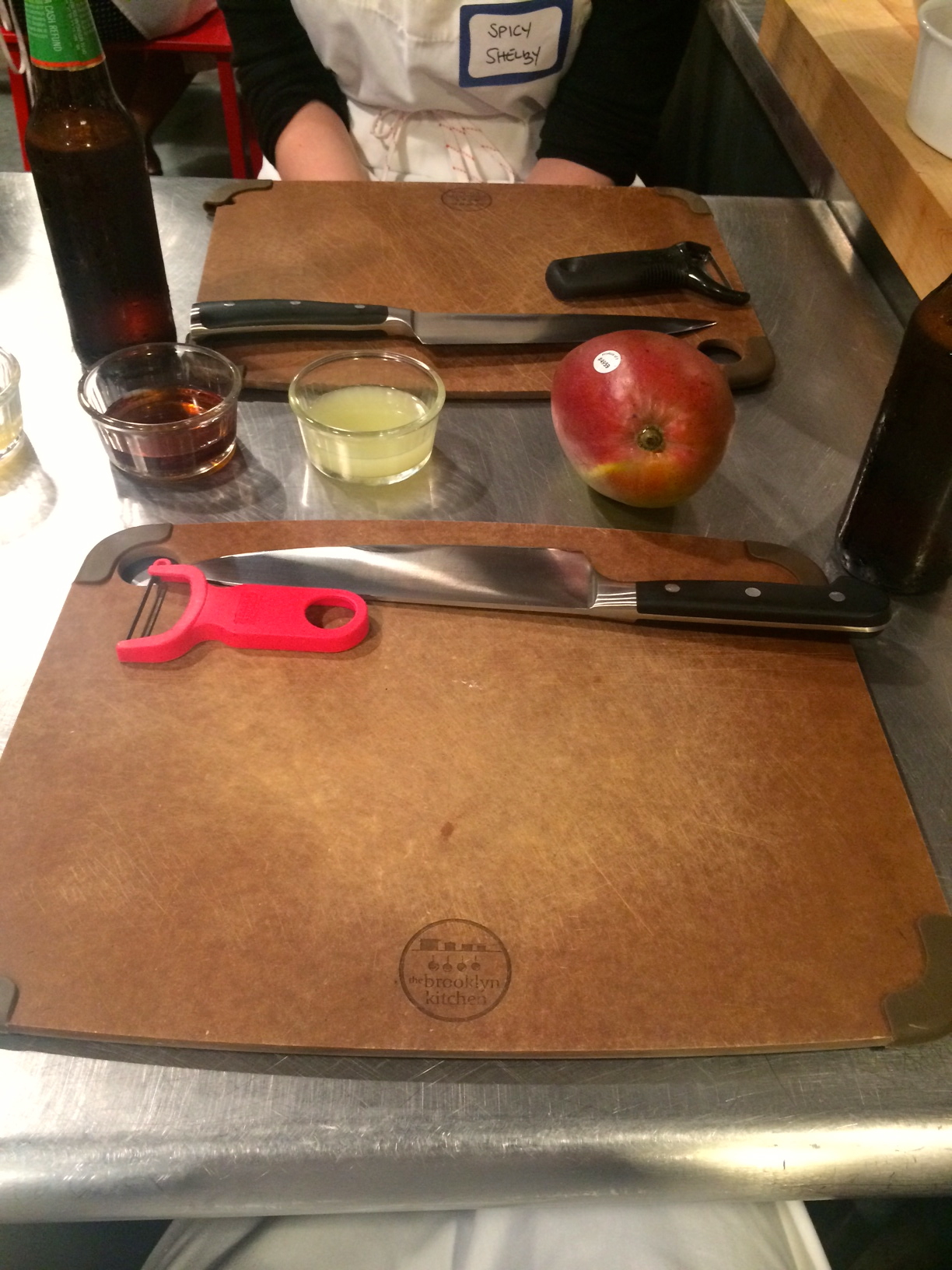 Chef Connie Sun:
I have to say, she wasn't the friendliest when we first met her – not really smiling, seemed like she didn't really want to be there, and wasn't very enthusiastic at all. While she was prepping everything for the demo, my friend and I had mentioned to her that I'm vegetarian and I was sorry that I didn't inform them earlier. She seemed a bit annoyed about this (naturally), and her sous chef (didn't catch his name unfortunately) was awesome, and brought in tofu from their market. Chef Connie Sun was nice enough to quickly marinate the tofu and provide me with my own pan, bowls, spatulas, etc to make the vegetarian equivalents to each dish. Although she was accommodating, it just seemed like she didn't want to do it or be there. She didn't properly introduce herself – I didn't even know if she was self-taught, trained, owned a restaurant, etc. She just kind of got into the cooking. While I was making my tofu dish, I actually took the initiative to ask her if she owns a restaurant and what she does regularly. I found out that owned a catering company, a stand at Smorgasburg, and taught cooking classes. She was obviously very accomplished and knew what she was doing.
Appetizer:
Papaya Salad
Apparently they couldn't find raw papaya, so they substituted it with mango. Except, the mangoes were too ripe – I asked them why they didn't get raw mangoes instead, and they said they couldn't find them. The salad was good and very easy to make, but I do wish the mangoes weren't as ripe as they were, because they were beginning to get mushy. I also don't think peeling a mango with a peeler as Chef Connie instructed us to do, is the best way to handle a mango. I must say, the salad was sweet, spicy, and a little sour and I really enjoyed it, especially the crunchy peanuts.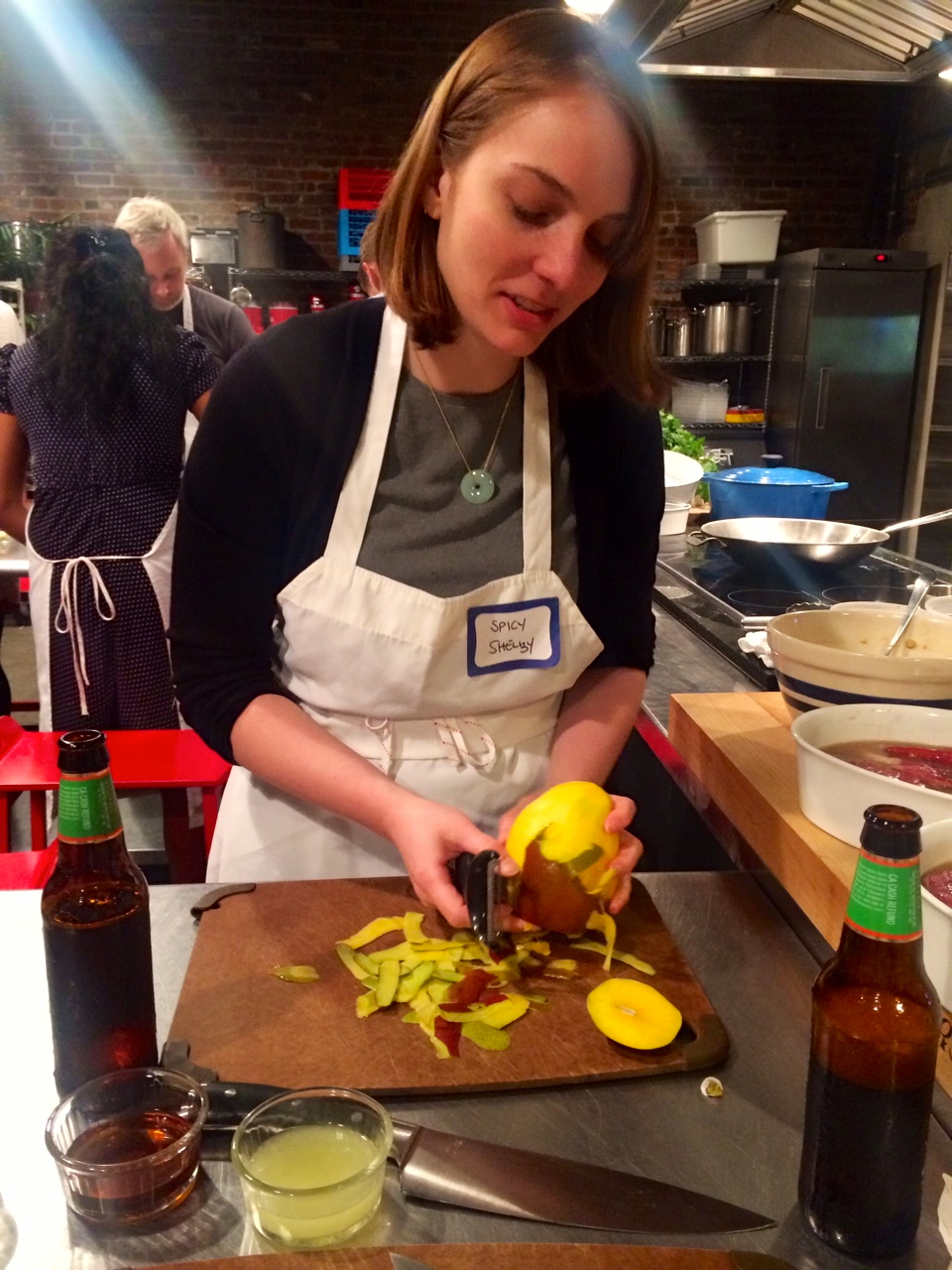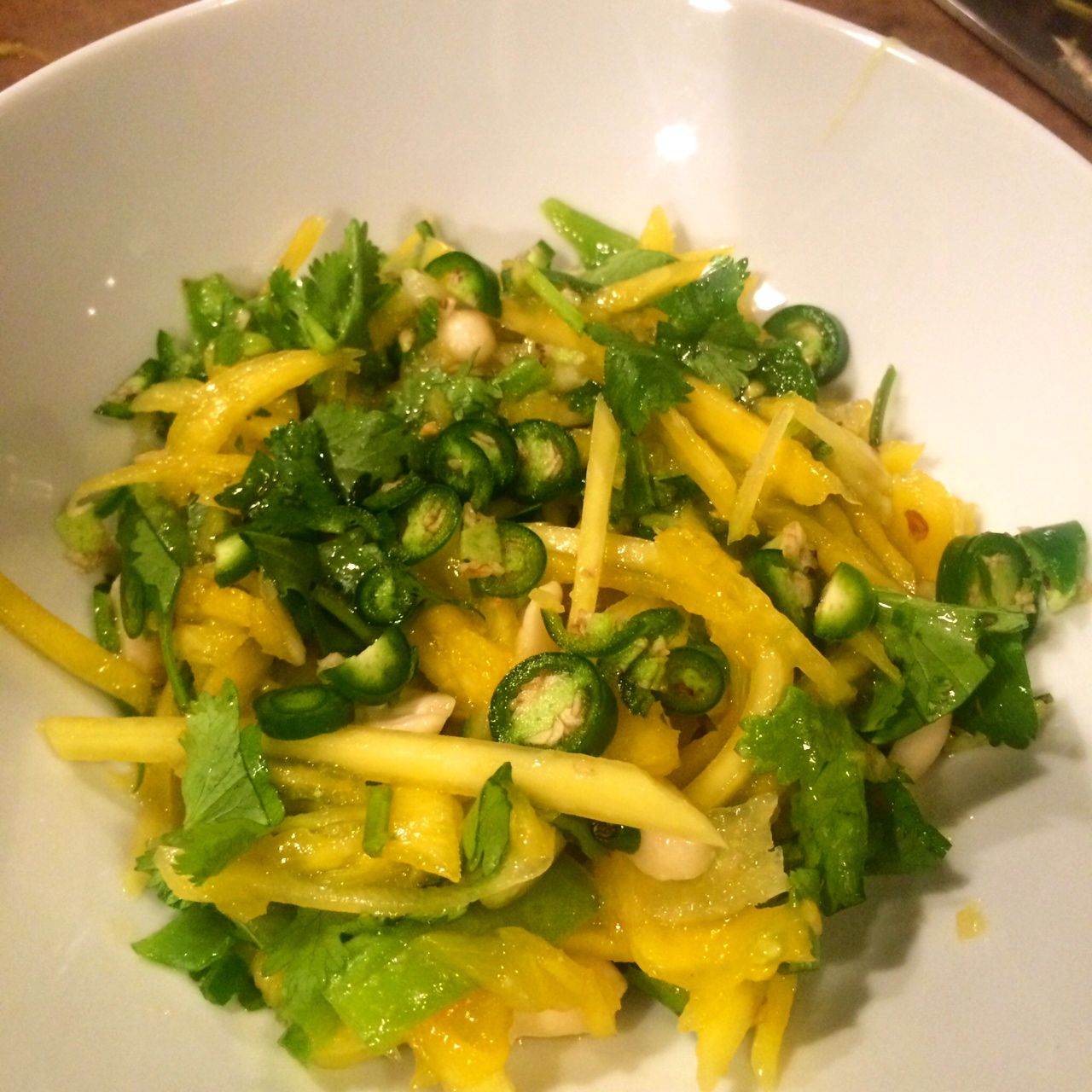 Lettuce Wrap
This dish was originally made with seared flank steak (I think), but I used my marinated tofu for this. I think this was my favorite dish. I would probably marinate the tofu in something else besides soy sauce, but it was a very good dish nonetheless. Basically its sautéed tofu with toasted crushed jasmine rice, toasted sesame seeds, lime juice, palm sugar, coriander and mint. On a nice leaf of butter lettuce, you place steamed jasmine/basmati rice and top it with the sautéed tofu and top it with a Thai basil leaf. It was really good, but I would definitely make some sort of dipping sauce to go along with it.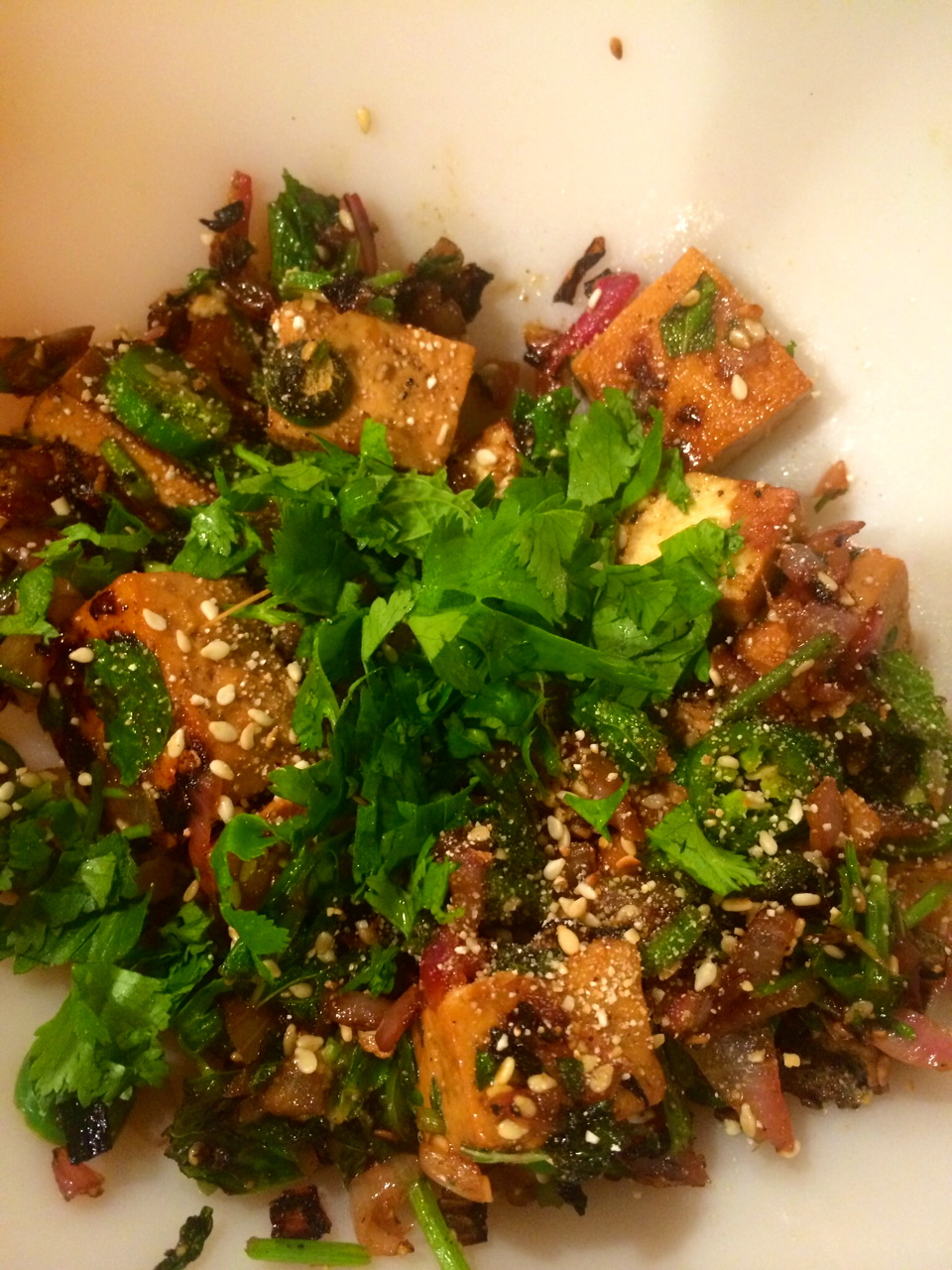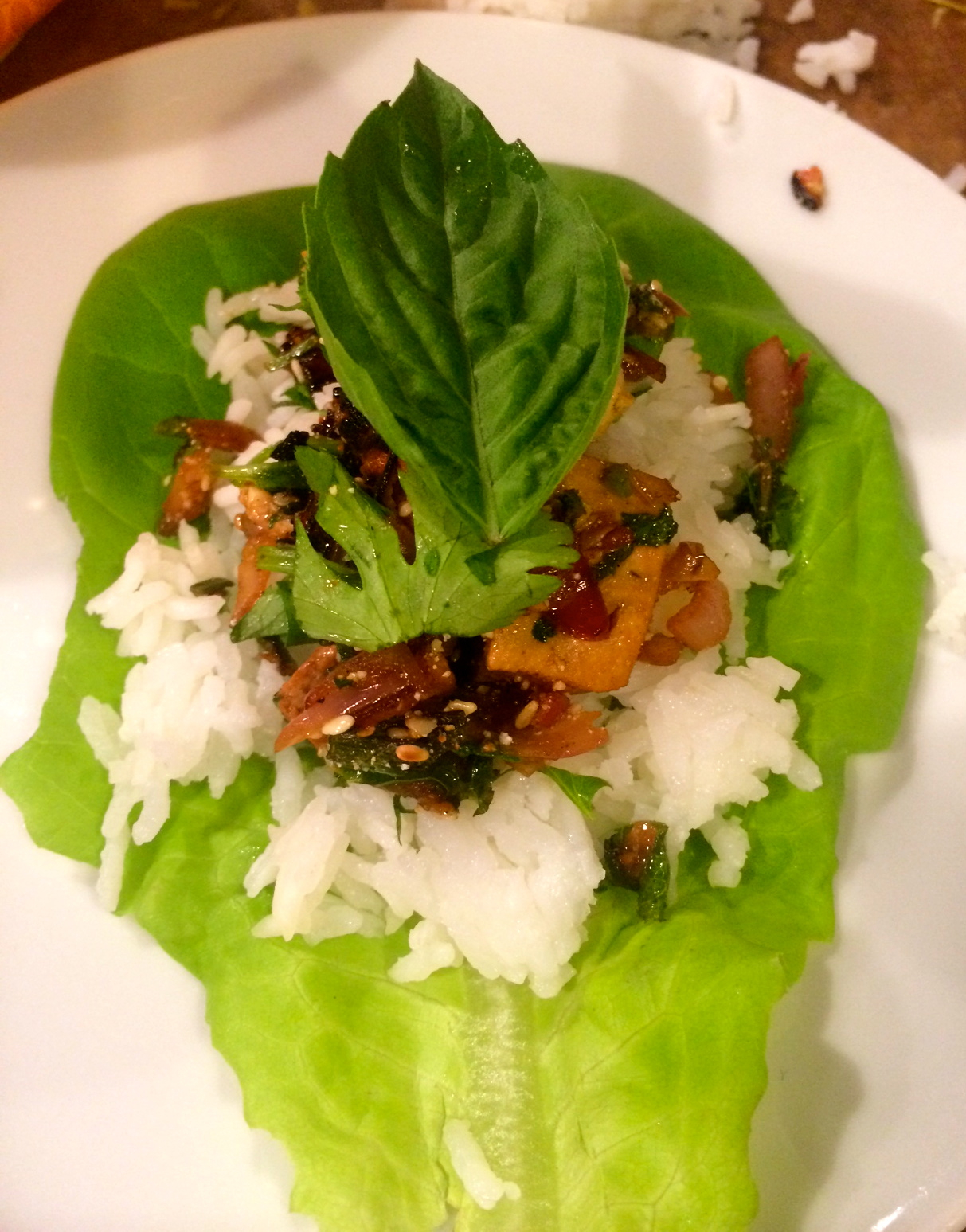 Entree: 
Drunken Noodles 
This dish was originally made with marinated pork, but I used my marinated tofu again for this dish. So I thought this dish was a bit boring, it was good, but it tasted very similar to the lettuce wrap. We used some Chinese broccoli and eggs in the dish, which I liked, but I definitely would've liked more of a variety of flavors and vegetables. But I loved that we made this, because it gives me some ideas on how I can make variations at home.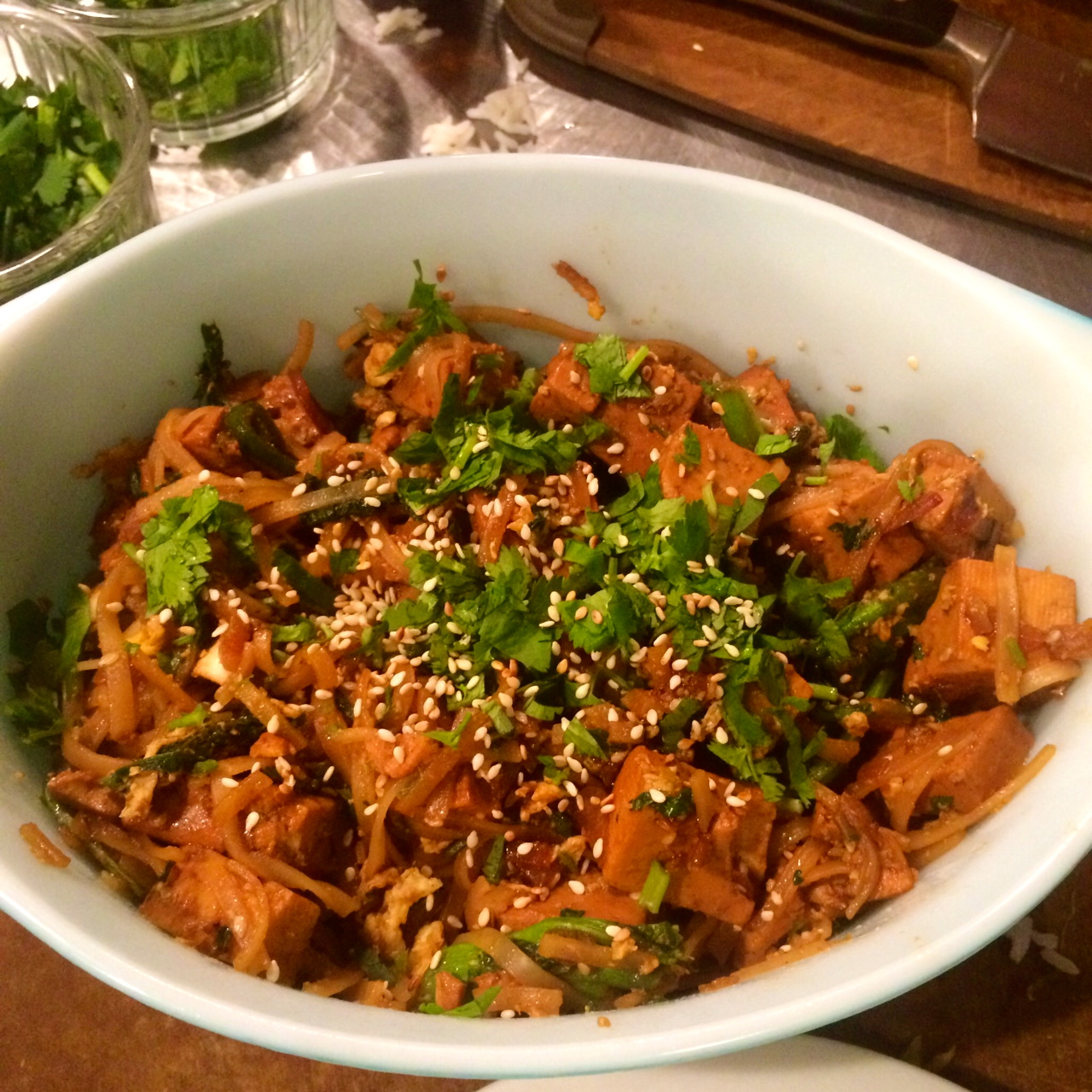 Dessert: 
Coconut Rice
Okay, so I must say that this dessert was pretty anticlimactic. I thought we were going to making Mango-Coconut Sticky rice, but I was wrong. All the dessert was was steamed Jasmine Rice mixed with canned coconut cream, and drizzled with canned sweetened condensed milk and fresh cut papaya, mango, and pineapple and chopped fresh mint. I honestly wasn't a fan, because I think I was just expecting something more authentic if that makes sense. I also was super full by the time we got to dessert, so I didn't eat very much of it.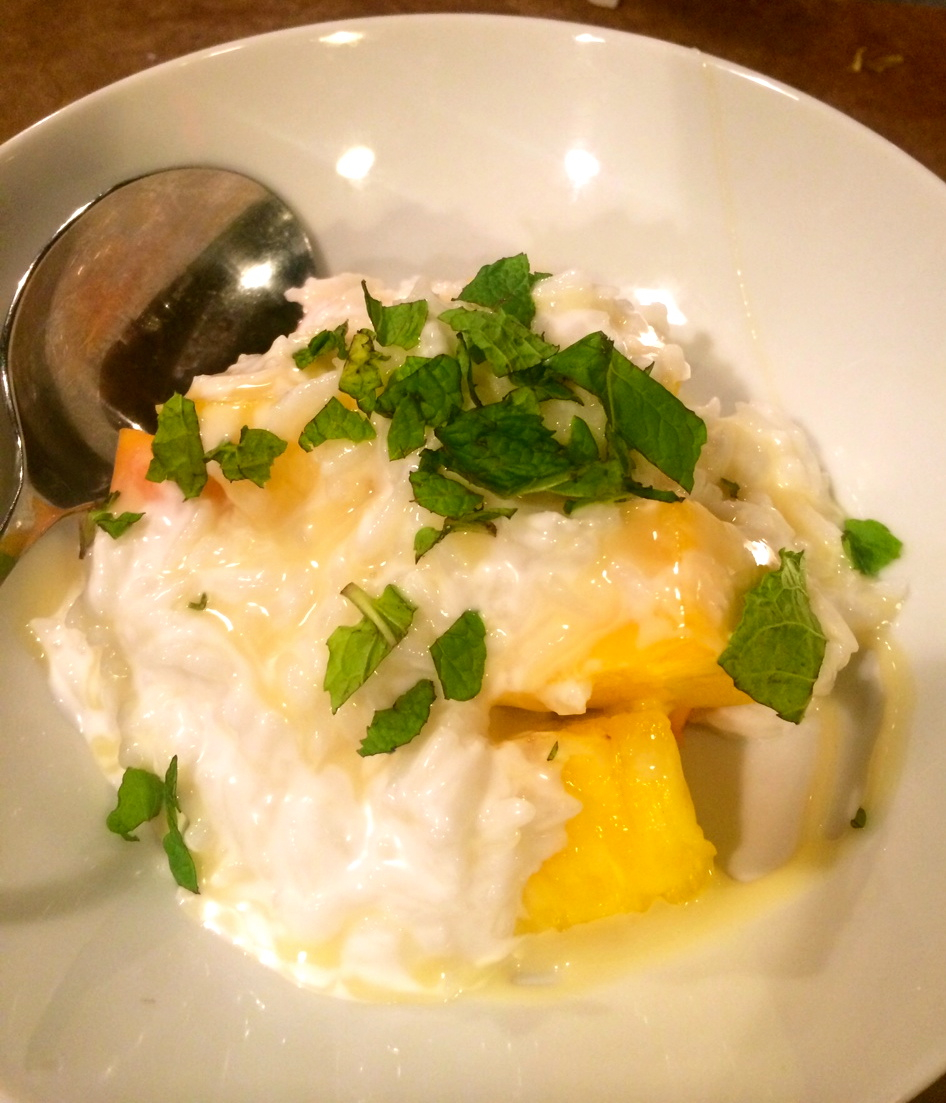 All-in-all it was an awesome experience and I think it's great for people who don't get in the kitchen often. The ingredients were really high quality and I loved the environment. I thought it was a great class, I just wish Chef Connie was a little more enthusiastic.