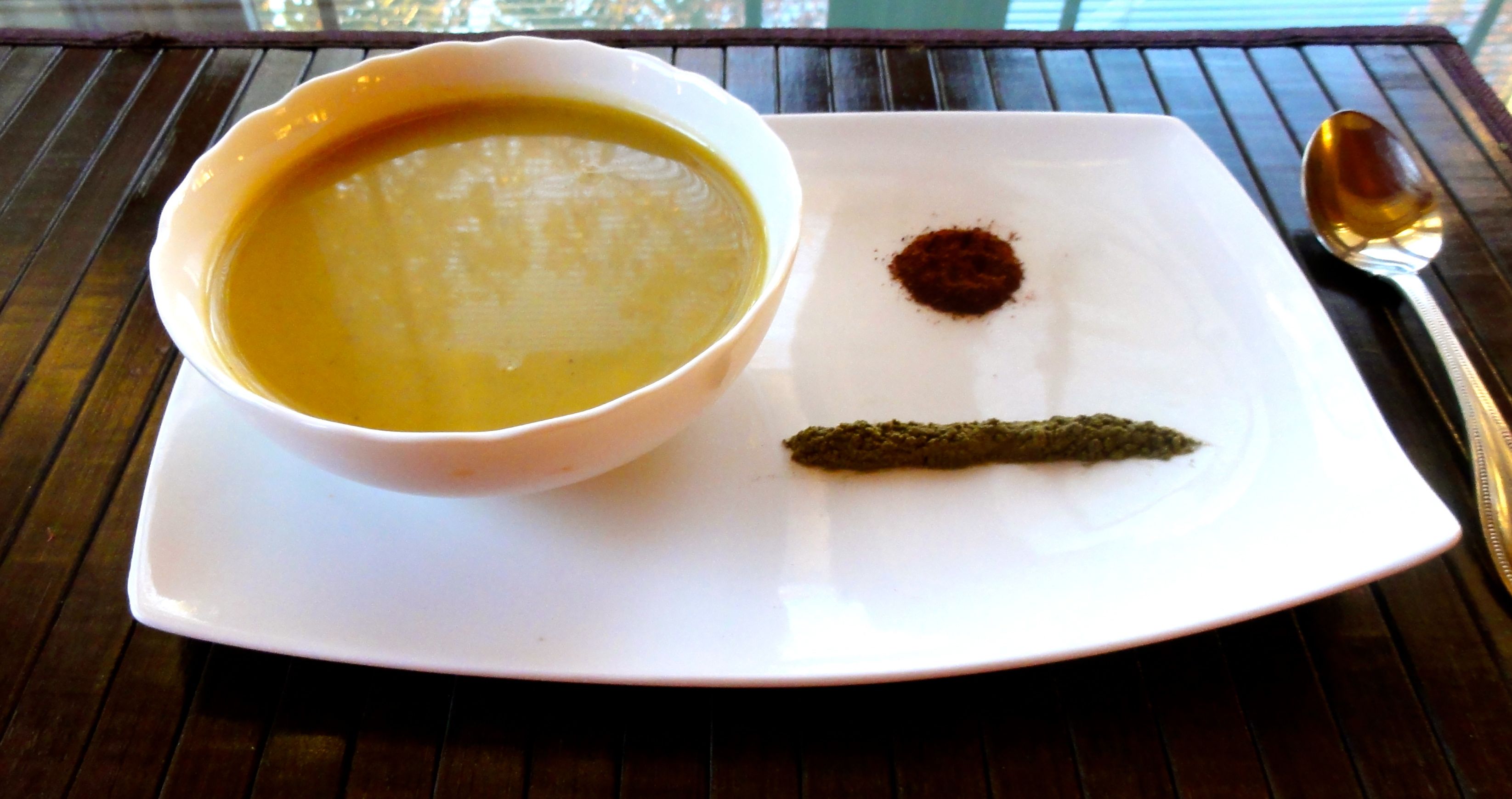 Autumn just screams warmth, comfort, and soup! I love diving into a bowl of a warm and creamy soup, and I feel that all of the vegetables during this season are perfect for soup! The other day there were a variety of squashes on in the grocery store and I decided to buy a couple of them. I love squash and anything in the gourd family. I think squashes are extremely versatile – they can be sautéed, roasted, baked, pureed, anything really! I knew when I bought the squashes, I wanted to make a soup. Preferably something creamy, spicy, and zesty. This led to me and my mom making a Roasted Two-Squash Soup. Using a combination butternut squash and acorn squash, we created a delicious, smooth, creamy, and spicy soup.  The smooth and buttery texture of the butternut squash and the flavorful and more savory flavor of the acorn squash makes for a great combination. The soup itself has an amazing consistency and is packed with so much flavor that it doesn't require he addition of croutons.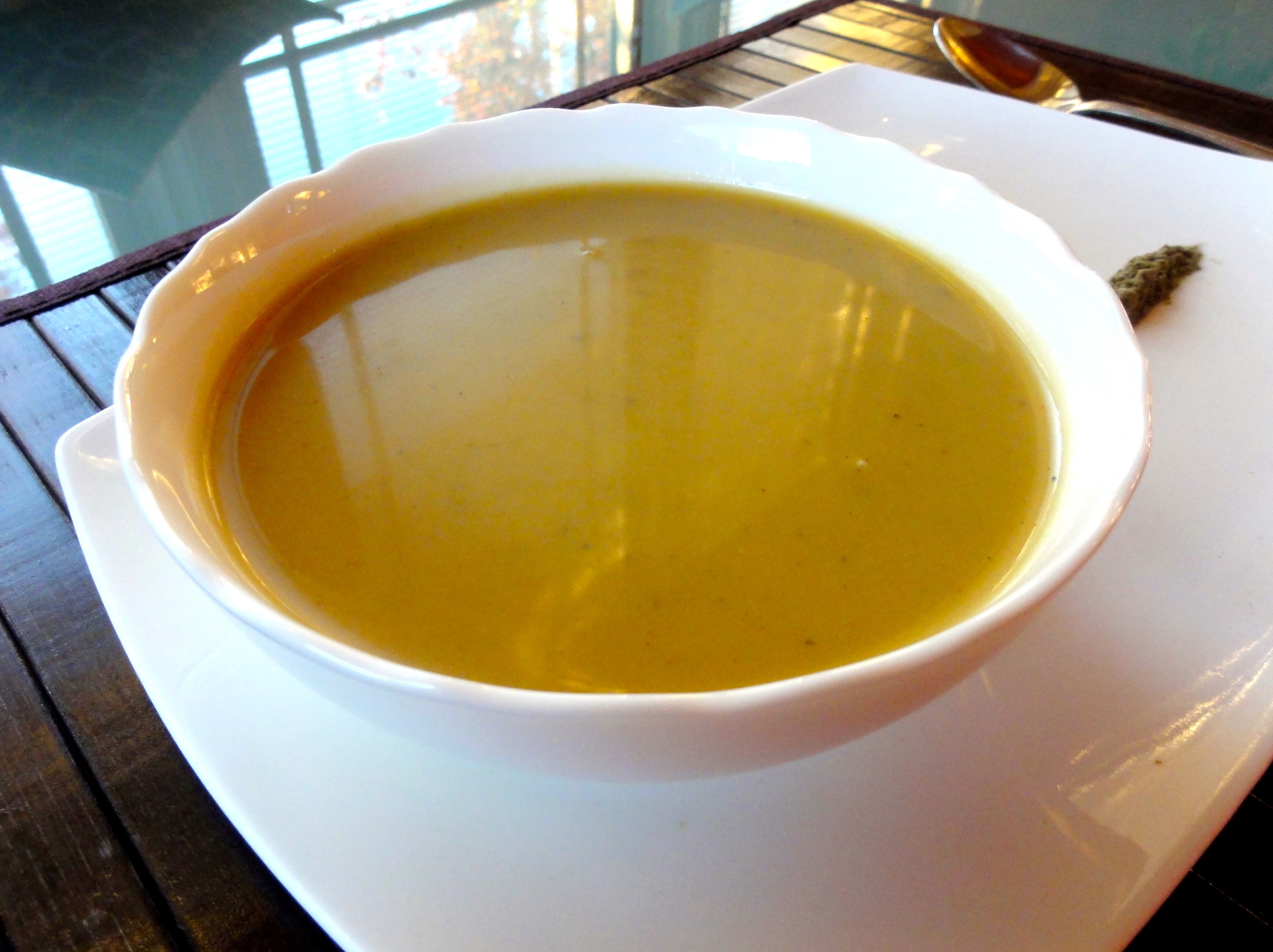 Roasted Squash Soup:
1 whole butternut squash – cut in half and gutted
1 acorn squash – cut in half and gutted
4 cloves of garlic – peeled
1/4 cup of extra virgin olive oil
drizzle of chili oil (optional)
2 tsp salt
1 tsp coarse black pepper
1 tsp dried sage
1 tsp chili powder
1/4 tsp freshly grated nutmeg
1/2 tsp sugar
dash of garlic powder
2 tbsp extra virgin olive oil
1 large white onion – diced
1 bay leaf
1 tbsp brown sugar
1 tsp sage powder (if you have fresh sage that's even better!)
2 tsp chili powder
1 tsp salt – adjust to taste when done cooking
1 tsp ginger powder
1/2 tsp freshly grated nutmeg
1 tsp coarse black pepper
dash of cinnamon
entire carton of low-sodium vegetable stock – about 16 oz
1/2 cup fat free half&half or whole milk or almond milk (if making vegan)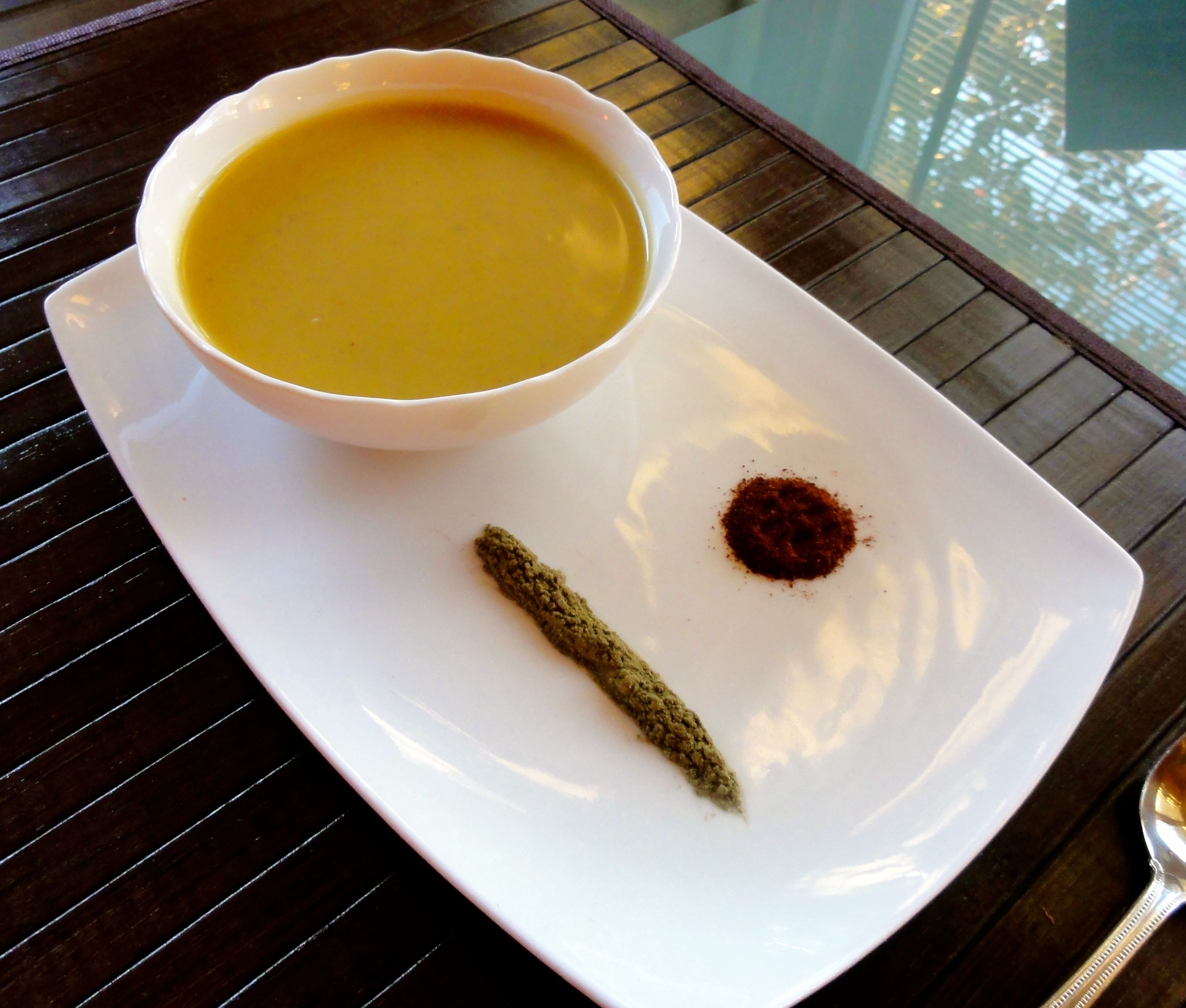 Tools: Hand-held blender
1. Preheat oven 350 degrees. In a small bowl mix together the dried sage, chili powder, nutmeg, salt, pepper, garlic powder, and sugar. While whisking, drizzle in the olive oil until combined. Place the halved squashes on a sprayed cookie sheet. Drizzle the the spice marinade and using your hands, make sure you thoroughly rub it into the squashes. Then drizzle with the chili oil and flip over so its flesh-side down. Take the peeled garlic cloves and place 1 clove underneath each squash half. This serves as a shield for the garlic to not burn, while the garlic infuses the squash. Place in the oven and roast for about 1 hour to 1 hour and 15 minutes, or until squash is tender, caramelized and fragrant. For the last 15 minutes of cooking, flip the squashes over so its skin-side down. Once the squashes have completely cooled, scoop the meet out of the skins and place in a bowl. The garlic cloves will be soft and roasted and deliciously fragrant. Place in the bowl of squash. Discard the skins. I actually roasted my squash the night before we made the soup, so you can roast the squash ahead of time!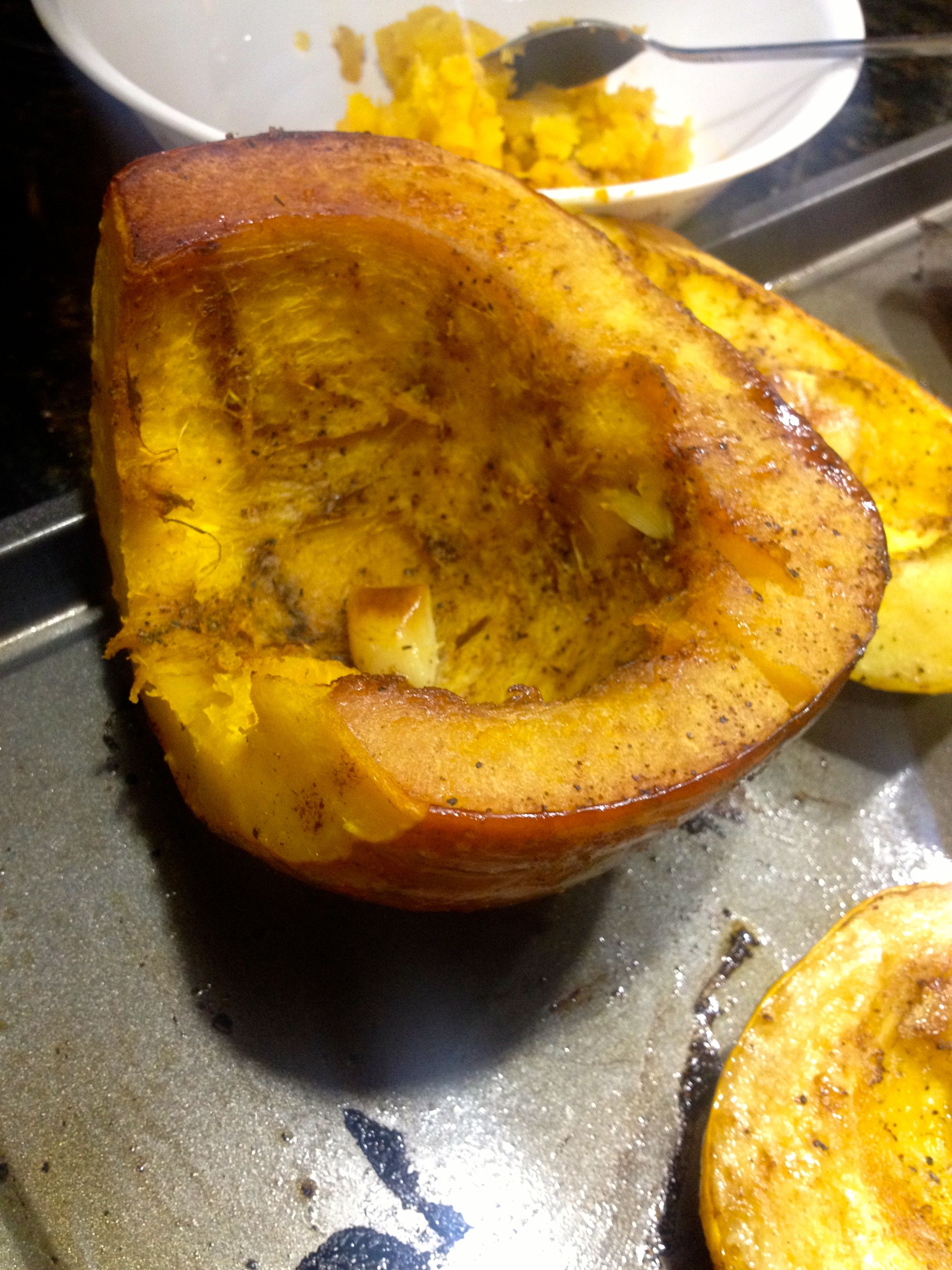 2. In a large and heavy bottomed deep pot, place over medium-low heat. Pour in the olive oil and add the onions. Saute for a couple of minutes until translucent. Add in all of the spices and the bay leaf. You want to saute this until the onions are caramelized and the spices are very fragrant, about 8-10 minutes. Add in the reserved roasted squash and roasted garlic. Cook until onions and spices are mixed well into the squash, about 5-8 minutes. You don't have to cook it for long, because the squash is already cooked through. Add in the vegetable stock and half & half and stir gently, and turn down stove to low. Once the soup is heated through, remove the bay leaf and using the hand blender, blend until completely smooth. Make sure that the pot is deep enough, as to not splash yourself when blending.
3. Once blended, simmer the soup over low heat until it begins to slightly boil. Taste for salt and sweetness – adjust seasonings if necessary. Serve hot in a bowl. Enjoy!
Serves 6-8 people
Like this recipe? Check out these other Squash & Soup Recipes!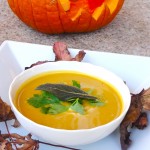 Roasted Pumpkin Soup with Cilantro & Crispy Sage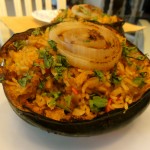 Biryani Stuffed Squash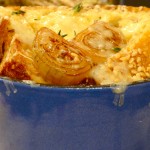 French Onion Soup