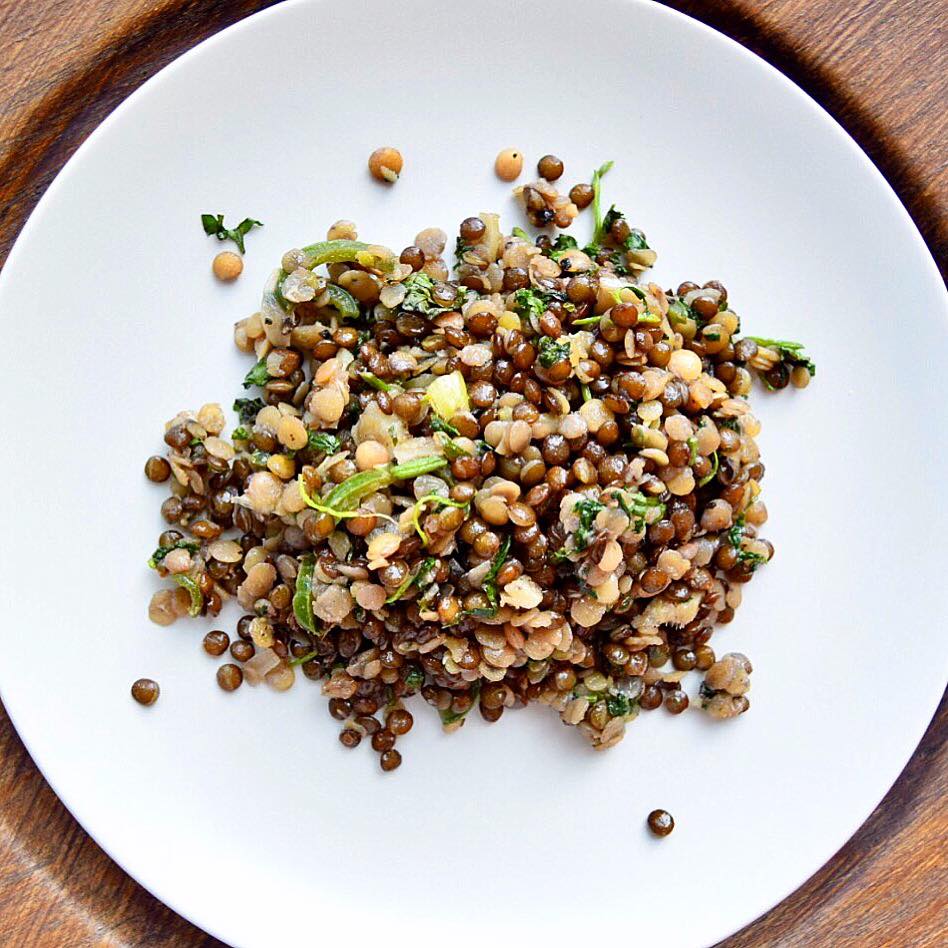 Not your momma's lentil soup – that's for sure! I realized that I don't cook with legumes as much as I want to. I have grown up (and still do when I go to my parents) eating a lot of legumes – Indians love them legumes! We generally use them in daals (thick soups/stews), in sautés and in cold dishes as well. We basically use them everywhere. They're a great source of protein, potassium, and fiber. Not to mention they're CHEAP. If you buy a bag of dried lentils, it'll last you for months and you can make several meals. I recently came across some lentils, actually that's a blatant lie. My friend gave me some lentils to cook with since he bought himself a large bag of dried lentils, so I decided to make a quick sauté. The trick with any dried legumes is (1) cleaning them thoroughly, and (2) soaking them in water. This allows for them to cook faster and become tender. My recipe below combines a bunch of random ingredients – no really it does. But tastes like heaven mmm. Check it out!
Simple Lentil Sauté:
1 cup lentils – thoroughly washed and soaked in water (preferably overnight)
2 cloves garlic – sliced
1 inch piece fresh ginger – minced
1/2 jalapeño – sliced
1/2 tsp coriander seeds
1/2 tsp black peppercorns
1/4 wedge of fresh lemon
1 tbsp light agave
salt
1 tbsp fresh coriander – chopped
1 tsp sesame oil
1 tbsp vegetable oil
cooked Basmati rice for serving
1. In a mortar and pestle, crushed together coriander seeds and black peppercorns, until roughly ground – you want there to be some texture.
2. Place a medium-large non-stick skillet over medium-high flame. Pour in vegetable and sesame oils. Once the oil is hot, add in crushed spices and coat with the oils. Add in garlic, ginger, and jalapeños. Sauté for about 1 minute then add in lentils – making sure they're strained from the soaking water. Sauté for about 5-8 minutes – they'll begin cooking through and becoming darker in color.
3. After about 8 minutes or so, add in lemon juice and agave and stir. Add in a splash of water to slightly steam the lentils so they cook through faster. Add salt. Taste – lentils should be tender with a slight bite, spicy, and balanced with sweetness from the agave. Adjust seasonings as appropriate. Remove from the heat and toss in chopped coriander. Serve with rice. Enjoy!