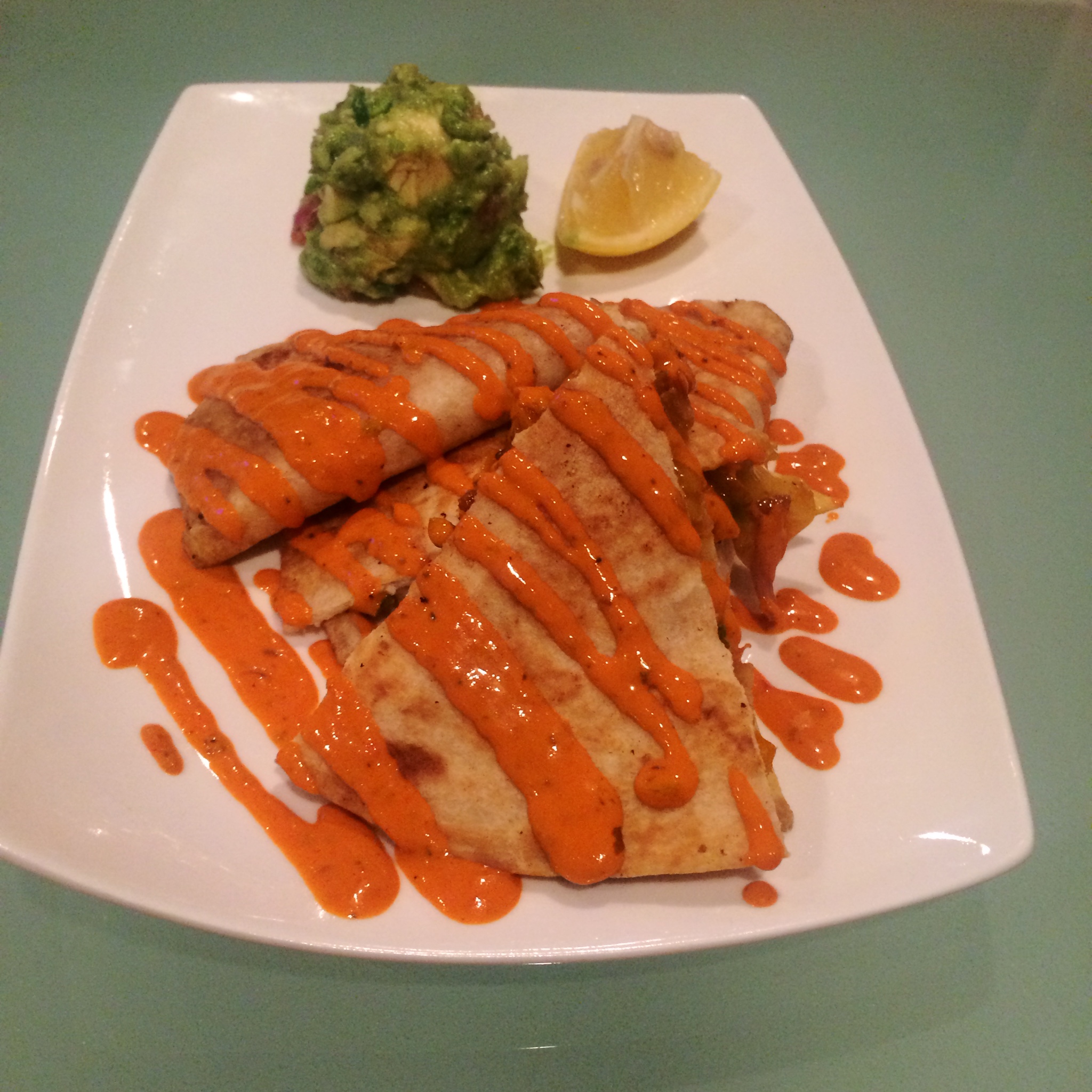 It was Mexican night at the Naik household this past weekend! We wanted something simple yet satisfying, and of course I just worked with ingredients that we already had on hand – was not about to venture out in the freezing cold for some nachos ya know. We decided on Quesadillas since we had a lot of tortillas on hand, and then just used some creativity.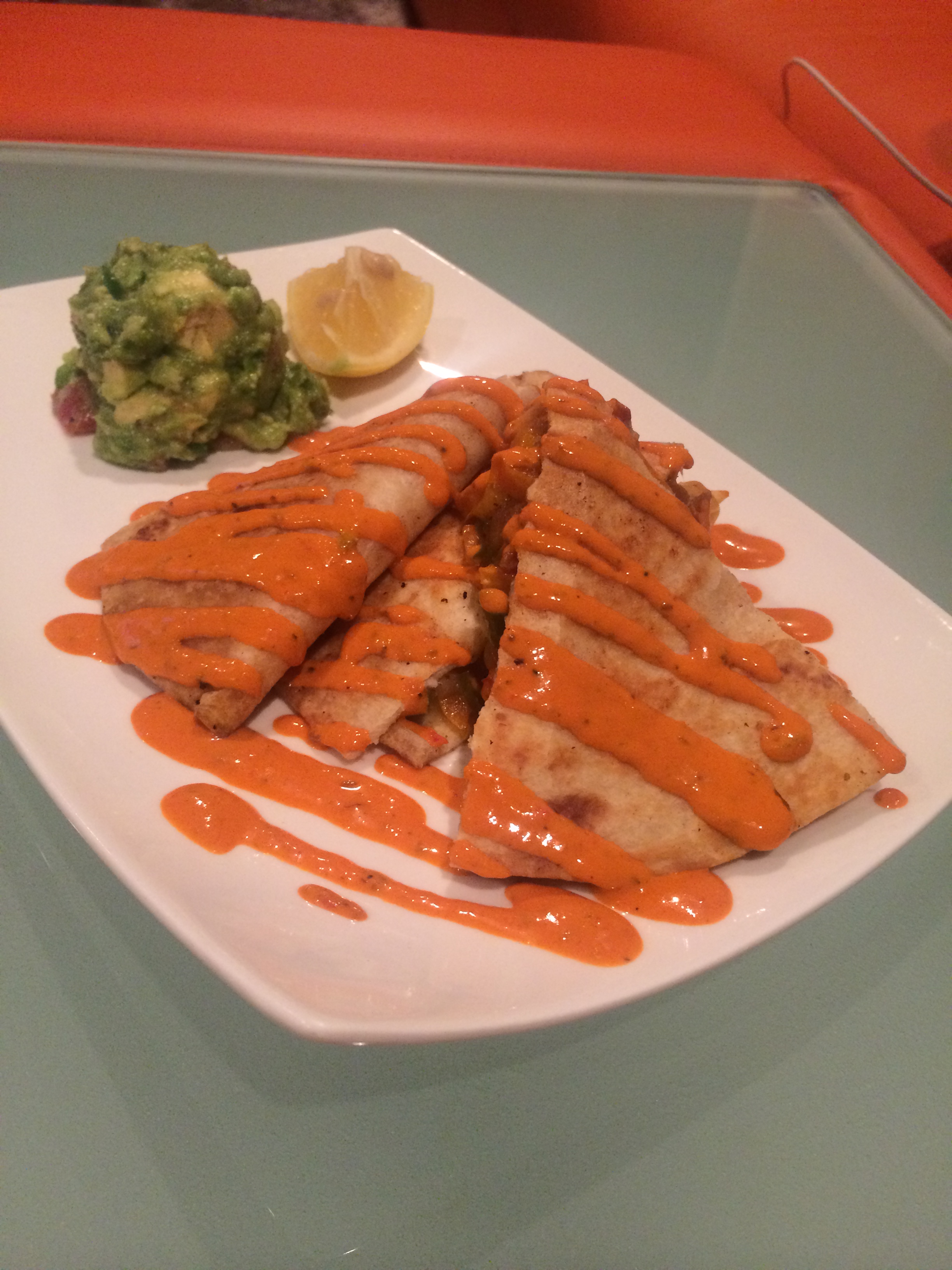 Spicy Veggie Quesadilla: 
4 flour tortillas
1 large yellow/orange bell pepper – thinly sliced
1 medium red onion – thinly sliced
1 medium white onion – thinly sliced
1 jalapeño – thinly sliced into half moons
1 tsp cumin seeds
1 clove of garlic – minced
salt
pepper
1 tbsp habanero chutney (store bought) – optional
reduced fat Mexican blend cheese
reduced fat pepper jack sliced cheese
handful of coriander – chopped
PAM/Olive Oil
Roasted Pepper Crema: 
a little less than 1/4 cup of jarred Roasted Red Peppers
2 tbsp fat free sour cream
1 small clove of garlic
1 jalapeño
1/4 tsp cumin seeds
splash of fresh lemon juice
salt
pepper
sprinkle of fresh coriander
1 tbsp olive oil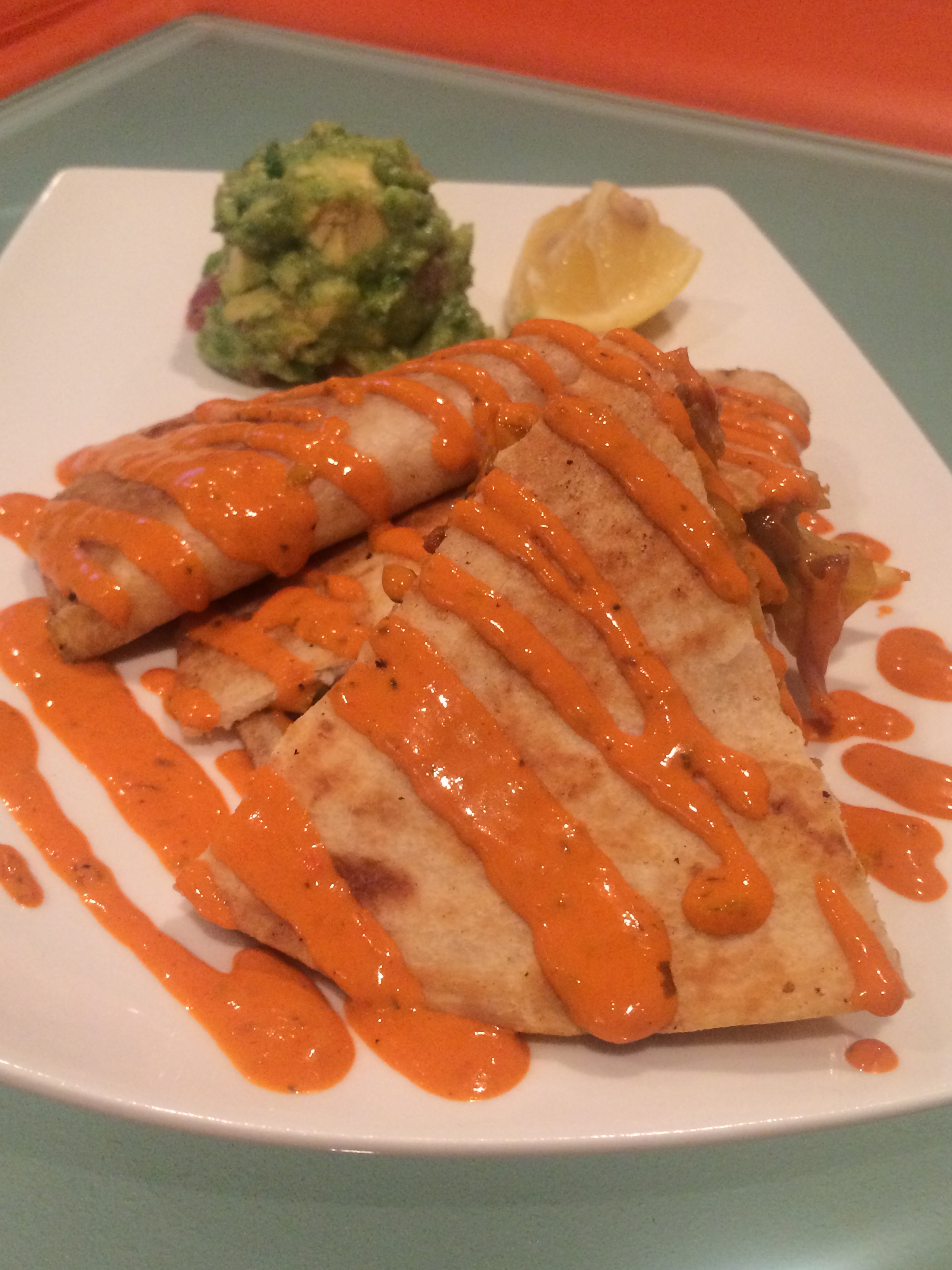 Quesadilla Filling:
1. In a medium skillet over medium flame, spray with PAM and add in a little olive oil just to lightly coat the bottom the pan. Add in the cumin seeds, allowing them to pop a bit. First add in the peppers, onions, and jalapenos. Saute for 30 seconds or so, then add in the minced garlic, habanero chutney, salt and pepper. Saute the mixture for another 5-8 minutes, until the veggies are slightly caramelized and cooked through by not soggy. Set aside.
Roasted Pepper Crema:
1. Add all the ingredients in a blender and blend until smooth and creamy. Taste for salt. Place in a squeezy bottle (optional).
Assembly:
1. Take one tortilla, rip the pepper jack slice in half and place on one side of the tortilla. Place about 2-3 tbsp of the filling on that side of the tortilla, and spread evenly. Top with some chopped coriander, sprinkle a generous amount of shredded cheese and fold over. Spray a skillet with PAM and place skillet over medium flame. Carefully place the quesadilla in the pan, and spray the top with PAM. Cook on both sides for 2-3 minutes, or until golden brown, crisped, and cheese is melted. Place on a cutting board, cut in 4 wedges, and place on a serving dish. Drizzle with a generous amount of the Roasted Pepper Crema, top with Pico de Gallo (optional), and serve with a side of Guacamole.