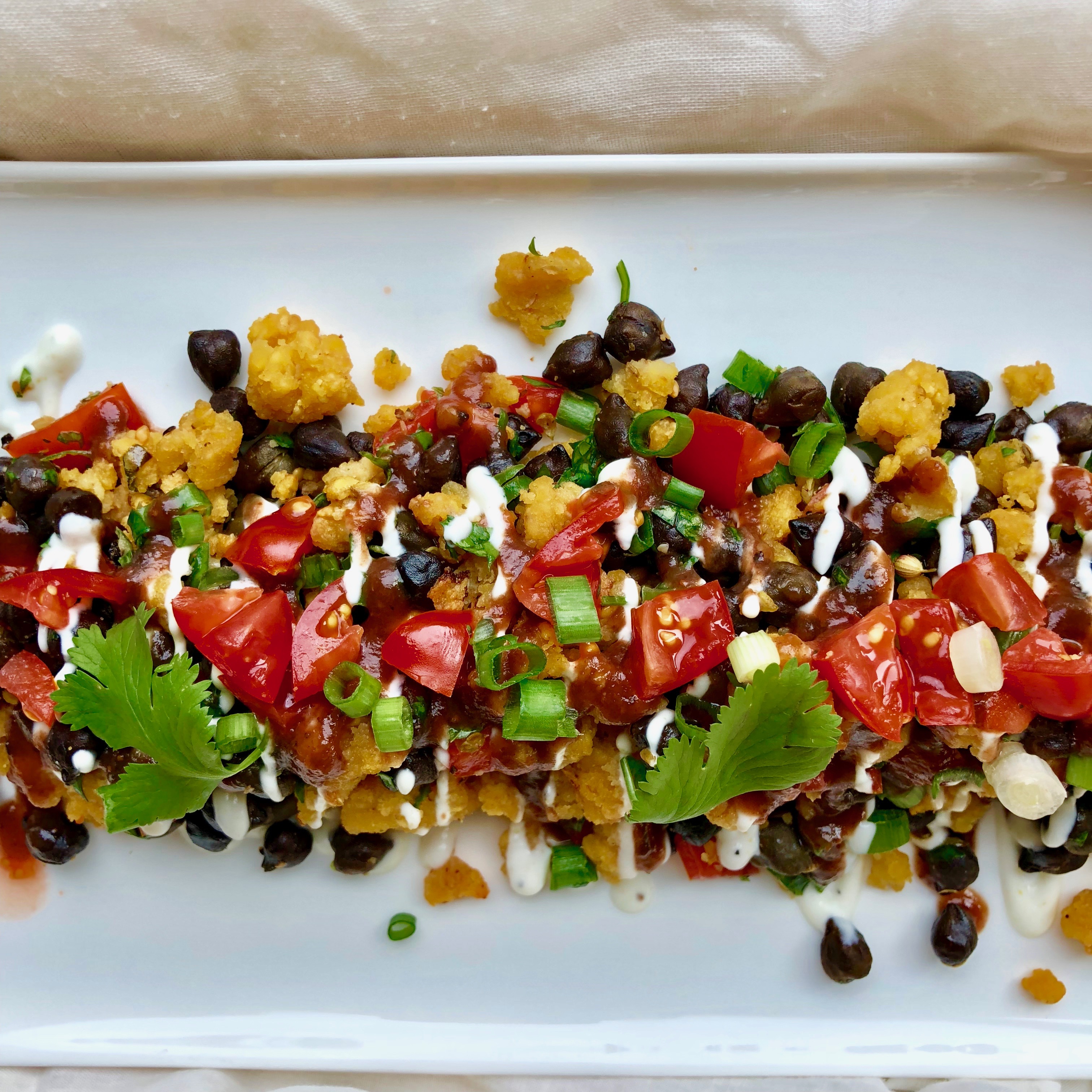 If you've watched my Instagram stories last weekend (and shame on you if you haven't!), I was lucky enough to meet the CEO and Founder of Trade Street Jam Company! Ashley was kind enough to give me some samples of her all natural vegan jams that are produced locally in Brooklyn! I picked the Strawberry-Chipotle and Meyer Lemon-Ginger flavors. I mean come on, those are clearly right up my alley of flavors! I wanted to create some fun recipes for both, and when I tasted the Strawberry-Chipotle jam, something just clicked.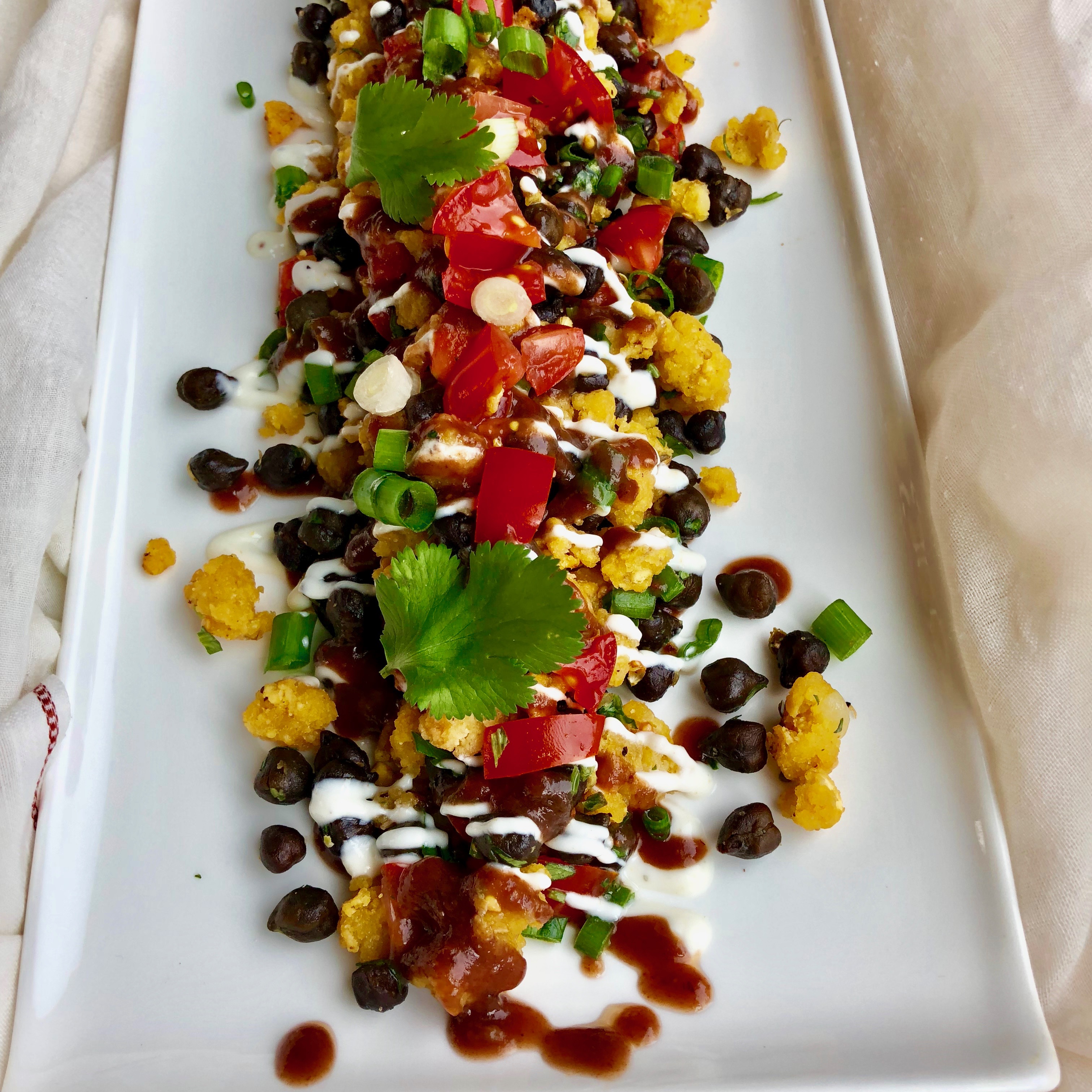 I instantly thought of an Indian tamarind chutney and my second thought was a chaat. Don't know what chaat is? It's a a combo of potatoes, Indian crisps, yogurt, chutneys and chaat masala. I wanted to make a play on this dish with the Strawberry-Chipotle Jam and of course it's totally vegan!! Behold my Strawberry-Chipotle Chickpea Chaat. Oh, and did I mention this is protein packed?! Mhmmm!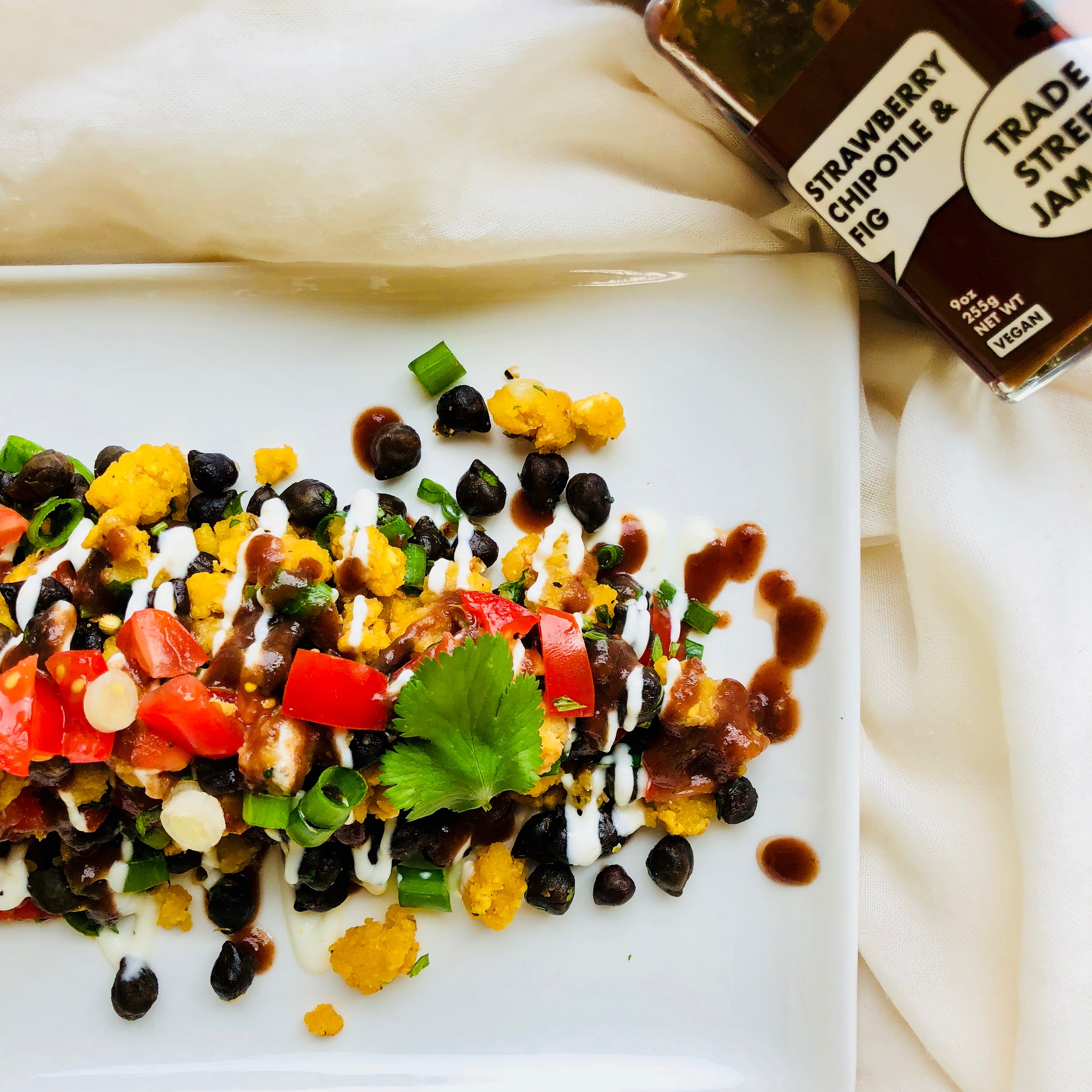 Strawberry-Chipotle Chickpea Chaat:
Chutney:
1/2 jar of Strawberry-Chipotle Jam
1/4 cup water
1 tsp coriander seeds
2 dried red chilies
3 whole black peppercorns
salt
Chickpea Flour Bits (Jhunka):
2 cloves of garlic – minced
1 serrano chili – minced
1/2 tsp coriander seeds – slightly ground
salt
ground black pepper
1 cup chickpea/gram flour
1-2 cups water
1/4 lemon wedge
vegetable oil
Black Chickpea Mixture:
1 cup black chickpeas – if using frozen, thaw. If using dry, soak overnight and then boil in the morning until soft.
1/2 tsp coriander seeds – slightly ground
1 serrano chili – minced
salt
ground black pepper
vegetable oil
Yogurt Sauce:
1 cup non-dairy yogurt
1 tsp fresh lemon zest
1/4 tsp coriander powder
salt
ground black pepper
pinch of sugar
1/2 tsp fresh lemon juice
Assembly ingredients:
1/2 cup grape tomatoes – small diced
1/4 cup scallions – finely chopped (in circles)
1/4 coriander – minced
fresh lemon juice
1. In a small sauce pan, add in all the ingredients for the chutney. Bring to a boil and then reduce heat to low to gently simmer. After about 10 minutes – once the mixture has slightly reduced – remove from the heat and allow to cool. From here, I blended everything together until smooth, but if you don't want a spicy chutney, I advise to remove the black peppercorns and the red chilies.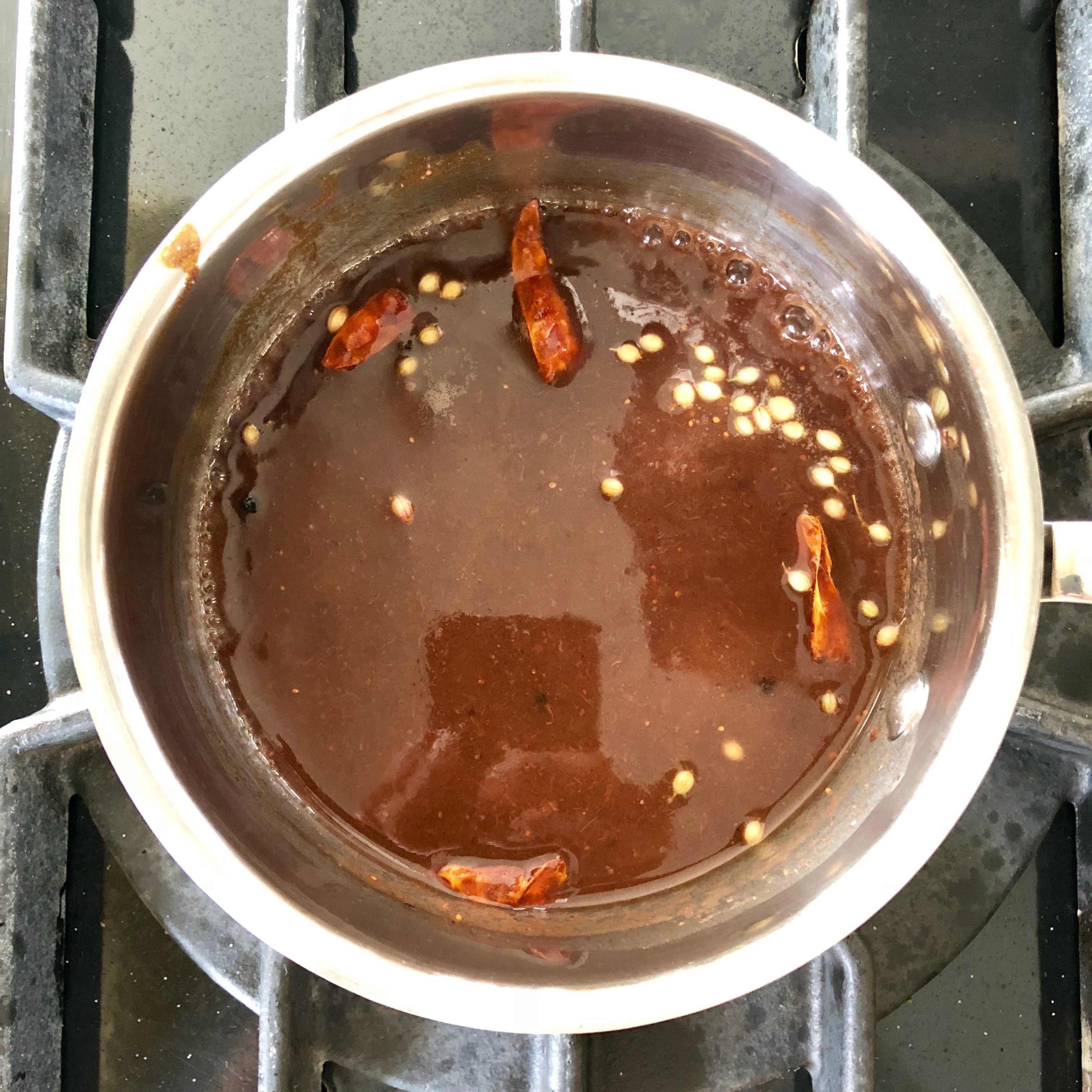 2. In a bowl, whisk together all the ingredients for the yogurt sauce. Taste – sauce should be slightly tart and sweet. Whisk until super smooth. Place in a squeezy bottle and set aside.
3. In a medium nonstick pan, add in 1-2 tsp of vegetable oil, once hot add in the coriander seeds and chilies. Saute for 30 seconds until fragrant then add in the black chickpeas. Saute for about 5-8 minutes until soft and flavored through. Add in salt and pepper. Set aside to cool.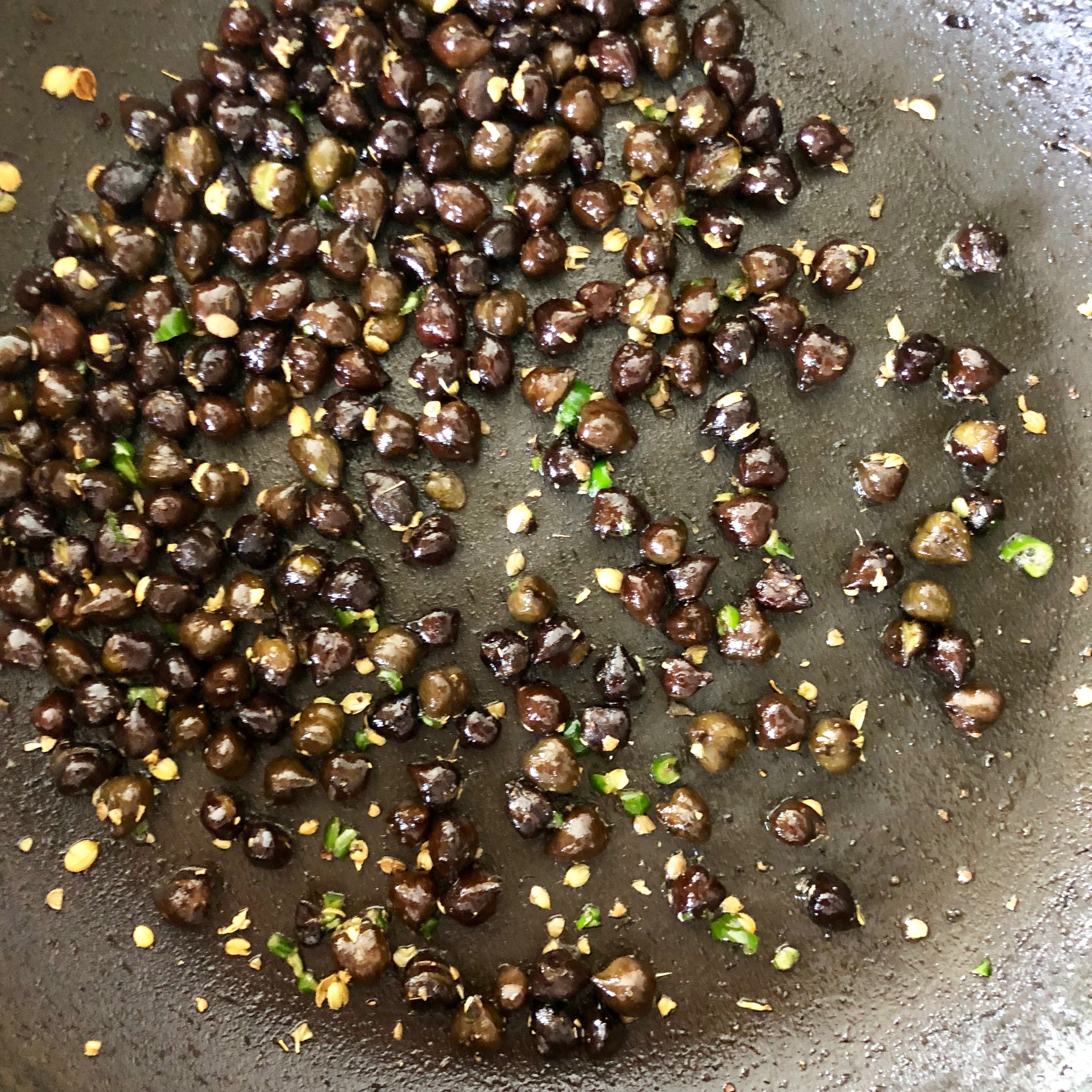 4. In the same pan, add in 1 tbsp of oil, and once hot add in the coriander seeds, garlic, and chilies. Saute for about 1 minute until garlic is fragrant and softening. At this point add in the water and bring to a boil. Once the water is boiling, add in the chickpea flour while mixing vigorously. Mixture will be lumpy, keep mixing and breaking it up into smaller pieces. Reduce flame to medium-low. Squeeze in the lemon juice. Keep mixing and add a lid. Allow to cook for 2 minutes and remove lid and mix. Keep doing this until bits are a bit crispier and you don't see any strains of flour in the mixture. This will take about 10 minutes. Remove the jhunka bits from the flame and allow to cool.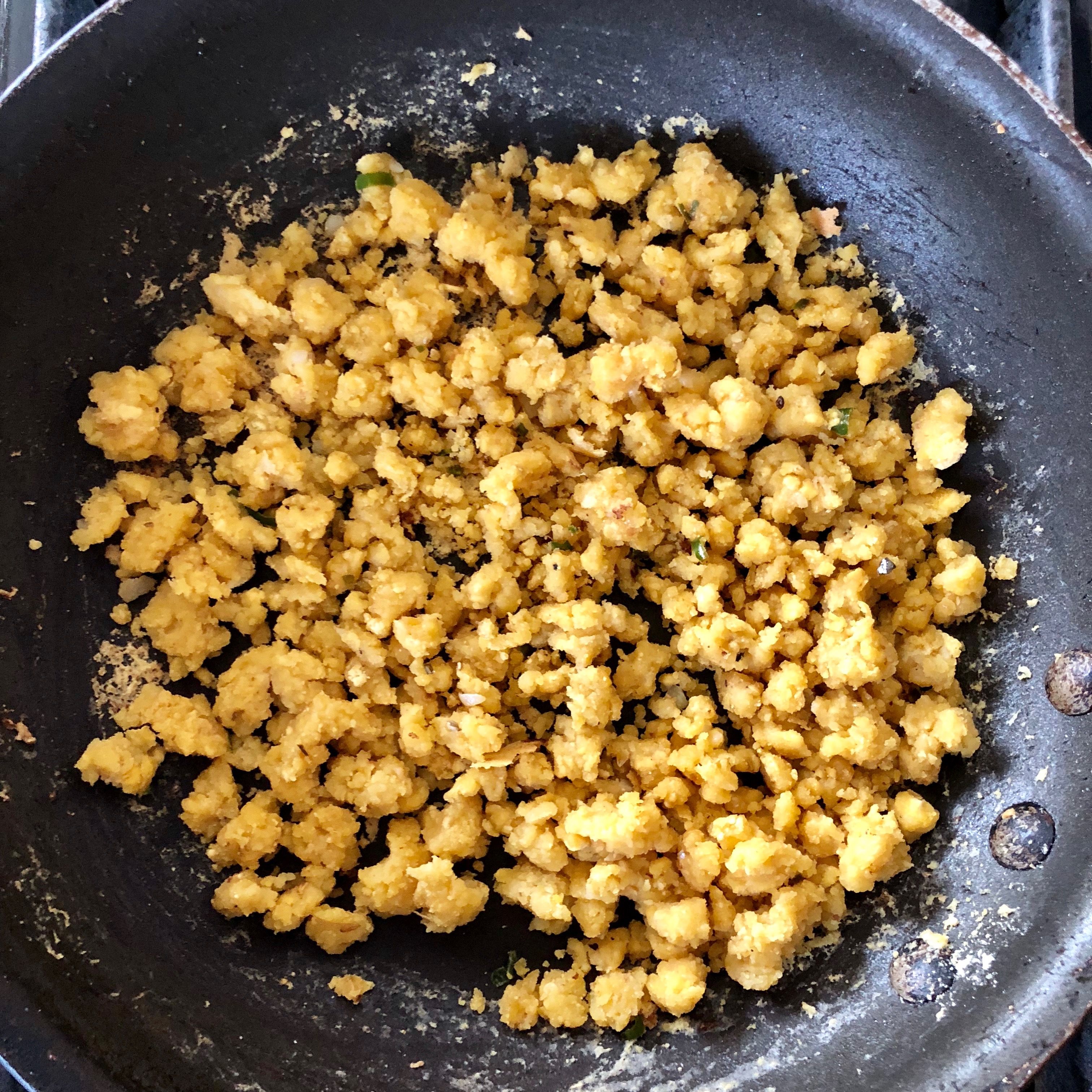 5. In a large bowl toss together the jhunka, black chickpeas, tomatoes, scallions, coriander and a squeeze of lemon juice. Toss together until everything is combined. Pile on a serving dish and squeeze on a generous amount of yogurt sauce and strawberry-chipotle chutney. Top with more chopped coriander and fresh tomato if desired. Yum!!