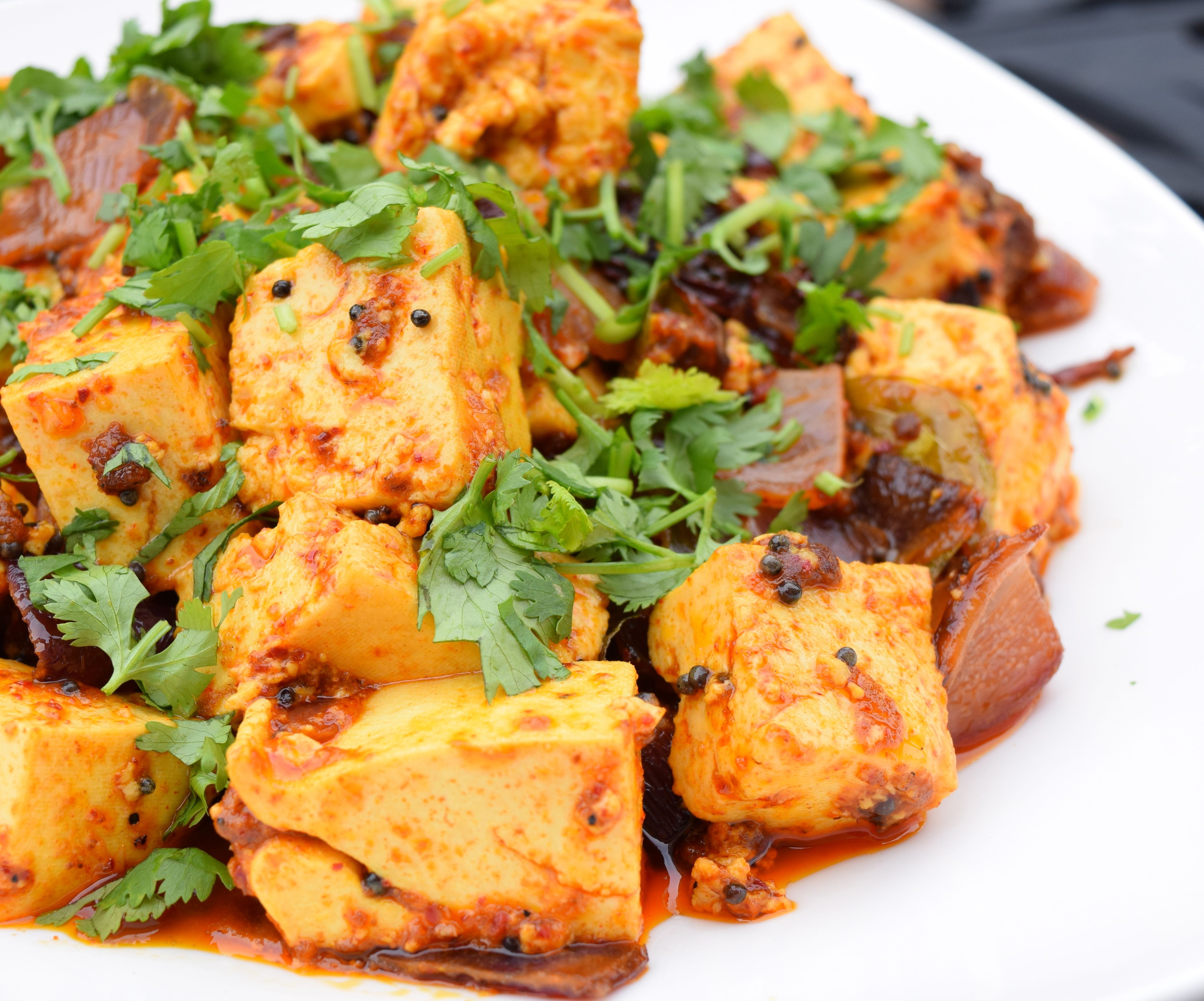 There is a classic Indian dish from South India called Chicken 65. What is it and why is it called Chicken 65 you ask? Well, its traditionally made with spicy Kashmiri chilies, curry leaves, and lots of mustard seeds and with young chicken that's about 65 days old – I KNOW it's terrible and I'm totally against it. What I love about the dish though is the spice, color, and overall explosion of yumminess that it creates in your mouth. I decided to recreate the dish with a much friendlier ingredient – tofu.
I would like to also mention that this dish was created in another attempt to steer carnivores away from the idea that they constantly need meat. Let's just say – this worked.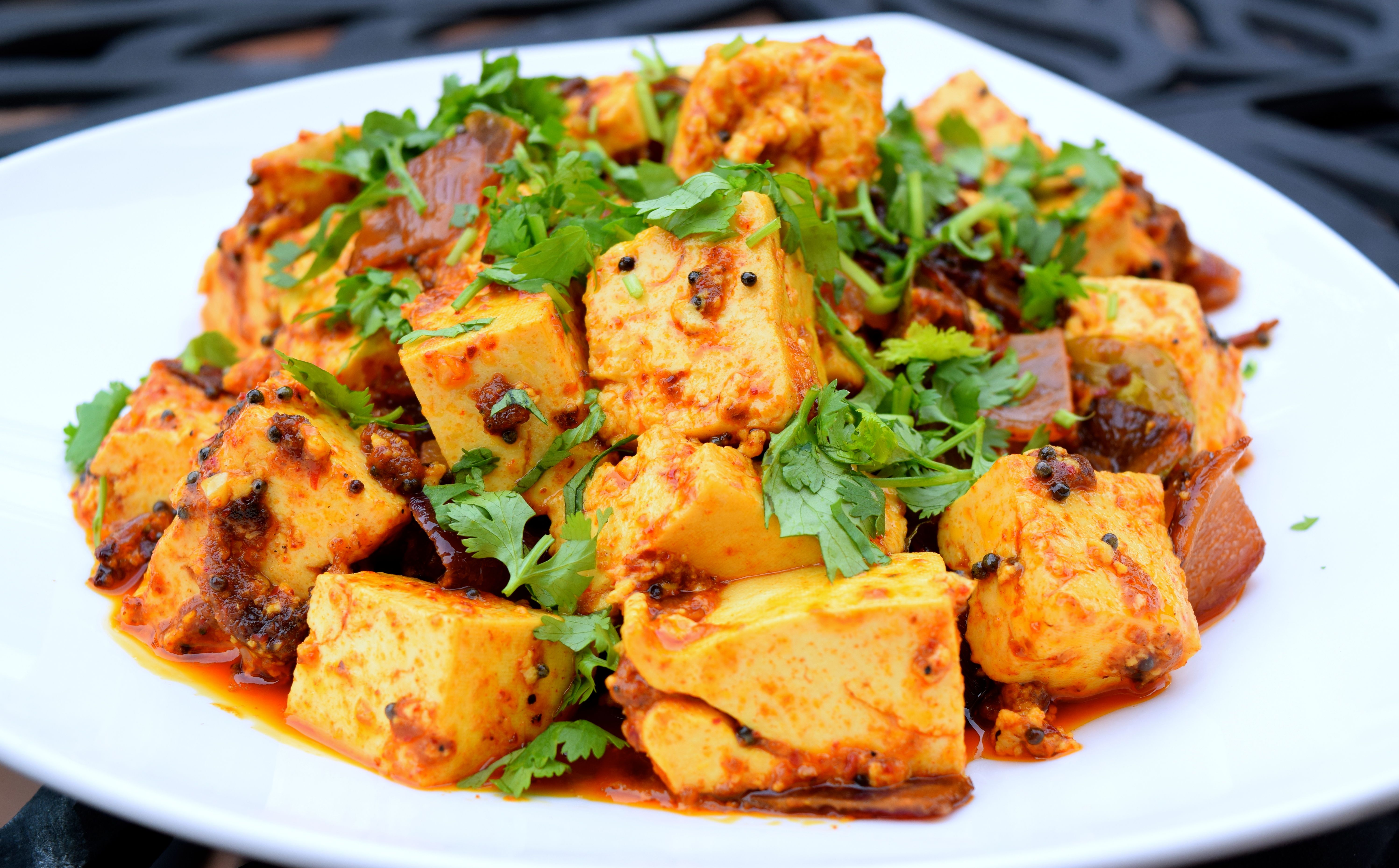 Tofu 65:
1 package firm tofu – thoroughly drained, patted dry, and cut into 1 inch cubes
3/4 cup plain yogurt – I used organic full-fat yogurt
a few heaping tbsp of my Kashmiri Chili Powder: http://www.chefpriyanka.com/watermelon-feta-salad/
1 tsp turmeric
4-5 heaping tbsp cornstarch
4 cloves garlic – minced
1 inch piece ginger – minced
salt
pepper
1 red onion – cut into 1 inch cubes
1 1/2 tsp black mustard seeds
6-8 fresh curry leaves
1-2 dried Kashmiri Chilies
1 tsp minced fresh ginger
1 clove garlic minced
1 large handful fresh cilantro – chopped
vegetable oil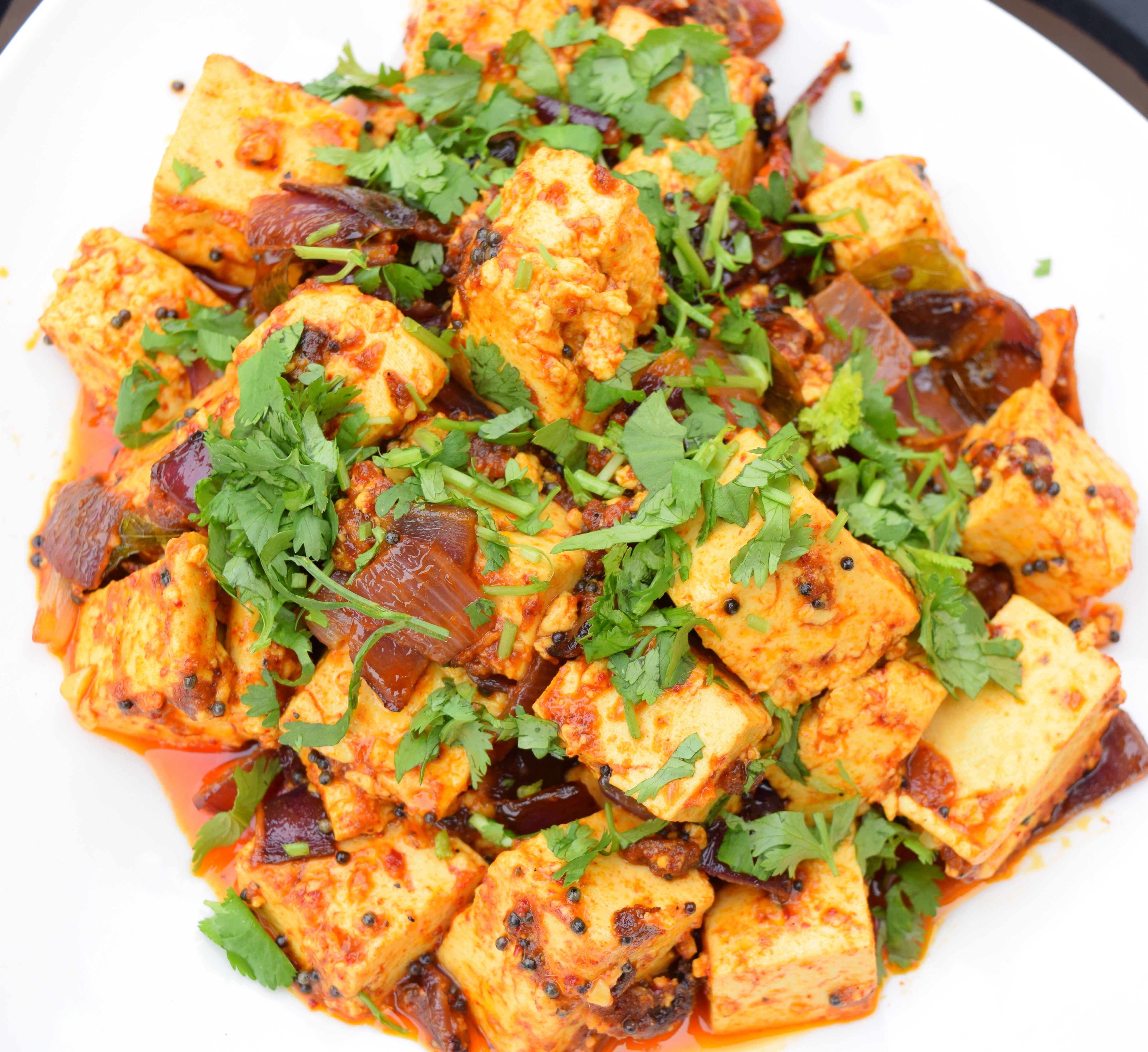 1. In a bowl, add the yogurt, Kashmiri chili powder, turmeric, 4 cloves garlic, 1 inch piece of ginger, salt, and pepper. Stir and taste to see if it's spicy and saucy – it's supposed to taste really spicy and salty, not overly salty though. Add in the tofu and toss until all the pieces are well coated – be gentle, as we don't want the tofu to break up. Then add in the cornstarch and lightly toss until all the cubes are coated. Cover with plastic and place the fridge to marinate for 2 hours or even overnight. I marinated mine for about 6 hours, because I wanted all the flavors to seep into the tofu.
2. In a large heavy pan, pour in the vegetable oil until theres a generous coating. Place over high heat and add in the mustard seeds, chilies, and curry leaves – they will start popping so be careful! Add the garlic, ginger, and onions and saute. Then add in the marinated tofu – be careful might splash a bit. Saute for about 10 minutes, until the tofu is cooked through and slightly crispy on the outside – the cornstarch is what will make it crispy. Once the dish is a deep red color, and the tofu is cooked through, taste for salt and pepper. Remove and place in a serving dish, and immediately top with a generous amount of chopped cilantro.
3. Serve with white basmati rice, naan, chapathi, or on its own!
Enjoy!