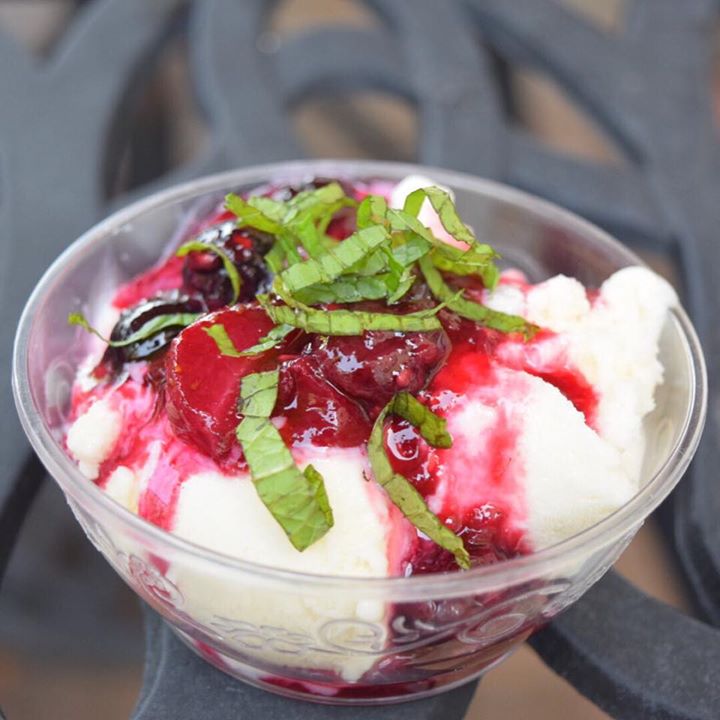 There's something deliciously satisfying and cooling about warm fresh toppings on creamy and cool ice cream. Berries are the best during the summer time, and we tend to buy tons of them in our house. But as you know, they don't have a very long shelf life. That's when I make this delicious mixed berry compote. Super easy to make, requires minimal work, and stores nicely in the fridge for a week. It's great simply on top of ice cream, or to make a trifle with, on top of pound cake – you name it, it's good.
Triple Berry Compote:
1/4 Rasberries
1/4 Strawberries – quartered
1/4 Blueberries AND/OR
1/4 Blackberries
2 tbsp white sugar
squeeze of lemon juice
1 tsp fresh orange zest
handful of fresh mint leave
2 tbsp water
Vanilla Ice Cream – for serving
1. Place berries, sugar, lemon juice, orange zest, water, 3-4 torn mint leaves into a small sauce pan/pot. Set over medium-low flame and stir until sugar is dissolved. Reduce flame to low and continue cooking and stirring until mixture of berries begins to break down and become thick. You want the colors of the berries to still retain a bit – don't boil down to the point where you can't make out what's in it! Remove from the heat and let cool a bit.
2. Serve of vanilla ice cream and top with fresh chopped mint. Enjoy!