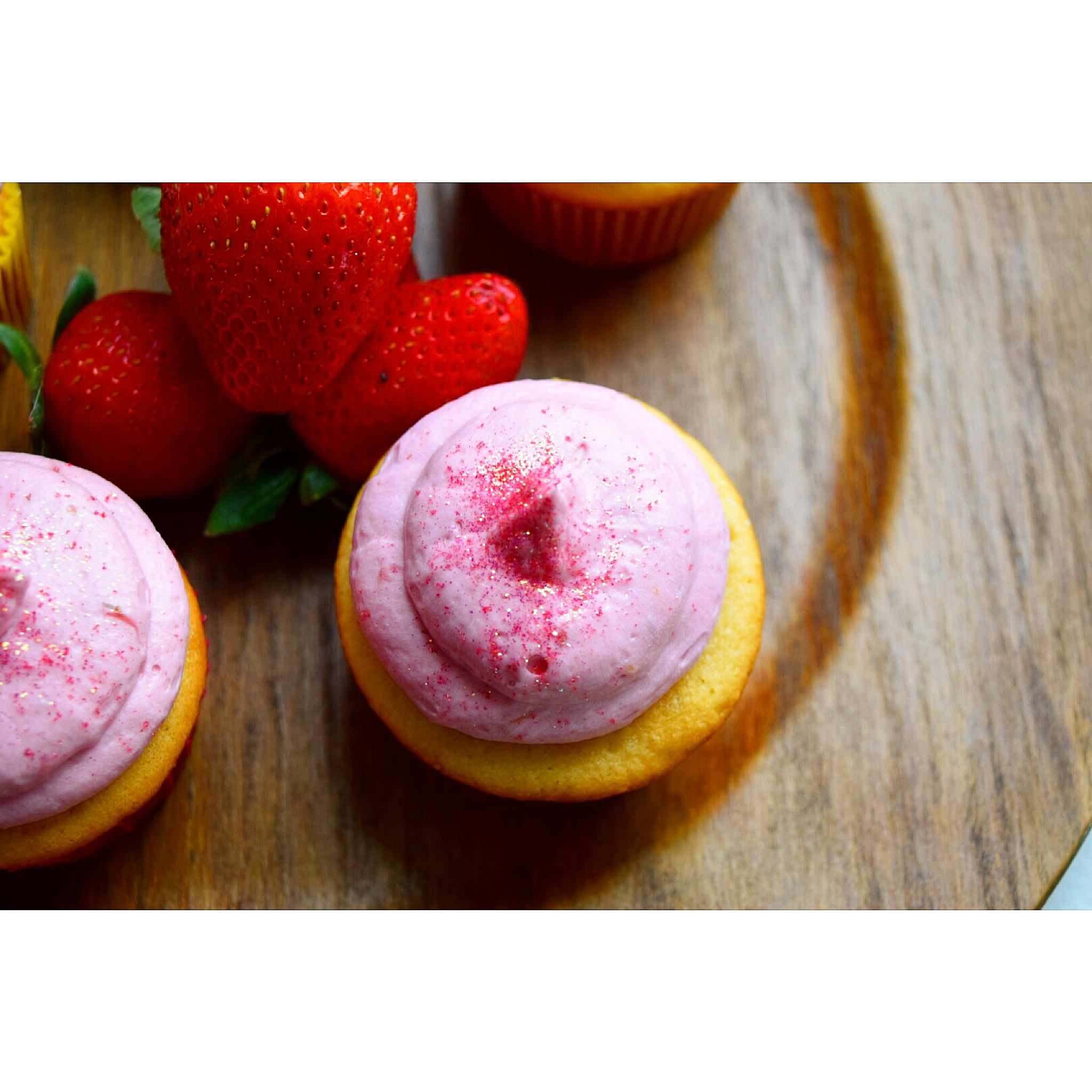 I was tasked with (as I usually am) making a treat for a colleagues baby shower. We know he is having a girl, so I went the traditional route. I don't make many desserts that are completely pink in nature, so I figured why not? Plus I got these awesome strawberries from Fresh Direct that I had to incorporate into my recipe.
The frosting is two steps, but well worth it! Check out my recipe for moist Vanilla-Orange Cupcakes topped with Fresh Strawberry Cream Cheese Frosting!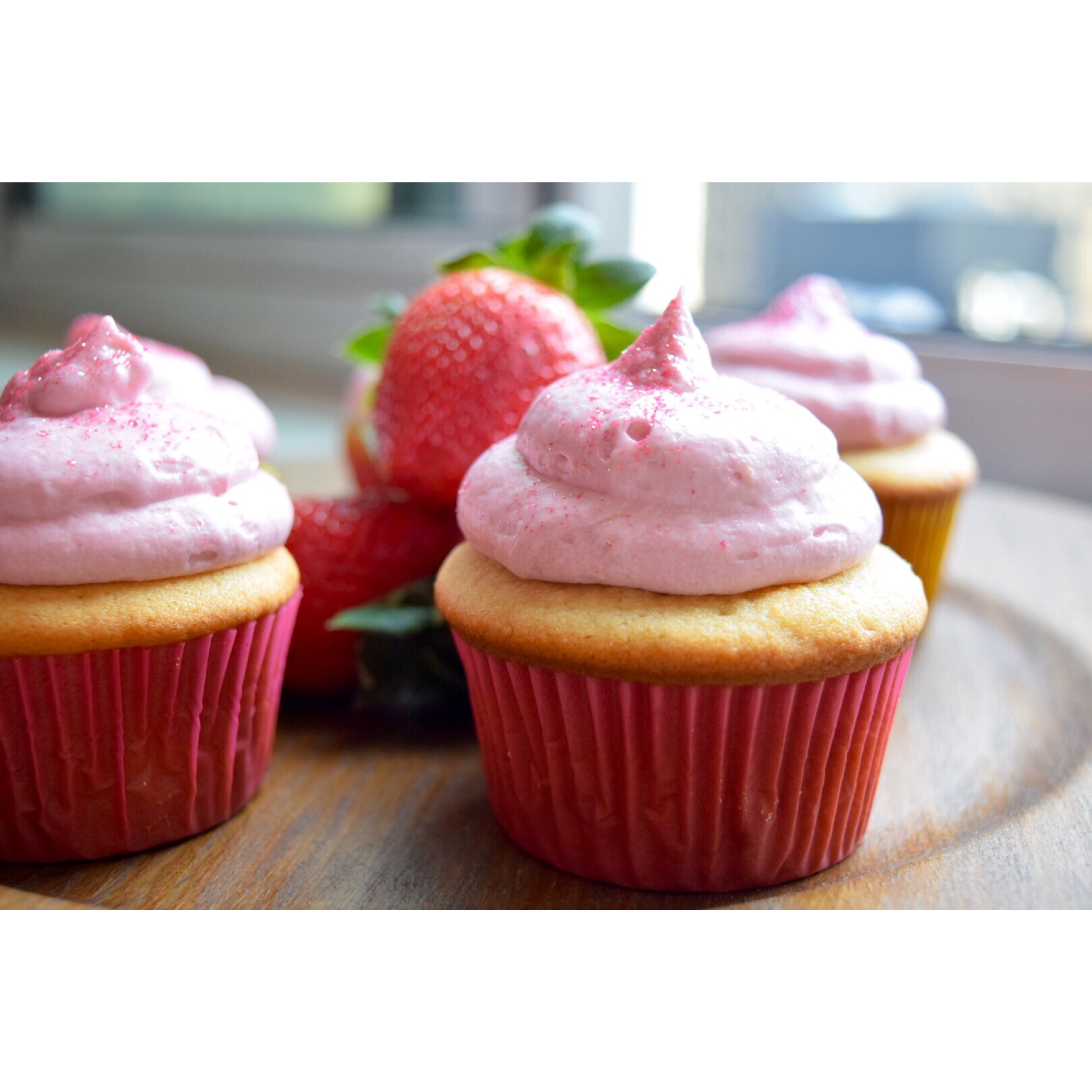 Vanilla-Orange Cupcakes:
1 1/2 sticks unsalted butter – room temperature
1 1/3 cups sugar
2 large eggs – room temperature
1 tbsp vanilla extract
1 cup low-fat buttermilk – room temperature
1/2 cup reduced-fat  sour cream – room temperature
1 tbsp fresh orange zest
2 3/4 cups all-purpose flour
1 1/2 tsp baking soda
1/2 tsp salt
Fresh Strawberry Frosting:
1/4 fresh strawberry compote (recipe below)
1 stick unsalted butter – room temperature
1 8oz bar cream cheese – room temperature
2 tsp vanilla extract
4 cups powdered sugar
red and blue dyes to create dusty pink color
glitter edible garnish
sliced strawberries for garnish (optional)
Strawberry Compote: 
1 cup diced fresh strawberries
about 1/4 cup sugar
1 tbsp fresh orange zest
couple tbsp fresh orange juice – just squeezed from 1/2 orange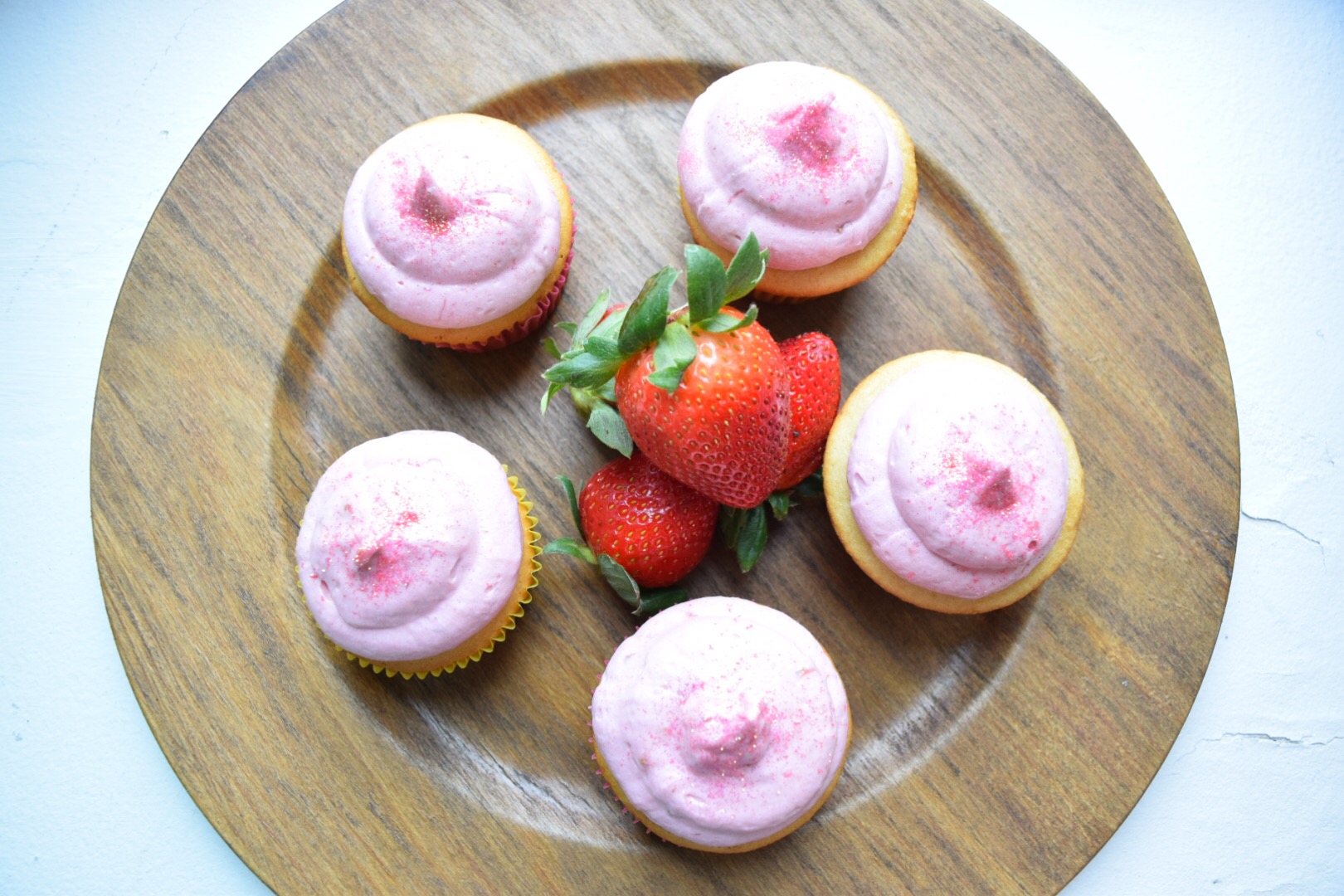 Preheat oven 350 degrees. Line 2 regular sized cupcake trays with pink and yellow cupcake liners. Set aside.
1. In the bowl of an electric mixer fitted with a paddle attachment cream the butter and sugar on high speed until light and fluffy, about 5 minutes. Lower the speed to medium, add each egg 1 at a time, then add the vanilla and mix well.
2. In a separate small bowl, whisk together the buttermilk and sour cream. In another bowl, sift together the flour, baking soda, and salt. On low speed, add the buttermilk mixture and the flour mixture alternately into the mixer bowl, beginning and ending with the flour mixture. Mix only until blended- DO NOT OVERBEAT. Fold the batter with a rubber spatula to be sure it's completely blended.
3. Pour the batter about 3/4 the way up into each cupcake cup. Bake in the middle of the oven for 20 minutes, until a toothpick comes out clean. Cool completely before frosting.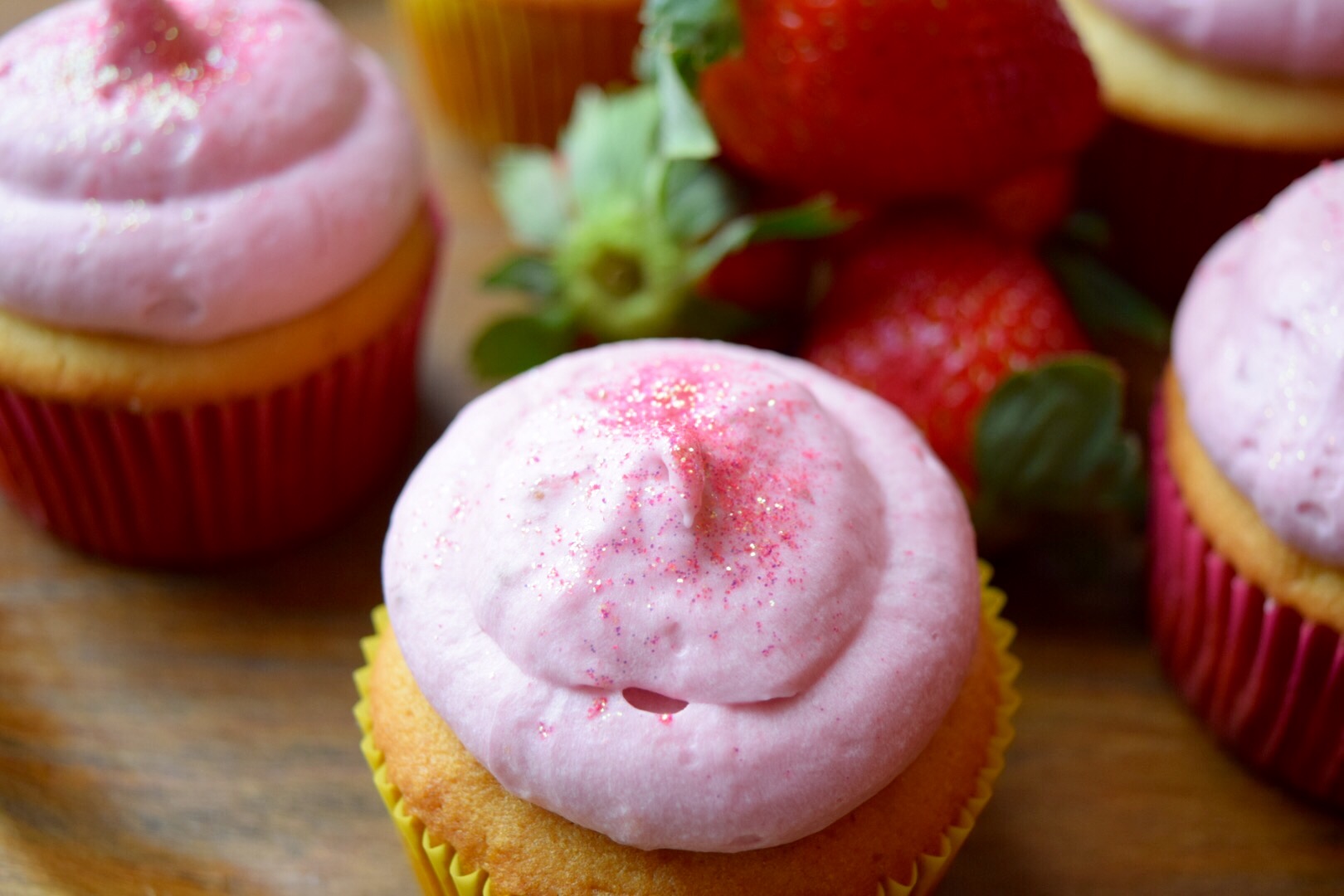 4. For the frosting, place the butter, cream cheese, and strawberry compote in the mixer fitter with a paddle attachment. Beat on high until fluffy and incorporated. Add in the vanilla and beat for another 30 secs. Reduce speed to stir/low, and add in the powder sugar. Slowly increase speed until medium-high, and whip until light and fluffy. Place in a piping bag, fitted with a wide tip. Pipe onto cupcake.
5. Garnish with edible glitter and strawberries if desired.
Makes 24-26 cupcakes