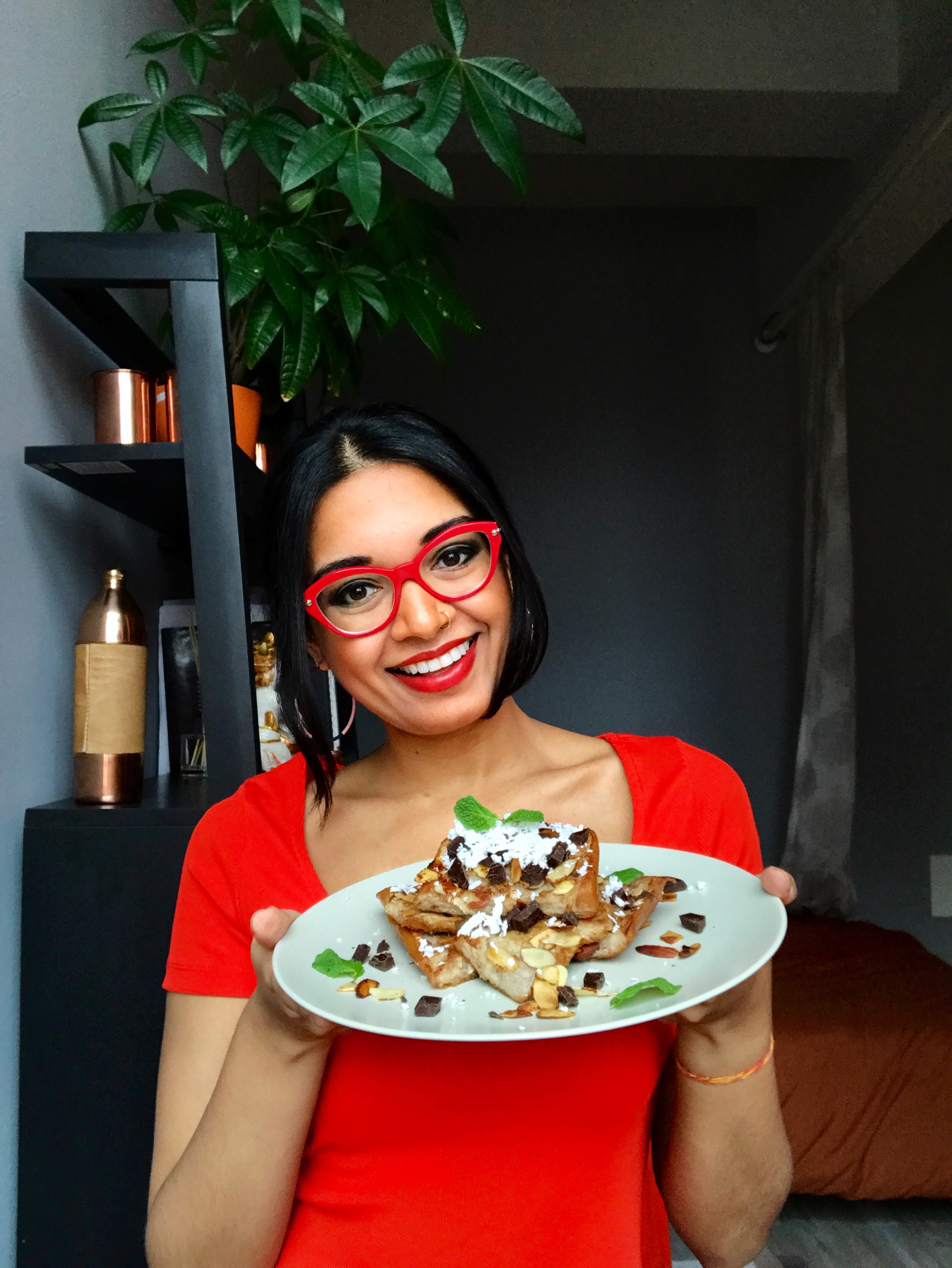 Did you eat Almond Joys or Mounds as a kid (or now, no shame)? Well, I did. I LOVE the combo of coconut and dark chocolate. It's truly a classic. Coconut gives a tropical feel, while the dark chocolate adds a hint of French decadence. But onto the real topic – stolen bread. I am a STICKLER for NOT wasting food. I think its a travesty. All of us (and I mean that if you're reading this, because you obviously have access to internet and some free time on hand) are privileged to eat on a daily basis and pick and choose what we want. I've been raised to eat everything in my plate, and I extend that to beyond my plate. I never leave a restaurant without a doggy bag – I generally don't finish my entrees and I love having leftovers for lunch the next day at work or as a snack. And this time my doggy bag efforts extended to the bread. I recently was out for a work lunch and there was a ton of bread on the table that wasn't touched. I knew that it would be thrown away and I couldn't stand for that. So I did what any respectable chef would and took some clean paper napkins, wrapped up the bread, and placed it in my doggy bag. Yup, I'm THAT girl. But I really don't care! I frown upon people who waste food, so if you want to "frown upon" me for saving bread, be my guest! Anyways, this bread came in handy – I made THREE recipes out of it! One of them being this Vegan Coconut Almond French Toast – feast your eyes suckas!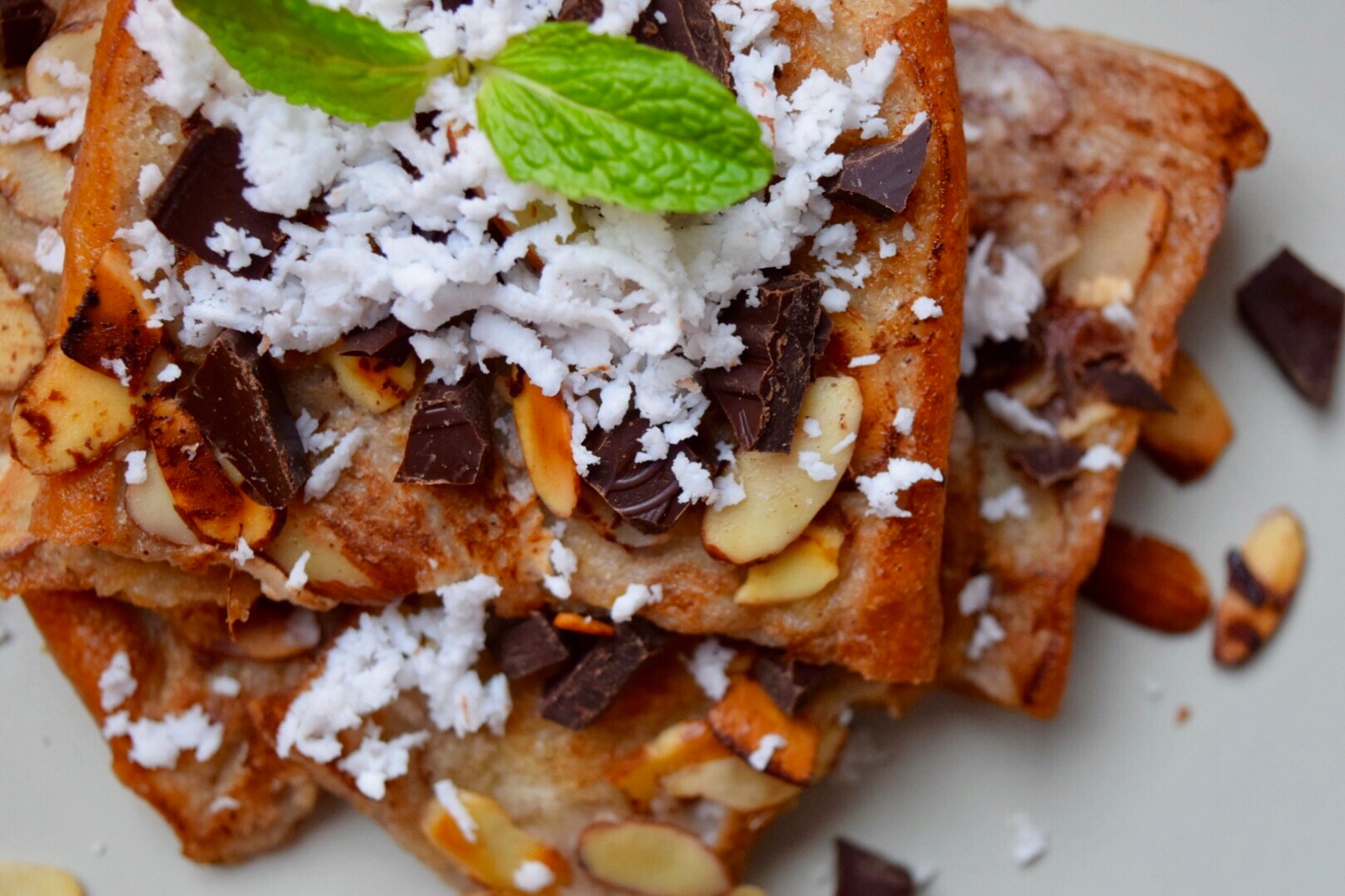 Vegan Coconut Almond French Toast + Chocolate:
1/2 (or a 1/4 depending on size) crusty baguette – cut into 5-6 slices
1 cup coconut milk – I used Silk brand
1 tbsp + 1 tbsp grated unsweetened coconut
1/8 tsp ground cinnamon
3 tbsp sliced almonds
2 tbsp coconut spread/oil – I used a Earth Balance
2 tbsp chopped dark chocolate – I used Ghiradelli
good quality maple syrup
fresh mint leaves – for garnish (optional)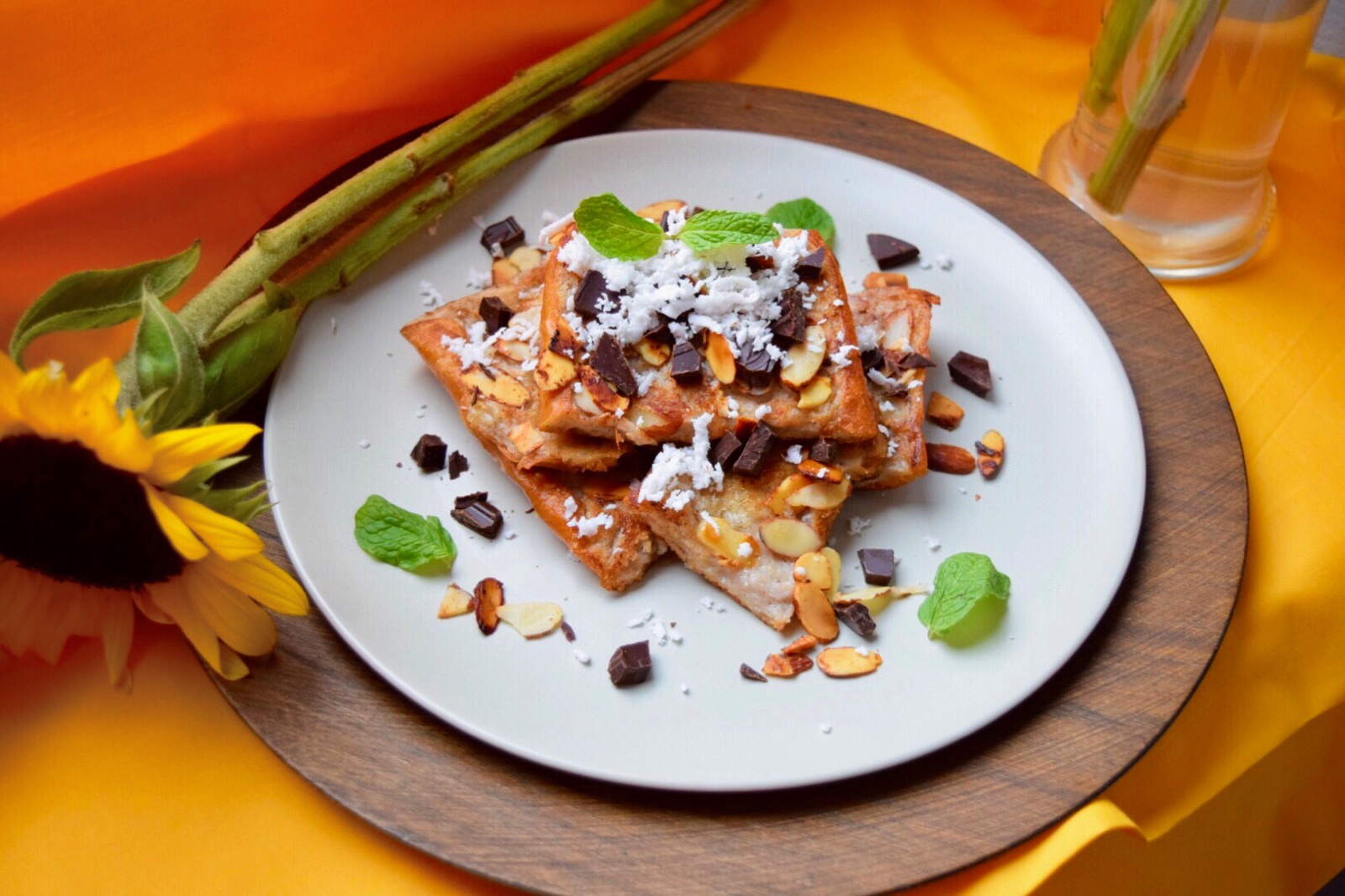 1. Whisk together the coconut milk, 1 tbsp grated coconut, and cinnamon until combined. Soak bread slices in the milk mixture, squeeze out access and set aside.
2. Head a medium non-stick skillet over medium flame. Add in 1 tbsp of the coconut spread, once hot, add in the 1-2 tbsp of sliced almonds. Saute for 30 seconds, then add in the soaked slices (as many as you can fit). Grill for 3-5 minutes on each side until crisp and slightly golden brown. Remove with almond and repeat with remaining slices, adding in sliced almonds first.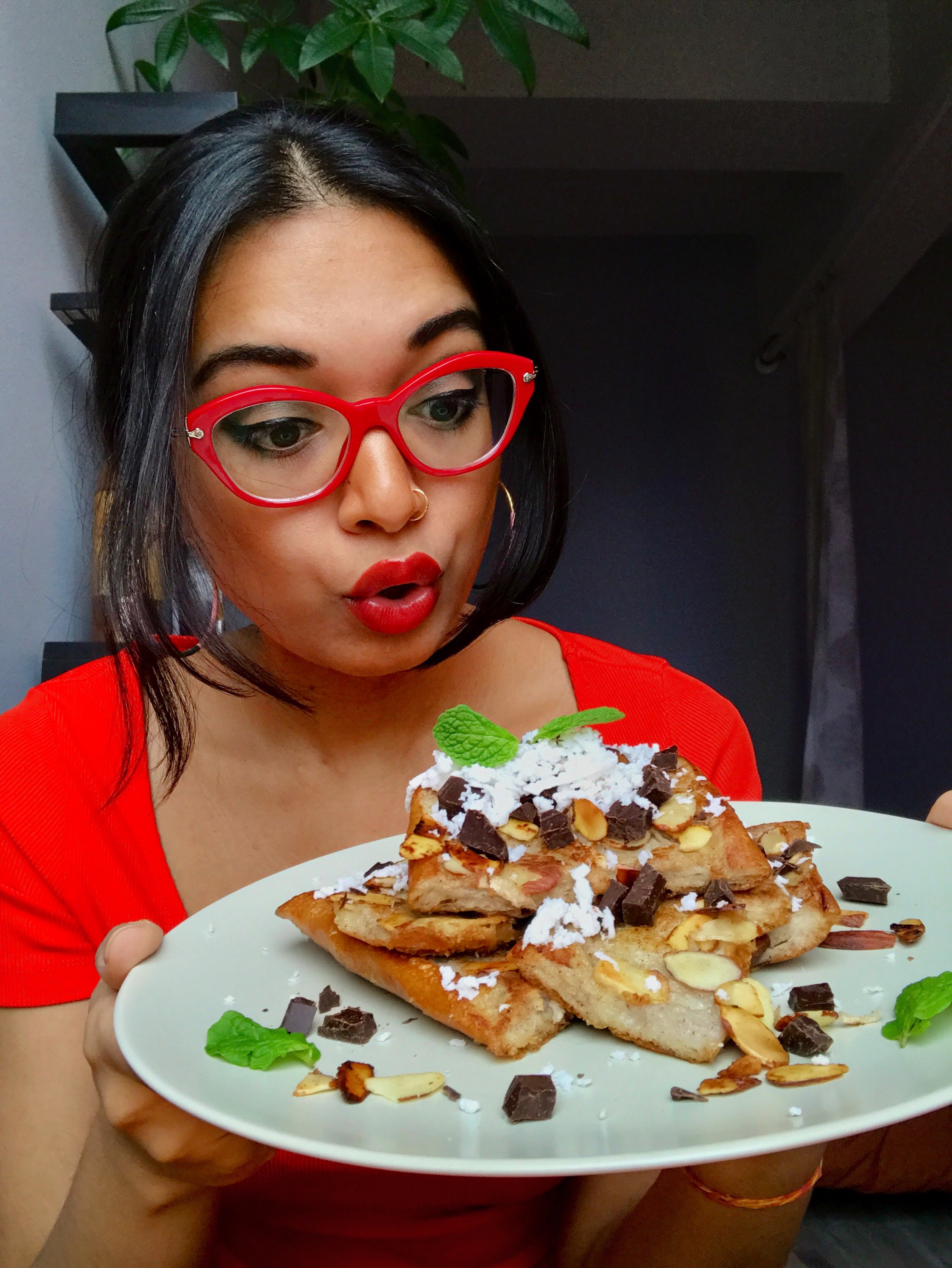 3. Evenly distribute slices on two plate, top with toasted almonds, 1 tbsp grated coconut (split between both plates), 1 tbsp chocolate on each, and fresh mint leaves. Serve with maple syrup. Enjoy!!