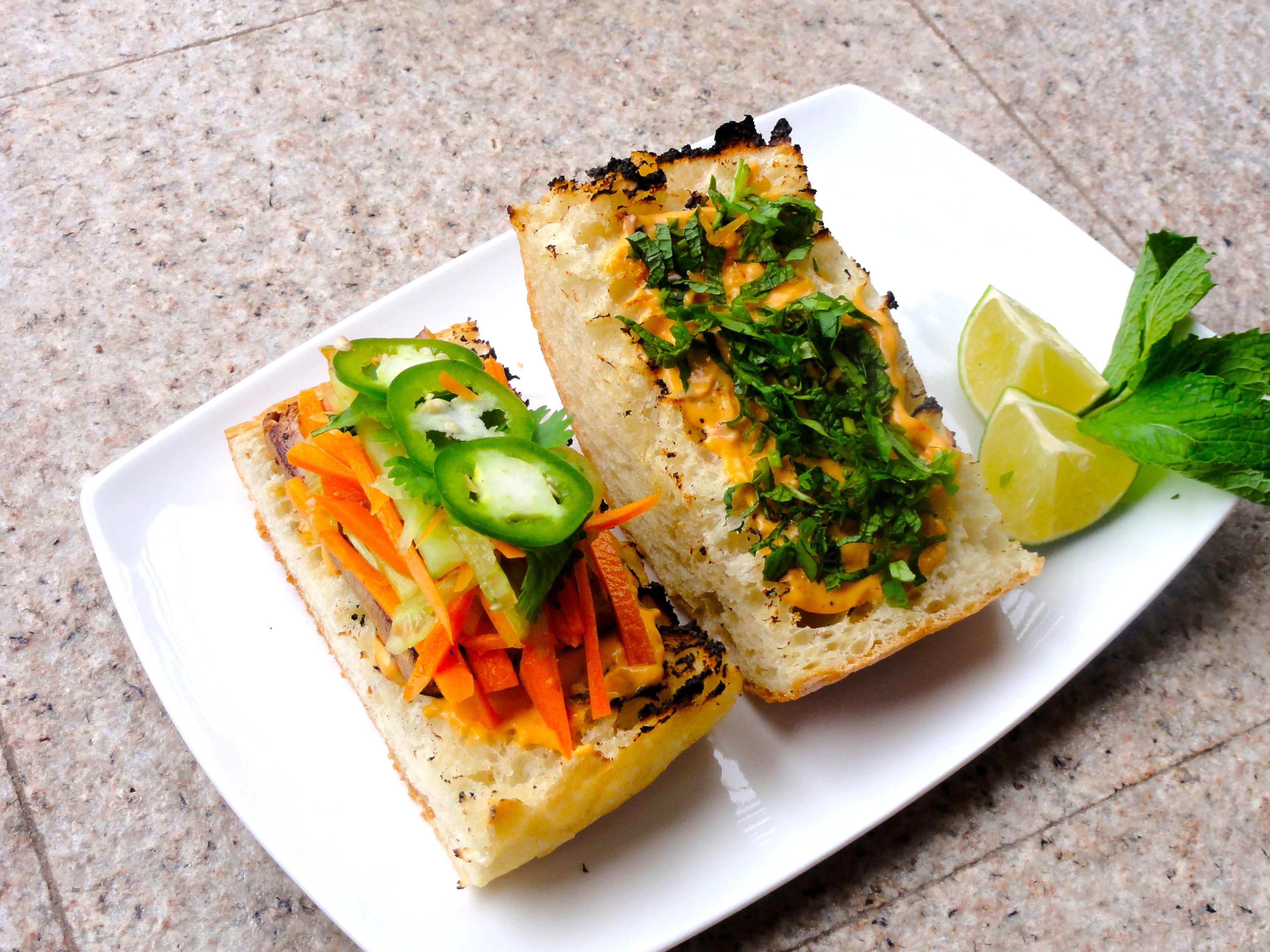 I've been recently introduced to the wonderful Vietnamese sandwich – Banh Mi. Its a classic Vietnamese sandwich thats traditionally made with pulled pork, vinegary and crisp veggies, and a spicy jalapeño spread. I've tried the seitan and tofu versions of this sandwich from two different popular Vietnamese sandwich joints in NYC. I loved both.
My first vegetarian Banh Mi Sandwich I ate from Saigon Shack, NYC: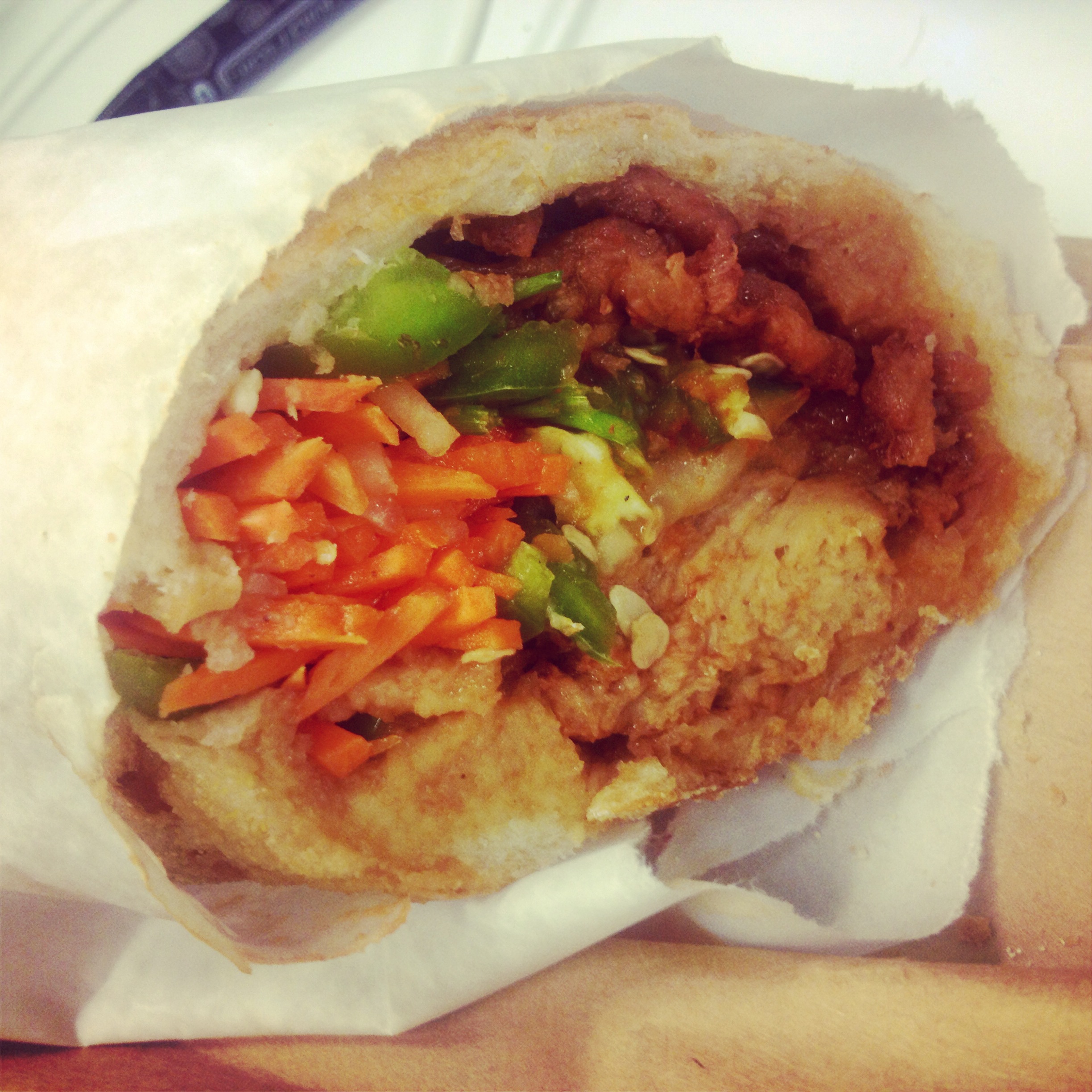 I wanted to recreate this sandwich at home, but obviously make it a little more zest and spice. I also recreated the recipe by just tasting these sandwiches and figuring out what flavors were blended together. I must say – it was successful! This sandwich is very healthy, and definitely hearty. I ate it for lunch and it was so filling that I wasn't even hungry for dinner! I highly recommend it for veggie and meat-lovers alike!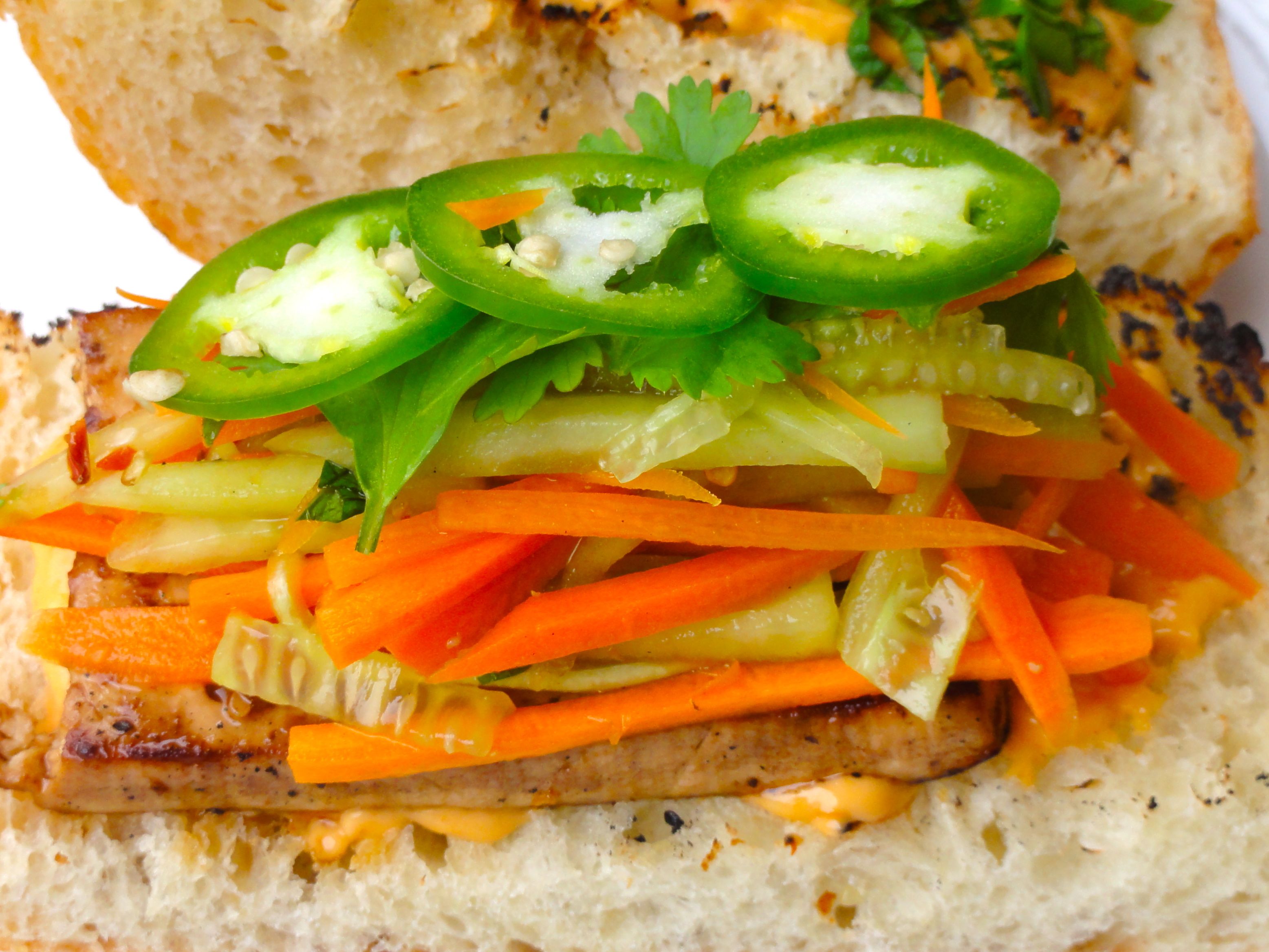 Marinated Spicy Tofu:
 1 package lite extra firm tofu – I used

Nasoya brand 

1/4 cup light soy sauce 

3-4 tbsp rice wine vinegar 

1 tsp sesame oil 

2 cloves garlic

1/2 inch cube fresh ginger

4 dried red chilies 

1/2 tsp white sesame seeds 

1 tbsp honey 

1 tsp fresh lime zest 

pinch of black pepper

pinch of salt 

PAM original flavor
Banh Mi ingredients:
1 carrot – julienne sliced
2 small cucumbers – peeled and julienne sliced
1 jalapeño – thinly sliced circles
reserved tofu marinade
fresh lime juice – from about half a lime
3 tbsp rice wine vinegar
1 tsp honey
handful fresh mint leaves – finely sliced (chiffonade)
handful fresh coriander – finely chopped, and some whole leaves reserved
1 soft ciabatta – cut into 4 hearty slices
Banh Mi Spread: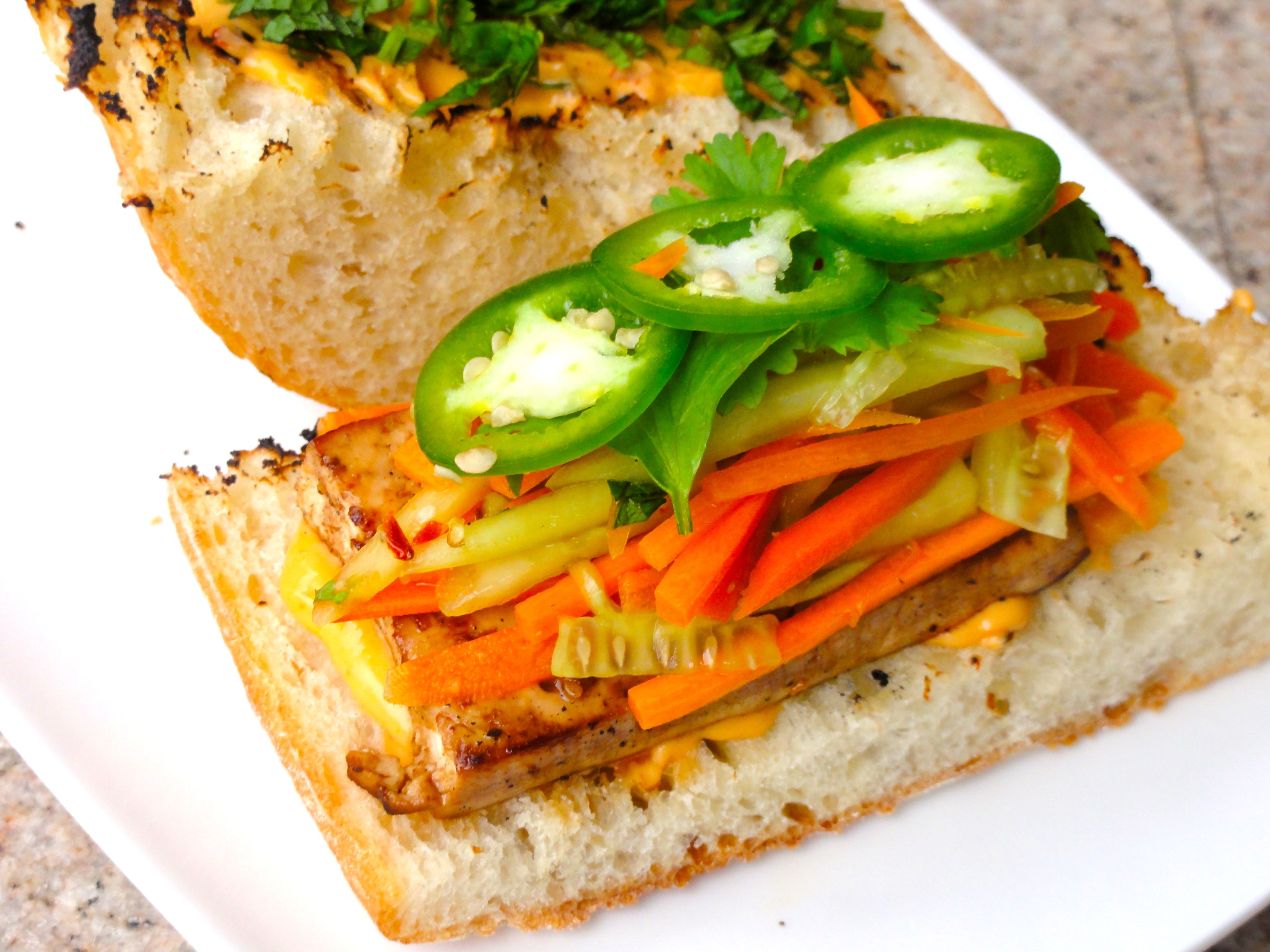 1. For the tofu, in a food processor or blender (I used a Magic Bullet), pulse together the garlic, ginger, dried red chillies. Place in a shallow bowl.  Add the soy sauce, rice wine vinegar, sesame oil, sesame seeds, honey, lime zest, salt and pepper. Whisk together and taste – it should taste tangy, sweet and spicy, but should be a good balance (no flavor should be too overwhelming). Set aside.
2. Remove tofu from package and squeeze out excess water and pat dry until no extra water comes out. Slice tofu block into 1/4 inch thick pieces – 1 tofu block should make about 6 slices. Dip the slices into the tofu marinade and let it sit there for a couple of minutes. In a non-stick skillet, spray with PAM and set over medium-low heat. Place the marinated tofu slices in the pan and sear on each side for about 4 minutes, or until golden brown. Remove from the pan and let cool.
3. Using the reserved tofu marinade, add in lime juice from about half a lime, the rice wine vinegar, honey and a few sprigs of the chopped mint. Take about half of the sliced carrots and cucumbers and place into this marinade. Set aside. Mix together the mayo, siracha and red crushed pepper in a small bowl, and set aside.
4. Slice each of the 4 ciabatta piece in half. Toast until slightly charred directly over the flame on the stove. Set over a plate. Spread each side with the siracha spread, place on spiced tofu steak, top with 1/4 of the marinated veggies, then top with the some of the raw veggies and jalapenos: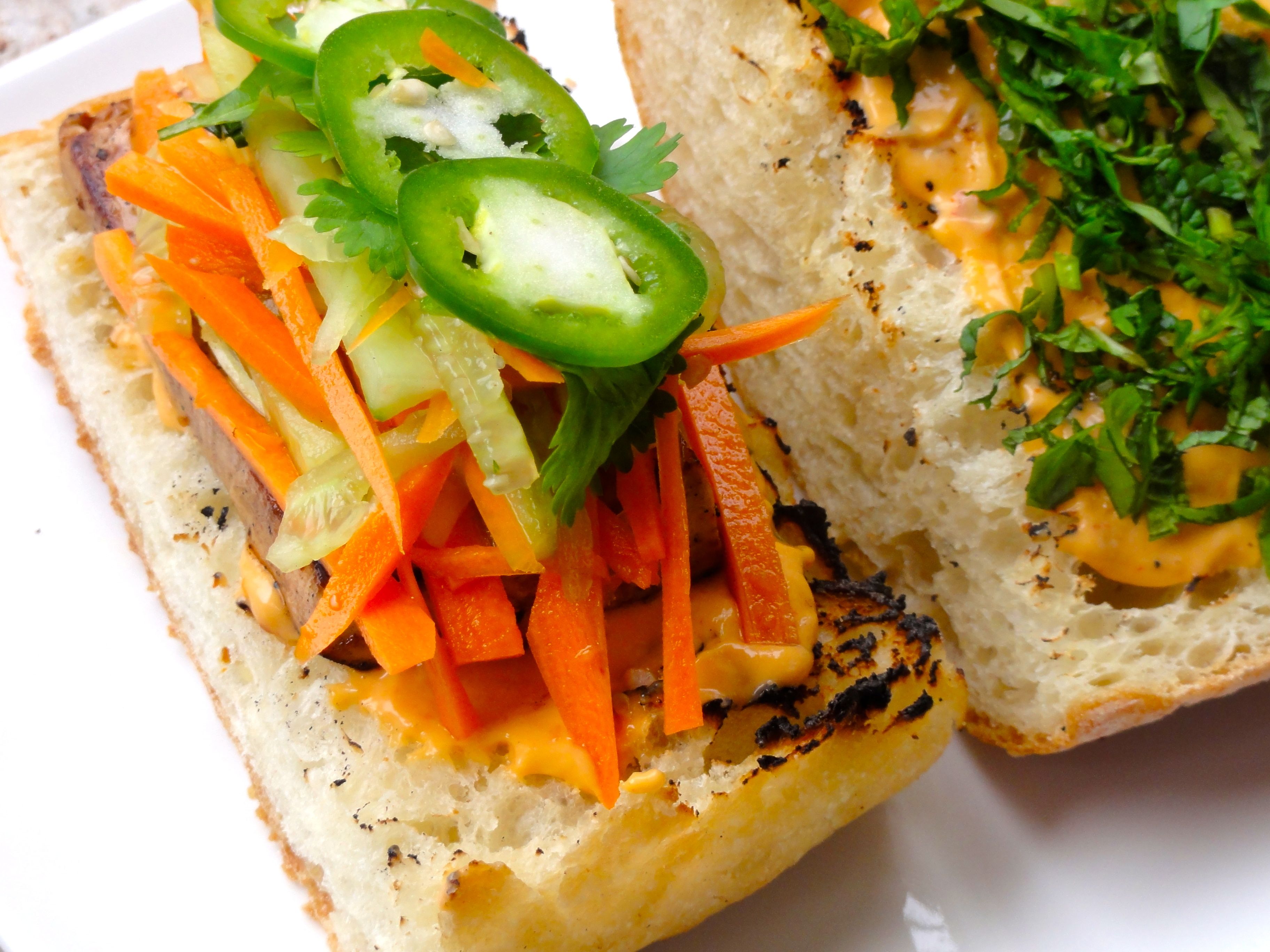 Sprinkle each side with coriander and mint: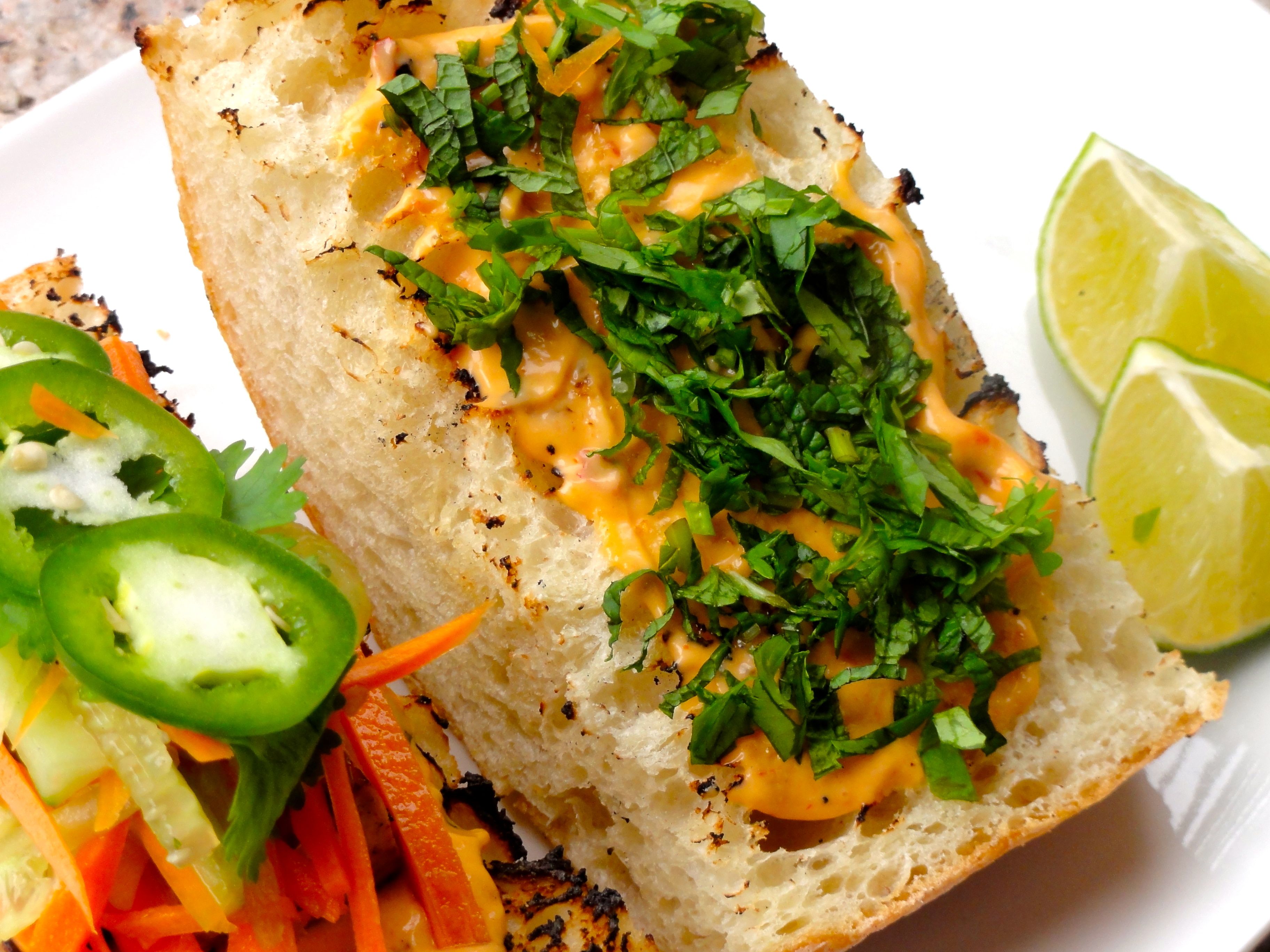 Place on the top and press down. Serve with a slice of lime and some reduced fat kettle cooked chips, only if you like!
Like Tofu? Check out these other Delicious Tofu-filled Recipes!