You all know my obsession with Mexican food and taco bell, but sometimes it's nice to stay in and make it yourself. It's also a LOT healthier, considering whenever I go to Taco Bell I'm "starving" and order enough for 5 adults and 2 small starving children. So try making this healthy tostada – super filling, delicious, and will impress anyone. Guaranteed.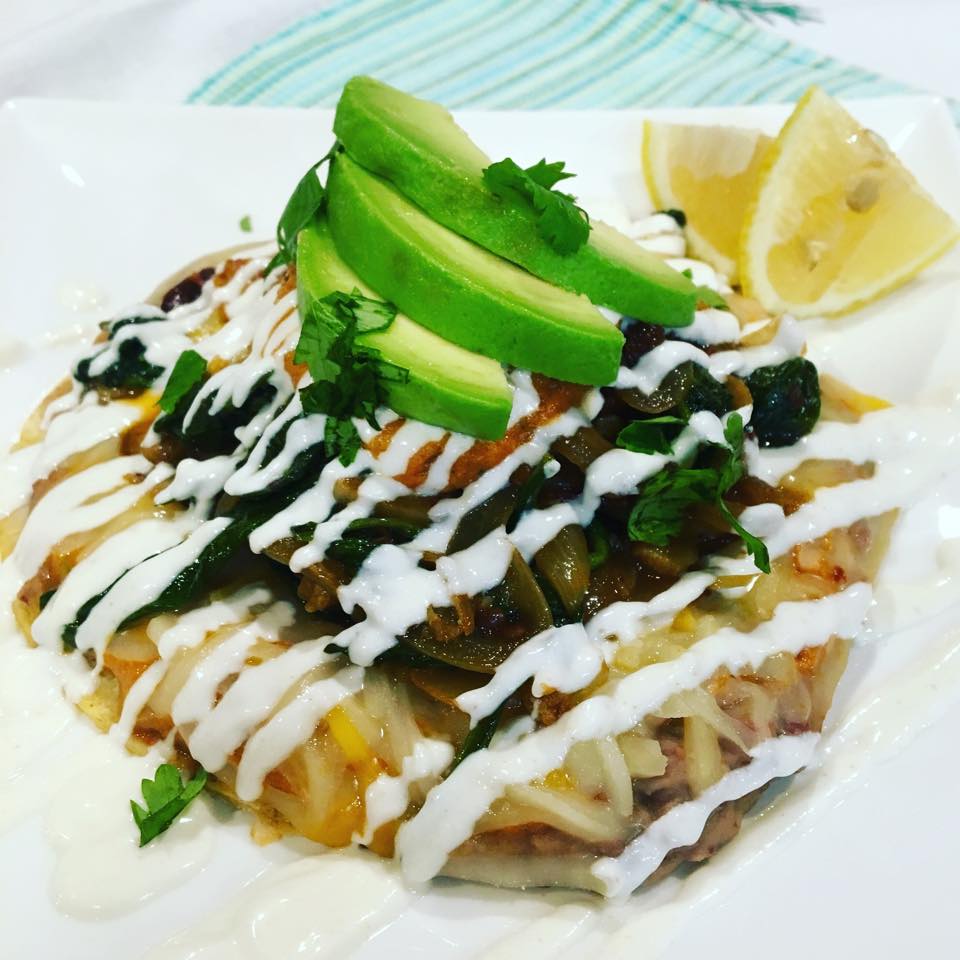 Roasted Tomato-Pepper Sauce:
1 large beefsteak tomato
2 jalapeños
1 head of garlic – top trimmed off
1 bell pepper (any color)
1 handful cilantro – chopped
1 tsp cumin powder
lime juice – from half a lime
salt
black pepper
PAM Cooking Spray
Cumin Crema:
1/2 cup reduced fat sour cream
1-2 tbsp fat free half & half
1-2 cloves of the roasted garlic
1 tsp cumin powder
salt
Bean Base:
1 can black beans – drained and rinsed
1 small white onion – diced
1 tsp cumin seeds
1 tsp lime zest
1 tbsp lime juice
up to 1/4 cup water
salt
black pepper
PAM Cooking Spray
Veggie Topping:
1 medium red onion – sliced
1 bad baby spinach
1 jalapeño – sliced
any mix of vegetables sliced
4 cloves of the roasted garlic
1/2 can of chipotle in adobo sauce – dice the chipotle peppers
salt
black pepper
splash of lime juice
PAM Cooking Spray
Assembly Ingredients:
4 flour tortillas
2 cups reduced far shredded Mexican blend cheese
1 handful cilantro – chopped
1 avocado – sliced
Sauce: Preheat oven 350 degrees. In a baking sheet, place the tomato, pepper, and jalapeno on a baking sheet and spray with PAM (drizzle a little olive olive if desired). Make sure the vegetables are thoroughly coated. Place the trimmed garlic head in an foil packet and spray with PAM. Wrap to close. Place tray in oven and roast for about 25-30 mins until soft and until garlic is soft and squeezable through the garlic skins. Remove and let cool. Remove stems from tomato, pepper and jalapeno. Place all ingredients in blender with 5-6 cloves of the roasted garlic, lime juice, cilantro, salt, pepper, and cumin powder. Blend until smooth and taste for salt and pepper. Pour into a small sauce pan and place over a low simmer.
Crema: In a bowl, mix together all ingredients for crema until thick and smooth. Place in a squeezy bottle for drizzling. Set aside.
Beans: In a large skillet, spray with PAM and place over medium flame. Add in cumin seeds and allow to crackle about 30 seconds. Add in onions and saute until slightly softened and translucent. Add in the black beans and saute for 5 mins. Add in the lime zest, lime juice, salt and pepper. Saute for a couple mins then using a masher, start mashing. Add in the water a bit at a time until the beans are mashed and smooth. You want to add enough water so the mixture is creamy. Set aside and cover with plastic wrap so it doesn't dry out.
Veggies: In a large pan, spray with PAM and set over medium-high flame. Add in the onions and roasted garlic. Saute for 5 minutes, then add in the remaining veggies and chopped chipotle peppers with the accompanying adobo sauce. Saute until all veggies are cooked through and softened. Add in salt, pepper, and lime juice. Remove from heat.
Assembly: In a large pan, spray with PAM and place over medium heat. Place a tortilla in the pan, spread with a thick layer of the bean mixture and top with a thick layer of the shredded cheese. Cover with a lid for about a minute until cheese is melted. Then top with a thick layer of the roasted tomato sauce, pile high with the vegetables. Top with a little more red sauce and place on a serving dish. Drizzle with the crema and top with 2-3 slices of avocado. Sprinkle with cilantro and a squeeze of lime juice. Eat!