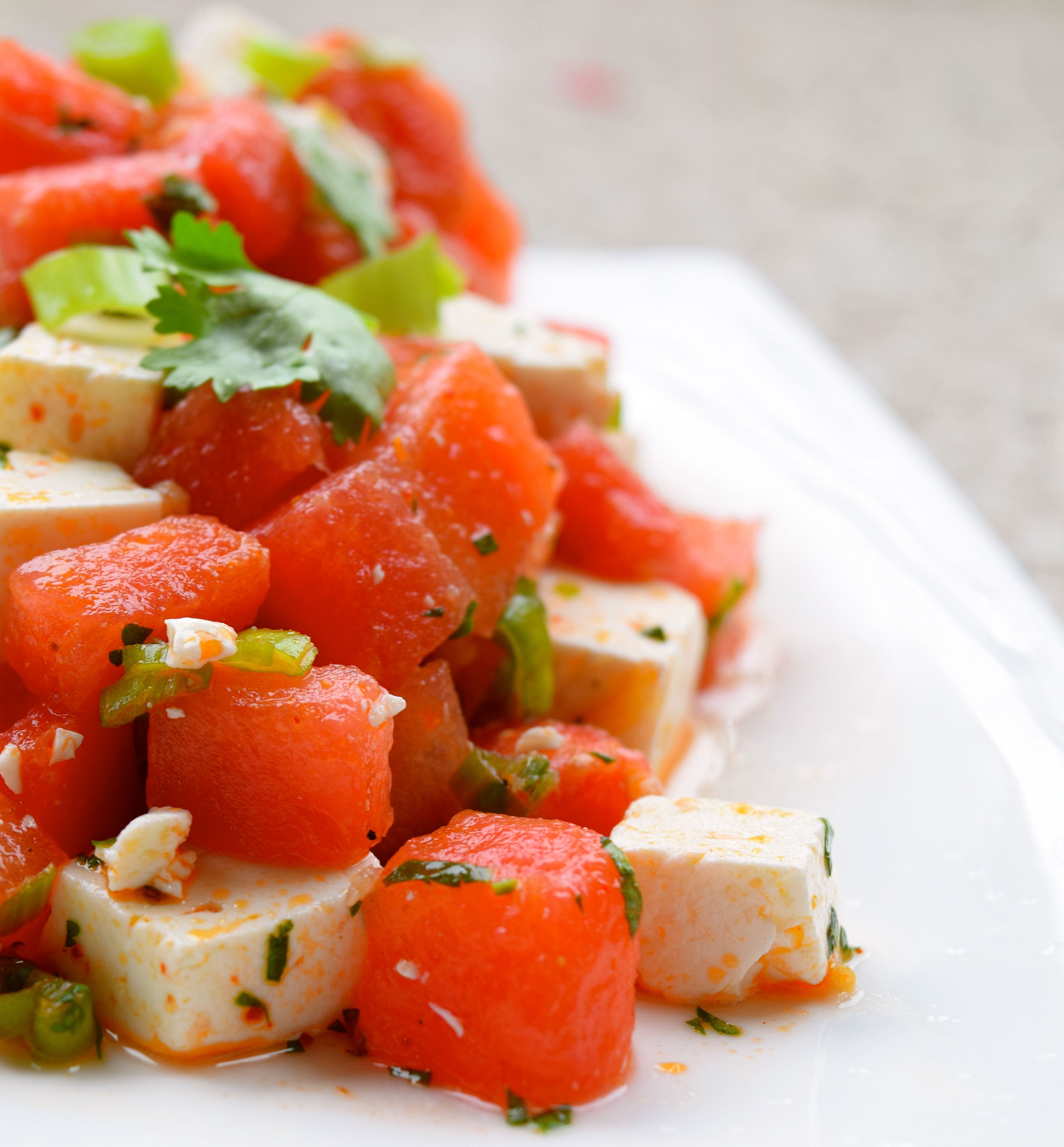 As soon as April-May comes, I go on a watermelon binge for the rest of the Spring-Summer. I think I'm slightly obsessed – I can pretty much eat an entire watermelon in one sitting by myself. Clearly, I don't know how to eat in moderation. This time around, I decided to share my watermelon with my family, but in a salad! We had just bought some fresh feta cheese, scallions and cilantro, so I decided to combine the fresh ingredients we had at hand and make a delicious salad. It just so happened that I made this on 4th of July, so it was festive and patriotic! If you love watermelon, then you're going to love this salad. It's also super healthy! If you're vegan, just sub in vegan cheese for the feta.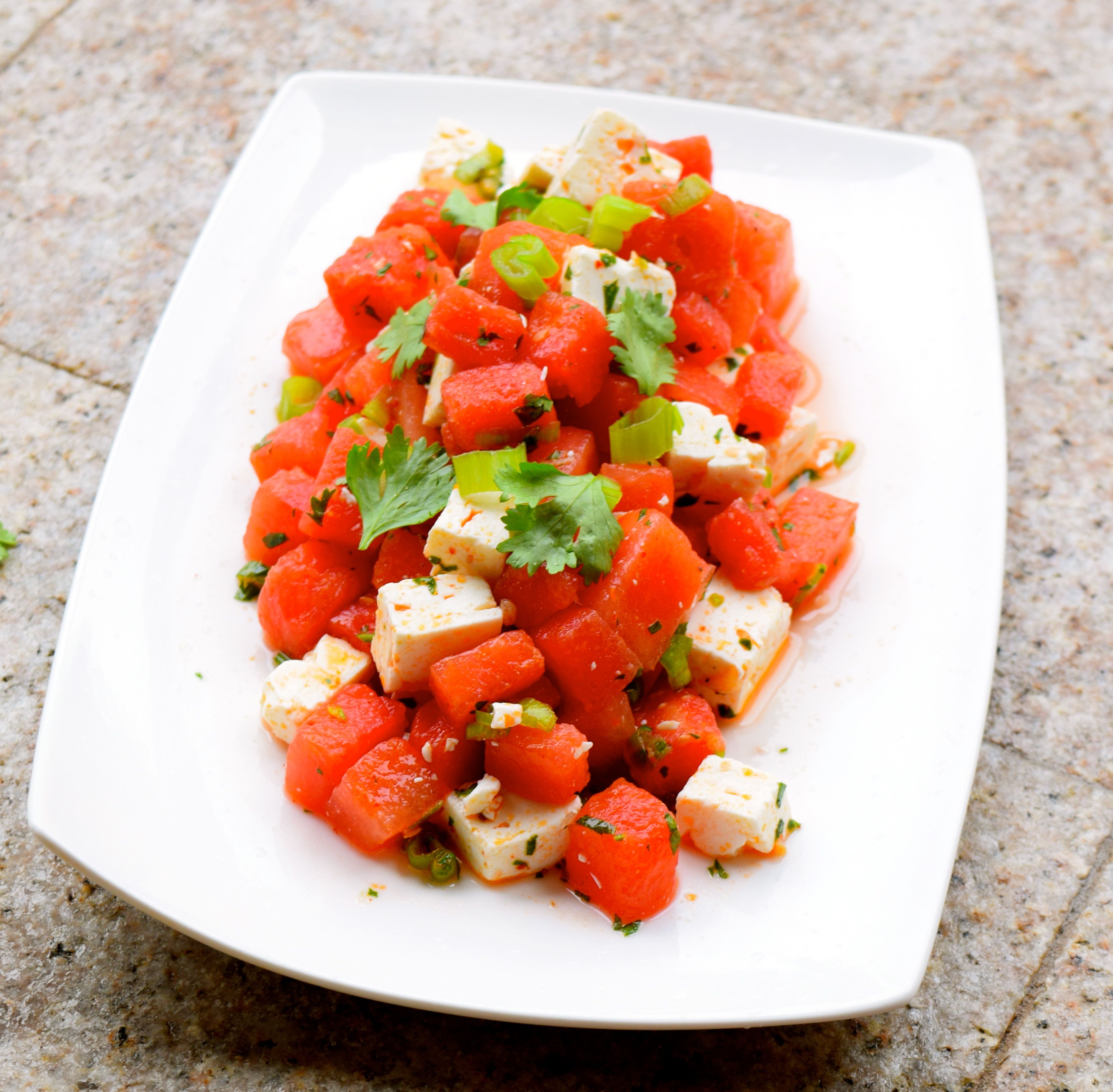 Watermelon & Feta Salad:
2 cups fresh watermelon – cubed
1 block fat free feta – cubed
1/4 cup fresh scallions – chopped
handful of fresh cilantro – washed, dried, and finely chopped
1 tsp Homemade Kashmiri Chili Powder (recipe below)
2 cloves garlic – peeled and cut in half
extra virgin olive oil
salt
pepper
splash of red wine vinegar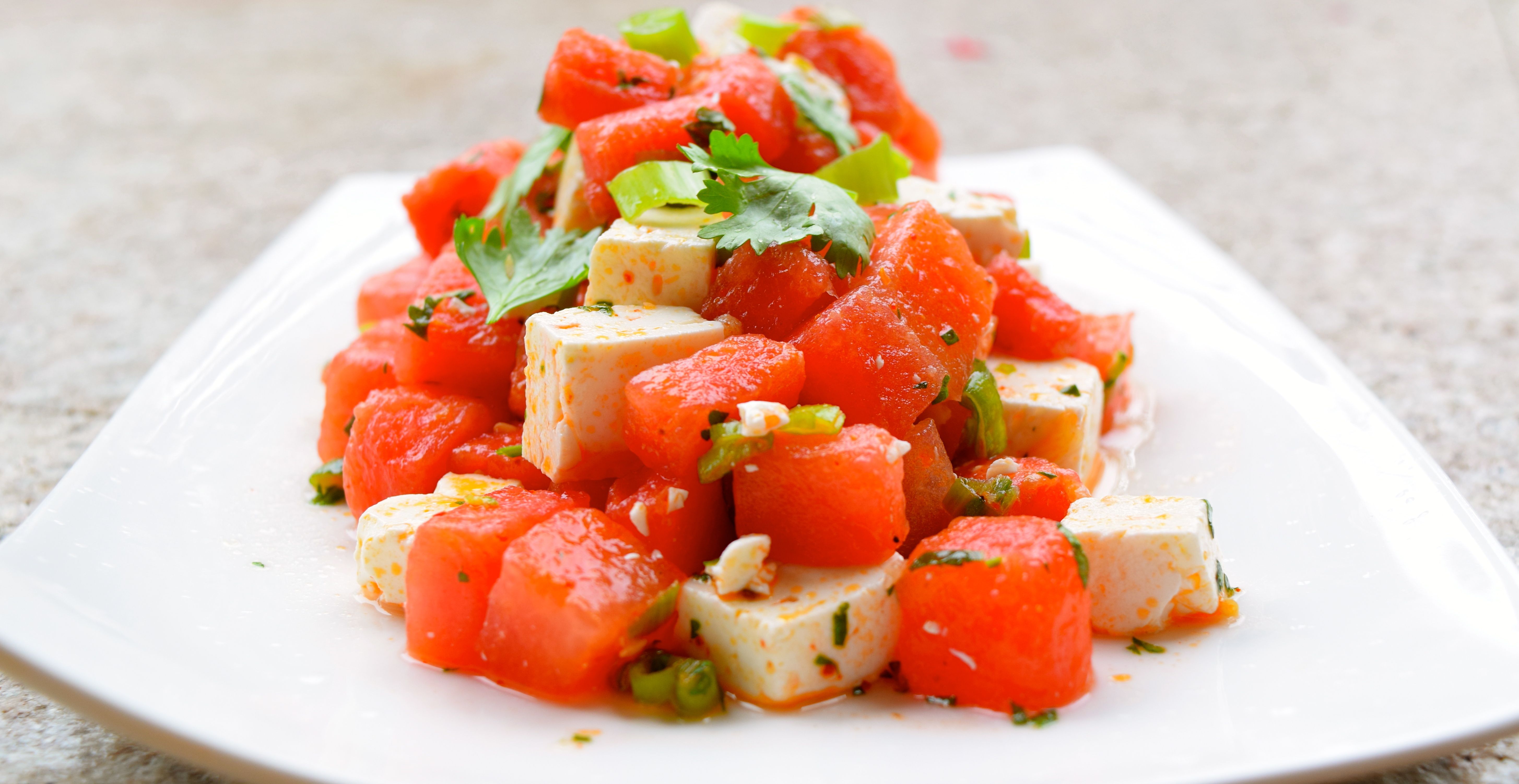 1. In a small sauce pan, coat with extra virgin olive oil and set over medium heat. Add the garlic cloves and cook until slightly brown. Remove from the stove, and set aside to cool to room temperature.
2. To make the the dressing, place the garlic in a bowl, smash up with a fork until finely chopped. Add in a tbsp of the finely chopped cilantro, vinegar, salt, pepper and mix. Using a small whisk, whisk the ingredients while slowly drizzling in the olive oil. Whisk until we create emulsion.
3. Place the watermelon, feta and scallions in a bowl. Drizzle on the dressing and gently toss until its all coated. Place on a serving dish, and garnish with more chopped cilantro and scallions.
Homemade Kashmiri Chili Powder:
handful of dried Kashmiri Chilies
1 tbsp cumin seeds
1 tsp salt
1. Remove the stems from the chilies. In a small pan, toast the chilies and cumin seeds over low heat, until fragrant and heated through. Remove and let cool to room temperature.
2. Using a coffee grinder, grind the chilies, cumin seeds and salt until super fine. Place in a plastic container with a tight lid and keep away from moisture.