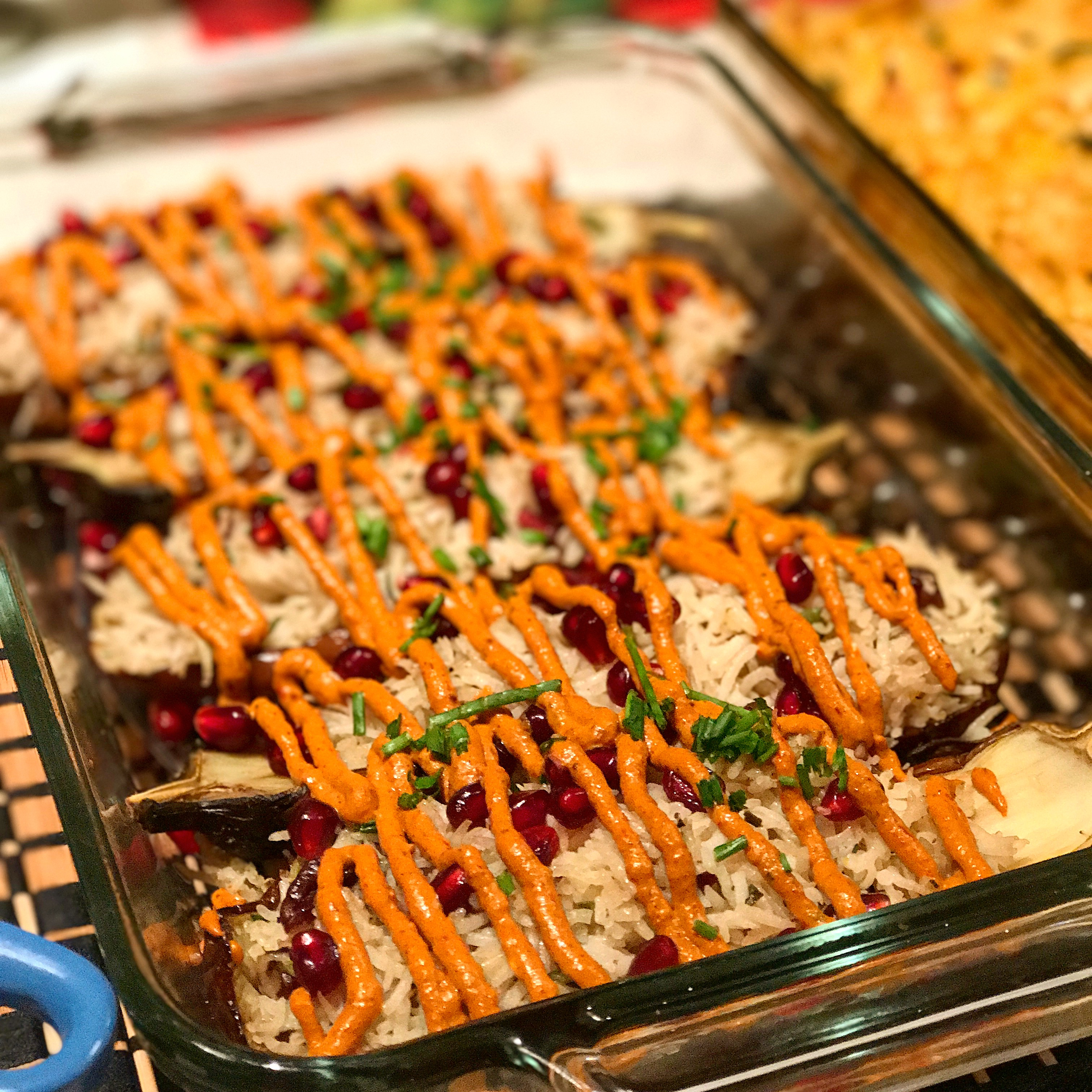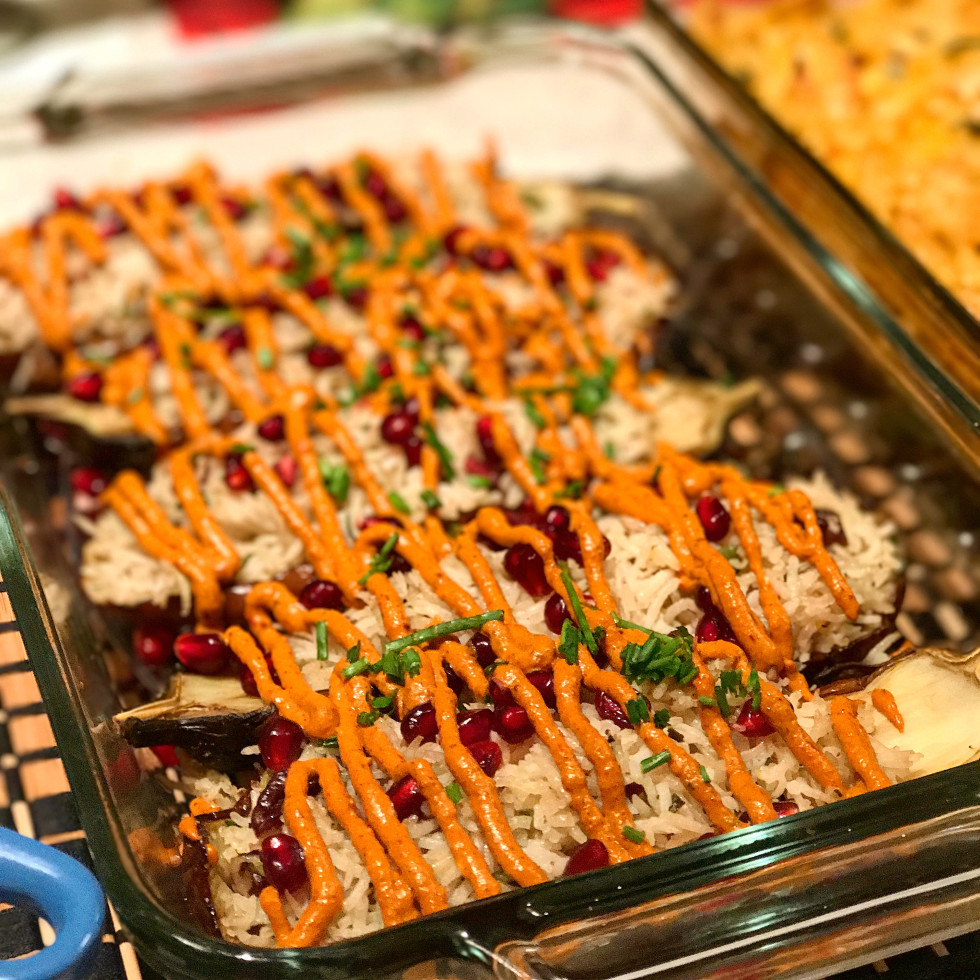 I like making dishes that combine ingredients and flavors from different cultures- usually Indian flavors with others. I think most people tend to shy away from bold ingredients, like clove, chili, and spices. So I like to make dishes that help people ease into using some of these rather strong ingredients. I think when used appropriately, the strong spices can really change a dish – bring it to life. I recently made an Indian pulao stuffed roasted eggplant with pomegranate and a chipotle sauce. This dish combines some traditional Indian ingredients with some Mexican flair, to create a super flavorful and dynamic dish. My Wild Rice Stuffed Eggplant can be eaten a stand alone main or as a side (a rather hefty side I should say).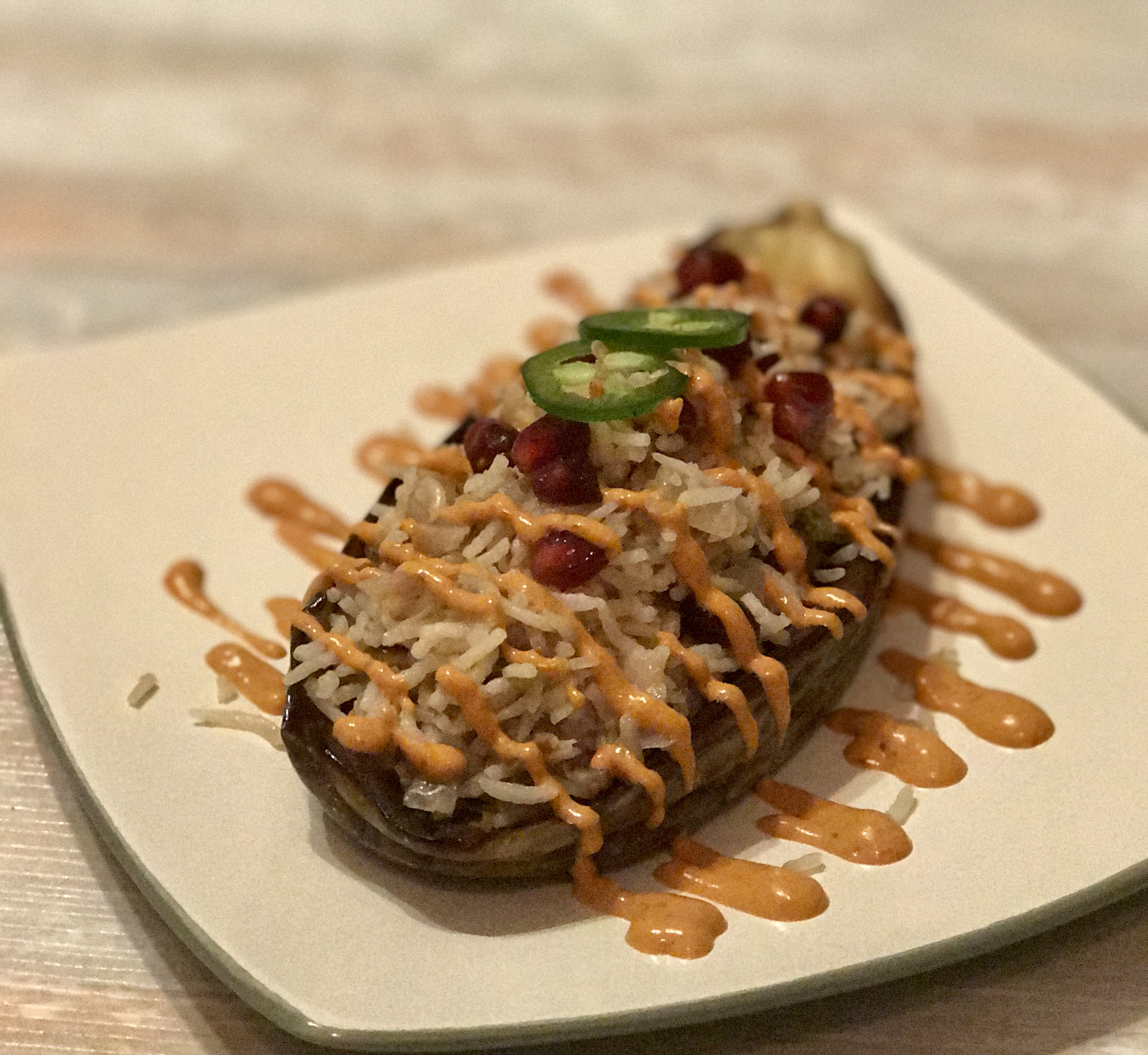 Wild Rice (Pulao):
1 cup Basmati rice – thoroughly rinsed and soaked in water for 30 mins
1 1/2 cup water
1/4 jumbo white onion – diced
1 bay leaf
1 clove
1 tsp fresh orange zest
2 tbsp chopped raw unsalted pecans
1/2 jalapeno/serrano chilli – minced
salt
pepper
vegetable oil
Roasted Eggplants:
4 Japanese eggplants – slit in half
PAM cooking spray
olive oil
salt
cumin powder
Chipotle Sauce:
2 chipotles in adobo – remove from sauce
about 1/4 cup reduced-fat sour cream (use vegan option if necessary)
1 clove of garlic
1 handful fresh cilantro – washed and roughly chopped
juice from 1/4 lemon
salt
pepper
Garnishing:
1/4 fresh pomegranate kernels
chopped cilantro
chopped chives – optional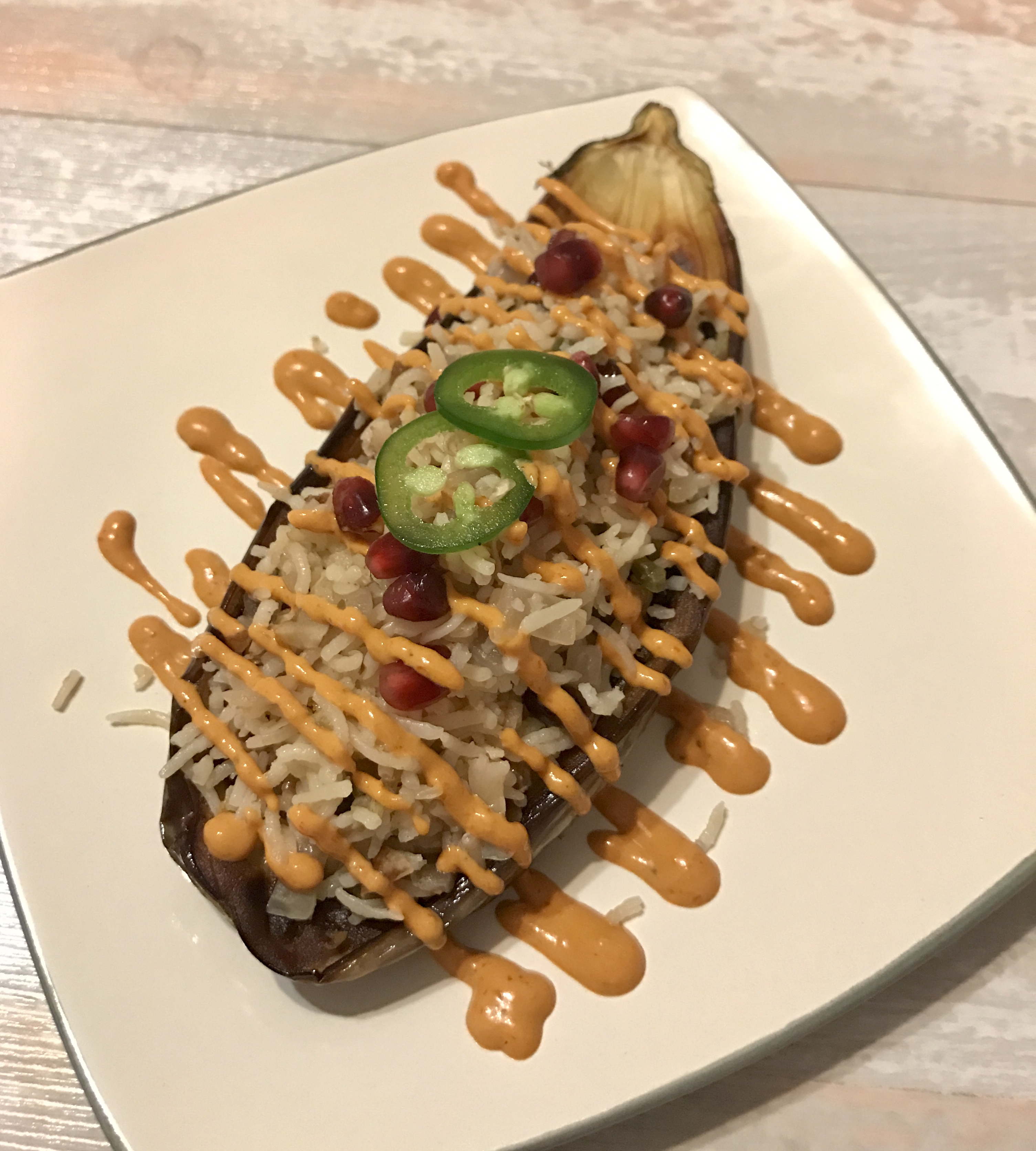 Preheat oven to 400 degrees.
1. In a large deep pan, place over  medium-high flame. Add in onions, pecans, bay leaf, clove, orange zest and jalapenos. Saute for a few minutes until onions start to sweat and become translucent. It should be very fragrant. Then add in soaked basmati rice. Continue sauteeing – it should start smelling nutty. Add in salt and pepper. Spread evenly in pan and add in water. Mix to incorporate and bring to a simmer. Then reduce heat to low and cook covered and until all the water is absorbed. Rice should be fluffy. Set aside.
2. While the rice is cooking, spray/rub oil on the split eggplants. Roast face down on a cookie sheet for about 15 minutes in 400 degree oven. Then rotate and roast for another 15 minutes until super tender. Remove and let cool for a few minutes until you can handle them. Using spoon, scoop out center, making sure not the pierce the bottom or sides – you essentially want a little bowl. Scooped out centers can be used later to make Indian Eggplant Baba Ghanoush. Sprinkle eggplant bowls with salt, about a 1/8 tsp cumin powder on each. Set aside.
3. To make the sauce, combine all of the ingredients in a blender and blend until super smooth and pourable – we want to put this sauce in a squeeze bottle, so the consistency should be smooth enough to squeeze out, but not too watery.
4. Assembly: Before assembling everything, mix in the pomegranate kernels into the pulao. Fill each eggplant bowl with rice until completely full. Set on a serving dish and drizzle a generous amount of the chipotle sauce and garnish with cilantro and chives.
Enjoy!