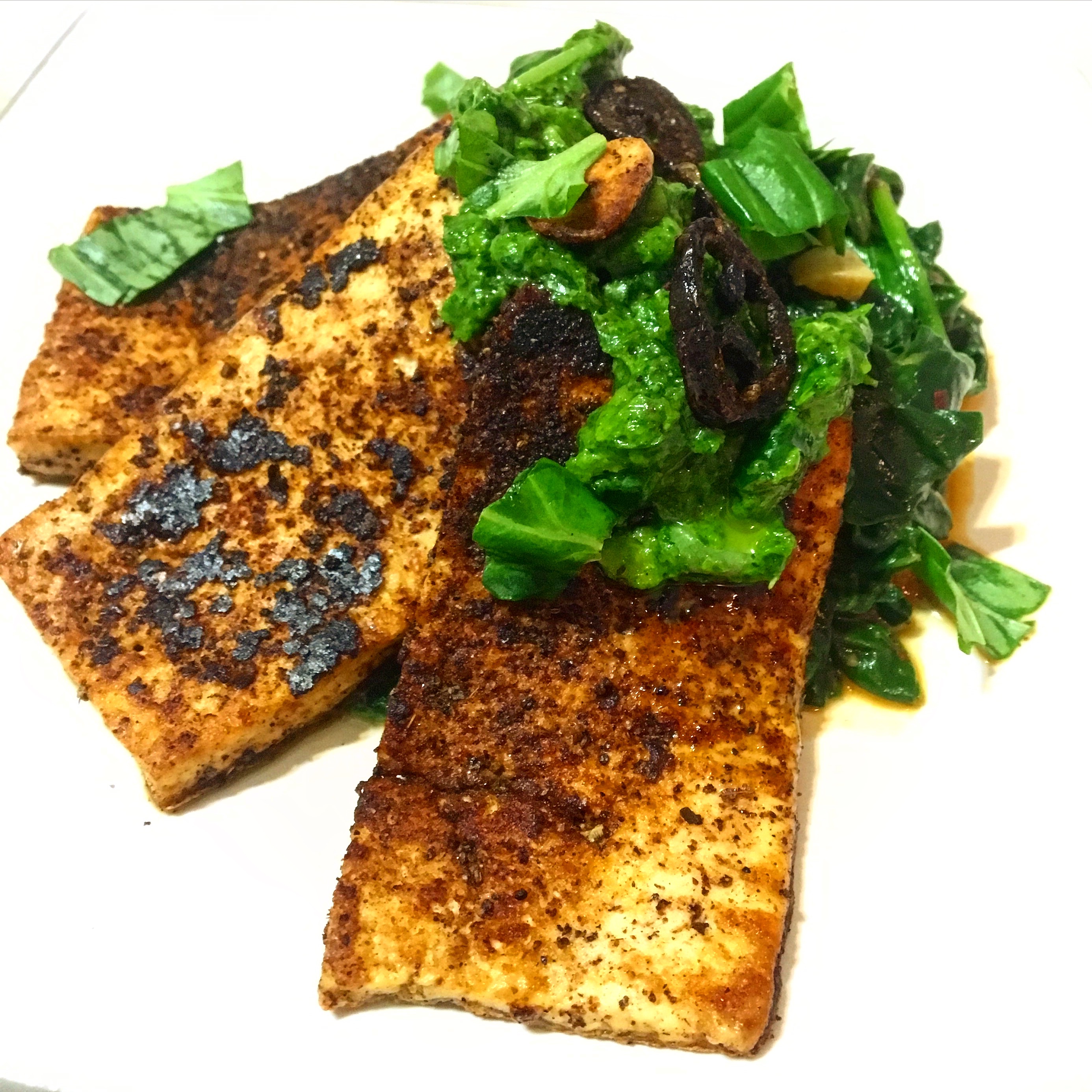 In my previous life as a carnivore (ugh, I know, I know), one of my favorite dishes was Blackened Chicken Fajitas from one of my favorite Tex-Mex places Jose Tejas. As a vegetarian, it's really hard to find "Blackened" veggie dishes. But why should one be deprived of delicious flavors, because they want to save the animals and the world?! Besides, "blackened" meats are carcinogenic. So, I recreated this Blackened Chicken Fajita with tofu and changed the dish up. It was delicious, healthy, animal-friendly, and even better – totally vegan!
Blackened Tofu:
Spicy Garlic Spinach:
1 long hot Italian Pepper – diced
1 bag baby spinach
2 cloves garlic – thinly sliced
salt
black pepper
olive oil
Basil Pesto:
2 cups fresh basil
1/4 natural almonds
1 clove garlic
less then 1 tbsp olive oil
salt
pepper
1. Cut the tofu block into about 8 slices – make sure to use a towel/paper towel to absorb all the moisture from the tofu. Dredge the tofu slabs into the old bay seasoning – making sure it coats the entire thing. Pat it into the tofu slab.
2. Spray a medium (or large) non-stick skillet with PAM and place over medium-high flame. Pour in about 1 tsp of olive oil – just to very lightly coat the pan. Place a few of the tofu slabs into the pan. Cook about 3-5 minutes on each side – until "blacked" and slightly crisp. Remove and place on a plate covered with paper towel. Allow to cool. Repeat, until all tofu slabs are cooked. You make need to wipe down the pan after 2 batches.
3. While the tofu is cooking, blend together the basil, almonds, garlic, salt, and pepper. The olive oil may seem very little, but we want the consistency to be a paste, rather than a sauce. Add more/less olive oil depending on your blender. Remove and set aside.
4. Once your finished cooking the tofu, wipe down the pan and spray with PAM. Set over medium-high flame. Add in the olive oil, and then the hot peppers and garlic. Saute for about 30 seconds. Add in the spinach and sprinkle with salt and pepper. Saute until the spinach is wilted and cooked through – about 5 minutes. Remove and place on a serving dish.
5. Plating: Place the tofu slabs over the spinach and place a dollop of the basil paste on each slab. Garnish with some freshly ripped basil.
Enjoy!