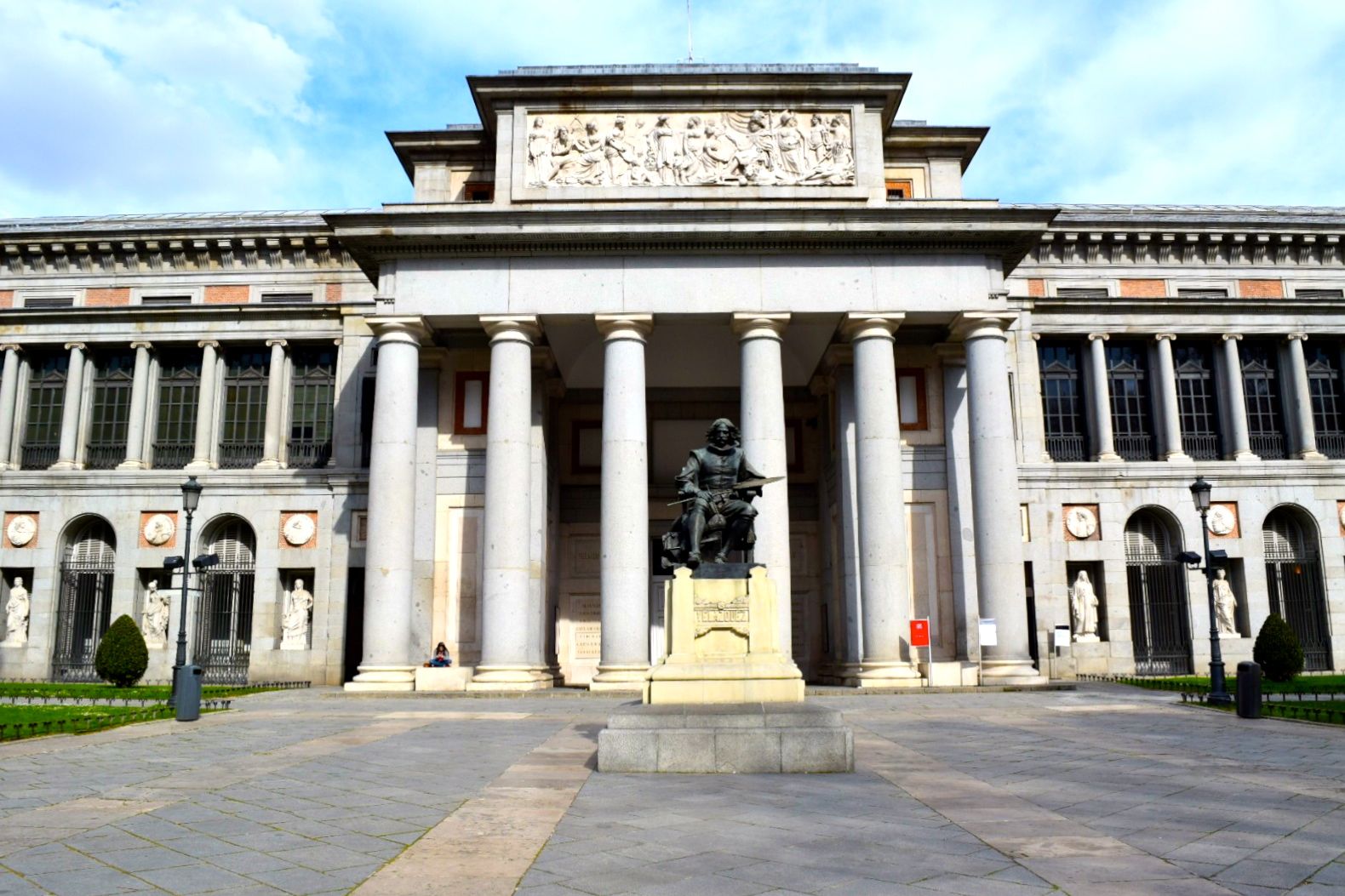 Hablas espanol? It's ok if you don't, cause I will be narrating my travels in ingles! I recently went on a 10 day trip with my girlfriends to Spain. I had already visited Barcelona about five years ago now when I was studying abroad in undergrad – wow that just reminded me of how old I am!! This time around we were visiting Madrid, Valencia, and Barcelona, and thankfully, we did not stay in hostels! I would to take you through some of my foodie adventures – but I must preface this post by saying that Spain and Europe in general has limited options for vegetarians, as the staples are pork and seafood.
MADRID
We arrived in Madrid at 9am on a Friday, so by the time we arrived to our hotel it was around 11am. We were starving and were told that Plaza del Sol or "Sun Square" had great restaurants and shops. We found a place that looked festive – almost like a Spanish diner. We walked in, took a seat, and to our dismay, were not given menus. Apparently, people just know what they want there, so we took our chances. We ordered churros con chocolate,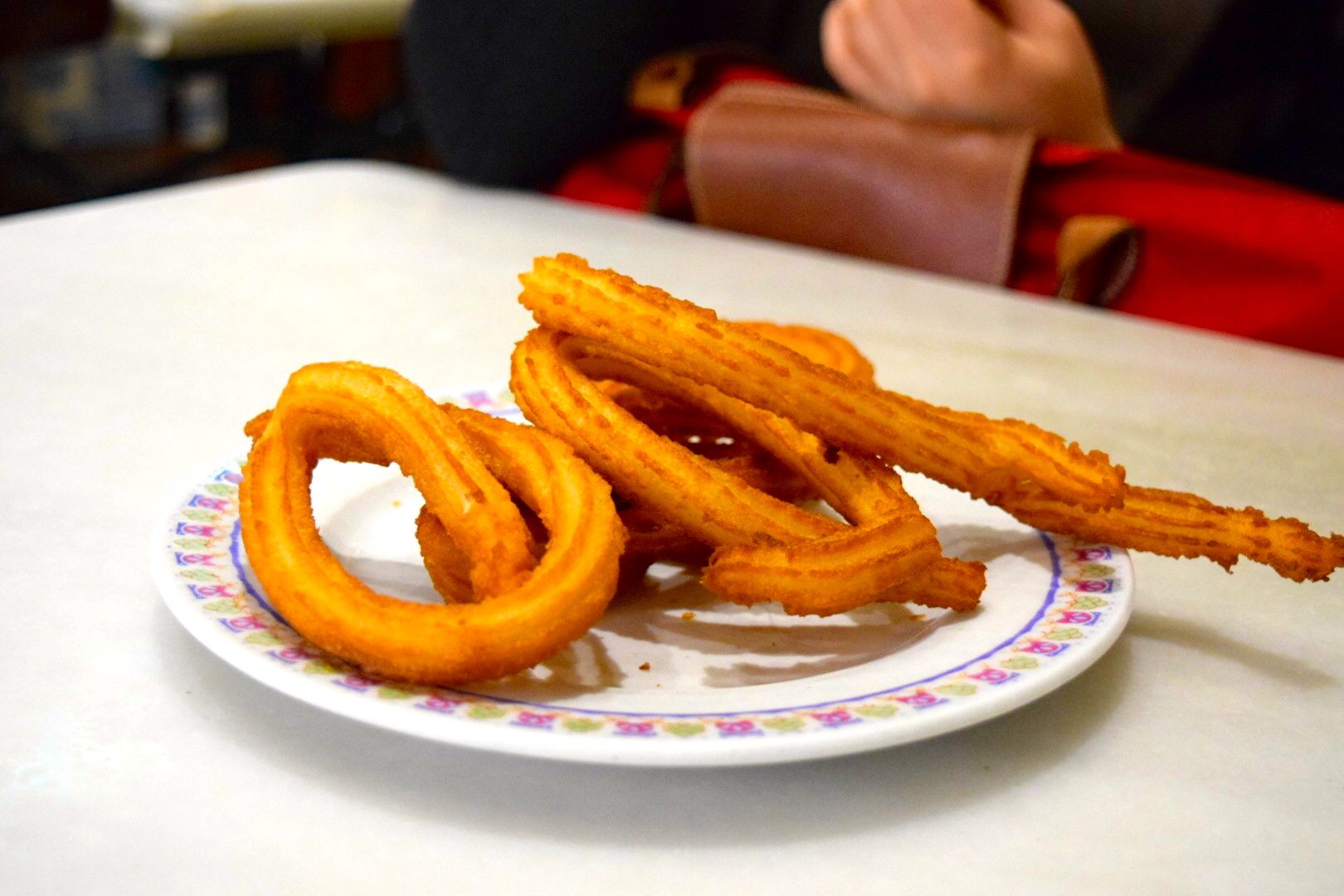 pan con tomate, and three cafe con leches.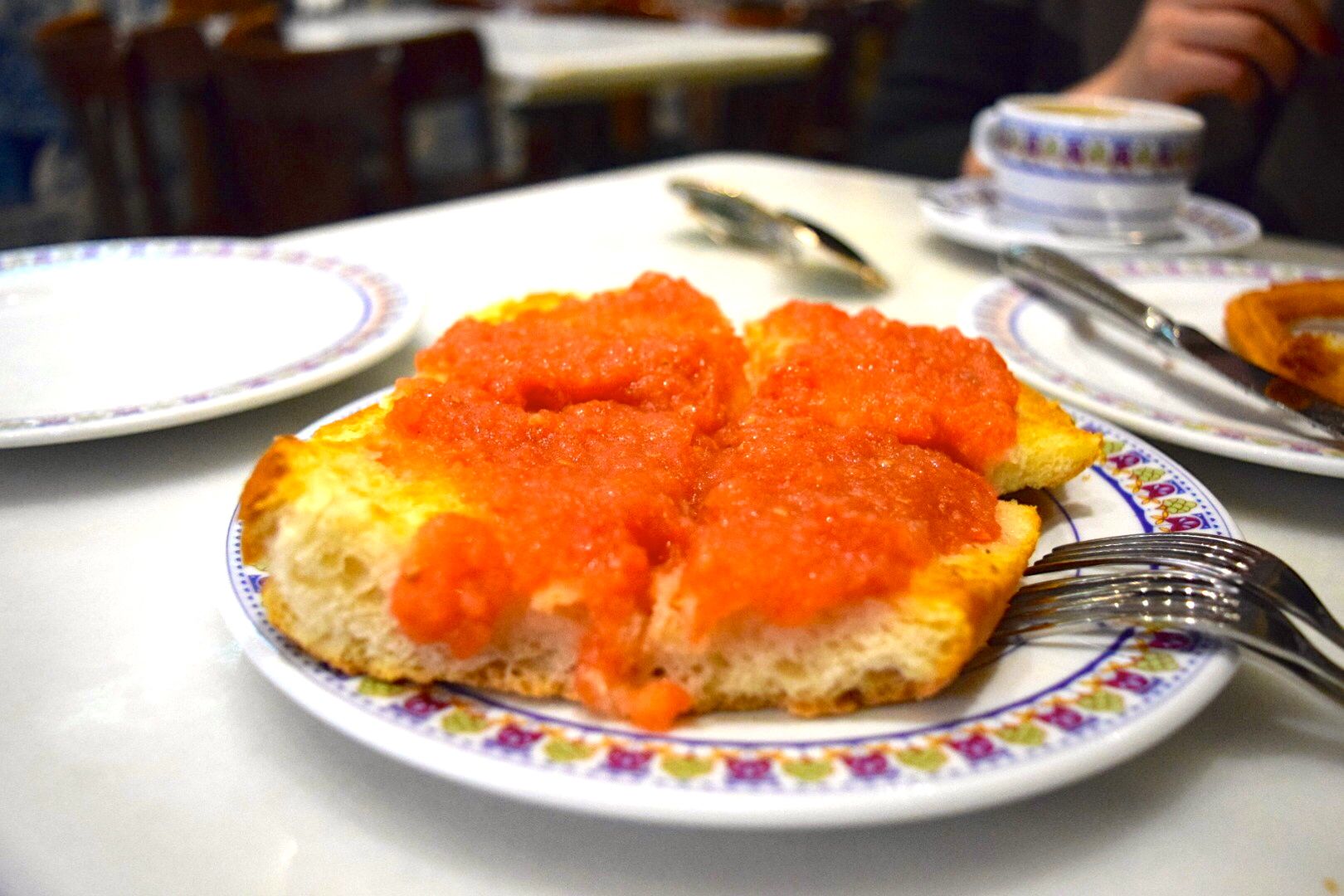 We were eager to taste the churros con chocolate, but to our disappointment, the churros were cold and didn't feel fresh. However, the pan con tomate, which is a buttered and toasted bageutte topped with a generous amount of crushed tomatoe, garlic, and extra virgin olive oil mixture, was very good and filling. And of course the cafe con leche, or coffee with warm milk, was excellent. That is one thing I do miss form Spain – the delicious coffee.
Next, we headed to Estadio Santiago Bernabéu to pick up Real Madrid game tickets, and there we stumbled upon the stadium restaurant.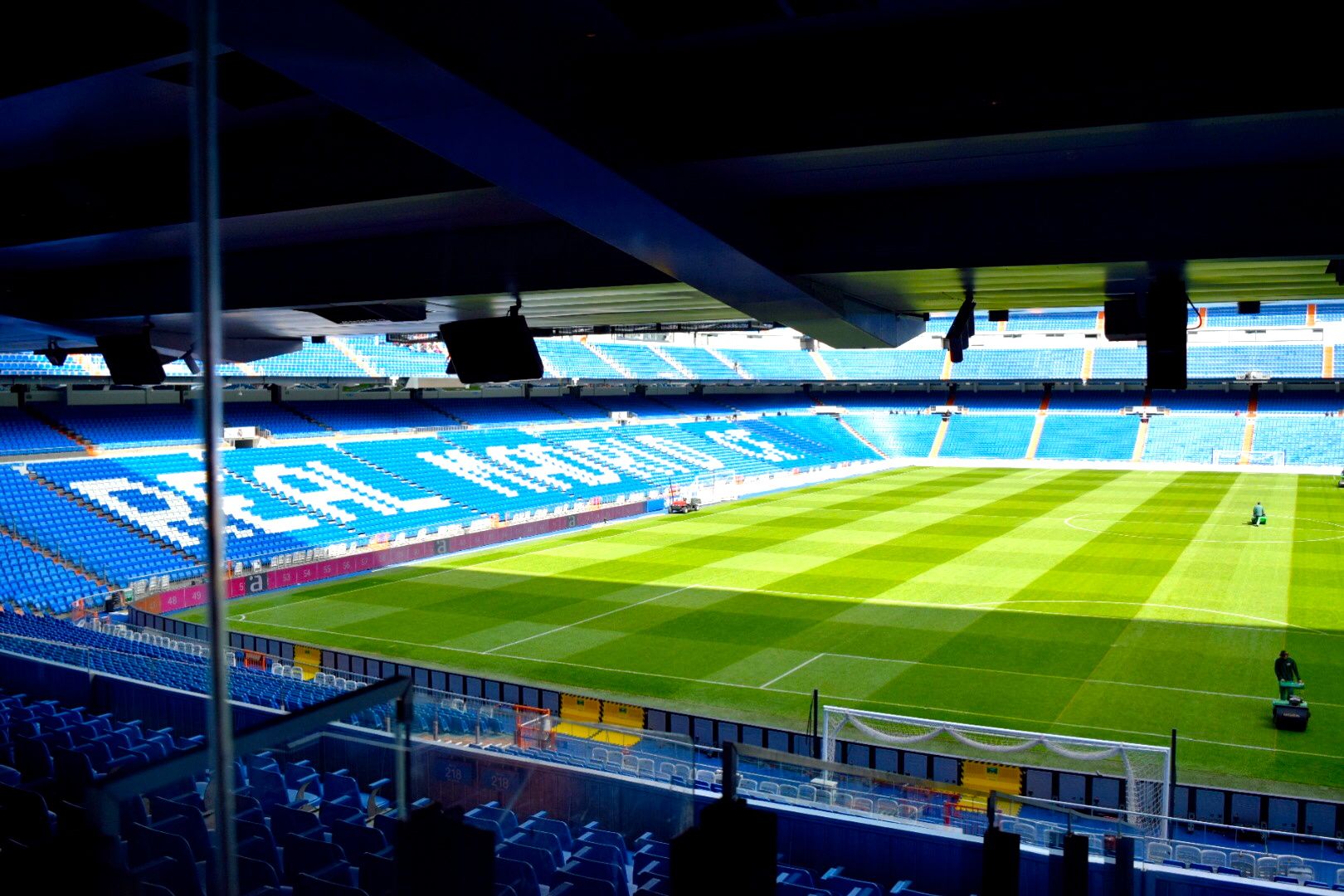 It was a horizontal shaped restaurant that had panoramic views of the stadium. Even though we had just eaten, we couldn't give up the opportunity to have a drink with this stunning view. We ordered a couple glasses of sangria and pretty much had a photo shoot. The sangria seemed to have too much, so it tasted more like soda than wine. Disappointing, but the view and photo shoot made up for it!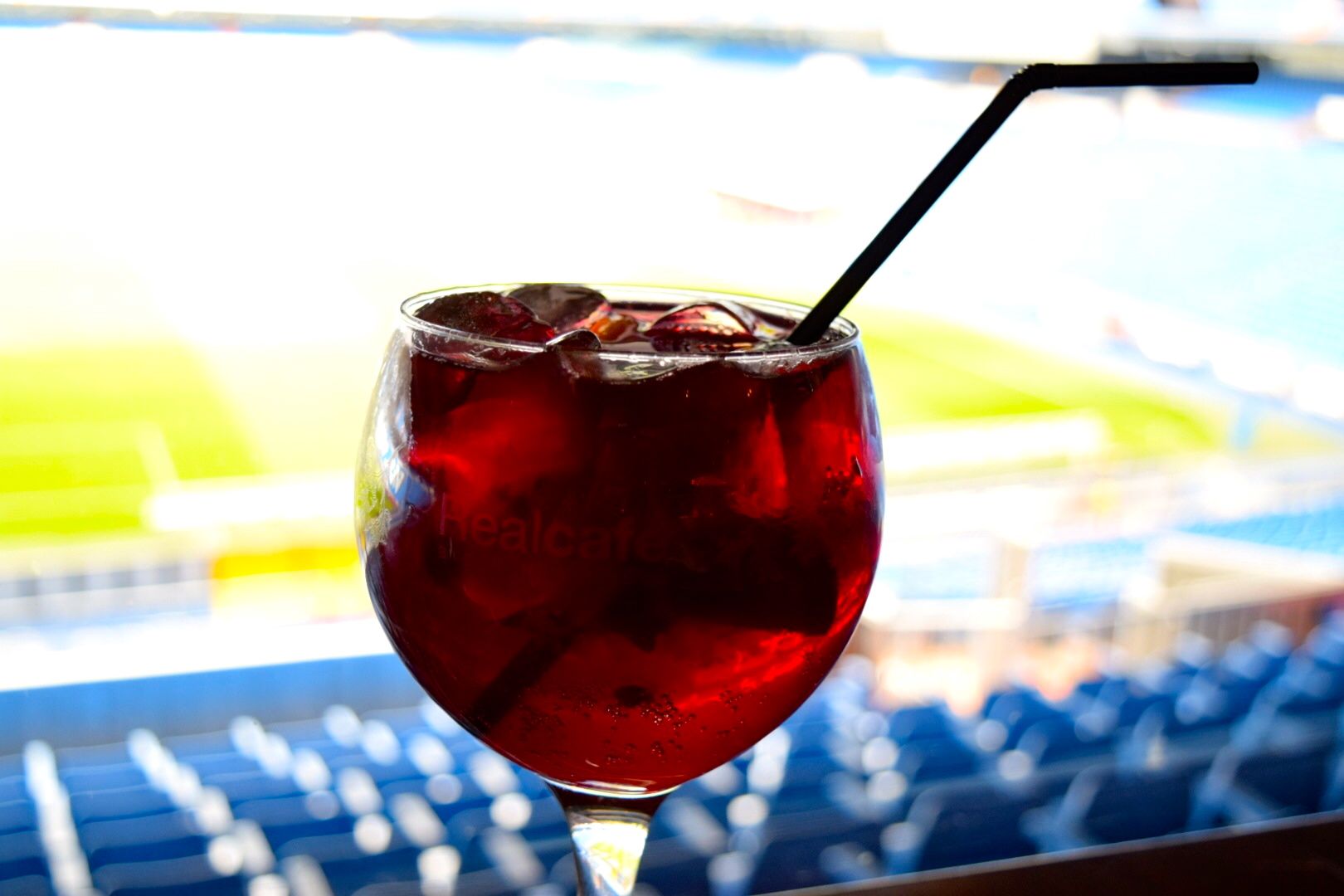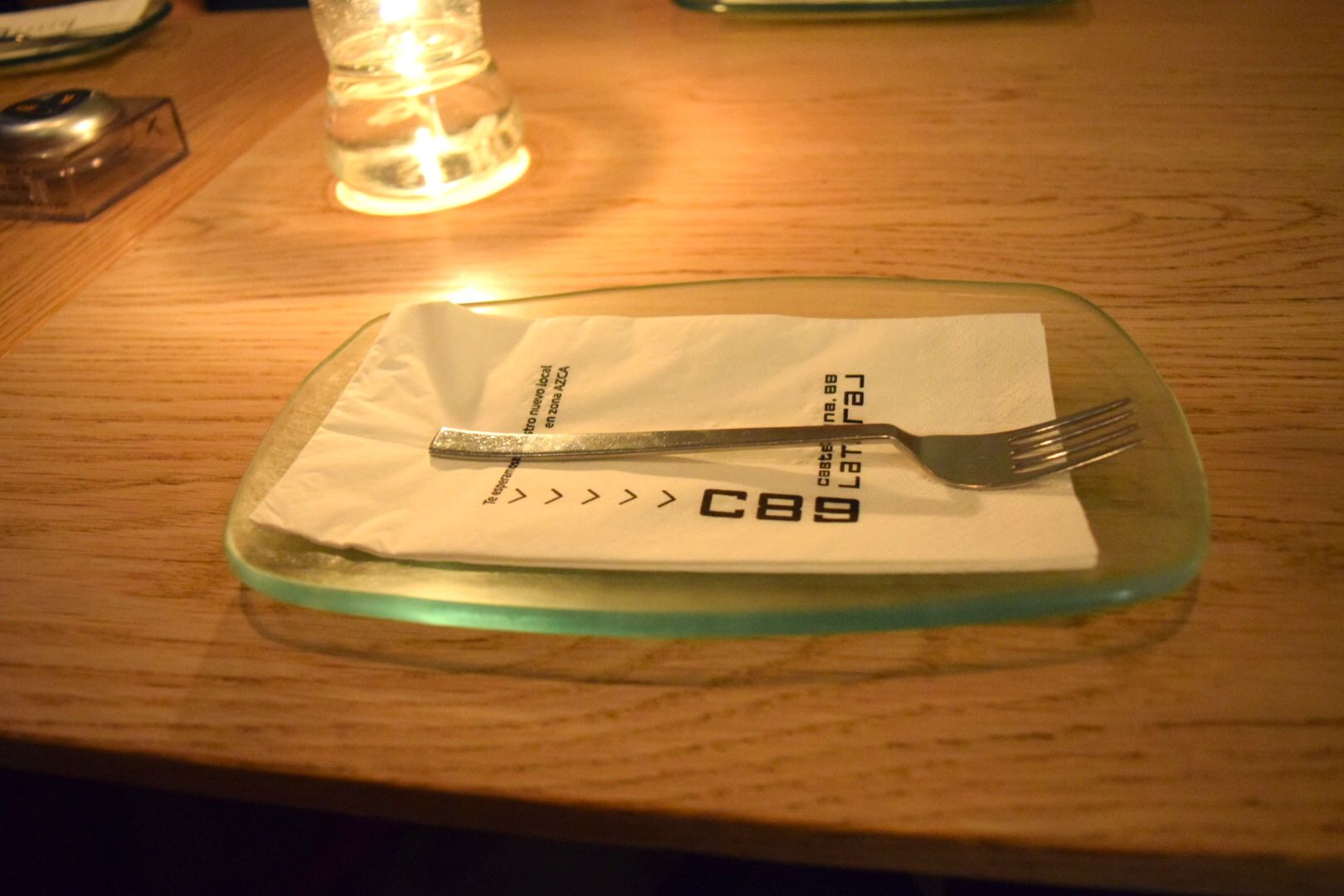 Our first night in Madrid we were starving and didn't realize how late everyone eats there! They generally don't open restaurants until 8pm, which gave us enough time to relax, freshen up and walk to the restaurant. Our hotel was located in a very central area, so we were about a 5-10 minute walk away from Santa Ana, which is a cute plaza full of different restaurants and hotels. We arrived at Lateral, put our name down and waited for about 10-15 minutes to be seated. Lateral is a chain restaurant in Spain, but it had a very non-chain feel. There was a nice bar to the left when you entered the restaurant, and a women making custom mojitos at the end of the bar. The restaurant was bustling and full of people from all age ranges. We were seated in the lower floor of the restaurant in a corner booth.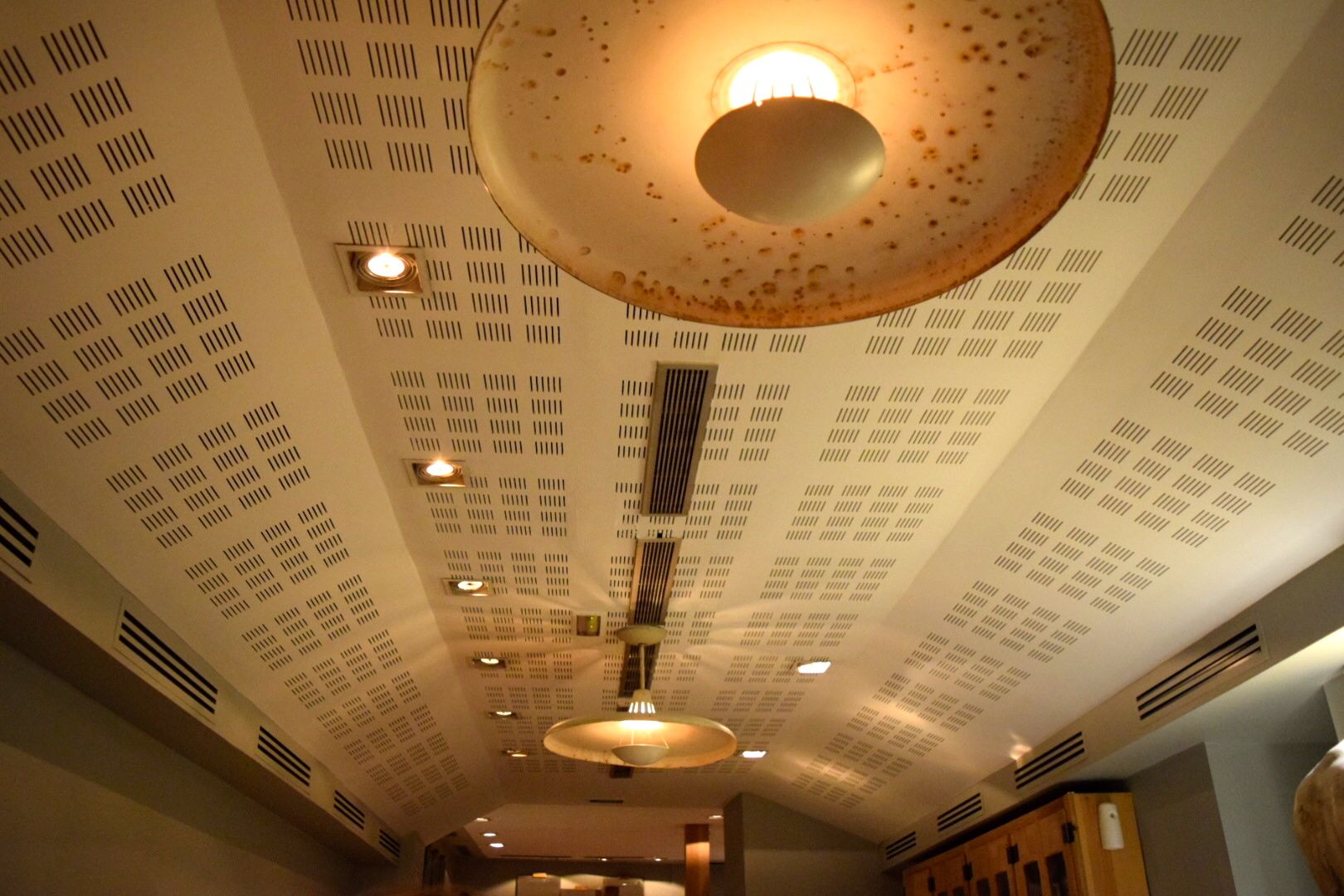 Some Quick Rates:
Quick Rates (1-10, 10 being the best):
Food: 8
Beverages: 7
Service: 3
Ambiance: 7
Price: 8
The food was fantastic here – but I'm not sure if it tasted good cause I was starving, or because it was actually good. I'm going to with the latter. I ordered tons of vegetarian tapas for myself, and was so excited to see that I had so much variety available to me! Here's a little synopsis of what I ordered:
Sangria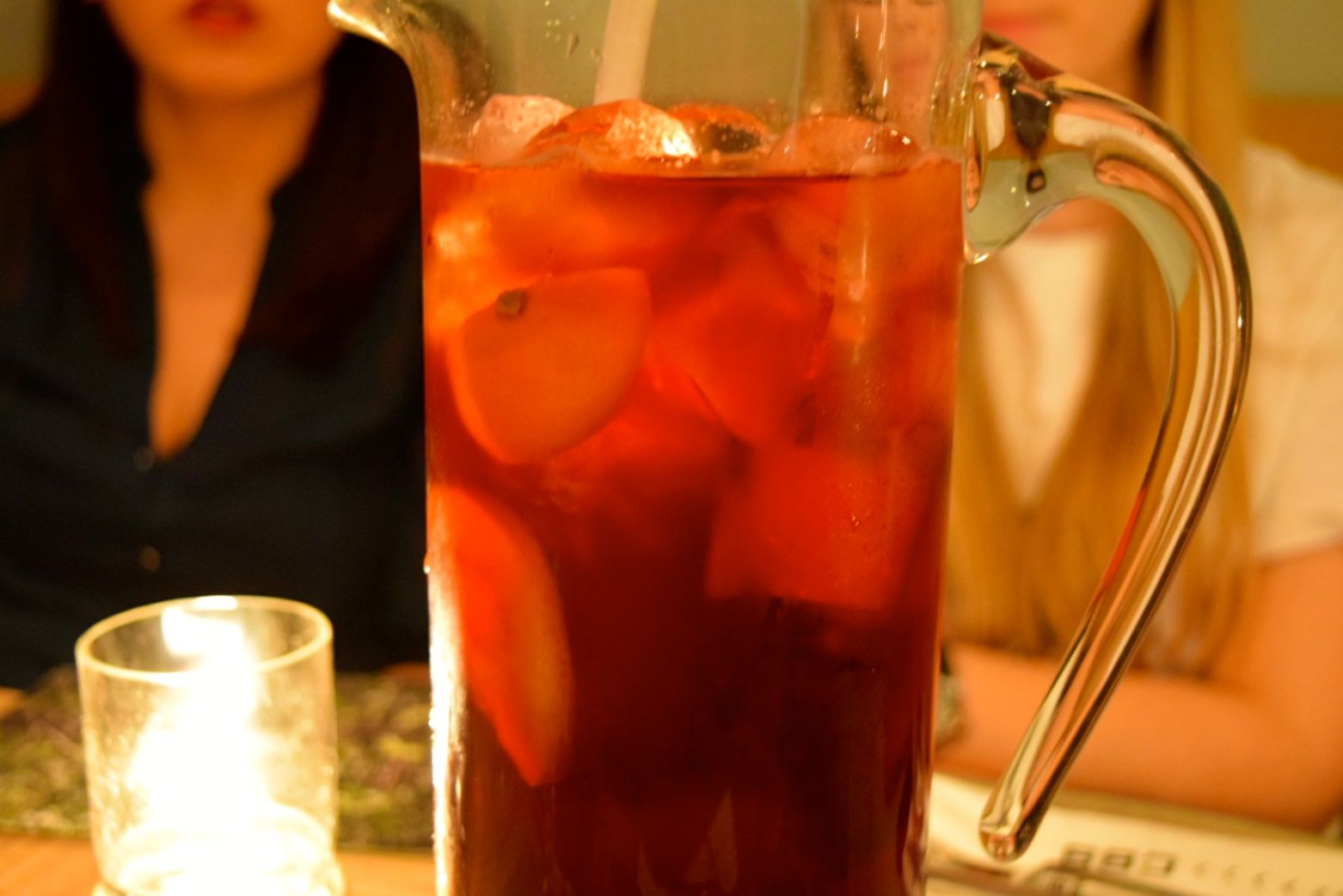 Tortilla Espanola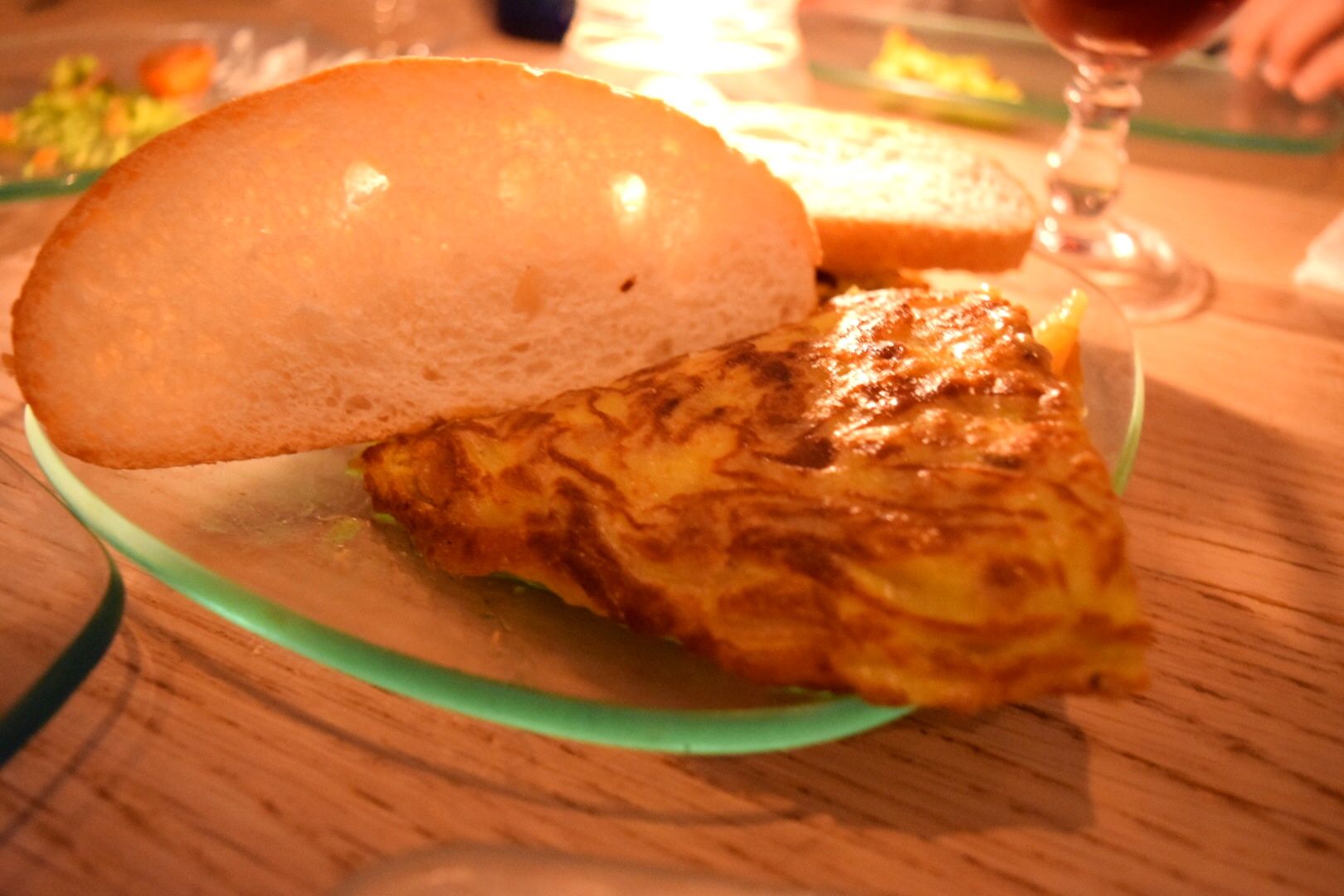 Vegetable Tempura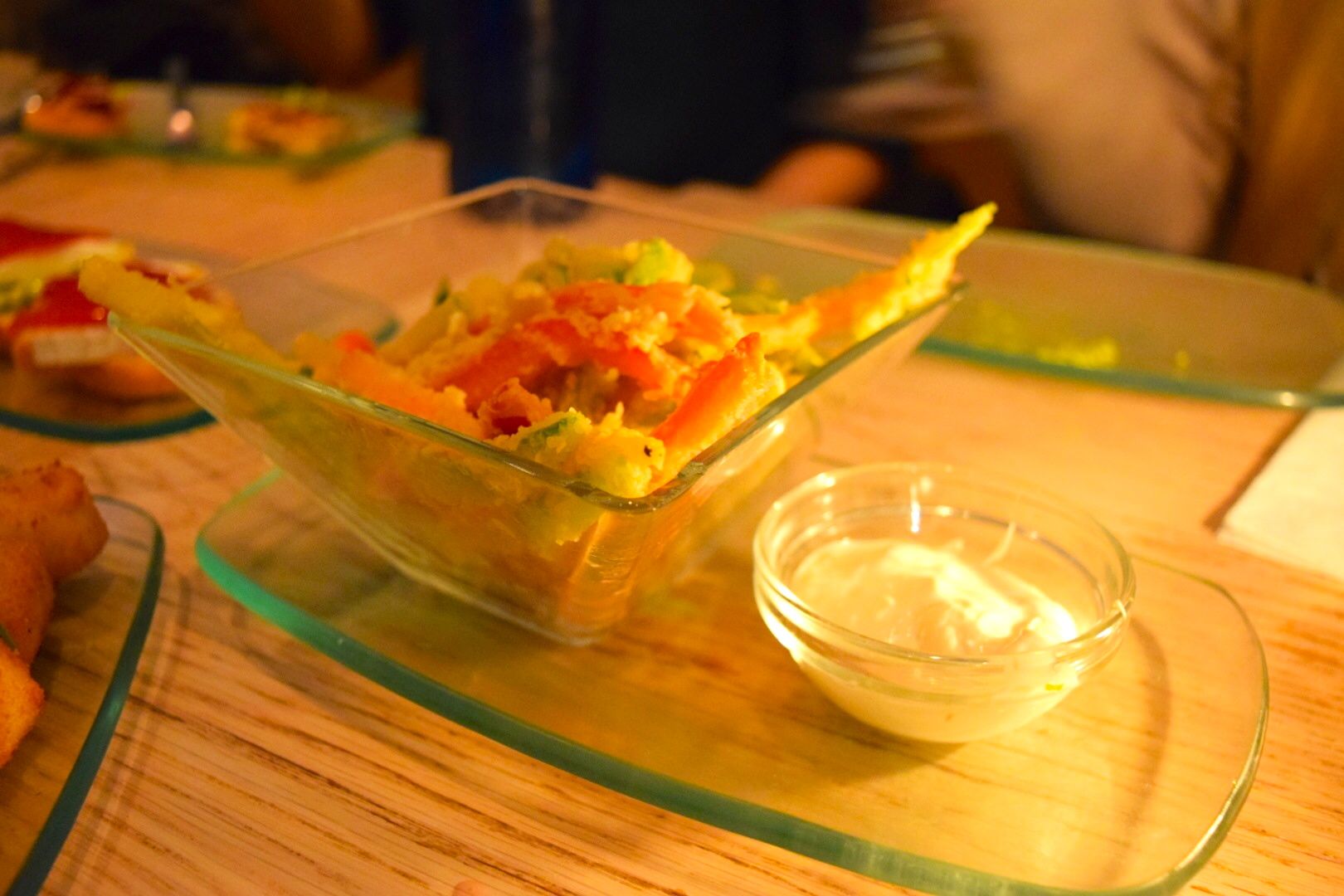 Vegetable & Gouda Quesadilla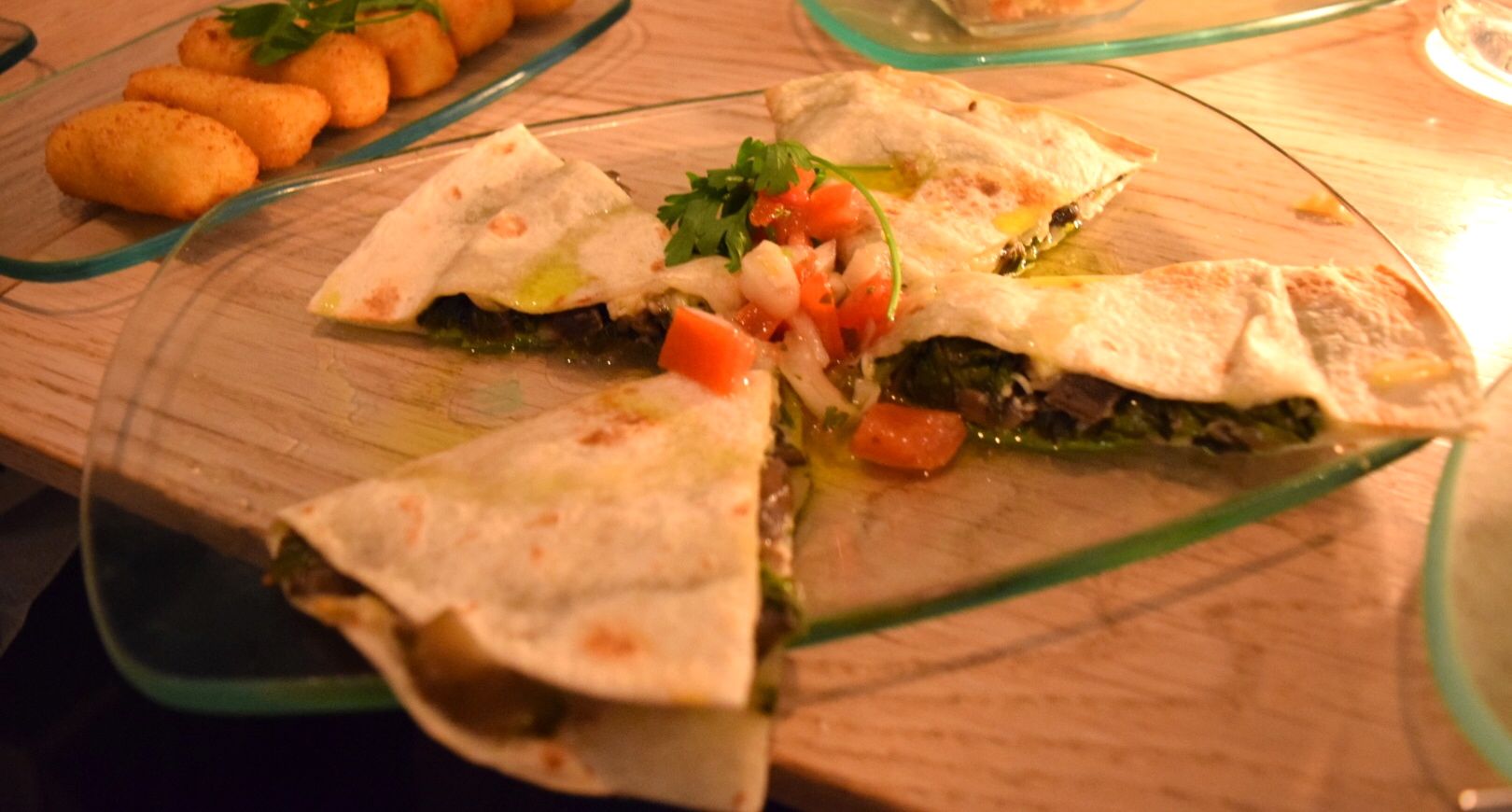 Brie & Roasted Pepper Toast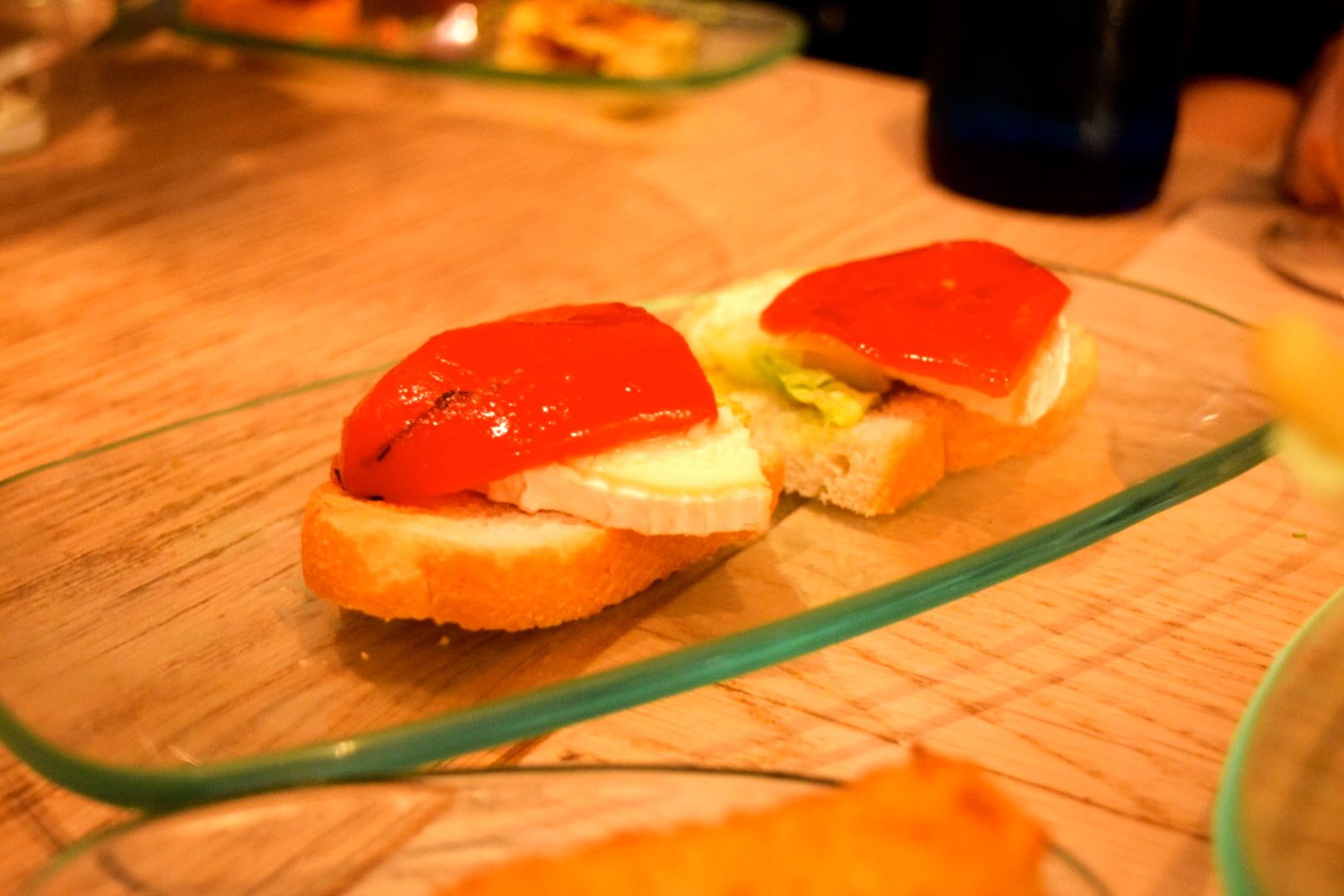 Pan con Tomate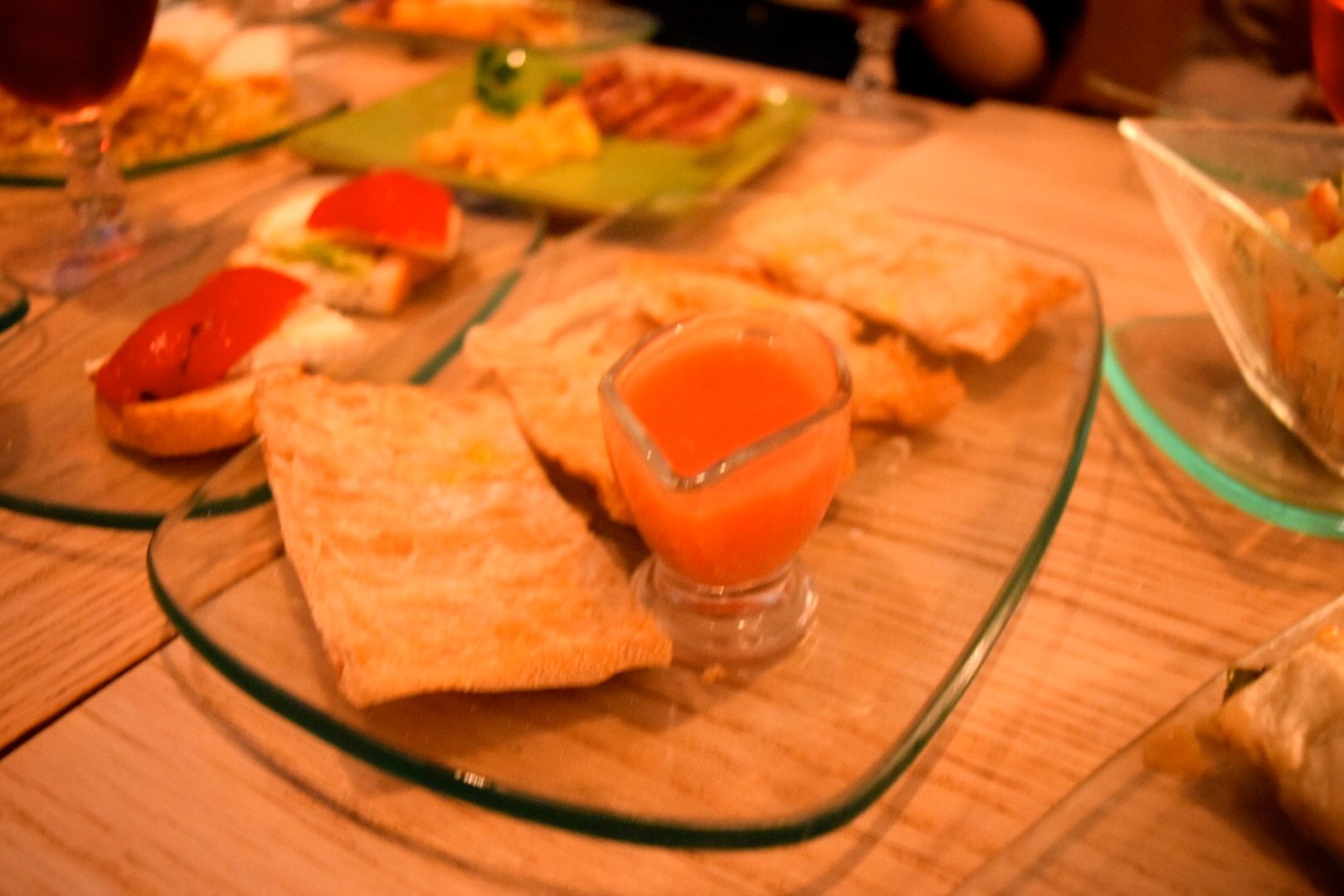 Chocolate Torte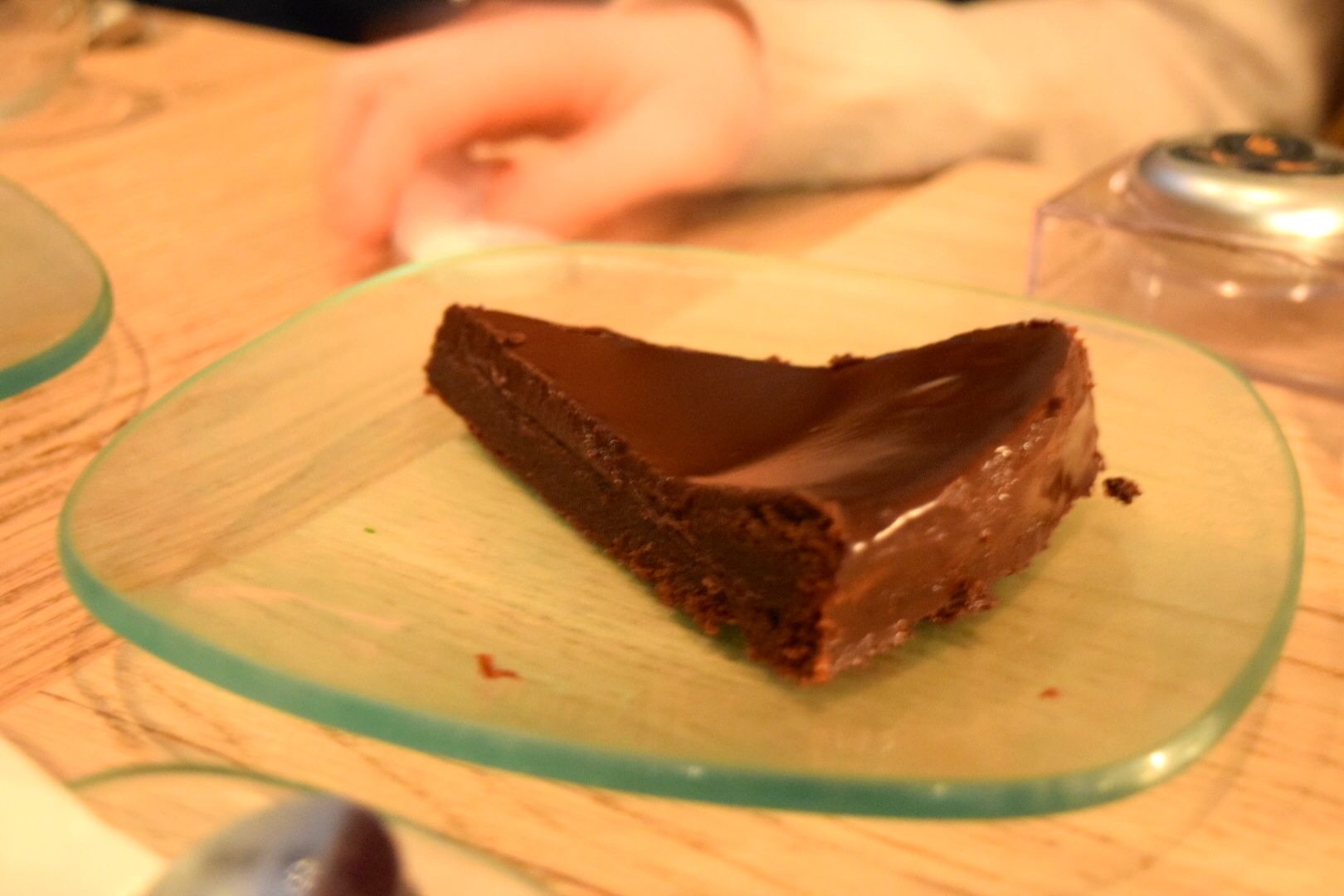 Berry Crumble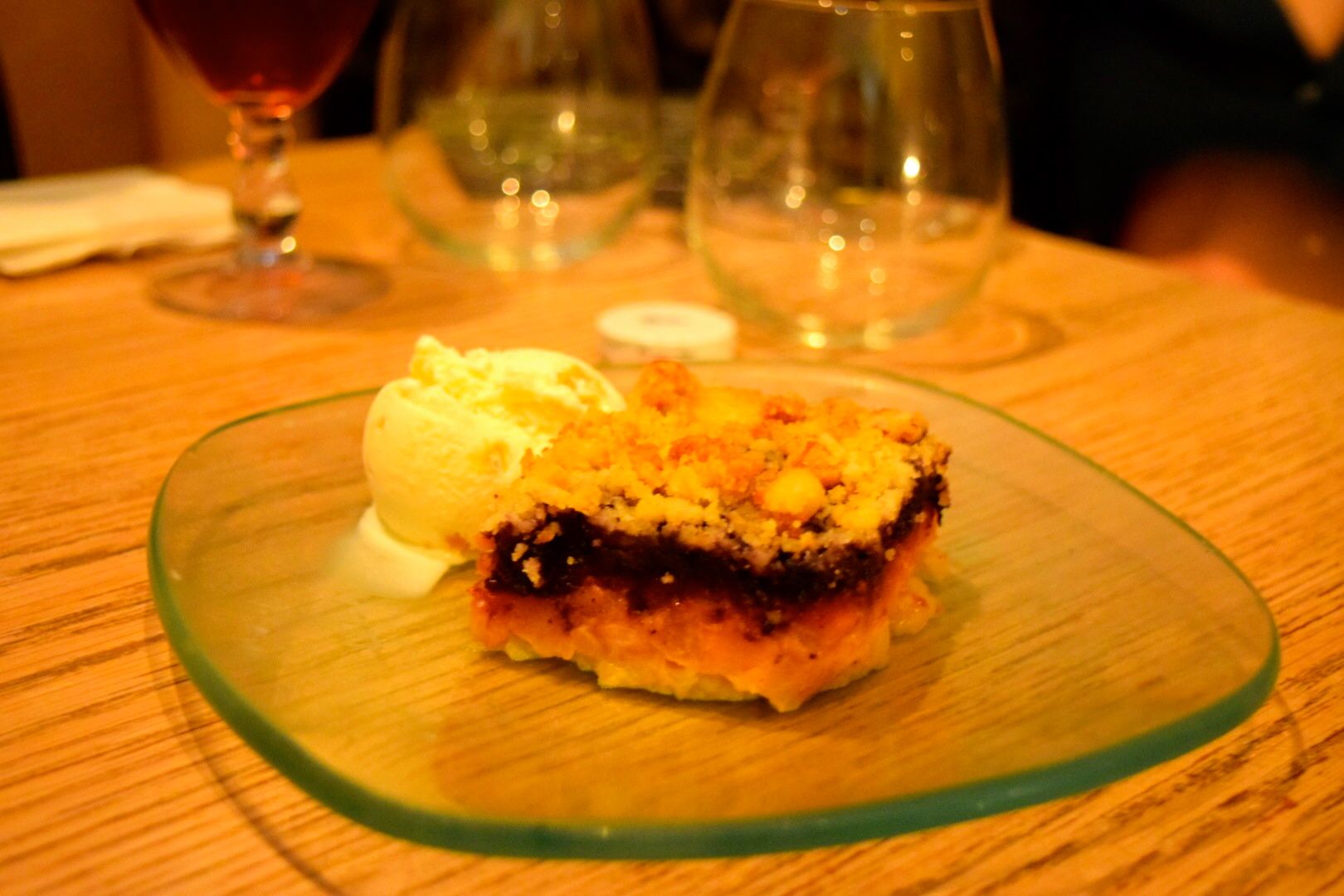 Classic Spanish Bread Pudding Cake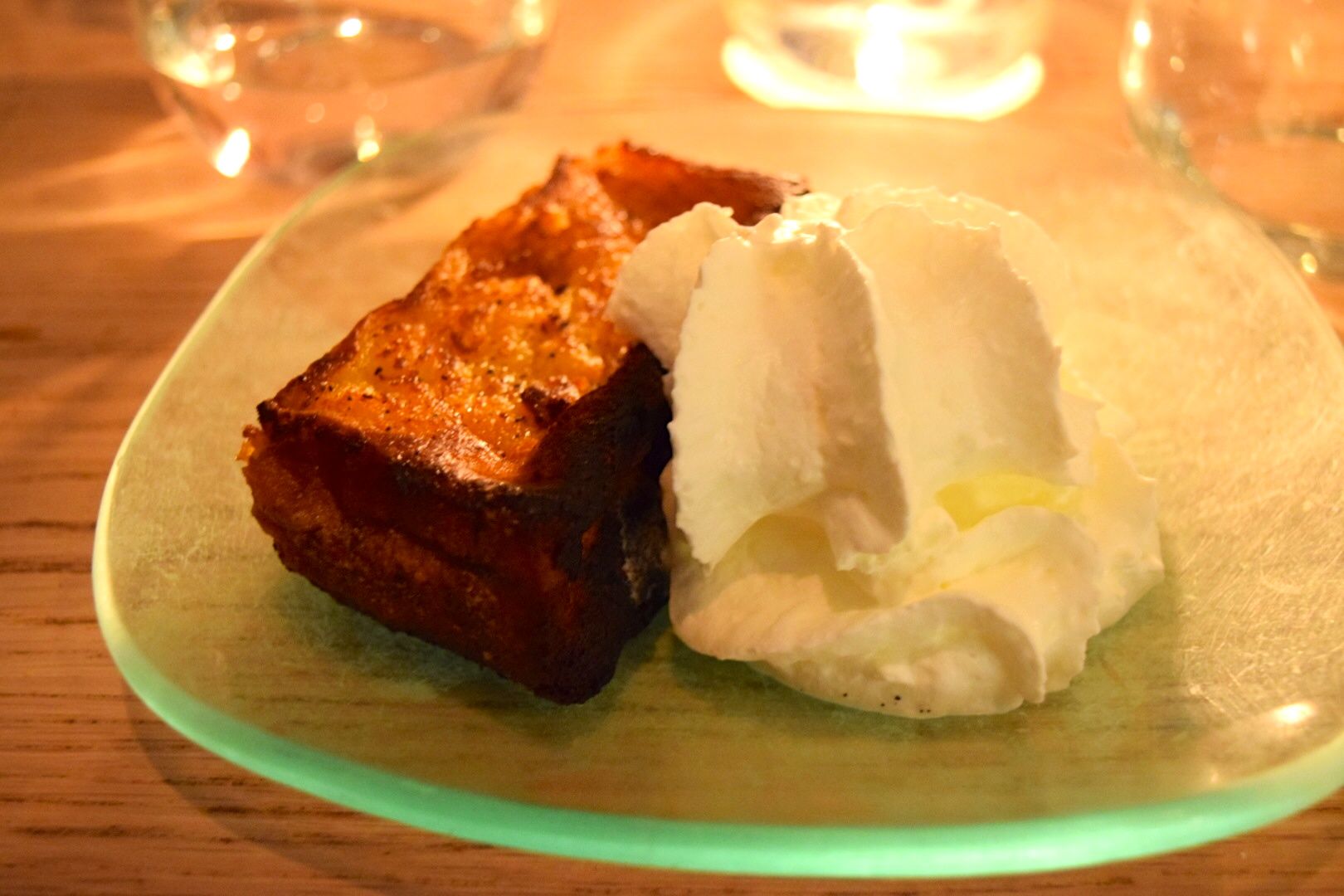 I think best tapa was a tie between the tortilla espanola and the brie and roasted pepper toast. The omelet was deliciously light and cooked perfectly. It was also a generous portion. I loved the brie toast, because the cheese was super soft and fresh and the combination with the roasted pepper and crisp toast was fantastic. I must say I was dying from not having anything spicy on the table – no red crushed pepper or hot sauce :(. The sangria was also great – just the right amount of carbonation and sweetness – we ended up ordering 2 large pitchers! The best dessert was definitely the Chocolate Torte – this is what I love about Europe – they're chocolate. It is always dark and delicious. The torte was very decadent and was served with a side of condensed milk – not sure what that was about, but it tasted great!
One thing that was not good about Lateral was the service – the waiter seemed extremely inattentive, not caring, and it was so hard to catch him. But one cool thing the restaurant did have was a call button on the table – there was a button for "I want the bill," "I want the waiter to come over," and an "X." So cool!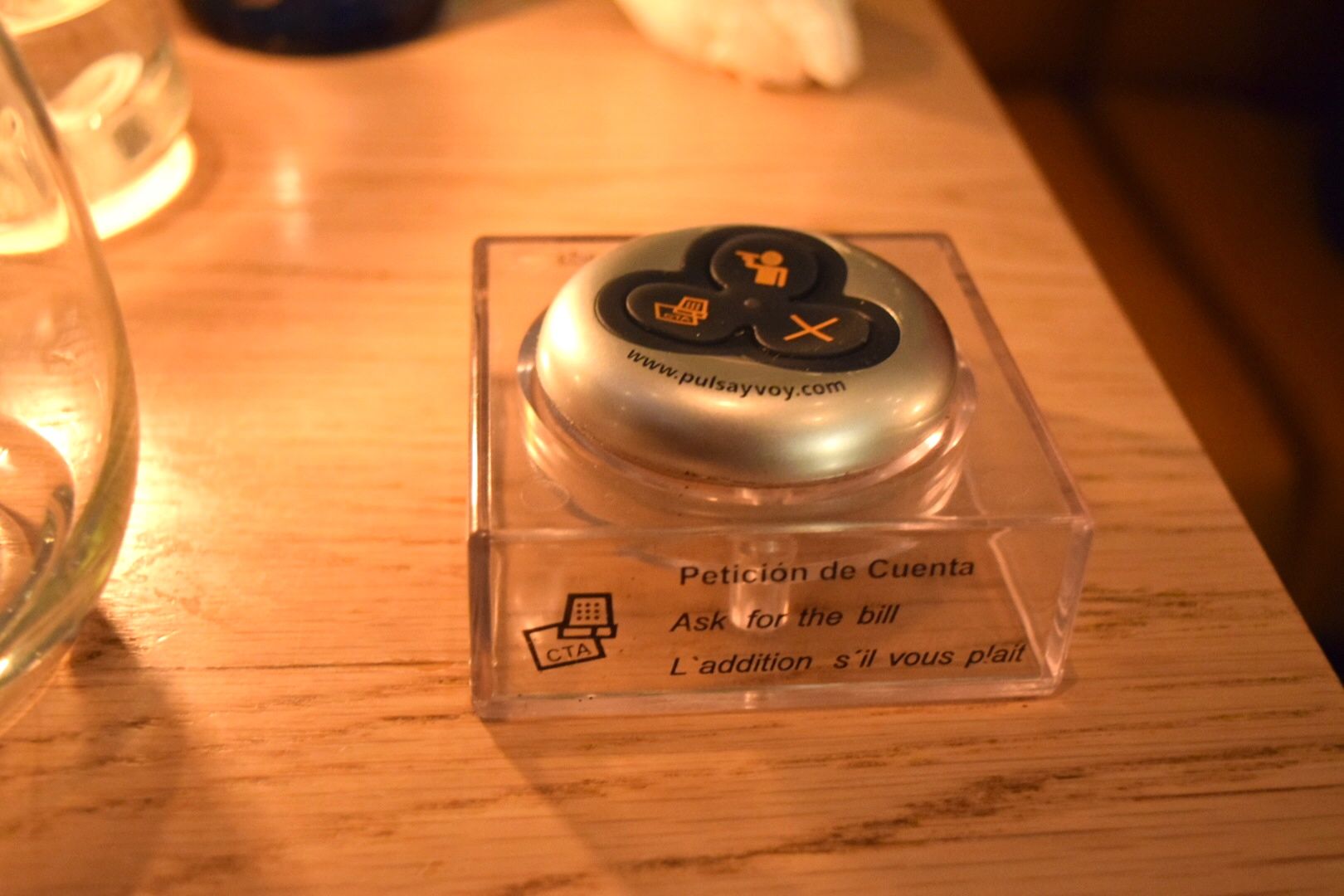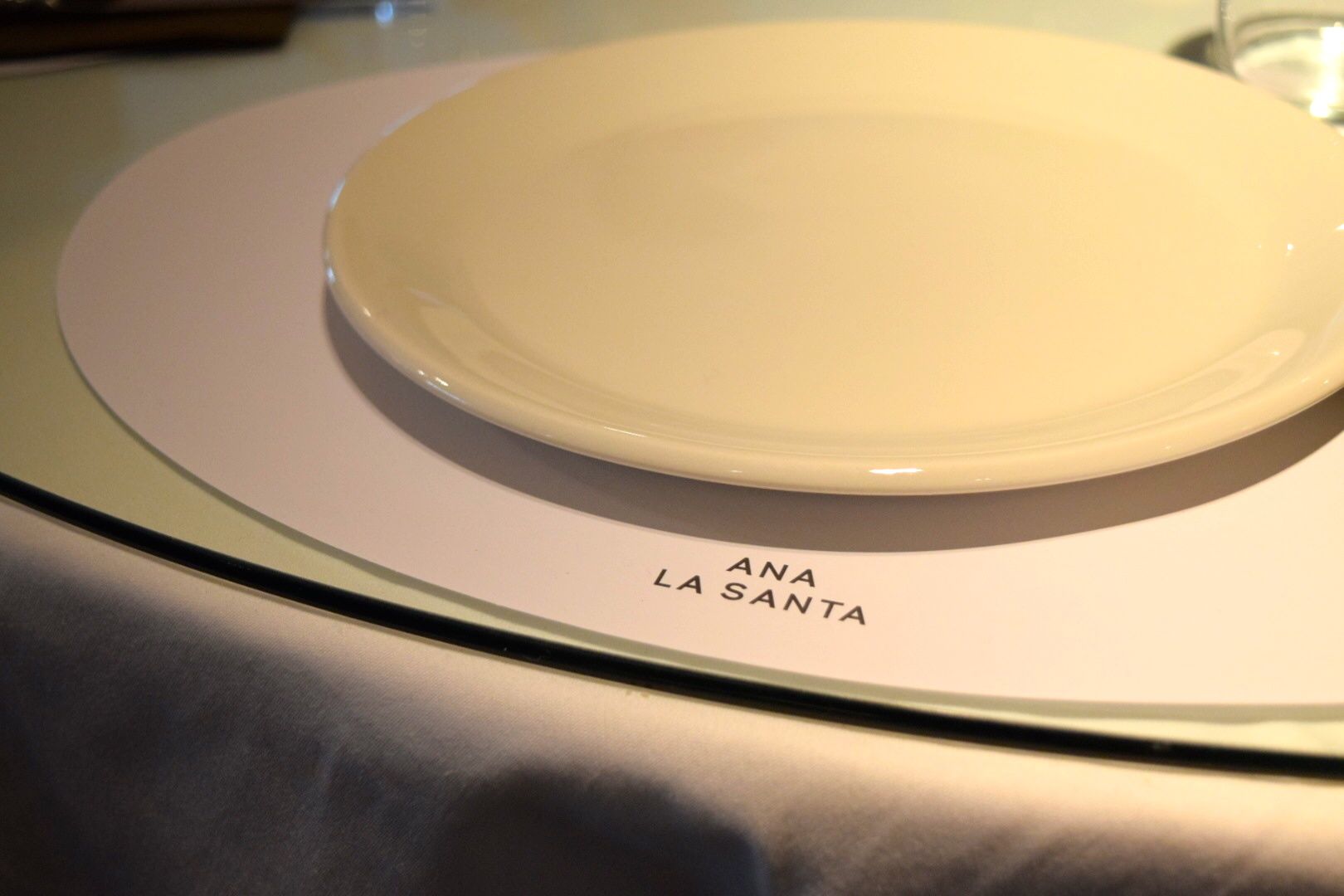 The next day was our friends birthday so of course we had to go out for a yummy brunch. The night before while leaving Lateral, we saw a really cute restaurant perpendicular to it called Ana La Santa. We found out later on that this was also a chain, but again, Spain's chain restaurants are so pretty and don't give you the "chain" feel.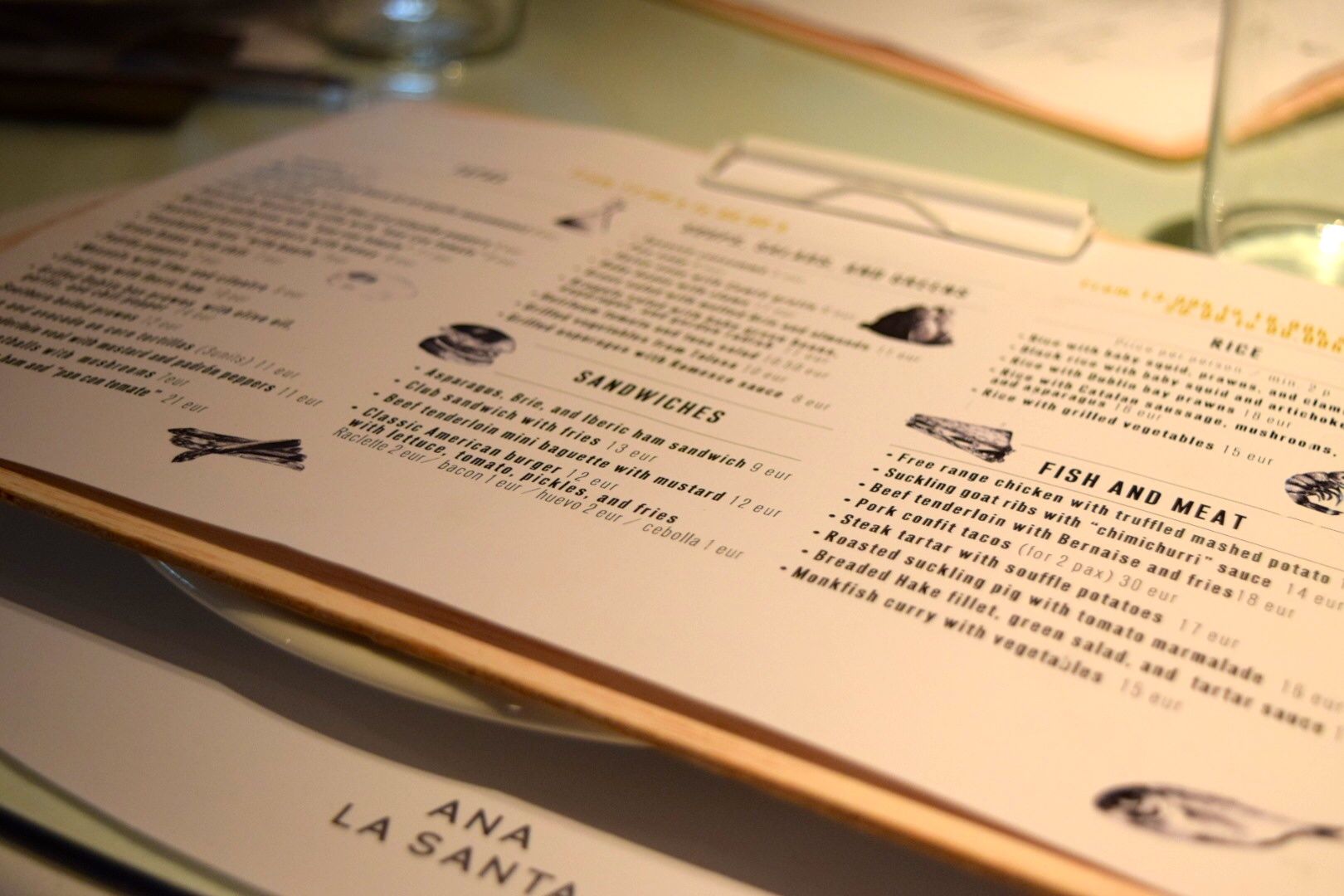 Some Quick Rates:
Quick Rates (1-10, 10 being the best):
Food: 7
Beverages: –
Service: 6
Ambiance: 8
Price: 6
They seated us at a large circular table that was centrally located in the restaurant. The restaurant was a bit pricey, so we had to limit ourselves with what we ordered. I ordered 2 tapas – Sautéed green beans with chili and sautéed piquillo peppers. I was excited for the green beans because they had chili! The piquillo peppers were served in this really cute mini saute pan and were drizzled with a little honey. I personally found these to be bland and rather boring.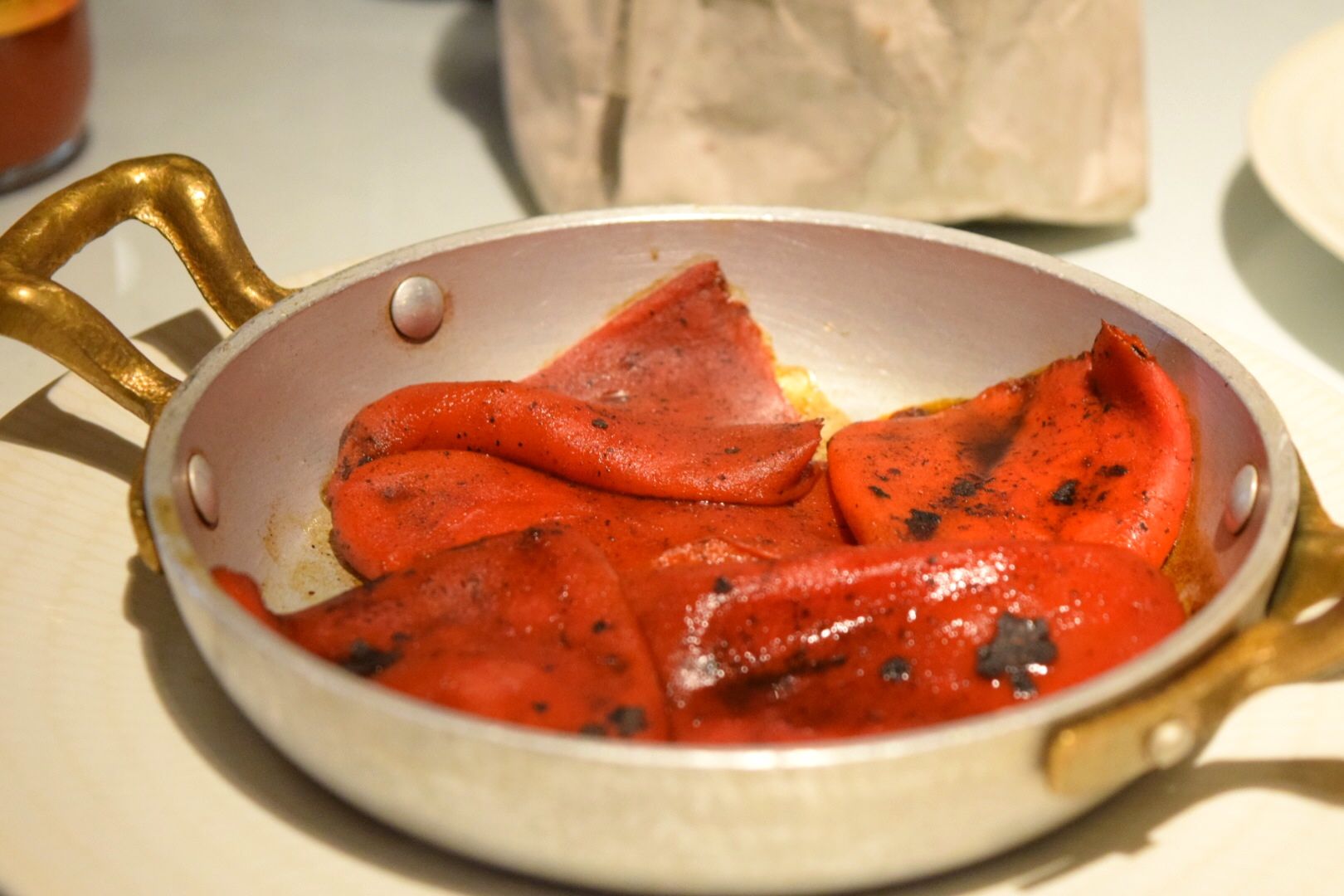 The green beans were served in a very cute porcelain bowl topped with what seemed to be thinly shredded piquillo peppers. The beans were tasty – cooked through but still slightly crunchy, garlicky and the portion was decent.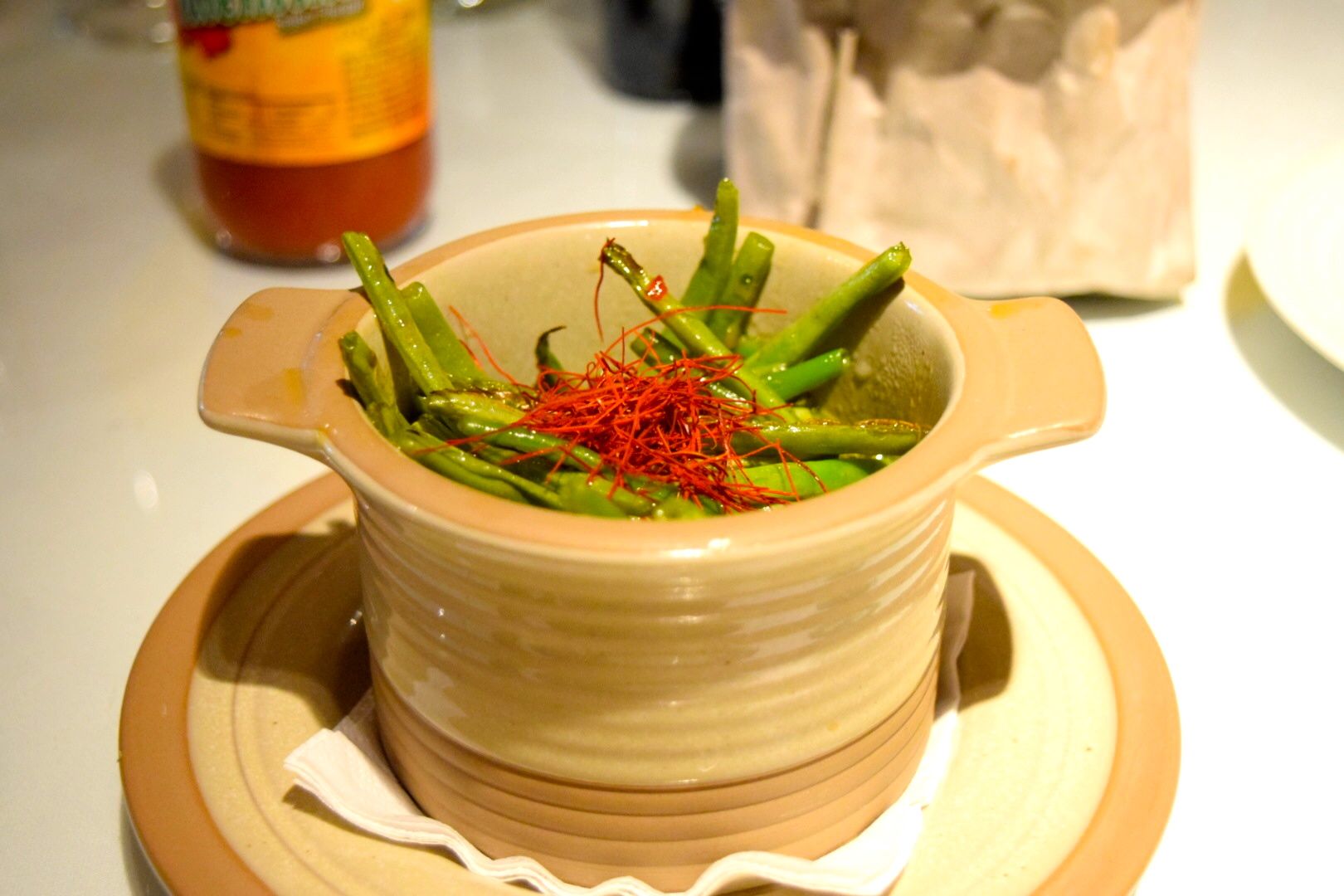 We ended our meal with a nice cafe con leche – can't go wrong with that!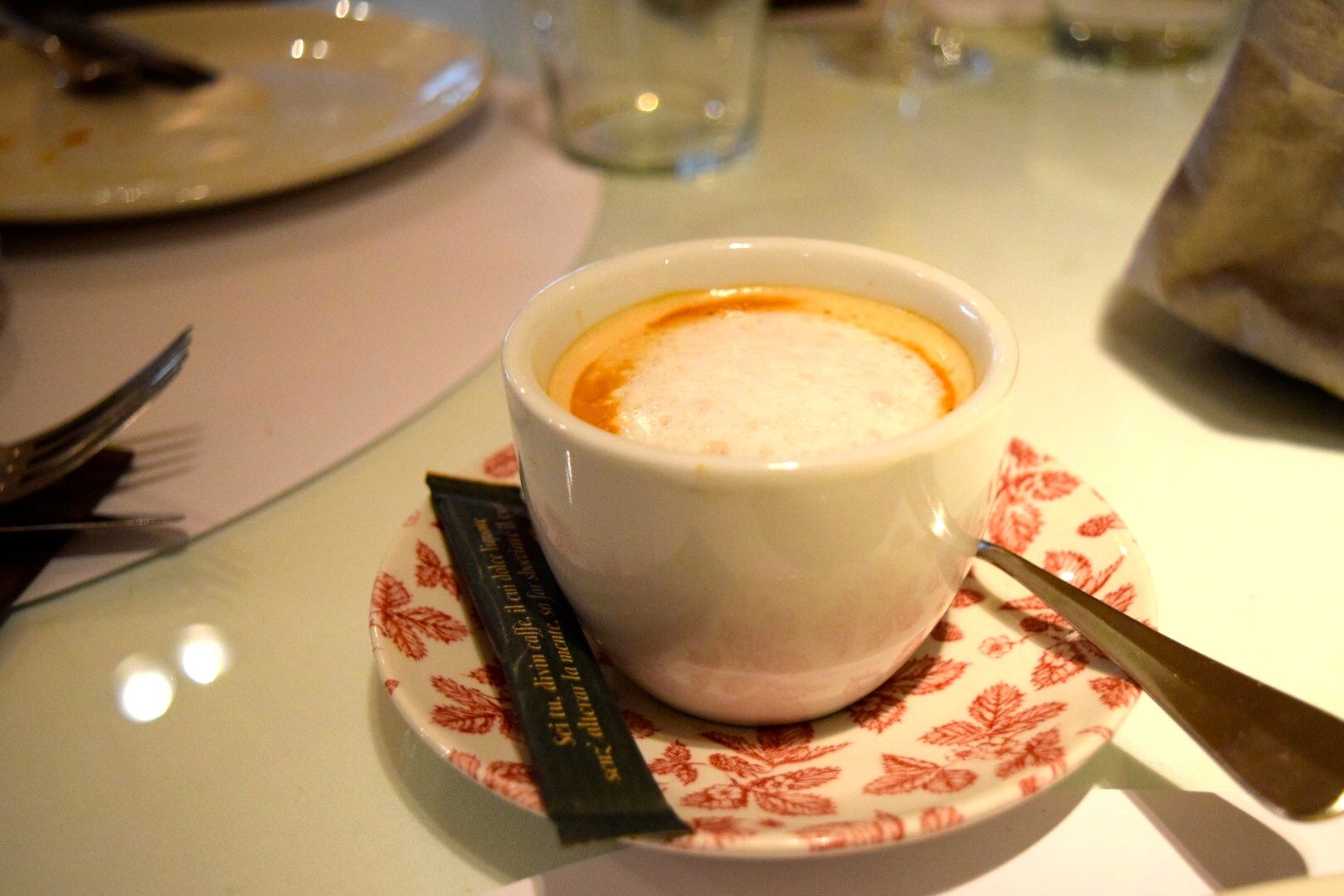 One thing I did not like was after we had placed our order, they placed two bags of sliced bread on the table.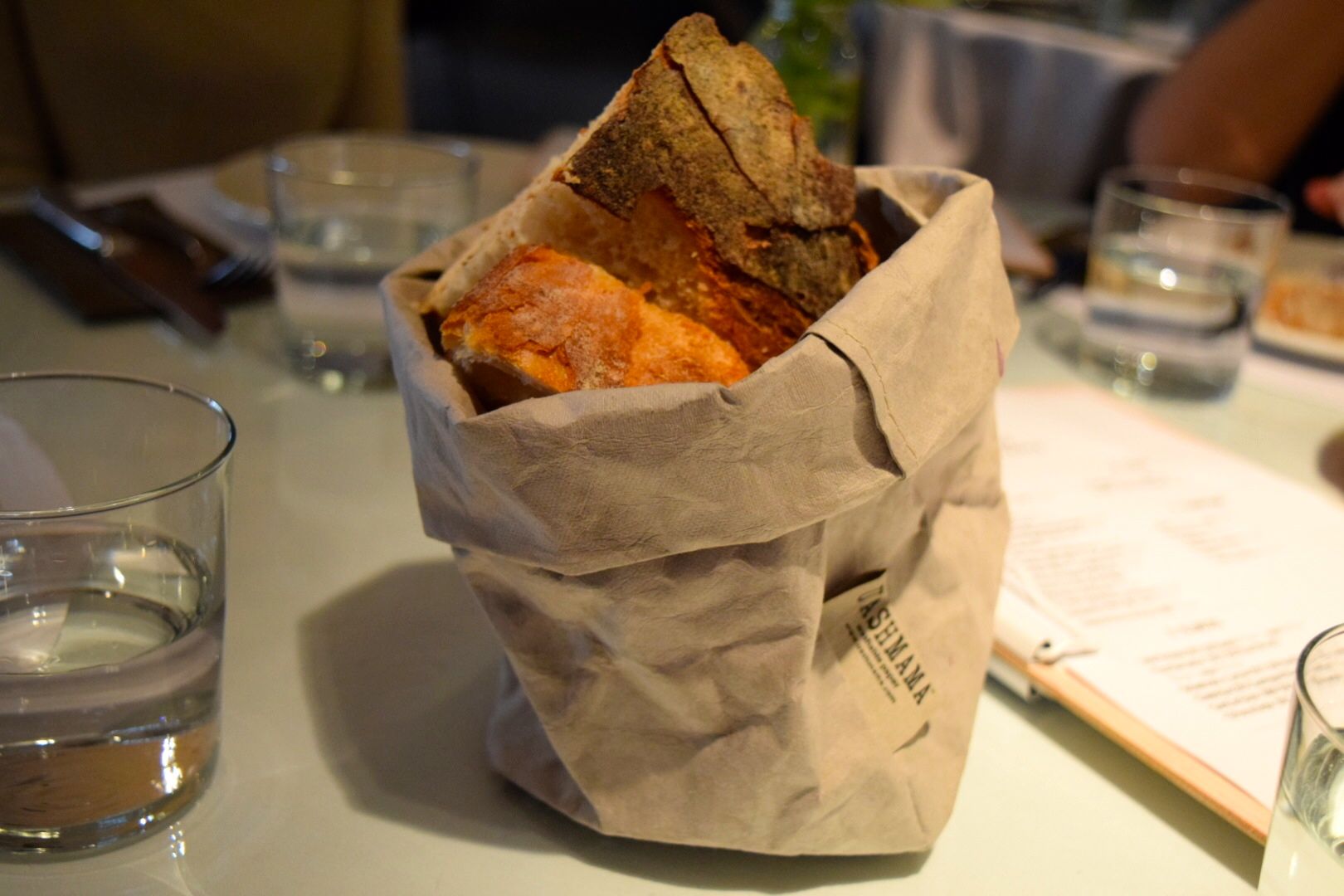 And they did not mention once that each bag was 2.5 euros. We received the bill and I saw they they had charged 5 euros for the bread. I immediately complained to a waiter, because I think it's extremely improper to serve customers something that they didn't order, not explain the pricing, yet charge them anyways. I later realized that this happens all over Spain so after this initial experience, I always asked my my server whether or not we had to pay for the bread.
Another thing that was awesome in this restaurant was the bathrooms! Just look: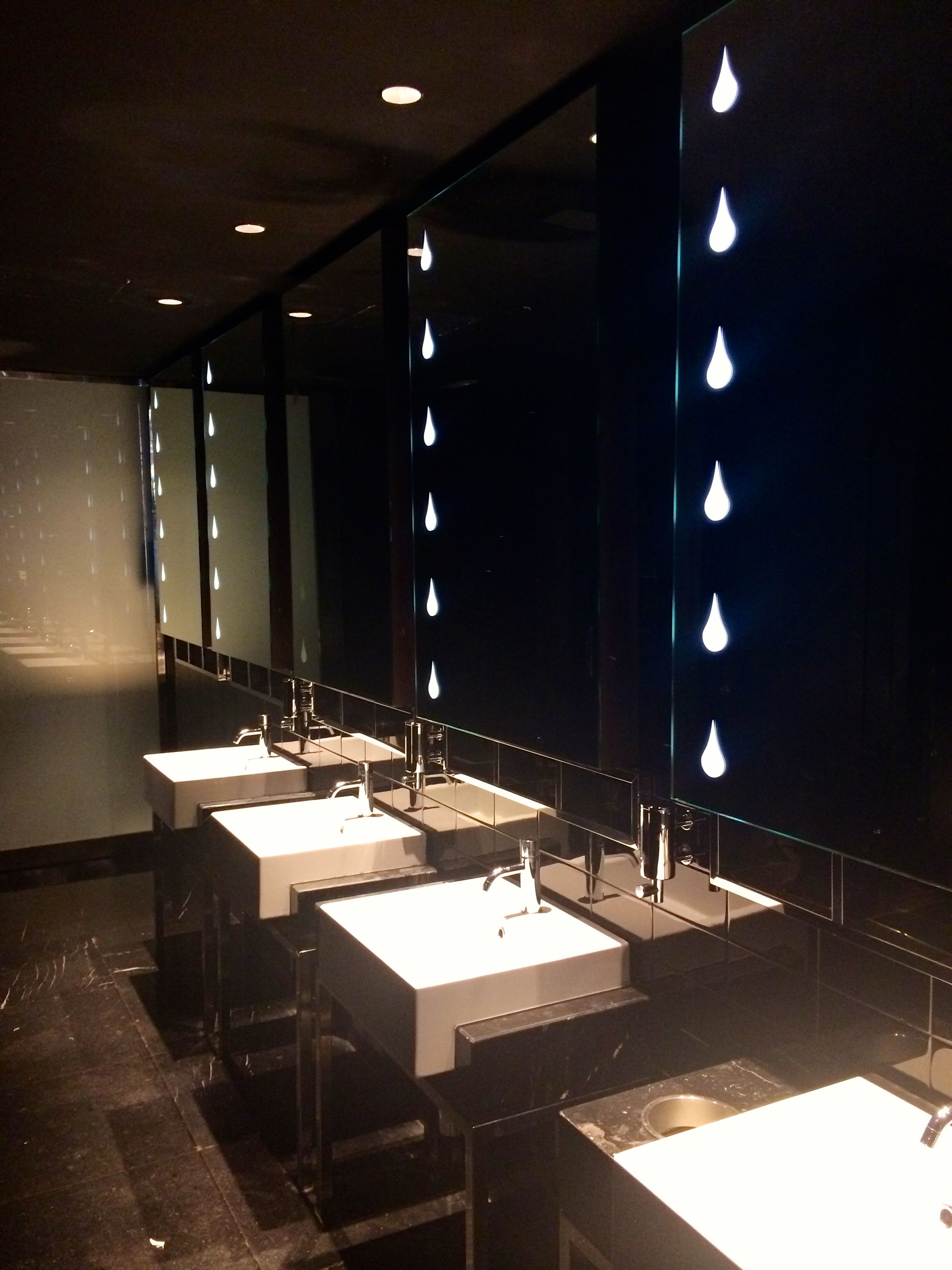 We were getting tired of eating tapas and pinchos for the last few days, so we tried to scope out something different. We found an Asian restaurant not to far from our hotel called Asia Gallery in The Westin hotel. We made a reservation for 10:30pm and arrived around 10:45pm, and unfortunately still had to wait to be seated. The servers and hostess seemed extremely inattentive and didn't really care that we were waiting around to be seated, even though we saw so many open tables. Before getting into the food, here are some Quick Rates:
Quick Rates (1-10, 10 being the best):
Food: 4
Beverages: 5
Service: 1
Ambiance: 5
Price: 3
You'll probably notice that these are some of the lowest rates I've given a restaurant. I have full justification for my rates though. First there were limited options for a vegetarian – there was actually not a single appetizer I could order because EVERYTHING had meat and/or seafood in it. I even asked the waiter if there was anything they could make, and they said no. I ended up ordering the Mapo Tofu for dinner and a Singapore Noodles. I specifically told the waiter, which by the way was the manager of the restaurant, that I am strictly vegetarian, so I would like both my dishes to not contain any sort of meat, seafood, or fish sauce. He wrote it down and assured me that it will all be vegetarian.
First, my friends appetizers arrived before our cocktails, and by this point we had been sitting down for at least 30 minutes. It was so hard to catch a waiter, but once I did I immediately complained about our missing drinks. I think they forgot to make them and just kind of whipped them up quickly. The drinks arrived and they were okay – definitely strong, but nothing special.
We finally were served our entrees and the Mapo Tofu looked good and the portion was huge. The Singapore Noodles were covered with pork, even though I had specifically mentioned that I am vegetarian. I immediately returned it and complained to the manager. While they were re-making the noodles, I dug into the tofu. It was good – very flavorful, but definitely too oily. Then as I continue eating my tofu.. I feel something oddly crunchy and hard in my mouth, and I pull it out of my mouth and find EGG SHELLS. Keep in mind there is NO egg in this dish, so why in the WORLD would there be EGG SHELLS in my dish?! I was absolutely disgusted and had reach my breaking point. It was also extremely late – almost 12am, and I was tired. I immediately asked for the manager and did not hold back. He took the dish back to make me a new one and didn't have a good explanation as to why there were random non-edible particle in my dish. Then my noodle arrived – again, they were ok. Kind of dry and they took so long to make, that I kind of was just tired form waiting.
The worse part about this whole meal was the bill time. All of a sudden, a new waitress came over to give us our bill, and the manager had disappeared. If this was any restaurant in America, they would not have included the tofu or noodles on the bill. Low and behold – those items were included. I was fuming at this point and repeatedly asked the waitress to bring me the manager, to which she replied that he's busy. I said its past 12am, the restaurant is nearly empty, so I will wait until he comes here. He finally comes and I ask him why he still charged me for the noodle and tofu after what happened, and he took the bill back with an attitude and ONLY removed the tofu. I had absolutely no stamina to continue arguing with him, so we just paid and left.
I want Westin to know that I have traveled all over the world and have even stayed at other Westin hotels, and have never received such terrible and disgusting service in my life. The restaurant was also HIGHLY overpriced and not good.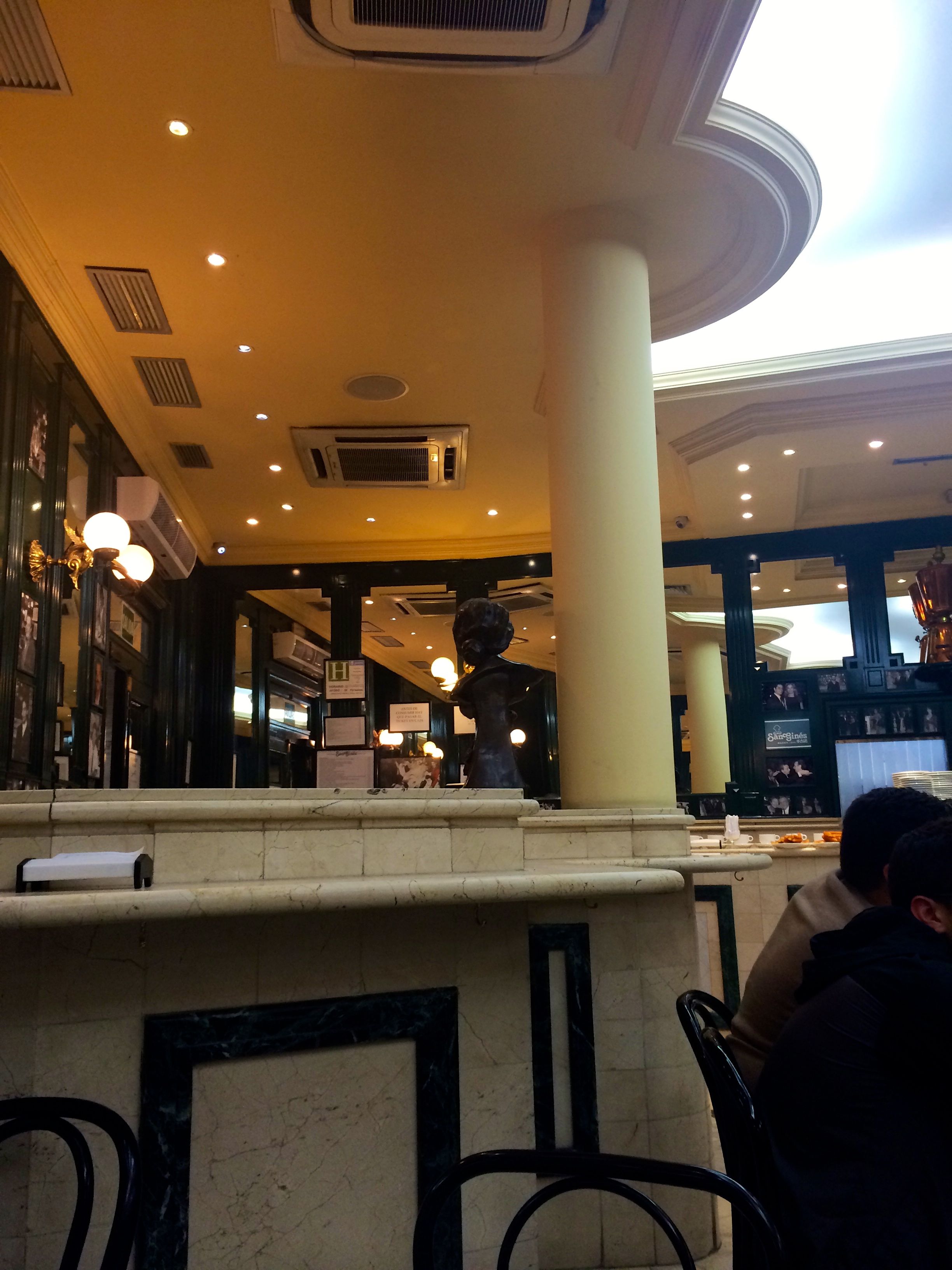 San Gines is a famous Churros y Chocolate cafe in Madrid. We could not leave Madrid without having some. Luckily for us, San Gines is open 24 hours a day, 7 days a week. We decided to go their after our disgusting Asia Gallery experience – I personally had not eaten much and I needed something sweet and delicious to cleanse my palate. We walked down past Plaza del Sol and made a right onto a cute corner street.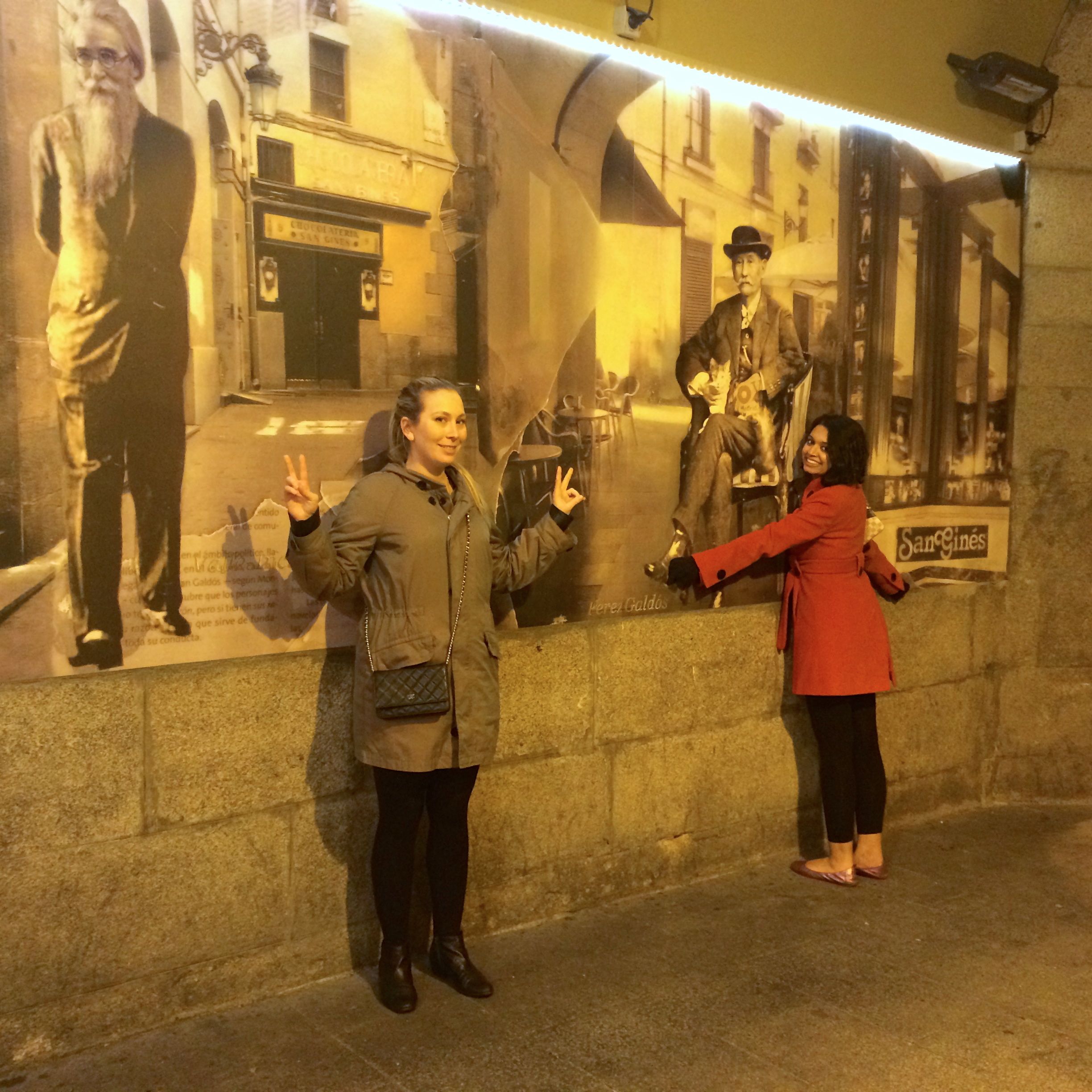 Everything was pretty much closed at this time – it was around 2am. We approached San Gines and it was bright and bustling with people and exuded the sweet smell of churros and chocolate. The process was a little different at this restaurant – basically when you enter you have to place your order at the register and pay and then find a table. We were so overwhelmed by all the deliciousness, so we ended up ordering a whole bunch of things – 3 hot chocolates, 1 order of churros, 1 order of porras, chocolate milkshake, and hot chocolate with fresh whipped cream.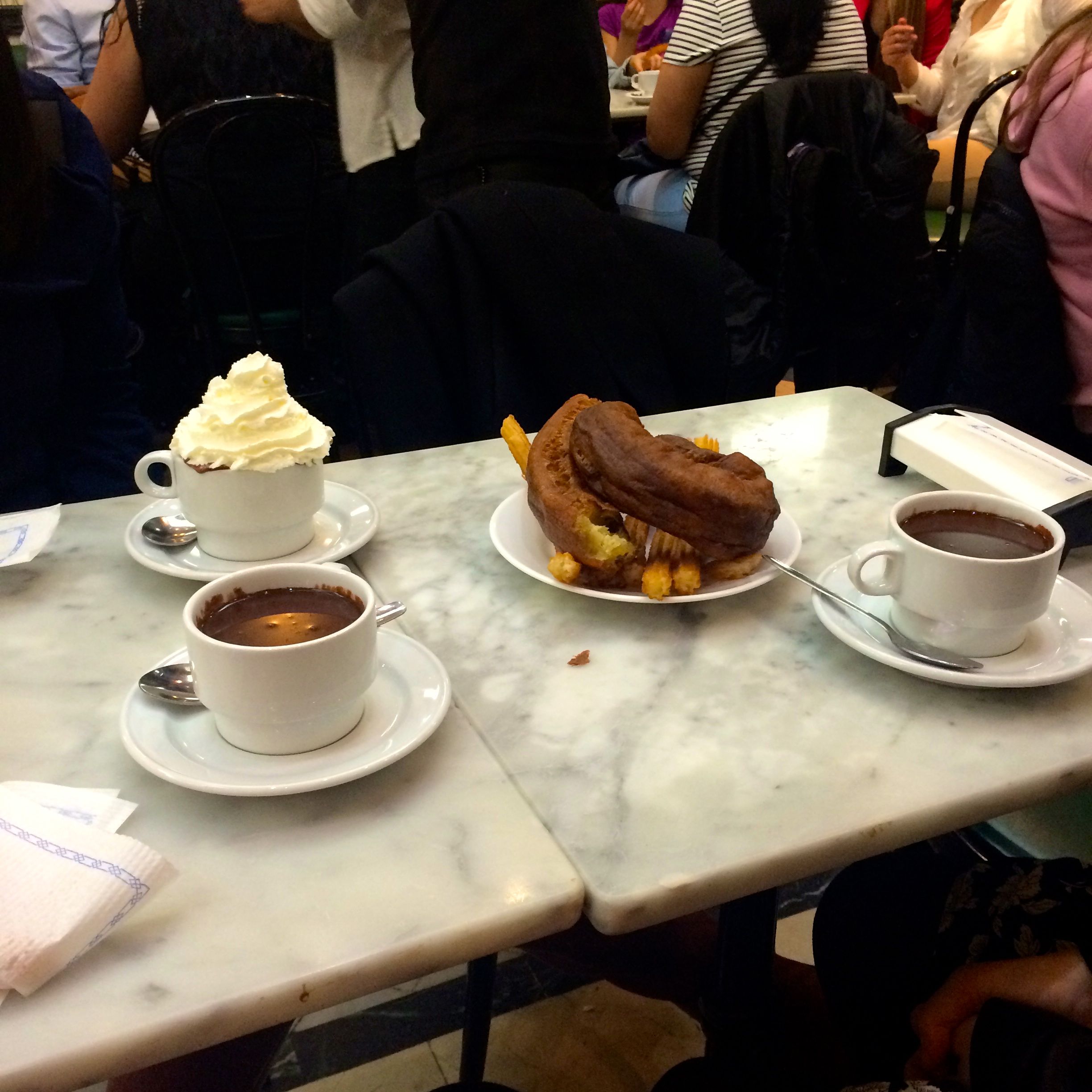 The churros and porras were served on one plate, and you may not be familiar with porras are. They are large and denser then churros and darker on the outside and smooth. They have more aerated holes on the inside, so they actually soak up the chocolate much better than the churros. Both the churros and porras are room temperature, but the hot chocolate is piping hot. It was delicious – possibly the best combination of churros/porras and chocolate that I've tasted. However, what I did NOT like was my "chocolate milkshake" – it was pretty much a bottled Spanish yahoo. Basically it was gross and not what I expected.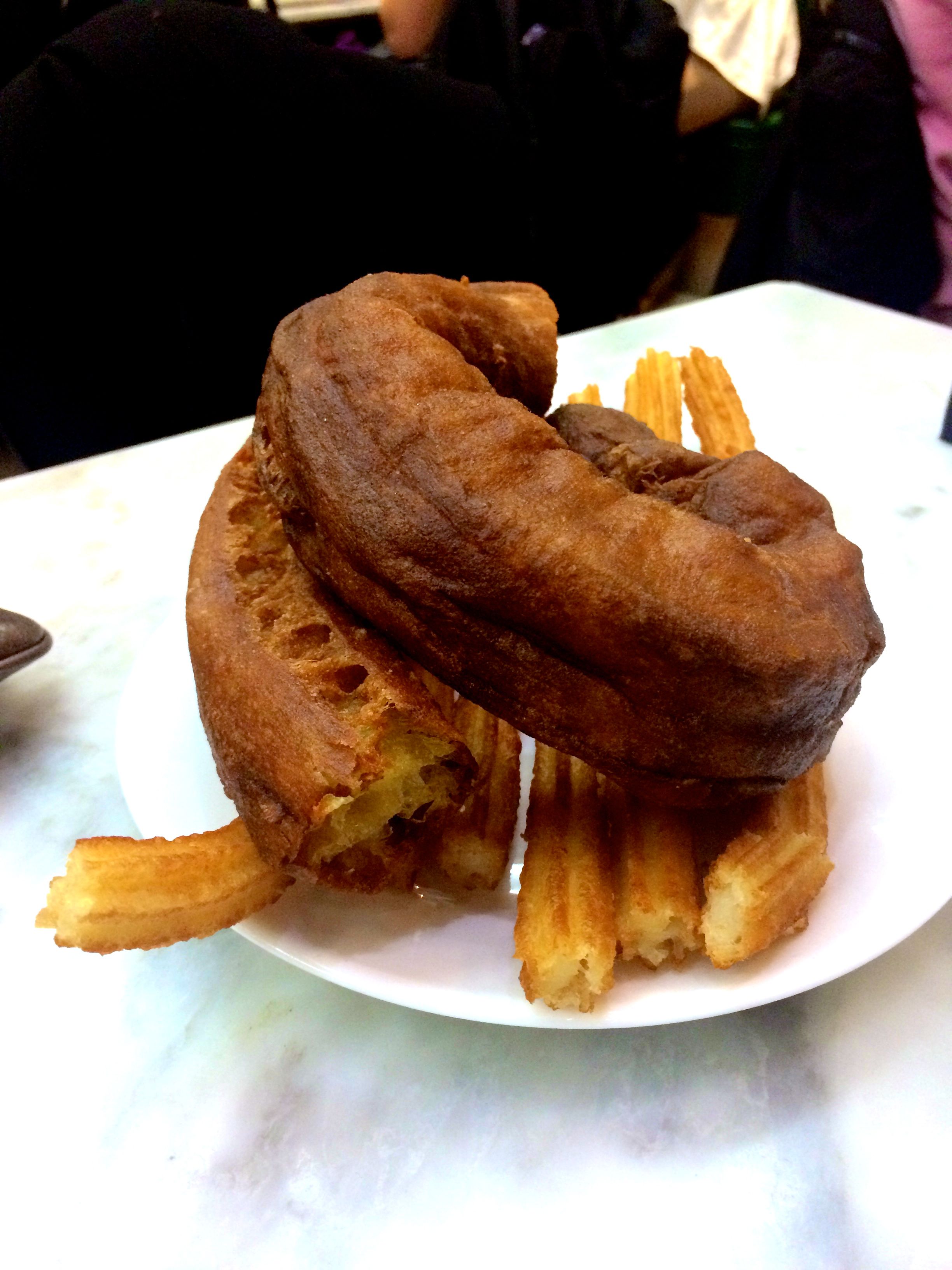 All in all, I definitely recommend visiting San Gines to anyone who visits Madrid!
This was just my foodie adventures in Madrid. Next up is Valencia!!!