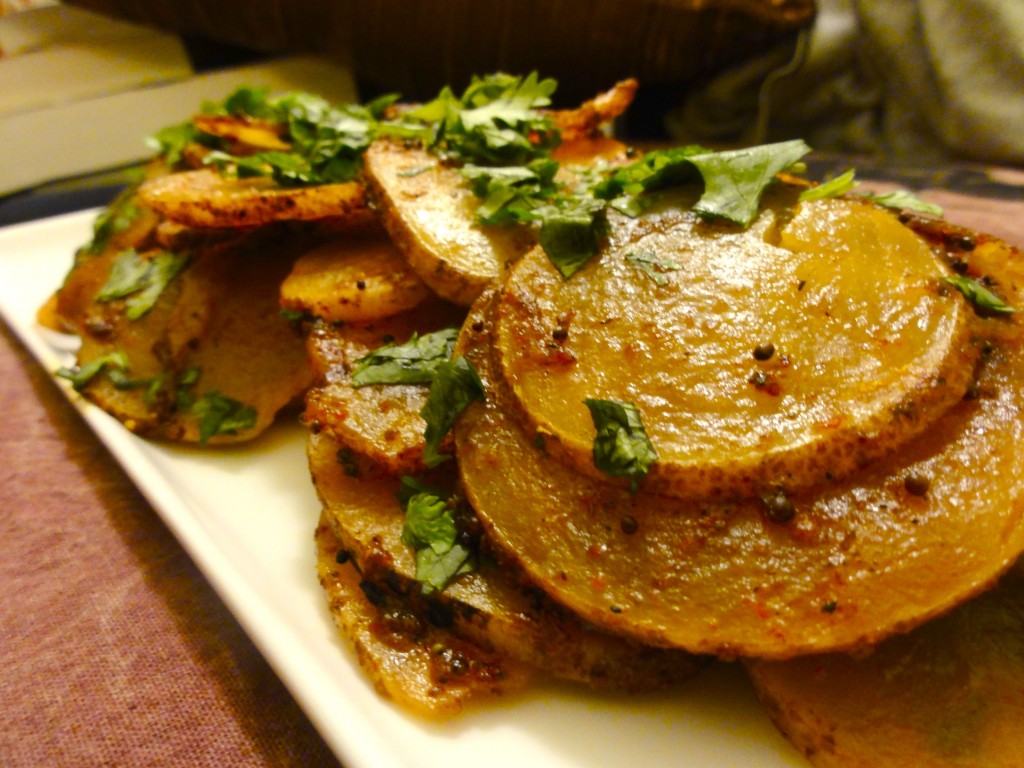 Ok you're probably thinking this recipe is going to be some fried potato goodness topped with Indian spices. Well, its not haha (even though that sounds really yummy). If you forgot or have just joined me, my blog is full of healthy recipes that you shouldn't feel bad about eating! Therefore, nothing is fried in this recipe.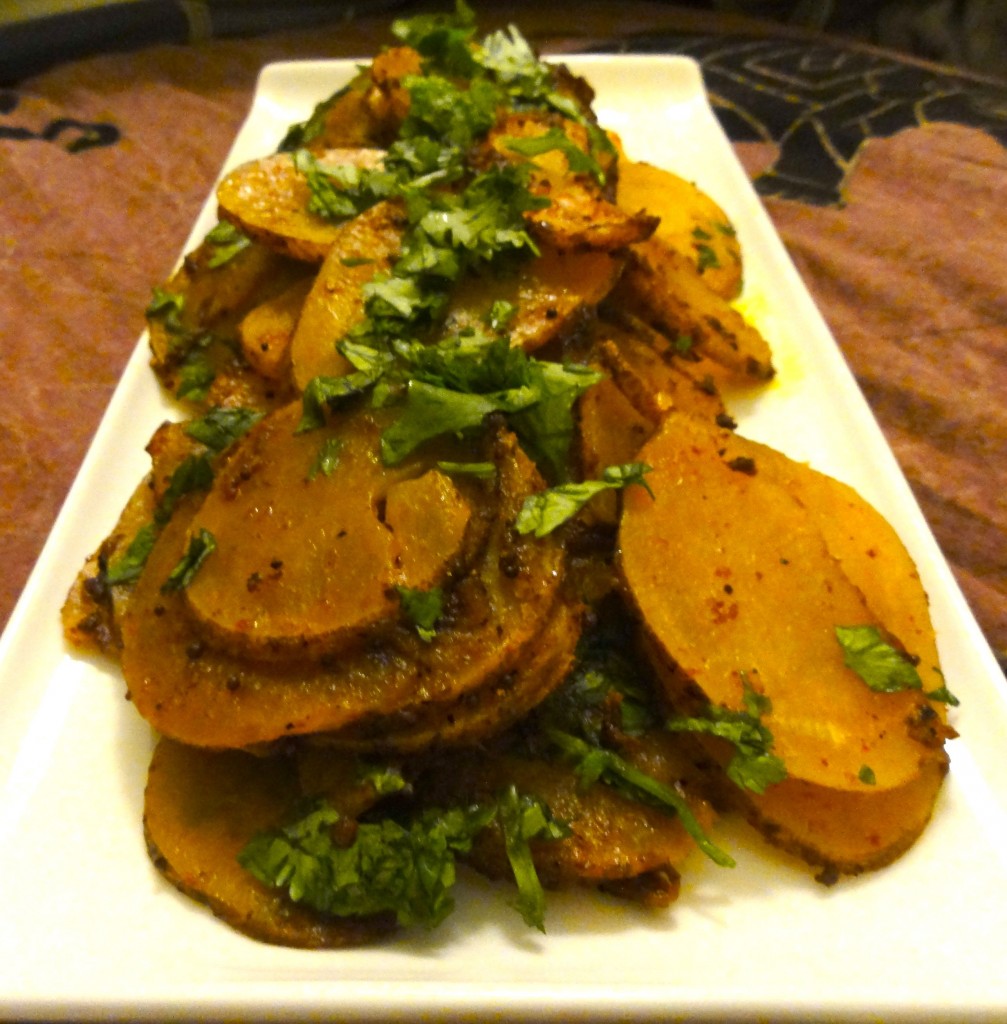 The potato "chips" I'm referring to here is a really simple dish that's been a staple in our house forever. They're thinly sliced Idaho potatoes sauteed until crisp with a homemade masala, curry leaves and lots of cilantro and mustard seeds. It's super easy and great for busy weeknights. It can be served with plain boiled basmati or jasmine rice and/or a bread (chapathi or naan). Great leftover dish to follow!
Indian Potato "Chips":
4 Idaho potatoes- scrubbed clean and dried
1 tbsp vegetable oil (sounds like a lot, but you are cooking 4 potatoes!)
PAM original flavor
1 tsp black mustard seeds
4-5 curry leaves
pinch of hing (asafoetida powder)- optional
1 tsp turmeric
1 tbsp

homemade masala

1 tsp salt
1 tsp coarse black pepper
handful of cilantro- washed and finely chopped
1. Using a mandaline slicer (or a sharp knife), slice the potatoes in 1/8 inch thick slices.
2. In a large heavy skillet, spray with PAM and pour the oil place over high heat. Add the mustard seeds and let them cook in the oil for 30 seconds or until they start popping. Add the curry leaves and step back as they will pop and splatter a bit. Then add a pinch of hing and the sliced potatoes. Spread evenly in the pan and toss using a spatula or tongs making sure they're all coated with the oil and seasonings.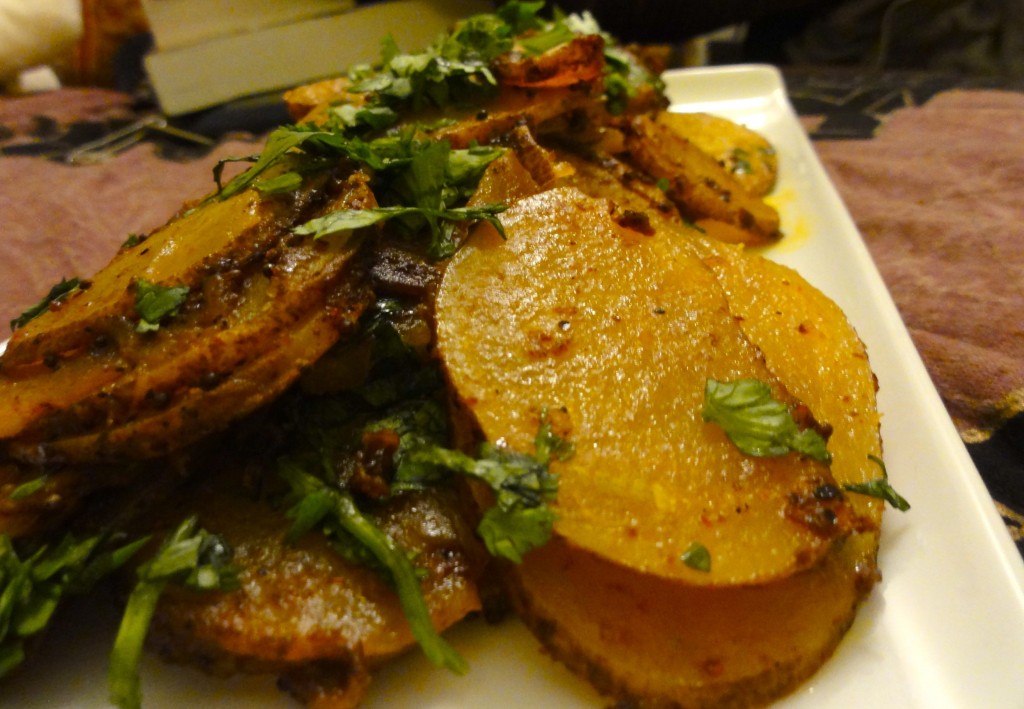 3. Sprinkle over the homemade masala, turmeric, salt and pepper. Coat evenly. Turn flame down to medium-low and cover. Cook for about 5-10 open and flip using a spatula. You want all the potatoes to hit the bottom of the skillet and crisp up. It'll take about 15 minutes or so until the potatoes are cooked through, crispy and flavored. Once cooked, mix in the chopped cilantro and place on a serving platter. Top with more cilantro. Serve hot with chapathi/naan or rice.
Serves 4
Great Leftover Idea: Have some leftover potato chips? Make my pressed potato sandwich for lunch the next day! Take 2 slices of white or wheat bread. Spray with butter flavored PAM. Place a good spoonful of potato chips on one side and top with the other slice of bread. Using a sandwich press or small skillet, grill the sandwich- press down with a spatula if using a skillet. Once both sides are browned, remove slice in half and serve with mint or tamarind chutney!
Like Indian? Like Vegan? Check these out!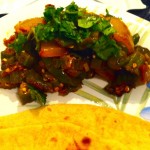 Indian Okra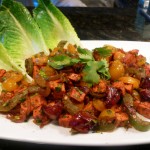 Tandoori Tofu Masala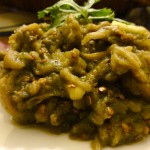 Indian Baba Ghanoush