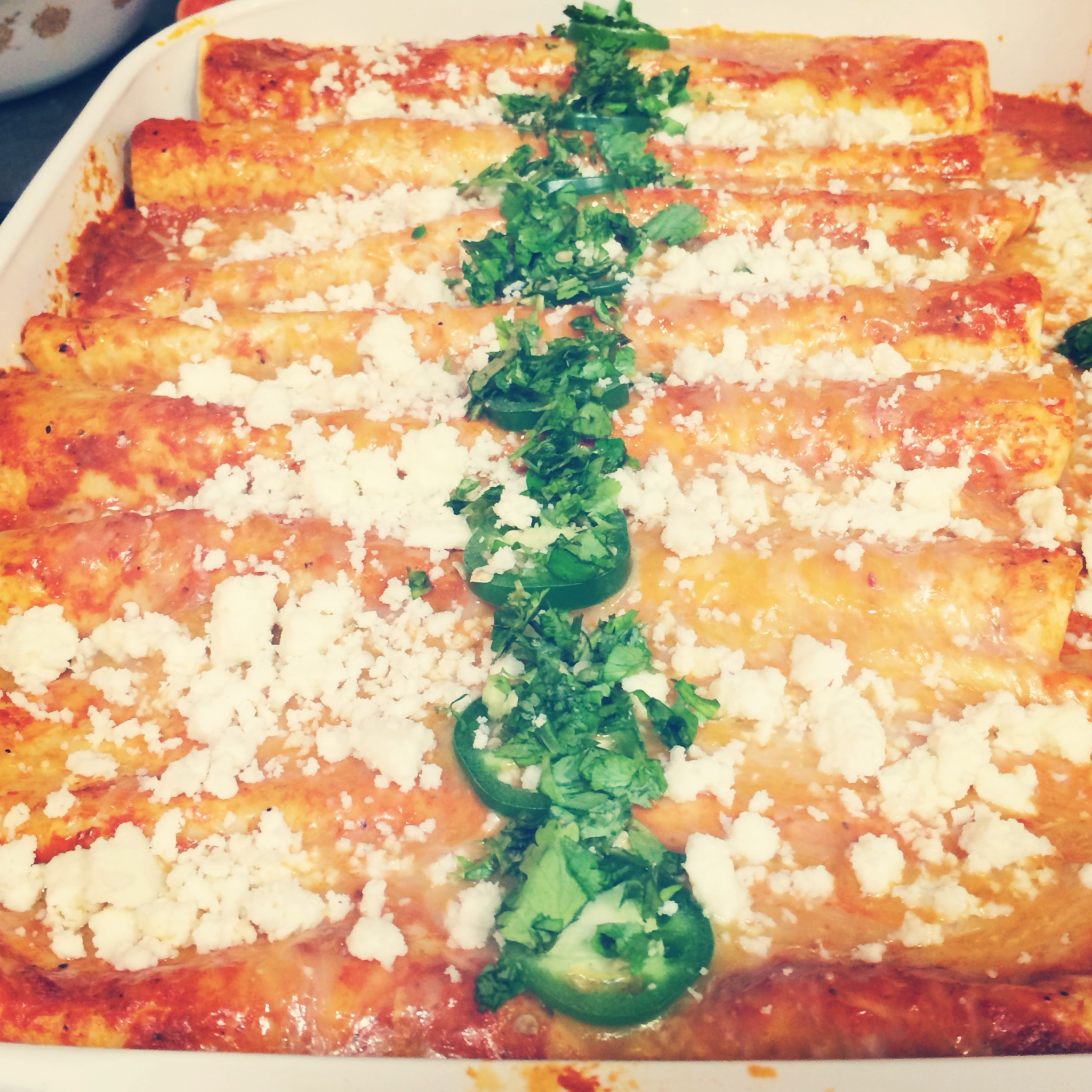 We love making Mexican food in our home, and if you follow Chef Priyanka, you probably notice a lot of Mexican recipes on my blog! I feel that the flavors and ingredients used in Mexican cooking are very similar to Indian/Asian food, and that may be why my family and I love it so much! I've also visited all parts of Mexico several times, and the food has never disappointed me – in fact it's some of the best food I've eaten! From the fire roasted queso fresco street corn in Acapulco, to the made-to-order roasted salsas in Cabo San Lucas, Mexico is full of delicious surprises.
We had some family over a few weeks ago, and instead of making Indian food as we usually would, we decided to have a Mexican night. We went all out and made homemade chile con queso, mango-jalapeno guacamole, and these delicious enchiladas.
Caramelized Onion & Spinach Enchiladas:
10 flour tortillas
2 bags of baby spinach
1 large white onion – thinly sliced
1 can of pinto beans – drained and rinsed
2 jalapenos – sliced in half moons
1/3 cup frozen corn kernels – thawed
1 clove garlic – finely chopped
couple tbsp low-sodium taco seasoning
1 tsp cayenne pepper
1 tsp whole cumin seeds
extra virgin olive oil
PAM Olive Oil Flavor Spray
1 cup reduced-fat shredded Mexican blend cheese
1/2 cup crumbled queso fresco
Creamy Roasted Red Pepper-Cilantro Sauce:
1 jar roasted red pepper slices (without vinegar) – I use

Mazzetta

brand
1/4 cup sour cream
1 hefty handful of fresh cilantro – throughly washed and dried
1 tsp cumin powder
2 cloves of peeled garlic
1 jalapeno
1/4 cup extra virgin olive oil
salt
pepper
For the enchiladas:
1. In a large sauce pan spray with PAM and add the oil – enough to lightly coat the entire surface of the pan. Set over medium flame. Add the cumin seeds and allow them to pop. Turn flame down to medium-low add the onions and jalapenos and toss in the oil. Add the garlic and saute for about 10 minutes until the onions are lightly browned and caramelizing. This process will take a little long. Then add the taco seasoning and cayenne pepper. Toss and make sure everything is coated. Add the remaining ingredients and saute until everything is softened, but not mushy – about 5-8 minutes. Taste for salt and seasonings. It's ok if the filling is a little under-salted.
2. Preheat the oven 350 degrees. Thoroughly spray a large ovenproof rectangular casserole dish. Take a tortilla, and fill one end of it across with about 3-4 tbsp of the filling. Carefully roll until you create a log, and then place into the dish. Repeat until all of the tortillas are filled and placed into the dish. Pour the Creamy Roasted Red Pepper sauce all over the enchiladas, making sure to cover every inch. Sprinkle the shredded cheese all over, generously covering each enchilada. I added a slice of jalapeño on each enchilada for garnish, but this is optional. Cover with foil and bake for about 30 minutes, or until bubbling and the cheese is melted.
3. Remove the enchiladas and let cool slightly. Then crumble the queso fresco over the enchiladas, and serve!
For the sauce:
1. Place all the ingredients in a blender, except for the oil. Start blending and when it starts getting slightly smooth, turn blender to low and drizzle in the olive oil. Blend until completely smooth. Taste for salt and pepper.
Serves 6-8 people 
Like Mexican? Check out these recipes!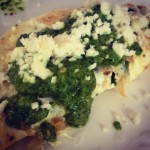 Southwestern Omelet with Chimichurri Sauce