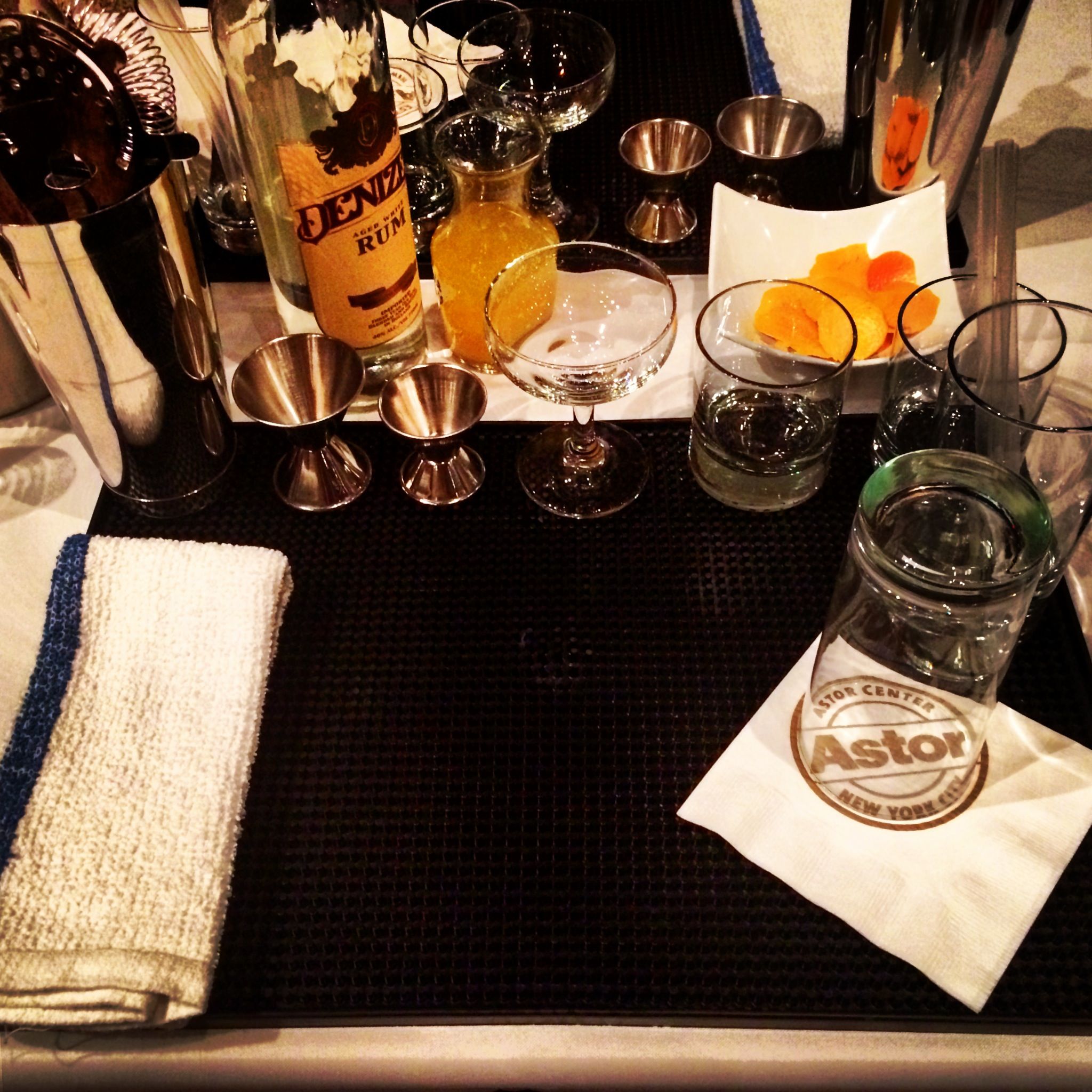 Last week I attended my first mixology class! I was fortunate enough to be taken out by eBay for a work event. I don't think I've ever been so excited about a work event! I've been dying to go to a mixology class, but they were all either (1) too expensive, (2) I didn't know which one to choose, and didn't want to potentially choose a bad one and waste my money, and finally (3) I never had time! So this last minute work event was not only awesome because I got a chance to get to know the eBay folks better, but was great to improve my cocktail/mixology knowledge!
Our class was held at the Astor Center and our teacher's name was Amber, and I believe she owns a bar (I wish I snagged her business card!). She welcomed us with a cocktail and taught us how to make 3 Holiday-themed cocktails. She also just found out that we all work in advertising, and suggested that we go to her 'Mad Men' themed mixology class – that would be awesome (even though I've never seen Mad Men nor do I know who any of the characters are)!
I thought the class was great – Amber took us through step by step instructions, informed us what each step meant and how it impacted the drink as well as gave us some background history on some of the drinks. This is so much more than your typical cranberry and vodka and G&T's (don't get me wrong, I love my G&T's, but its nice to make yourself a fancy cocktail once in a while!). Below I will take you through each of the cocktails we made and what my opinion was of each.
We were welcomed with a delicious spread of cheese, crackers, dips, and meats (of course I did not take part in the latter), as well as a 'welcome cocktail' called Gold Rush. It had a strong lemony-bourbon taste. To be honest, I didn't enjoy it that much, as I do not like strong bitter/lemon flavors. However, it was a pretty color, and I think maybe with the addition of a lemon twirl it would've looked great.
Before we got into making the cocktails, Amber gave us a little background on what each of our bartending tools were (I wish I had gotten a picture of all of our tools!). Some of the basic items were: a Julep strainer, a Hawthorne strainer, a long stirring spoon, a muddler, a jigger, a shaker, and a mixing glass. I think I was the most excited to use the muddler, because I tend to like muddled drinks (they usually contain fruit, yum!). And what do you know, the first drink we were going to make contained muddled fruit! But I think the number 1 lesson a learned from this class is to make a good cocktail, its in the proportions of each ingredients and how its made, i.e., shaken
Drink #1: Bramble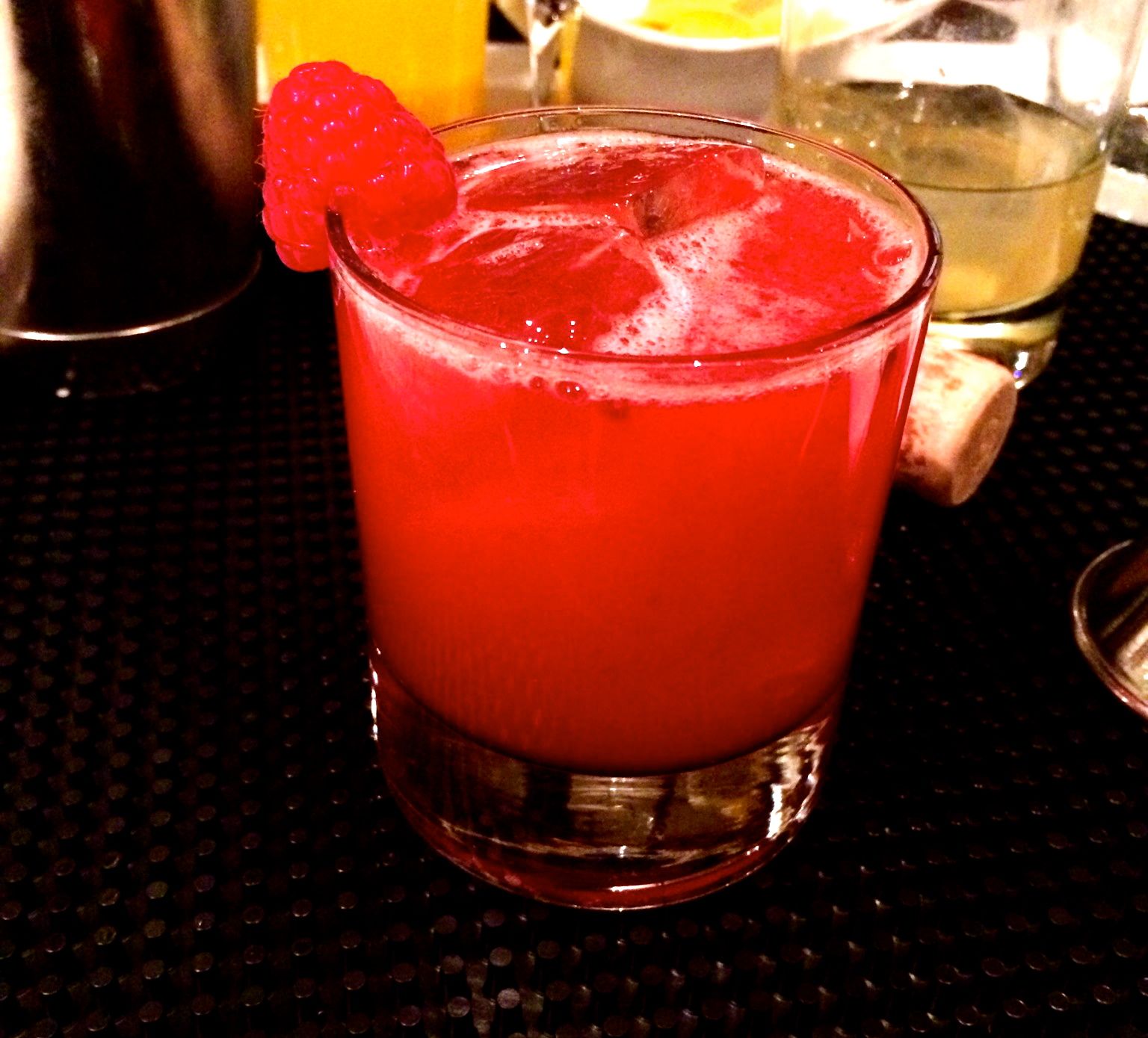 We first watched as Amber muddled the berries, added the remaining ingredients, and shook until a beautiful reddish-pink cocktail was created. I couldn't wait to start mine, because a. I was dying to use the muddler, b. I love berries, and c. this would the first time I'd be making a fancy cocktail! I began by adding 2 raspberries and 2 blackberries to the steel shaker glass. Using the muddler, I muddled the berries until they were slightly mushed, but not pureed. Then I added everything that the recipe called for except Amber had mentioned to only add in 1/2 oz of simple syrup instead of 3/4 oz. So if any of you know me, then you know by now that I love things sweet. That being said, I added in the full 3/4 oz simple syrup and shook like crazy! Using the Hawthorne strainer to hold back any seeds and big berry chunks, I poured it over ice in a glass – 'on the rocks,' and garnished it with a raspberry. I took a sip and was surprised as to how delicious it was! You can barely taste the gin it was deliciously fruity with a hint of sweetness. It was so easy to make too!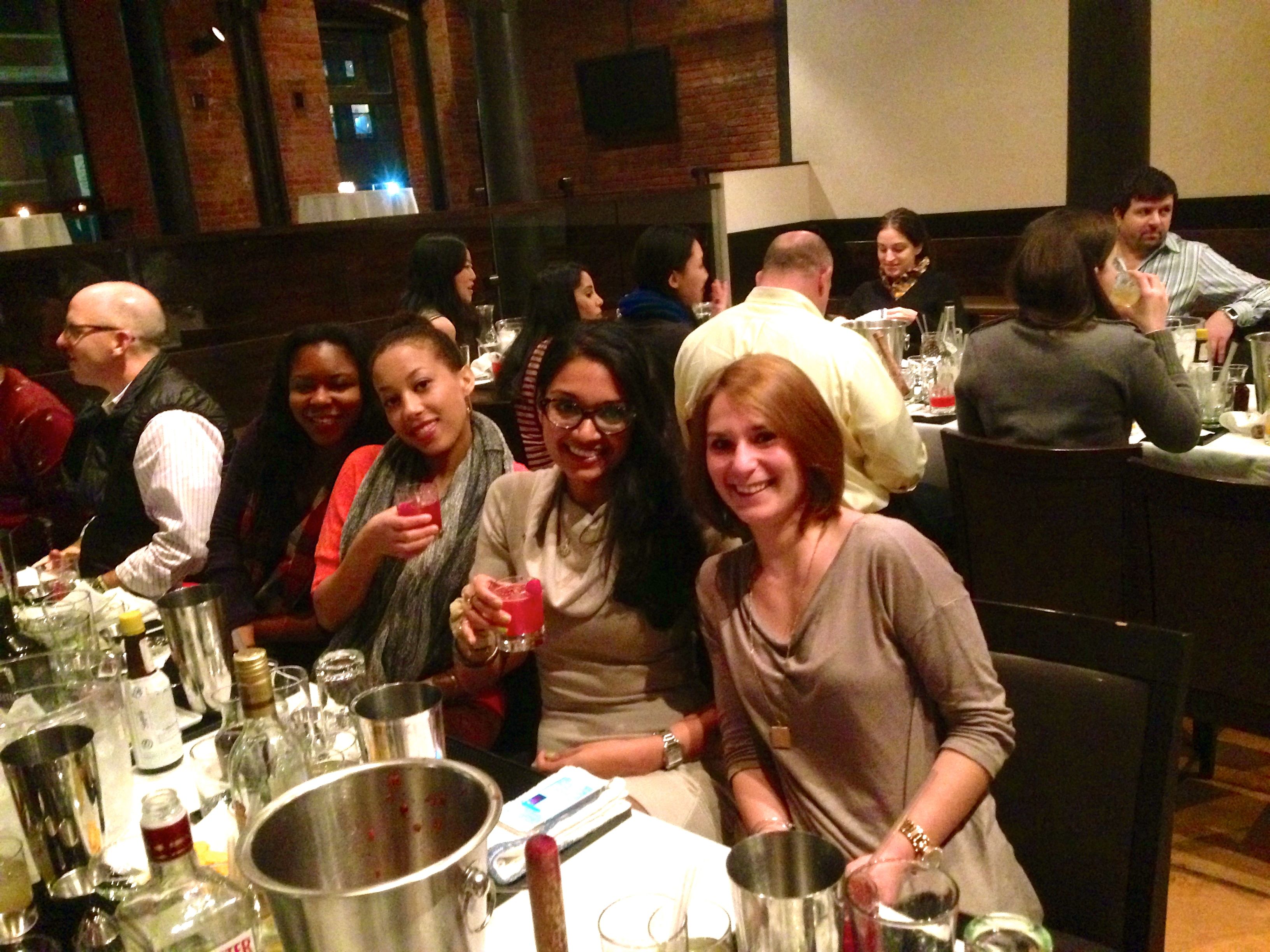 Drink # 2: Spiced Rum Old Fashioned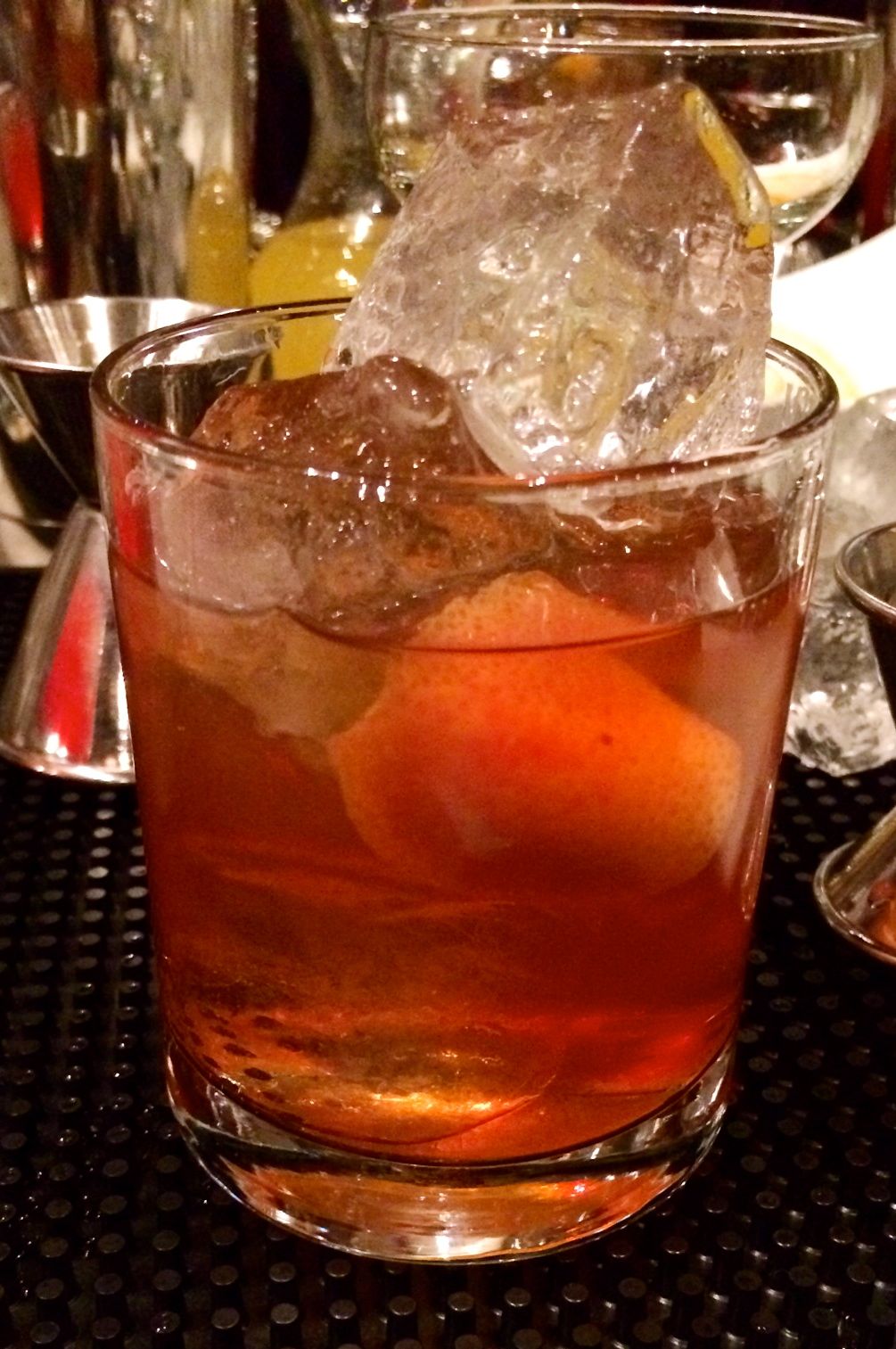 Let me preface this drink by saying that I'm not a fan of rum, and especially not spiced rum. I find it to be really thick, sugary, and just not tasty. But alas, we had to make this drink, and I thought why not give it a shot? Amber gave us a little background on what bitters actually are – I think for most of my adult life, I assumed bitter were citrus fruit peels (I have no idea why). Boy was I wrong. What bitters are is pretty much fermented herbs, so it has a super high alcohol content (this bottle had 44.7% to be exact). This was a stirred cocktail so we had to add everything to the mixing glass over a lot of ice and continously stir using the long thin stirring spoon. As you go, you had to taste the drink to know when its done. Honestly, it tasted disgusting to me throughout the process, so either I didn't make it right, or that's the way it's supposed to taste. Anyways, I stirred for a few minutes until I thought it was blended well. I poured it over a glass with ice, using a julep strainer. The last step was to take a grapefruit peel, squeeze the oils over the top of the drink and throw into the drink. I think the best part of the drink was the grapefruit, but other than that I found it to be really strong and not pleasant tasting at all. My feelings about rum were confirmed – I still don't like it!
Drink # 3: Under the Mistletoe (last but certainly not least!)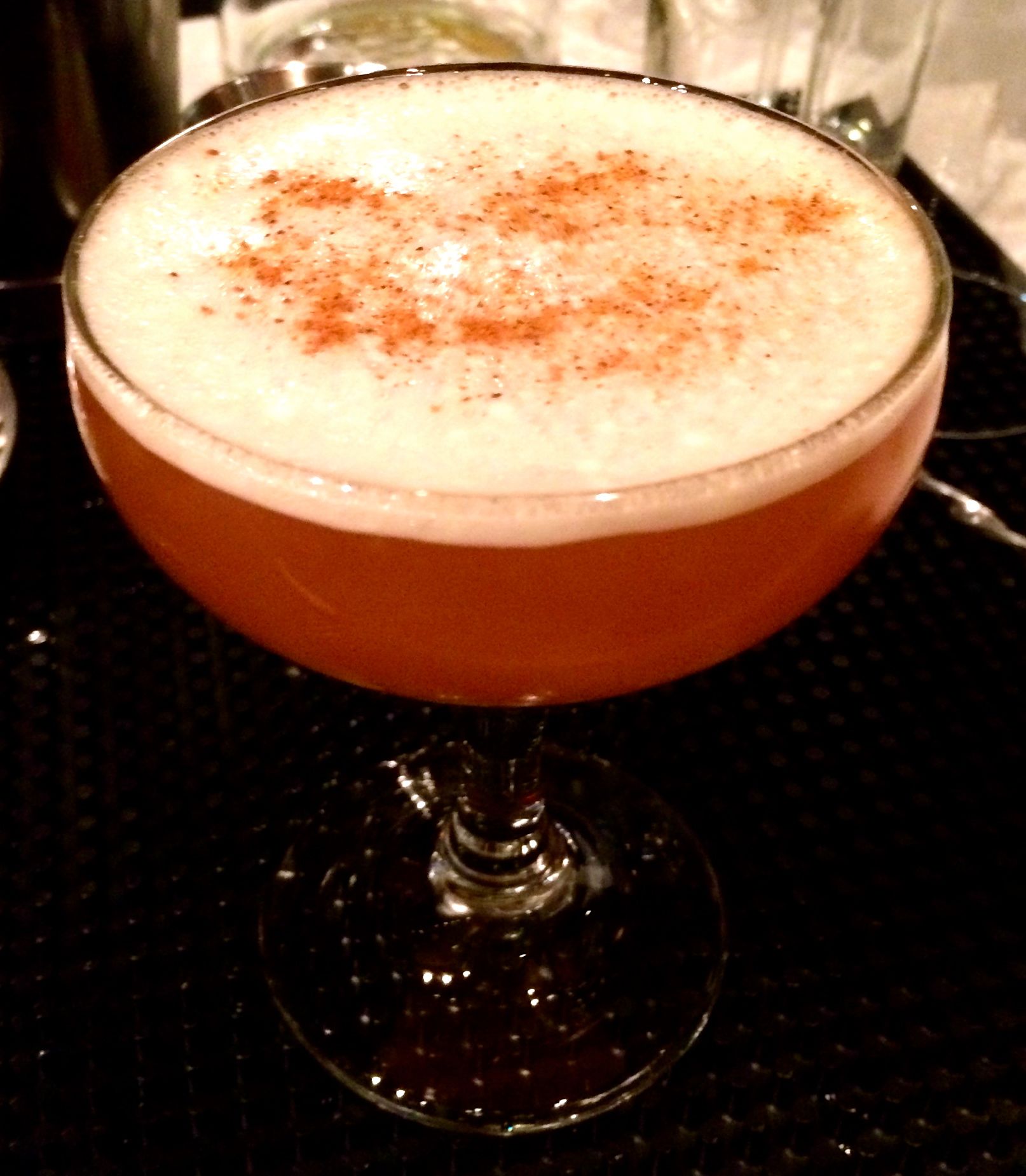 Our last drink was a shaken cocktail. I was sure if I was going to like it, because it contained bourbon and bitters, but it also had amaretto and pineapple juice which I like. This was the easiest cocktail – all we had to do was add the ingredients to the shaker, which were bitters, demarara (just a fancy word for brown sugar syrup), amaretto, lemon juice, pineapple juice, and bourbon. I shook for a few minutes until my hands were so cold that I couldn't shake no more! Then using the julep strainer, I poured it into a what I think was called a julep. Mine was a beautiful bronze color with just the right amount of froth on top. I then grated nutmeg over it as a garnish. I made Amber try mine, and she said it tasted and looked perfect! I loved the taste as well – it was a really surprising combination of flavors! I also thought it was the best looking drink. Perfect for holiday parties!
If I had to rank my drinks I would say:
Under the Mistletoe
Bramble
Gold Rush (even though I didn't make this one)
Spiced Rum Old Fashioned
All in all I thought it was an awesome experience, and now I know what bartenders do behind those counters! I can't wait to make these drinks for my friends and family, and also make variations of these drinks! I am even more excited to make cocktail pairings with my food!! Thanks eBay for the wonderful experience, and thank you Amber and Astor Center for hosting us!
Cheers!
Like this post? Check out these other delicious drinks: