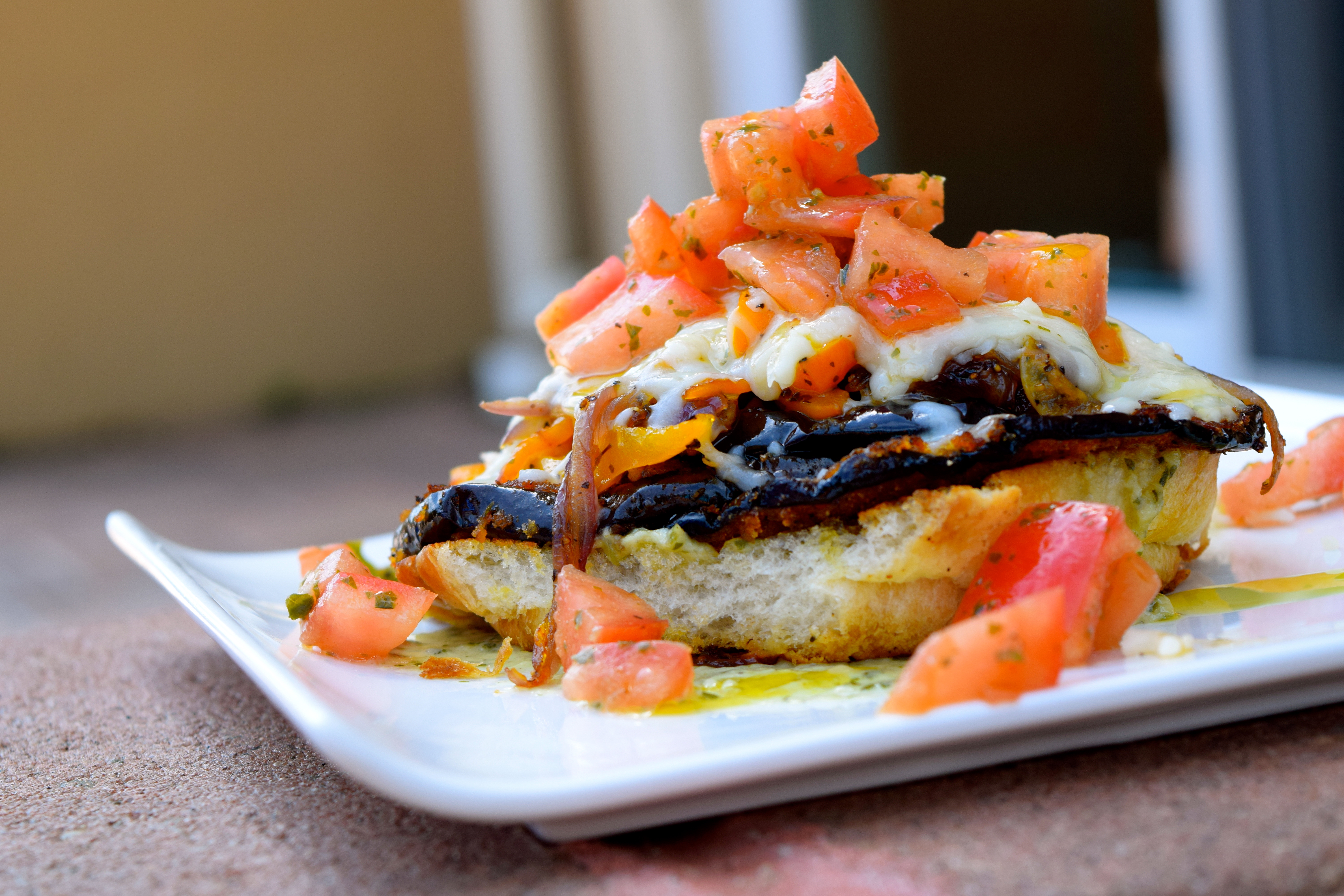 I love eggplant parm, but just like any other foodies, I find it to be a bit boring. My mom makes these delicious thin and crispy eggplant cutlets once in a while, which remind me of eggplant parm. So I decided to use those and whip up something that was similar to an eggplant parm, but just jazzed up. I think this recipe is great for a weekend brunch!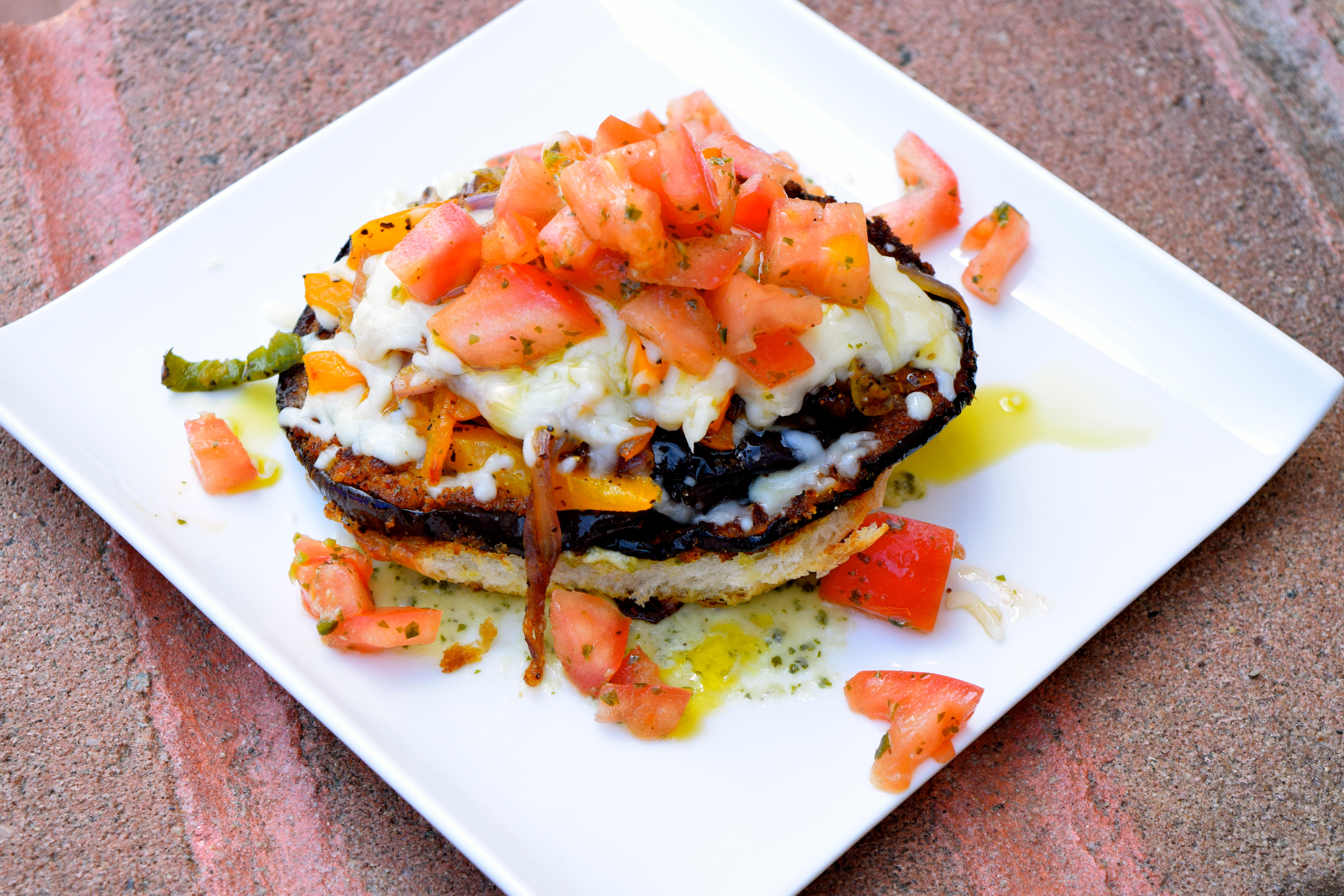 Open Faced Crispy Eggplant Sandwich:
1 large Italian eggplant – thinly sliced (1/8 of an inch thick)
couple tbsp course salt
1 cup Italian style breadcrumbs
1 cup lowfat buttermilk
1 tsp chili powder
olive oil
2 ciabatta rolls – each roll should be sliced in 4 thin slices
1/4 cup lowfat mayo
3-4 tbsp pesto
1 bell pepper – thinly sliced
1 large red onion – thinly sliced
1 jalapeño – thinly sliced
1 clove garlic – thinly sliced
2 tsp dried oregano
1/4 cup reduced fat shredded mozzarella
1 beefsteak tomato – finely chopped
salt
black pepper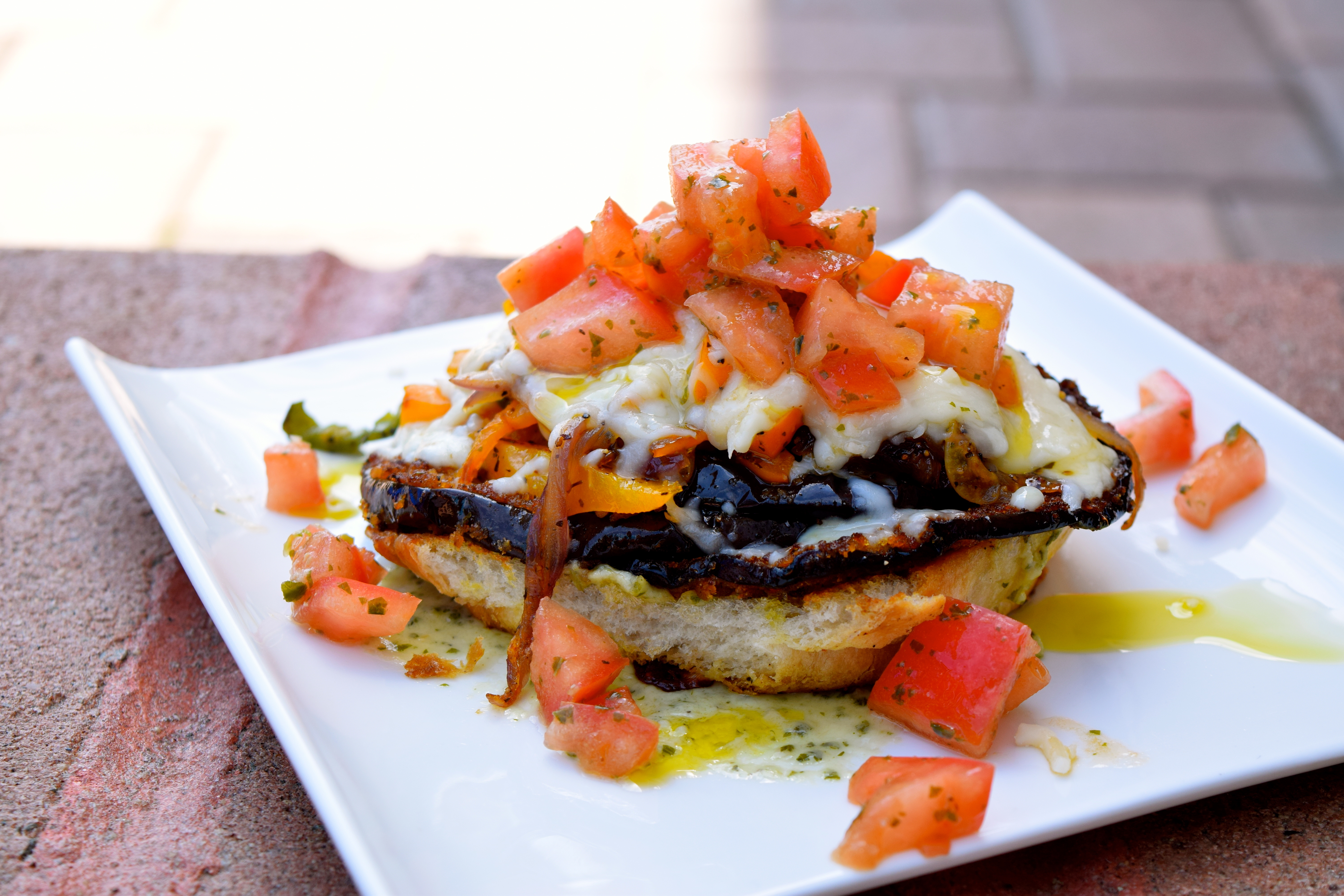 1. First lay the eggplant slices in a colander (or baking sheet with holes) sprinkle generously with the course salt and let sit until all the moisture seeps out. About 30 minutes.
2. Set up an assembly line with the buttermilk in a shallow dish and the breadcrumbs in a shallow dish. Take the salted eggplant slices and first dip in buttermilk on both sides and then coat with the breadcrumbs on both sides, making sure to pat in the breadcrumbs until they adhere. While you're preparing the slices, heat a large non-stick skillet over medium flame spray with PAM and pour in olive oil to coat the pan. Place the slices into the pan and pan sear on both sides until the breadcrumbs are dark brown and the eggplant is cooked through. Set aside.
3. In a small bowl, mix together the mayo and 2 tbsp pesto. Set aside.
4. In the same skillet that you cooked the eggplant in, remove an access/burnt crumbs and set over medium flame. Spray with PAM and add in the bell peppers, onions, jalapenos, and garlic. Saute for about 2 minutes. Add in the oregano, and a sprinkle of salt and pepper. Continue to saute over medium-low flame until vegetable begin to soften and caramelize. While that's cookies, mix together remaining 2 tbsp of pesto and chopped tomatoes in a small bowl. Set aside. Once veggies have cooked and become soft, remove from the pan.
5. Spray both sides of each of the slices of ciabatta. Place on the same pan to toast until golden brown. While the slices are still sitting in the pan (I just did 2 at a time), spread with about 1 tbsp of pesto mayo, place 2 slices of crispy eggplant, top with a generous amount of sauteed veggies, top with shredded cheese and heat over low flame. I place a steel bowl over it so the cheese melts. Remove from the pan and place on a serving dish. Top with pesto tomatoes and a smear of pesto-mayo on the side. Delish!