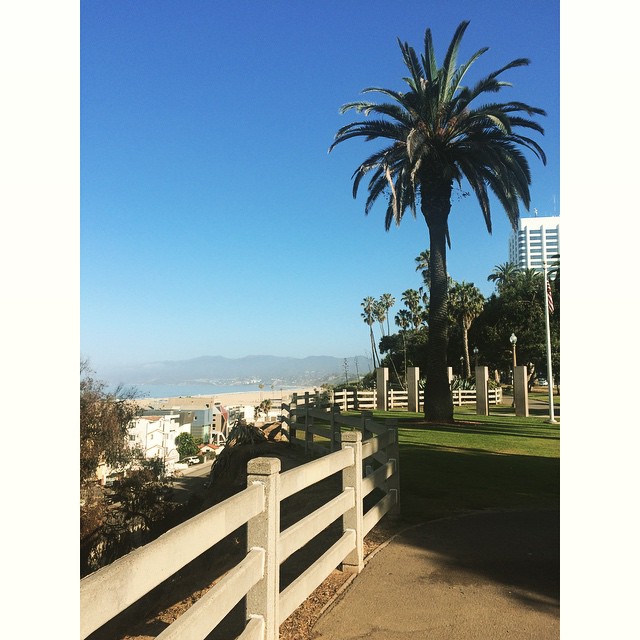 I went to LA and Santa Monica last week with a friend and was able to work from our LA office. In my short time there I was able to explore some new restaurants! Check out the reviews below.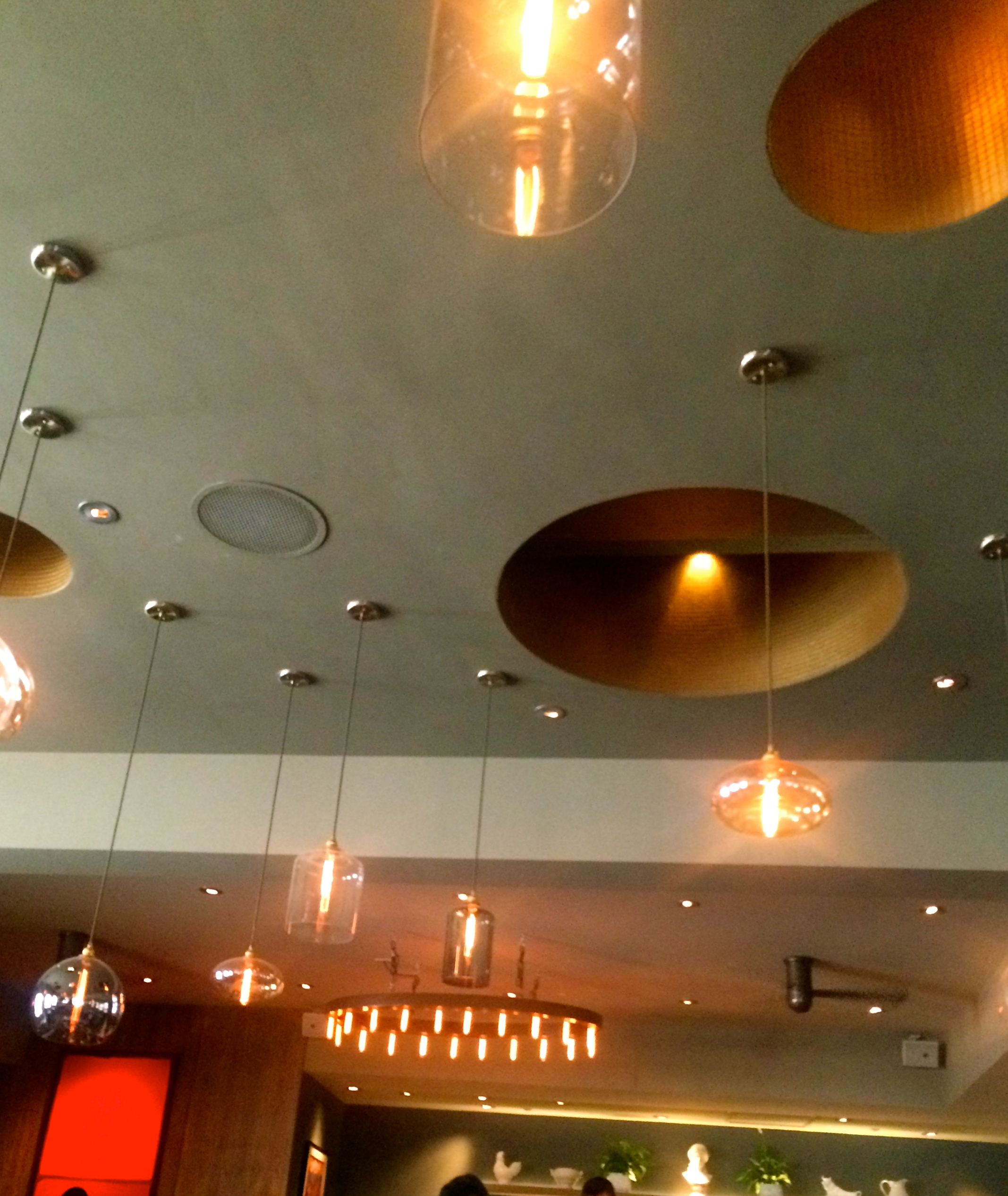 It was out first evening in Santa Monica, and we wanted some good food! After a full day of traveling cross country and working non-stop, we deserved a nice cocktail and delicious meal. I asked a good friend of mine for some recommendations, and he pointed me to Estate 1519, which was walking distance from our hotel. It was very new and seemed as though it offered Asian-fusion food. Now, I'm usually skeptical of "fusion" cuisine, because I generally find that the food is confused and ultimately not good. However, I trusted that In SoCal, Asian was probably a safer bet. It is generally thought that Asian and Mexican cuisines are very good here.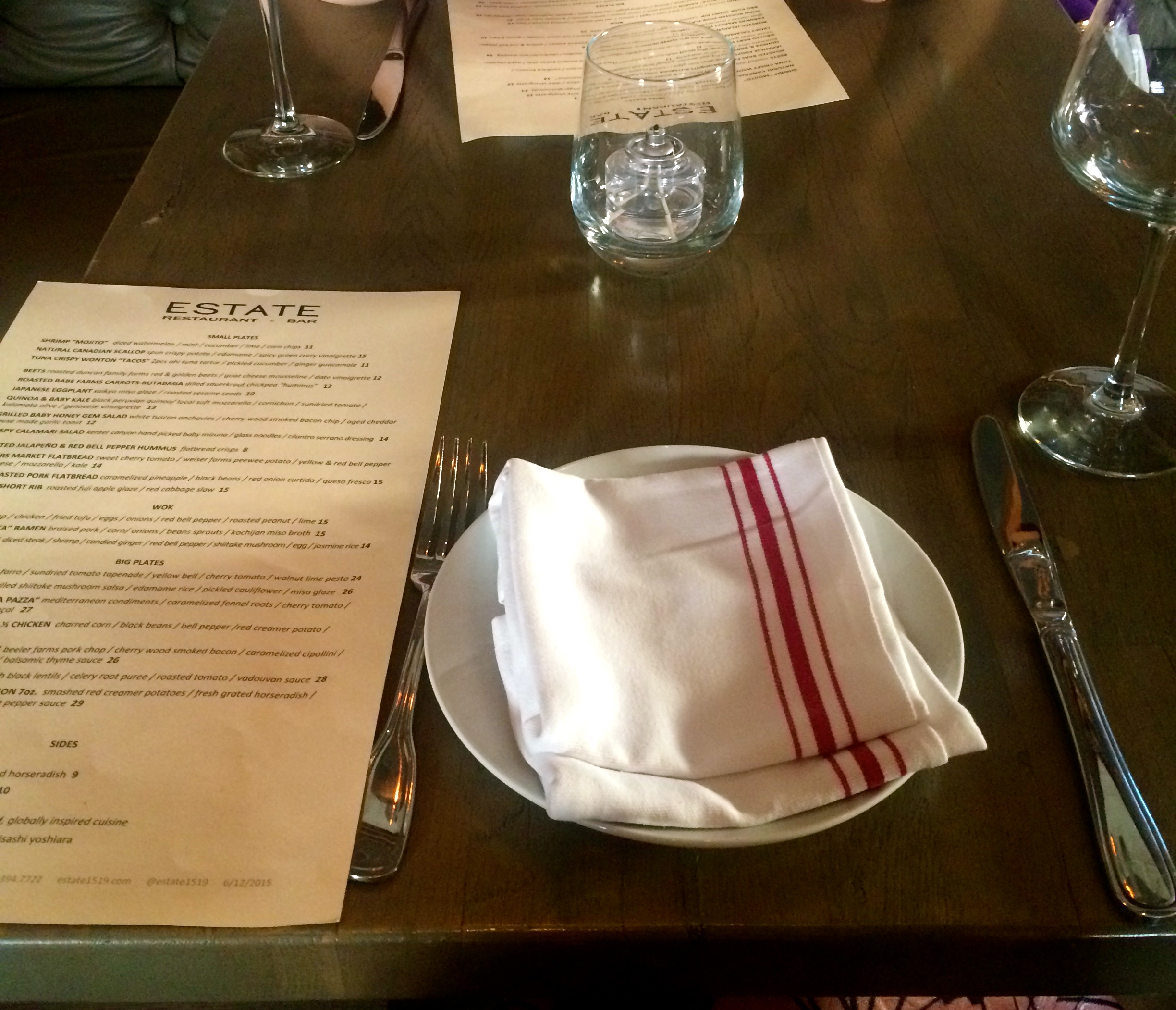 Some Quick Rates:
Quick Rates (1-10, 10 being the best):
Food: 7
Beverages: 9
Service: 8
Ambiance: 8
Price: 6
Beverage:
Matcha Piccu: Gin, Lemongrass, Matcha Green Tea, Fresh Lemon Juice.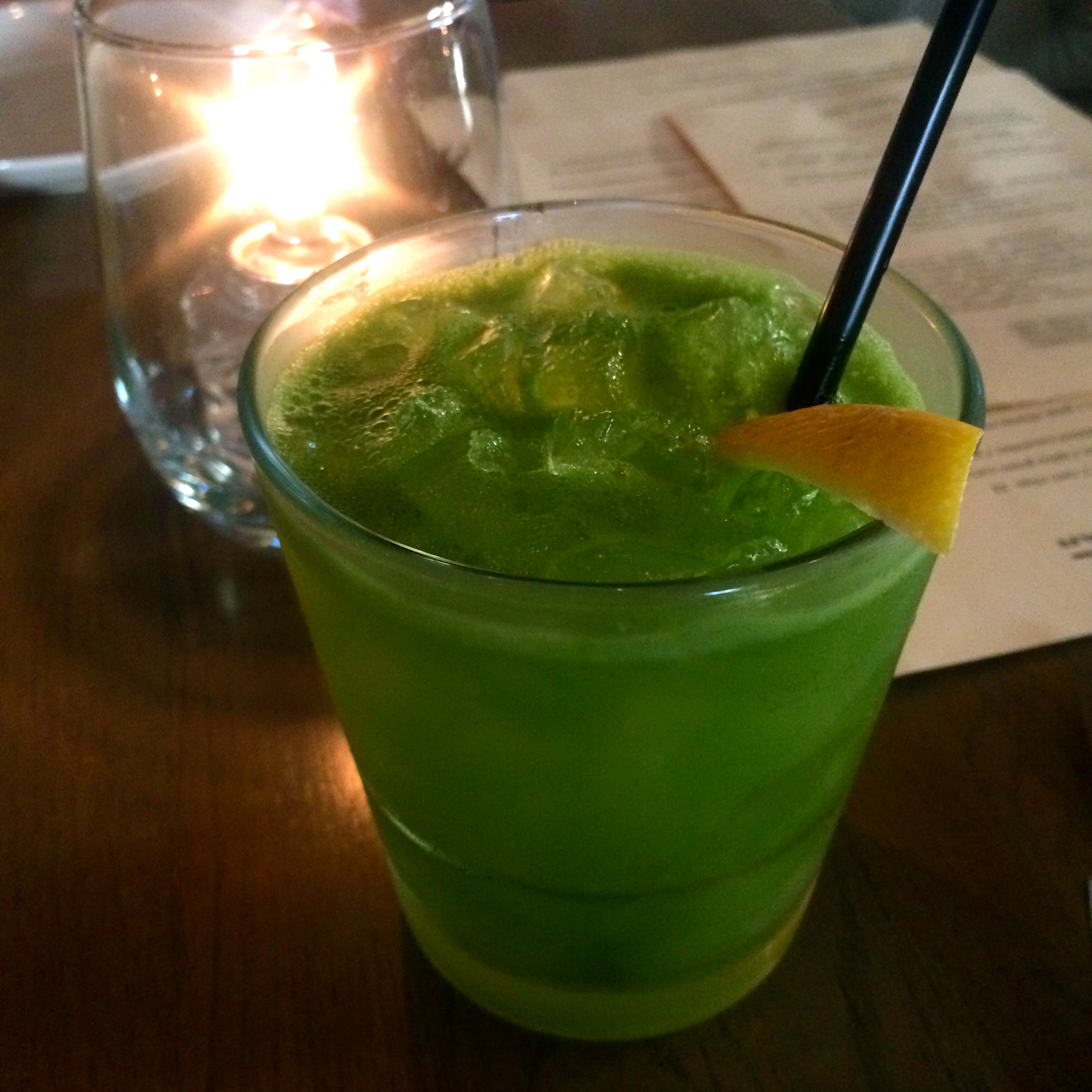 I'm generally a huge fan of gin in cocktails – it blends really well and doesn't overpower the other ingredients, but still gets the job done (if you know what I mean). I LOVED this cocktail – I loved match green tea and gin so that combination was fabulous. It tasted like I was drinking an adult green tea. It had a balanced flavor of sweet and tangy.
Food:
Farmers Market Flatbread: sweet cherry tomato / weiser farms peewee potato / yellow & red bell pepper mozzarella / kale.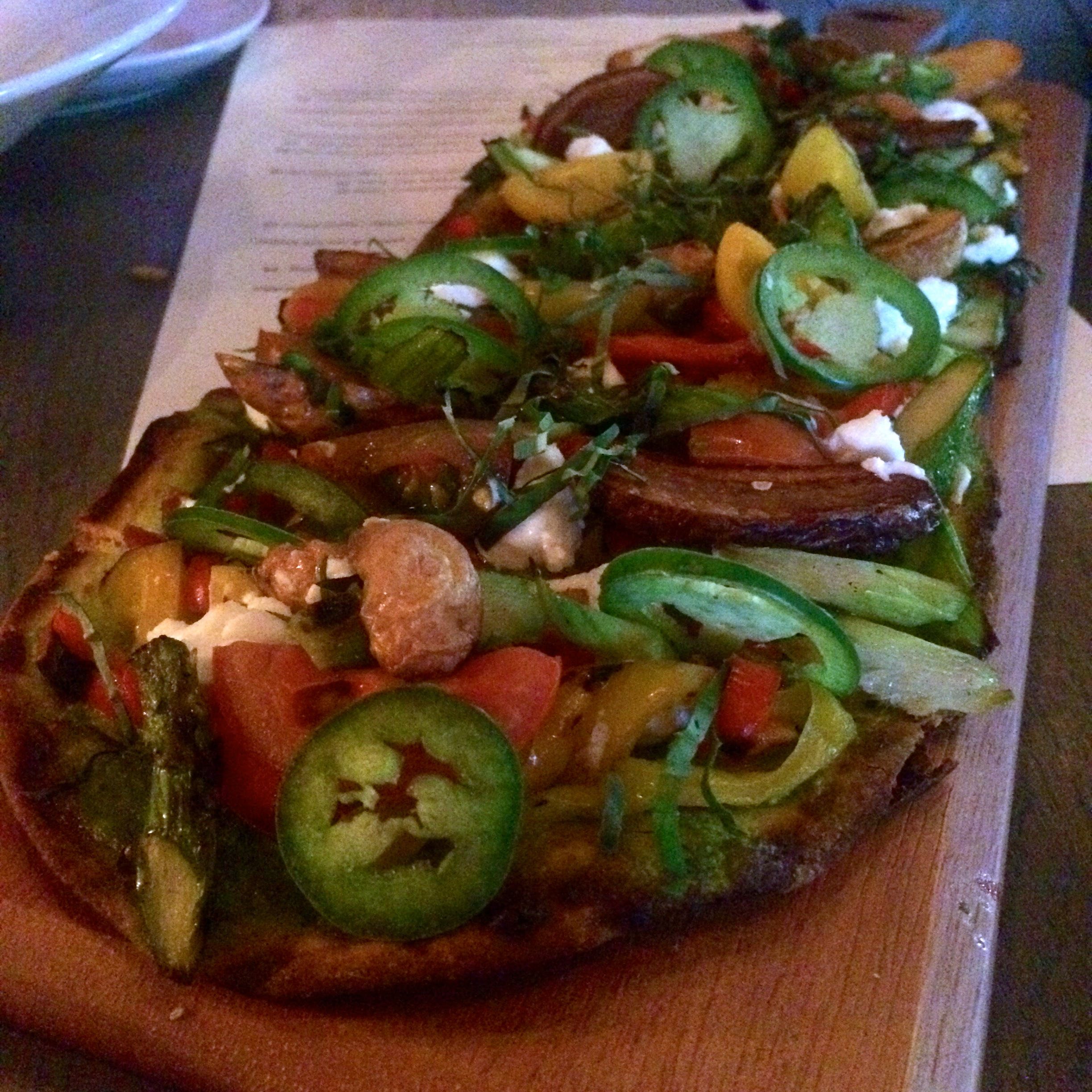 This "small plate" was a great size and they even added thinly sliced fresh jalapenos on it without me asking (maybe it was because I emphasized while ordering that I want the spiciest thing in their kitchen. Must've given it away). This was a great combo of fresh veggies, small dollops of goat cheese, and roasted fingerling potatoes. I would've preferred more of a sauce on it – maybe a kale pesto? Otherwise, it was very good.
Pad Thai: fried tofu / eggs / onions / red bell pepper / roasted peanut / lime.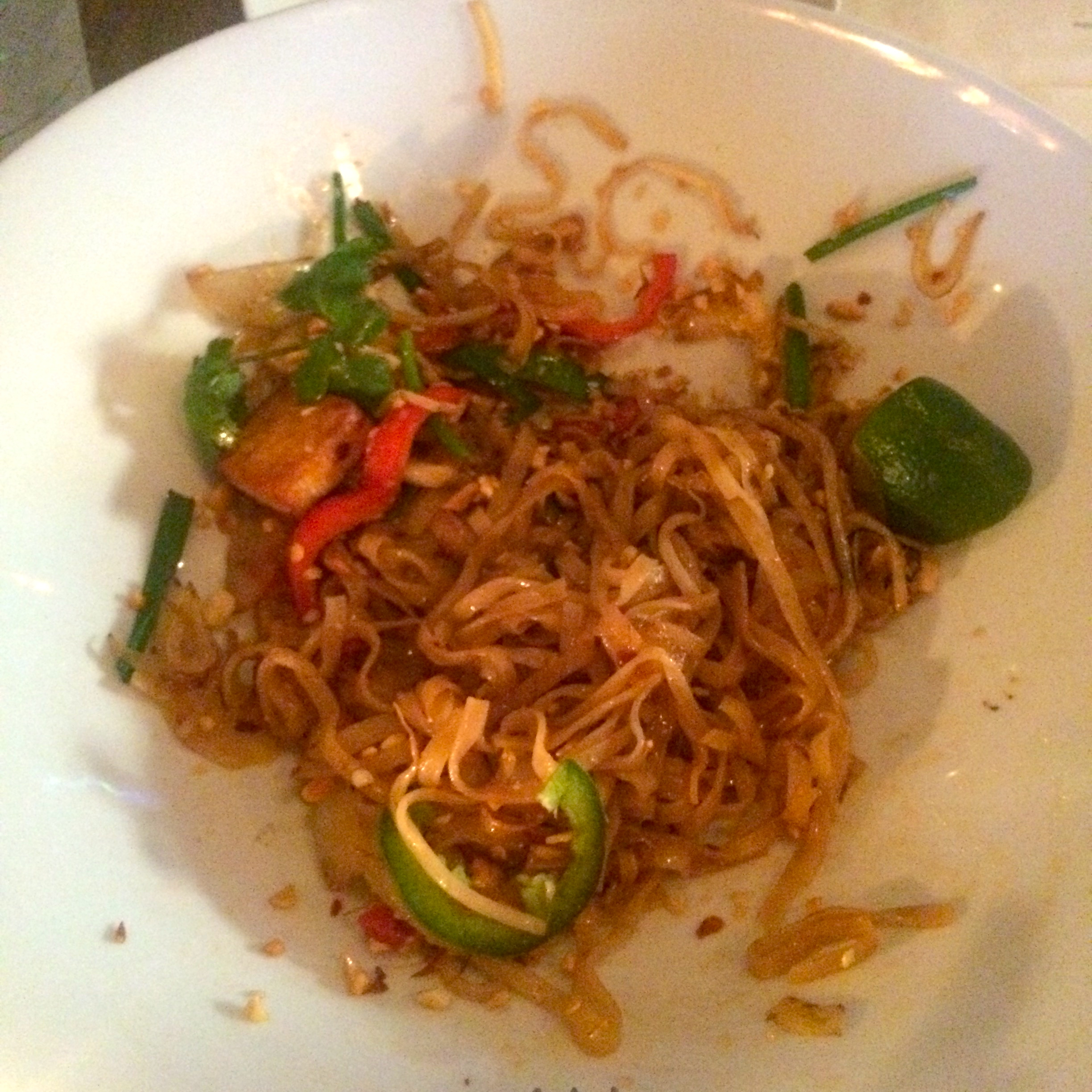 I would like to think by now that I'm a Pad Thai connoisseur. This dish was quite deceiving. When it came, we instantly thought it was a small portion and were annoyed. However the bowl was deep. I actually really enjoyed this dish – it was full of flavor and the ingredients were very fresh. The tofu was lightly pan fried – not oily and chewy like tofu in pad thai generally is. They also provided me with Thai chili powder and fresh jalapenos, so obviously that improved my experience.
Dessert – Green Tea Tiramisu: Chocolate-Almond Cookies.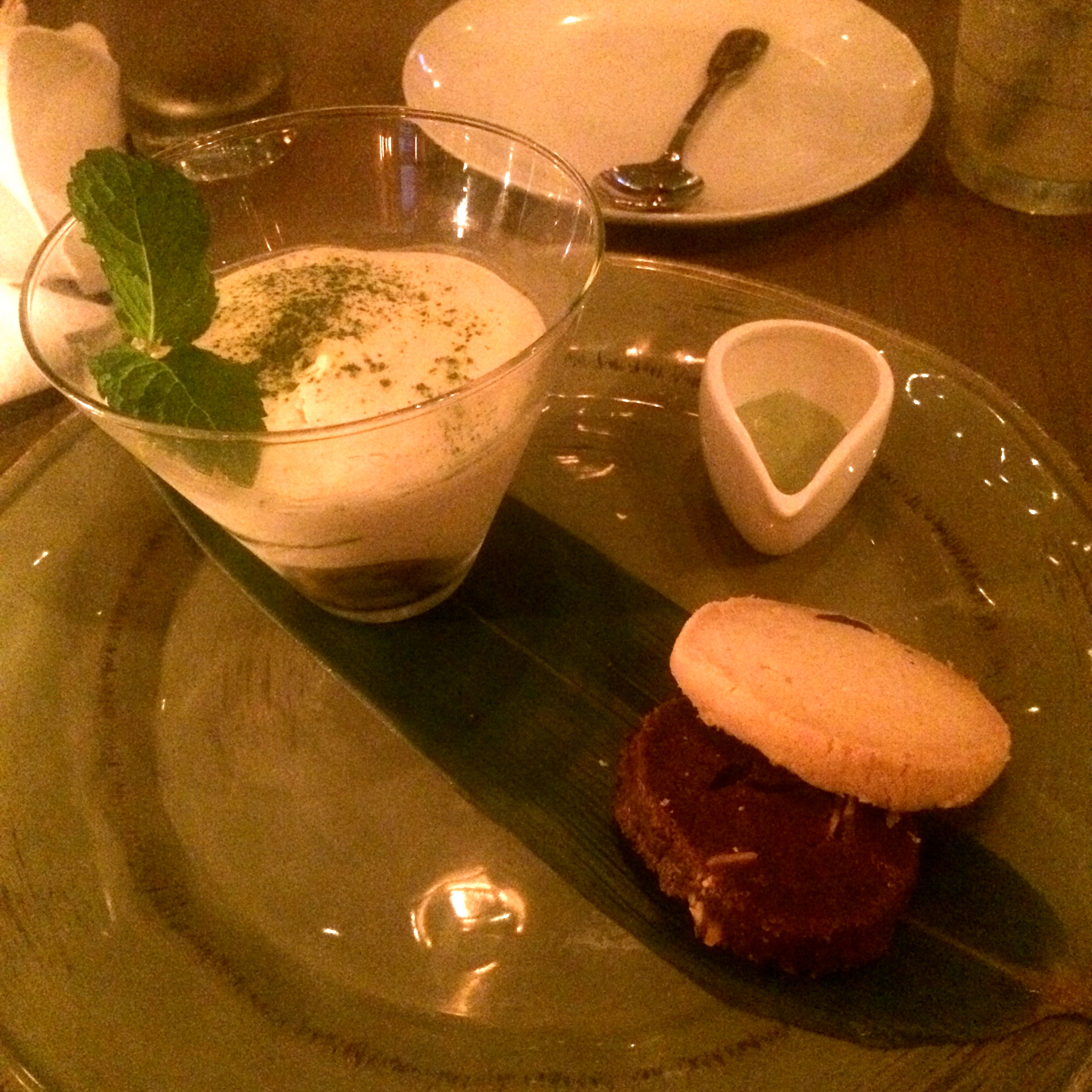 Next to the cocktail, I think this was my 2nd favorite item. It was tiramisu with an Asian twist. Creamy, light, and packed with the delicious green tea flavor and served with a matcha green tea sauce. The cookies were unnecessary though – didn't think it added much to the overall dish.
I was taken here for lunch on recommendation of my colleagues in LA. It was casual and when you walked in, it felt as though I was at a roadside taco hut in Mexico, and I liked that. Some Quick Rates:
Quick Rates (1-10, 10 being the best):
Food: 7
Beverages: – (drank water)
Service: 8
Ambiance: 7
Price: 7
Tres Salsa Tasting: two salsa and guacamole.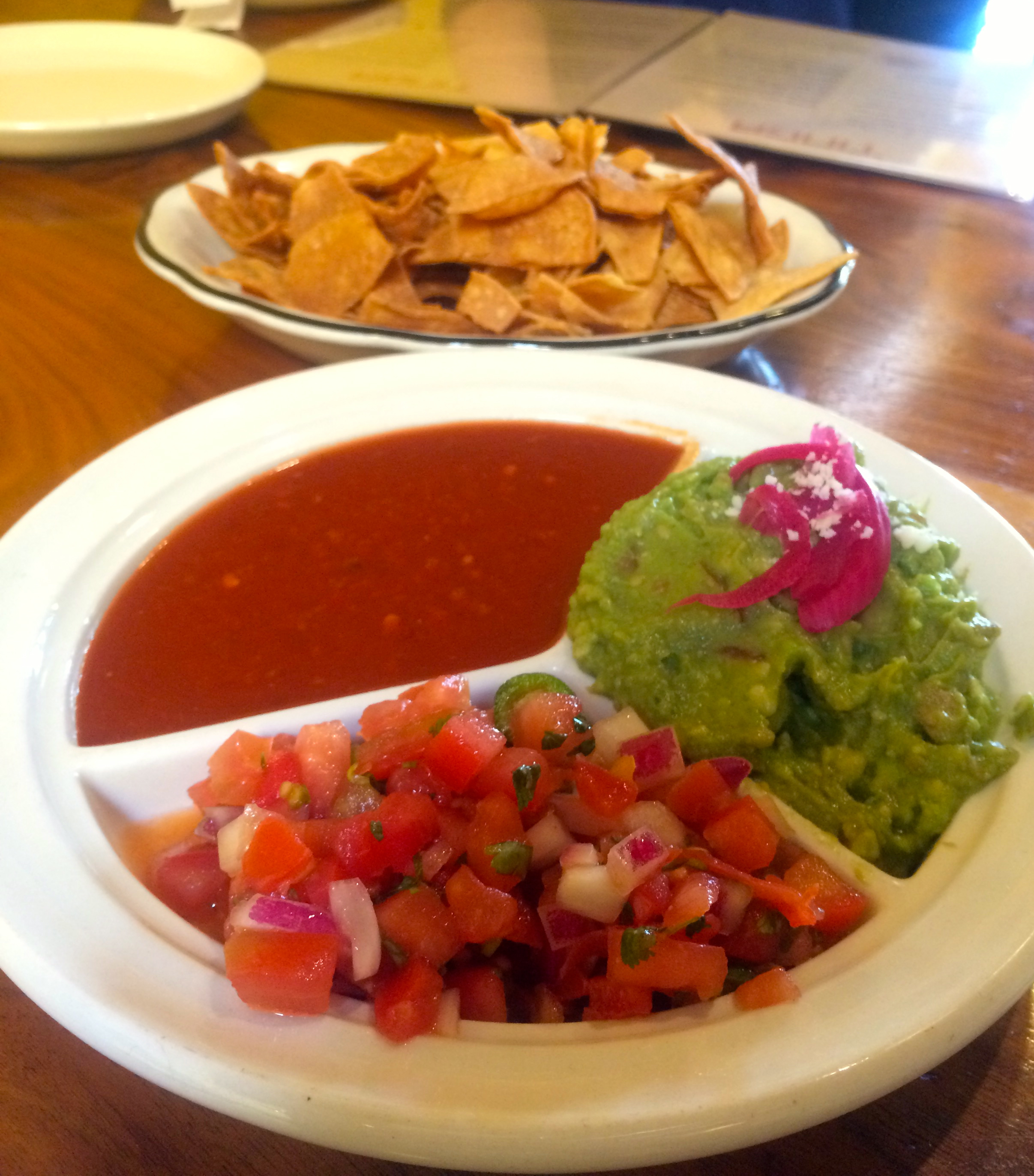 Wasn't the biggest fan – for all those who know me, know that i absolutely hate raw onions. Which means I couldn't eat the guacamole or the pico de gallo in this dish. So this "Two Salsa and Guacamole" dish really became "One Salsa" dish for me. The salsa was good, but definitely not the best I've had.
Elote Especial: grilled sweet corn, lime, crema, chili, poblano puree.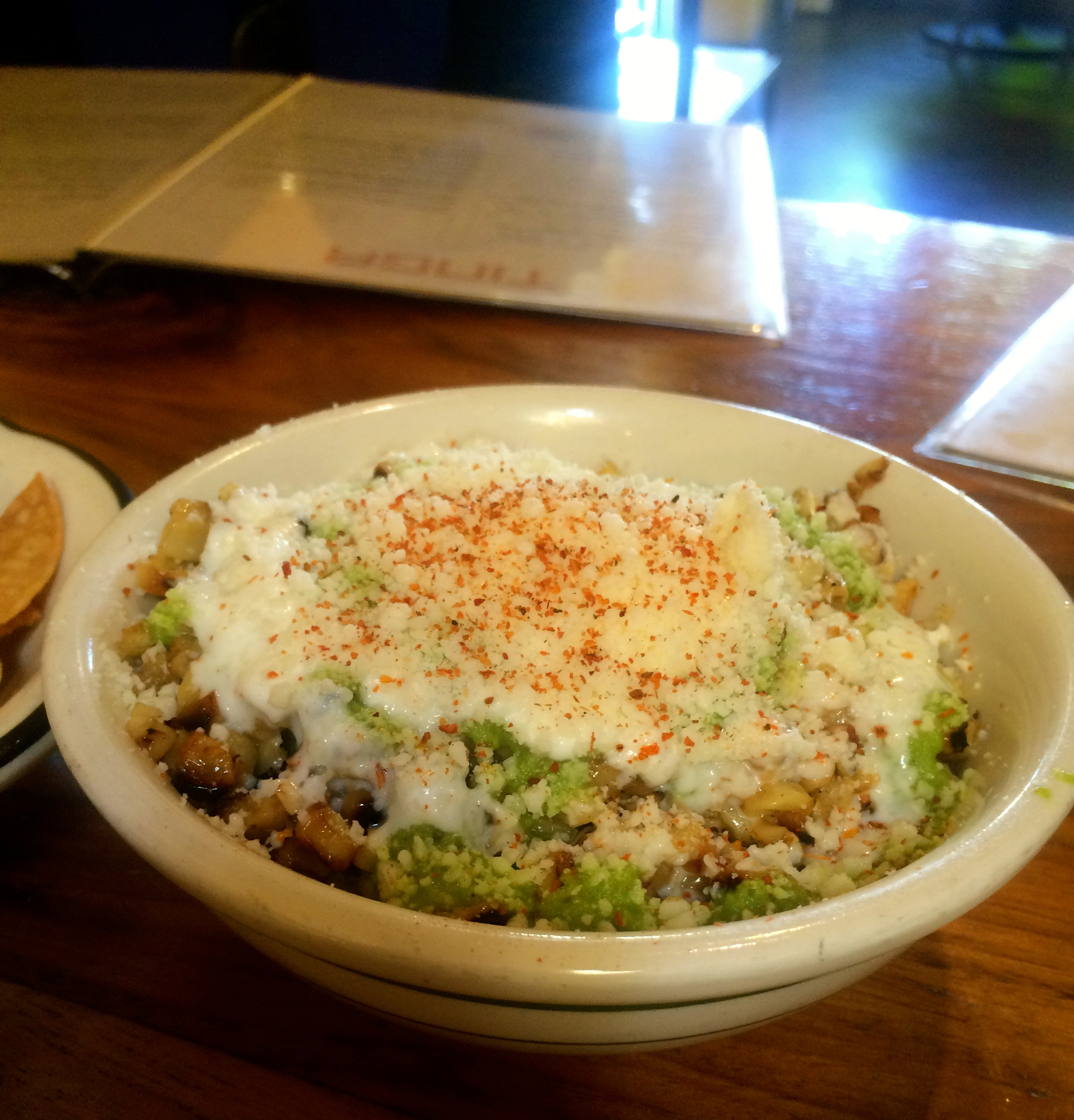 I generally love Elote – in a bowl or on the cob. This was really good and I loved the poblano puree, but it had a little too much lime for my liking and also wasn't spicy. However, they were able to provide me with grilled serranos and a homemade habanero sauce, which fulfilled my spice craving.
Papas Brava Tacos: Mashed bashed and smashed potatoes with pasilla rajas, pickled peppers, queso fresco and " Mother in Law" salsa.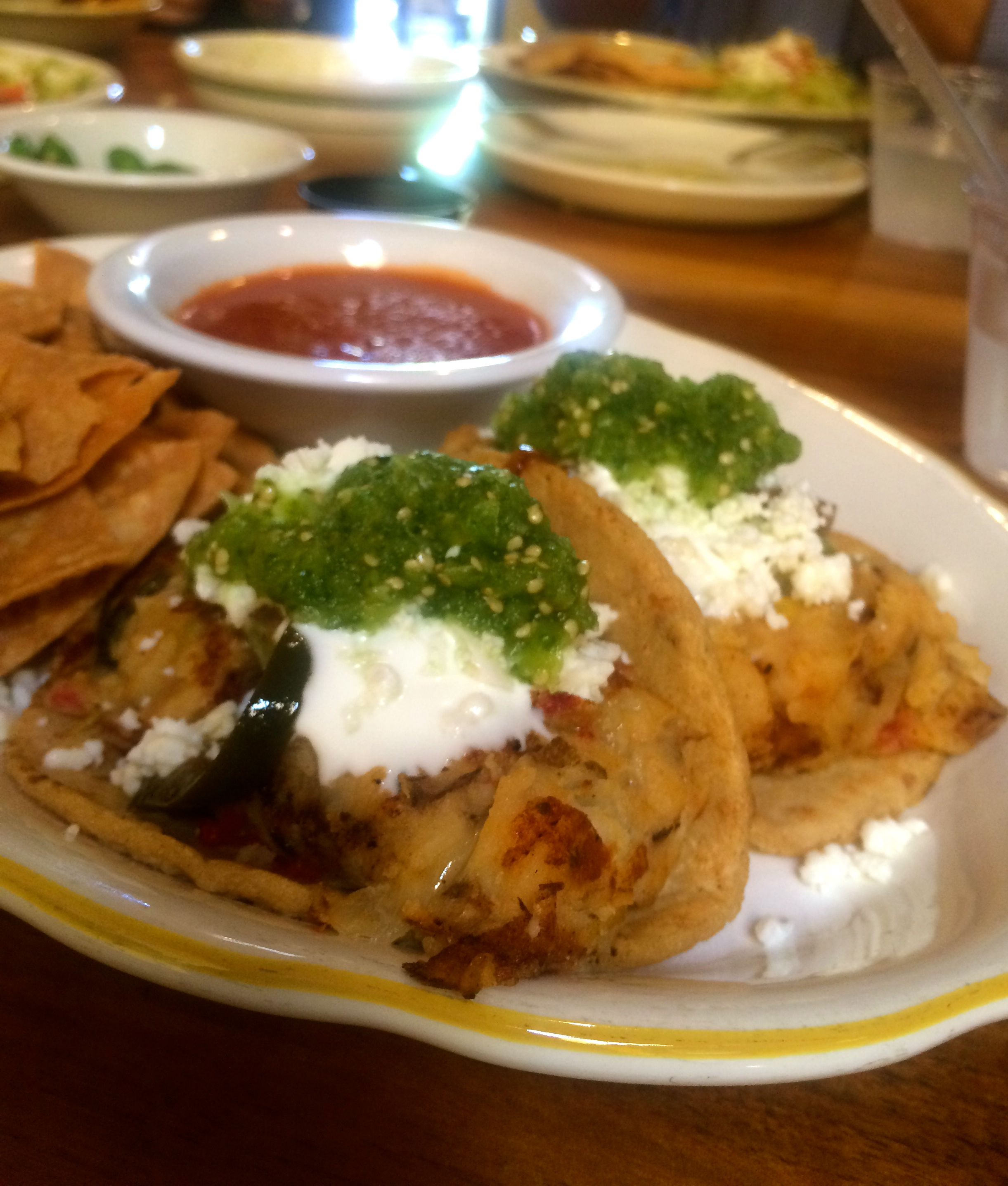 I've never had potatoes in tacos, so I thought why not give it a try? This totally reminded me of a classic Indian dish we have called Aloo Tikkis, but with a tortilla. It was basically potatoes that were mashed with some spices, onions, peas and then made into a patty and pan seared on each side. Placed into a fresh tortilla – which was very good, had great texture – topped with creama, queso fresco and the poblano puree. It was very good, but I do think the mashed potato patty could've used more flavor. Maybe some garlic, cumin, and cilantro would've done the trick!
We walked from Ocean Avenue in Santa Monica to Venice Beach, which isn't a bad walk! But of course, we worked up an appetite. To our dismay, nothing was open at 9pm on a Thursday evening! I understand cities outside of NYC aren't open 24/7, but Venice Beach? Come onnnn. Since it was a little chili, we found the place with the most heat lamps and sat right next to one. This happened to be at Candle Cafe.
Quick Rates (1-10, 10 being the best):
Food: 4
Beverages: 6
Service: 7
Ambiance: 6
Price: 7
Beverages: Instead of ordering 2 glasses of wine, which were $9 each, we order a bottle of white wine for $30 – that's how they always get you. Obviously, this was like a $10 bottle, that they were charging 200% more for. However, it was fine for the evening.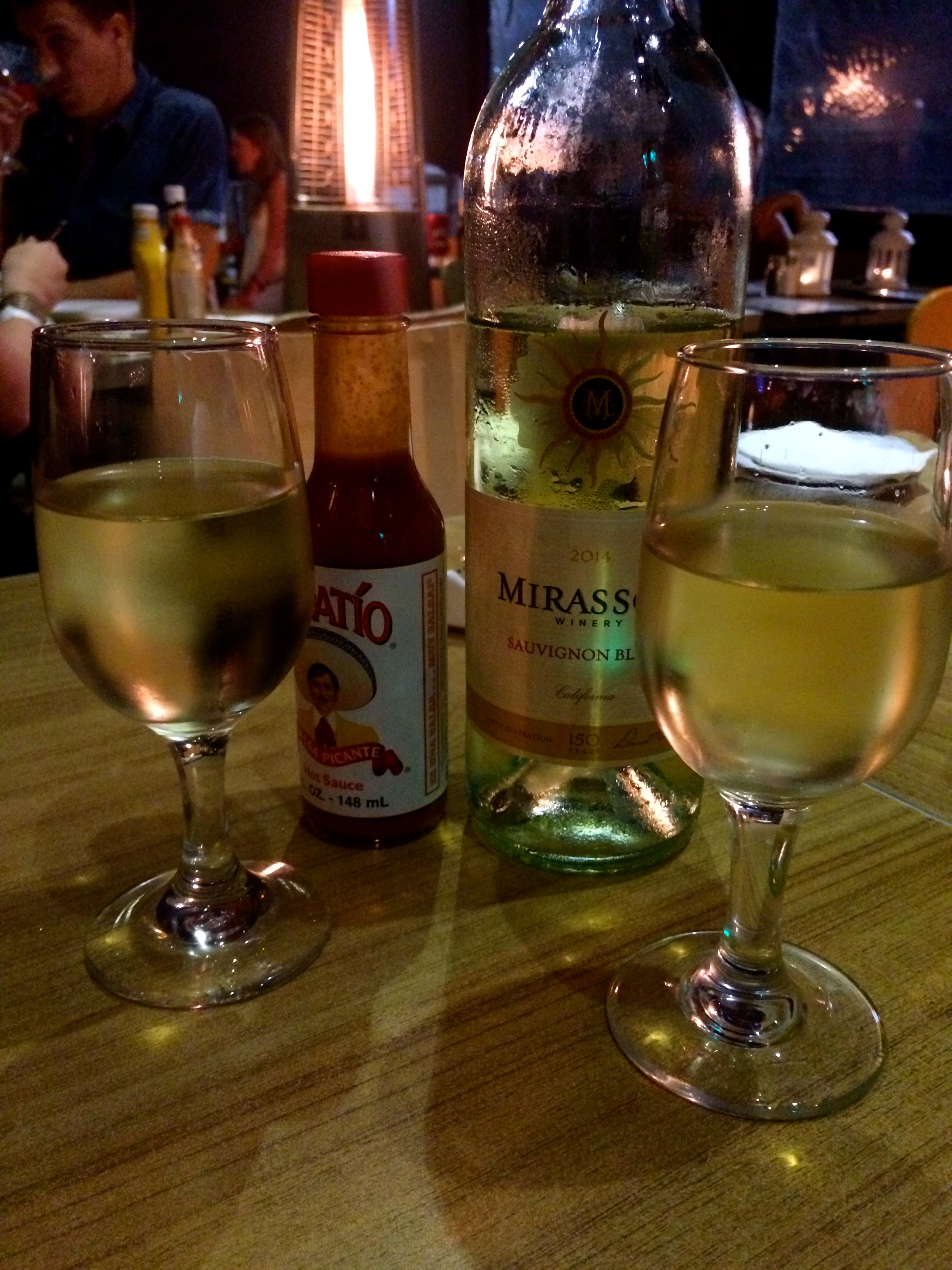 Food:
On-The-Side Nachos: Topped with Fondue Cheese and Jalapenos. Salsa, Guacamole, Black Beans, Sour Cream.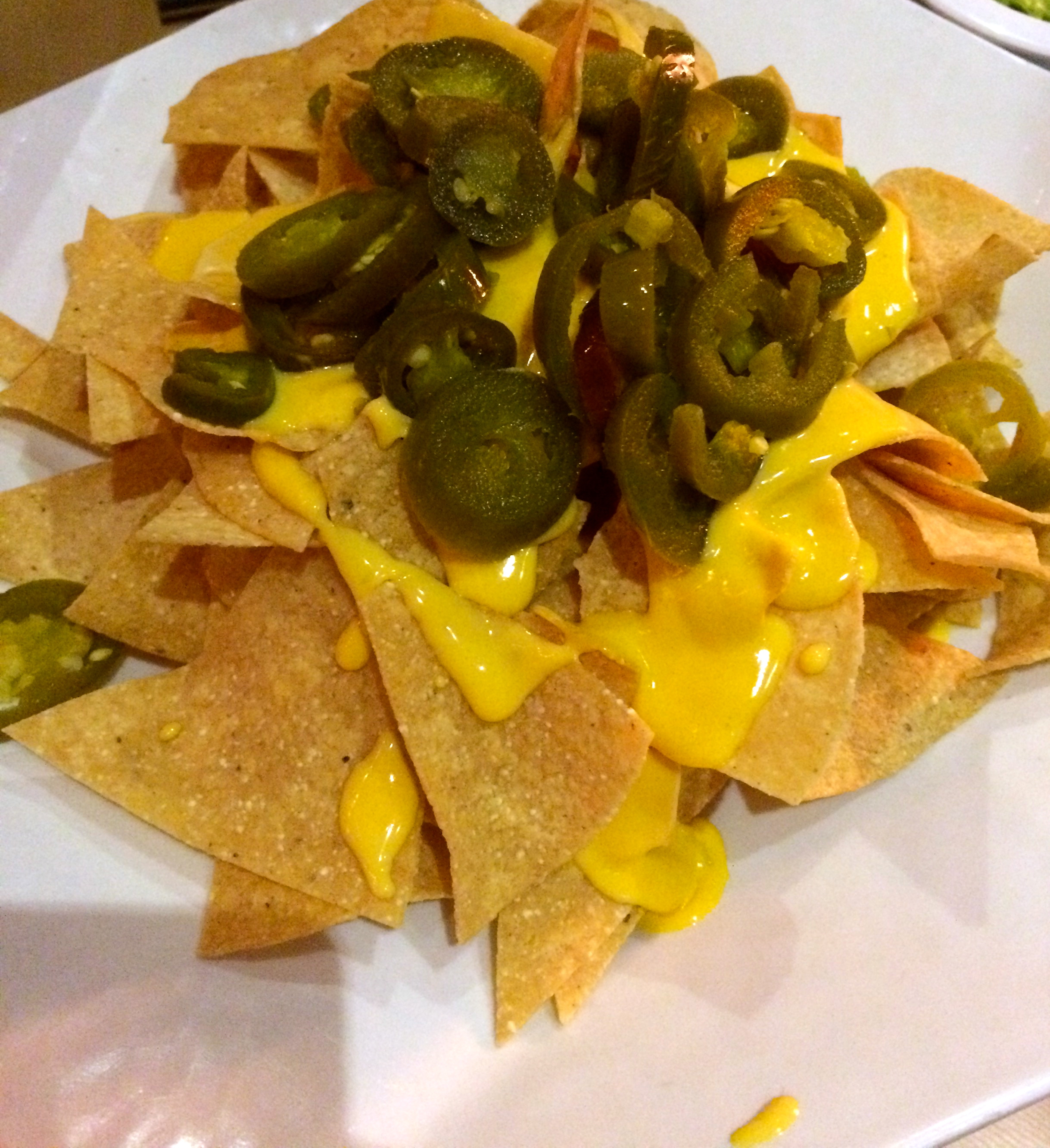 So this is probably the most inaccurate description. It was basically tortilla chips, topped with processed nacho cheese, served with all the sides.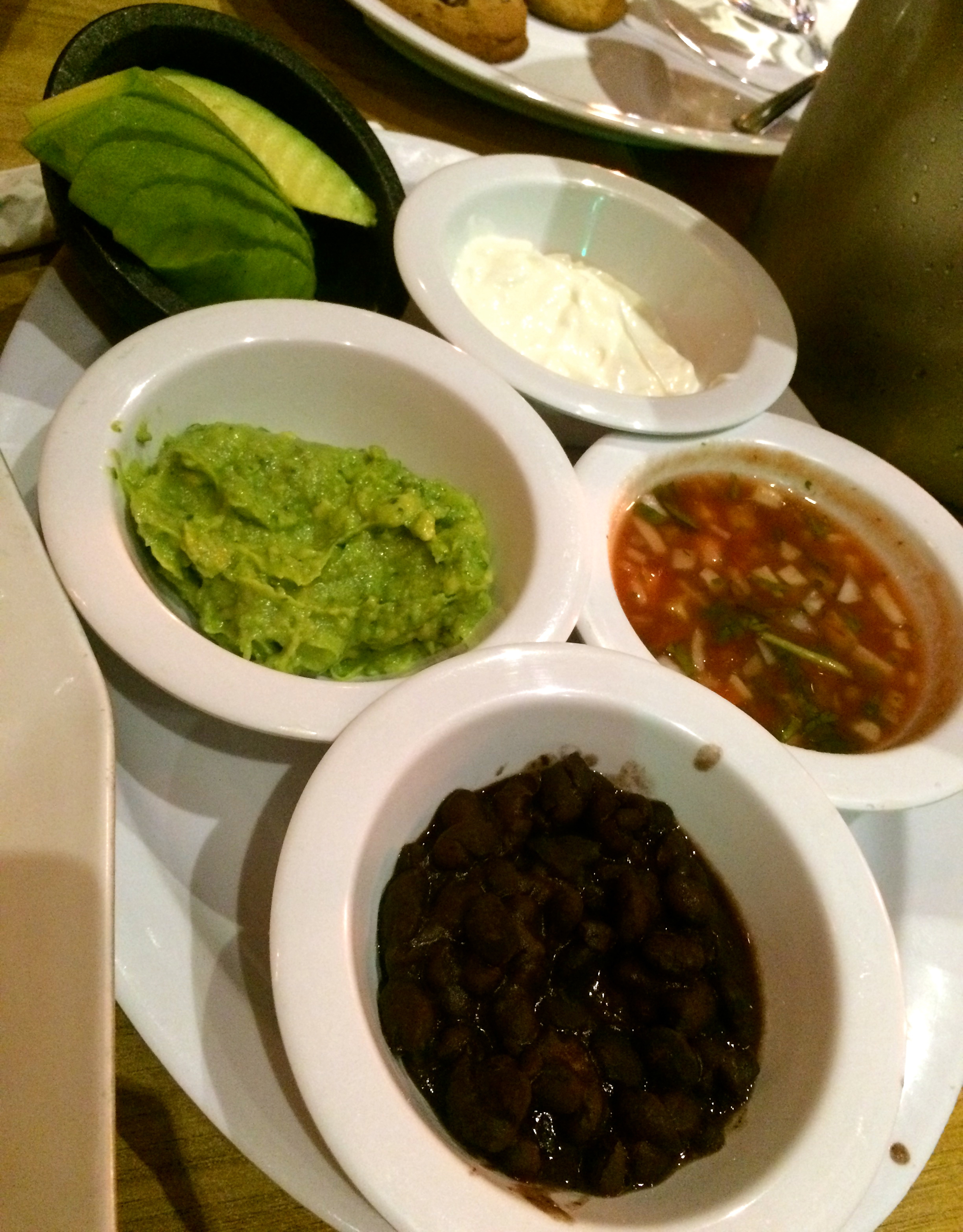 Don't get my wrong, I happen to love ghetto nacho cheese, especially the kind we get at movie theaters, but don't fool me by saying "fondue cheese"!!! Also, they were pretty skimpy with the cheese, so we had to request for more "fondue cheese" on the side (see below). The best part in this whole dish was the avocado, which wasn't even a part of the dish. I had ordered it on the side. Hit the spot though.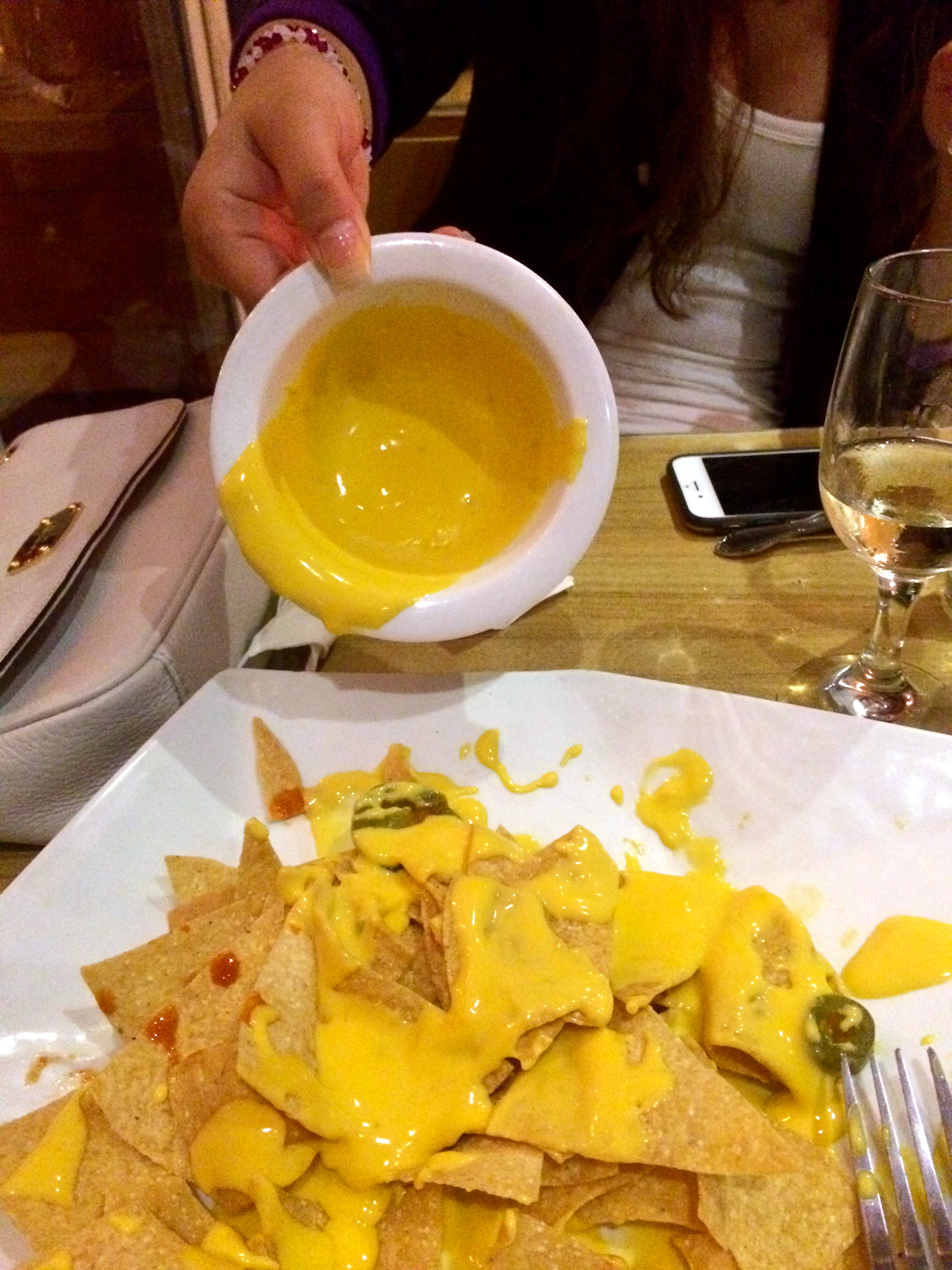 Side of Avocado: come on, I can't go to SoCal and not eat some fresh avocados!!
Ice Cream & Homemade Chocolate-Chip Cookies as a Sundae: Another completely deceiving description. Basically two small cookies served with a bucket of vanilla ice cream – no sundae fixins'! Either they forgot, or California people eat really WEIRD sundaes. Disappointing.
I met an old colleague here on his recommendation for breakfast. It was pretty casual – I think it was equivalent to a diner.
Quick Rates (1-10, 10 being the best):
Food: 6
Beverages: 8
Service: 7
Ambiance: 6
Price: 7
The menu is extensive. I love and hate large menus – there are enough choices for a picky person like myself, but also confusing like an indecisive person like myself. I settled on a savory breakfast item. I was in SoCal, so I couldn't leave without eating a breakfast burrito!
Beverage: Dirty Chai: Espresso with Spiced Chai. This was actually awesome – a huge mug filled with frothy chai and espresso sprinkled with cinnamon. It was really good and not filled with overpowering spice, such clove and cardamom. I was a huge fan.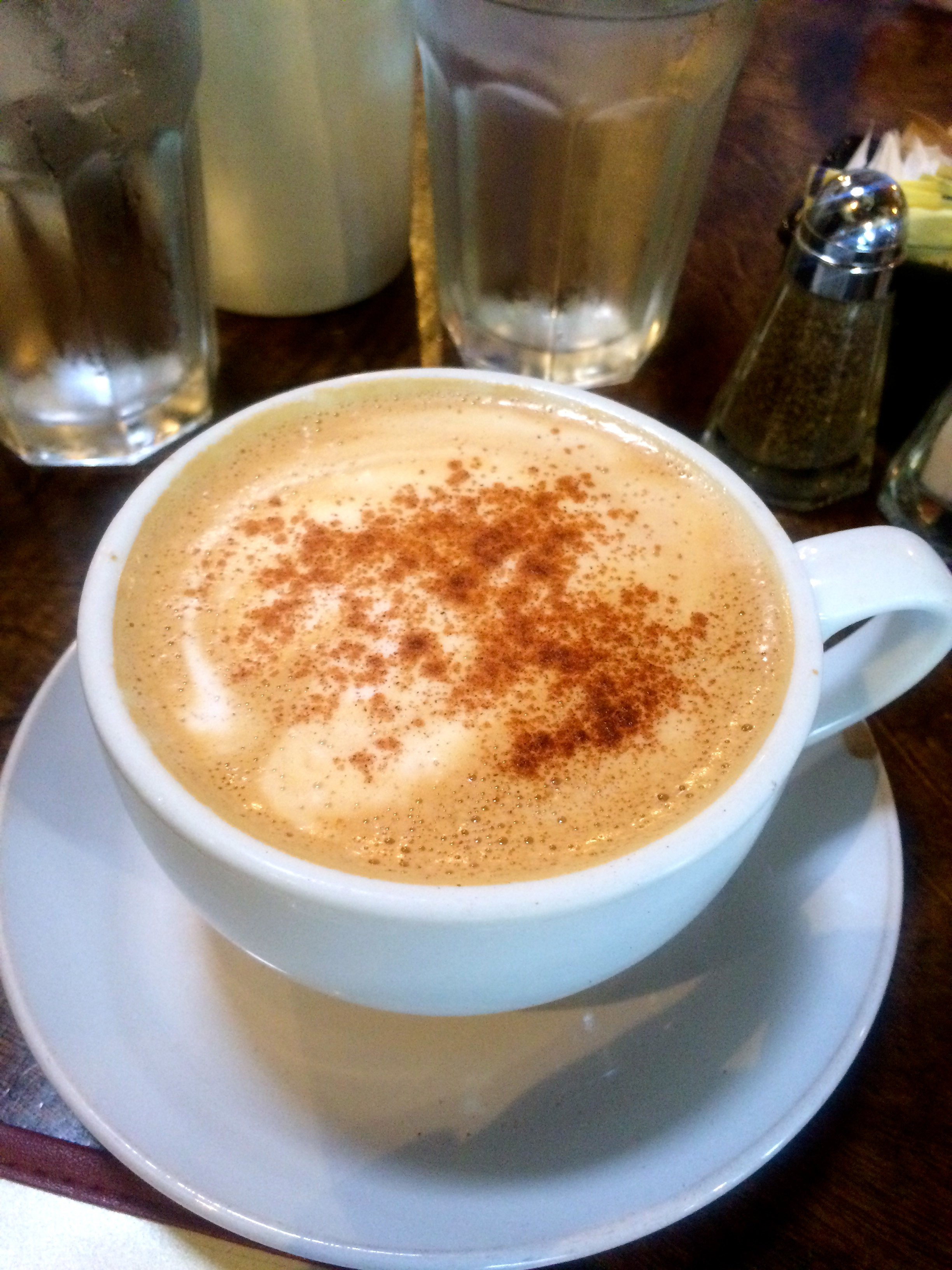 Wrap On Fire: Fresh eggs scrambled with spicy chipotle peppers, black beans, cilantro, tomato, red bell peppers, and cheddar cheese rolled up in a large grilled flour tortilla, served with sour cream and grilled potatoes.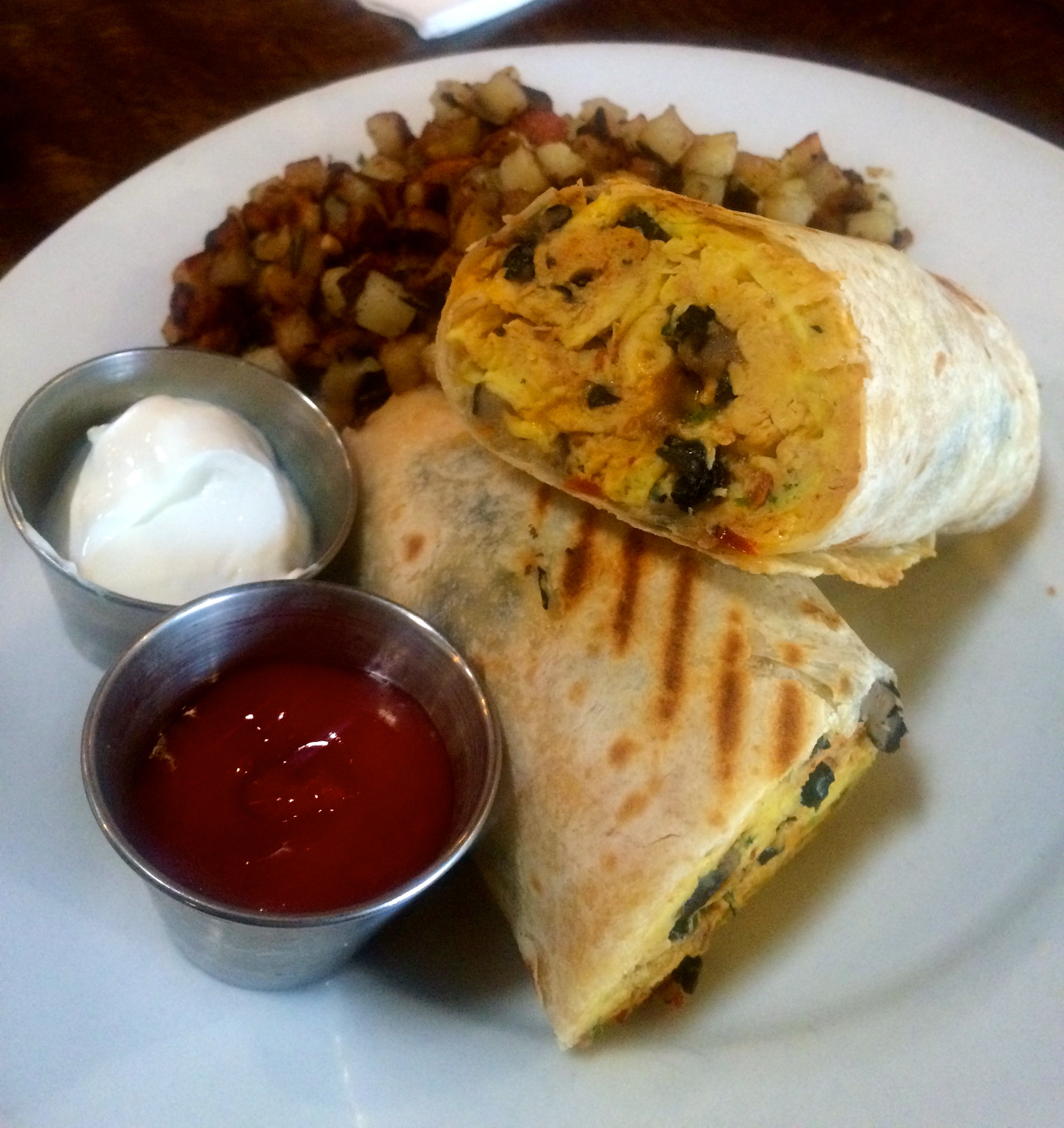 Of course I altered this by asking for egg whites and jalapenos and chipotle sauce on the side. I was served the burrito and noticed that it was not egg whites, but because we were pressed for time, I figured I'd just hush up and eat it. But then as I kept eating, I realized there were no jalapenos! Noooo. I informed the waitress, and she told me that in fact they had served me the wrong burrito. I got mine with egg white and jalapenos, and what I liked most about the dish was the fact that the burrito was grilled crisp on all sides. It was pretty good, but definitely needed more flavor. They didn't overfill it was cheese and the chipotle sauce on the side added some yumminess. The crispy rosemary home fries were very good.
The French Crepe Co., Farmers Market LA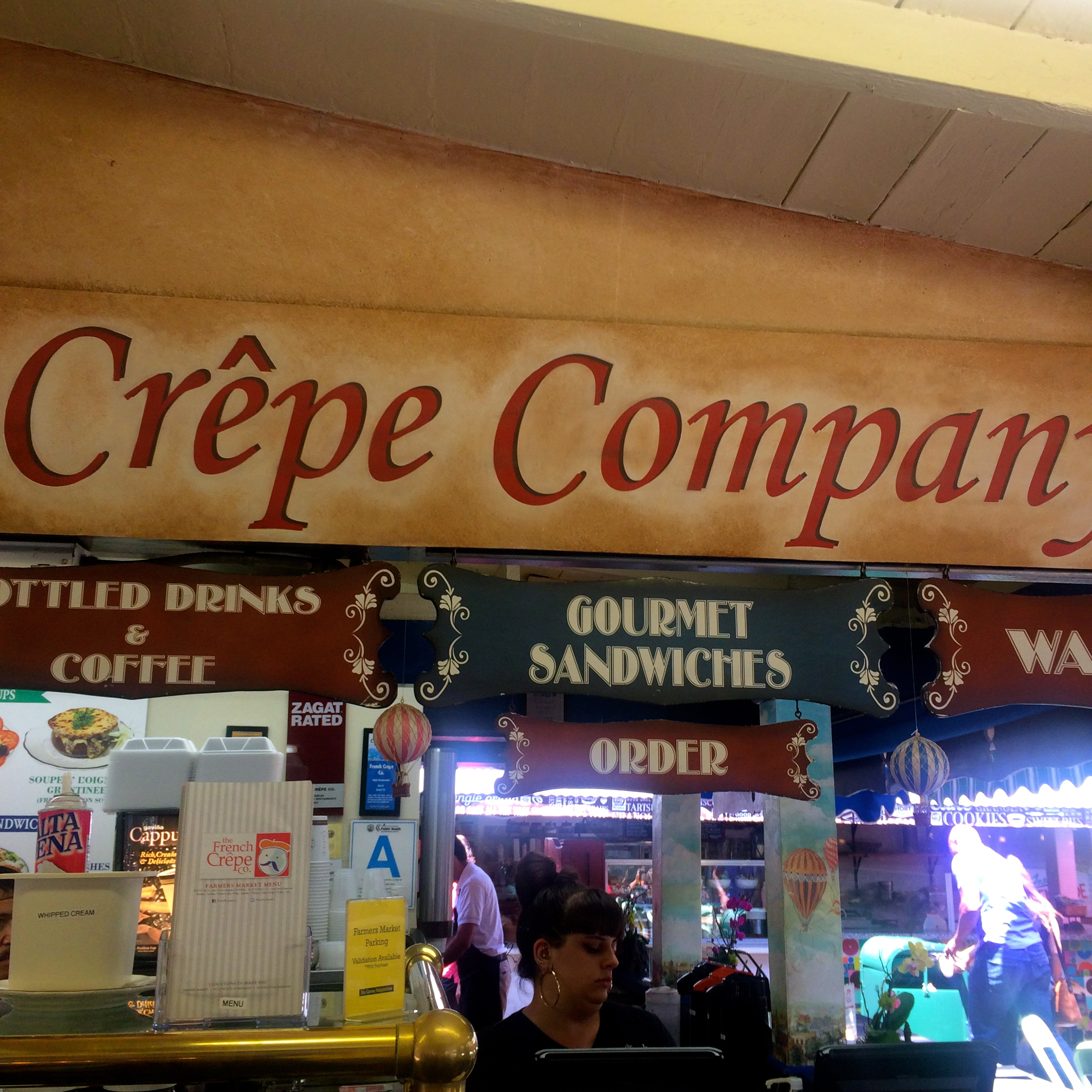 It was my last day in the office and my colleagues were nice enough to take me to the Farmers Market in LA right next to The Grove shopping center. There's tons of options to choose from – Mediterranean, BBQ, creole, Korean BBQ, Italian, you name it, they got it. I opted for The French Crepe Company – they seemed to know what they were doing.
Quick Rates (1-10, 10 being the best):
Food: 8
Beverages: –
Service: –
Ambiance: 7
Price: 7
Sweet Nutella Crepe with Strawberries & Side of Dulce de Leche: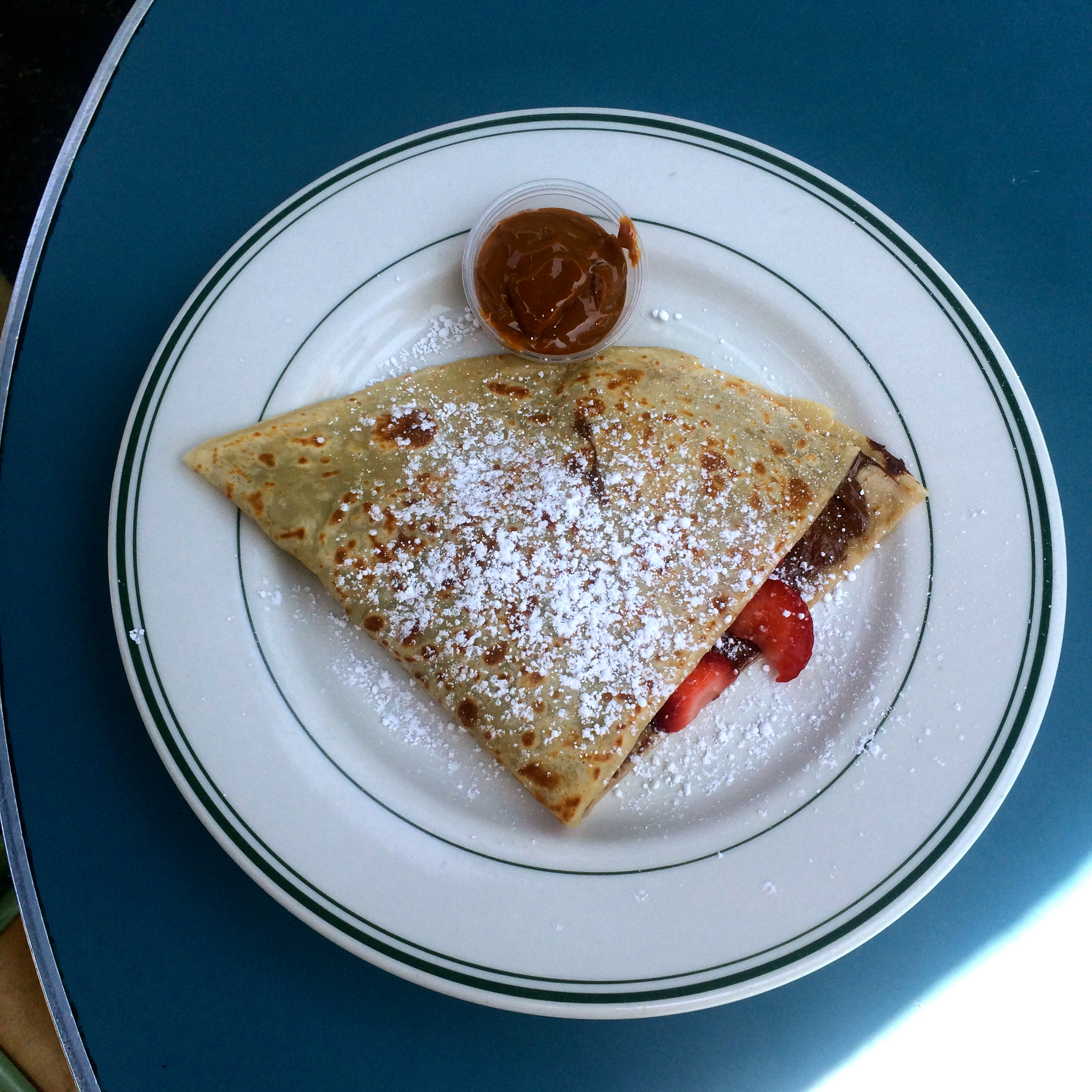 I really judge a crepe based on its color and texture – a good crepe should be slightly golden brown and lightly crisp, not soggy. Really, the ingredients inside don't really matter, because most of the time they're not homemade, i.e., Nutella. This crepe was delicious – thin, crisp and wasn't soggy at all. I saw them make it – layered tbsp upon tbsp of butter and sugar while cooking, which I think helped it gain it's golden color and texture.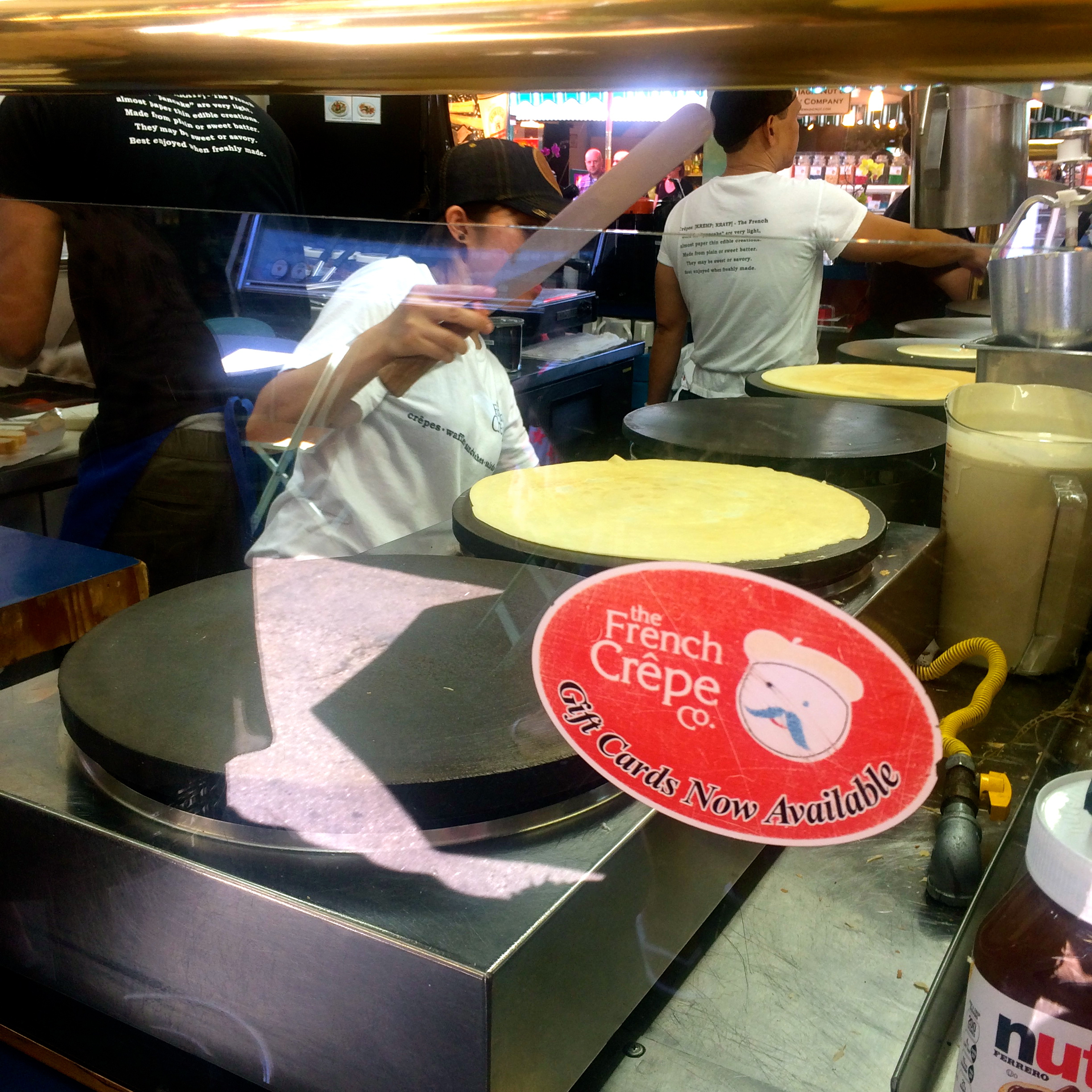 The dulce de leche was also equally delicious. And they didn't over stuff the crepe, which is always lovely.
Warm Goat Cheese Salad: With Mixed Greens, Olives and Sundried Tomatoes Served with French Dressing.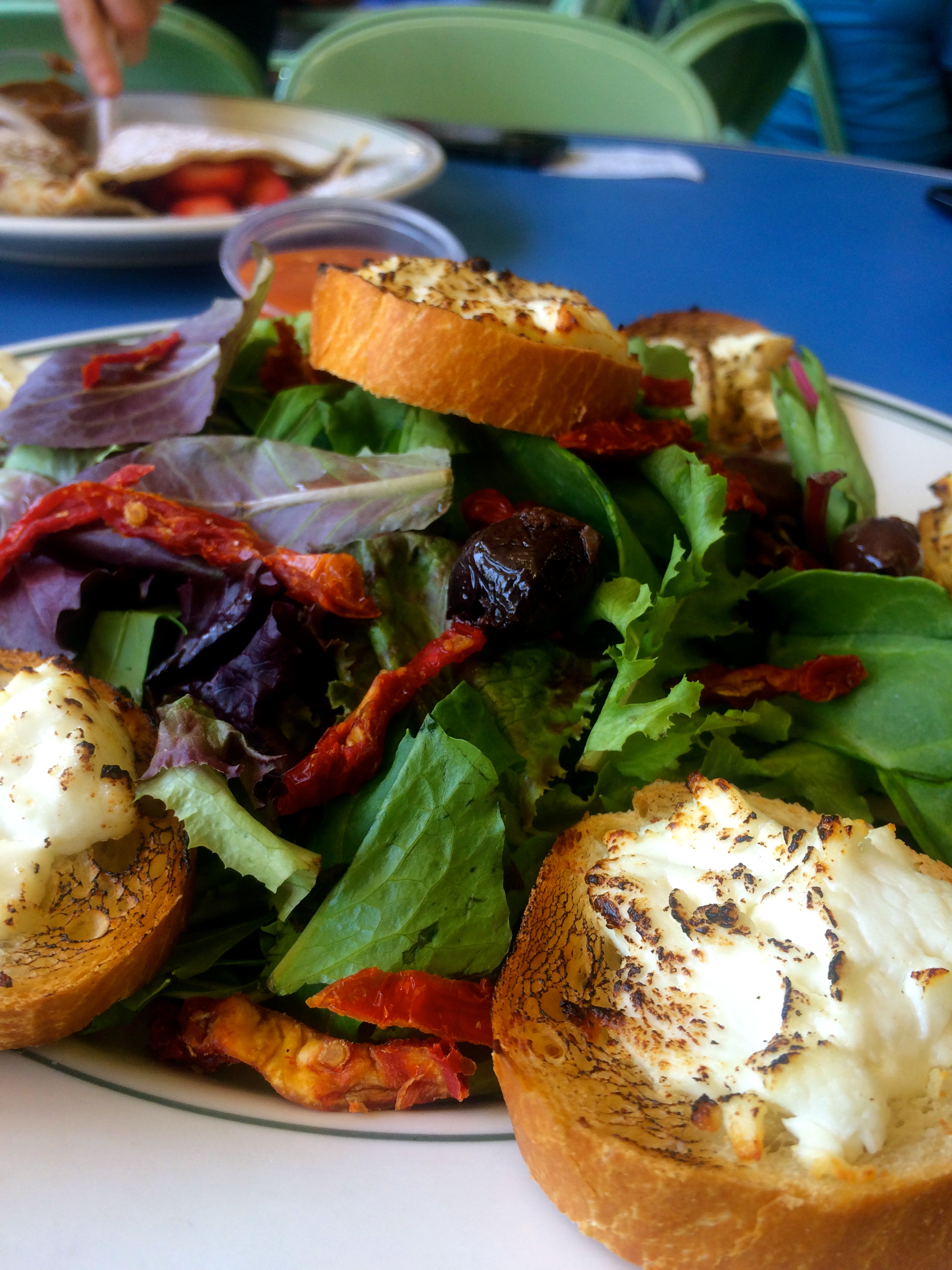 This was definitely the weakest dish of our meal. The portion was great – enough for 2-3 people, but it was lacking in flavor. The only part of the salad that was good were they toasted crostinis topped with warmed goat cheese. Otherwise, a rather lame and unflavorful salad with an out-of-the-bottle dressing. 
For our last evening in LA, we decided to go with my friends suggestion and dine at a rather "bouji" Italian restaurant in Beverly Hills. It had all the makings of a quintessential Beverly Hills restaurant – small in size, packed, rather long wait, and tons of rich folks with plastic faces. Yup, Beverly Hills. But for some reason even with that, it still gave me a homey feeling. Also, this restaurant had an awesome selection of vegetarian options!
Quick Rates (1-10, 10 being the best):
Food: 9
Beverages: –
Service: 8
Ambiance: 7
Price: 6
Timballo di Zucchine: Zucchini Soufflé Served over Roasted Bell Pepper Sauce and a Touch of Truffle Fondue.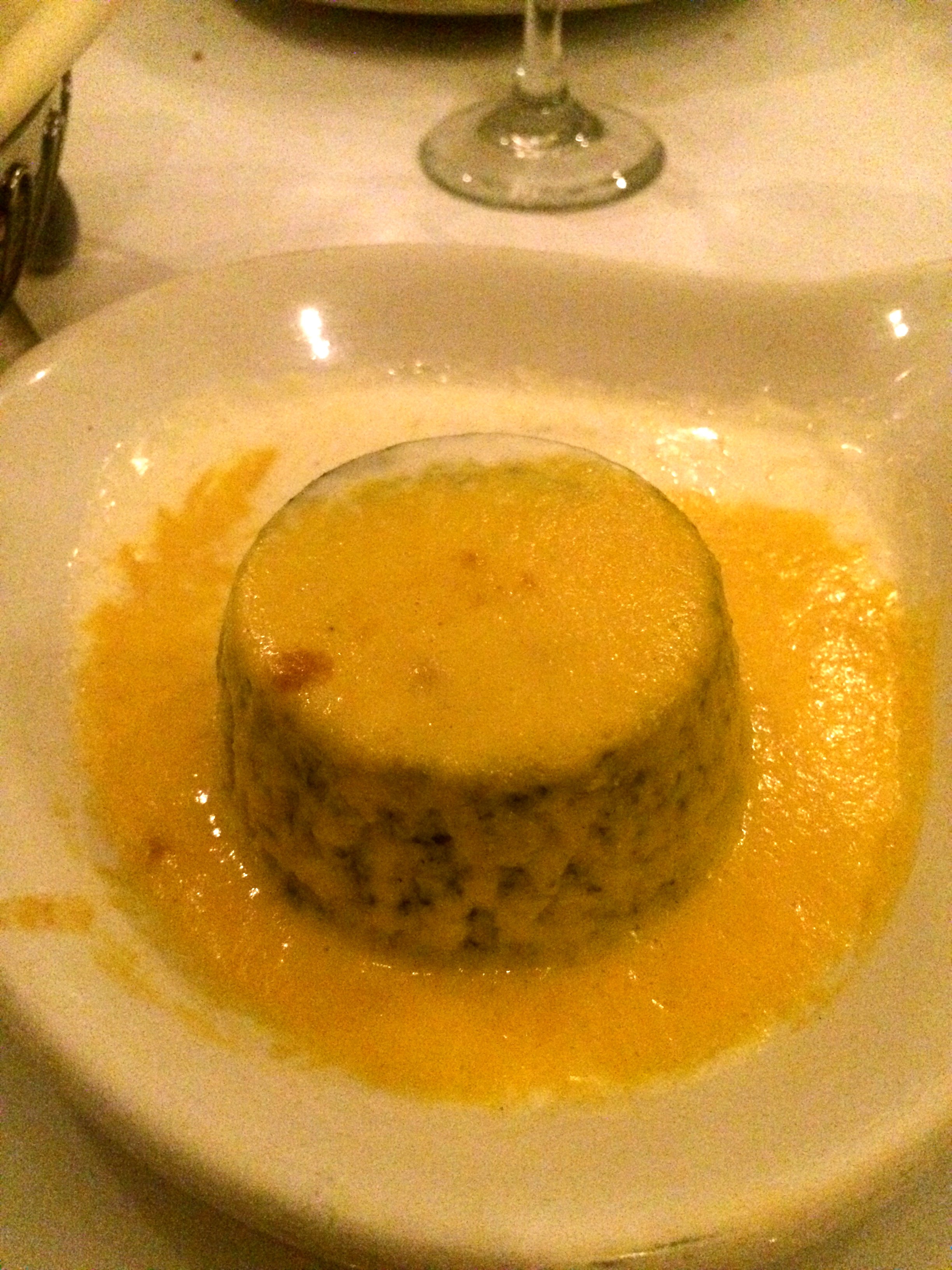 I wanted to try something that I would've normally get at home. However, that's probably the hardest thing I can do when traveling, because I can get everything in NYC. However, this was a very unique dish I spotted and it was totally vegetarian! It was a delicious light and soft zucchini souffle floating in a bath of yellow bell pepper and truffle fondue sauce. It was absolutely delicious and I wish I had some right now.
Agnolotti: Homemade Green Ravioli Stuffed with Mushrooms; Cheese Fondue and Truffle Sauce.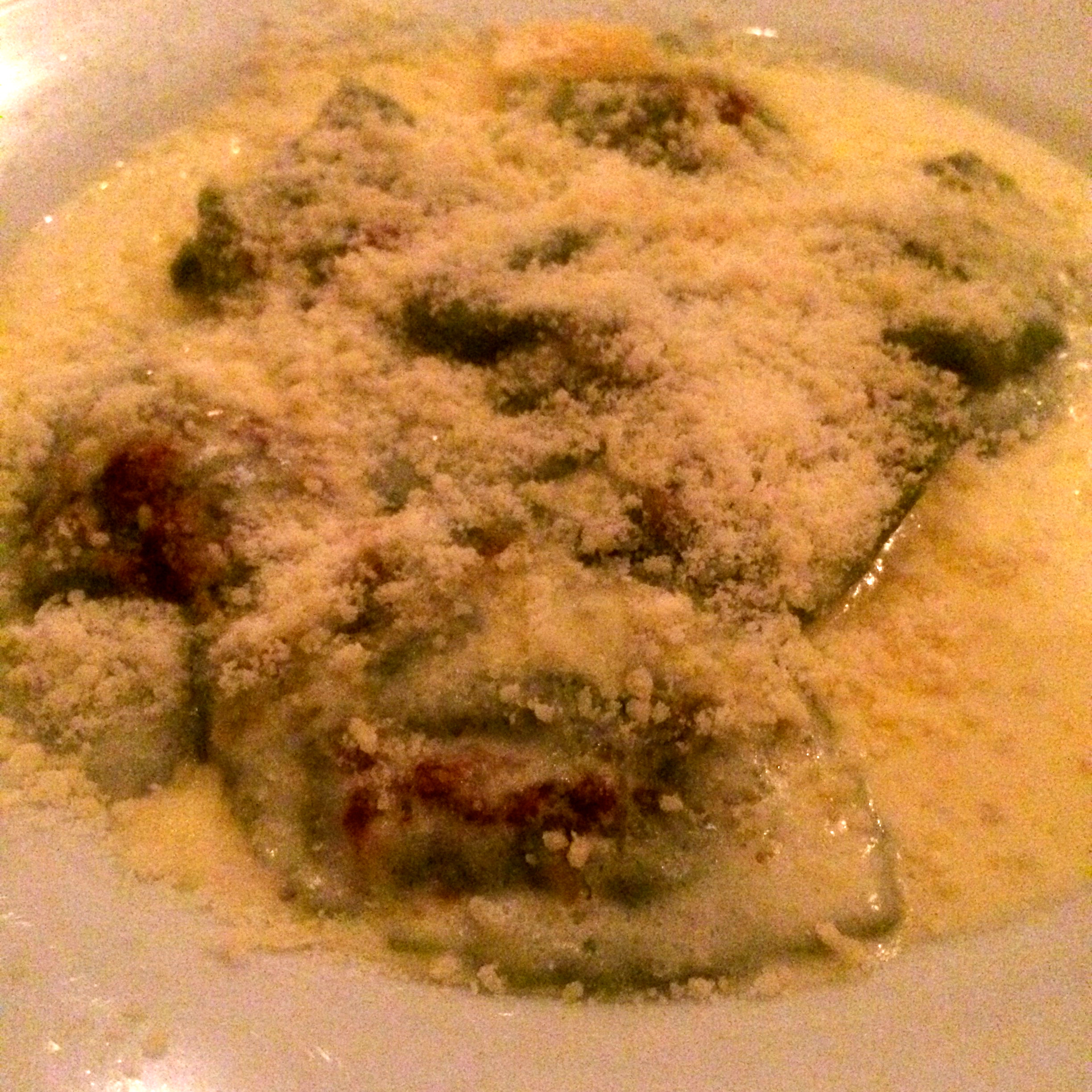 I love truffle, and in actuality, I wanted to order the black truffle special, but unfortunately it was $50+ per dish (WHAT!). So I opted for the "cheaper" option. And I'm glad I did! I love Agnolottis in general – they tend to have a lighter dough and aren't swimming in sauce. This was delicately draped in a creamy and truffly sauce which was so good that I actually finished my entire dish – I never finish my entire dish! So good.
Cameo Bar, Viceroy, Santa Monica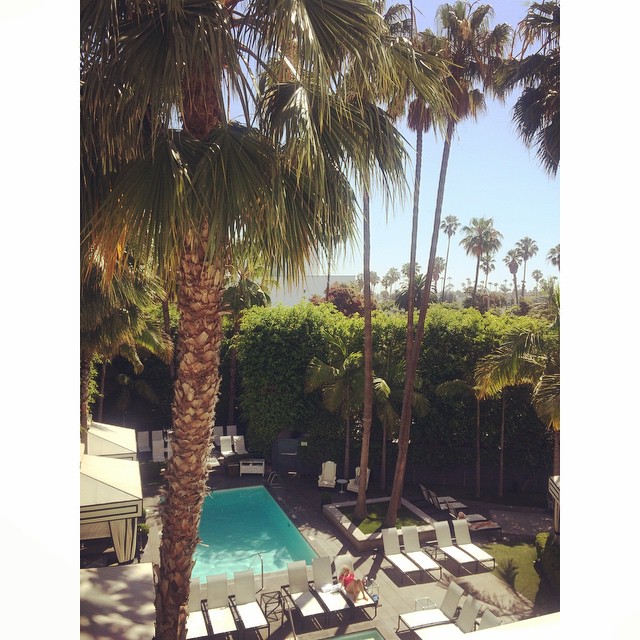 It was our last night in the hotel, and we've been told by many friends and colleagues that our hotel – Viceroy – has a cool bar scene on Friday nights. We decided to have a drink at the Cameo Bar. I generally loved the Viceroy here – there wasn't much space, but they utilized it so nicely. We each had a Spiced Strawberry Sangria, which had red wine, spiced strawberry liqueur, lemon juice, and fresh strawberry. It was really nice – refreshing but warming at the same time because of the spice. All in all, lovely experience.