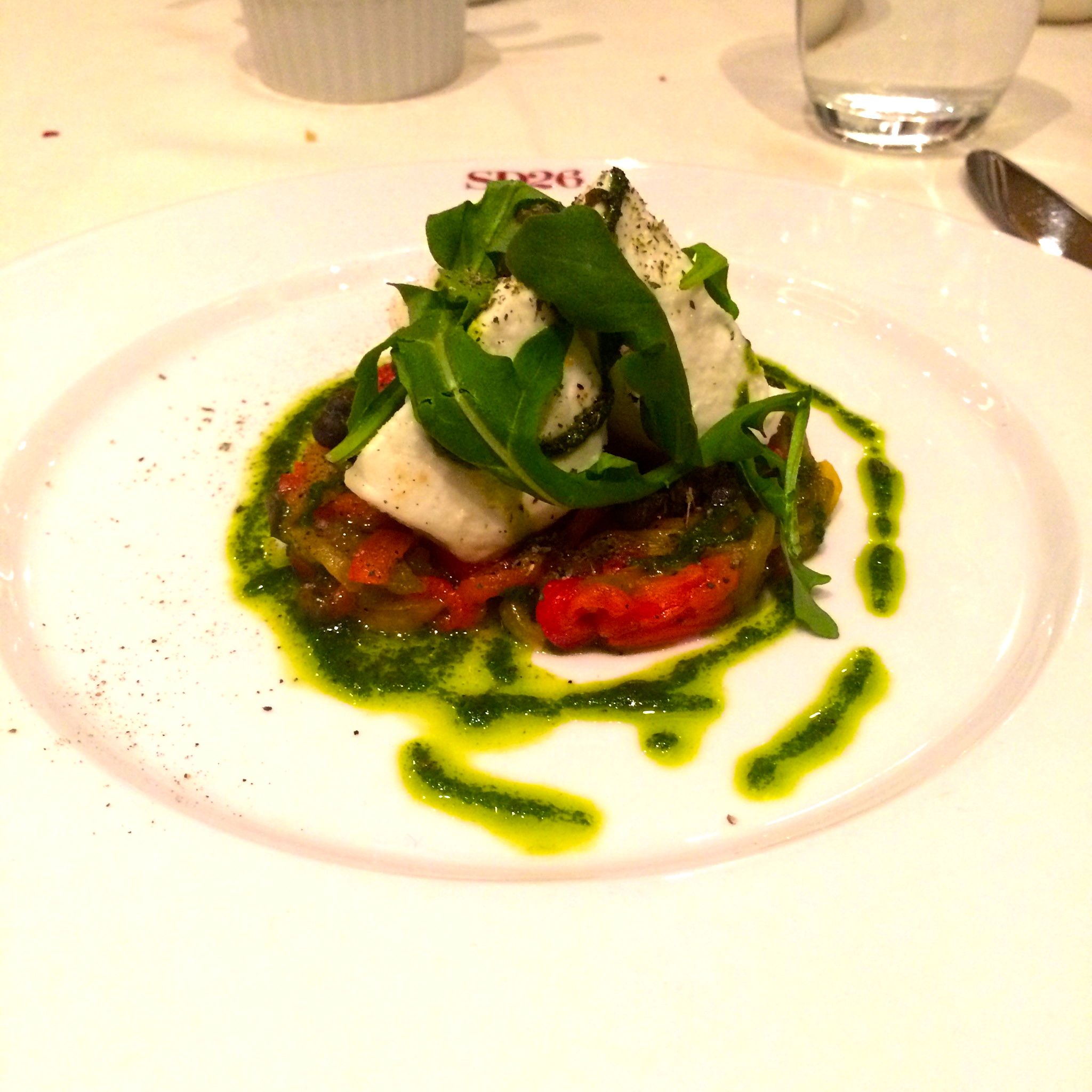 I haven't written a restaurant review in some time now, but I figured this would be a good opportunity, as it's the last week of NYC Restaurant Week! I've been wanting to go to SD26 for a while now – I've heard great things and I always love to try new restaurants whenever I get a chance. Since dining here would break my wallet a bit, I decided to take advantage of restaurant week and go there for lunch.
The inside of the restaurant is really cool – when you enter there is a bar area with ottomans and low cocktail table that seems to serve as a lounge at night. You have to walk through this area to get to the main dining room. This area has very high ceilings and beautiful high-hat lights. The kitchen has a glass wall, so you can see exactly how they're preparing your food. On another wall, there is a butchers bar and cheese station. I obviously was not a fan of the butchers bar, but I was a huge fan of the cheese station – I couldn't take my eyes off of it. Surrounding the main dining room was a second floor, which seemed to have private dining rooms. The decor was simple – there were giant spools of yarn hanging from the high ceilings and another yarn-like art piece on the back wall of the main dining room. Most of the customers were business men and women, so it seems like the private dining rooms were probably utilized for corporate events.
The Restaurant Week menu had a pretty good selection, but was obviously limited for a vegetarian. Before we get into the details of the food, let me give you some Quick Rates:
Quick Rates (1-10, 10 being the best):
Food: 7
Beverages: –
Service: 8
Ambiance: 7
Price: 7
Appetizer: So I really wanted to order the "Uovo" Soft Egg Yolk Filled Raviolo with White Truffle Butter, but the egg yolk is runny and even though I LOVE truffle, I absolutely HATE runny yolk. That being said, I resorted to ordering Bufala Mozzarella, Peperonata, Fried Capers & Parsley Pesto. It arrived in a clean, white plate branded with their logo – SD26. It was a small serving of 3 wedges of fresh mozzarella, sautéed peppers, fried capers and a drizzle of parsley pesto. The best thing on the dish were the fried capers – they were so light and crispy and not oily at all! I've actually never had fried capers before, so this was great!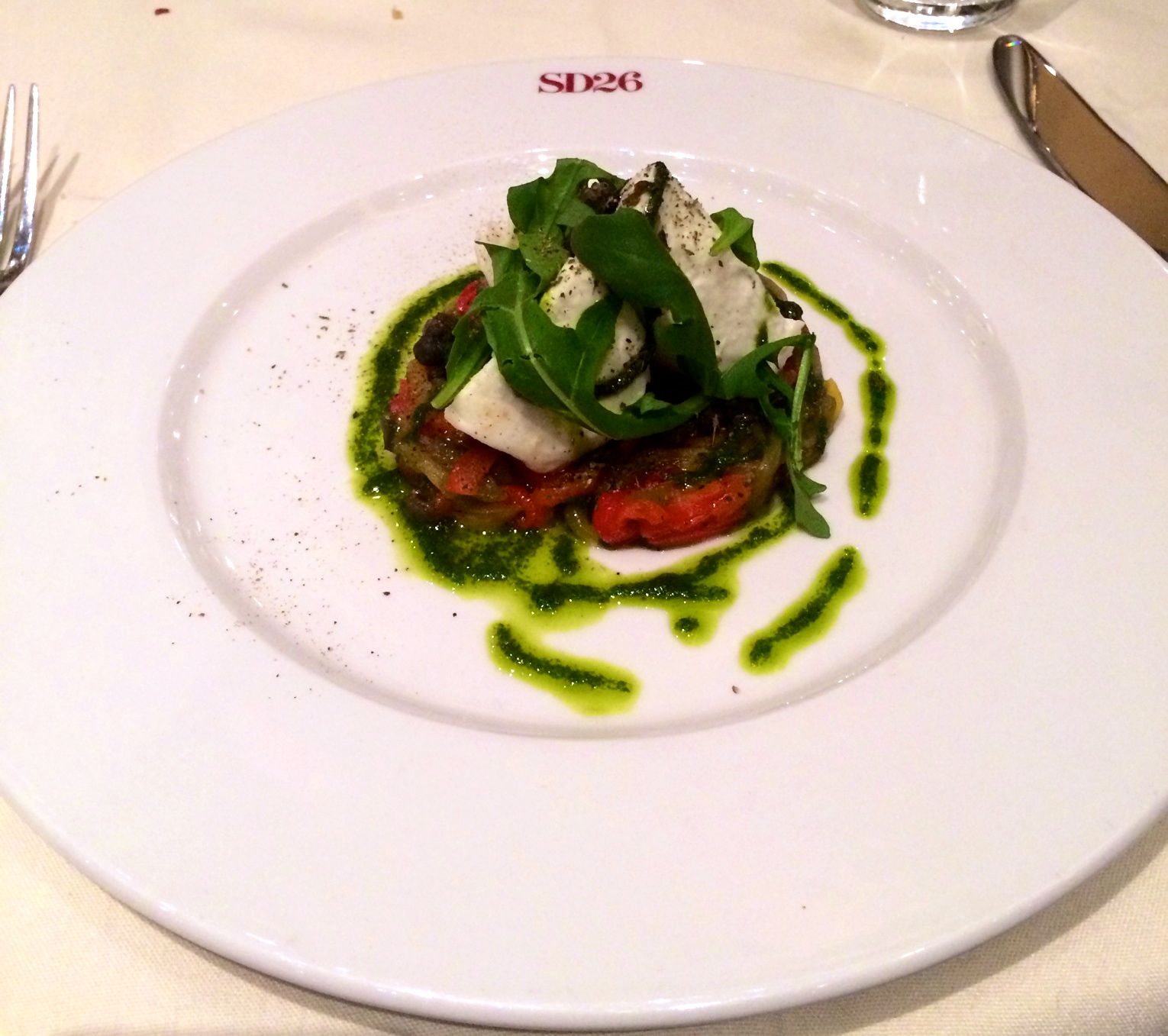 Entree: I didn't have much to choose from, so I ended up ordering the Homemade Spaghetti Alla Chitarra with Tomato and Fino Basil. A hefty pile of al dente spaghetti came, covered in a light-red sauce and garnished with a generous amount of basil. The pasta was good, but a bit bland for me. I would usually not order a pasta with any kind of tomato sauce, because I'm not a fan. This was okay though, nothing special. If it wasn't Restaurant Week, I definitely wouldn't have ordered it.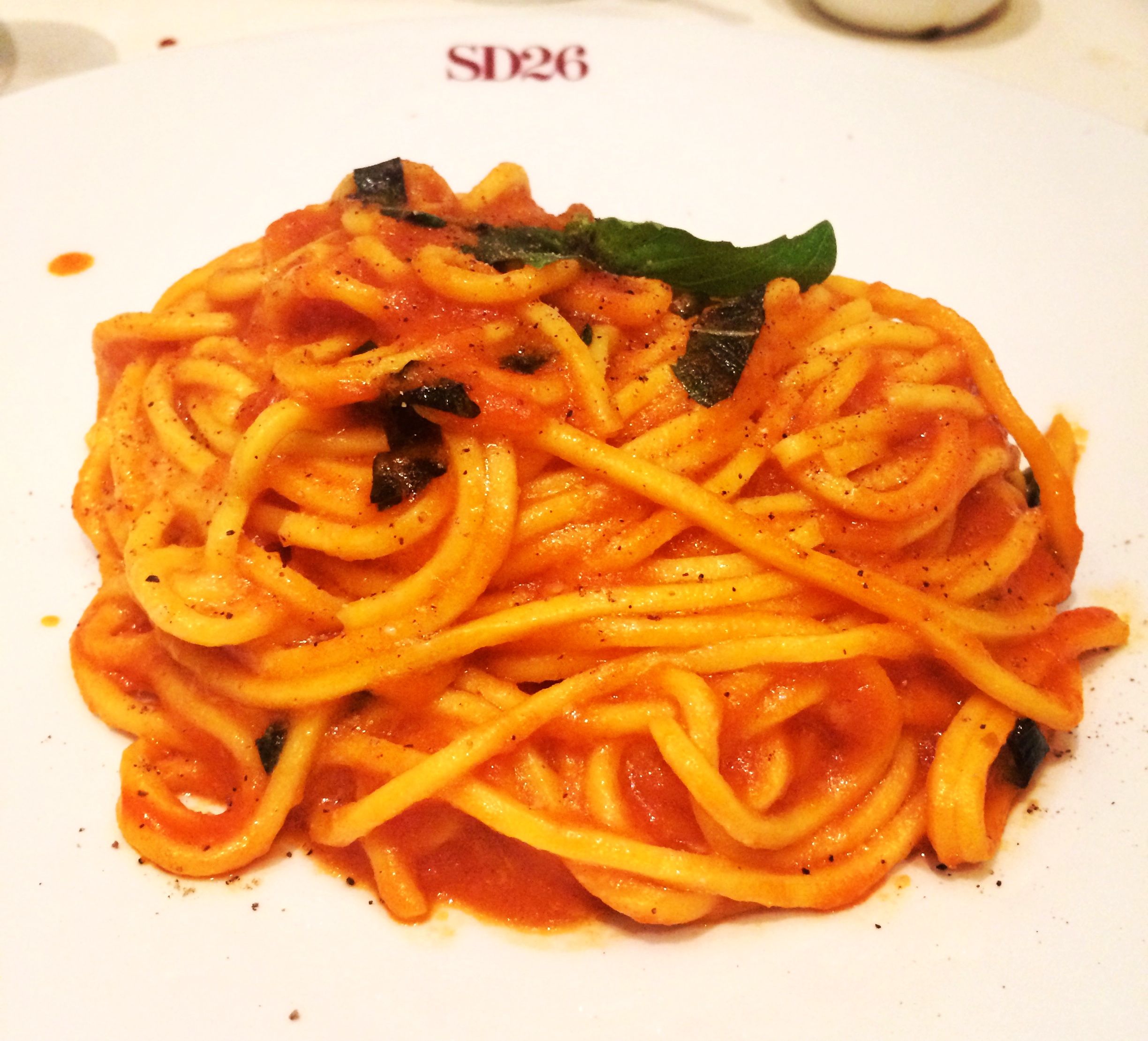 Dessert: There were 4 choices, and among the 4 I ordered something that I never heard of before – Baba al Rhum, Fresh Orange Sauce & Whipped Cream. The waiter described it to us as a small and fluffy pancake with orange sauce and whipped cream. When it arrived, it looked more like a fluffy popper sitting in a pool of light orange sauce, whipped cream, macerated orange segments, and blueberries. This dessert pretty much tasted like a lighter Rum Cake with an orange sauce. It was good, but a bit too sweet for me. I also think it would've been better if there was some bitter-sweet chocolate drizzled on top to cut the sweetness. It was pretty good though, and different.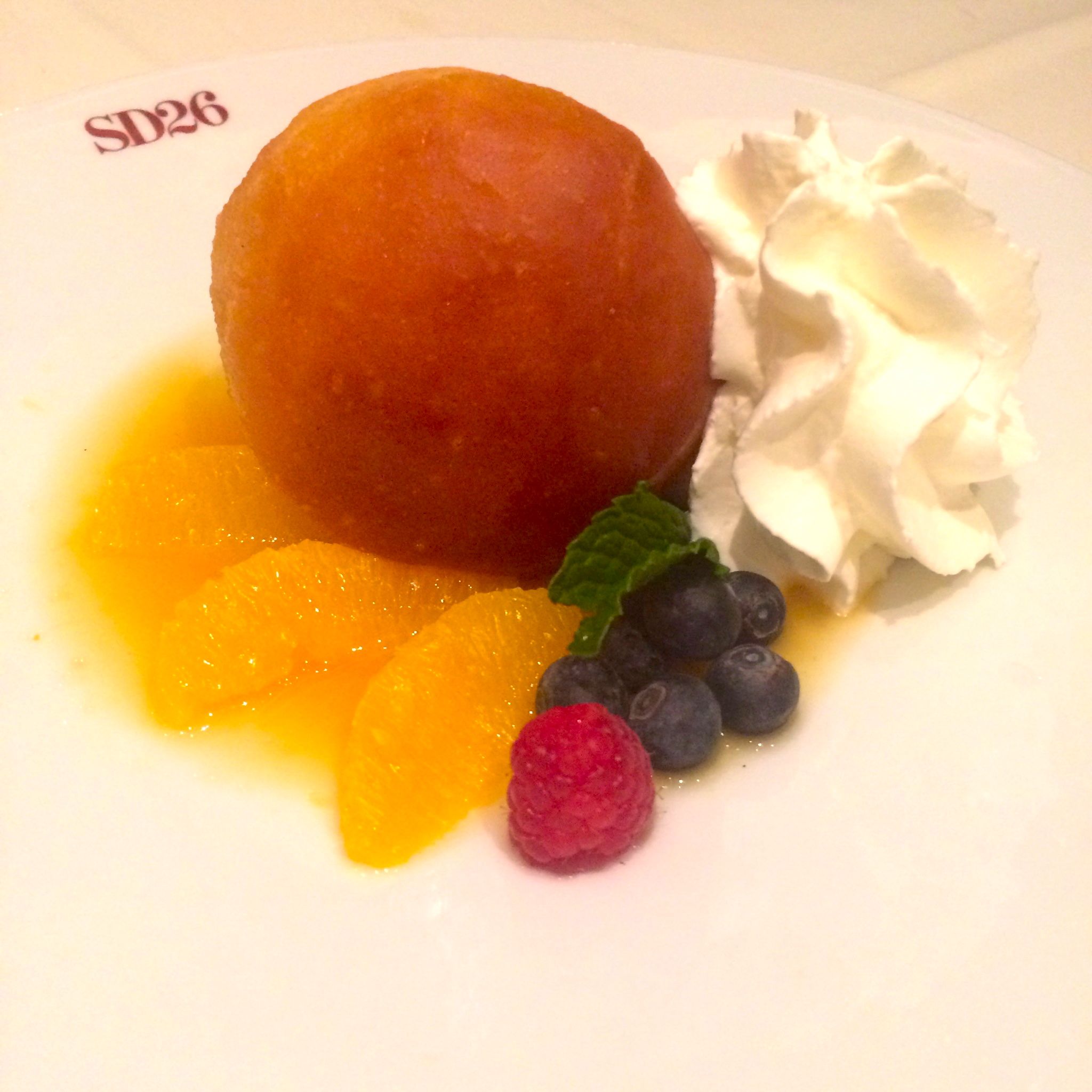 All in all, it was a great experience. The service was great – always bringing around fresh bread, refilling our glasses with water, and just generally making sure that we were taken care of. I am not sure if I would go back to SD26 and pay full price, but I'm glad I went for restaurant week!
Like this review? Check out my other Restaurant Reviews!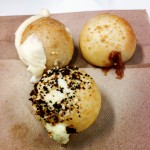 Bantam Bagels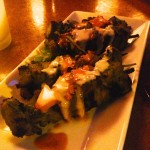 Candle 79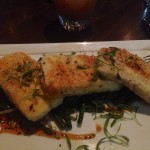 Zengo